DNA testing among pet owners has become very popular in the last several years. They want to know more about their furry companion's genetic makeup. 
Loving pet owners are also concerned with how genetics could affect their pet's health.
Humans have benefited from comprehensive DNA testing when it comes to health predispositions. For instance, DNA tests can determine if you are genetically at risk for conditions like breast cancer, sickle cell disease, etc.
Similarly, Wisdom Panel's DNA tests for catss can potentially determine your pet's genetic predispositions.
Wisdom Panel Complete for Cats lets pet lovers learn more about their feline companion's health risks and ancestry.
About the Company
Wisdom Panel develops DNA tests that give complete insights into your pet's health after 20+ years of research and genotyping.
They offer four (4) types of test kits–all designed by pet geneticists. They also have licensed vets who help fur parents understand their pet's test results.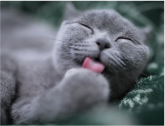 Best Cat DNA Test
Are you curious about your cat's ancestry and health predispositions?
Product Review Summary
Pros
Applicable for both pure-breed and mixed-breed cats
Looks for genetic mutations that may cause health conditions
Can discuss the test results with a licensed vet
Cons
A bit pricier than other brands
Too much information may be overwhelming—good thing Wisdom can connect you to an expert to help understand the test results
Why Trust Us
KnowYourDNA is dedicated to providing readers with reliable information on products that help them better look after their pet's health.
We pick products based on the following:
Brand reputation
Product quality
Safety for use
Customer reviews
Our in-house medical experts ensure the accuracy of our information.
What Are Your Options?
Wisdom Panel offers two (2) types of DNA testing for cats:
Wisdom Panel Complete for Cats
Wisdom Panel Complete for Cats is dedicated to cat owners who want to get to know their feline companions more.
Aside from helping owners identify their feline's breed in cases when their cat is a mixed-type or rescued from a shelter, this test kit can:
Give comprehensive insight into your cat's breed, including the percentage breakdown
Test for at least 45 genetic health conditions
Explain your cat's different physical traits like coat color, type, length, etc. (covering more than 25 features) 
Trace your cat's origins and multi-generational family tree
Check the blood type of your feline
Wisdom Panel Optimal Selection Feline
Wisdom Panel Optimal Selection mainly targets cat breeders. It aims to aid breeders in screening for multiple diseases and traits, which can help them develop more sustainable breeding techniques.1
This test kit will:
Evaluate for over 40 genetic conditions
Test for more than 20 traits
Give information on the genetic diversity of the tested cat
Genetic diversity refers to the range of various inherited traits within a species. For example, a mixed breed cat may be a cross between two or more cat breeds.2
Despite genetic diversity, nearly all of your cat's genetic sequences match other cats. But there are small differences that make your cat uniquely who they are.
What Are The Benefits of Cat DNA Testing?
Cat owners can get to know their beloved pets through the information their DNA holds. They can gain specific knowledge about their feline's:
Breed
Traits
Health risks
Yes, it's also possible to identify the diseases or conditions your pet may develop through DNA testing. Testing companies can provide information on which conditions your cat is genetically predisposed to.
Being genetically predisposed means your cat is at more risk for certain conditions because of its genetic makeup.
You can share your cat's results with your veterinarian. They will discuss what changes you should make to help improve your cat's overall health. 
Is Wisdom Panel for Cats Safe To Use?
Yes.
Wisdom Panel's DNA testing is safe to use at any stage of your cat's growth.
The methods you'll use to collect your feline's DNA sample are less invasive compared to other tests—a cheek swab.
However, Wisdom Panel recommends waiting until your kitten has been weaned. It helps prevent cross-contamination between the other cells from the mother's milk and the skin.
How To Use Wisdom Panel for Cats
Your Wisdom Panel DNA test kit includes two buccal swabs. They look like tiny plastic combs designed to collect cells from your cat's inner cheeks.
It also has a prepaid mailer to send your cat's sample back to the company's lab tests partner.
Using your Wisdom Panel DNA test kit is easy. Follow these simple steps:
Create your profile on their website and register the kit using the included code.
Collect your cat's DNA sample by swabbing the inside of the cheeks for 15 seconds. Use the tools that came with the kit.
Secure the DNA samples in the prepaid envelope. Mail your feline's DNA sample to Wisdom Panel's partner labs.
Receive your pet's results within 2 to 3 weeks.
Where Can I Buy Wisdom Panel DNA test kits?
You can purchase Wisdom Panel DNA test kits from their website:
How Much Does Wisdom Panel for Cats Cost?
The cost of cat DNA testing depends on which kit you'll purchase.
Wisdom Panel Complete for Cats ⁠— $129.99
Wisdom Panel Optimal Selection Feline — $99.99
You may get the Wisdom Panel Complete for Cats for less than $100 when there are ongoing special promotions on their website.
Wisdom Panel vs. Basepaws
Basepaws is another company that offers cat DNA testing. Let's take a side-by-side look at the features of these two household names in cat DNA testing.
Wisdom Panel
Basepaws
DNA Sample
Collection Method
15-second buccal swab
5-second saliva swab
Turn-around time of
DNA results
2 to 3 weeks
Around 4 weeks
Information you'll get from the results
Breed analysis (more elaborate)
Genetic health predisposition
Breed analysis
Genetic health predisposition
We liked how the Wisdom Panel presents your cat's gene-linked traits in a detailed manner. They also have a breed explorer feature, which lets you learn more fascinating information about your cat's breed.
However, when it comes to sample collection, Basepaws' easy five-second saliva test may win some pet owners to their side.
Is Wisdom Panel Worth It?
Yes.
Cat DNA tests reveal useful information that can you help you take better care of your feline companion. They can help you understand your pet's health and dietary needs.
Wisdom Panel Complete for Cats test lets you discover your cat's genetic background, origins, and health predispositions. 
For instance, you can discover the health conditions they're more at risk of through DNA testing. Wisdom Panel Complete For Cats performs 45 health tests for genetic conditions that can affect your cat's quality of life, such as
Congenital Adrenal Hyperplasia — an endocrine disorder that affects your cat's genitals and triggers aggression
Polycystic Kidney Disease (PKD) — a condition where fluid-filled cysts form in your feline's kidneys
Autoimmune Lymphoproliferative Syndrome — an immune system disease that causes severe enlargement of your kitten's lymph nodes
In any case, if your pet is at risk of developing these conditions, you can talk to your vet and discuss how to prevent or manage it.
Wisdom Panel will examine your cat's DNA for the genetic markers of different conditions. You can view the complete list of health conditions they test here.
DNA testing your cat also satisfies your curiosity about its physical traits and personality.
Wisdom Panel helps identify over 25 traits, including coat patterns, albinism, and hairlessness. You can view the complete list of traits they test here.
As for your cat's temperament, identifying its breed can help. Every feline has its personality, but its breed can determine its disposition to an extent.3
Some cat types are vocal and affectionate, while others are independent and want to be left alone. Once you learn your cat's breed, you can start researching how to train them or what kind of environment they prefer.
Wisdom Panel empowers you to provide training, nutrition, and care tailored exclusively to your cat's needs.
How We Evaluated The Product
We understand how important it is to choose only the best product for your pet. Let us share how we arrived at our evaluation that Wisdom Panel Complete for Cats DNA test is a must for cat owners.
1. Type of test
Cat DNA tests can look for many things, like, breed or lineage and health-related information. We choose a test kit that offers insights on both.
Wisdom Panel tests for 25+ traits and 40+ genetic diseases. Plus, the report you'll receive includes a percentage breakdown of your cat's breed.
2. Accuracy
DNA testing for the pet industry isn't regulated, but most companies include an accuracy percentage. Besides, the interpretation depends on how large a company's database is.
This is especially true for genetic markers of different health conditions.
It's worth choosing a brand that is reputable and has a lot of good reviews. We also believe that a wide database and continuously updating it contributes to the accuracy of the test results from a company.
Wisdom Panel has the largest breed database, allowing more extensive analysis.
3. Good customer service
Going with a brand that answers all your questions about its products and services is essential. It ensures that they can understand the needs of a pet-owner and their pets. It also indicates that they care about your pet's health deeply.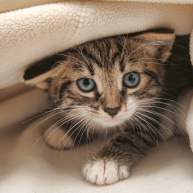 The Best Cat DNA Test
What could be more fun than learning everything there is to know about your feline friend?