Our Verdict: There's no one-size-fits-all DNA test that can accurately tell you everything there is to know about your genetic makeup. It depends on what information you're looking for.
With plenty of genetic tests in the market, we've listed the most accurate DNA test kits based on the insights you may need:
Bear in mind these are just some of the things you can learn from DNA tests. They may also give you other valuable insights.
For example, 23andMe and LivingDNA can trace your maternal and paternal ancestry. These can be helpful if you want to know where your mother's and father's ancestors originated.
Some of them, like Ancestry.com and MyHeritage, provide access to billions of historical records that can help with family history research.
Below, we'll discuss in detail what our top picks have to offer so you can decide which one to take.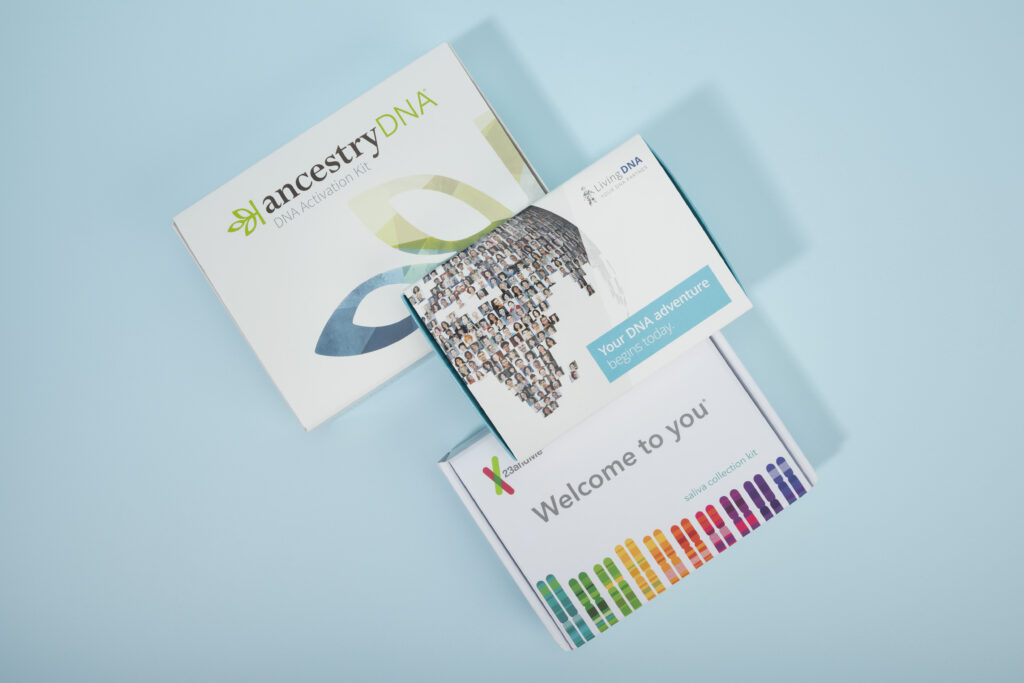 The 4 Best DNA Tests of 2023
| | | | | |
| --- | --- | --- | --- | --- |
| Best DNA Test Kits | Ancestry DNA | 23andMe | Living DNA | My Heritage |
| Size of DNA Database | 22 million | 12 million | Unknown | 6.6 million |
| Number of Tested Regions | 1,800+ | 2,000+ | 150+ | 2,100+ |
| DNA Testing Method | Autosomal test | Y-DNA, mtDNA, and autosomal test | Y-DNA, mtDNA, and autosomal test | Autosomal test |
| Ancestry Report | Yes | Yes | Yes | Yes |
| Health Risks Report | No | Yes | Yes | No |
| Carrier Status Report | No | Yes | No | No |
| Health Traits Report | No | Yes | Yes | No |
| Cost of Genetic Testing | $99 to $199 | $99 to $228 | $99 to $179 | $89 |
AncestryDNA — Best for Ancestry & Finding Relatives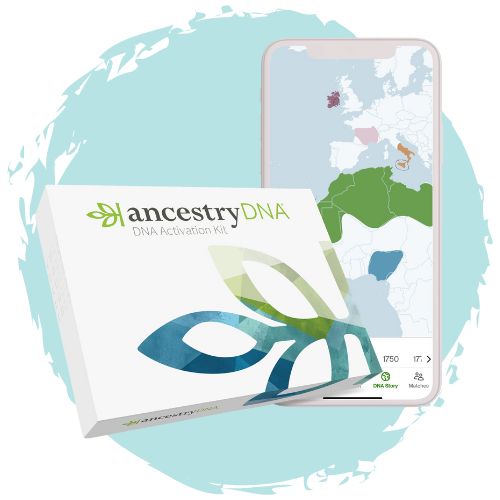 Ancestry is currently the largest DNA testing company, with over 22 million users. It matches your DNA with people from over 1,800+ regions.
The company offers access to 40 billion historical records, such as birth, marriage, and death records that you can tap into for information on your ancestors.
Why We Recommend It
Gives you the best chances of finding possible relatives and ancestors
Ancestry results are updated with more regions, making them more accurate with every update
You can buy the test with the All Access Plan for three months of access to historical records
Uses your DNA test results to grow your family tree and search members with common ancestors
Lets you download and delete your raw DNA data so you can protect your privacy
Why You Should Consider Alternatives
Ethnicity estimates may not be accurate for everyone who takes it
Doesn't provide separate reports for your maternal and paternal lines
Historical records are hidden behind a pricey paywall, costing up to $59.99 per month
Unable to test for genetic health risks that you inherited from your family
Lacks the option to upload raw DNA data from other testing services
AncestryDNA Review
Its ancestry reports are both detailed and easy-to-understand. Your ethnicity estimate shows your ancestors' likely origins for five generations.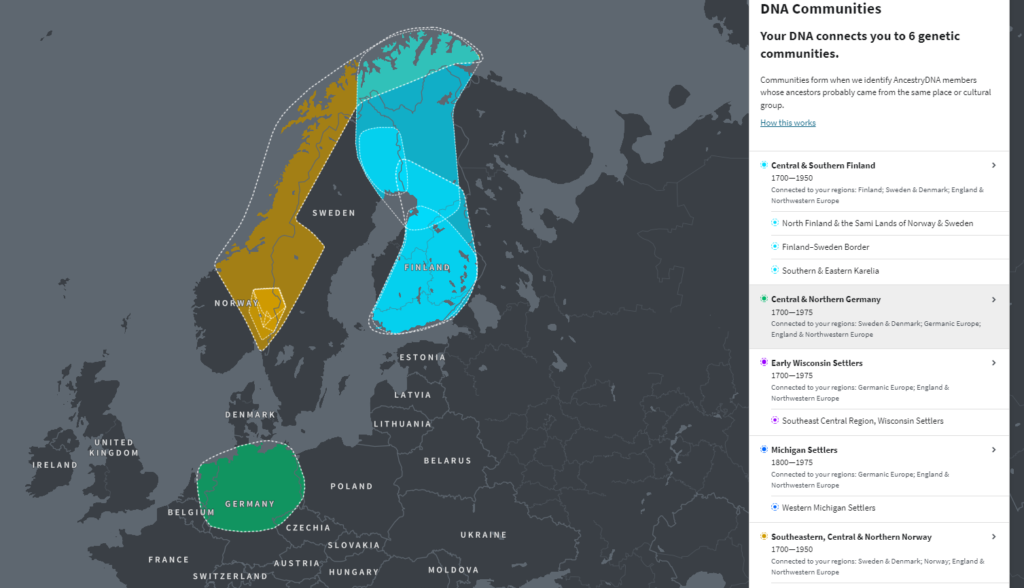 For instance, I learned that I share 27 percent of my DNA with Norwegians and that my most recent ancestors may have come from Norway and six other communities.
It may help you find close relatives up until your fourth cousin and estimate your genetic relationship with DNA matches. You can read more on our Ancestry review.
Cost of Ancestry DNA
Price: Starts at $99 for the kit, $21.99 per month for a subscription
| | | | |
| --- | --- | --- | --- |
| | Ancestry DNA Test | AncestryDNA + Family Tree Package | AncestryDNA Traits + All Access Package |
| Cost | $99 | $100 | $199 |
| Ethnicity Reports | ✓ | ✓ | ✓ |
| Ancestral Origins | ✓ | ✓ | ✓ |
| DNA Matches | ✓ | ✓ | ✓ |
| Traits Report | | | ✓ |
| World Explorer Membership | | ✓ | ✓ |
| Fold3 Records | | | ✓ |
| Newspapers.com Publisher Extra | | | ✓ |

If you buy the test as a package, you'll get three-month subscriptions to services that will help with your research. Here's what you'll be able to access:
World Explorer Membership – Ancestry's U.S. and international records
Fold3 – Millions of global military records
Newspaper.com Subscription – Over 8 billion global articles
You can also subscribe at a later date or renew an expired membership at these prices:
| | | | |
| --- | --- | --- | --- |
| Subscription | U.S. Discovery | World Explorer | All Access |
| Cost Per Month | $21.99 to $24.99 | $32.99 to $39.99 | $49.99 to $59.99 |
| U.S. Records | ✓ | ✓ | ✓ |
| International Records | | ✓ | ✓ |
| Newspapers.com Subscription | | | ✓ |
| Fold3 Records | | | ✓ |
Summary
AncestryDNA provides incredibly detailed ancestry reports. Its massive database increases the odds of finding relatives and ancestors you didn't know about.
There are billions of historical records you can use to look up ancestors. But you have to be willing to pay costly monthly fees to access them.
It can't test for health risks, trace maternal and paternal lines, or analyze DNA from competitors. Still, it's the best kit for ancestry and genealogy research.
23andMe — Best DNA Testing Kit for Health Risks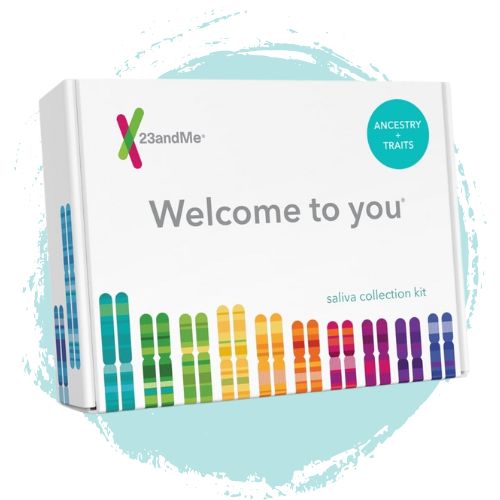 23andMe is the world's second-largest DNA testing service, with over 12 million users. It compares your DNA with people from 2,000+ regions.
It's the only company approved by the FDA to provide health reports on genetic risks, carrier status, and other traits that affect your well-being.
Why We Recommend It
FDA-approved health reports on health risks and genetic disorders that your children might inherit
Tests for genetic traits that influence your wellness, appearance, preferences, and behavior
Ancestry results include the possible origins of maternal and paternal ancestors
Lets you download and delete your raw DNA if you have privacy concerns
Affordable annual membership provides access to updated results and the latest features
Why You Should Consider Alternatives
Only tests for specific genes instead of all genetic variants associated with diseases
Has a smaller DNA database than Ancestry, which may limit your chances of finding DNA matches
Doesn't offer genealogy resources if you want to investigate your family history
You can't upload genetic data from other DNA testing companies
Some customers complain of delays in the kit's delivery or the arrival of their DNA testing results
23andMe Review
The 23andMe Health + Ancestry Kit provides comprehensive and easy-to-understand reports on your health and wellness, including:
Predisposition or genetic risk for up to 30+ health conditions
Carrier status for up to 50+ diseases you could potentially pass on to your future offspring
Other health traits that affect your well-being, such as how you react to certain medications
Even without a subscription, you can get up to 150+ health reports.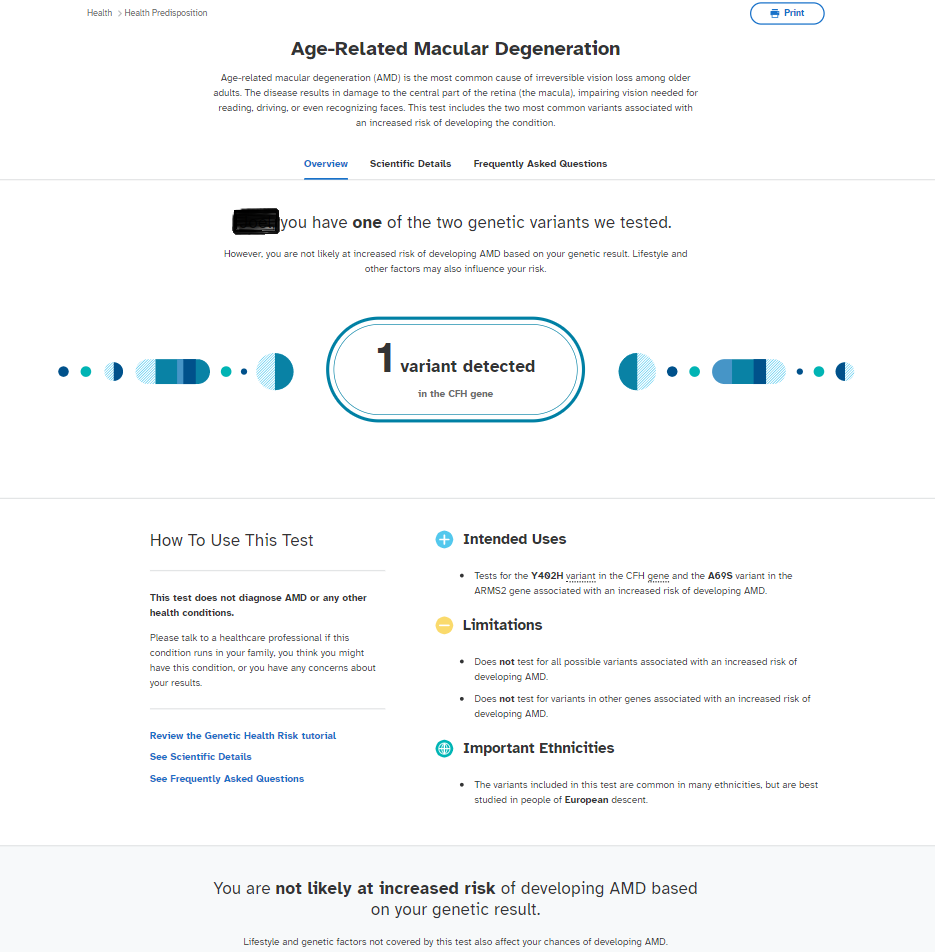 For instance, I learned that I have one genetic variant associated with age-related macular degeneration (AMD), although it's not likely to increase my risk for the condition.
23andMe also has unique and exciting ancestry results, like how much Neanderthal DNA you have and the period a specific ancestry entered your family tree (Ancestry Timeline).
Here is our 23andMe review if you want to know more.
Cost of 23andMe
Price: Starts at $99 for the kit, $29 per year for a subscription
| | | | |
| --- | --- | --- | --- |
| | 23andMe Ancestry | 23andMe Health + Ancestry | 23andMe+ Membership |
| Cost | $99 | $199 | $199 |
| Total Reports | 80+ | 150+ | 180+ |
| Ancestry Report | ✓ | ✓ | ✓ |
| Traits Report | ✓ | ✓ | ✓ |
| Health Report | | ✓ | ✓ |
| Carrier Status Report | | ✓ | ✓ |
| Wellness Report | | ✓ | ✓ |
| Family Health History Report | | ✓ | ✓ |
| Pharmacogenetics Report | | | ✓ |
You automatically get a one-year membership if you get 23andMe Plus. Once your membership expires, you can renew it for $29 per year.
Summary
23andMe is the only company that offers FDA-approved health results. It also has some interesting ancestry reports that you won't find elsewhere.
You can get more reports with the 23andMe+ membership that you can purchase as an add-on or with the test for a very reasonable price.
It does have a smaller database and lacks historical records and the ability to analyze raw data from competitors. But it's the best DNA health test available.
MyHeritage — Best DNA Test for European Ancestry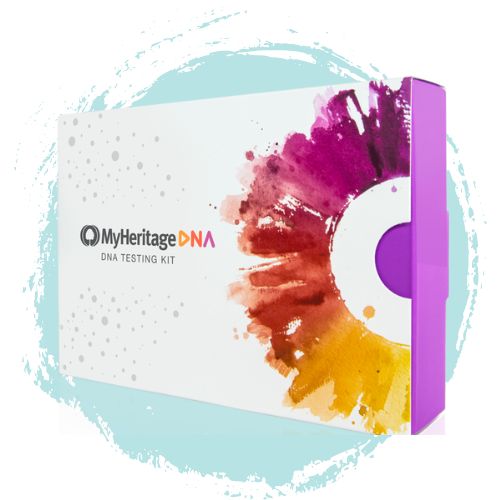 MyHeritage is the third biggest DNA company, with an estimated 6.6 million users in its database. It tests your DNA against people from over 2,100+ regions.
The company offers access to 19.4 billion historical documents like vital records, census data, and old newspapers if you want to research your family history.
Why We Recommend It
Accurate ancestry reports for people of predominantly European descent, including Jews
Kit includes free thirty days access to records and a discounted membership on the first year
Offers more affordable access to historical records compared to AncestryDNA
Colorize, enhance, and animate old family pictures, among other fun features
Upload raw DNA from Ancestry, 23andMe, or FamilyTreeDNA to find potential relatives for free
Why You Should Consider Alternatives
Saliva sample collection can be confusing because of the swabs' removable plastic arms
May not provide accurate results for people whose ancestors mainly originate from outside Europe
Surface-level ancestry reports only show the "top places" where your ancestors might have lived
Produces too many DNA matches, including relatives with little DNA in common
Lower-priced plans limit the number of family members you can add to your family tree
MyHeritage Review
Most of its users and historical records are from Europe. So if you can trace your ethnic origins to this continent, MyHeritage is the best place to start.
Like AncestryDNA, it helps you uncover your roots in two ways: through genetic ancestry testing and by providing resources for genealogical research.
However, MyHeritage is more focused on European ancestry. Ancestry has users and reference populations from around the world.
Here is our My Heritage review if you want to learn more.
Cost of MyHeritage
Price: Starts at $89 for the kit, $94 for the first year subscription
| | | |
| --- | --- | --- |
| | MyHeritage DNA Kit | MyHeritage DNA Kit + 30 Day Trial |
| Cost | $89 | $89 |
| Ancestry Report | ✓ | ✓ |
| Find Relatives | ✓ | ✓ |
| Family History | | ✓ |
| Family Tree Builder | | ✓ |
| Historical Records | | ✓ |
MyHeritage only offers one test for $89. But if you opt for the free trial, you can access all its services for 30 days at no additional cost.
When your free trial expires, you'll be charged $94 for the first year. A membership with MyHeritage typically costs $189 per year.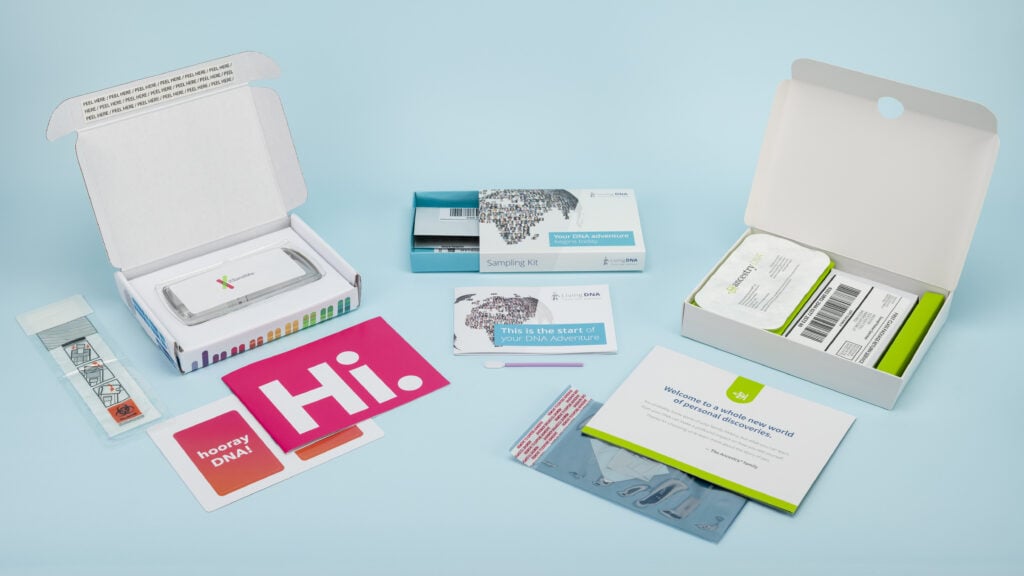 You can read more in my LivingDNA review.
Summary
MyHeritage enables you to learn more about your ancestors through DNA testing and gives you access to historical records. But its reports are not as detailed as competitors'.
While it can help you locate potential family members, including people from Europe, it may not provide accurate DNA matches.
We only recommend MyHeritage to people with significant European ancestry who want access to resources that are most useful to them.
LivingDNA – Best DNA Test for African Ancestry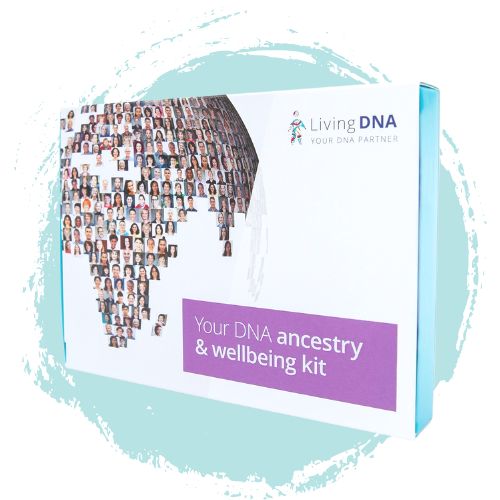 Living DNA is a UK-based genetic testing company. It determines your ancestry by comparing your genetic profile with populations from over 150 regions.
Nearly half of its references are in Africa, making it a great choice for African Americans and other people with significant African ancestry.
Why We Recommend It
May help people with immigrant families from Africa and Europe discover their ancestry
Provides detailed reports that trace ancestors from both sides of the family
Includes free lifetime updates for ancestry reports, improving their accuracy over time
Tests for possible nutrient deficiencies and offers custom supplements to help correct them
Upload raw data from supported services like Ancestry and 23andMe to get free reports
Why You Should Consider Alternatives
Lacks transparency on the current size of its genetic database
DNA results may not be as precise if your ancestors are from outside the 150 tested regions
Only tests for two health risks: lactose intolerance and celiac disease
Isn't approved by the U.S. Food and Drug Administration to provide health reports
Doesn't have access to historical records that may help confirm your results
LivingDNA Review
LivingDNA provides separate reports for your recent ancestry, maternal ancestry, and paternal ancestry—including maps that reveal the places where they migrated.
The DNA kit is most helpful for people whose ancestors originated from Africa and Europe, including Ireland and the British Isles.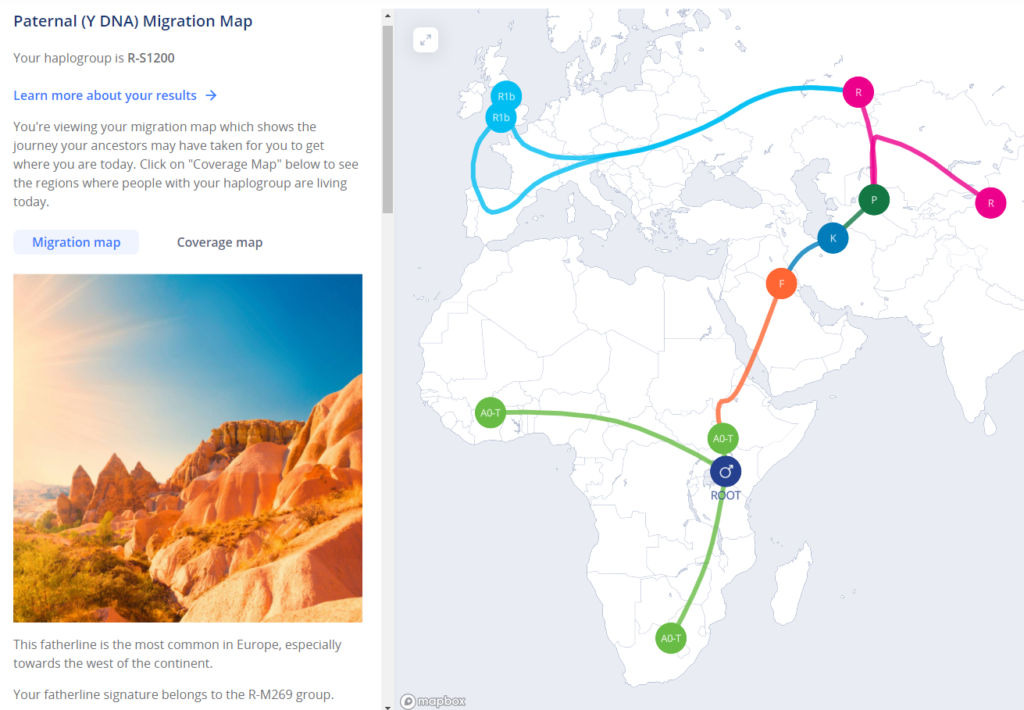 It also tests for a few traits that are important to your current health, such as how you absorb certain nutrients and digest certain foods.
Based on your results, LivingDNA will offer personalized supplements containing vitamins and minerals that you likely need.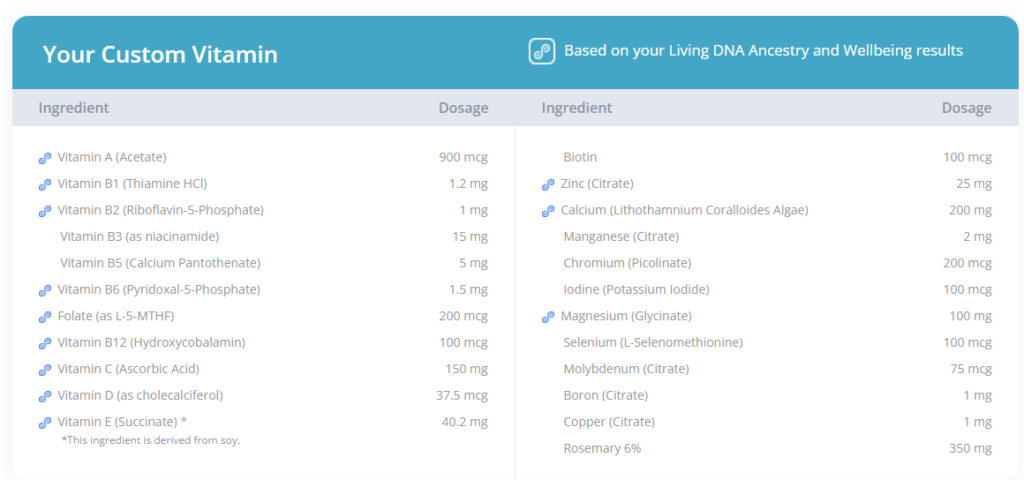 For example, my report says that I have genetic markers affecting my vitamin D absorption and suggests that I take a custom supplement with the same nutrient.
You can read more on our LivingDNA review.
Cost of LivingDNA
Price: Starts at $99 for the kit, no subscription fees
| | | | |
| --- | --- | --- | --- |
| | LivingDNA Ancestry Kit | LivingDNA Wellness Kit | LivingDNA Wellbeing and Ancestry Kit |
| Cost | $99 | $129 | $179 |
| Full Ancestry Reports | ✓ | ✓ | ✓ |
| Deep Ancestry Reports | ✓ | ✓ | ✓ |
| Full Wellbeing Reports | Upgradable | ✓ | ✓ |

LivingDNA doesn't charge for a subscription. Customers who purchase their ancestry kits will receive ongoing updates on ancestry.
However, shipping fees aren't included, so budget appropriately.
Summary
LivingDNA has an unknown database size and tests for fewer regions than competitors. But it's one of the most accurate DNA tests for people with significant African ancestry.
It also provides fairly accurate ancestry results for people with European origins, which include the migration routes of their maternal and paternal families.
Even though it doesn't test for too many health-related gene variants, we like that LivingDNA offers personalized supplements based on your DNA reports.
Accuracy of At-Home DNA Tests
At-home DNA tests are not as accurate as medical genetic tests. The accuracy of these tests also varies depending on the information they provide.
However, they can still offer valuable insights into your ancestry and health.
Accuracy of Ancestry Tests
Ancestry tests tend to be accurate when finding close relatives, such as parents or siblings. But they aren't as precise when it comes to distant relatives.
You can improve their accuracy by having more family members take the same test from the same genetic testing company.
When determining your ancestral origins, they can't really tell you where your ancestors came from. They only estimate your possible origins based on how much DNA you share with their reference populations from different regions.
At most, ancestry reports can lead you in the right direction if you're researching your family history or trying to find relatives—so you'll know where to look.
Accuracy of DNA Health Tests
At-home genetic health tests can lead to false positives. They're also unable to check for all genetic variants associated with the diseases they test for.
As a result, you shouldn't rely on them to diagnose health conditions or identify genetic risks and carrier status.
But you can take your health reports to a doctor or genetic counselor. They can use your results to determine if you (or your family) need medical genetic testing.
These health professionals can explain your test results and tell you:
What they mean about your health
How they affect the health of your child and/or family
What you can do about these genetic risks
Summary
At-home genetic tests are not as accurate as DNA tests carried out in laboratories, but can provide you with useful information on your genealogy and genetic health.
Always seek further guidance from a medical professional before taking action based on an at-home DNA test.
How We Picked The Most Accurate DNA Tests
We evaluated the accuracy of DNA testing companies based on these criteria:
DNA database — number of DNA profiles stored by the company
Regions tested — number of places it compares your DNA results with
Testing method — if it performs autosomal, Y-DNA, or mtDNA tests
These criteria helped our team narrow down the most accurate DNA tests.
Size of DNA Database
Companies with more users have larger databases, meaning more people to compare your DNA with. A larger pool of DNA test-takers increases your odds of finding a genetic match.
Genetic matches are people you share DNA with. They're genetically related to or have common ancestors with you.
A large database improves the accuracy and reach of people trying to investigate their ancestry or find close relatives and lost family members.
Regions Tested
To explore your family's origins, companies must also compare your DNA sample with the genetic makeup of people from different ethnic backgrounds.
Native inhabitants of a region tend to have similar phenotypes or observable traits, like height and blood type.1
Having similar DNA with a group of people means you share common ancestors.
We looked for DNA testing kits that test you against more populations and geographic regions because they tend to provide more accurate results.
Companies like AncestryDNA cover many places worldwide, which is great if you have no idea where your family originated.
But if you know your family background, you can settle for companies that focus on populations from specific geographic regions.
For instance, MyHeritage is a good option for people with ancestors from Europe, while LivingDNA may be better if you have a largely African heritage.
Testing Methods Used
Most at-home DNA tests perform DNA analysis in three ways:
Y-chromosome (Y-DNA) test tracks the paternal line in men
Mitochondrial DNA (mtDNA) test traces the maternal line
An autosomal DNA test traces maternal and paternal lines
Y-DNA and mtDNA testing are useful for genetic genealogy. This includes tracing your ancestors, finding missing relatives, and building family trees.
mtDNA tests give you more in-depth information on your mother's side of the family (matrilineal ancestry). When combined with autosomal DNA testing, it can help determine if someone is related to you through your matriline.
Y-DNA tests provide deeper insight into your father's side (patrilineal ancestry), but only if you're a man. So they aren't much use for women.
Some of the best DNA testing kits perform autosomal DNA tests because they check for genes that you inherited from both parents, regardless of your gender.2
By testing for certain genetic markers, an autosomal test can:
Match you with people you may be related to
Provide ethnicity estimates of your ancestors' origins
Assess your genetic predisposition to certain diseases
Identify genetic disorders your children might inherit
Autosomal tests also tell you how your unique genetic makeup influences your physical appearance, personality, behavior, and health.
More Tips for Choosing the Best DNA Testing Kits
Accuracy is not the only measure of a reliable DNA testing company. Before deciding, you should consider other things, such as:
1. What Information You Want From A DNA Test
Companies usually offer at-home DNA testing kits for health, ethnicity, ancestry, and traits. You should order a test that gives you the information you're looking for.
If you're more interested in uncovering your family roots and heritage, you should get a test that looks into your ancestral and ethnic origins.
Genealogy sites that provide access to historical records along with DNA tests may also be useful if you want to know how your ancestors lived.
But if you want to learn more about your health, a DNA health test is your best choice. Tests like 23andMe can assess your health risks and carrier status.
Other tests check for genetic traits that affect your health, like metabolism, nutrition, and intolerance to certain foods.
Keep in mind that your genes only partly influence your health. External factors like diet and lifestyle can still affect your overall health and wellness.
2. Access to Raw Data
Go for companies that let you download your raw data. This allows you to better protect the privacy of your genetic information.
You can also upload this data to other DNA testing services. This can help you find more DNA matches and expand your family tree.
3. Testing Cost & Additional Fees
Before buying a test, consider the cost of genetic testing and if you're willing to pay for them. This includes any fees you have to get more services.
Features that may require extra fees include health reports, creating or building larger family trees, and gaining access to historical records.
4. Connecting with Potential Family
A DNA service should offer ways to contact potential relatives and family members.
A good company must also protect your privacy. You must have the choice to opt out of genetic matching services and hide personal information like your name.
5. Actionable Health Report
Discovering how genes affect your health is crucial to DNA health testing. But so is knowing what you can do about these results.
Pick a test that offers actionable insights, such as tips for reducing your genetic health risks and improving your overall health.
6. Privacy of Your DNA Information
It's important that you read the privacy policy before buying a DNA testing kit, especially when considering potential law enforcement implications.
Ideally, you should pick a company that stores your genetic data, personal information, and DNA samples in a safe, trustworthy, and private manner so you're comfortable as a customer.
Some DNA companies may hold on to samples unless you ask them to be destroyed. Others destroy them as soon as they're done analyzing your DNA.
It's essential that you figure out which company's policies work best for you.
Why Accurate DNA Testing Is Important
Genetic tests reveal information that can influence your decisions and next steps. An accurate DNA test ensures you're headed in the right direction.
Let's say you underwent ancestry DNA testing.
With the right results, you'll be able to look into the historical records of places where your ancestors likely came from—and successfully build a family tree.
But if your reports are inaccurate, they can throw off your research. This can prevent you from uncovering your true genetic ancestry.
Another example is if you took a DNA test to see which diseases you're at risk for. You need accurate results to be able to do something about them.
If your results are inaccurate, you might not make the right dietary changes or lifestyle choices needed to lower your health risks and improve your health.
Why Trust Us
Speaking from experience, I've been testing DNA kits for the last seven years. I've been trying out every DNA test on the market, comparing results, and monitoring the changes over time.
As an organization, we at KnowYourDNA are committed to helping you get the most accurate information about your ancestry, health risks, and other genetic traits.
We only choose at-home kits that meet the DNA testing industry's standards and provide reliable testing methods.
Our in-house medical experts meticulously review our articles before publication to ensure their accuracy.