Our verdict: Viome Gut Intelligence did a fair job assessing my gut health and reporting my results.
Viome gave me actionable recommendations on how to improve my gut health. The test also scored my gut health and microbiome activity and suggested healthy foods and supplements.
The human gut microbiome consists of "good" and "bad" bacteria, fungi, and other microbes in the intestines. It's linked to several health aspects, like digestion and the immune system.
 Interest in the effects of these microbes led to the proliferation of gut microbiome testing. In this review, let's talk about one of the companies offering such testing, Viome. 
Meet the Expert
Dr. Rizza Mira is a medical doctor and a general practitioner who specializes in pediatrics, nutrition, dietetics, and public health.
As a pediatrician, she is dedicated to the general health and well-being of children and expecting parents. She believes that good nutrition, a healthy lifestyle, and prevention of illness are key to ensuring the health of children and their families.
When she's not in the hospital, Rizza advocates and mobilizes causes like breastfeeding, vaccination drives, and initiatives to prevent illness in the community.
About The Company
Viome is a U.S.-based wellness company that offers health testing kits and solutions for optimizing health.
Unlike other tests, Viome uses a technology called mRNA sequencing technology to learn about your overall health with just a small sample.
This unique technology enables Viome to provide personalized food recommendations and supplements using artificial intelligence (AI) with the latest scientific research.
Based on the test results, each customer gets a customized blend of prebiotics, probiotics, vitamins, minerals, amino acids, herbs, and food extracts.
Viome Test Review
Ease of Sample Collection—5 stars
Health Information—3.5 stars
Results turnaround time—4 stars
Realtime updates—5 stars
Privacy and Security—4 stars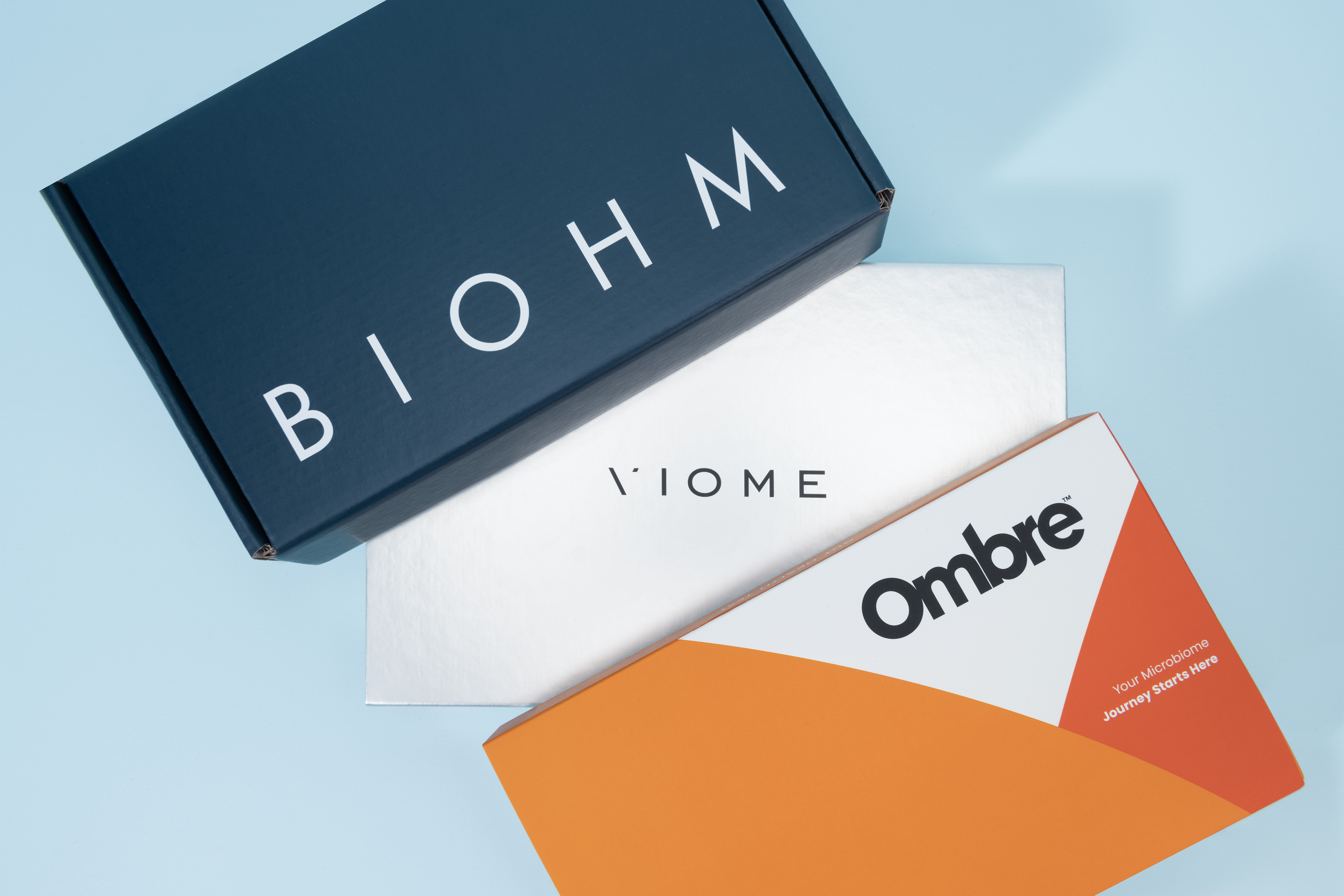 Best Gut Health Test
Our review of the best at-home Microbiome Tests.

Product Review Summary
Pros
Identifies a wide range of microorganisms such as bacteria, archaea, eukaryotes, probiotics, and viruses
Provides personalized reports and recommendations
Updates results with new research and improved AI algorithms
Cons
Sample collection may be uncomfortable
Overly technical language and vague explanations
Non-FDA-approved tests
Recommendations are sorted and selected by Viome's AI instead of actual doctors and nutritionists
Why Trust Us
At KnowYourDNA, we are committed to making healthcare more accessible to everyone. This is why we only feature products that meet our rigorous industry standards.
We carefully select at-home kits with reliable testing methods and science-backed reports to improve your health.
Our in-house medical experts are passionate about ensuring the accuracy of the information we provide to our readers.
They review every information before publication to ensure you receive only the most reliable and up-to-date advice.
What Are Your Options?
Viome currently offers three at-home testing kits:
Gut Intelligence™ Test
Viome's Gut Intelligence™ Test uses a stool sample to identify and measure gut microbes. The results refer to your Gut Microbiome Health score.
Health Intelligence™ Test
Viome's Health Intelligence™ Test combines Gut Intelligence™ with human gene expression tests. It uses both stool and blood samples to provide six health scores:
Gut microbiome health
Biological age
Stress response health
Cellular health
Immune system health
Mitochondrial health
Full Body Intelligence™ Test
Viome's Full Body Intelligence™ Test is currently the most advanced test offered by Viome. Using your stool, saliva, and blood samples, it provides a personalized report on your:
Gut microbiome health
Biological age
Immune system health
Oral health
Brain and cognitive health
Heart and metabolic health
Cellular and energy efficiency
Inflammation response
Depending on your chosen test, you must submit stool, saliva, blood, or several samples simultaneously.
Viome Gut Intelligence Test
Viome uses a small sample of your stool to check microbes in your gut. It can determine if you have any potential health problems like inflammation or trouble digesting food.
Based on the results, Viome can tell you which areas of your gut need help and what might be causing gastrointestinal (GI) symptoms, such as:
Random constipation or diarrhea
Stomach discomfort, gas, or bloating after meals
Sporadic heartburn
Anyone struggling with weight management, skin problems, and low energy can also gain from this test.
Quick facts on Viome Gut IntelligenceTM
| | |
| --- | --- |
| Price | $249 |
| Sample collection type | Stool |
| DNA Testing Method | mRNA Sequencing Technology |
What's Inside The Kit?
When my Viome Gut Intelligence Test kit came in the mail, I was pleasantly surprised by its high-end packaging. It was also very well-organized and easy to use with their color-coded and labeled sections.
Included in the kit are:
Collection tube
Collection paper
Spoon
"Start Here" booklet
Shipping box
Prepaid shipping label
The booklet labeled "Start Here" outlines the sample collection process. The instructions were easy to understand, with step-by-step directions for every sample type.
What I Learned From My Viome Results
Let's examine my results and check what Viome Gut IntelligenceTM said about my gut health.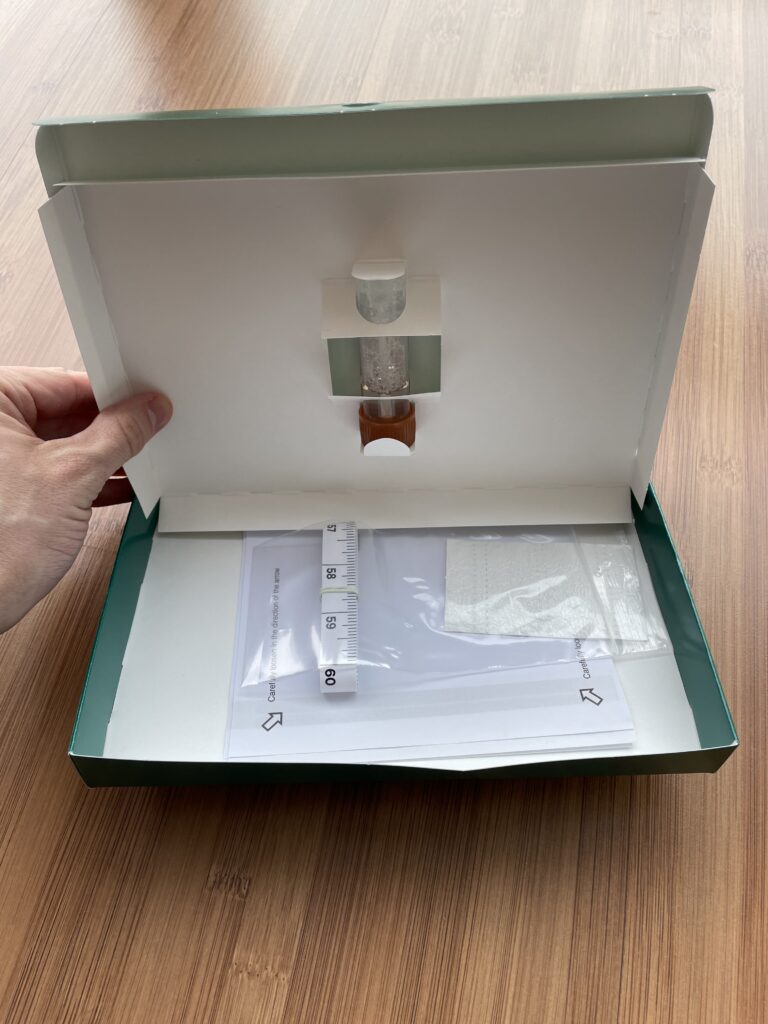 After logging into my account, the homepage greeted me with various steps and statuses. It is an excellent way to monitor a test since they provide real-time tracking of your progress.
The "Nutrition" section provides the bulk of my information. It contains my Gut Microbiome Health, personalized diet recommendations, and a guide to following these recommendations.
Food Recommendations
The "Nutrition" section starts with "My Food List." It has 300+ foods, categorized as:
Superfoods
Enjoy
Minimize
Avoid
One of my superfoods is egg yolk. I clicked on "Egg Yolk (Chicken)," The report contained serving size, my response to egg yolk, and several studies. That is pretty helpful information, if I may say.
One food Viome said I should enjoy is soybeans. I clicked on "Soybeans (non-GMO)." Unfortunately, the report only contains a recommended serving size. It didn't provide any other information.
Moving on to the foods that I should minimize.
Like my superfoods, there were several things listed. However, many of them, like my "Pork (Lean)" report, only contained serving size.
Lastly, the list of foods that I should avoid.
I first looked at celery. This report explains why I should avoid this food (like my body's response and several support studies).
The list is quite long, which can be either bad or good. Some people may think that it's too long and, therefore, more challenging to check and note them all. Others will likely appreciate the comprehensive list.
Unfortunately, in most entries, there's not much explanation. The body responses may be helpful, but the support studies may be overly-technical and people won't bother to check them.
The food recommendations are AI-selected. They were developed after comparing my results against Viome's collection of data.
They're not provided by doctors or nutritionists, actual experts who are experienced in this area, which some may find concerning.
Viome Precision Supplements™
The "Nutrition" section also had my supplement recommendation. If you click on one ingredient, it will provide an overview and support studies.
Like food recommendations, the discussions here can be overly-technical.
Gut Microbiome Health Report
Lastly, the "Nutrition" section contains my Gut Microbiome Health. This is the only score I got with the Gut IntelligenceTM test (I can also access this report under the "Results" submenu).
My report says that my gut microbiome isn't in optimal condition.
The report only lists the ingredients contributing to my "not optimal" result. Viome identified 38 food components (including vitamins, herbs, minerals, food extracts, amino acids, prebiotics, and probiotics) that contributed to it.
I clicked on "View Score" to get more details.
Viome showed these sub-scores that affected the calculation of my Gut Microbiome Health score:
Inflammatory activity
Metabolic fitness
Digestive efficiency
Gut Lining health
Protein fermentation
Gas production
Active microbial delivery
I clicked on "Inflammatory Activity." The report showed me a summary of all the report details, the nutrients supporting this subscore, a list of metabolic pathways, etc.
Again, the language and terms used in these reports are vague and complicated. Viome could have made them more reader-friendly.
My Microbiome Activity
This report contained all the microorganisms (like bacteria, fungi, and viruses) Viome found in my stool sample. I accessed this report under the "Results" submenu.
It's just a list, though, and no other details are provided.
More Results With Your Viome Report
I have several unlocked scores that cannot be accessed with a Gut Intelligence™ test. If you take the Viome Health Intelligence™ test, you can get five additional scores besides Gut Microbiome Health.
Is Viome Accurate?
Viome claims that their Gut Intelligence test offers a comprehensive analysis of your gut microbiome with accurate results.
At-home gut microbiome tests are helpful for identifying potential risks and improving gut health. But they risk inaccuracy due to factors like sample collection errors.
It's also important to know that Viome's personalized recommendations are generated by AI technology instead of doctors and nutritionists.
While AI-generated insights are valuable, they should only complement the guidance of healthcare professionals rather than replace them.
AI-generated recommendations may not be the most precise due to factors that affect its model accuracy like:
Data limitations
Lack of human expertise
Constant need to incorporate real-time updates on gut microbiome research
Challenges in considering your specific medical history, lifestyle, and genetics, or other factors that could influence gut health
However, despite these potential limitations, studies have shown that testing can be helpful in identifying potential risks and improving gut health through diet and supplement recommendations.2
Viome tests can help identify your risk for symptoms and health problems linked to gut imbalance, including:3,4,5
Type 2 diabetes
Irritable bowel syndrome (IBS)
Poor digestive health
Mental health disorders
Heart disease
Is Viome Gut Intelligence Test FDA-approved?
Viome's gut microbiome tests are not currently FDA-approved. But no similar tests have been granted FDA approval as of the moment.
The absence of FDA approval for gut microbiome tests indicates that they have not undergone the rigorous evaluation process required by the FDA to ensure their safety, efficacy, and accuracy.
It does not necessarily mean the tests are inaccurate, but it does highlight the need for caution when interpreting results.
It also reinforces the importance of consulting healthcare professionals for a comprehensive understanding of your gut health.
How Does Viome Gut Intelligence Test Work?
Order a test kit: Start by choosing one of Viome's four products. You'll receive your kit through mail.
Collect sample: Viome only offers at-home kits, so you collect the sample yourself. Collect stool for the Gut Intelligence™ test. Collect blood and stool for the Health Intelligence™ test.
Send back the samples for lab testing: Viome uses an RNA technology called "metatranscriptomic sequencing" to analyze gut microbes. It will use AI to interpret findings and develop your food and supplement recommendations.
Order supplements (optional): Get a subscription service if you want a monthly supply of probiotics, prebiotics, or customized supplements. You can cancel or pause the subscription at any time.
Where Can I Buy Viome Gut Intelligence Test Kit?
You can buy Viome's health tests with a one-time payment or interest-free monthly installments using ShopPay. Here's how much they cost:
Viome's Bundle Offers
Another option is to buy the tests in bundles. It's a monthly subscription that includes a test of your choice and personalized supplements:
You will receive supplements for every month you are subscribed after you take the test.
Save more: Use the code for 15% off on the first three months if you subscribe.
Viome vs. Competitors
| | | | |
| --- | --- | --- | --- |
| Comparison of Gut Health Tests | Viome Gut Intelligence™ Test | Biohm Gut Test | Ombre |
| Price | $249 | $129.99 | Starts at $89.99 |
| Results turnaround | Two to three weeks | Four to six weeks | Two to four weeks |
| Includes diet recommendations | Yes | Yes | Yes |
| Includes supplement recommendations | Yes | Yes | Yes |
| What does it test for? | Microorganisms, including strains and species of parasites, viruses, bacteria, and yeast | Bacteria and fungi living in your gut | Gut imbalances, good and bad bacteria present in the digestive tract |
| Collection method | Stool sample | Stool sample | Stool sample |
| DNA Testing method | mRNA sequencing technology | Polymerase Chain Reaction | Ribosomal RNA (16S RNA) |
| Website | Viome.com | Biohmhealth.com | Ombrelab.com |
Viome vs. Biohm
Like Viome, Biohm provides a gut score, an analysis of the microbial populations in your gut, and personalized recommendations. Biohm also sells supplements.
The two companies' primary difference lies in their sequencing technologies. Biohm focuses on DNA; Viome is on RNA. This affects Biohm's accuracy, as DNA testing doesn't distinguish between living and dead organisms.
Lastly, Biohm only analyzes bacteria and fungi. Viome looks at more types of microbes.
Viome vs. Ombre
Like Viome, Ombre (formerly Thryve) analyzes stool samples. It also provides a gut health score, personalized food plans, and customized probiotics. 
One area where Ombre lags behind Viome is that it only measures gut bacteria. Viome is more comprehensive as it looks for more microorganisms.
Ombre's reports are more straightforward, while Viome's are complex. The good thing is Viome's reports have more details, although the company doesn't explain the concepts well enough.
Is Viome Worth It?
Yes. Viome and other gut microbiome tests have much potential. Many studies have already linked the gut microbiome to several health aspects, sparking interest in testing.
Viome provides gut microbiome analysis and personalized food and supplement recommendations. These services can help you change your diet and lifestyle, ultimately leading to optimal gut health.
"Maintaining good gut health is key to preventing other illnesses, like irritable bowel syndrome, liver, and heart diseases," says Rizza Mira, M.D.
Still, there is uncertainty about Viome's gut microbiome tests. They are not FDA-approved, although no similar tests have garnered FDA approval. Moreover, recommendations are made by AI, not by doctors or nutritionists.
You can use Viome's tests to see what food or food ingredients you should minimize or avoid. Then discuss the information with a healthcare professional and create an optimal health plan tailored to your needs.
How We Evaluated the Test
Brand reputation
We use the reviews and ratings from Viome customers online to recognize a brand's reputation and trustworthiness. Most online reviews for Viome signify customers were content with the test and the resulting reports.
The company also exhibited transparency with its policies and practices around microbiome testing. You can read some more information regarding its gut health testing here.
Privacy and security
Viome takes privacy and data protection very seriously. It has implemented various measures to protect its customers' data.
Viome complies with various data protection laws, including the General Data Protection Regulation (GDPR), the California Consumer Privacy Act (CCPA), and the Health Insurance Portability and Accountability Act (HIPAA), among others.
The company's privacy policy includes how they collect, use, store, maintain, share, disclose, protect, and allow customers to access their data.
They de-identify or pseudonymize the data before using it for purposes other than their services.
Customer Service
Viome has a database where you can search for answers about your account and test results. They also have virtual assistants ready to help if you have problems using the support center page.
While searching for reviews about the company, we noticed they are highly responsive to customer feedback. They offer solutions and knowledge about their products and services. 
Convenience
An at-home gut health test is meant to be easy and convenient. You should only need to buy the kit, collect your sample, and send it back to the lab.
Collecting the sample is pretty straightforward—it takes less than 15 minutes. Everything you need to obtain your specimen is already in the kit, making the process hassle-free.
The test doesn't require you to fast before testing. You can collect your sample as soon as the kit arrives.
The test kit comes with a prepaid, pre-labeled envelope. I just had to drop by the nearest USPS mailbox to send the samples to the lab.
Within a week, Viome emailed that they had received my test kit. Two days later, they emailed again to inform me that my kit was being processed.
They kept me in the loop about the whole testing process. And I received my results within the expected time frame.
Value for money
The Gut Health Intelligence Test offers actionable steps to help improve your gut's health, such as:
Supplements recommendation
Personalized food plans
Customized probiotics
The test also checks for more microorganisms than competitors, making it more comprehensive. It assesses your gut activity to help optimize your digestion and food absorption.
Accuracy
Viome claims their Gut Intelligence test is accurate in providing insights into an individual's gut microbiome. The same goes for their personalized recommendations to improve gut health.
However, the accuracy of the test results may depend on several factors, including the quality of the biological sample provided by the customer.
It's important to note that no testing or analysis method is 100% accurate, and there may be limitations in the results provided by Viome's Gut Intelligence test.
Viome Common FAQs
How Does Viome Protect Your Privacy?
According to Viome, it separates any identifiable information from your health data. It secures your data with multiple layers of encryption.
The company states that it would never provide your data to third parties (unless required by law). You do have the option to let Viome use your anonymized data for research.6
How Long Do Viome Results Take?
Expect your results to be available within two to three weeks. You can access your health scores (depending on the type of test) on Viome's website or app.
You'll also get personalized food and supplement recommendations which Viome has determined based on your results.
Do I Need To Get A Doctor's Prescription To Take The Test?
No. You don't need a doctor's prescription to take a Viome gut health test. However, it's important to speak with a healthcare professional before or after taking the test.
They can guide you with making significant changes to your diet or lifestyle based on the results of any gut health test, including Viome's Gut Intelligence test.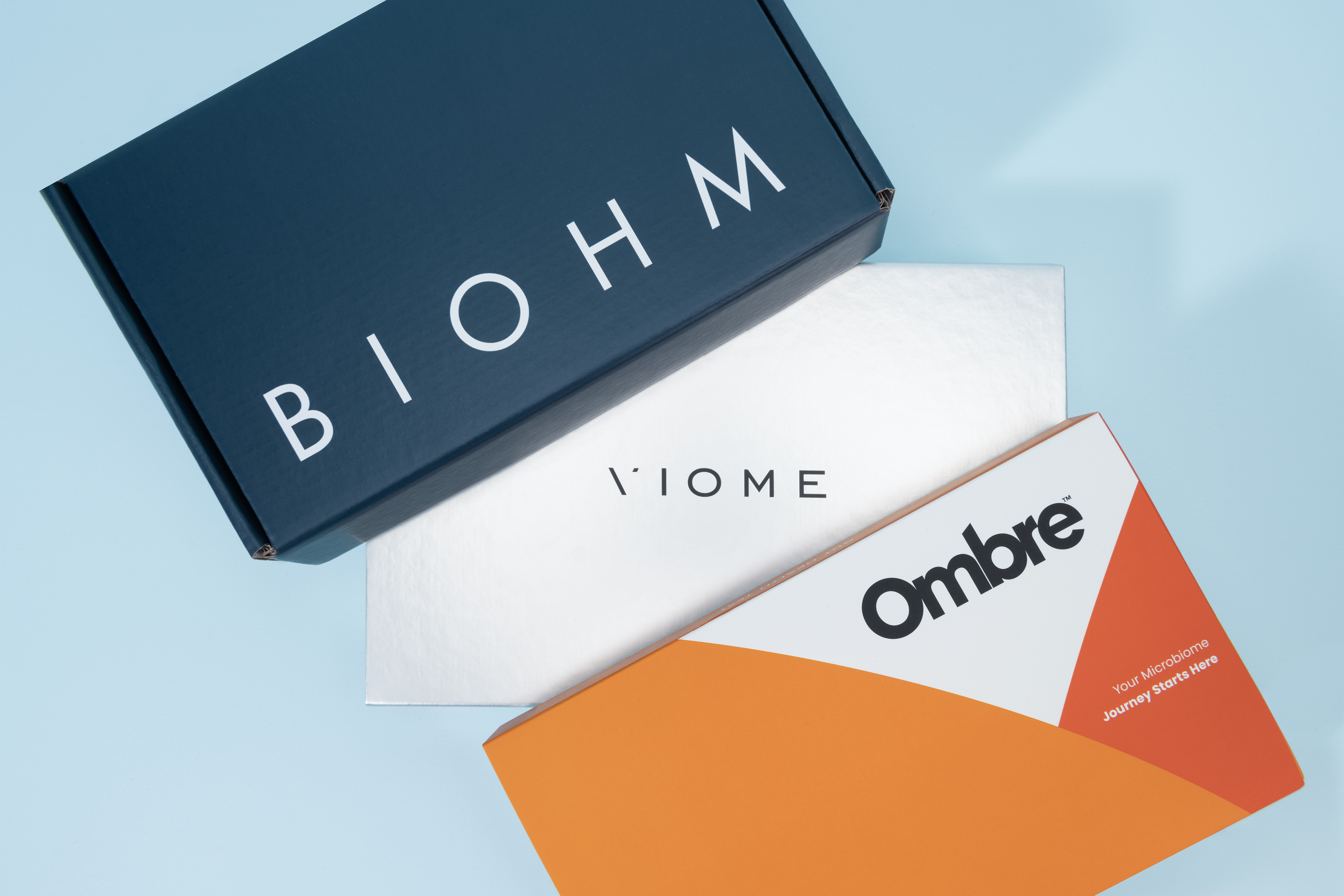 Best Microbiome Test
Looking for the best microbiome kit on the market? Look no further! Our review round-up page has all the information you need to make an informed decision.