Our verdict: Viome Gut Intelligence did a good job of assessing my gut microbiome. But what I Ioved most were the actionable reports that came with my results.
Apart from scoring my gut health and listing which microbes lived in my gut, it gave me a long list of foods—I'm talking over 300 foods—that I could eat more of or avoid if I wanted to have a healthy gut flora.
The company also suggested that I take probiotics containing a personalized blend of ingredients (all of which were based on my results).
In this review, we'll take a closer look at Viome's microbiome tests and reports.
We'll also look into the accuracy of its tests and see how it stacks up against some of the best at-home gut tests.
Viome Review Summary
We scanned through hundreds of customer reviews and feedback. Here's a summary of what people are saying about Viome's products:
Pros
Easy-to-order tests and supplements with quick delivery
Scientifically-supported testing method with fast results
Identifies more pathogens in the gut than any of its competitors
Customized health recommendations based on your gut microbiome
Updates your results with new research and improved AI algorithms
Many users claim its supplements help with energy and overall health
Customer service is helpful, responsive, and willing to replace kits
Cons
Reports have inconsistent accuracy and amount of detail
There are people who find its results confusing and hard to interpret
Doesn't offer personalized support for its results and recommendations
Current subscription plans can leave you with excess supplements
Some users find it difficult to navigate reports or cancel subscriptions
Viome's supplements may cause discomfort and adverse effects
Subscriptions are too expensive for some people
Meet The Expert
Dr. Rizza Mira is a medical doctor and a general practitioner who specializes in nutrition, dietetics, and public health.
She believes that good nutrition and a healthy lifestyle are key to ensuring optimal health.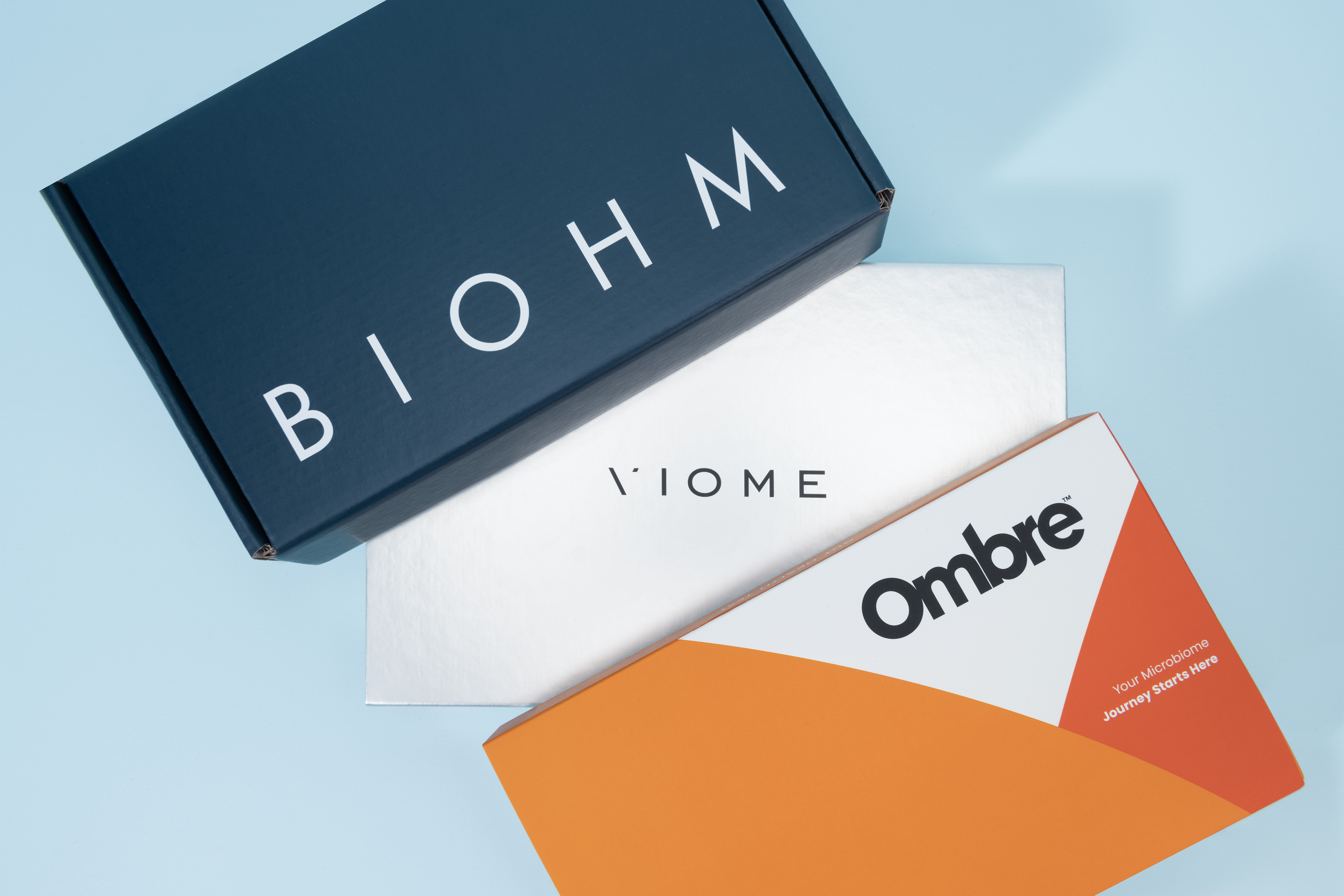 Best Gut Health Test
Our review of the best at-home Microbiome Tests.
What is Viome?
Viome is an American wellness company that specializes in at-home microbiome testing. Taking this test can uncover gut imbalances that affect your digestion and overall health.
It requires stool (and sometimes, saliva and a blood sample) depending on which Viome test you take since there are several options to choose from.
Unlike other microbiome tests that analyze your gut microbiome's DNA, Viome uses mRNA sequencing to examine the ribonucleic acids (RNA) they produce.
This helps them test for a wider range of microorganisms, including:
Good and bad bacteria
Yeasts and fungi
Parasites
Viruses
Viome also uses an advanced artificial intelligence (AI) called "Vie" to determine if your gut flora is producing proteins that are beneficial or harmful to your health,1 and interpret other findings.
Based on your test results, the AI will recommend foods and Viome's own line of prebiotics and supplements so you can optimize your health.
What makes Viome special is that you'll get personalized supplements that are designed to correct your unique imbalances.
Viome Tests and Precision Supplements
Viome offers three at-home microbiome tests and two supplements.
1. Gut Intelligence Test
It's the most basic gut test from Viome and requires a stool sample to identify and measure the gut microbes present in your digestive tract.
Your test results will help Viome determine how your gut affects your health. For instance, it can tell if you have gut bacteria causing problems such as:
Trouble digesting certain food
Gut inflammation
Impaired blood sugar regulation
2. Health Intelligence Test
Viome's Health Intelligence Test requires blood and stool samples so it can analyze both your gut and gene expression (RNA) and provide a more complete assessment of your health.
Your report will include a total of six health scores, namely:
Gut microbiome health
Biological age
Stress response health
Cellular health
Immune response
Mitochondrial health
3. Full Body Intelligence Test
It's currently the most comprehensive test from Viome, requiring blood, stool, and saliva samples to give you up to 50 health reports.
You basically get the same reports as Gut and Health Intelligence. However, the Full Body Intelligence Test also covers key aspects of your health, such as:
Oral health
Brain and cognitive health
Heart and metabolic health
Cellular and energy efficiency
Inflammation response
4. Precision Probiotics + Prebiotics
The supplement may include eight to sixteen probiotic strains that have been carefully chosen to help correct your gut imbalances.
Viome will base its choice of probiotics on your gut report so you get a custom blend that is tailored specifically to your needs.
If you're experiencing symptoms caused by poor gut health, Viome's probiotics may reduce them. Some issues it can potentially address are:
Weight management
Recurring skin issues
Digestive problems
Low energy levels
Increased stress
Difficulty sleeping
Immune system
Mood and overall health
You can buy the prebiotics as an add-on subscription to the Gut Intelligence. Here's more information on Viome's subscription plans.
5. Precision Supplements Complete
The complete supplement is a custom blend designed to optimize your health and may contain over 50 ingredients. It includes a combination of:
Vitamins and minerals
Herbs and food extracts
Amino acids and enzymes
Natural extracts (e.g., antioxidants)
The company handpicks its selection from more than 200 ingredients to create a personalized supplement that supports your cells and microbiome.2
Viome's Precision Supplements are only available as an add-on to the Full Body Intelligence kit and can be ordered together with Precision Probiotics.
How Viome Testing Works
I found the testing process simple and straightforward, just like what other Viome customers have observed. It's also transparent. After registering your kit, you can quickly check your progress online or on the free Viome app.
Here are the steps that you need to follow:
Purchase a test kit: Pick one of Viome's tests, place your order, and wait for it to arrive in your mail. You can download Viome's app while waiting.
Register your kit: When it arrives, register the kit on the Viome mobile app and answer the questionnaire, which takes about an hour to complete.
Collect your sample: Follow the instructions that came with your kit.
Send back your samples: Viome will analyze your samples while the AI interprets your results and answers to the questionnaire to develop your personalized plan.
Wait for your report: It should be ready within two to three weeks after the lab receives your samples. When ready, you can access it on the Viome app.
Get your recommended supplements: You'll receive them within fourteen days of getting your results (if you bought them as an add-on) or purchase them from here (if you haven't yet).
What's Inside Viome's Kit?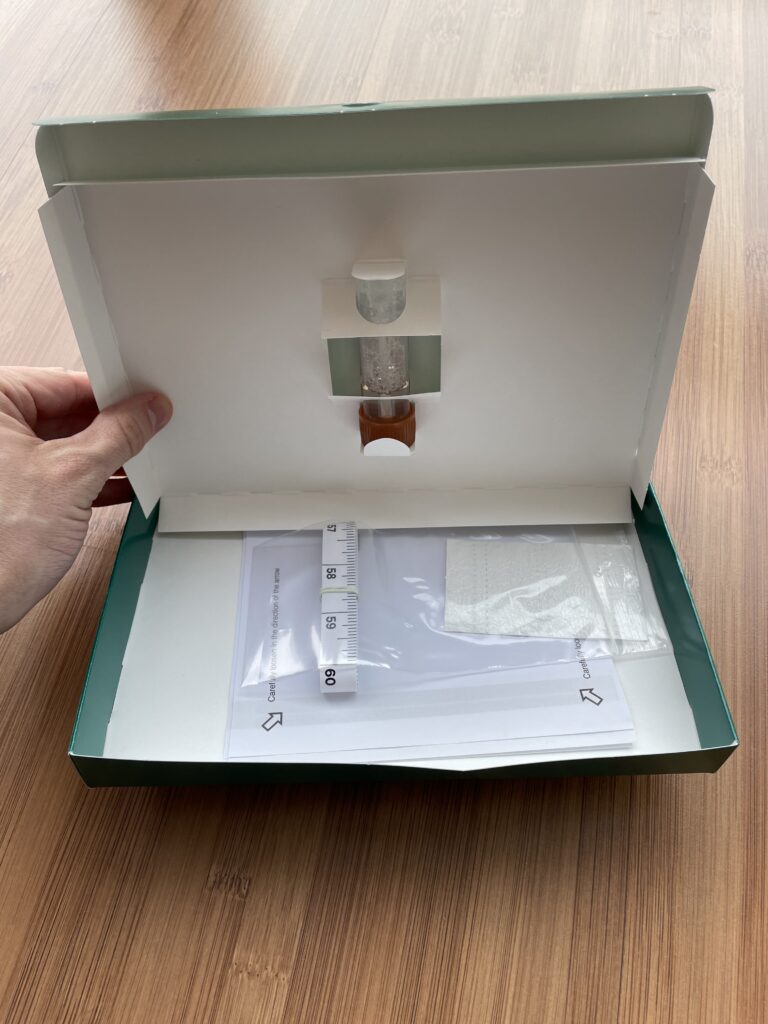 I ordered the Gut Intelligence Test and when the kit came in the mail, I was pleasantly surprised by its high-quality packaging.
The contents were organized and easy to use thanks to the color-coded and labeled sections. Inside the box are:
Collection tube
Collection paper
Spoon
"Start Here" booklet
Shipping box
Prepaid shipping label
The booklet that says "Start Here" contains the instructions for the sample collection process. They were easy to understand and follow.
My Viome Results
Viome divides its report into two sections: Nutrition and Results.
Nutrition – personalized suggestions for improving gut health
Results – contains your health reports
Below is a closer look at my reports after taking the Gut Intelligence test, so you know what to expect.
1. Food Recommendations
Under "Nutrition" is a section containing "My Food List" which has over 300 different foods categorized into:3
Superfoods – healthy foods that are most beneficial to your gut
Enjoy – other foods that you can eat alongside your superfoods
Minimize – potentially unhealthy foods that should be eaten in moderation
Avoid – unhealthy foods that are bad for your gut microbiome
When you click on some foods, you'll receive a serving size suggestion and information as to why they're good or bad for your health.
Although useful, the way it was explained to me was too technical.
There are also links to relevant studies in case you want to learn more. But unless you have a medical degree, you won't be able to interpret them.
However, you won't get the same level of information across the board.
Most foods on my list only had a recommended serving size and didn't provide any explanation on why I should be eating them or avoiding them.
You do get an exhaustive list of foods, which is good. Unfortunately, the user interface makes it difficult to take note of all of them.
2. Viome Precision Supplements
The "Nutrition" section also contains your recommended supplements. This report breaks down every ingredient in your custom blend.
You can click on each one to learn more about its benefits and access related studies.
While the information is generally useful, it more or less summarizes what they can do for your body. It doesn't really explain how they provide these benefits.
3. Gut Microbiome Health Report
If you take Viome's basic gut test, you can view an assessment of your gut microbiome under the "Nutrition" and "Results" tabs.
But if you order the Health Intelligence or Full Body Intelligence test, you'll get more health reports in this section.
For this report, you'll learn whether or not your gut microbiome is in optimal condition and get a list of prebiotics, probiotics, and nutrients that will improve its health.
Clicking on the "View Score" will reveal your Gut Microbiome Health Score. Viome rates this on a scale of 0 to 100, with 100 being the best.
Your report will also show how Viome calculated your score based on the following criteria:
Inflammatory activity
Metabolic fitness
Digestive efficiency
Gut lining health
Protein fermentation
Gas production
Active microbial delivery
Each criterion is likewise scored on a scale of 0 to 100 so you'll know which ones are mostly affecting your gut health.
In my case, it's my gut lining and digestive efficiency:
If you click on a criterion—such as inflammatory activity—you'll get a summary of Viome's findings and which probiotics, prebiotics, or nutrients may help improve its score.
The average person may find the language and terms used in these reports too difficult to understand. Viome could have made them more reader-friendly.
4. My Microbiome Activity
Under the "Results" tab is a breakdown of the different microorganisms found in your gut including bacteria, fungi, viruses, yeasts, parasites, and other microbes.
While it identifies specific strains, you'll only get a list. Viome doesn't tell you whether they're beneficial or harmful, and how they impact your gut health.
5. More Results With Your Viome Report
I have several unlocked scores since I only took the Gut Intelligence test.
If you take the Viome Health Intelligence or Full Body Intelligence test, you'll be able to unlock more scores and get additional health insights.
Is Viome Accurate for Gut Health Assessment?
It's too early to tell if Viome is accurate for gut microbiome testing. But it does use a scientific testing method that's been proven useful in clinical diagnosis.
RNA sequencing—the same technique behind Viome's microbiome test—is capable of identifying disease-causing genetic variants.4
It is currently being explored by professionals as a fast and cost-effective way of diagnosing disease.4
Viome analyzes samples in a U.S. laboratory that meets the standards of the Clinical Laboratory Improvement Amendments (CLIA).5
This ensures they provide accurate and reliable test results.
While Viome uses AI to analyze your results and provide you with personalized recommendations, "Vie" was trained with professional and user data, namely:1
Experts in microbiology, nutrition, and medical science
The latest scientific research
Customer feedback
Your results can become more accurate and detailed as the AI improves. That said, you shouldn't use them to replace medical tests that are prescribed by a doctor.
Is Viome FDA-approved?
Yes and no. Viome's gut microbiome tests are not approved by the U.S. Food and Drug Administration (FDA).
However, this only means you can't use them to diagnose health problems.
As of 2021, the FDA has granted approval for Viome's mRNA technology and AI platform for the detection of oral and throat cancer.6
This reinforces the validity of Viome's testing and analysis methods.
How Much Does Viome Cost?
Viome's testing kits retail at around $249 to $399 each, though you can get up to $100 off on these prices during sitewide promos.
| | | | |
| --- | --- | --- | --- |
| Cost | Gut Intelligence | Health Intelligence | Full Body Intelligence |
| Test Kit | $249 | $329 | $399 |
| Test Kit w/ Precision Probiotics and Prebiotics | $69.95 per month | Not available | Not available |
| Test Kit w/ Precision Supplements and Probiotics + Prebiotics | Not available | Not available | $179 per month |
| Test Kit + Precision Supplements Only | Not available | Not available | $130 per month |

You can purchase Viome's tests with a monthly subscription, which costs $69.96 to $179 per month and includes the following:
One-month supply of your recommended supplements
A free testing kit every twelve months
However, there's no option to buy supplements separately on the Viome website.
As for your payment options, you can pay for everything with a one-time payment or with four interest-free monthly installments using ShopPay.
Viome vs. At-Home Gut Health Tests
| | | | | |
| --- | --- | --- | --- | --- |
| Comparison of Gut Health Tests | Viome Gut Intelligence™ Test | Biohm Gut Test | Ombre | Everlywell Food Sensitivity Test |
| Price | $249 | $129.99 | Starts at $89.99 | $199 |
| Testing method | mRNA sequencing technology | Polymerase Chain Reaction | Ribosomal RNA (16S RNA) | Blood test |
| Collection method | Stool sample | Stool sample | Stool sample | Dried blood spot |
| Results turnaround | Two to three weeks | Four to six weeks | Two to four weeks | Five to seven days |
| What it measures | Gut microbes, including bacteria, viruses, parasites, fungi, and yeast | Gut bacteria and fungi | Gut bacteria | Biomarkers for food intolerance |
| Includes diet recommendations | Yes | Yes | Yes | Yes |
| Includes supplement recommendations | Yes | Yes | Yes | No |
Viome vs. Biohm
Our Pick: Viome is better overall, Biohm for more supplement choices
Like Viome, Biohm analyzes your gut flora and provides food recommendations and suggests supplements, which you can buy from their website.
However, Biohm's recommendations are too generic, and while they have a wider range of supplements, these are not personalized to your needs.
Biohm and Viome also use different testing methods. Biohm uses DNA testing and can only identify bacteria and fungi.
Viome uses a form of RNA sequencing which gives it the ability to identify more microbes that may be present in your gut.
You can read our Biohm review here.
Viome vs. Ombre
Our Pick: Ombre for gut health reports, Viome for personalized probiotics
Viome and Ombre (formerly Thryve) basically include the same reports. The two companies also use a similar testing method, which involves RNA sequencing.
Both give you an analysis of your gut microbiome, food suggestions, and supplement recommendations from their own line of products.
Ombre's gut reports are more detailed, informative, and easier to understand. But it can only test for gut bacteria.
Ombre also has single-strain probiotic supplements, unlike Viome, which offers multi-strain probiotics with up to eight strains.
Lastly, while Ombre recommends probiotics based on your results, each capsule contains a pre-blended formula and isn't customized to your unique needs.
You can read our Ombre review here.
Viome vs. Everlywell Food Sensitivity Test
Our Pick: Everlywell for identifying food intolerances, Viome for gut health
Everlywell's at-home food sensitivity test is different from other Viome competitors we've featured. For starters, it doesn't test your gut microbiome.
It requires a small blood sample instead of stool and looks for biomarkers that may indicate the presence of food intolerances.
The Everlywell test is a great alternative to Viome if you've been experiencing digestive symptoms and want to get a list of foods that may be causing them.
Still, Viome is a decent option if you want a more comprehensive assessment of your gut health.
Should You Try Viome?
You may want to consider Viome if you have signs of an unhealthy gut, such as:
Digestive health issues (e.g., bloating or gas)
Food cravings and struggling with weight loss
Mental health issues (e.g., feelings of anxiety or depression)
Chronic skin problems (e.g., acne or eczema)
Fatigue and trouble sleeping
Poor gut health tends to cause different symptoms for everyone. Viome may be able to help you with its personalized custom probiotics and food recommendations.
Studies show that probiotics and a personalized diet designed to support your gut microbiome can promote a healthy gut.
"Maintaining good gut health is key to preventing other illnesses, like irritable bowel syndrome, liver problems, and heart diseases," says Rizza Mira, M.D.
If you're willing to make these changes, you can use Viome's services to see which foods you need to eat and what probiotics are most beneficial to you.
Still, it's best that you see a healthcare professional—like a doctor or nutritionist who can evaluate your condition—before you follow Viome's health suggestions.
They can offer professional guidance on your next steps.
How We Evaluated Viome Tests
We asked for the help of our in-house expert, Dr. Rizza Mira. Our team also researched the latest studies on gut microbiome testing and gut health.
After spending over 40+ hours on scientific research, we then evaluated Viome based on the following criteria:
1. Brand reputation
Our Rating (Out of 5 stars): ⭐⭐⭐⭐
We use online reviews and ratings from Viome customers to recognize a brand's reputation and trustworthiness.
Most Viome reviews suggest customers were content with the test and the resulting reports.
The company also exhibited transparency with its policies and practices around microbiome testing.
You can read here for more information on its gut health testing.
2. Ease of testing process
Our Rating (Out of 5 stars): ⭐⭐⭐⭐⭐
The test is easy to order and is delivered quickly to your doorstep. Viome provides clear instructions with the kit, making sample collection easy.
Once you send back the sample, Viome will keep you updated on its progress. You'll know if they receive your sample and when your results are ready.
The turnaround time for its results is pretty fast. My results arrived in a week.
3. Accuracy of the testing method
Our Rating (Out of 5 stars): ⭐⭐⭐⭐
Viome's science isn't perfect. Using RNA sequencing for diagnosing health problems has its challenges and is still being explored by scientists.4
The accuracy of its AI technology at analyzing test results and providing recommendations is also limited by the information you feed it.1
However, current research has shown the potential of RNA sequencing in clinical diagnosis. Viome also keeps its AI up-to-date with the latest studies.
4. Privacy and security
Our Rating (Out of 5 stars): ⭐⭐⭐⭐⭐
Viome takes privacy and data protection very seriously. It has implemented various measures to protect your data.
Viome complies with various data protection laws, including the following:
General Data Protection Regulation (GDPR)
California Consumer Privacy Act (CCPA)
Health Insurance Portability and Accountability Act (HIPAA)
The company's privacy policy includes how they collect, use, store, maintain, share, disclose, protect, and allow customers to access their data.
They de-identify your personal information before using it for purposes other than their services. This prevents third parties from linking results to a particular person.
5. Customer Service
Our Rating (Out of 5 stars): ⭐⭐⭐⭐
Viome has a database where you can search for answers about your account and test results. They also have customer service ready to help if you have problems using the support center page.
We searched for reviews about the company and noticed they are highly responsive to customers—offering solutions and information on Viome services and products.
Most customers say they are helpful and willing to replace kits that are lost or damaged or when the collected samples turn up invalid results.
However, some Viome customers did not have the same positive experience and had trouble reaching customer support or replacing their kits.
Why Trust Us
At KnowYourDNA, we are committed to making healthcare more accessible to everyone. This is why we only feature products that meet our rigorous industry standards.
We carefully select at-home kits with reliable testing methods and science-backed reports to improve your health.
Our in-house medical experts are passionate about ensuring the accuracy of the information we provide to our readers.
They review every piece of information before publication to ensure you receive only the most reliable and up-to-date advice.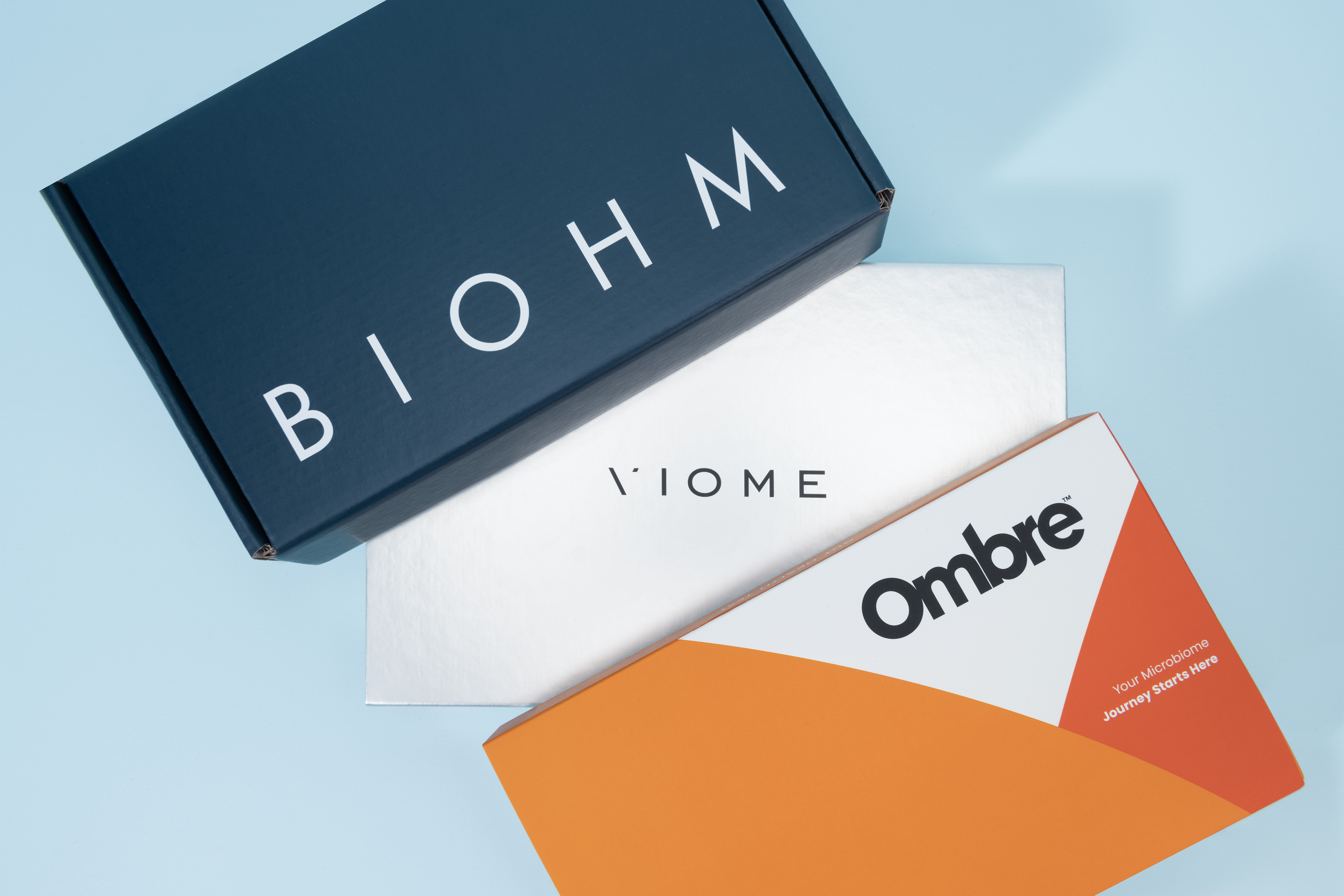 Best Microbiome Test
Looking for the best microbiome kit on the market? Look no further! Our review round-up page has all the information you need to make an informed decision.