Vessel Health is unlike any other health testing company. 
Sure, they let you run health tests at home. But so does LetsGetChecked and so many others that we've reviewed on KnowYourDNA.
Vessel Health
Instant and Insightful Results
Vessel Health tests provide unrivaled information faster and with less invasive methods; giving you the most anxiety-free experience available.
What makes Vessel Health special?
For starters, it doesn't make you wait for your test results. You get instant insights into your health — straight on your smartphone.
The San Diego-based company takes things further and provides you with health coaching and a personalized wellness plan
(Kind of like Noom and Ombre.)
But while Noom helps with weight loss and Ombre improves gut health, Vessel focuses on nutrition, hydration, and reducing stress levels.
Quick Facts on Vessel Health Test
A non-invasive urine test that can assess your health within minutes
Lets you regularly test for stress, nutrition, and hydration levels at home
Vessel app makes it easy to track your results for improvements
Suggests food and lifestyle changes to correct your imbalances
Offers custom supplements for optimum nutrition
Creates a personalized wellness program that you can adjust at any time
Provides one-on-one coaching with a nutritionist
At-Home Health Test & Wellness Tracking
Vessel Health (formerly Bloom) is the first brand to combine a test strip with app-based technology. This allows you to get instant results on your phone.
You can access your test results on Vessel's Home Wellness Tracker app. It's available for iOS and some Android devices.
Besides health testing, the company offers these services on the Vessel app:
Customizable health plans
Your own wellness program
Personalized supplements
One-on-one health coaching

As you follow these steps, you can continue taking tests and track your results for improvements.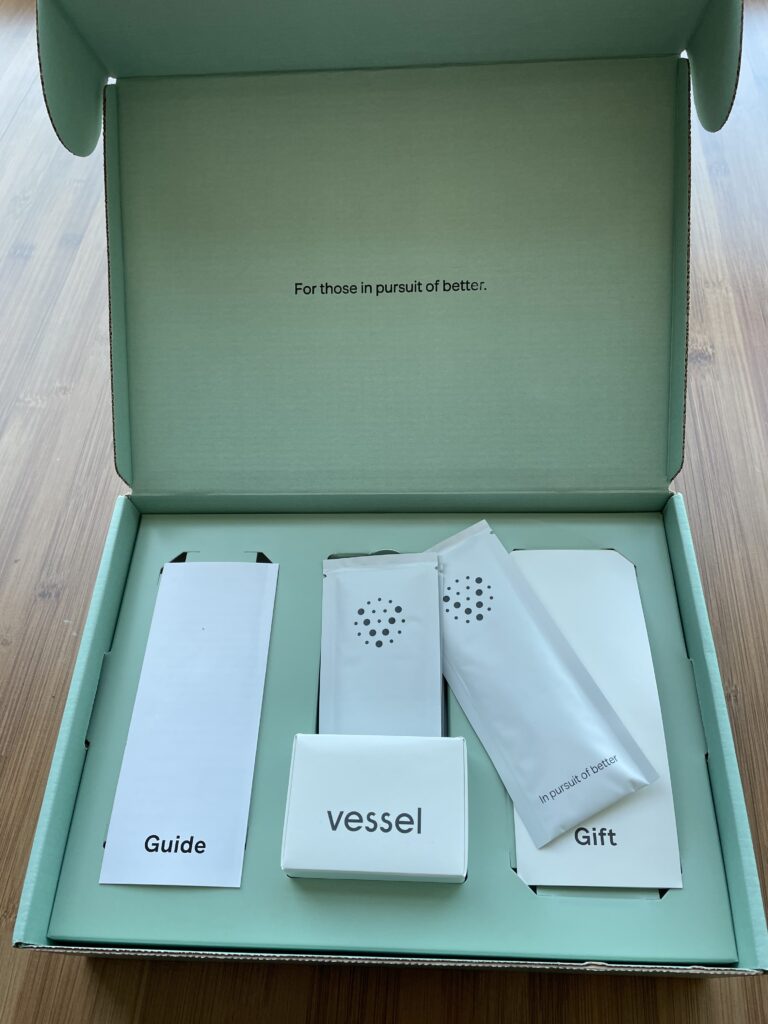 What Does Vessel Health Test For?
The Vessel test strip (also called a wellness test card) checks your nutrition, hydration, and hormone levels. It tests your urine sample for 7 important health markers:
Biotin (Vitamin B7)
Cortisol
Hydration
Ketones
pH levels
Magnesium
Vitamin C
How Does Vessel Health Work?
Test the app: Most people will tell you to buy the test first. But I suggest you download the Vessel app before trying anything else. 
I noticed it has compatibility issues with some phones. If you have an iPhone or see this on your Android, you should be good to go:
Otherwise, if the Vessel app asks you to check for updates (and there are none), it might not work properly. This only happens on Androids.
Thankfully, I didn't encounter problems with my phone.
Take the wellness quiz: Go to their website and take the 5-minute quiz. Answer the questions as honestly as possible.
Vessel will ask you to pick one (1) health goal. You can choose from:
Beauty
Calm
Digestion
Endurance
Energy
Focus
Immunity
Mood
Sleep
Body
Based on your answers, the Vessel app will curate a series of wellness activities and programs aimed at helping your goal.
Order test cards: The next step is to buy the Vessel Health test. You can order from their website or the app. 
At this point, they will ask you to set up an account. Use the same information to sign in to your account.
Take your urine test: When your wellness cards arrive, wait until the next day. When you wake up, take your phone and one (1) testing strip with you to the bathroom.
Open the Vessel Health app and select "take your first test." Remember to take the test before eating, drinking, or exercising.
Next, choose your preferred testing method and follow the steps. You can either pee directly on the test strip (which can get messy) or in a throwaway cup and then gently pour urine on the strip.
When you're done collecting the sample, wait for 3.5 minutes or until all colored panels on the strip change their color. 
Get your results: Next, scan the card's barcode on the Vessel app. This will upload your test results to Vessel Health's database.
Wait for another 3 minutes so they can analyze your data and show your results.
Wellness Tracking: The app will ask you to "check in" weekly, monthly, or daily depending on what you chose during the quiz. (I picked weekly.)
This involves taking another test so you can monitor your progress. It will also ask you how you feel about your goal and the kind of problems you've been having. 
It's a simple process of clicking on your choices. Remember to slide right for more options before you hit 'Next'.
Vessel Health
Instant and Insightful Results
Vessel Health tests provide unrivaled information faster and with less invasive methods; giving you the most anxiety-free experience available.
Is Vessel Testing Accurate?
Yes. Vessel tests are fairly accurate.
The company sent its test strips to a third-party laboratory for testing. They were found to "adequately detect" low, moderate, and high levels of:
Cortisol
Ketones
Magnesium
Urine pH
Vitamin C
Researchers noted it isn't as accurate for testing vitamins B7 and B9, but these could still be improved.1
Its wellness card is also proven to be more accurate than FDA-approved devices that test for urine pH.2
Vessel Health doesn't need FDA approval since their test cards fall under the "general and wellness" guidelines.3
What to Expect From the Vessel Health App
Here's what you get when you take Vessel's test:
Wellness Score
The top of your Results tab displays your wellness score on a scale of 1 to 100. This is calculated based on your latest results.
It also plots your weekly score and shows a glimpse of how your health is doing.
Your wellness score fluctuates as you take more tests. This will depend on your diet, lifestyle, and if you've been sticking to your program.
Vessel Test Results
You can see them below your wellness score. Green indicates positive test results, and red means you have unhealthy levels.
If you click on a health marker, you will see the range of your test results (e.g., 150 to 300 mg), how they compare to the normal range, and a summary of what it means.
The app also provides helpful insights on your test results, such as:
How to read them and what they mean
Scientific studies showing their influence on your health
Medications that can affect your levels
Tips to improve your results
You won't get exact measurements for these health markers. (If you need this, LetsGetChecked has dozens of at-home health tests that you could choose from.)
Vessel Wellness Activities
Vessel also offers health plans to correct your imbalance. These include:
Stress Relief Plan — for elevated cortisol
Food Plan — for nutritional deficiencies
Hydration Plan — if you're dehydrated
These health plans are customizable. Just click on the health marker that needs improvement, select a plan, and start adding or removing wellness activities.
Vessel will tell you which test results and health goals they have an impact on. You'll also get a step-by-step guide on how to perform activities plus nutrition information for specific foods.
When adding activities and foods to your wellness plan, you can:
Set daily reminders
Adjust the serving size of food
Decide how long you'll perform an activity
Set the time of day you will eat or perform the activity
Assign days when you'll be doing a program
Vessel reminds users that while these activities support your goals, they are meant to improve your overall wellness score.
Vessel Wellness Program
Each user will have their own wellness program based on their health goal(s). In my case, I lack focus the most — which is why I'm on a Focus Program.
Vessel Health offers 10 wellness programs:
Beauty Program
Calm Program
Digestion Program
Endurance Program
Energy Program
Focus Program
Immunity Program
Mood Program
Sleep Program
Body Program
Each program lasts 17 days. You will be assigned one new activity every day, which will take 5 to 10 minutes of your time.
Many of these activities consist of lifestyle changes that will help you achieve your goals. Each activity is recommended by a medical professional.
Supplement Recommendations
Vessel recommends supplements based on your nutrient levels. I lack vitamin C and magnesium, which is why Vessel suggests them.
You can add them to your wellness activities (to remind yourself to take them). But you can also purchase Vessel Fuel from the app. 
It's a personalized supplement that contains everything you need to correct your nutrient deficiencies. You only have to take one capsule of this customized blend.
According to the Vessel app, their capsules are made of food-based ingredients that are vegan, gluten-friendly, and non-GMO.
Wellness Coaching
Chat with a nutritionist any time you need help with your health goals. Vessel has a team of nutritionists available on weekdays.
How Much Does Vessel Health Cost?
The Vessel app is free to download on the Apple App Store and on Google Play. But you would have to pay for the following:
Vessel Health Wellness Cards
The company offers its testing service on a subscription basis. There's no option to buy one kit at a time. You'll get four (4) health strips for each month you are subscribed.
Based on your membership, Vessel may cost you:
Monthly membership — $50 per month
6-month membership — $40 per month
12-month membership — $35 per month
Your monthly subscription will include your personalized wellness program. Longer subscriptions will save you more money. All of which include free shipping.
Vessel Fuel Supplements
One (1) bottle of Vessel Fuel costs $50 per month. It contains 30 capsules and will last you 30 days. This means you'll spend $1.66 per day on personalized supplements.
You also get two (2) free supplements if you order from the app. You can choose which ones you'll have as freebies. Choices include:
Ashwagandha Root
Bacopa
Bifidobacterium Bifidum
Biotin (Vitamin B7)
Chromium Picolinate
L-Theanine
Green Tea Phytosome
Multivitamin
Probiotics (L-Acidophilus)
Rhodiola Rosea
Siberian Ginseng 0.8%
Vitamin B Complex
Vitamin B9
Vitamin D (Cholecalciferol)
Zinc Chelate
Vessel Nutritionist
You can chat with a nutritionist for free with your monthly subscription. But if you want to talk to one over a live video call, here's how much it will cost you:
15-minute call — $25
30-minute call — $45 (save $5)
60-minute call — $90 (save $10)
Vessel Health
Instant and Insightful Results
Vessel Health tests provide unrivaled information faster and with less invasive methods; giving you the most anxiety-free experience available.
My Vessel Health Review — Pros & Cons
After taking the test, I used Vessel app for a week to see how their wellness program was like. Below are its pros and cons. 
Things I Like About Vessel Health
1. Learn about your health in minutes
Most at-home health tests take 2 to 3 weeks. They have to ship your kit, wait for your samples, and process your results along with hundreds or thousands of other users.
Vessel testing takes about 12 minutes:
5 minutes for the wellness quiz,
3 minutes for the urine test,
and 3.5 minutes for your test results
This doesn't include shipment time, but it's still a record-breaker and I enjoyed the convenience of not having to wait.
2. Stay in control of your wellness program
You can add or remove activities as you please. Vessel merely offers suggestions on what you can do to improve your results, wellness score, and overall health.
3. Easily access your wellness plan

Once you have created a program, you can view the 'Today' tab to see all the activities you have to complete. Your feed refreshes daily based on the schedule you set up.
If you don't have time to check, you can set reminders for each task.
4. Achieve health goals at your own pace
While Vessel Health lets you choose one (1) program to focus on, you can join as many programs as you like. What matters is that you can commit to them.
You can also change your goal or add more on your Account Settings.
Here's a tip: Figure out how much free time you have each day. This will tell you how many programs you can join.
Let me explain.
Each program takes no more than 5 to 10 minutes a day. Most wellness activities also take as much time (except cardio exercises which require at least 45 minutes).
If you have 2 hours each day, you can spend 45 minutes on exercise and the rest on 7 daily activities and programs. But if you're too busy, you can schedule them based on your availability.
There's no penalty if you miss activities. I didn't accomplish most of them during my first few days. But as I eased into my program, I started doing more — and you will too!
5. Low-cost health at your fingertips
Vessel costs $100 or less per month. This includes a month's supply of Vessel Fuel Supplements, which contains a custom blend of vitamins and minerals you're low on.
It's affordable, considering the personalization and convenience involved.
Things I Don't Like About Vessel Health
1. Limited health testing
Currently, Vessel only tests for 7 health markers — which isn't a lot. But it says on their Android app that it will soon be able to test for more, including:
Calcium
Creatinine
Nitrite
Sodium
White blood cells
2. Confusing app layout
Building your wellness plan is not as easy because of the app's layout. You have to click on problematic test results before you can set it up.
This same layout made it difficult to understand the difference between wellness activities and my wellness program.
3. No meal planning
Vessel Health doesn't let you plan entire meals. Instead, it enables you to add certain foods to your diet based on your nutrition levels.
It's worth noting that these foods are enough to correct nutritional imbalances — but only those that the company tests for.
4. Doesn't offer many healthy activities
Vessel Health suggests hundreds of foods that you can add to your meals. But there isn't much variety in terms of health recommendations.
For example, it offered a stress relief plan to help lower my cortisol levels. Among the activities it suggests are:
Breathwork
Cardio
Hanging out with a friend
Meditation
Nighttime routine
Yin Yoga
I suppose it's because Vessel is trying to make healthier living accessible for everyone. But it would be great if they could give us more activities to choose from.
Vessel Health
Instant and Insightful Results
Vessel Health tests provide unrivaled information faster and with less invasive methods; giving you the most anxiety-free experience available.
Are Vessel Tests Worth Trying?
Vessel Health is the next generation of at-home health testing. 
You don't have to wait days or weeks for your test results to arrive. It only takes 12 minutes to get a general picture of your health. 
Vessel Health does not stop at just giving you results, however. It'll help you create a wellness program to correct your imbalance.
It suggests food and lifestyle changes to improve your stress, nutrition, and hydration without taking too much of your time. Should you need help achieving your goal, you can reach out to one of Vessel's nutritionists.
Urine sampling limits the ability of Vessel tests to check your health. But for under $100, it's an affordable way to track your health and learn ways to improve it.