When you have bloating or gas, you probably think there's something wrong with your gut.
But when you feel down or don't have the energy to get through the day, you're more likely to think it's because you lack sleep or you're having a 'bad' day.
What many people don't realize is that poor gut health can trigger all of these symptoms — and more. It doesn't just cause digestive issues. It leads to other health problems too.
If you want a healthy gut, one of the things it needs is a balance of beneficial and harmful bacteria. Studies show that gut microbiome affect your:
Digestive health and nutrient absorption1
Physical and mental performance2
Cholesterol levels and heart health3
Metabolism and weight4
Mood and mental health5
Quality of sleep6
Immune health and risk for infection7
Vaginal health and pH levels8
The Ombre Gut Health Test says it can check for gut imbalances. If you've been experiencing symptoms, it can tell you which gut bacteria is causing them.
Like many gut health tests, it provides personalized recommendations that are supposed to help restore gut balance, relieve symptoms, and improve overall health.
I wanted to see if this was true, so I decided to try it out. Here's my complete and personal Ombre Gut Health review.
What We Did For This Review
We took the Ombre test ourselves
We followed the suggestions on our Ombre report
We reviewed other product reviews on Ombre
We read aggregated reviews of the product
We compared Ombre with competitors
What is Ombre Gut Health?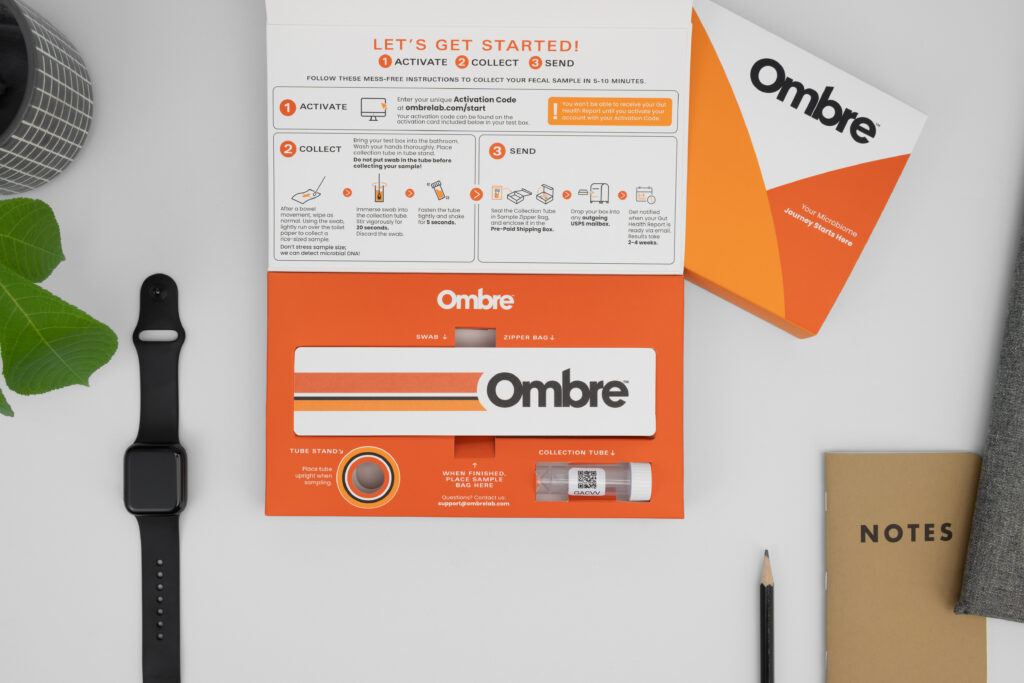 Ombre (previously Thryve Gut Health) is a gut wellness company that provides gut microbiome testing kits. You can order these tests online and take them at home.
Like many at-home gut tests, Ombre measures your gut bacteria. It can tell you which specific imbalances you have, and explain how they affect your health.
You'll also get actionable steps with your gut report, including:
Food recommendations
Personalized probiotic supplements
These steps are meant to help correct your gut imbalance and symptoms.
To order your test: Visit the Ombre website and choose between the basic Gut Health Test or the more complete Gut Health Program. Both packages include the gut testing kit.
Quick Facts on Ombre Lab
| | |
| --- | --- |
| Sample Collection | Fecal swab |
| DNA Testing Type | Ribosomal RNA (16S RNA) |
| Speed of Test Results | 2 to 4 weeks |
| Gut Health Report | Yes |
| Food Recommendations | Yes |
| Probiotic Suggestions | Yes |
| Privacy Protection | Strong |
| Cost | Starts at $84.99 |
| Payment Plans | Yes, for purchases over $50 (Shop Pay) |
What's Inside Your Ombre Test Kit?
Ombre's microbiome testing kit includes:
Sample collection kit
Prepaid shipping box
Activation card
Personalized gut health report
Food recommendations
Probiotic suggestions
If you buy the Ombre Gut Health Program, your kit will include one (1) month's supply of Rise Prebiotic and Ultimate Immunity. Personally, I went with the basic Ombre Gut Health Test.
How to Collect & Send Your Sample
Prepare for sample collection. You can do it any time, as long as you get a sample of your first bowel movement for that day.
Collect your stool sample. Cover one end of your cotton swab with stool. It should be the size of a grain of rice. Place the soiled swab inside the sample tube.
Prepare your sample. Stir the swab inside the tube until the collection liquid changes color. Close the tube and shake its contents for another 5 seconds.
Send your sample. Place the tube inside the prepaid shipping box and send it back.
Activate your kit. Go to the Ombre website and register your test using the 5-digit kit ID. You can find it on your blue activation card.
How Much Does Ombre Cost?
Ombre offers their gut tests and supplements with one-time payment or interest-free installments via Shop Pay. The total cost will depend on how you approach the program.
You can save more money with special offers, subscriptions, and by getting 3-month supplies of Ombre supplements. Here are the costs you have to consider:
Ombre Gut Health Test
Cost: $99.99; $84.99 for Ombre subscribers
The Ombre Gut Test is the most basic and affordable option. It covers the test along with your results and personalized recommendations.
This includes foods that you should eat and probiotics that you can take.
You can buy it one-time for or pay $24.99 every 2 weeks for 2 months. You can also subscribe to Ombre and get 15% off on the tests you order.
Subscribers can choose to receive the test kit every 3 or 6 months.
Ombre Gut Health Program
Cost: $119.99 on your first purchase, then $35.99 per month for probiotics
Ombre's Gut Health Program has everything in a standard testing kit. This includes your gut health report, food suggestions, and probiotic recommendations.
You also get the following with your purchase:
Ombre Membership — gives you 20% off on your purchase
Ombre Rise Prebiotics — $49.99 value
Ombre Ultimate Immunity — $39.99 value
Probiotics Subscription — 10% lifetime savings on Ombre's probiotics
The total program is valued at $189.98 and will save you $69.99 on your first purchase. But unlike Ombre's Gut Health Test, there's no payment plan available.
Ombre Probiotic Supplements
1 Month Supply
with one-time purchase
1 Month Supply
with subscription
3 Month Supply
with one-time purchase
3 Month Supply
with subscription
Ombre Probiotics
$39.99
$35.99
$109.97
$89.99
Cost: $29.99 to $39.99 per bottle
Ombre offers these probiotic supplements:
Ombre Endless Energy
Ombre Healthy Gut
Ombre Heart Health
Ombre Metabolic Booster
Ombre Mood Enhancer
Ombre Ultimate Immunity
Each bottle contains 60 capsules and will last a month. These probiotics are strain-specific. Meaning, they contain probiotic strains that correct specific imbalances.
Ombre will recommend which supplements are best for you depending on your results. You can then buy them separately after receiving your gut report.
The 3-month supply of Ombre Probiotics is available for $27.49 every 2 weeks, which you have to pay for 2 months.
Ombre Prebiotics
1 Month Supply
with one-time purchase
1 Month Supply
with subscription
3 Month Supply
with one-time purchase
3 Month Supply
with subscription
Ombre Rise Prebiotic
$49.99
$44.99
$139.97
$114.54
Cost: $38.18 to $49.99 per bottle
A bottle of Ombre's probiotic powder contains 30 servings, enough to last a month. You can buy a 3-month supply for $34.99 every 2 weeks for 2 months.
What You Get From the Ombre Test
You will receive your personal gut report 2 to 4 weeks after sending your sample to the Ombre Lab. You can access it on https://account.ombrelab.com.
Here's what you can expect from your Ombre gut test:
Ombre
The Best Gut Health Test
Ombre's Gut Health Test is an excellent choice for budget-conscious people who want value for their money.
1. Ombre Gut Health Report
This section contains everything you need to know about your gut microbiome, including how they affect your health (both good and bad).
Gut Score
Your gut score is measured on a scale of 1 to 100. It's the fastest way to tell how your gut is doing. It depends on the amount of good and bad bacteria present, including:
Probiotic strains — Beneficial bacteria that provide health benefits
Commensal bacteria — Known to boost the immune system
Pathogenic bacteria — Potentially bad bacteria that cause disease
The higher your score, the healthier your gut. Lower scores may suggest an unhealthy gut.
If you want to regularly test your gut flora, the gut score is a quick way to compare your results and check for improvements.
Gut Diversity Score
This score is based on your microbial diversity or the different bacteria in your gut.
Ombre also compares your results with the average healthy population from the American Gut Project. Here's my gut diversity score as an example:
Compared to the average American who has 83% gut diversity, I'm doing much better in this department with 95% diversity.
Gut Microbiome Report
This section explores your unique gut environment. It can tell you:
Which bacteria live in your digestive tract
How many of them there are
Why these microbes are good (or bad) for you
Ombre
The Best Gut Health Test
Ombre's Gut Health Test is an excellent choice for budget-conscious people who want value for their money.
Bacteria Levels
Here, Ombre shows you the percentage of gut bacteria that you lack and are within optimum levels. It also summarizes which strains you need to increase or reduce.
You can click on the panel to learn more about these bacteria, their potential health benefits, and their harmful effects.
Ombre also shows your bacteria levels for each strain and compares them with the healthy average. This gives you an idea of how much work is needed to increase its levels.
Here's a sample report from my gut microbiome test. It says that I'm deficient in Lactobacillus — a beneficial bacteria and probiotic strain.
Gut Bacteria
This section highlights the total number of bacteria in your gut. According to Ombre, there are 41,577 bacteria species from my sample.
Again, you can explore this panel to learn more about the specific bacteria that make up your gut. It shows you the percentage of each strain compared to the total population.
Not all strains will be added to your report. However, it does measure strains that are "statistically relevant" or have enough population to be considered accurate.
Ombre will also tell you if a bacteria is commensal, pathogenic, or a probiotic strain. If these terms confuse you, just click on the question mark (?) to see what it's about.
Symptom Likeliness
An imbalanced gut can lead to various health problems. According to Ombre, some possible symptoms of gut imbalance are:
Stomach upset
Constipation
Diarrhea
Digestive discomfort
Skin inflammation
Bloating
Fatigue
Brain fog
Decreased sleep quality
In this section, Ombre predicts which symptoms you will likely experience. It also tells you which strains of bacteria are causing your symptoms.
My report says that I easily get tired because I lack Bacteroides and Bifidobacterium.
2. Food Recommendations
Ombre Lab offers a personalized food plan based on your microbiome results. It gives you hundreds of ideas on what foods you should eat and avoid for a healthy gut.
These may include foods from different food groups, including:
Fruits
Vegetables
Grains
Legumes
Nuts and seeds
Poultry
Fish and seafood
Oils and fats
Beverages
Herbs and spices
Desserts
These foods are supposed to increase the good bacteria and reduce potentially harmful bacteria in your gut.
Recommended foods come with useful facts such as:
Their effects on your gut (e.g. increases beneficial bacteria)
Specialized diets you can use them with (e.g., Keto diet, Atkins)
Other health benefits they offer
Ombre also provides food recipes to make things easier. Each recipe idea lists down the ingredients, instructions, preparation time, cook time, and number of servings.
3. Personalized Probiotic Suggestions
Ombre will suggest a probiotic supplement for your microbiome's needs. It will contain probiotic strains that are targeted for your unique gut imbalance.
These probiotics may also reduce any symptoms that you've been experiencing. If you explore your report, you can learn more about the supplement, including:
Its probiotic ingredients
The health benefits of each probiotic
The number of probiotics in each serving
Ombre
The Best Gut Health Test
Ombre's Gut Health Test is an excellent choice for budget-conscious people who want value for their money.
My Ombre Gut Health Review
Weeks before taking the Ombre microbiome test, I noticed that I was unusually tired all of the time. I wasn't really sure what was going on. But I knew something was wrong.
I was getting sleep and enough meals to stay energized. So there was definitely another reason for my low energy levels.
Since I didn't have time to see a doctor, I decided to give the Ombre Gut Health Test a try.
Pros
One of the most accurate at-home microbiome tests on the market
Has a unique buffer that preserves stool samples better than competition
Provides helpful insights on the bacteria living inside your gut
Actionable results with easy to follow steps for improving gut health
Suggests personalized probiotics that target your unique imbalance
Offers 6 clinically-supported probiotic blends for specific health concerns
Currently the most affordable at-home health test for your gut
Flexible and installment-free payments via Shop Pay
Cons
Products are not approved by the FDA
Doesn't check for viruses, parasites, yeasts, and fungi that inhabit your gut
Can't test for leaky gut syndrome
5 Things I Like About the Ombre Test
1. Simple and non-invasive sample collection
Ombre's test isn't invasive or complicated. All you need is a small sample: a cotton swab covered with stool the size of a rice grain.
The boxes that come with your testing kit are numbered and printed with instructions. All you have to do is follow the steps to collect and submit your sample.
2. Science-backed test results
Ombre uses over 36,000 scientific articles to support your gut report. This includes the latest microbiome research on about 3,000 different strains of gut bacteria.
It's a great way to learn more about your gut microbiome and how they impact your health.
Ombre got most of my symptoms right. While not 100% true at the time of testing, symptoms started to show within weeks of getting my results.
3. Targeted probiotic supplements
Ombre recommends strain-specific probiotics based on your results. These supplements contain probiotic blends with clinically-proven health benefits.
Not only do they correct your unique imbalance. They can also help with your symptoms.
To illustrate, my results showed that I didn't have enough Bifidobacteria in my gut. Ombre suggested that I take the Endless Energy probiotic.
When I looked up its ingredients list, I learned that it contains 5 probiotic strains. One of which is Bifidobacterium Bifidum.
I took the probiotic they suggested for a month without making any adjustments to my diet. I wanted to see if the probiotics alone would help.
At the end of that month, I noticed that I was less tired though I still had other symptoms.
4. Comprehensive food recommendations
Ombre doesn't just tell you which foods to eat and avoid for a healthy gut microbiome. It also suggests recipes that include these gut-healthy foods.
You can use these recipes to create your own meal plan. You can exclude food items you're allergic to and make sure that you only eat foods that are compatible with your diet.
After a month of taking Endless Energy, I completely shifted my diet. I strictly followed Ombre's food suggestions and continued taking their probiotics.
I did this for another month and started feeling better overall, both physically and mentally. It really seems to work — at least, for me.
5. Affordable gut microbiome testing
As of this writing, Ombre has the most affordable at-home gut testing kit. You can buy the Ombre Gut Test for only $84.99 if you subscribe to their service.
The gut testing company also offers discounts from time to time. And the best part? You can split your payment with their installment-free plans via Shop Pay.
2 Things I Don't Like About the Ombre Test
1. Can't tell if you have leaky gut
Ombre doesn't check for biomarkers that may suggest a leaky gut problem. If you want to find out, you may need to take another test or see your doctor.
2. Limited gut testing
Ombre's laboratory only analyzes stool samples for gut bacteria. It doesn't check for the presence of other microbes that may live in your gut.
Among the things it can't test are parasites, viruses, fungi, and yeasts. These microorganisms can also make up your gut environment.
Is Ombre Accurate and Safe?
Yes. Ombre's gut microbiome testing is accurate and safe. Here's why:
Ombre uses a buffer that can preserve the bacteria in stool samples for up to 2 months in room temperature. Their results are 28% more accurate than competition.9
Gut analysis is performed with 16S RNA sequencing, the same test used in laboratories. It's more effective than DNA testing in identifying different types of gut bacteria.10
Ombre's gut report highlights "statistically relevant" results. It means that it only identifies gut bacteria with enough numbers, and are more likely to impact your health.
Ombre's probiotics are not approved by the U.S. Food and Drug Administration (FDA). You might worry of its safety, but an FDA approval isn't really necessary for this product.11
Dietary supplements are regulated in the same way as other foods. As long as you don't use them to treat any chronic illness, they should be safe to consume.
Ombre vs. Other Gut Tests
Ombre Lab isn't the only gut health company that provides at-home testing kits. Below, we compare Ombre with its top competitors.
Ombre (Thryve) vs. Viome
Viome's Gut Intelligence Test is a lot like what Ombre has to offer.
Both tests use 16S RNA sequencing to analyze your gut microbiome. They also provide personalized recommendations to help improve your gut and overall health.
Viome does have more well-rounded gut supplements. Besides probiotics, they contain and multivitamins. It also lets you access test results anywhere on your phone.
While Viome tests for fungi, viruses, and parasites (one thing that Ombre can't do), it uses a lot of scientific jargon. Results are not as easy to interpret as Ombre.
Ombre vs. Biohm Health Gut Test
Biohm is a simple microbiome test that can check your gut for bacteria and fungi. Like Ombre, it also suggests foods and other lifestyle changes that promote gut health.
It has the widest range of gut health supplements that you can choose from. These include probiotics, prebiotics, omega 3 fatty acids, antioxidants, and more.
Biohm will tell you which supplements to take based on your results. Unfortunately, their dietary and lifestyle recommendations are not targeted to your needs.
That said, they do give you the option to discuss your test results with a nutritionist.
How Does Ombre's Products Stack Up?
We tried some of the best gut testing kits and even followed their recommendations to see if they would work. Ombre by far remains to be our top pick.
Ombre is currently one of the most accurate gut tests on the market. And you can take it at home for a reasonable price.
It uses science-backed information to support your test results, so you can better understand your microbiome and its effects on your health.
Ombre doesn't stop at microbiome testing. It provides actionable insights that will allow you to restore your gut flora.
This includes probiotic supplements that are clinically supported to improve your gut and overall health. You'll also get an extensive list of gut-healthy foods and recipes.
Buy now:
Ombre
The Best Gut Health Test
Ombre's Gut Health Test is an excellent choice for budget-conscious people who want value for their money.