Your gut is home to over 100 trillion bacteria. These microorganisms help break down food during digestion, making it easier for the body to absorb nutrients.
Known as the gut microbiome, these bacteria are essential to your digestive health.
They also play an important role in other bodily functions, including:
Mood
Energy levels
Immunity
Mental health
Weight loss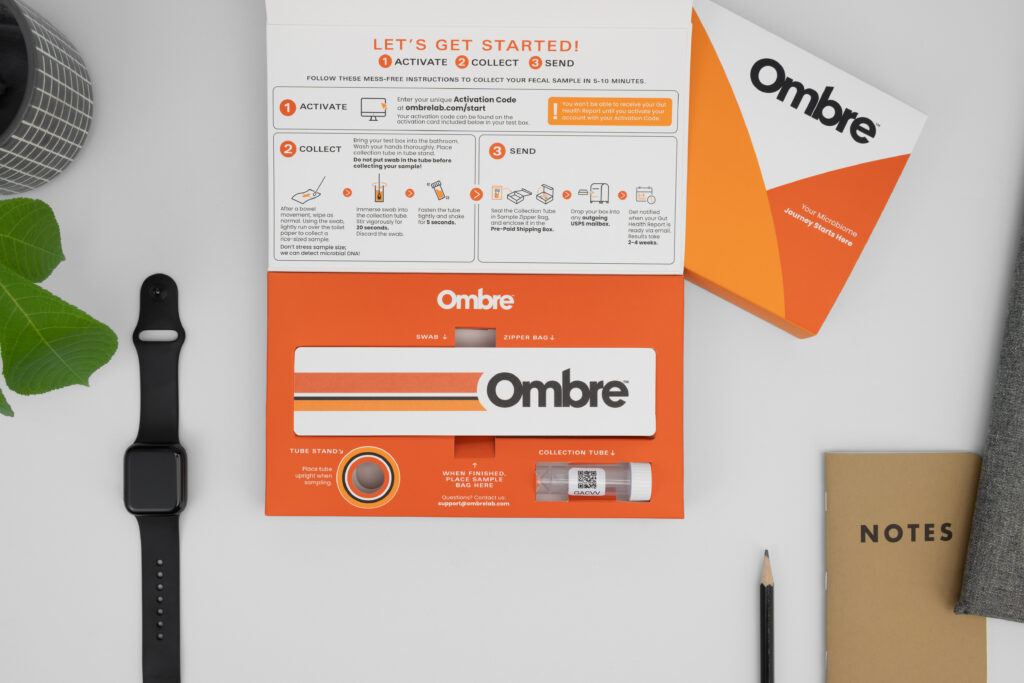 But for you to enjoy health benefits, there has to be a balance of 'good' and 'bad' bacteria. Any imbalance in gut bacteria can lead to weight gain, gut issues, and other chronic conditions.
Ombre gives you a unique way to solve this problem. They test for gut imbalances and offer personalized solutions for improving gut health.
What is Ombre?
Ombre is a gut wellness company that provides at-home microbiome testing. They used to be called Thryve. The health test checks for good and bad bacteria in your gut. It also identifies specific strains that need work.
Currently, Ombre has one of the most accurate gut tests that you can take at home. The company offers generic and personalized probiotic blends to get your microbiome back in balance.
The company also provides food recommendations based on your results. These include foods that improve your gut health.
Ombre
The Best Gut Health Test
Ombre's Gut Health Test is an excellent choice for budget-conscious people who want value for their money.
In this full review, we'll take a closer look at Ombre's products and the science behind them. From their Gut Health Test to their specially formulated probiotics, we'll tell you if they live up to their claims.
We'll also walk you through the process so you'll know how it works and what to expect from their products.
Ombre's Gut Health Test — What to Expect
Ombre's Gut Health Test is an at-home testing kit that you can order from their website. You can have it sent to your home or the indicated address.
Quick facts
| | |
| --- | --- |
| Sample Collection | Stool |
| Testing Type | Ribosomal RNA |
| Speed | Two to four weeks |
| Privacy Protection | Strong |
What's in the box?
Ombre's Gut Health Test contains the following:
Your activation card
Sample collection kit
Prepaid shipping box
Your sample collection kit will have two (2) cotton swabs and a collection tube with a preservative liquid. The prepaid shipping box has a plastic bag that is used to seal your stool sample.
How much does it cost?
When you order the Ombre kit, you're not just getting the test. You are signing up for a complete program.
The Ombre Gut Health Program is available in three variations:
The test that comes with every program is the same. The only difference is the addition of personalized probiotics which you can get on a subscription.
Ombre probiotics are specially formulated for your gut microbiome. Each bottle can last for one month.
Ombre's Gut Health Program — $99
The basic Ombre Gut Health Program includes the Gut Health Test and a digital report. Your microbiome results will be ready within 2-3 weeks of sending your stool sample.
Ombre's 1-Month Gut Health Program — $130.49
Ombre's 1-Month Gut Health Program includes the test kit and your gut health report. You will also receive one (1) bottle of personalized probiotics when your results are ready.
Ombre's 3-Month Gut Health Program — $188.99
Ombre's 3-Month Gut Health Program includes the Gut Health Test and your microbiome results. There are also three (3) bottles of personalized probiotic supplements to be delivered to your home.
Pro tip: You can save $1.50 per month or $4.50 every 3 months if you opt for the 3-bottle subscription. You can pay the total cost upfront or split your payment across 4 months without interest using ViaBill.
Here's what you get with your order
We ordered the basic Gut Health Test from their website. And Ombre does a great job of updating you via email so you know where your order is.

Within days, our order arrived in discreet packaging. It's a small flip top box which you can open from the side. The packaging itself is compact and sturdy, which we really like.
When you open the box, you will see a blue Activation Card. Underneath it are two smaller boxes that contain everything you need:
The "Collect" Box — your sample collection kit
The "Send" Box — prepaid sending box
Ombre uses laminated cardstock for its boxes. It has a matte and slightly waterproof finish that doesn't easily soak liquids.
We appreciate the fact that each step is numbered, so you know what to do next. The boxes and cards are also printed with instructions, where to reach them for support, and a 'thank you' note for joining their program.
Overall, it's a great product with excellent packaging and steps that are easy to understand. You can tell that Ombre cares about the details of their product and not just the results.
Ombre
The Best Gut Health Test
Ombre's Gut Health Test is an excellent choice for budget-conscious people who want value for their money.
Collecting and Sending Your Stool Sample
Below, we'll walk you through the process on how to collect and send your stool sample. Make sure that you take a sample of your first bowel movement for that day. 
Some of these steps may seem a little gross but it's really not that terrible. Ombre designed their kit to make sample collection as easy and as sanitary as possible.
Let's get started.
Step 1 — Prepare for collection
Before your bowel movement, take the red "Collect" box with you to the bathroom. Then, place it on a flat surface with the lid open.
Open the collection tube and place it upright in the built-in holder. (See that hole beside the collection tube? Place it there.) Make sure that you don't spill its content.
Step 2 — Collect your stool sample
After your bowel movement, wipe with a clean toilet paper. Get one cotton swab from the box. Use it to collect the sample, which should be the size of one grain of rice.
Step 3 — Prepare your stool sample
Next, place the cotton swab inside the test tube. The soiled end should be at the bottom. Holding the clean end, stir the swab vigorously until the collection liquid changes color.
When it changes color, dispose of the swab. Tightly close the tube and shake it for another 5 seconds. For the meantime, place the vial back in the stand so you can clean up after yourself.
Step 4 — Send your stool sample
As soon as you're finished, you can start preparing your sample.
First make sure that the tube is clean. Then place it inside the orange "Send Box". Follow the instructions inside the box. Check that it is secure before sending the sample.
Step 5 — Activate your kit
After mailing your sample, go to https://account.ombrelab.com/signup and activate your kit. If you don't have an account, Ombre will ask you to register.
When you're done registering, fill in the details under "Add New Kit". Use the Kit ID indicated on your blue Activation Card.
Pro tip: Ombre recommends that you activate your kit first. But they also need the exact date you collected your sample before they can do this. To avoid confusion, we recommend doing this step only after sending your sample.
Step 6 — Wait for your results
After receiving your sample, Ombre will analyze its content and produce a digital report within 2 to 4 weeks. Below, we discuss what's in your report.
Your Gut Health Report — What's In It?
Ombre's report has three parts:
Your Gut Score 
Take Action
My Microbiome Report
You can access your Gut Health Report on https://account.ombrelab.com/signup from your desktop or mobile browser. Personally, we found it easier to view the Ombre website on our phone.
Gut Score
The gut microbiome consists of bacteria that are either good or harmful. These include:
Commensal bacteria — Known to boost the immune system
Probiotic strains — Beneficial bacteria that provide health benefits
Pathogens — Bacteria that cause disease
Your Gut Score depends on this delicate balance between pathogens, commensal bacteria, and probiotics. The higher your score, the healthier your gut. It's the fastest way to tell how your gut is doing.
If you've previously taken a Ombre test or want to test your gut flora regularly, you can use your Gut Report to check for improvements.
Your gut bacteria needs some diversity as well. It should have a rich microbiome with enough variety of bacterial strains. Each strain must also have an evenly distributed population.
Thankfully, this section provides a general report on your gut diversity. All you have to do is click on the panel. Ombre also compares your results with the average healthy population from the American Gut Project.
Here's my Gut Diversity Score as an example. Compared to the average American with 83% gut diversity, I'm doing much better with 95% diversity.
Gut Microbiome Report
Your digestive tract is like a mini-ecosystem for trillions of bacteria. With this report, you'll know exactly which bacteria live in your gut and how many of them there are. Ombre also explains why certain microbes can be good (or bad) for your health.
Your Gut Microbiome Report tells you which bacteria you need to cultivate and keep under control.
Ombre
The Best Gut Health Test
Ombre's Gut Health Test is an excellent choice for budget-conscious people who want value for their money.
Bacteria Levels
Ombre shows you the percentage of gut bacteria that are deficient and within optimal levels. The report also includes a summary of specific strains you must improve or get rid of.
If you want to learn more about these strains, you can explore the panel by clicking through. It will give you a list of specific bacteria and their effects on your health.
Ombre also shows your bacteria levels for each strain and compares them with the healthy average. This gives you an idea of how much work is needed to increase its levels.
Here's a sample report from my gut micobiome test. It says that I'm deficient in Lactobacillus — a beneficial bacteria and probiotic strain. Ombre also provides some information on the Lactobacillus along with its health benefits.
Gut Bacteria
This section highlights the total number of bacteria in your gut. According to Ombre, it detected 41,577 species from my sample.
Again, you can explore this panel to learn more about the specific bacteria that make up your gut. The report shows you the percentage of each strain compared to the total population.
Not all strains will be added to your report. However, it does include "statistically relevant" strains. Meaning, only bacteria with enough population are considered for accurate results.
Ombre will also tell you if a bacteria is commensal, pathogenic, or a probiotic strain. If these terms confuse you, just click on the question mark (?) to see what it's about.
Symptom Likeliness
Gut imbalances can lead to various health concerns. In this section, Ombre tells you which symptoms you will likely develop due to low probiotic levels.
Some possible symptoms of gut imbalance include:
Stomach upset
Constipation
Diarrhea
Digestive discomfort
Skin inflammation
Bloating
Fatigue
Brain fog
Decreased sleep quality
Ombre predicts your symptoms based on your gut microbiome results. These may be symptoms you are already aware of or have yet to manifest.
You can also learn about the specific strains causing your symptoms. For instance, my report says that I easily get tired because I'm lacking Bacteroides and Bifidobacterium.
I can say for myself that Ombre did get some of my symptoms right. While not 100% accurate, it's possible that they might show later.
Of course, it's best not to wait for these symptoms. Thankfully, Ombre offers ways you can improve your gut health.
Take Action — How Ombre Improves Gut Health
Your gut has to have the right balance of bacteria. When there's too much or too little of certain strains, it can lead to imbalances.
Ombre provides the following actionable steps to bring back this balance:
Personalized Probiotic Recommendations
Cost: $34.99 per month or $89.99 every 3 months
Ombre will suggest a supplement for your microbiome's needs. It contains a custom blend of probiotics that have been hand-picked to correct your gut imbalance.
If you take a look around, you can learn more about your blend, including:
Probiotic ingredients
The health benefits of each probiotic
The number of probiotics in each serving
Ombre offers their custom probiotics on a subscription basis. Subscriptions include a monthly gut health report that updates you with progress.
Ombre
The Best Gut Health Test
Ombre's Gut Health Test is an excellent choice for budget-conscious people who want value for their money.
Custom Dietary Recommendations
Cost: Free
In addition to your customized supplement, Ombre will provide a personalized food plan. This report is very comprehensive and gives you ideas on what to eat. 
Ombre has analyzed thousands of food items with the sole purpose of maximizing the health of your gut's microbiome. Based on your sample, the company suggests the top foods that will help the beneficial bacteria to thrive in your gut.
These recommendations encompass different food groups including fruits, vegetables, grains, legumes, nuts and seeds, poultry, fish and seafood, oils and fats, beverages, herbs and spices, and even desserts.
Each food comes with useful facts such as
Its effects on your gut (e.g. increases beneficial bacteria)
Specialized diets to use it with (e.g., Keto diet, Atkins)
Other health benefits
Ombre also provides food recipes. It comes complete with ingredients, instructions, preparation time, cook time, and the number of servings.
I'm interested to start trying some of the foods they recommend. You can filter out foods you're allergic to and pick the top foods based on your preferences.
Ombre's Probiotics
In addition to the personalized probiotics, the company offers a variety of premade probiotic blends made for several purposes. Its certified laboratories have formulated custom blends to improve gut health, give you energy, increase ketones, strengthen your immune system, and enhance your mood.
Is Ombre Accurate?
Short answer: Yes. Gut's microbiome testing is accurate. Below, we explain why Ombre tests are accurate and provide scientific data to back it up.
1. Proprietary collection method
Stool samples degrade within 24 hours of collection.1 If they sit too long, they can lose their microbes and lead to inaccurate results.
Ombre uses a preservation buffer to keep your sample fresh. It has a proprietary formula that extends the shelf life of stool samples.
Ombre claims that due to the unique sample buffer, their results are 28% more accurate than competitors. According to the company, the buffer keeps bacterial cells in a state of stasis until they arrive at the lab; something other companies don't do.
Keep in mind that it takes days before Ombre can start processing your report. Thankfully, their buffer keeps the microbes in your fecal sample intact even after 2 months in room temperature.2
2. Standardized microbiome testing
Ombre uses 16S RNA sequencing to test your gut flora. It's the same testing method used in laboratories and is proven to be more effective than DNA testing.3
16S RNA is an abundant ribosomal RNA found in thousands of bacteria. It's also highly variable across different species of bacteria. Meaning, it produces unique markers for each strain.
This allows Ombre to identify and distinguish a wide variety of bacteria.
3. Statistically relevant results
Ombre analyzes for more than 10,000 species of gut bacteria. But in your report, it doesn't show all the strains that live in your gut — which is actually a good thing.
Your report only includes strains that are statistically relevant. In scientific research, a population that has "statistical relevance" is mathematically significant.4
Simply put, Ombre identifies strains with enough numbers in your gut flora. Naturally, you want to target strains that are more likely to impact your health.
4. Science-based information
Your Ombre report includes insights on about 3,000 microbes associated with disease and health. This wealth of information is backed by over 36,000 articles on microbiome research.
Scientific studies are referenced on your report. This allows you to verify the information on specific bacteria more easily.
Ombre's built-in algorithm also analyzes these studies and grades them based on the strength of evidence. You can use this rating to see how reliable their information is.
When it comes to their recommendations, the company has yet to receive FDA approval. So they shouldn't be used as a sole treatment for any serious or chronic conditions. 
However, it does a great job of giving accurate and useful information on the individual strains residing within your body. It also offers some fairly reliable steps you can take to improve your gut health and overall wellbeing.
Overall review — How do Ombre's products stack up?
Pros:
One of the most accurate at-home microbiome tests on the market
Tons of data about the different bacteria living in your gut
Actionable results and easy to follow steps for improving your health
Personalized probiotic blends formulated specifically for your gut's needs
Unique sample buffer that does a better job than the competition at preserving your sample until it reaches Ombre's labs
Five different scientifically and clinically proven probiotic blends for everything from energy to mood
Cons:
Products aren't FDA approved
Personalized probiotic Gut Health Test packages are a little pricey
Test kits don't check for viruses that may be inhabiting your gut
Ombre's range of products offers a proven way to improve your health starting with the organisms living in your gut. While the science behind using probiotics to better your microbiome is still relatively new, there has been loads of promising research.
The Gut Health Test is one of the most accurate microbiome tests on the market, making it the best option out there for testing your gut's flora. And even though the probiotic blends offered by Ombre lack FDA approval, they have all been backed by studies and linked to better health.
However, seeing as Ombre's products haven't received FDA approval, you shouldn't use them as the only treatment for more serious conditions.
Buy now:
Ombre
The Best Gut Health Test
Ombre's Gut Health Test is an excellent choice for budget-conscious people who want value for their money.