Food tracking used to be less accessible and difficult to to do. Even if you had access to a food database or an online food calculator, it took time and effort.
You had to record everything you consumed, take note of serving sizes, and how many calories they contained.
If you were on a weight loss diet (e.g., calorie restriction) or had a dietary need (e.g., diabetic diet), you had to consider things like the calories and carbohydrates in food.
Imagine doing this every day for 7 days a week with just a pen and a food diary. That's a lot of work. Thankfully, we now have food tracking apps.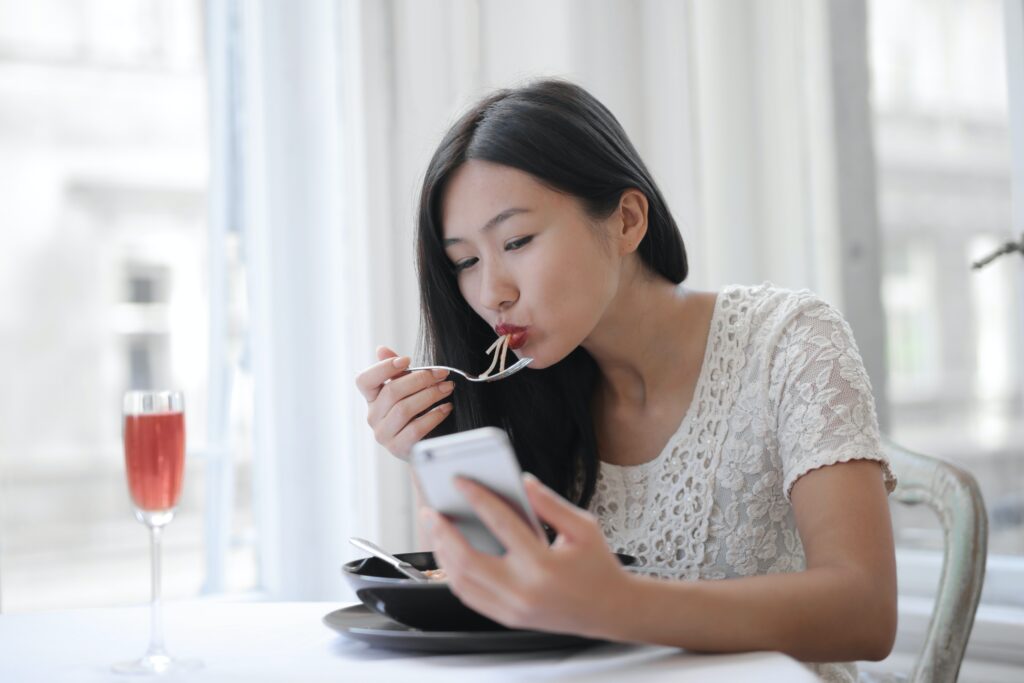 Best Food Tracking Apps to Lose Weight
Food trackers monitor your food, calories, and macronutrients. They provide valuable insights on the foods you eat, including their nutrition.
You can download these apps on your phone, and they'll do the math for you. They can calculate your daily calorie budget and the number of calories you eat per day.
Elise Harlow, a registered dietitian, suggests checking with a dietitian or health professional to determine your calorie needs.
Many calorie tracking apps calculate your calories, but will give you the wrong suggestions. You can change your calorie limit on these apps based on what your dietitian or doctor tells you.
Meet the Expert
Elise Harlow is a registered dietitian with a Master of Science in Nutritional Sciences. She is the founder of an online nutrition consulting and coaching business.
Elise helps people use the power of food to lead healthier lives. She works with various clients, including those who want to achieve a healthier weight, improve their gut health, lower cholesterol, manage their blood sugar, or balance their hormones.
Is Tracking Food Good for Weight Loss?
Yes. And there's a science to prove it. According to a study published by Duke University, overweight people who used a food tracker app lost significant weight. 
Researchers concluded that food tracking apps are a low-cost alternative to professional weight loss interventions.
Food tracking helps you lose weight because:
It identifies unhealthy eating habits
Makes sure that you stay within your daily caloric limit
Assists you in making healthier food choices
Pair your favorite food tracker with the best weight loss diets if you want to lose weight fast.
In the meantime, here are the best food tracking apps we recommend:
Fat Secret App — Best Food Tracker for Weight Loss
Free with in-app purchases
Price: Starts at $6.49 per month, $38.99 per year
Recommended for: Beginners and experienced dieters who want to count calories, macros, and other nutrients; People with dietary restrictions
Fat Secret is the best food tracking app for weight loss. It tracks everything you need to know about food — from their calories and macros, down to their micros.
If you're on a balanced diet, the app can make it easier to stick to it. Just choose one of their meal plans, and the app will customize your daily calories and macro limit:
Mediterranean diet
High protein diet
Intermittent fasting diet
Keto diet
Fat Secret also provides food suggestions for its premium members. These are great if you have allergies and common food intolerances.
[Download for iOS] [Download for Android]
What I Like About Fat Secret
You can use the app to lose, gain, or maintain your current weight.
Automatically calculates your calorie budget based on your measurements, activity level, and weight goals.
Estimates the date you will reach your ideal weight.
Track your food across 3 meals and 1 snack per day.
Monitor the calories you burn through exercise and sleep.
Has 3 ways to log food: manually, with a barcode, or by searching their database.
Track your calories, macros, and nutrients daily for up to 2 weeks.
Get basic nutrition facts on the foods you eat. These include their calories, macronutrients, and a variety of essential and non-essential nutrients.
Compares your actual macronutrient intake with your daily limit for each macro.
Identify unhealthy eating habits. See the number of times you eat certain foods throughout the day and how many calories you get from them.
Create your own recipes or log meals by adding recipes from their database.
Premium members can access unlimited recipes. These recipes will include a breakdown of their nutrition so that you can make healthy decisions.
Food suggestions are also available if the food has limited availability due to seasonal changes, geography, and budget restrictions.
Instagram-like community lets you show off your food journal. You can take photos of your food and support members by liking their posts or commenting.
Has a dedicated app for Apple Watch.
What I Don't Like About Fat Secret
Doesn't add burned calories to your daily calorie limit.
Only premium members can track more meals than what is allotted.
Free recipes do not provide nutritional information. They only describe what makes them a healthy choice (e.g., low gluten and low calorie).
Compared to other food trackers on our list, Fat Secret has the shortest tracking period of 2 weeks.
Free with ads and in-app purchases
Price: Starts at $9.99 per month, $44.99 per year
Recommended for: Beginners who want to count calories and macronutrients; People with diet-related health problems
MyPlate from Livestrong is a simple food tracking app. It tracks the things that matter most to weight loss: your calories and macronutrient intake.
The app also tracks the sugar, fiber, sodium, and cholesterol in food. So if you have diabetes, hypertension, or high cholesterol, you may find these helpful.
Just a reminder: Livestrong's MyPlate is not the same as the MyPlate app by the U.S. Department of Agriculture (USDA) Food & Nutrition Service.
[Download for iOS] [Download for Android]
What I Like About MyPlate
Choose your daily calorie goal based on how quickly you would like to lose weight
Log food in 3 ways: manually, with a barcode, or by searching their database.
You can log exercise manually or sync the app with Google Fit to instantly track your burned calories.
Shows the calories you eat and burn, and how much you have left for the day.
See a breakdown of your daily macros (e.g., proteins, fats, and carbohydrates).
Find out how many macros and micronutrients you get from every meal.
Easily track your progress. A graph shows your measurements and nutritional intake for the past week, month, or year.
Learn which foods have the highest calories and nutrients so you know what to avoid and include in your meals.
Community lets you post and interact with other users in the comments.
Harlow reminds people to be careful when choosing their daily calorie goals.
"It can be harmful to your metabolism to eat too few calories. It's best to work with a health professional to get personalized calorie recommendations."

Elise Harlow, M.S., R.D.N.
What I Don't Like About MyPlate
The free version has ads. (But you can get rid of them for $0.99)
Only Gold Members can track their macros more easily.
Doesn't track vitamins and minerals.
Doesn't separate bad cholesterol (saturated fats) from good cholesterol (unsaturated fats).
The "Clean Eating Guide" that comes with a premium membership has limited recipes and health tips.1
Lack of features is a dealbreaker for more experienced dieters.
Carb Manager — Best Keto Food Tracking App
Free with ads and in-app purchases
Price: Starts at $8.49 per month, $39.99 per year
Recommended for: Beginners and experienced dieters who want to count calories, macros, and other nutrients
Carb Manager is a must-have for people who like to follow a low-carb or keto diet. It can track your food for various nutritional markers, such as:
Calories and macronutrients — proteins, carbohydrates, and fats
Non-essential nutrients — sugar, fiber, cholesterol, and starch
Different fats — omega-3 fatty acids; saturated and unsaturated fats
Essential nutrients — vitamins and minerals
It's a great app for people who suffer from or have an increased risk for diabetes, high cholesterol, hypertension, anemia, and heart disease. It can monitor your:
Ketones
Blood glucose
Insulin
Blood pressure
Triglycerides
LDL cholesterol
HDL cholesterol
If you've been taking at-home health tests for cholesterol and other health problems, we highly recommend using this food tracker. You can use it to track your results.
The best part? You get free access to health articles and tutorials on the Keto Academy.
[Download for iOS] [Download for Android]
What I Like About Carb Manager
Lets you choose more than 1 health goal: lose weight, build muscle, increase energy, improve sleep, manage blood sugar, and be healthier.
Automatically sets your daily calorie limit based on your measurements, physical activity, and weight goals (e.g., gain muscle and lose or maintain weight).
Customize your calorie budget based on your target calorie deficit.
Set your macronutrient goals. Carb Manager lets you choose from 10 keto diets, but you can also create your own ratio of carbs, proteins, and fats.
Shows you the estimated date of when you will reach your goals.
Gives you 5 ways to log food: manually, with a barcode, voice recognition, by searching their database, or by taking a picture of the food.
Syncs with fitness devices like Fitbit, Garmin, and Apple Watch to track your physical activity and exercise.
Highlights your daily macro intake, including your calorie consumption. 
Tells you if you've been sticking to your macro limit.
Provides long-term tracking of your nutrition, weight, body measurements, and lifestyle — including sleep, water intake, steps, and exercise minutes.
Join groups or make your own, and connect with people through comments.
Earn points and stay motivated by participating in group challenges. Talk to other participants via group chat.
Premium members can access keto recipes, create a shopping list of keto-friendly ingredients, and plan keto meals.
Can be used as an intermittent fasting tracker.
What I Don't Like About Carb Manager
Doesn't indicate the calories you burn through physical activity and exercise.
Micronutrient tracking is only available for premium members.
Free members won't be able to access recipes and meal planning features.
Free with ads and in-app purchases
Price: Starts at $1.99 per month, $35.99 for a lifetime subscription
Recommended for: Experienced dieters who want to count calories and macros
Macros Calorie Tracker is the best food tracking app for counting macros. It's an excellent choice for people who subscribe to macro diets, such as Keto and Atkins.
However, it's not something we'd recommend to inexperienced dieters. 
You need to have a target weight and a clear idea of how you plan on achieving that goal. Macros can help you but only if you know what you're doing.
What I Like About Macros
Pick your weight loss goal: lose, maintain, or gain weight slowly or steadily.
Choose from pre-designed diet plans. Each diet splits macros in different ratios. Examples include the low-fat diet and high-protein diet.
Alternatively, you can set your own macronutrients ratio.
Log food in 3 ways: manually, with a barcode, or by searching their database.
Log up to 10 meals per day, including snacks. (Tip: You can limit your calories by decreasing the number of meals you can log per day).
Calculates your daily caloric budget and water requirements based on your measurements and target weight.
Tracks your calories and macronutrients for every meal and the entire day.
You can split your daily calorie limit across meals and snacks.
Shows the nutritional information of food before you log them.
You can track your exercise and burned calories.
Plus members can set nutrient goals.
Offers lifetime subscriptions at an affordable price.
What I Don't Like About Macros
There is no option to use the app as both a calorie tracker and meal planner. You have to switch between these features.
Meal planning is too basic. Since you can't import recipes, everything from the ingredients to servings must be manually recorded.
Tracks a limited number of essential micronutrients.
Has no healthy recipes or community support.
Not very beginner-friendly.
How to Lose Weight Without Counting Calories
You can lose weight without counting calories. All you have to do is practice healthier habits.
Some of these include healthy eating and exercising.
"Typically, when you start eating more fruits and vegetables, you will inevitably reduce your calorie intake. This can help you begin to lose weight."

Elise Harlow, M.S., R.D.N.
There's also a weight loss app that can also help you learn these habits. It's called Noom, and it uses a psychology-based approach to teach you a healthy lifestyle.
I love Noom because it has its own diet plan (called the Noom Diet). It's based on volumetrics and encourages you to eat more foods with low calorie density.
Low calorie dense foods contain few calories but are highly nutritious. They can help you lose weight without depriving your body of its much-needed nutritients.
Noom also provides healthy recipes, health coaching, and community-based support so you can stay on track of your goals.
"If you have a history of an eating disorder, Noom and calorie tracking apps may not be a good idea," says Harlow.

Read our full review of the Noom weight loss program.
Noom Weight Loss
What makes the Noom app truly special is that it doesn't stop once you lost weight. By offering health coaching, peer support, and education, it establishes healthy habits which can last a lifetime.