Our verdict: Supergut shakes, while a little more expensive, are great options for improved health–not just in the gut. I felt much better, less fatigued, and experienced more mental clarity after my trial with them.
Many people take probiotics to improve their gut microbiome, but prebiotics may be just as important. Prebiotics are compounds that encourage the growth of good bacteria to restore health, making your gut happier.
Supergut shakes are filled with prebiotic fibers in the form of resistant starch. They work with probiotics to promote the health of your gastrointestinal tract and other organ systems.
In our Supergut (formerly Muniq) reviews, we'll discuss with our in-house expert, Dr. Rizza Mira, the other benefits of taking this prebiotic resistant starch shake.

SuperGut's prebiotics-based food products help support your gut, brain health, and overall wellness. They optimize your good gut flora, balance your microbiome, and help you feel holistically more energetic and better.

Dr. Rizza Mira, our in-house expert
About The Company
SuperGut, formerly known as Muniq, is a health company that provides bars, shakes, and powders designed to support gut health. All of their products contain prebiotics to improve well-being.
In 2022, the company decided to rebrand from Muniq to Supergut. They still have the same goals and mission: to provide products that improve your overall wellness through your gut.
"Prebiotics take the form of indigestible carbohydrates. They are not easily taken up by the body, but they are useful for the habitant bacteria in the gastrointestinal tract," says Dr. Mira.
Supergut products optimize your gut health based on the science of gut microbiome. Their offerings are well-suited for people looking to proactively enhance their overall wellness.
We recommend their products because they are enjoyable, convenient, and work wonders. The company ensures to select only the highest quality ingredients and collaborates only with industry experts.
Product Review Summary
We gathered reviews from different SuperGut customers all over the web, here are some of the most common comments they had:
Pros
Many customers commented that their shakes are highly nutritious and diabetic-friendly.
Most users enjoyed the variety of flavors that suits different taste preferences.
Several buyers highlighted the improvements in their weight and blood sugar management.
Science backs the health benefits of primary ingredients like resistant starch and prebiotic fiber.

Cons
Some customers don't enjoy the taste of Supergut shakes.
Some users experienced mild side effects like bloating, gassiness, and digestive discomfort.
Several buyers commented that Supergut is slightly more expensive than other meal replacement shake powder brands.
Why Trust Us
KnowYourDNA is dedicated to providing readers with reliable information on products that help them achieve their health goals.
We pick products based on the following:
Brand reputation
Product quality
Safety for use
Customer reviews
Our in-house medical experts ensure the accuracy of our information.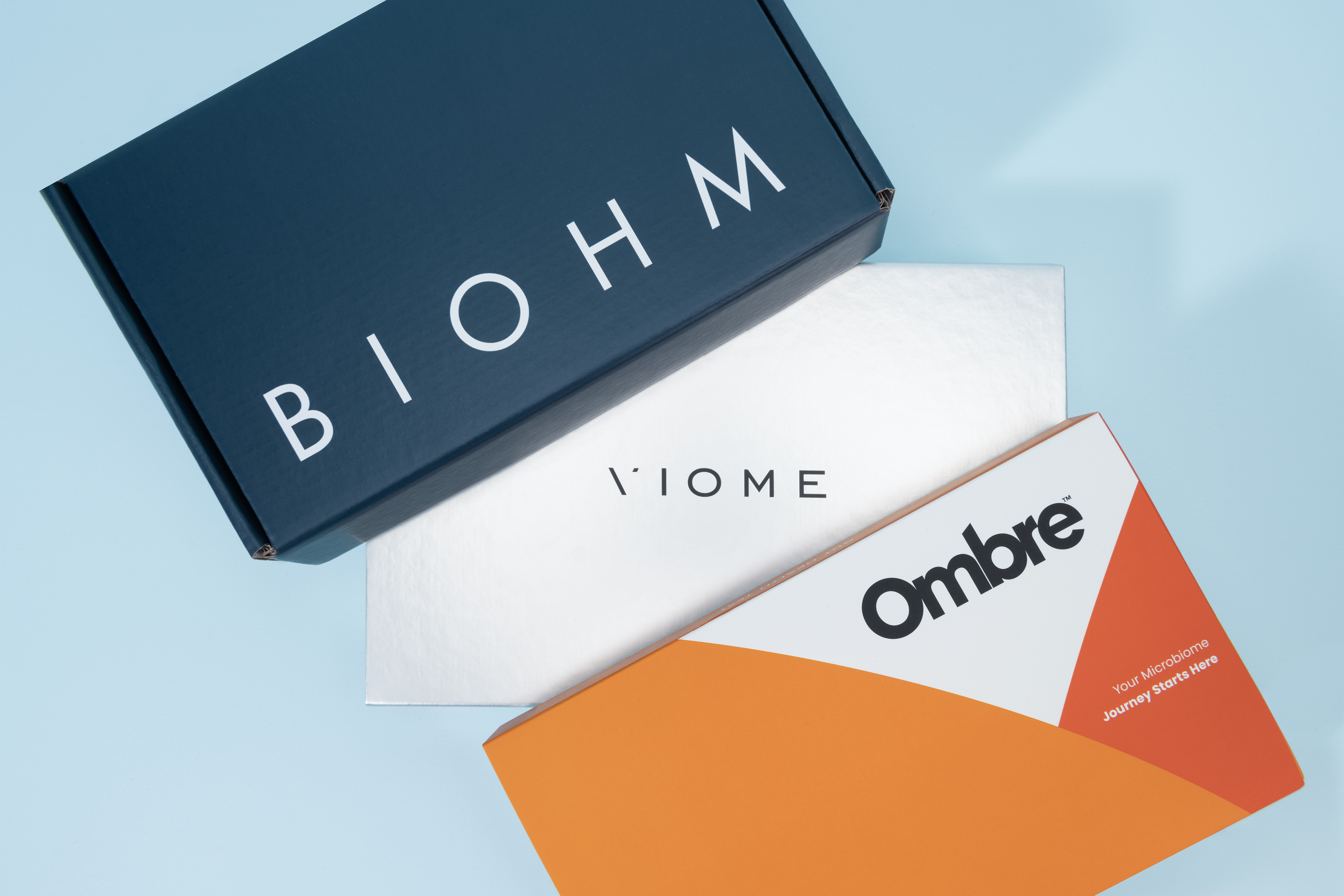 Best Gut Health Test
Our review of the best at-home Microbiome Tests.
What Are Your Options?
Supergut offers three varieties of nutritious prebiotic products— such as shakes, bars, and mix.
Prebiotic-packed Bars
The Supergut bar is great for those who live a busy lifestyle and are always on the go. They're also great as a snack to keep your appetite in check in between meals.
These ready-to-eat snack bars contain 10 grams of prebiotic fibers (from resistant starch) and 10 grams of high-quality protein to keep you satiated for periods.
It has three exciting and guilt-free flavors:
Chocolate brownie
Peanut butter chocolate
Strawberry almond
You don't have to worry about its calorie content since it's sweetened with a near zero-calorie sugar substitute, allulose.
It also has a bit of Reb M, a natural, non-GMO sweetener that doesn't have the bitter aftertaste of other alternatives.
Add-to-anything Prebiotic Mix
Supergut prepared an unflavored prebiotic mix that you can freely incorporate into your diet. Each packet of prebiotic fiber mix has 8 grams of fiber and only contains 15 calories.
It's a versatile formula that can be added to a wide variety of meals, from your drinks, like coffee or tea, to your food, like soups.
According to the company, they formulated it to blend perfectly with any cooking by all-out stirring for 30 minutes.
Supergut Shakes: A Deep Dive
Supergut made drinking prebiotics truly pleasant by incorporating them to meal-replacement shakes with exciting flavors.
If you are as busy as I am, you'd appreciate how you can grab this nutritious drink with you wherever since it's easy and convenient to make.
Supergut shake for breakfast can also make you feel full and energized for the day, thanks to its proprietary resistant starch fiber blend.
But although most people replace their breakfasts with Supergut, this shouldn't stop you from enjoying the shake any time of the day.
Quick Facts on Supergut (formerly Muniq) Shakes
| | |
| --- | --- |
| Nutritional Information | SuperGut Shake |
| Calories per serving | 170 to 180 grams |
| Protein | 15 grams |
| Carbohydrates | 34 to 40 grams |
| Fats | 6 grams |
| Fiber | 20 grams |
| Sugar | 0 gram |
What's Inside The Supergut (formerly Muniq) Shake? — Ingredients
What makes Supergut Shake super? Here's what's inside this meal replacement shake.
Prebiotic Fibers
Supergut shakes contain prebiotic fibers in the form of resistant starch. Prebiotic fibers promote the growth of beneficial gut bacteria by becoming their food source.
These types of dietary fibers are essential in shaping your gut microbiome composition. They help keep the balance between the beneficial and harmful microbes to prevent gut dysbiosis.
The other prebiotic fiber sources included in Supergut shake are:
Unripened green bananas: Studies show that unripened green banana has lower sugar content and more resistant starch than other varieties.1
Oat Beta Glucan: Research suggests that oat beta-glucan can potentially reduce your risk of cardiovascular diseases (CVD) by helping regulate your cholesterol levels.2
Soluble Vegetable Fiber: Called dietary fibers, studies show they can lower your risk of heart disease, reduce cholesterol levels, and help improve blood sugar or blood glucose control.
"Soluble fiber is also important as it adds bulk to stools, preventing constipation," says Dr. Mira.
Proven benefits: Studies show that prebiotic fibers help maintain your gut's overall health by preventing harmful bacteria overgrowth.3
This can result in significant benefits like lowered risk of inflammation, improved nutrient absorption, and immune system boost.
Potential concerns: Prebiotic fibers are considered generally safe for most people. But some can potentially experience digestive symptoms, like gas, bloating, and diarrhea from ingesting too many prebiotics.
Resistant Starch
Supergut mentioned that their products contain resistant starch. They said it's the secret to their products' health benefits, including weight loss and better blood sugar control.
What is resistant starch? In Supergut's ingredients it is listed as a prebiotic fiber.
Resistant starch is a type of carbohydrate (carb). Carbs are the main source of energy because the body metabolizes them faster than other nutrients.4
But resistant starch is different. Instead of being broken down immediately for energy, it can pass through the gut without being digested.
It resists digestion in the small intestine. But bacteria ferment it in the large intestine, where it becomes food for the friendly gut microbes. It's how resistant starches become prebiotic fibers.
Resistant starch has four types. It isn't simple to categorize where each food belongs since some food can contain more than one type of resistant starch.
But most of the types of resistant starches are available in natural and whole foods like oats, grains, and green bananas.
Proven benefits: Studies show that resistant starch can help enhance blood sugar control and improve the insulin response of your body's cells.5
Potential concerns: Side effects such as bloating, gas, diarrhea, or constipation may happen if your body doesn't respond well to resistant starch.
Other Key Ingredients
The other key ingredients of Supergut shakes include the following.
Protein
Protein is one of the essential macronutrients. It plays many roles in the body, such as helping with tissue and cell repairs, promoting growth, and others.
Supergut shake contains 15 grams of proteins, which are from the following plant-based powerhouse:
Milk protein concentrate
Brown rice protein
Pea protein
Pumpkin seed protein
"This product's protein content is helpful for those who also want to lose weight. In a study, an increase in protein intake helps to boost one's metabolism and reduces appetite," says Dr. Mira.
Vitamins and Minerals
Supergut ensures their shakes are filled with a comprehensive blend of 26 vitamins and minerals.
Creamers and Healthy Fats
To make Supergut a complete meal, it is packed with healthy fats, like high-oleic sunflower oil. Similar to avocado and olive oil, it is rich in monounsaturated fatty acids.
Supergut used xanthan gum and guar gum as thickeners and emulsifiers to get the thick texture.
Flavor and Sweetener
For the flavors and sweeteners, Supergut mentioned including low-calorie and natural ingredients, such as:
Allulose
Reb M
Cocoa powder
Coffeeberry extract
Pure Colombian coffee
Citric acid
Natural chocolate flavor
Natural vanilla flavor
Natural mocha flavor
Natural strawberry flavor
How Does Supergut Shake Taste Like?
Supergut shakes are available in a variety of flavors, including:
Chocolate
Vanilla
Mocha Latte (contains 100 mg caffeine)
Strawberry
To ensure that people following the vegan diet can also enjoy the Supergut shake, the company formulated vegan chocolate and vegan vanilla flavors, which are dairy-free.
My sweet tooth made me order the chocolate flavor. The first thing I noticed upon opening it is the powder had a pleasant, chocolatey aroma. It also looked finer than other meal replacement shakes I've tried.
I put two scoops of Supergut in the blender and added 350 ml water and some ice. What came out was a pretty thick and super smooth shake that smelled like a green smoothie.
I like its taste, and if you enjoy dark chocolate, this might also be for you. It's not overly sweet, and the chocolate isn't boldly tasting but actually subtle.
It's also different from protein shakes, which, most of the time, have a hint of chemical taste.
I also find no issues with its consistency. It wasn't chalky and had a nice consistency.
What Are The Health Benefits of Supergut Shakes?
Supergut shakes contain ingredients that can help enhance your blood sugar control, digestive health, and weight management.
1. Help Improve Blood Sugar Control
Supergut contains resistant starch that can potentially help improve your body's response to insulin or insulin sensitivity.
Insulin is a hormone released by the pancreas to help your body convert glucose to energy. Glucose is your body's main fuel. It's a type of sugar that your body can get from foods and immediately use for energy.
Insulin resistance causes problems because when the body cells are not sensitive to insulin, they have a hard time absorbing glucose from the bloodstream quickly.
It can result in a spike in the glucose levels in the bloodstream. Over time, it can lead to health problems. Poor insulin sensitivity is linked to several diseases, including obesity, type 2 diabetes, heart disease, and fatty liver disease.6
Resistant starch has a second-meal effect, which means it reduces your body's blood sugar response to the following meal. This means that if you take SuperGut with lunch, it will help prevent blood sugar spikes during dinner.7
"Resistant starches have also been shown to improve insulin sensitivity. This results in better sugar control and improved energy levels," says Dr. Mira.
What Supergut does is help slow down the absorption of glucose into the bloodstream. This gives the body cells more time to absorb glucose from the bloodstream.
Supergut also helps prevent blood sugar levels from fluctuating throughout the day by helping control post-meal blood sugar levels.
2. Enhance Digestive Health
Supergut contains prebiotic fibers, which serves as food (carbon) source for the friendly microbes in your gut. By doing so, prebiotics encourage the growth of beneficial gut bacteria.
They help prevent digestive symptoms caused by gut dysbiosis or imbalance of bacteria in the gut, such as constipation, bloating, diarrhea, and others.
In my experience of taking Supergut shakes, I noticed that it helped me feel less bloated after eating carbohydrate-rich meals. I also observed that I had more regular and comfortable bowel movements.
Prebiotic fibers also influence the production of short-chain fatty acids (SCFAs) that helps your gut bacteria strengthen the gut lining.8
The gut lining has tight junctions or small gaps between cells. These tight junctions let the nutrients and water pass through the lining, which makes the gut lining semi-permeable.9
But they prevent toxins, bacteria, and undigested food particles from leaking into the bloodstream.
If that occurs, you may experience digestive symptoms that might be related to leaky gut syndrome. Fortifying the gut lining's permeability is one way of avoiding a leaky gut.
3. Aid in Weight Management
Supergut supports weight management by promoting satiety and curbing your appetite. With that, its carefully crafted formulation helps promote weight loss.
They formulated their products, especially the Supergut shake, with ingredients that will nourish and fill you for extended periods.
A study shows that including resistant starch-rich foods in your diet can result in lower food intake.10
On the other hand, beta-glucan helps with weight loss by controlling your appetite-inducing hormones.11
I believe that this benefit was evident wit my experience taking SuperGut. During my trial, I noticed I was less hungry. I also observed that my cravings for sugary or high-carb foods were practically nonexistent.
4. Help Lower Cholesterol Levels
Soluble fibers such as beta-glucan have been shown to help lower cholesterol levels, including LDL or "bad" cholesterol. High LDL cholesterol levels are linked to an increased risk of heart disease.12
Soluble fiber works by preventing the absorption of cholesterol in the gut. In one study, those eating three (3) grams of beta-glucan fiber daily saw a 15 percent decrease in their LDL cholesterol.13
Lowered cholesterol and feeling physically healthy all around can contribute drastically to overall long-term health.
Is SuperGut Safe To Use?
Yes. Supergut shake is generally safe to consume.
According to the company's website, the U.S. Food and Drug Administration certified all of the ingredients in Supergut shakes as Generally Recognized as Safe (GRAS).14
Supergut claims that its ingredients are mainly whole foods or derived from whole foods. They do not use gluten. However, they package the products in a facility that also handles wheat.
With that said, Supergut can't guarantee that their shakes are 100 percent gluten-free since there's a risk of cross-contamination.
But the company assures that they didn't use potential allergens except milk, the main protein source.
It's also compatible with many popular diets, including:
Vegetarian and vegan
Keto
Paleo
Gluten-free
It's still best to consult your doctor before adding Supergut shake to your diet, especially if you're currently pregnant or nursing.
Supergut and any other shakes, supplements, or meal replacements cannot replace a doctor and their expert opinion. Do not use it as a substitute for medication, prescription drugs, or treatment.
What Are The Potential Side Effects of Supergut?
Some people reportedly experienced bloating after starting Supergut shake. But you don't have to worry, the same thing happened to me, so I searched about it.
The website mentioned that this is totally normal and may even indicate that it's working. It's a good sign that good gut bacteria are increasing in population.14
Because it stimulates the growth and activity of bacteria in the gut, prebiotic fiber has the potential to cause gas and bloating. Large doses may cause diarrhea and stomach pain.
"In patients with gastroesophageal reflux (GERD), symptoms can be worse with large doses of prebiotics," says Dr. Mira.
Bloating typically happens in the first week or seven days of drinking Supergut shakes, especially if you used to have a low prebiotic diet like mine.
Another thing, high-fiber foods usually cause gassiness. So your reaction to SuperGut shake might be the same as when you add more broccoli, beans, and other legumes to your meals.
It's important to make sure to start at a half-dose and work your way up to minimize any potential side effects–especially if you have a sensitive gut.
How To Make The Supergut Shake
SuperGut recommends starting out with a half serving and building up to a full serving to avoid any possible side effects.
You can use water or milk to prepare your shake, although Supergut advises against using any type of cow's milk. It's because they may cause your blood sugar to spike.
"Sudden spikes in sugar levels strain the pancreas and can lead to sudden bouts of hunger when blood sugar levels drop sharply," says Dr. Mira.
Instead, to optimize its benefits, you can go for unsweetened plant-based milk, like unsweetened almond milk, oat milk, and others.
I'm not an expert on meal-replacement shakes, nor do I consume them in heavy amounts. But I decided to try Supergut to improve my eating habits somehow.
I typically prepare my Supergut meal replacement shake with crushed ice, almond milk, and two scoops.
But on a rainy afternoon, I've tried doing a hot chocolate drink from it. It didn't disappoint— it had all the richness and warmth of a regular cup of cocoa. You can check other Supergut recipes here.
You can take Supergut with or without food. In addition, you can also add probiotics to your diet while taking Supergut shake to help the prebiotic fibers colonize the gut better.
Where Can I Buy Supergut?
To get your hands on Supergut shakes and other products, I found that it's best to purchase directly from their website.
How Much Does Supergut Cost?
You can purchase Supergut at these prices:
One bag (14 packets): $75 one-time payment
Two bags (28 packets): $150 one-time payment
If you'd like to take advantage of their discounts for more savings, you can sign up for a subscription.
On the other Supergut bars cost $98 for 24 bars. Signing up for a subscription brings the cost down to $69. The Supergut fiber mix costs $59 for 28 packets. It costs $49 with a subscription.
Is Supergut (formerly Muniq) Worth It?
Yes.
Supergut shakes are definitely worth trying. They are a convenient and fun way of incorporating prebiotic fibers to your diet.
Most of the time, preparing gut-healthy foods can be time-consuming. But meal replacement shakes with gut healing properties like Supergut can take some of the work off your hand.
Overall, SuperGut is a great choice for people looking to improve their gut health. It can also help reduce appetite and help with weight loss, lower blood sugar levels, and improve cholesterol levels.
It can help combat some gut issues, like wheat belly (without having to resort to the wheat belly diet necessarily), SIBO, and other diseases.
Most importantly, many of these benefits have been confirmed in a clinical trial with Supergut so there's research to back it up.
It can be costly to use Supergut daily, so some people may opt to use it a few times a week as a sort of gut maintenance.
How We Evaluated Supergut (formerly Muniq)
Our team worked with our medical practitioner, Dr. Rizza Mira, to develop a set of criteria. We used them to evaluate Supergut shakes.
Quality of Ingredients
Supergut claimed that they only use high-quality and natural ingredients. Supergut also showed great care with how they chose and sourced their ingredients.
They ensure that their products have no GMOs, no allergens and are compatible with diets like the Keto and Wheat Belly. The website also mentioned how they handpick each ingredient from sustainable sources.
Taste
Many customers have reported enjoying their Supergut shake, although there are a few who didn't like the taste.
We believe the mild and slightly sweet taste is only fitting for curbing your appetite, which is one of the main goals of this prebiotic fiber shake.
Health Benefits
Supergut offers different health benefits that may outweigh its price. It can help with metabolic problems like weight gain, obesity, and diabetes. In addition, it has other health benefits, like regulating your energy levels.
Customer Experience
Supergut Shake has received generally positive customer feedback. Just in Amazon, it averaged 4.3 out of 5 stars, with over 1,000 reviews. Based on our research, many users praised the taste, texture, and benefits of Supergut.
Our research also showed good results with Supergut's customer service. They have a live chat feature where you can reach out to drop your queries.
In addition, their website includes an email address and phone number that you can use to contact them. Some users mentioned that Supergut's customer service is responsible and helpful.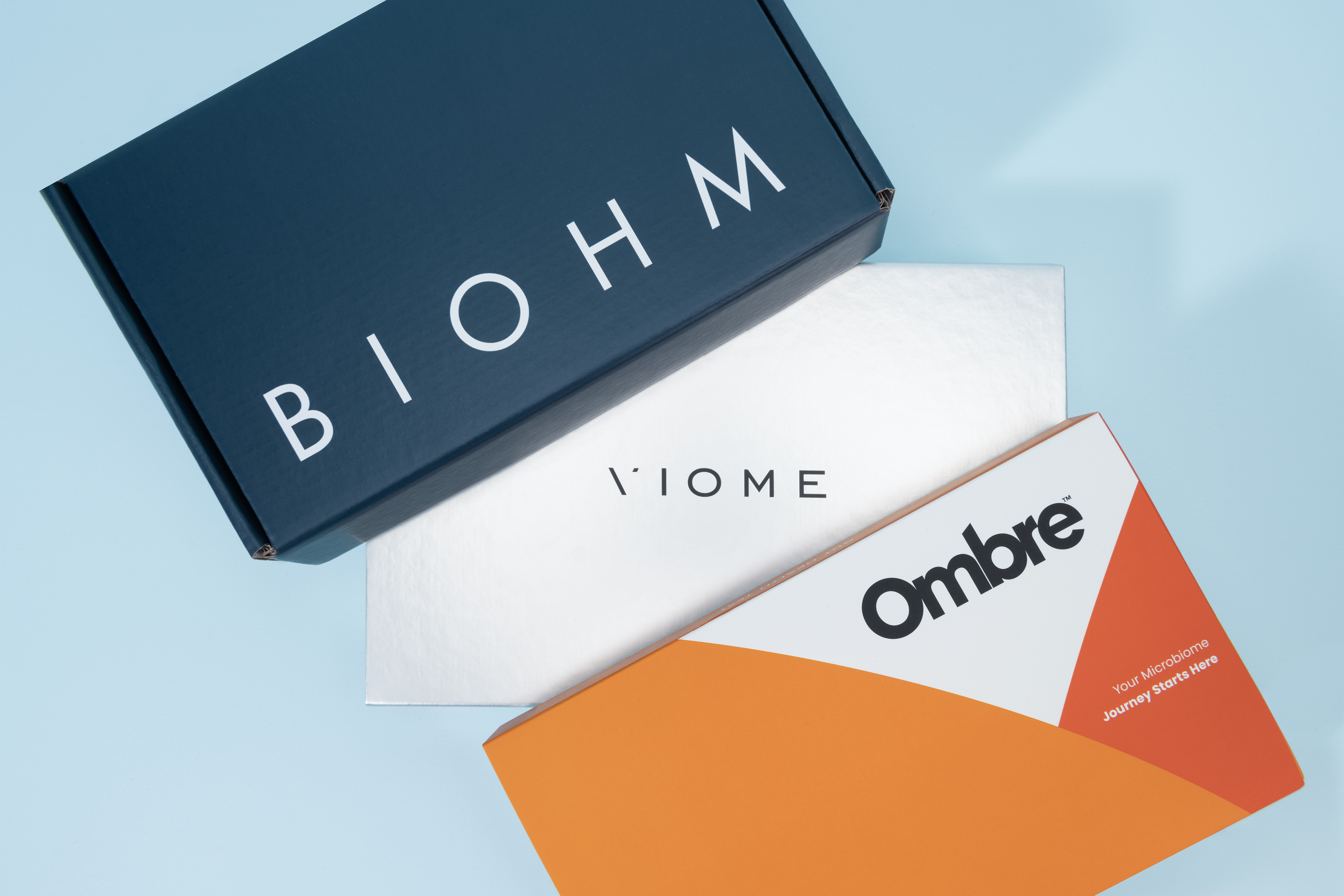 Best Microbiome Test
Looking for the best microbiome kit on the market? Look no further! Our review round-up page has all the information you need to make an informed decision.