Our Verdict: Sequencing.com offers a comprehensive DNA testing service that uses whole genome sequencing (WGS) to scan 100 percent of your genes.
This allows the California-based company to provide a more detailed and accurate analysis of genetic data compared to other DNA tests on the market.
Sequencing.com doesn't include reports by default, but it does come with a Report Marketplace where you can get more information about your DNA.
You can personalize your genetic test results, unlike other DNA companies which provide generic, cookie-cutter reports on your ancestry, health, and other traits.
Below we'll explore its reports and how Sequencing.com works. We'll also see how it stacks up against other DNA tests in terms of cost, accuracy, and privacy.
Sequencing.com Review Summary
We scanned through hundreds of customer reviews to find out how people feel about Sequencing. Here's a summary of what people are saying about it:
Pros
Has a wide range of reports to choose from, including free options
Provides detailed and informative reports that are easy to read
You can get many reports with your DNA data and save money
Friendly customer service that resolves issues quickly and efficiently
Quick turnaround time for people who opt for expedited test results
Cons
Reports on the market have varying levels of accuracy and usefulness
Genome data is needed for some reports and require additional testing
Some users report issues with the ordering process and delivery
The website and app sometimes have bugs that make them difficult to use
Long waiting time for people who opt for the standard service
Why Trust Us
I've been testing DNA kits for the last seven years and have taken every DNA test on the market. I've compared results and have been committed to testing and tracking any changes over time.
As an organization, we at KnowYourDNA are committed to helping you get the most accurate information about your ancestry, health risks, and other genetic traits.
We only choose at-home DNA tests that meet the standards of the DNA testing industry and provide reliable testing methods.
Our in-house medical experts help ensure the accuracy of our articles by reviewing them before publication.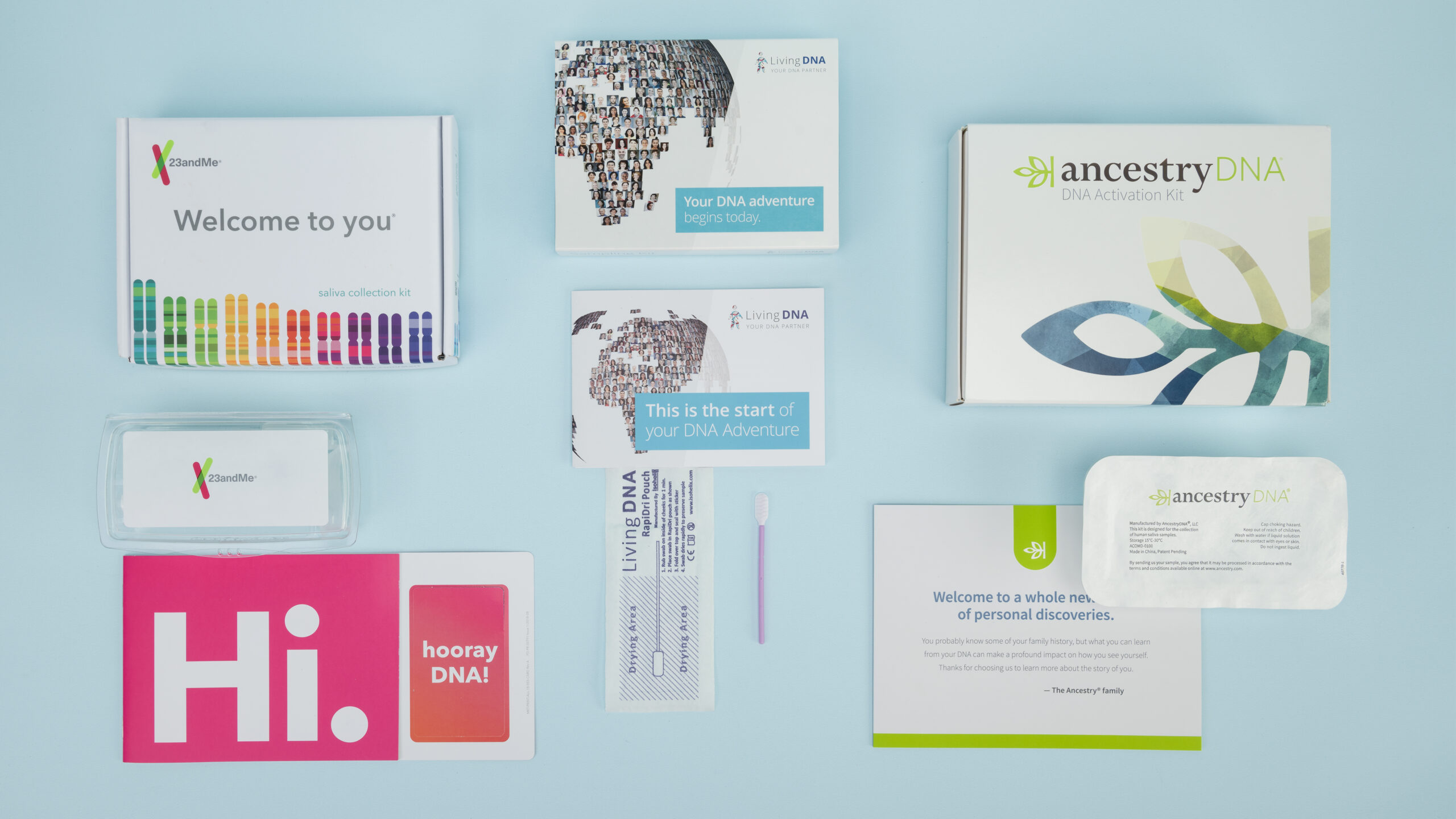 Best DNA Kit
Don't miss out on the opportunity to learn more about yourself. Read our best DNA test page to find the best one for you.
What Does Sequencing.com Have to Offer?
Sequencing.com offers an at-home DNA test, raw data uploads, and a marketplace where you can buy reports to learn more about your DNA.
1. Whole Genome Sequencing Test
Unlike most DNA tests, which only look at specific variants or a small portion of your genetic code, whole genome sequencing scans 100 percent of your genes.
This enables Sequencing to identify all genetic variations in your genetic makeup that contain information about your ancestry, health, and other traits.
The test itself doesn't provide in-depth reports on your DNA. But it comes with a Genome Plan of your choice, access to a Report Marketplace, and free reports:
Wellness & Longevity Report – analyzes your risk for common and preventable diseases and medical conditions, such as obesity, heart disease, and certain cancers
Rare Disease Screen – determines your risk for rare diseases and if you carry genes (carrier status) for certain genetic disorders that may affect your child
Now if you're looking for the Ultimate DNA Test and the Ultimate Genome Sequencing Test, these kits are no longer available as of 2023.
The company only offers their ultimate genome sequencing service with the WGS kit currently sold on their website.
2. DNA Reports Marketplace
The DNA app store allows you to select the reports you want, using either your genome data from Sequencing or data from other DNA tests.
DNA reports will be provided by Sequencing.com or third-party companies they partnered with—like SelfDecode, Genome Science, and Silverberry Genomix.
You can choose from the free apps and paid reports on the marketplace or pre-order apps that are about to be released.
Currently, there are over 180+ apps on the DNA marketplace. More apps are continually added so you can get more information from your genes.
If you're curious, we have a section that features some of these reports.
A bit of advice: Make sure to buy the reports you like when you can. Some of them—like the Coronavirus DNA Health Report—can disappear from the market.
3. DNA Data Upload & Storage
Sequencing.com gives you the option to upload data from other DNA testing companies, including:
AncestryDNA
23andMe
MyHeritage
LivingDNA
FamilyTreeDNA
Vitagene
HomeDNA
Nebula Genomics
Dante Labs
You can use the DNA data from these test providers with any of the apps on the market to gain more insights on your genetic variants.
The feature also lets you safely store all your raw data files in one place.
How Does Sequencing.com Work?
Sequencing.com isn't as straightforward as other genetic testing companies where you take an at-home DNA test and get your results after.
There are two ways to get started with the whole genome sequencing service:
Option 1: Take the DNA Sequencing Test
You can get your whole genome sequenced by taking Sequencing.com's own tests. If you choose this option, here are the steps you need to follow:
Buy the ultimate genome sequencing kit from Sequencing.com
Activate your kit on the website as soon as it arrives
Collect cheek swabs with the DNA collection kit
Send your DNA sample to the laboratory
Wait for your raw data to be ready
When your results arrive in the following weeks, you can run them through DNA analysis apps on the marketplace to get reports.
You'll have access to most reports and Sequencing.com features for a month with a Genome Plus Plan or up to three months with Genome Premium.
After your bundled Genome Plan expires, you can subscribe again.
Option 2: Upload Genetic Data
Alternatively, you can upload raw data from other genetic testing companies if you don't want to use the company's genome sequencing services.
When you choose this option, you don't have to pay for anything right away.
Just sign up for a free Genome Plan so you can start exploring the Report Marketplace and get free reports with your genetic information.
When you're ready to make a purchase, you can buy paid reports of your choice or subscribe to Genome Plans in order to can access more features.
What Reports Can You Get With Sequencing.com?
Sequencing.com categorizes its reports based on the type of information you'll get. In total, there are nine categories on the app market:
Ancestry
Health
Nutrition
Fitness
Lifestyle
Children
Art
Beauty
Bioinformatics
Under each category are the DNA apps that analyze your genetic profile to provide you with customized reports.
What's great about Sequencing.com is that you can personalize your DNA test results and decide which ones you want to receive and leave out.
Ancestry Reports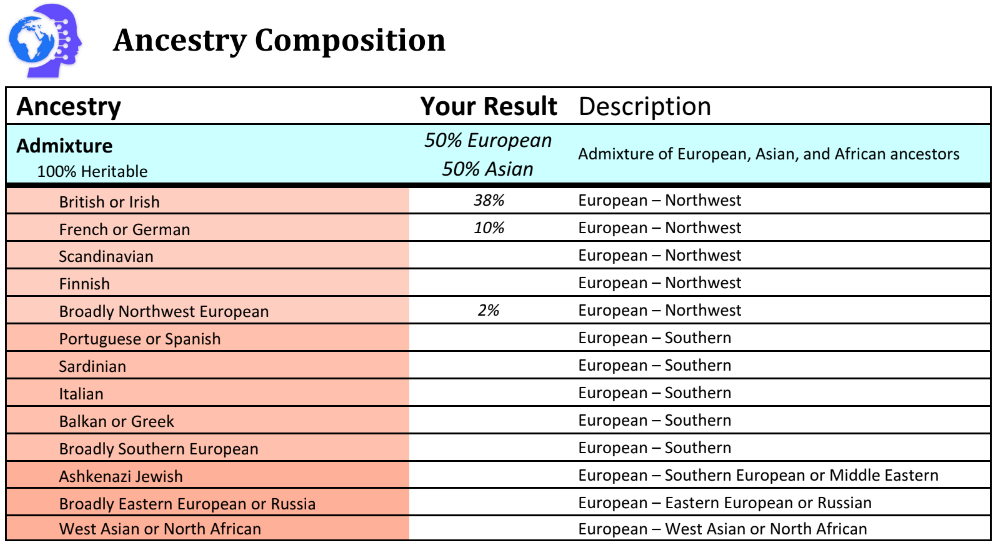 The marketplace has a number of apps that can help you find relatives and learn more about your family history. Here are the best DNA apps for ancestry:
Map My Genes – tells you which groups of people from around the world you share DNA with
Genetic Ancestry with Haplogroups – shows your ancestry composition
Am I Related? – a relatedness calculator that determines your genetic relationship with someone
Health and Wellness Reports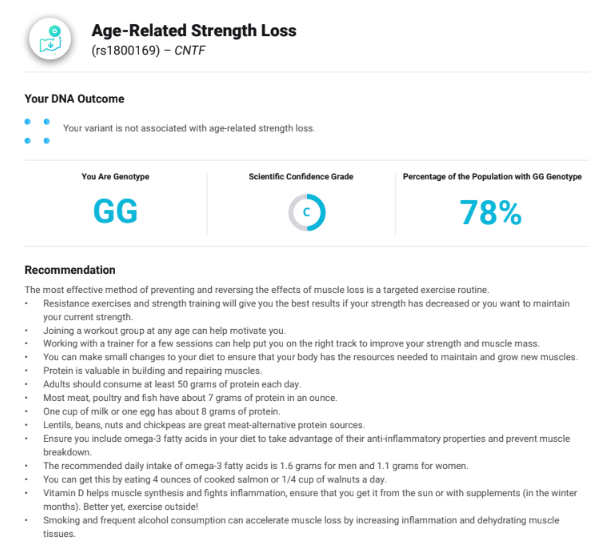 Sample from Wellness DNA Report / KnowYourDNA
Most of the reports on the app market can uncover useful insights about your health and lifestyle and suggest different ways to improve them.
Here are the best DNA apps for health and lifestyle:
Comprehensive Wellness DNA Report – detailed reports, health recommendations, and educational resources on over 140 genetic traits that impact your well-being and lifespan
Wellness DNA Report – discover your health risks and how to reduce them
Genetic Detoxification Test – how genes affect your body's reaction to pollutants, chemicals, and environmental toxins, and get tips for detoxification
Medication and Drug Response – determines your response to certain medications and risk for drug addiction to some commonly abused substances
Mood DNA Wellness Report – analyzes your DNA to see how it affects your brain chemistry and provides valuable insights so you can improve your mood and manage your stress
Keep in mind that you shouldn't use these reports to diagnose your condition or replace health tests prescribed by your doctor.
Fitness & Nutrition Reports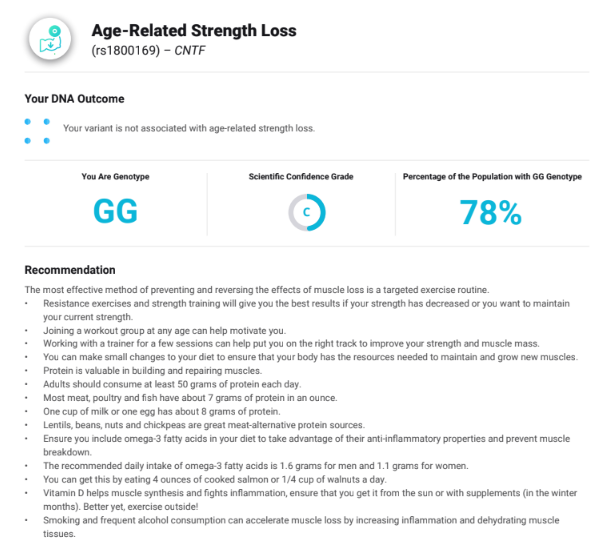 Sample Report from Nutrigenomics: Nutrition Analysis / KnowYourDNA
The DNA app store also features health reports that focus more on your diet and fitness, so you can make the biggest changes that would benefit your health.
These are the best DNA apps for fitness and nutrition:
TBG Total Wellness – includes personalized health plans for weight management, optimum nutrition, and enhanced physical endurance
Nutrigenomics: Nutrition Analysis – checks for genetic traits that influence your food preferences and health based on what you eat, like food intolerances and allergies
Weight Loss – a comprehensive weight loss plan based on your genetic profile
Athletic Performance – offers personalized guidance for optimizing your workouts and fitness
Exercise Injury Prevention – find out how your genes influence your risk for injury, recovery time, and discomfort during exercise

Children's Health & Wellness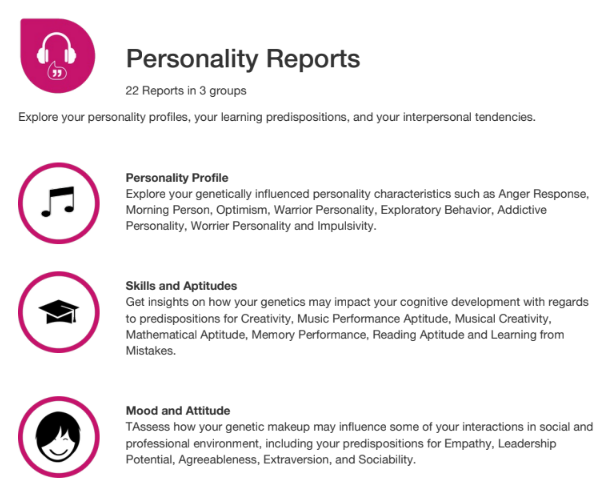 Sample Report from Personality DNA / KnowYourDNA
Several apps can help you learn more about genetic traits that might influence your child's health and behavior.
However, you may need to get them tested for some of these reports. Our top DNA apps for children's health are:
Carrier Status – see if you have genetic markers that might put your child's health at risk
Personality DNA – learn which DNA traits affect your child's personality, learning style, and more
Genetic Counseling – get live genetic counseling from licensed genetic counselors who can help you understand your health risks and plan your family via chat
Art & Beauty Reports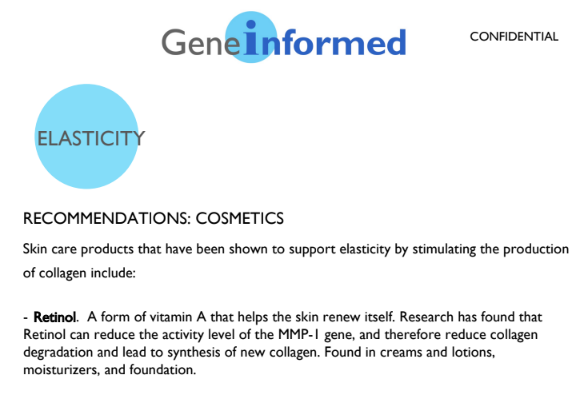 Sample Report from Skin Genes / KnowYourDNA
These reports provide insights on how your unique DNA affects traits that influence your physical appearance. Some of the best apps for these categories are:
Sleep DNA Wellness Report – find out how genes influence your sleeping patterns and get custom suggestions so you can have better quality sleep
Skin Genes – learn how genetics impact your skin's health and aging, and receive personalized advice on cosmetics, diet, and lifestyle changes for healthier skin
Genetic Risk of Hair Loss – men can use it to determine their risk for male pattern baldness
Sequencing.com Reports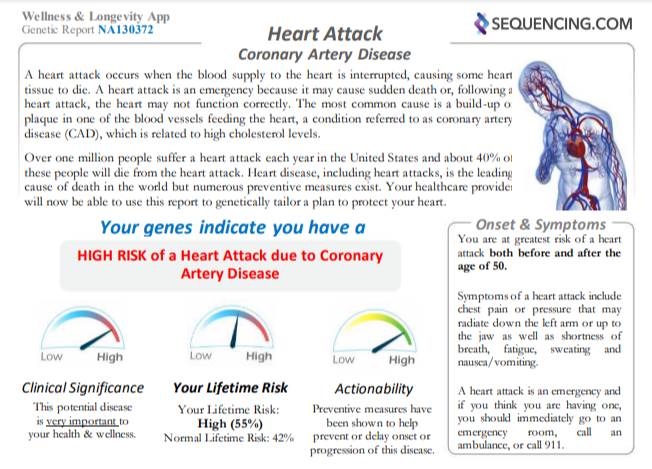 Sample Report from Wellness & Longevity / KnowYourDNA
The company also offers proprietary reports—most of which are free. Although you'll need a paid Genome Plan to access them. Here are our picks:
Relative Matching DNA Family Finder – find your potential relatives on Ancestry, 23andMe, MyHeritage, Living DNA, and other DNA testing companies
DNA Selfie Appearance Predictor – uses your genetic data to determine your most likely physical appearance. Have fun comparing your actual photo with the DNA selfie
Supplements My Way + Real Time Personalization – provides guidance on supplement and vitamin intake personalized to your genetic makeup.
Bioinformatics
Most apps in this category are designed for experts who intend to use genetic data for biological research (bioinformation), including:
Medical researchers
Genetic researchers
Data researchers
However, people who want to get in-depth data about their DNA may find some of these tools useful and understandable with some effort.
Some of these apps are not that complicated and make it easier for you to understand your DNA information. Here are the apps we recommend:
Sequencing Depth and Coverage – check your whole genome sequencing data to see if your DNA testing company fully sequenced it
Genome Explorer v3 – lets you explore your DNA data and filter out specific variants
Variant Effect Predictor – determines the effects of specific variants found in your whole genome sequencing or whole exome sequencing data
Healthcare Pro Report – healthcare professionals can use the DNA app to gain helpful insights on their patients' genetic health risks
How Accurate is Sequencing.com?
Sequencing.com uses 30x whole genome sequencing, making it a reliable way to identify all of your genetic markers and not just specific variants.
It looks at both the coding (exon) and non-coding regions (intron) of the entire genome an average of thirty times, which reduces the gaps in your DNA data.1
The accuracy of its genome sequencing technology allows the company to produce clinical-grade results that can be used for health purposes.1
Is Your DNA Data Safe with Sequencing.com?
We reviewed Sequencing.com's privacy policy and found that it does a good job of keeping your information safe and secure, but there are some risks involved.
Here is a breakdown of Sequencing.com's privacy features:2
You Have Control Over Your DNA Data
You can choose which health reports to view or opt-in to. In this case, Sequencing.com will share your data with its service providers so they can analyze it and provide your DNA results.
You can control when and with whom you share your information with outside of its services—such as family, friends, healthcare professionals, social networks, and third-party providers that accept sequenced DNA.
You can decide whether or not you will share your genetic data with third-party researchers. Either way, Sequencing will not sell, lease, or rent your individual-level information such as your gene variants and diseases you're at risk of developing, without your explicit consent.
If you consent to Sequencing Research, only your anonymous genetic data will be shared so researchers don't know who it belongs to.
You can withdraw your consent to participate in genetic research anytime.
If you don't want to use Sequencing.com's services, you can request to have your account, personal information, and DNA data deleted.
Who Has Access to Your Information
Sequencing.com will not share your data with public DNA databases or provide any information to insurance companies or employers.
The company will not give your information to law enforcement and other regulatory bodies unless required by law. They need to present a court order, subpoena, or search warrant to access your data.
How Sequencing Secures Your Data
Your personal data is encrypted when stored or transmitted. This makes it unusable and unreadable in the event of a security breach.
All your data is securely stored in a database with Health Insurance Portability and Accountability Act (HIPAA) compliance.
The company regularly updates its security practices to ensure the integrity of its information management system and your data's safety.
Privacy Concerns for Sequencing.com
Just like with any type of data that you share and store online, privacy issues can arise and compromise the safety of your personal details and raw DNA file.
One major concern with Sequencing.com is that it essentially shares your data with third-party service providers (e.g., publishers) to offer you reports.
While the company is in contract with each provider to help maintain the privacy and security of your data, it doesn't fully guarantee them either "due to the inherent risks associated with storing and transmitting data electronically."2
There is also no information on how each service provider uses, stores, shares, and protects your data the way Sequencing.com does.2
You have to be aware of these risks before sharing your raw DNA data with third-party publishers on the DNA App Marketplace.
How Much Does Sequencing.com Cost?
The whole genome sequencing test costs $399 to $1,999 and is bundled together with a limited-time Genome Plan that lasts for up to three months.
Once your plan expires, a Genome Plan will cost you $129 to $1,299 per year.
This doesn't include the cost of apps on the market. The DNA reports cost between $1 and $159 for every genome tested.
Cost of Whole Genome Sequencing
The whole genome test is bundled with two genome plans:
| | | |
| --- | --- | --- |
| | Standard Bundle | Premium Expedited |
| Cost | $399 | $1,999 |
| Whole Genome Sequencing Test Kit | ✔ | ✔ |
| Full Telomere Length Analysis | | ✔ |
| Genome Plan | One month Genome Plan PLUS | Three months Genome Plan PREMIUM |
| Turnaround Time of DNA Results | Ten to sixteen weeks | Two to three weeks |

As of 2023, Sequencing.com no longer offers the Ultimate DNA Test, which uses genotyping, a DNA analysis method used by most DNA testing providers.
Cost of Genome Plans
This is where things can get confusing. But here are the takeaways:
Only members with paid Genome Plans can buy reports published by Sequencing.com. But the apps you're allowed to purchase still depend on your Genome Plan (e.g., Plus, Professional, or Premium).
All Genome Plan members can purchase any report from third-party publishers. This includes people with a free membership.
| | | | | |
| --- | --- | --- | --- | --- |
| | Genome Plan Free | Genome Plan Plus | Genome Plan Premium | Genome Plan Professional |
| Membership Cost | Free | $129 per year | $399 per year | $1,299 |
| Monthly Credit | None | $10 per month up to $100 | $20 per month up to $200 | $30 per month up to $300 |
| Required DNA data | Any | Any | Whole genome sequencing | Whole genome sequencing |
| Free Wellness and Longevity Report | None | ✔ | ✔ | ✔ |
| Free Rare Disease Screen | None | Up to 1,200 genetic diseases and conditions | Over 10,000 genetic diseases and conditions | Over 10,000 genetic diseases and conditions |
| Access to Paid Reports by Sequencing | None | None | ✔ | ✔ |
| Access to Paid Reports by Third Party Providers | ✔ | ✔ | ✔ | ✔ |
The main advantage of paid plans is that you can get up to $300 in credits, which you can use to pay for the reports.
As of 2023, Sequencing.com no longer offers Silver, Gold, and Platinum memberships or the two free apps they included: Genome Explorer Ultimate and Genome Lock DNA Security.

Cost of DNA Apps on Sequencing.com
There are some free apps that offer insights into your DNA at no additional cost.
Paid apps cost anywhere from $1 to $159 per report for every genome tested but usually average at $20 to $60 each.
This means that if you want to get reports for DNA data from Sequencing.com and Nebula Genomics, you'll have to pay for them separately.
Sequencing.com vs. Other DNA Tests
Most at-home DNA tests like 23andMe and Ancestry perform genotyping, which reads your DNA at 600,000 positions or less than 0.02 percent of the genome.
Whole genome sequencing tests analyze your DNA at over six billion positions, which constitutes 100 percent of the genome, making it the gold standard for genetic testing.
This allows Sequencing.com to detect different types of DNA data, including:
Single Nucleotide Polymorphisms (SNPs)
Insertions & Deletions (INDELs, DIPs or DIVs)
Copy Number Variants (CNVs)
Structural Variants (SVs)
Mitochondrial DNA Heteroplasmy
Other commercially-available genetic tests only test for a few SNPs and insertions. So they can't accurately paint a picture of your genetic makeup.
While Nebula Genomics offers WGS testing, it only sequences your genome less than one time (0.4x) and uses an algorithm to fill out gaps in your DNA data.1
Sequencing.com sequences your genetic data a total of thirty times, so there's less room for errors and better accuracy.
Is Sequencing.com Worth It?
Sequencing is one of the few companies that sequences your whole genome and accurately identifies all of your genetic variants. We think it's a good option if:
You have raw DNA from other companies and want to squeeze out more detailed reports from the same genetic data
You've taken some of the best DNA tests but want to get a more comprehensive look into your DNA with whole genome sequencing
However, Sequencing.com isn't beginner-friendly, and its whole genome test costs more than most at-home DNA kits on the market.
If you're new to DNA testing, we recommend taking Ancestry DNA for ancestry results and 23andMe for its health reports.
Both companies let you download your raw data, which you can use to get reports from Sequencing.
How We Evaluated Sequencing.com
We evaluated Sequencing based on the following criteria:
Brand reputation – the company's trustworthiness
Available reports – type and depth of information they provide
Accuracy – the reliability of its testing method and results
Privacy – how it protects your data and information
Convenience – ease of testing process
Cost and additional fees – if it gives value for your money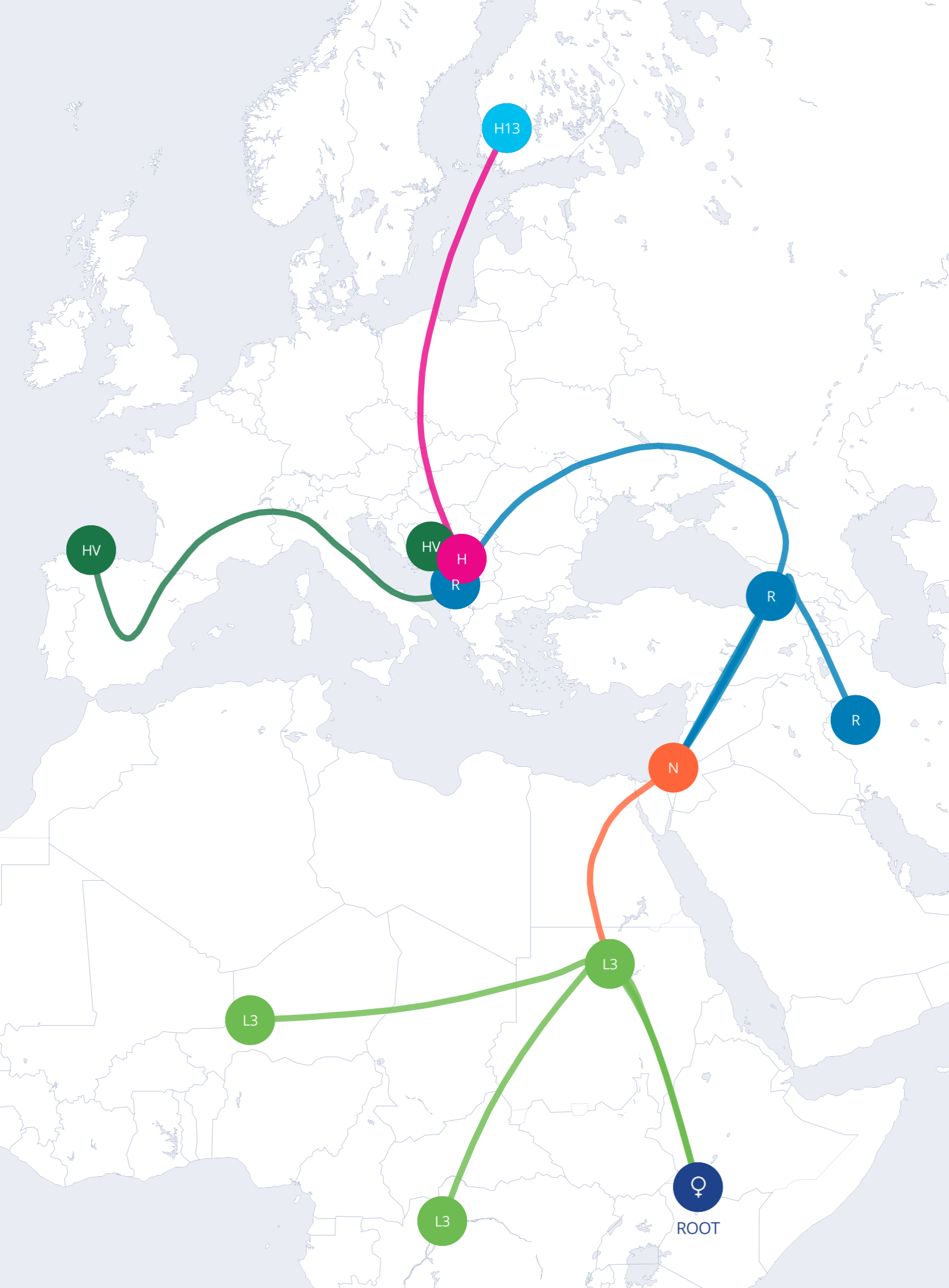 The Best DNA Test
Looking for a DNA test that's accurate and can tell you about your health and heritage?