Tooth enamel, the outermost layer that protects teeth, can stain. This usually happens when it is exposed to certain foods and beverages.
If you have poor dental hygiene, food particles and plaque will build up. Over time, your teeth become discolored and turn yellow or brown. This process also increases your risk of cavities and gum disease.
Teeth whitening is a process that can remove surface stains on teeth.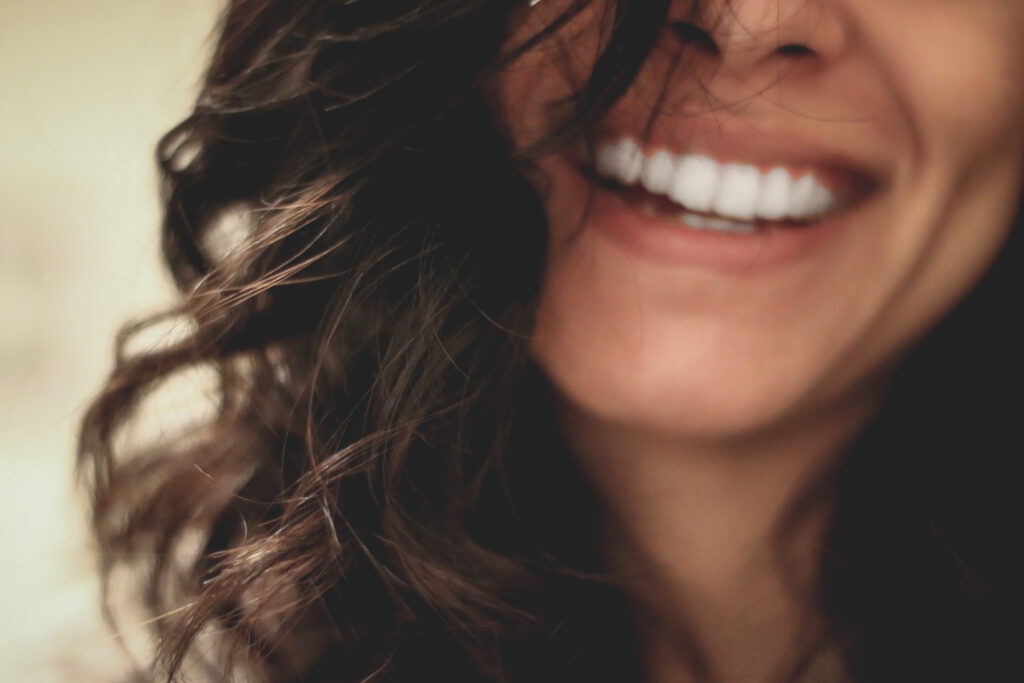 Is There A Safe Way to Whiten Teeth?
Teeth whitening is a safe and effective way to make your teeth several shades lighter.
You can safely whiten your teeth in three ways:
Professional teeth whitening
Prescription whitening trays
At-home teeth whiteners
Dental professionals mainly offer in-office treatments that use higher levels of peroxide. They also provide prescription trays that you can use at home with their supervision.
Another option is to buy over-the-counter (OTC) teeth whiteners. You can still use these products at home, except you won't need a prescription. They require more upkeep than in-office treatments because they contain lower peroxide levels.
How Safe Are Teeth Whitening Options?
There are dozens of procedures and products that can whiten your teeth. Let's take a closer look and see how safe they really are:
Is professional teeth whitening harmful?
In-office treatments and dentist-approved whitening trays can cause tooth sensitivity and gum irritation.1 But these are temporary side effects.
After a few days, your teeth and gums should return to normal.1,2
Some professional whitening systems can damage the enamel and demineralize teeth.3 However, dentists will check your oral health before providing any treatment.
If you have sensitive teeth, they will give lower doses of peroxide or suggest safer alternatives.
Are at-home teeth whitening products safe?
Any teeth whitening treatment that uses a bleaching agent can burn your gums and cause temporary tooth sensitivity.4 They include:
Whitening strips and trays
Teeth whitening kit
Whitening pen
Teeth whitening toothpaste
These side effects only last a few days and occur mostly in people with sensitive teeth.
If the product is approved by the American Dental Association (ADA) and U.S. Food and Drug Administration (FDA), it's safe to use.
You can also use tooth whitening products that contain non-peroxide bleach or natural teeth whiteners like calcium carbonate.
If you are unsure about their safety, you can always consult your dentist.
Is charcoal teeth whitening safe?
Many teeth whitening toothpastes use activated charcoal instead of bleach. But there's no proof that it is a safe or effective teeth whitener.
In fact, activated charcoal is abrasive. They can make your teeth yellow and increase your risk for dental caries and gum disease.5
Is it safe to do DIY teeth whitening at home?
Do-it-yourself (DIY) whitening toothpastes are homemade recipes that contain natural ingredients. But not all natural ingredients are safe to use on teeth.
Here are the dangers of homemade whitening ingredients:
Baking soda and salt — they can remove superficial stains, but they are also highly abrasive. They can cause enamel erosion and sensitive teeth.6
Hydrogen peroxide — if you use too much, you may exceed the recommended limit by FDA and ADA and damage your teeth.7
Turmeric powder and coconut oil — despite their numerous health benefits, there is no proof they can whiten teeth.5
Lemon juice and apple cider vinegar — acids can damage your tooth enamel and make you prone to tooth sensitivity and cavities.5
9 Tips to Whiten Your Teeth Without Damaging Them
If you want to whiten your teeth safely, here are some things you can do:
Visit the dentist's office — your dentist can make sure you don't have cavities, gum disease, or tooth sensitivity. If you have dental issues, they can treat it first before you undergo teeth whitening.
Know your options — talk to a dental professional or do your own research on in-office and at-home teeth whitening solutions.
Get a professional opinion — after getting a dental checkup, ask your dentist to suggest treatments suited for your teeth.
Don't forget about the science — stick to products that are backed by science. They must have a bleaching agent or calcium carbonate as active ingredients.
Look for the ADA Seal of Acceptance — as much as possible, only use teeth whiteners with ADA approval. To ensure safety, they only recommend products containing 10% carbamide peroxide or 3.6% hydrogen peroxide.7
Check for FDA approval — a teeth whitening system approved by the FDA is proven to work. FDA approval also ensures it provides more benefits than risks.8
Brush with a whitening toothpaste — if you use it with a whitening kit or whitening strip, you can lighten your teeth faster.
Use a whitening mouthwash — maintain your pearly whites by rinsing your mouth several times a day. We recommend whitening rinses that contain a bleaching agent.
Go beyond teeth whitening — if possible, use products that promote overall dental health. They may contain ingredients that remineralize teeth (e.g., fluoride) or prevent cavities and plaque (e.g., xylitol).
What Is the Safest and Most Effective Way to Whiten Teeth?
In-office and at-home teeth whitening are equally safe and effective with the approval of a dentist or orthodontist. The only difference is how fast their whitening effects are.
Professional whitening provides the fastest results because they use high concentrations of bleach (15% to 43%) to whiten teeth.
Custom whitening trays have high but safe levels of bleach (9% carbamide or 20% hydrogen peroxide). You can see results in as little as 5 days.9
At-home whitening products contain little to moderate amounts of bleach (3% to 20% peroxide). It can take days or weeks before you see visible results.
Best Teeth Whitening Products We Recommend
Below is a list of the best and safest teeth whitening products for at-home use.
1. Snow Teeth Whitening Kit - Best Overall
Cost: $200 with one-time payment or $37.25 per month for 4 months
Treatment time: 9 to 21 minutes a day for 3 weeks
The Snow Whitening Kit is a dentist-recommended treatment. Each kit includes tooth whitening serums, a LED whitening mouthpiece, and a desensitizing serum. 
Before you start treatment, you need to brush and floss. Next, apply the desensitizing serum to your teeth. It contains sodium bicarbonate and potassium nitrate to reduce tooth sensitivity.
Wait for 15 minutes, then apply the whitening gel to your teeth. Its active ingredients are hydrogen and carbamide peroxide. Make sure it doesn't get on your lips, gums, or tongue, so they don't become irritated.
Place the LED mouthpiece in your mouth with the light switched on. Wear it for 9 to 21 minutes each day to enhance the serum's whitening effects.
2. Hismile Teeth Whitening Kit - Best for Sensitive Teeth
Cost: $149
Treatment time: 10 minutes a day for 6 days
The Hismile teeth whitening kit includes 6 whitening pods, mouth trays, and a LED device. Each pod contains enough whitening gel for one treatment.
Unlike most treatments, Hismile products contain 3 unique ingredients:
Phthalimidoperoxycaproicacid (PAP) — a non-peroxide bleach that doesn't cause gum irritation or tooth sensitivity.10
Hydroxyapatite (HAP) — remineralizes teeth and restores tooth enamel.11
Potassium citrate — reduces sensitive teeth.12
Before starting treatment, brush your teeth for at least 2 minutes and attach the mouth trays to the LED accelerator device.
Next, open a pod and place half of the gel on the upper tray. Place the remaining half on the lower tray and switch the LED light on.
Gently fit the mouth trays into your mouth and wait for 10 minutes or until the device turns off on its own. Finally, rinse your mouth with water.
We recommend using the whitening kit with the Hismile PAP+ toothpaste (starts at $45). It is a non-fluoride whitening toothpaste that remineralizes teeth and protects against temporary tooth sensitivity.
3. GLO Brilliant - Fastest At-Home Teeth Whitening Kit
Cost: $199
Treatment time: 8 minutes per session; up to 4 times a day for 5 to 10 days
GLO Teeth Whitening Kit is not the most affordable option. But you do get $348 worth of products for $199. These include a Heat & LED whitening mouthpiece, 10 GLO vials with 6% hydrogen peroxide, and a tube of GLO Lip Care.
First, apply GLO Lip Care on your upper and lower lip. It contains a proprietary blend of vitamins and antioxidants that moisturizes, repairs, and protects against dryness.
Make sure that you cover both the inside and outside of your mouth. If you have sensitive gums, you can apply them there as well.
The next step is to open a GLO vial. Squeeze a small amount (half-a-pea size) on the brush applicator. Apply a thin layer of bleaching gel on your upper and lower teeth.
Wear the mouthpiece and switch on the LED light. Wait for the treatment to finish in 8 minutes (it will automatically switch off).
4. Auraglow Teeth Whitening Kit — Best for Budget
Cost: Starts at $29
Treatment time: 30 minutes a day for 20 days
The Auraglow Whitening Kit is the most affordable at-home treatment. For $80, you get a dental-grade whitening gel, whitening trays, and a wireless LED device.
To use Auraglow, first, you need to attach the mouth trays to the LED accelerator device. Fill the top and bottom trays with bleaching gel. It contains 35% carbamide peroxide.
Turn on the LED light and insert the attached trays into your mouth. These are silicone, food-grade trays, so they are safe and comfortable. Keep them on for 30 minutes.
After you finish treatment, rinse your mouth and clean the trays before storing them. For on-the-go treatment, you can also use the Auraglow teeth whitening pen ($26).
5. Crest 3D White Whitestrips — Best Whitening Strips
Cost: $29.99
Treatment time: 30 minutes a day for 2 weeks
One (1) pack of Crest Whitestrips contains 28 strips, with one each for your upper and lower teeth. Each strip contains hydrogen peroxide. Although they don't say how much there is of the bleaching agent.
To use them, peel off the strips and carefully apply them to your upper and lower teeth. Stretch them to cover your entire arch and keep them on for 30 minutes.
Do not eat, drink, or smoke while using the teeth whitening strips.
7 Tips to Prevent Teeth Stains
The effects of teeth whitening can last for months or years. It all depends on how well you take care of your teeth.
Here are 7 tips that will help you keep your bright smile longer:
Limit your intake of drinks that stain teeth — such as high-tannin drinks (e.g., tea, coffee, and red wines) and dark carbonated beverages (e.g., soda and sports drinks).
Use a reusable straw — to prevent stains caused by drinks, sip from a straw, so they don't come into direct contact with your front teeth. Make sure to carry a reusable straw with you.
Avoid eating acidic foods — examples include bright fruits (e.g., berries and tomatoes), balsamic vinegar, and tomato sauce or paste.
Drink water after meals — it washes down food residues and prevents tooth discoloration caused by eating certain foods and drinks.
Reduce tobacco use — nicotine and tar can cause tooth discoloration over time. You should avoid or quit smoking or chewing tobacco products.
Regularly brush and floss your teeth — good oral hygiene removes food and bacteria from your mouth. It prevents plaque formation and discolored teeth.
Chew xylitol gums — if you can't rinse your mouth, you can also chew xylitol gums after meals. Xylitol stimulates the production of saliva and neutralizes acids in your mouth. This helps prevent plaque, which can absorb stains.