Not many people plan their meals. Cooking whatever is in your pantry is usually the easier choice. Others simply order takeout or go to a restaurant when they're hungry.
Easy and simple meals aren't necessarily healthy. You might consume more calories than you need, which can lead to weight gain.
Meal planning can help you control portions as well as the types of food you eat. In turn, this can make you healthier.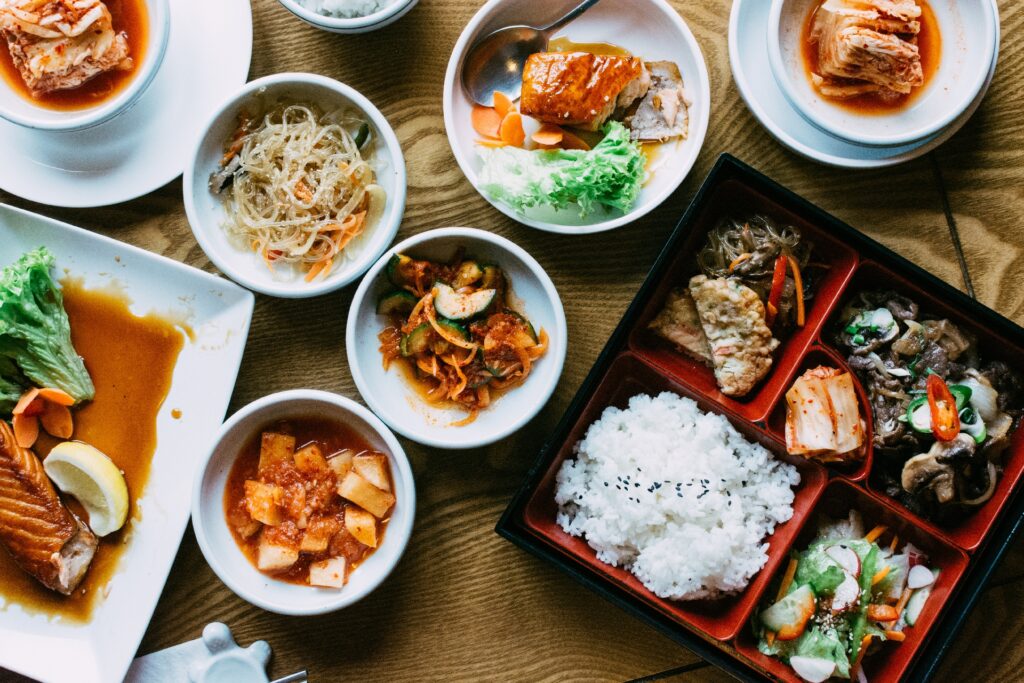 What is Meal Planning?
Meal planning or meal preparation is when you create a schedule for your diet. This covers meals and snacks you'll be eating for up to a week or several months in advance.
Your meal plan outlines what you can eat and how many servings you get. It doesn't have to be boring. You choose what to add or remove from your diet plan to keep things interesting. 
Benefits of Meal Planning
Planning your meals is excellent for your health.1 People switch to a healthy meal plan for various reasons.
For starters, these plans can help you stay on budget and stick to your diet. Grocery shopping is a lot easier too since you'll know what ingredients to buy.
It can save you money since you're less likely to eat out. You also save time on shopping, meal preparation, and cooking.
You can set your food portions when meal planning, so you don't overeat. Some benefits that you may enjoy from meal prepping include:
Weight loss
Lower cholesterol
Blood sugar control
Blood pressure regulation
Planning Meals to Lose Weight
When you plan your meals, you decide how much carbohydrates, proteins, and fats you put on your plate. This ensures that you get adequate nutrition while meeting a calorie deficit.
Meal prep can help you make healthy food choices. It can also aid you in portion control and give you better weight loss results.
Do You Need to Eat Less to Lose Weight?
If you're after weight loss, how much you should eat depends on your diet. The basic principle of losing weight is making sure you're on a calorie deficit.2
This means that you're eating fewer calories than your body uses.
For instance, the Noom diet plan encourages you to eat nutrient-dense foods. This way you get nourishment while consuming fewer calories.
A low-carb diet means you'll be eating more proteins and healthy fats, but also cut out the carbs. Keto and Atkins are some examples of low carb diets.
You don't have to reduce the total amount of food you eat. Instead, you can reduce the portion of certain food groups. It may be enough to help you hit your calorie target.
How to Portion Meals for Weight Loss
There's no single rule for food portioning. It all depends on the weight loss diet that you follow. Each diet specifies your meal portions based on their calories, macronutrients, or food groups.
Here's an outline of various diets and how they portion meals:
Keto Diet – Your meal plan consists mostly of proteins and fat. Carbs should make up only 5 to 10%. Although some keto diets allow more.
Low Carb Diet – This diet reduces your daily carbohydrate intake. Your carb intake is limited to 45 to 65% of your entire meal.
Calorie Restriction Diet – Your total calorie intake goes down by 15 to 60%. You can eat all food groups, including carbs, proteins, and fats.
Noom Diet – Foods are color coded depending on their nutrient density (green, yellow, and red). Your diet plan contains 35% green, 45% yellow, and 25% red foods.
Make sure to read the food label when shopping for ingredients, so you can pick healthy foods. Plan meals and snacks ahead if you want to control your serving size and eat fewer calories.
You can use portion control plates to manage your food portions. Ideally, you want to eat larger quantities of healthier foods and eat less of foods that aren't as nutrition.
These combined strategies may help you lose weight.
Diabetes Meal Planning
Diabetes is a medical condition that prevents your body from using the glucose in your blood. This causes blood sugar to accumulate, which can lead to more health problems.
Elevated blood sugar levels increase your risk of kidney problems, heart disease, and nerve damage.3
If you're creating a meal plan for diabetes, you should eat low glycemic foods that lower your blood glucose. Your meal schedule should also help you eat regularly.
Foods That Lower Blood Sugar
A diabetic meal plan generally contains foods with a low glycemic index. These foods won't cause your blood sugar to rise drastically.
Instead, they provide a steady supply of sugar. This gives you enough energy throughout the day. It also lowers your risk of heart disease.
Low GI foods that you can include in your diet include:4
Fruits
Carrots
Lentils
Chickpea
Kidney beans
Green vegetables
Bran breakfast cereals
Maintaining a Regular Eating Schedule
Eating at about the same time every day is also part of diabetic meal planning.
Daniela Novotny, a registered dietitian at Missouri State University, says that eating regularly can help people with diabetes regulate their blood glucose.5
Maintaining your blood sugar also reduces your risk for complications. These include nerve damage, vision loss, and kidney damage.
More Healthy Reasons to Plan Meals Ahead
Meal planning can help you cut out processed foods and unhealthy ingredients. These include sugars, saturated fat, salt, and artificial sweeteners.
You can use it to add more nutritious foods to your meals. Some examples are lean meat, whole grains, fresh fruits, and vegetables.
Meal prepping may also help you manage other diet-related health problems, like high cholesterol and hypertension.
Lastly, meal prep allows you to have fun with food. You can have more variety with both your meals and the kinds of food you eat.
Maintaining a well-balanced diet can improve the diversity of your gut flora and boost your overall health.
Simple and Affordable Meal Planning
Planning meals on your own isn't easy. It involves several steps — from picking the right foods, to creating weekly and monthly menus of your meal plan.
Meal planners provide a simpler solution for people who don't have time to do it on their own. They can help you plan your meals by providing healthy recipes to choose from.
These recipes usually include an ingredients list, nutritional information, serving sizes, and instructions on how to prepare your food. All you have to do is add them to your diet plan.
The best meal planning apps offer personalized meal plans. These are meals developed by nutritionists so you can achieve your health goals.
Here are the top meal planners we recommend:
Perfect Body — helps you lose weight the healthy way
Klinio — provides meal plans and other features to manage diabetes
Keto Cycle — offers keto meals for weight loss and other health benefits
Beyond Body — offers custom meals for women who want targeted weight loss