WW (formerly Weight Watchers) is one of the most popular ways to lose weight. It's been around since 1963.
While it can help you lose weight, counting calories can be a lot of work.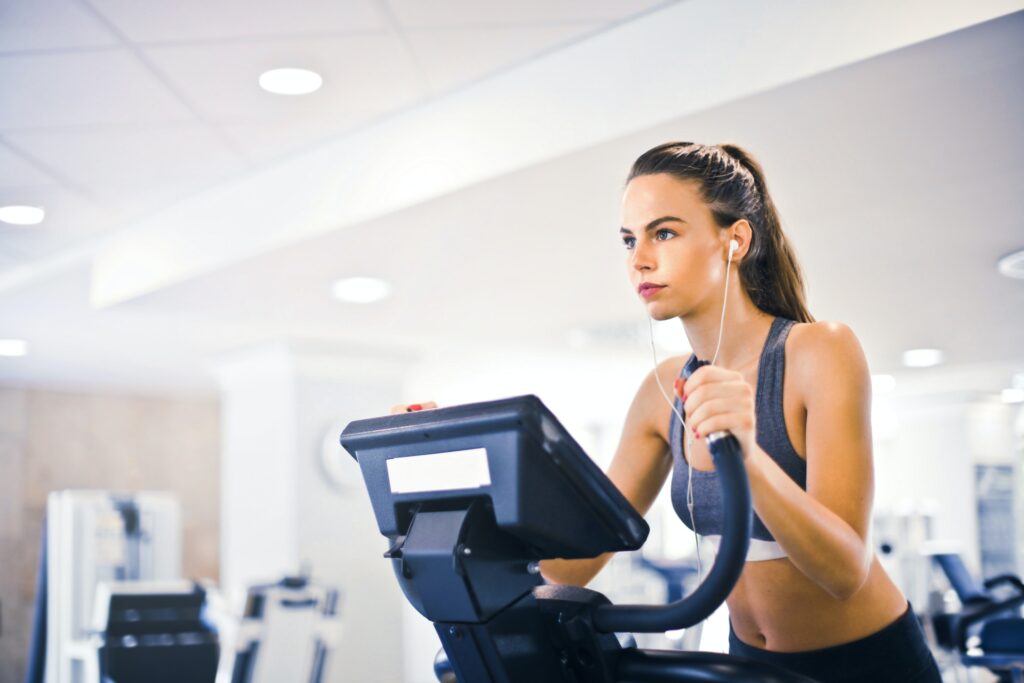 Maybe this is why Weight Watchers adopted a similar approach to Noom. Noom launched in 2016 as a nutrition-based weight loss program.
Meet the Expert
Elise Harlow is a registered dietitian with a Master of Science in Nutritional Sciences. She is the founder of an online nutrition consulting and coaching business.
Elise helps people use the power of food to lead healthier lives. She works with various clients, including those who want to achieve a healthier weight, improve their gut health, lower cholesterol, manage their blood sugar, or balance their hormones.
Noom and WW do not stop you from eating foods you like, no matter how "unhealthy" they seem. Instead, they teach you to make healthier food choices.
Despite their similarities, these weight loss programs have unique features and food tracking systems. Each also has its pros and cons.
Below is our review of two of the best weight loss apps: Noom vs. WW.
What Is Noom?
Noom is a weight loss app with a well-rounded approach. Besides tracking calories, it uses a psychological approach to change how you view food, nutrition, and dieting.
How Does Noom Work?
Noom calculates your daily calorie budget based on your current weight and weight loss goals. Next, it creates a 16-week weight loss program that includes access to:
Health education
Personalized tips
Food recipes
One-on-one coaching
Community support
Interactive challenges
The Noom app tracks your meals, physical activity, and weight daily. It's to help you cut calories and lose weight.
The app can also help maintain your weight after losing it. It encourages you to develop healthy eating habits and lead a healthier lifestyle.
To help you achieve your health goals, Noom uses a color guide to categorize foods based on calorie and nutrient density.
There are no good foods or bad foods for Noom. But there are foods that should make up most of your diet and foods you should eat in smaller portions.
Meals should mainly consist of green foods. This is followed by yellow foods, which you must only eat in moderation. Food that belongs to the red group should be eaten less frequently and in small amounts.1
"I would caution anybody following this program to understand that red does not mean unhealthy, lacking in nutrients, or that these foods should be avoided. It simply means that these foods are more calorie dense and should be consumed in moderation."

Elise Harlow, M.S., R.D.N.
How Much Does Noom Cost?
Noom is a free weight loss app. You can access the 14-day trial in two ways:
Donation — Pay $0.50, $5.00, $10.00, or $18.37 after signing up
Free — Wait for the offer to expire and check your email
Noom will charge you periodically when your trial ends. Prices can vary depending on what offers are available. But you can also cancel at any time.
You can save more money with longer subscription plans. At most, expect to pay:2
Noom 1-month subscription — $60
Noom 2-month subscription — $119
Noom 3-month subscription — $149
Noom 6-month subscription — $169
Noom 8-month subscription — $179
Noom yearly subscription — $199
These costs do not include a custom workout plan and meal plan. You have to purchase them separately for $39 to $59 each (discounted) or $80 to $100 each (regular prices).
Signing up for the Noom Mood Program will cost you another $149 every 4 months. It can help you manage stress daily.3
Is Noom Effective for Weight Loss?
Yes. Studies show that nearly 82% of Noom users lost weight after 33 to 52 weeks.4
Noom encourages you to eat more low calorie-dense foods. Foods with low calorie density can be highly nutritious. They can also satiate you and keep you full for longer.
Low calorie-dense foods make it easier to achieve a calorie deficit, which is essential to weight loss. It's because they have fewer calories per serving.
However, this doesn't mean you shouldn't eat foods listed in the red category such as olive oil, nuts, and seed. According to Harlow, these high calorie-dense foods contain healthy fats and other nutrients that can benefit your health.
"While it is true that these foods are calorie dense, this does not make them unhealthy," says registered dietitian Elise Harlow.
You can read our guide on the Noom Diet Plan to learn about its different food groups.
What Is Weight Watchers?
Before its 2021 rebrand, WW (formerly Weight Watchers) was strictly a point-counting app. You could only choose from 3 weight loss programs.
WW currently offers a new weight loss approach. On top of a point-based system that helps you pick the right foods, it now encourages healthy habits.
How Does Weight Watchers Work?
The all-new WW asks questions so it can know more about your favorite foods and weight loss goals. Based on your answers, it creates a customized diet plan.
Every person will have a unique weight loss journey, which includes:5,6
ZeroPoint™ Foods — A personalized list of foods rich in fibers, proteins, and unsaturated fats; but are low in sugars and saturated fats.
PersonalPoints® Budget — The total points you can spend. WW assigns a different daily and weekly budget.
ZeroPoint foods are the healthiest options. The more you eat, the more points you'll have left for other foods — including your favorites.
The WW app tracks your food, water intake, and activity. It rewards you with points if you drink more water, eat non-starchy vegetables, and increase physical activity.
These extra points are supposed to encourage you to make healthier choices. Unused daily PersonalPoints will automatically roll over to your weekly points.
WW only adds up to 4 unused points from each day. This is so you don't gain too many extra points, which you might use to binge on food.
The new Weight Watchers promotes healthy weight loss and maintenance by motivating you to exercise and eat low-point foods.
How Much Does Weight Watchers Cost?
WW offers several membership programs with different inclusions.
Digital Plan — $20 per month. Includes calorie tracking, fitness guides, food recipes, and community support from fellow WW members.
Digital 360 Plan — $29.95 per month. Includes the WW PersonalPoints™ Program, 24/7 live coaching, and a private one-on-one with a personal coach.
Workshop + Digital Plan — $45 per month. Includes everything from the Digital Plans plus in-person group meetings.
Personal Coaching + Digital Plan — $59.95 per month. Includes everything from the Digital Plans. But instead of in-person meetings with other local members, you get a private weekly call with a WW coach.
You can save more money if you opt for memberships that provide workshops and personal coaching services.
Is Weight Watchers Effective for Weight Loss?
Yes. You can lose weight with the WW program. Based on a study, you may lose up to 5% of your initial weight after completing 12 sessions.7
The same study shows that Weight Watchers also benefits people with medical conditions like high cholesterol and diabetes.
WW encourages you to eat foods rich in fibers, proteins, and unsaturated fats. They help you avoid foods high in sugar and saturated fats by giving them higher points.
Healthier foods (which have zero or lower points) can make you feel full longer. They can reduce the amount of food you eat and your daily calorie intake.
Calorie restriction is an important step to effective weight loss.
Noom vs. Weight Watchers Review
Below we compare these popular weight loss programs to see how they match up.
Food Logging on Noom vs. WW
On Noom: You can record the type of food you eat and its serving size. You can log up to 3 meals and 3 snacks each day.
Whenever you log food, Noom shows you:
The calories you consumed for each food group
The total calories you have consumed so far
How many calories you have left for the day
You can choose from over 3.7 million options on Noom's food database. This includes more than 200,000 food items from over 850 restaurants and food chains.8
On WW: You can track the food you eat (including serving size) for main meals, desserts, and snacks. There are separate logs for non-starchy vegetables and water.
After you log food, WW will update your PersonalPoints budget and show you:
The daily points you used
Your total remaining daily points
Your remaining weekly points
Non-starchy vegetables and water give you extra daily points.
Weight Watchers doesn't say how many food items are on their database. But according to their website, they have more than 11,500 recipes to choose from.9
Exercise Logging & Fitness on Noom vs. WW
On Noom: You can log exercises and sign up for a custom exercise plan. The app has a comprehensive workout database that is constantly expanding.
Unfortunately, it can only count calories burned through workouts. It doesn't consider other forms of physical activity, such as dog walking and doing laundry.
On WW: You can record your exercises on the Weight Watchers app. Exercising gives you FitPoints, which can be added to your daily SmartPoint budget.
WW offers free challenges and paid workout programs on the app or through partners like Aaptiv. Meanwhile, Noom only offers paid workout plans.
Calorie Budget & Dieting with Noom vs. WW
With Noom: Foods are divided into three color groups — green, yellow, and red. Noom's color system is based on nutrient and calorie density, which makes it easier to pick healthier foods.
Green foods are the least calorie-dense and/or most nutrient-dense foods.
Yellow foods are also nutrient dense and have high nutritional value. But they contain more calories than green foods.
Red foods are the most calorie dense and/or have the least healthy nutrients.
Yellow foods contain more calories than green foods, so you should eat them moderately. Not all red foods are unhealthy, but you should eat less of them.
Eating more foods from the green category and exercising will extend your daily calorie limit. It will allow you to eat more foods from the other color groups.
With WW: Foods are assigned SmartPoints based on how many calories, proteins, saturated fats, and sugars they contain. The lower the points, the healthier they are.
Zero-point foods and other low-point foods have little to no effect on your daily PersonalPoints budget. Non-starchy foods, water, and exercise extend your daily total.
Aside from your daily point budget, WW gives you a weekly PersonalPoints budget. You can spend unused daily points or add them to your weekly budget.
Unlike many weight loss diets, Noom and WW do not stop you from eating your favorite foods. You can lose weight if you stay within your limit or eat fewer calories.
Healthy Recipes on Noom vs. WW
On Noom: You can access dozens of food recipes for breakfast, lunch, dinner, and snacks. Noom recipes include:
Number of servings
Calories per serving
Ingredients list
Calories per ingredient
Estimated preparation time
Cooking instructions
Noom also breaks down each recipe into percentages — such as 80% green and 20% yellow foods.
On WW: Weight Watchers says they have over 11,000 healthy recipes. You can access all of them by signing up for their Digital Plan.
WW recipes include:
Cooking difficulty level
Number of servings
Points per serving
Ingredients list
Estimated preparation time
Cooking instructions
The WW app suggests recipes with the "What's in Your Fridge?" feature. Just type in the ingredients you have, the points you want to spend, and any food preferences.
You can customize these recipes or make your own and save them to your favorites.10
Meal Planning on Noom vs. WW
On Noom: You can get custom meal plans from a dietitian for $39 to $59 per month. If you have special dietary needs, they will consider this when planning your meals.
Noom also has free guidelines for making your own weekly meal plans.
On WW: You get a pre-planned 5-day meal plan together with your Digital Plan. You can also create your own by adding recipes from WW's database.
Wellness & Coaching with Noom vs. WW
With Noom: Users get access to a virtual Noom Guide. It provides 24/7 chat support, health tips, and weekly challenges to help you stay on track.
Noom gives additional advice for people with chronic diseases such as diabetes, heart disease, and high blood pressure. It's so they can better manage their health.
Noom's health tips are available as short articles and audiobooks, which you can read or listen to anytime. Each "mini-class" lasts for 10 to 15 minutes.
A goal specialist will regularly check in on your progress. They can make suggestions, adjust your goals, and help you maintain a healthy lifestyle.
With WW: Weight Watchers offers 5-minute audio coaching on their app. Like Noom, these mini-classes teach you lifestyle changes and healthy habits.
Based on your membership, you get different types of coaching, such as:
Digital 360 — Members can access pre-recorded lessons and live-stream events from WW coaches.
Personal coaching — A personal coach will call you weekly to provide personalized weight loss tips.
Community Support on Noom vs. WW
On Noom: Noom has dedicated groups that provide peer support and access to a group coach. Group coaches keep members motivated and accountable for their goals.
You can access these groups directly on the app. Noom users can also interact with fellow group members through posts and comments.
On WW: Digital members can connect with fellow dieters on the app or social media to share tips. Workshop members can join in-person group meetings with a WW coach.
Pros and Cons of Noom vs. WW
Here are the pros and cons of WW and Noom:
Noom Pros
The Noom Diet is easy-to-follow. All you have to do is figure out which foods belong to which color group, and learn how to portion them. Once you get the hang of it, you can effortlessly make food choices without checking their guide.
Professional meal planning. Noom paired up with registered dietitians to provide you with customized meals. It's a great option if you have special dietary needs.
Personalized health tips. Noom gives you quick lessons on nutrition, goal setting, and stress management, depending on your health and weight goals.
Promotes overall health. Noom's program goes beyond diet and exercise. It also teaches you to eat mindfully. You can learn how stress affects your weight and eating habits and how to manage it.
Noom Cons
A bit pricey. Compared to WW, the Noom Weight Loss Program costs more.
The Noom Guide takes getting used to. If you don't see the app notifications, you might miss out on the health tips in the first few days.
You have to pair it with other fitness apps. While it lets you log exercise, there are no free exercises on Noom.
Weight Watchers Pros
Affordable and flexible memberships. You can spend as little as $20 to $30 per month to access most of the program's features.
Better community support. You can participate in Weight Watchers' massive online community or join in-person meetings in your local city.
Provides free workouts. Your membership will include free access to no-equipment exercises that you can do at home.
Rewards healthy habits. WW gives you extra SmartPoints when you exercise, drink water, or eat non-starchy vegetables.
Weight Watchers Cons
SmartPoints don't make it easy to choose foods. WW doesn't group foods based on specific criteria. You must frequently check the app to see how many points a food has.
Overspending on unhealthy foods. Weight Watchers doesn't encourage you to portion your meals. As a result, you might spend your entire calorie budget on high-point foods, which can be bad for your health.
Which is Better for Weight Loss — Noom or WW?
Both WW and Noom can be effective for weight loss. While they limit the number of points and calories you consume each day, they don't promote overly-restrictive diets.
You can still enjoy your favorite foods and be able to lose weight. Personally, however, I prefer Noom's habit-forming approach to weight loss.
The Noom Diet Plan also makes choosing healthy foods simple. Unlike the Weight Watchers SmartPoints system, you barely have to think with Noom.
Noom reinforces the connection between your mind and eating habits, so you can be more mindful of your food intake.
You can read our full review of Noom to see why we recommend it.