Noom started in 2008 as a simple way to track calories and fitness. By 2016, it was doing more than helping people lose weight.
Personal health coaches were added to the program to change the way people viewed food. Since then, Noom has become widely popular — not just as a weight loss app but as a means to a healthy lifestyle.
Noom has over 60 million downloads. So far, Noom reviews are positive. About 862,000 Noom users gave it an average rating of 4.5 stars on both platforms.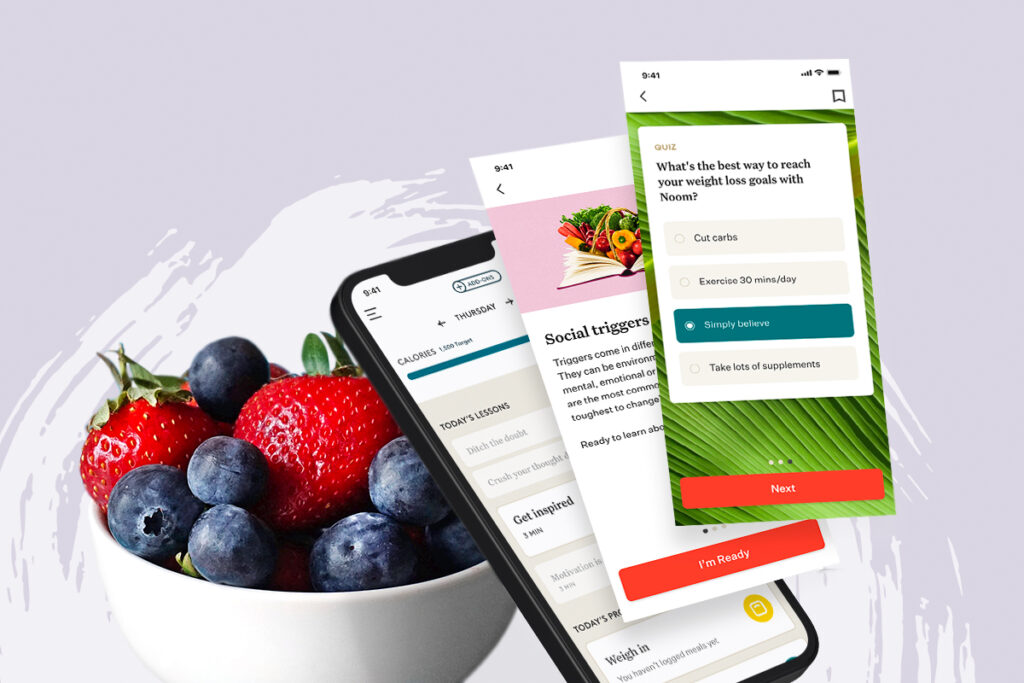 Quick Facts on Noom for Weight Loss
In-depth weight loss program that you can follow at your own pace
Get personalized health tips about nutrition, weight loss, and more
Offers a psychological and habit-forming approach to losing weight
Lets you create your own meal plan with Noom's healthy recipes
Provides custom meal plans designed by registered dietitians
Effective weight loss that doesn't require you to count calories
What is Noom?
Noom isn't a structured weight loss plan or a fad diet, even though it has guidelines on what foods you should eat.
It's a weight loss program that you can access by downloading a free app on both platforms.
Noom provides tools that encourage self-awareness, knowledge, and commitment to your health. It can help you create lasting and healthy changes in your eating habits.
Here are 2 things that set Noom apart from other weight loss apps.
Psychological approach to losing weight
Other weight loss diets tend to be very restrictive. They can severely limit your carbohydrate, sugar, calorie, or fat intake.
One example is the low-carb diet, which reduces carb intake to 20 grams per day.
Restrictive weight loss diets can lead to yo-yo dieting. It's a repetitive pattern of losing weight and regaining it or weight cycling.1 Research shows that yo-yo dieting is linked to:
Obesity
Heart disease
Diabetes
Belly fat.1,2
Sleep apnea3
Poor quality sleep3
Noom is different because it doesn't do any of that. Instead, it's designed to "change not just how you eat, but how you think."
This psychology-based approach to improving one's eating patterns is unique to Noom. It can teach you to control your emotions around food.
Provides health coaching for long-term weight loss
Noom is not something you use to lose weight and then forget about once you reach your goal weight. Its behavioral approach is meant to help you maintain a healthy weight in the long haul.
The app does this by acting as a virtual health coach. It also gives you access to a goal specialist, a group coach, and a support group that can help you stick to a healthy lifestyle.
Noom keeps you engaged with weekly interactive challenges. Studies show that a higher engagement can help you lose more weight.4
How Does Noom Work?
Noom uses an algorithm developed with the help of psychologists and behavioral health experts. It analyzes your data and identifies factors that lead to weight gain.
With the right lifestyle changes, these same factors can help you lose weight. Noom's technology will assess your:
Eating habits
Physical activity
Nutritional behavior
Major life changes
Living environment
Attitudes towards food and weight loss
Stress levels
The Noom weight loss app will also review your family history, current health, and potential risks for obesity-related health problems. These include diabetes, hypertension, and heart disease.
The Noom app will create a personalized 16-week program based on your information. Throughout the program, it will offer support to improve your eating behavior.
Does Noom Work for Weight Loss?
Yes. Noom can help you lose weight without counting calories. However, each person may react differently to the program. Some people may lose weight, but others won't.
A group of researchers investigated 35,921 Noom users in 2016. Based on their findings, nearly 78 percent lost body weight while using the app.5
A more recent study from 2020 shows that young and older adults were able to lose weight with Noom. After 52 weeks on the weight loss program, they lost an average of 13.2 lbs.
The same study reveals that older adults aged 55 to 74 lost more weight than people from younger age groups.4
Keep in mind that Noom only helps with healthy weight loss. This means losing weight gradually and not going below the normal body mass index (BMI) of 18.5 to 24.9.6
Can Noom Help Me Gain Weight?
No. Not at the moment. Noom may promote lifestyle changes that help with overall health. But it's not meant for underweight people who want to gain weight.
If you want to increase your weight, try calorie counting apps that offer this option.
What Foods Can You Eat on the Noom Diet?
Noom dieters can eat anything they want. There are no "good foods" or "bad foods." Instead, it encourages you to portion foods based on their nutrient and calorie density.
Noom uses a color-coded food system so you can:
Eat more foods with fewer calories and more nutrients per serving
Eat less foods that are high in calories but have little nutritional value
The Noom diet plan encourages a food intake of 30% green foods, 45% yellow foods, and 25% red foods. Below is a brief explanation of each food group and some examples.
Noom Green Foods
These are the most low calorie-dense foods. Green foods also tend to have high water content and the highest concentration of healthy nutrients.
Here are examples of Noom's green foods:
Whole grains — Brown rice, oatmeal, and whole-grain bread
Fruits — Apples, blueberries, and strawberries
Vegetables and crops — Broccoli, spinach, and sweet potatoes
Non-fat dairy products — Non-fat cheese, skim milk, and unsweet milk
Zero sugar drinks — Unsugared tea and coffee
Noom Yellow Foods
They provide more calories but fewer nutrients than green foods. Here are some of Noom's yellow foods:
Refined grains — White bread, rice, and pasta
Legumes and seeds — Chickpeas, quinoa, and beans
Lean proteins — Chicken, salmon, and tuna
Low-fat dairy products — Eggs, low-fat milk, and cheeses
Healthy fat sources — Avocados and olives
Low sugar or high-calorie drinks — Diet soda and beer
Noom Red Foods
These foods usually have the highest calorie density but the least amount of nutrients. Unlike nutrient-dense foods, they tend to contain "empty calories."
Noom recommends eating red foods less frequently and in smaller amounts. Here are some examples of Noom's red foods:
Red meats — Ham and bacon
Processed foods — French fries, chips, and peanut butter
Sweets — Cake, candies, and chocolate
Full-fat dairy products — Full-fat cheese, milk, and mayonnaise
High-fat sources — Almonds, olive oil, and coconut oil
High sugar and high calorie drinks — Shakes and juices
Getting Started on Noom
Below is a quick guide to get started on your weight loss journey with Noom.
Pro tip: The sign-up process is slightly different for the website and mobile app. We recommend starting with the Noom website to fill out your information and sign up for the program.
Once you have agreed to the free trial, you can download the app and use it to sign in to your account.
Step #1 — Download the app or visit the Noom website
Go to Noom.com or download the app from the Apple App Store or Google Play. The mobile app works on iPhone, iPod Touch, and Android smartphones.
You can also download it on your iPad and Android tablet, but there may be compatibility issues. Features like the built-in pedometer may not work since tablets usually lack motion sensors.
Step #2 — Choose your weight loss journey
Noom lets you choose from two goals — weight loss or fitness. It allows them to customize your program from the start.
Step #3 — Fill out your health information
After setting your first goal, Noom will ask you to fill out your health information. These include your name, age, sex, gender, height, and current weight.
Noom will then calculate your ideal body mass index (BMI) based on your information.
Next, indicate your ideal weight. Only pick from the recommended weight range to ensure healthy weight loss. Noom will also ask questions about:
How much food you eat
How often you eat
Level of physical activity
Preferred Noom program intensity — easy, average, or intense
You need to fill out your family and medical history. Noom will assess your health risks and your need for dietary considerations. After gathering your answers, Noom will set your weight loss goals in the next 4 months.
Pro tip: Filling out your details should be simple and fast. All you have to do is choose your answers from the available choices. The whole process should take no more than 15 minutes.
Step #4 — Sign up for the Noom program
Noom will ask for your email and permission to sign up for the program. Once you've signed up, they will look deeper into your eating habits, behaviors, state of mind, activity, and nutrition.
They will ask questions like:
Life events that led to your weight gain
The last time your weight was within the ideal range
Weight loss programs used in the last 12 months (e.g., Weight Watchers)
Other attempts at weight loss (e.g., going to the gym and prescription medication)
What you want to focus on — nutrition, physical activity, or building good habits
Your motivational level for losing weight
Personal motivations for weight loss (e.g., taking care of yourself)
What time you eat snacks
Emotional and environmental triggers for eating
How much time you have for yourself
How you prepare meals
When you finish answering, Noom will offer a free 14-day trial. Don't forget to sign up!
Step #5 — Start to Lose Weight with the Noom App
Launch the Noom weight loss app and sign in with your account. Use it to access your program daily to reach your goals.
Noom recommends spending 10 minutes each day learning more about psychology, behavior, and how to change your eating patterns and nutritional behavior.
Initial recommendations will be based on the answers you provided during sign-up. Since Noom lets you log food and physical activities, it will use the new information to adjust its suggestions.
How Much Does Noom Cost?
You can download the Noom app for free. It also offers a 14-day trial period which you can access by donating $0.50, $5.00, $10.00, or $18.37.
If this is your first time with Noom, they will likely get you started with a 4-month subscription that costs $39.75 per month. After that, you have to pay their regular rates.
Here are the Noom plans currently on offer:
1-month subscription — $60 USD
2 month subscription — $119 USD
3 month subscription — $149 USD
4 month subscription — $159 USD
5 month subscription — $164 USD
6 month subscription — $169 USD
7 month subscription — $174 USD
8 month subscription — $179 USD
9 month subscription — $185 USD
10 month subscription — $189 USD
11 month subscription — $195 USD
Yearly subscription — $199 USD
Pro tip: To get a free 14-day trial plus a 50% discount on your subscription, wait for the offer to expire. Check the email you used to sign up. You should get a promo code for the free trial.
What Happens When My Noom Trial ends?
After the trial, Noom will automatically charge you for a paid subscription. Offers may vary across users and the time you subscribed. Noom sometimes gives discounts.
If you plan to cancel your Noom subscription, make sure you do it before the trial expires.
How Much Is A Noom Custom Meal or Exercise Plan?
Noom offers add-ons such as a custom meal plan and custom exercise plan. They cost $39 to $59 each (on discount) or $80 to $100 each (standard rates).
Pro tip: When you sign up for a Noom trial, they'll offer a premium bundle worth $49. It includes a custom meal plan and a custom exercise plan.
Opting for the bundle brings down their price to about $25 each. You can save more money by grabbing this one-time offer.
Even if you stop using Noom, you can still access your personalized Noom diet plan.
We Tried the Noom App — Here Are 10 Things We Liked
After signing up for a free trial, we tried the Noom weight loss app for a few days. Here's what we like about it:
1. The Noom guide
The Noom Guide is a 24/7 chat support. If you have any questions, just leave a message. They'll get back within a reasonable timeframe.
2. Helpful reminders to stay on track
Your guide will occasionally send reminders to help you with your goal. Here's one that comes with clickable links to Noom's food groups.
3. Reach your goal weight at your own pace
Noom knows it will take time for you to form healthy eating habits. This is why it lets you do things at your own pace.
Each day, you will be assigned short courses that you can take (or not!) depending on your availability. These courses come in audio recordings.
You can listen to them while doing other things like driving, walking, and cooking. If you don't finish the assigned courses for the day, Noom will simply move them to the next day.
4. Food logging
There are a lot of things that we love about this feature. First is the extensive food database. It helps ensure you keep an accurate record of foods you've eaten.
Next is the amount of detail that goes into each food. You can choose the serving size and measurement. You'll also see which food group it belongs to and how many calories it has.
Noom lets you log food for breakfast, lunch, dinner, and two snacks. If you make a mistake or forget to add foods for the day, you can make changes later.
Food logging teaches you to be more mindful of the foods you eat. Eating mindfully is the key to sustainable weight loss.
5. Monitor your calorie intake
Noom will assign your daily calorie budget based on your body mass index (BMI) and health goals. Your budget is the recommended amount of calories you can consume per day.
Whenever you log food, Noom will update your daily budget with your total calorie intake and remaining calories. You'll know if you exceed your daily calories.
Noom will assign your daily calorie budget based on your body mass index (BMI) and health goals. Your budget is the recommended amount of calories you can consume per day.
Whenever you log food, Noom will update your daily budget with your total calorie intake and remaining calories. You'll know if you exceed your daily calories.
For example, I consumed 1,162 of my 1,200 daily calorie budget on Wednesday. It left me with 38 calories for that day.
6. Monitor your food choices
Noom also splits your daily caloric budget across different food groups. The health app calculates it using their diet plan, which consists of 30% green, 45% yellow, and 25% red foods.
To illustrate, here is what a 1,200-calorie diet may look like:
Green Foods: 360 calories per day
Yellow Foods: 540 calories per day
Red Foods: 300 calories per day
You'll know how many calories you're supposed to eat for each food group. Noom will also tell you if you exceed this budget.
Pro tip: Before eating, use Noom to check the calories in your food. This should help you become more mindful of what you eat.
7. Learn more ways to improve your health
As you go through the courses, Noom will add articles to your library. They will cover topics based on your health goals and current health.
Some topics covered include nutrition, weight loss, exercise, stress, and the management of chronic diseases like diabetes and heart disease.
Here is an example of an article on Noom's food groups.
Articles are short, so they shouldn't take much time to read. Like Noom's courses, you can go through them at your own pace.
8. Track your weight
Noom lets you log your weight. You can watch for weight loss and weight gain and make the necessary adjustments to your diet and lifestyle.
Exercise and food logging enable Noom to suggest other ways you can be healthy. These include personalized recommendations on nutrition, exercise, and mental well-being.
The app also offers biometric tracking to monitor your blood sugar and blood pressure.
9. Noom recipes
The free app gives you access to dozens of healthy recipes. You can choose from recipes for breakfast, lunch, dinner, and snacks.
For an extra fee, you can get a personalized diet plan based on your health information. Noom works with registered dietitians to help users create their own diets.
Each recipe includes ingredients and instructions on how to cook them. Noom also gives useful insights such as:
Number of servings
Calories per serving
Preparation time
The calorie content of each ingredient
Percentage of included food groups (e.g., 92% green and 8% red)
10. Easy to use
Navigating the Noom app is easy. Its straightforward interface makes everything accessible with just a few clicks. The app also has nice visuals that add to its appeal.
What Are The Downsides to Noom?
Noom seems to have a limited view of how psychology affects your eating habits. I noticed that when answering questions, the choices they gave me were limited and not very accurate.
Like many weight loss apps, you must keep a daily food log. It can be hard to maintain if you have a busy schedule.
Sometimes, the food you eat won't be in their database. You have to scan the food's UPC code or enter it manually.
Noom vs. Weight Watchers
Noom is often compared to Weight Watchers (WW), which is another weight loss program. Both assign foods into color-coded groups.
However, they have different nutrition philosophies and approaches toward weight loss.
The Noom weight loss program barely makes you think. Once you become familiar with which foods are green, yellow, or red — you can easily plan your meals.
Weight Watchers involves a lot of thinking. They use a point-based system called PersonalPoints to set your daily caloric limit and help you pick foods.
Unless you have a good memory, you have to check the WW app to see:
How many SmartPoints® you have left
How many points a food has
Moreover, WW doesn't have a consistent food point system, which can be confusing. It constantly updates its program to include or exclude foods from certain groups.
A good example was when they expanded their ZeroPoint™ Foods. The added foods to the list that were previously not included.
WW claims its new method is a personalized approach to dieting. But it comes second to Noom, which analyzes your data and creates custom recommendations around it.
Weight Watchers makes dieting complicated. You can read our review of Noom vs. WW.
Is Noom Worth It?
Definitely. Noom offers a comprehensive yet easy-to-follow weight loss program.
It provides users with a personalized approach to sustained weight loss, which you can conveniently access through their health app.
Unlike many weight loss diets which prevent you from eating certain food groups, Noom lets you eat anything as long as you stick to their recommendations.
The Noom program isn't limited to people who want to lose weight. It can also help you maintain your current weight and prevent weight gain.
The Noom app is special because it doesn't stop with weight loss. It offers health coaching, peer support, and education to establish healthy habits which can last a lifetime.