There are two kinds of people: tea drinkers and coffee drinkers. I'm a caffeine addict myself. And there's not a day I go without coffee.
Many Americans depend on it for energy. According to the National Coffee Association (NCA), about 66% of Americans drink coffee every day.1
Those who don't drink coffee often use alternative sources of energy.
Neuro® offers nootropic gums and mints to give you the same energy boost as coffee. Just pop two pills, and it'll be like you had a cup of coffee.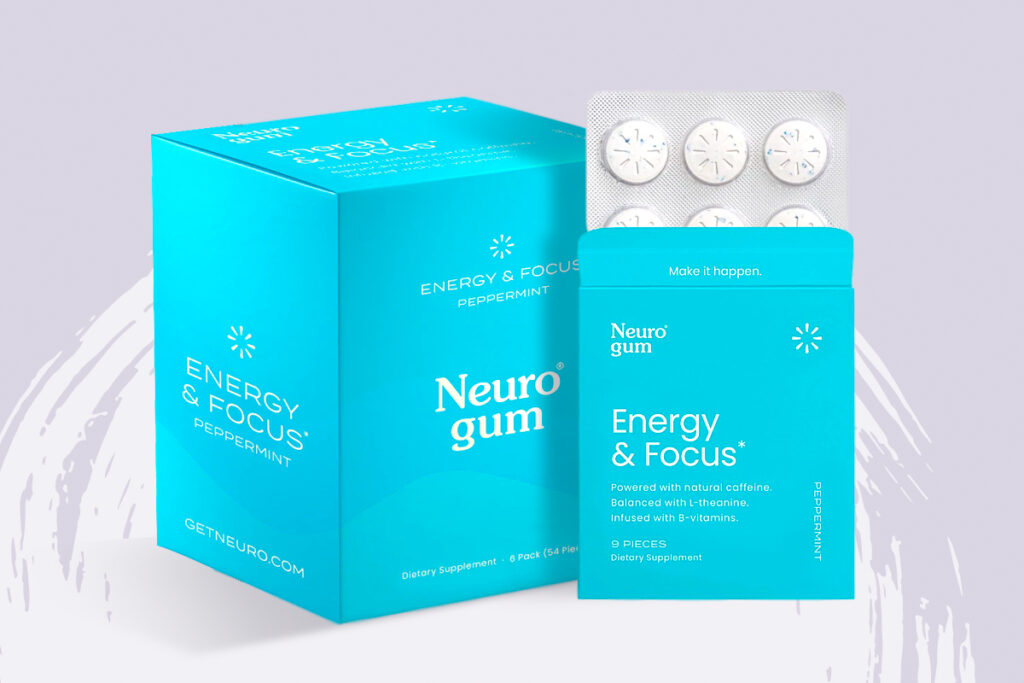 Unlike coffee, Neuro provides "clean" energy. You won't get the jitters or any of those negative side effects from drinking coffee.
The fact that it was developed by Olympic and Paralympic-trained athletes with degrees in chemistry and neuroscience (Kent Yoshimura and Ryan Chen); or that it has racked up 5-star reviews from over 3,800 customers on Amazon — I couldn't help but be intrigued by it.
So I decided to see what the buzz is about and tried Neuro Gum for myself.
What is Neuro Gum?
Neuro specializes in nootropics or supplements that enhance brain performance:
Neuro® Gum is a caffeinated chewing gum that claims to provide energy and focus
Neuro® Mints are caffeinated mints for mental clarity and calm
Neuro's products can give you the energy and focus you need to accomplish tasks — minus the negative side effects of caffeine.
Meet the Expert
Elise Harlow is a registered dietitian with a Master of Science in Nutritional Sciences. She is the founder of an online nutrition consulting and coaching business.
Elise helps people use the power of food to lead healthier lives. She works with various clients, including those who want to achieve a healthier weight, improve their gut health, lower cholesterol, manage their blood sugar, or balance their hormones.
The secret lies in the ingredient list. Neuro products contain L-theanine, the active compound in green tea, and natural caffeine.
Many caffeinated products use synthetic caffeine that's chemically produced in laboratories. Neuro uses caffeine extracted from plants like coffee beans.

You can choose from three Neuro products:
Energy & Focus
Calm & Clarity
Health & Vitality
Neuro Energy & Focus
These energy supplements give you physical stamina and mental endurance. You can take them if you need energy or a mental boost.
It has four (4) active ingredients:
Natural caffeine
L-theanine
Vitamin B6 (pyridoxine)
Vitamin B12 (methylcobalamin)
You can buy Energy & Focus as gums and mints. Flavor options include cinnamon and peppermint.
Neuro Calm & Clarity
The supplement induces calm and mental clarity so you can stay focused. It's a good option for those prone to anxiety and nervousness, or those who get jittery from taking too much coffee.
It has three (3) active ingredients:
Gamma-aminobutyric acid (GABA)
Vitamin D3
L-theanine
You can buy Calm & Clarity as mints. There are two flavors: honey lemon and ginger chai.
Neuro Health & Vitality
This new addition doesn't provide the same mental and energy-boosting effects as other Neuro products, but it does contain vitamins, including:
Vitamin A (Beta Carotene)
Vitamin B1 (Thiamine)
Vitamin B3 (Niacin)
Vitamin B6 (Pyridoxine)
Vitamin B9 (Folate)
Vitamin C (Sodium Ascorbate)
Vitamin D3 (Cholecalciferol)
Vitamin E (d-alpha Tocopheryl Acetate)
Neuro Health & Vitality helps you get through your daily tasks by promoting general health and wellness.
You can buy them as mints in blueberry guava and passionfruit orange.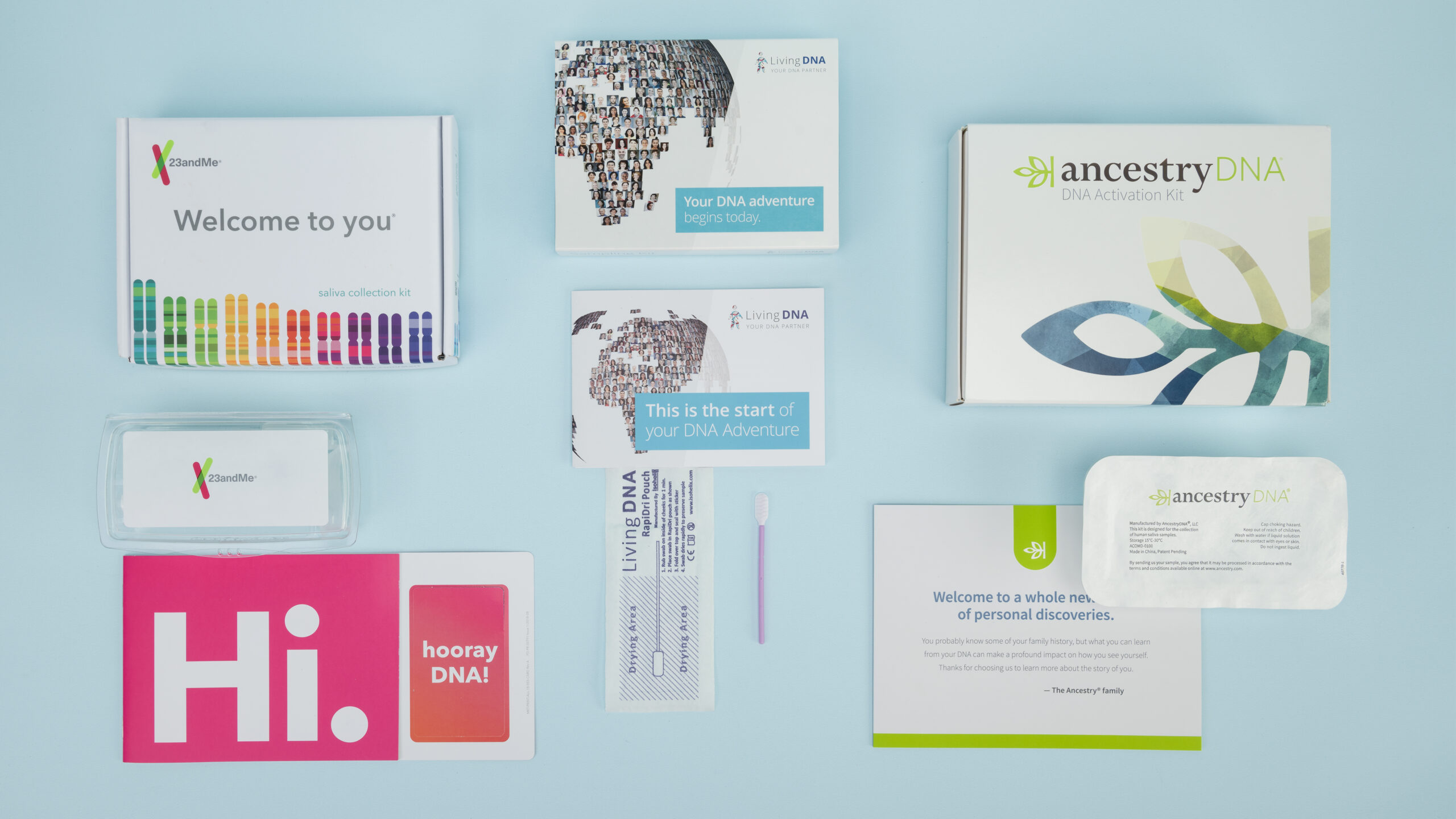 Best DNA Kit
Don't miss out on the opportunity to learn more about yourself. Read our best DNA test page to find the best one for you.
How Neuro Gum Works
Neuro is specially formulated to help you get into "the zone."
Neuro uses a patented cold-compression technique that increases the bioavailability of ingredients.2 This means they're easily absorbed and used up by the body.
Their nootropic properties will take effect as soon as they are absorbed. Here is a closer look at Neuro's active ingredients and what they can do for you:
Natural Caffeine
One (1) serving of Energy & Focus contains 80 mg of caffeine. Studies show that low to moderate doses (50 to 300 mg) of caffeine can provide these benefits:3
Increase energy
Heighten alertness
Improve concentration
You can take one to 3.5 servings (or two to seven pieces) of Neuro's caffeine pills to enjoy these effects and avoid exceeding your limits.
L-theanine
Neuro Energy & Focus contains 120 mg of L-theanine per serving, while Calm & Clarity holds up to 130 mg. It's an amino acid found in green tea.
L-theanine has been shown to:4,5
Reduce stress
Improve mood
Promote memory and attention
Increase cognitive ability
L-theanine may also enhance the positive effects of caffeine.
Combining 97 mg of L-theanine with 40 mg of caffeine has been shown to improve brain performance, increase alertness, and enhance focus.5
It also neutralizes caffeine's negative effects, such as anxiety, restlessness, and jitters.5
Vitamin B6 (Pyridoxine)
One (1) serving of Energy & Focus provides 70% of your daily recommended intake. Studies show vitamin B6 supplementation may help with stress relief.6
Vitamin B12 (Methylcobalamin)
Energy & Focus delivers 200% of your daily recommended intake for every serving. Vitamin B12 can boost your energy and improve your mood.
The micronutrient binds with proteins so that they can be quickly absorbed and converted into energy.7 It also helps with the production of the happy hormone, serotonin.8
Gamma-aminobutyric acid (GABA)
This is the main active ingredient of Neuro's Calm & Clarity. Each serving contains 130 mg of GABA.
GABA is a neurotransmitter that can induce relaxation and relieves anxiety. It acts directly on the central nervous system by increasing alpha waves and decreasing beta waves.9
Alpha waves can make you feel calm, increase creativity, and improve your ability to absorb information. Beta waves stimulate the brain. Decreasing them can help you relax.
Vitamin D3
One (1) serving of Calm & Clarity provides 65% of your daily recommended intake. Vitamin D facilitates the production of serotonin.10
At optimum levels, vitamin D3 also maintains serotonin levels in the brain and directs it to brain regions where it is needed.11
How To Use Neuro Gums & Mints
First, you need to pick the product that you need. You can choose from:
Energy & Focus — if you need an energy boost and focus
Calm & Clarity — if you need a clear mind to focus better
Neuro says you can take up to two pieces at a time and up to 10 pieces a day.
If you take the Neuro Gum, you should chew on it for at least five minutes. But if you opt for the Neuro Mint, keep it in your mouth until it dissolves.
The new Neuro Health & Vitality is a vitamin supplement you can take once daily.
Things I Like About Neuro Gum
I tried Neuro Gum and Neuro Mints for a few days. Here are 10 things I liked:
1. Made by trained experts
Neuro co-founders Kent and Ryan led physically active lifestyles. They were also academic achievers, holding degrees in neuroscience and chemistry.
The fact that they personally developed Neuro's entire line assured me that I was in good hands.
2. Cheaper than coffee
According to E-Imports, the average American pays an average of $2.38 for brewed coffee.12
You can get the same amount of caffeine with one serving of Neuro (or 2 pieces of mint or gum) for $0.50 to $0.88 per serving.13
Let's say you're an average coffee drinker who consumes three cups a day.
Instead of spending $7.14 per day (or more if you order takeout), you only have to spend the following amount with a Neuro equivalent:
$1.50 for three (3) servings of Neuro Mint
$2.64 for three (3) servings of Neuro Gum
3. Coffee in a pocket
Call me old school, but I usually carry a coffee tumbler. It's more practical than lining up at a coffee shop.
According to the U.S. Food and Drug Administration, an 8 oz. cup of coffee contains about 95 mg of caffeine.13
The average 20-ounce tumbler can hold 2.5 cups of coffee or 285 mg of caffeine.
A single pad of Neuro Energy & Focus (which has 9 pieces) gives you 360 mg of caffeine or about 3.8 cups of coffee.
Neuro lets you carry more caffeine in your pocket than a clunky coffee tumbler.
4. Natural flavors
One of the things I like about Neuro's gums and mints is the flavor. They taste fresh and don't leave a chemical-like flavor in your mouth.
It makes sense because Neuro uses natural ingredients, such as:
Spirulina extract
Monk fruit
Stevia
Fruit and vegetable juice
Turmeric extract
5. Clean and balanced energy
Many healthy adults can consume up to four cups of coffee (or about 400 mg of caffeine) in a day without any adverse side effects.
Unfortunately, it's easy to go beyond four cups a day when you're preoccupied. Too much caffeine may cause unpleasant symptoms, such as:14
Headaches
Shaking
Rapid heartbeat
Nervousness
Irritability
Difficulty sleeping
Neuro also uses natural caffeine, making it a clean energy source.
Each piece has 40 mg of caffeine, equal to half a cup of coffee. You get full control of the amount of energy you get throughout the day.
Compared to drinking coffee, low-dose coffee gums are associated with fewer side effects and a lower risk for caffeine overdose.15
6. Sugar-free energy source
Sugar-filled sources like energy drinks provide a high dose of energy in a short time. The average 16-oz energy drink contains 160 mg of caffeine and 40 mg of sugar.
Getting energy from sugar isn't good for productivity. Too much sugar can lead to a sugar crash.16 Thankfully, Neuro Gums and Mints are sugar-free.
7. Fast-acting effects
When you drink coffee, it has to pass through the digestive tract before your body completely absorbs it. It can take 15 minutes before caffeine kicks in.17
Neuro Gums and Mints dissolve in your mouth, where the ingredients are immediately absorbed.
The quick absorption allows them to take effect within five minutes.
8. More benefits than coffee
Neuro Gum is not just a caffeinated gum. It is a nootropic designed to give you an overall boost, both physically and mentally.
The company offers Neuro Mints that reduce stress and calm you down or provide the vitamins you need to stay energized throughout the day.
All in all, Neuro's supplements can do more than coffee.
9. Safe to consume
As long as you take Neuro as recommended, they're safe to use. The company has three certifications to ensure the safety of its products:
NSF International Certification
World Anti-Doping Agency (WADA) Compliance
U.S. Food and Drug Administration (FDA) Compliance
According to Neuro, its products are 100% vegan, aspartame-free, and gluten-free. It's perfect for anyone following these diets.
10. Subscribers get perks
A subscription can save you $2.40 to $4.20 for each month you're subscribed. You can also choose to have orders delivered every 1 to 2 months.
Shipping is free for subscribers. Usually, it's only free for orders over $35.
Neuro sends email updates each time your subscription is scheduled to ship out. You can change, cancel, or pause it anytime you change your mind.
The best part? Signing up for a monthly subscription is free.
Things I Don't Like About Neuro Gum
Here are things I didn't like about Neuro Gum:
1. No coffee flavor
Neuro's coffee gum doesn't come in a coffee flavor. While I don't mind the peppermint or cinnamon, it would be nice to have coffee as an option.
2. Risk for overdose
Vitamin D3 and caffeine are some of the active ingredients in Neuro's products. Both carry the risk of overdose.
The body stores vitamin D in fat and doesn't get rid of it through urine. This increases your risk for vitamin D toxicity.18
While caffeine is not as dangerous, the body can only tolerate up to 400 mg daily.14 Anything more can cause jitters.
Registered dietitian Elise Harlow explains this is different for everyone:
The amount of vitamin D a person needs and can tolerate depends on their specific blood vitamin D levels. It is best to check your level with a medical professional, so you'll know when you're taking too much.

Elise Harlow, M.S., R.D.N.
Tip: Only take 1 to 2 pieces of Calm & Clarity a day, so you don't take more vitamin D than your body needs. You can take up to 10 pieces of Energy & Focus.
How Much Do Neuro Gums Cost?
Neuro Gums and Neuro Mints are available in three package options:
Six-pack — $24 paid one time; $21.60 per month for subscribers
Twelve-pack — $42 paid one time; $37.80 per month for subscribers
Bulk bag (90 pcs) — $30 paid one-time; $27 per month for subscribers
Bulk Bag (180 pcs) — $45 paid one time or $40.50 per month for subscribers
Neuro packages their mints and gums a bit differently. Although prices remain the same.
One (1) pad of Neuro Mint contains 12 pieces. So you'll get 72 mints with a 6-pack and 144 mints with a 12-pack.
One (1) pad of Neuro Gum includes 9 pieces. It will give you 54 gums with a 6-pack and 108 pieces with a 12-pack.
The Ideal State package is a 12-pack with six pads of Energy & Focus and six pads of Calm & Clarity.
You can buy Energy & Focus and Calm & Clarity in bulk bags containing 90 to 180 pieces. The new Health & Vitality Supplement is only available in 180 pieces.
Is Neuro Gum Worth It?
Neuro Gums and Mints are a practical and affordable alternative to coffee. While coffee can give you that much-needed energy boost, it's not always enough.
More often than not, we need to be in the right state of mind to perform at our best. Neuro provides nootropic products that help us achieve this ideal state.
Whether you need a boost or something to calm your senses, Neuro has a pill for you.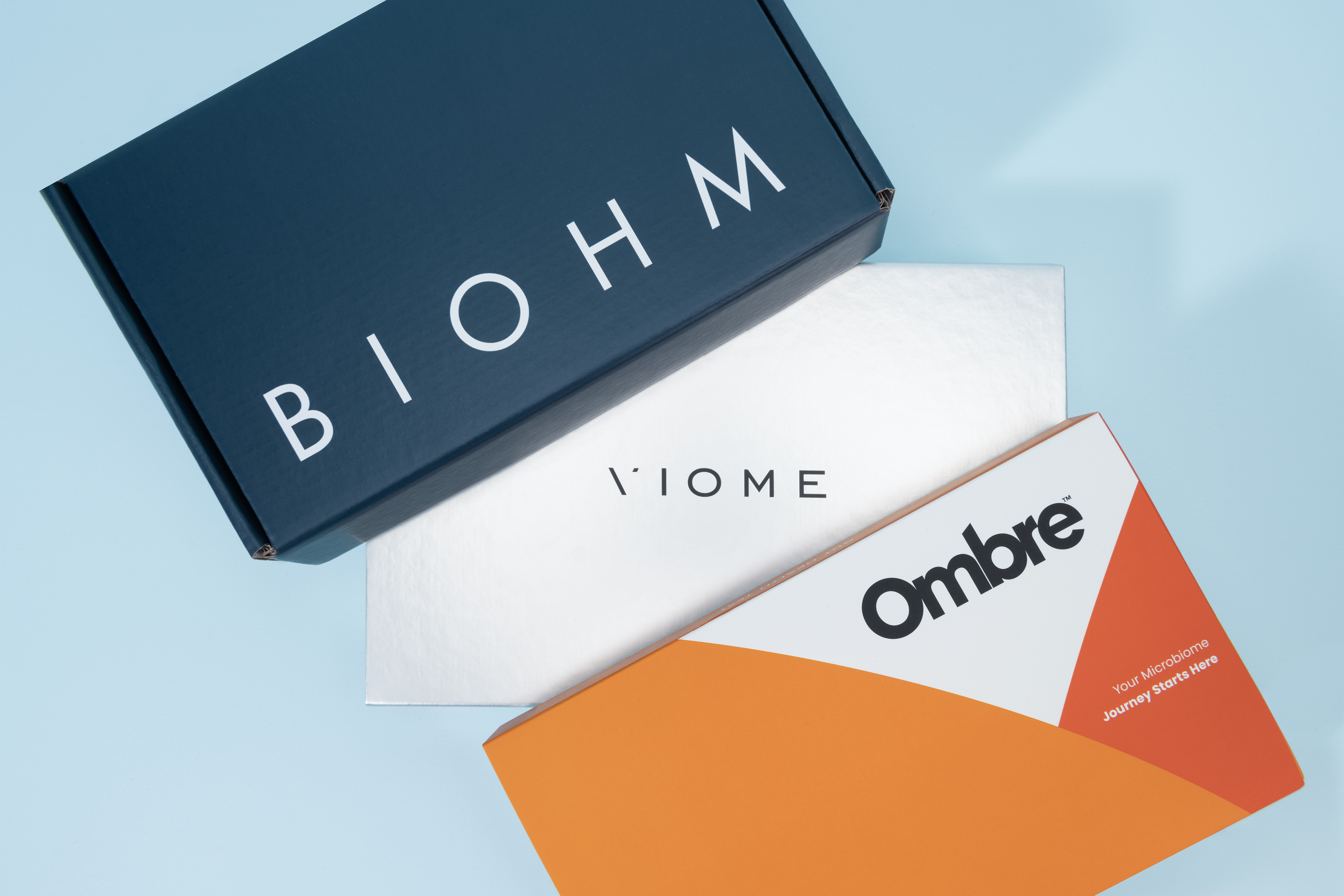 Best Microbiome Test
Looking for the best microbiome kit on the market? Look no further! Our review round-up page has all the information you need to make an informed decision.