While other technologies only decode less than 1% of your DNA, Nebula Genomics DNA kit analyzes 100% of your genome.
The company's impressive Whole Genome Sequencing kits are far more thorough and accurate than other major players in the at-home DNA kit market, including Ancestry and 23andMe.
However, while the kit offers better accuracy and overall more genetic data, it comes at a higher cost. This may leave you wondering if all this extra data is worth it, or even necessary. 
In this Nebula Genomics Whole Genome Sequencing kit review, we'll explore what you'll get when purchasing one of these advanced DNA tests. From a breakdown of the costs, including hidden fees, to the information you'll receive in their thorough reports.
Nebula Genomics - The Complete Genome Test
Nebula Genomics:
One of the biggest DNA testing companies to offer whole genome sequencing services
Founded in 2018 by Harvard Medical School geneticist, George Church 
Won the "Best in Show" award in the SXSW Pitch competition in 2019
Develops technologies to create secure, transparent, and controllable genomic data sharing
Its services decode 100% of your DNA
Quick facts:
| | |
| --- | --- |
| Sample Collection | Saliva sample |
| DNA Testing Type | Y-chromosome (Y-DNA), mitochondrial DNA (mtDNA), and autosomal DNA |
| Speed | 8 weeks |
| Privacy Protection | Strong |
How much does Nebula Genomics cost?
Nebula Genomics offers two whole genome sequencing kits, both with different price points.
These include:
30x Whole Genome Sequencing DNA Test — $299
100x Whole Genome Sequencing DNA Test — $999
The difference between these two test kits is the level of accuracy. Each testing kit will decode 100% of your DNA. However, the 100x kit is more accurate and therefore better at discovering rare genetic mutations.
One more important thing to note in terms of cost is the mandatory subscription you'll need to sign up for when buying a DNA testing kit. Nebula Explore Reporting is the subscription service you'll need to purchase, either on a monthly ($19.99/month), yearly ($120/year), or a lifetime ($200) basis.
With your subscription, you'll receive new reports each week, unlimited use of the genome exploration tools, ancestry analysis, and premium support.
What is in the box?
A Nebula Genomics Whole Genome Sequencing DNA testing kit will contain the following:
Sample vial
Plastic pouch for returning samples
Sample collection swabs
Prepaid return envelope
Send in steps
Follow these 4 steps to take a Nebula Genomics Whole Genome Sequencing test:
Once you've received your kit, go to the company's website and create a profile. You'll need to input the serial numbers that are printed on each sample vial.
Fill out the surveys the website gives you to the best of your ability. They will cover things such as the medicines you're taking and your family history.
Do not eat or drink anything for 30 minutes before taking your sample.
Take your first sample collection swab and rub it on the inside of your cheek for at least 45 seconds. Place the head of the swab into your collection vial and raise and lower it 20-30 times. Do the same thing with the other swab on the opposite cheek. This is a bit different than other collection kits. You are not sending in any of the cheek swabs. Just the liquid test tube.
Place both of the sample vials into the plastic pouch that's included with the kit, put it in the prepaid return envelope, and send it back to the company.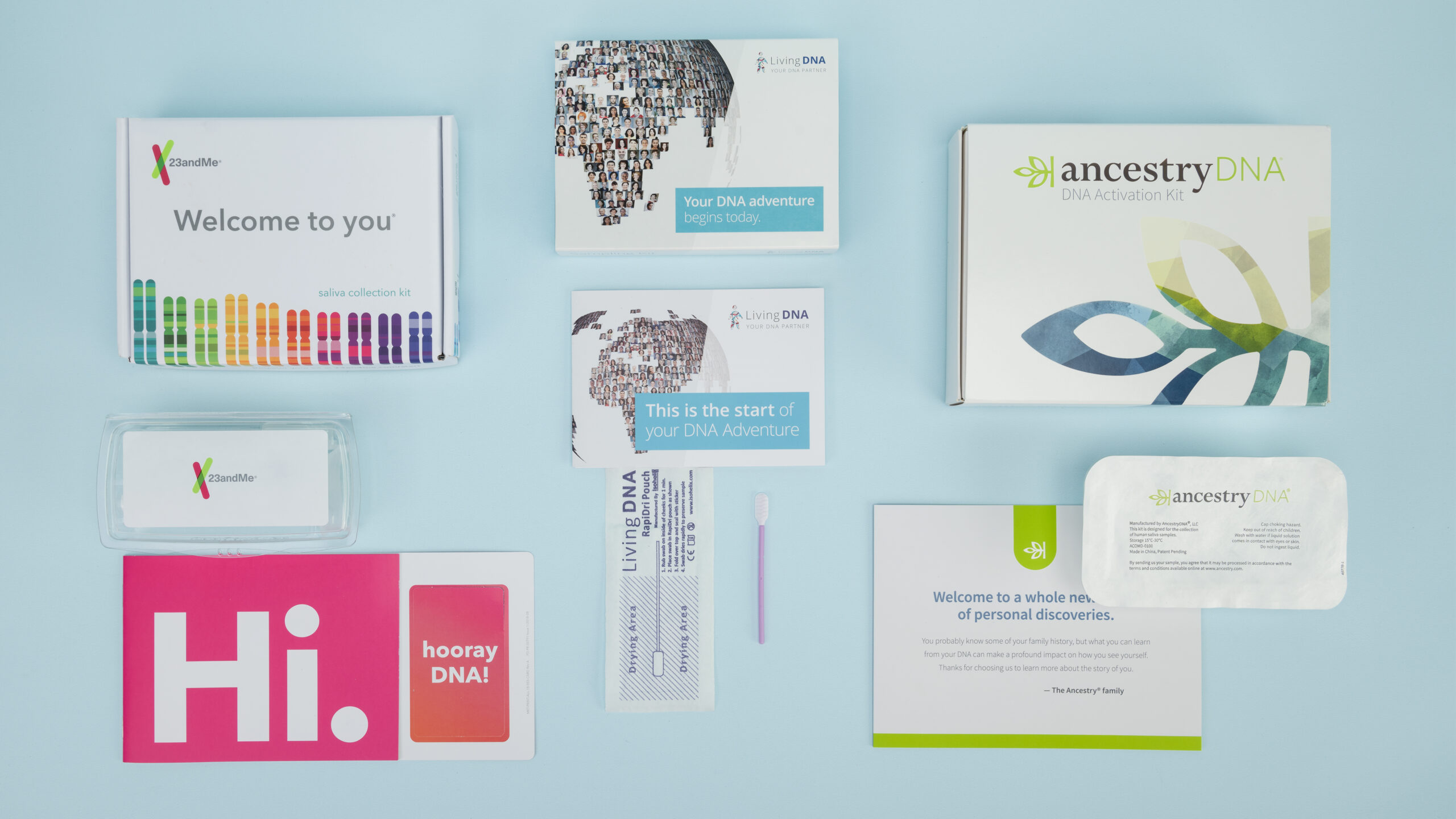 The Best DNA Test
Looking for a DNA test that is both accurate and affordable?
My Experience Getting the Kit
I ordered the kit to take for testing purposes. The box is shipped in a discrete envelope. Nebula Genomics has terrific packaging: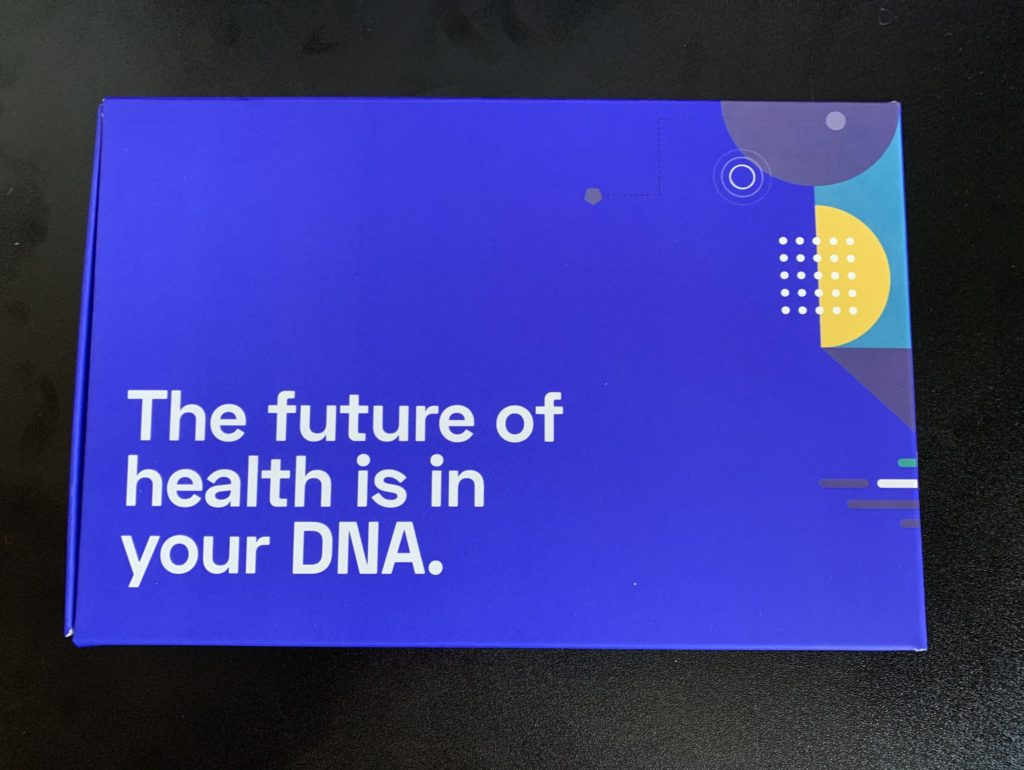 I even had a typo on my order (sent to the unit next to me) and Nebula was able to fix this in transit.
After you open the box: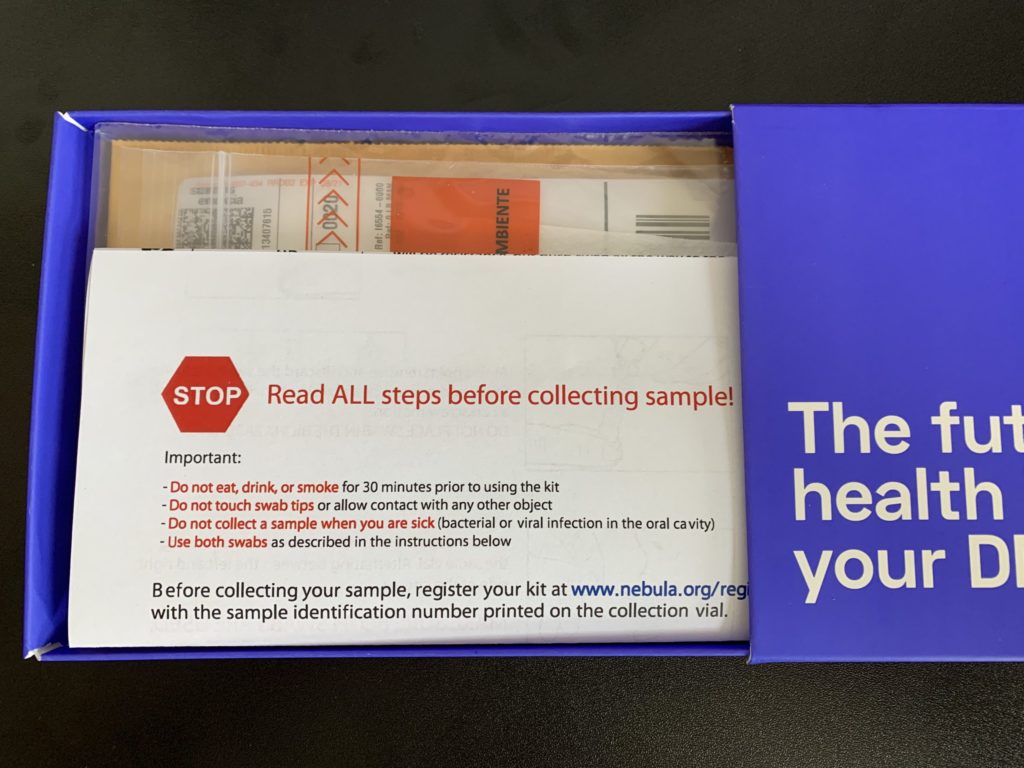 You have the kit in front of you. To take the test, simply follow the send-in steps listed above. Nebula Genomics overall is an easy test to take, the only difference between it and 23andMe and Ancestry is that you don't send the actual cheek swab in, you're just sending in the liquid.
Nebula Genomics gives you a return package with the label attached and everything. Overall, I give its collection and send in an easy 5/5.
How is your privacy protected with Nebula Genomics?
Nebula Genomics offers something they call Privacy First DNA Testing, making them the leading privacy-focused personal genomics company out there.
The company uses Oasis Lab's top-of-the-line privacy-focused technology to ensure your data stays secure.
When you open an account with Nebula Genomics, you can choose exactly how your private information will be used. This includes 3 distinct options:
Never allow your information to be shared under any circumstances.
Have the company ask you first before using or sharing your genetic information. If it is used, you'll be paid for it.
Allow an anonymized version of your genetic information to be used for research purposes, and you'll be compensated if it is used.
Nebula genomics has a commendable privacy protection policy.
They are one of the leading privacy-focused DNA testing companies. Its partnership with Oasis Lab gives customers access to the best privacy protection technologies.
 The partnership with Oasis Lab offers you:
Complete control over your DNA data. This means you can decide how your information can be used throughout the Oasis app.
A secure privacy protection technology to keep your information safe and secure.
A decentralized Blockchain network that allows you to see how your data is accessed, allowing tamper-proof data storage.
Most of these privacy protection strategies are recent and updated. Nebula genomics sticks to their privacy first DNA testing policy. This makes them one of the best in business.
Regardless of what you choose, you will retain ownership over your genetic information.
Nebula Genomics - The Complete Genome Test
The DNA results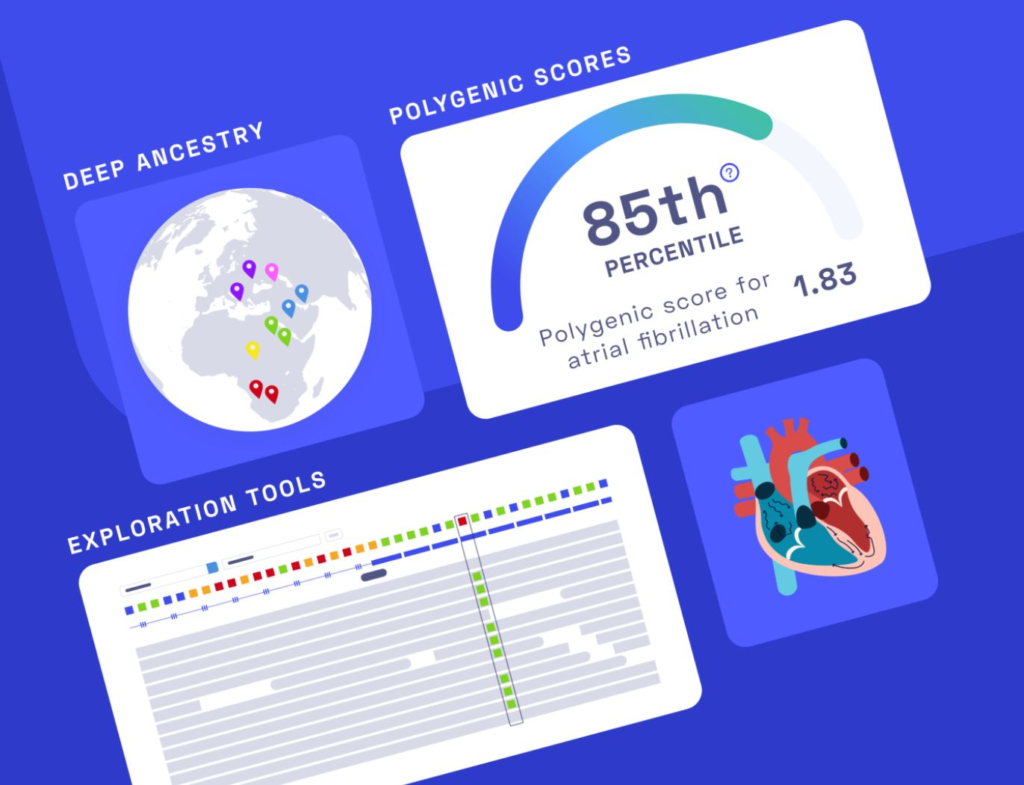 Your genome sequencing report will be broken down into 5 different categories, a traits report, the Nebula Library, gene analysis, genome browser, and Deep Genetic Ancestry (coming soon).
Traits report
The traits report is broken up into 4 sections, each providing different information based on your gene analysis. The traits report will include the following sections:
Appearance and hormones — This section of the traits report covers several appearance and hormone traits, including earwax type, freckling, hair thickness, and testosterone.
Behavior and perception — The behavior and perception category of the traits report is a bit more thorough. It covers alcohol sensitivity, asparagus metabolite odor, caffeine use, cilantro preference, misophonia, nicotine response, pain sensitivity, and snacking behavior.
Body and athleticism — In the body and athleticism portion of the traits reports, you'll receive information covering 11 different traits. These include blood pressure, height, jimmy legs, longevity, muscle strength, muscle volume, nearsightedness, obesity, physical conditioning, skin sensitivity, and sleep depth.
Nutrition and diet — The final part of the traits report, nutrition and diet, covers hunger response, lactose intolerance, sweet tooth, vitamin B12 deficiency, vitamin C deficiency, and vitamin D deficiency.
Nebula library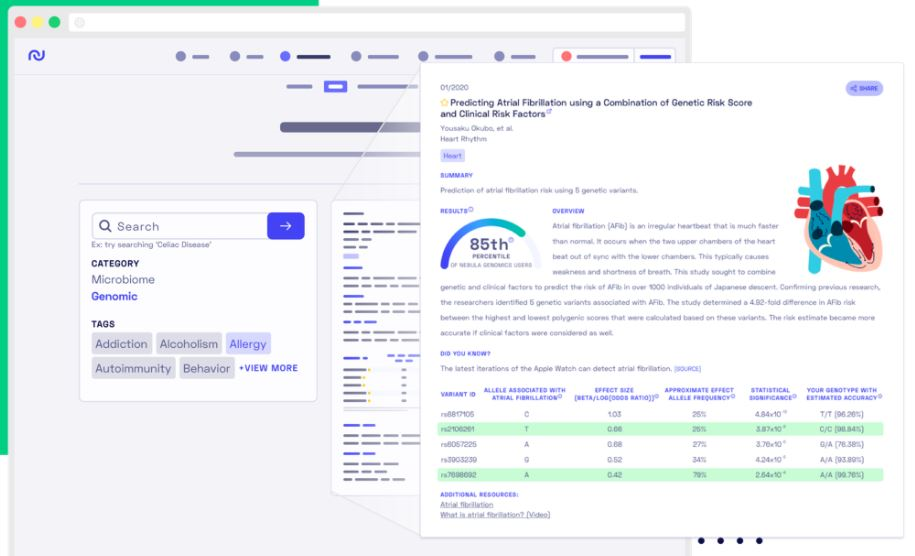 The Nebula Library contains over 200 research-based reports, curated by Nebula Genomics, to give you additional information based on your personalized genetics report.
New reports are added every week to the ever-growing library. 
These reports cover a wide variety of genetic factors that could be affecting you.
This includes things like:
your predisposition to certain types of heart diseases and cancers
factors that affect your diet
certain genetic diseases
Gene analysis
The gene analysis tool is a bit more advanced and isn't likely to be too useful for most people. With it, you can further explore your genome and examine any gene by typing its name into a search box. This means you'll have to know the name of the gene you intend to explore (for example, the CYP1A2 gene) which isn't too practical unless you happen to be a geneticist.
The purpose of this tool is to allow you to find variants that may pose a clinical significance. Once again, while this is an interesting addition, it is a bit too advanced for the layman to interpret.
Genome browser
This tool allows you to search through your chromosomes and receive detailed information about them. However, like the gene analysis tool, this is a bit advanced and isn't likely to be all that useful unless you're educated in the field of genetics.
Deep genetic ancestry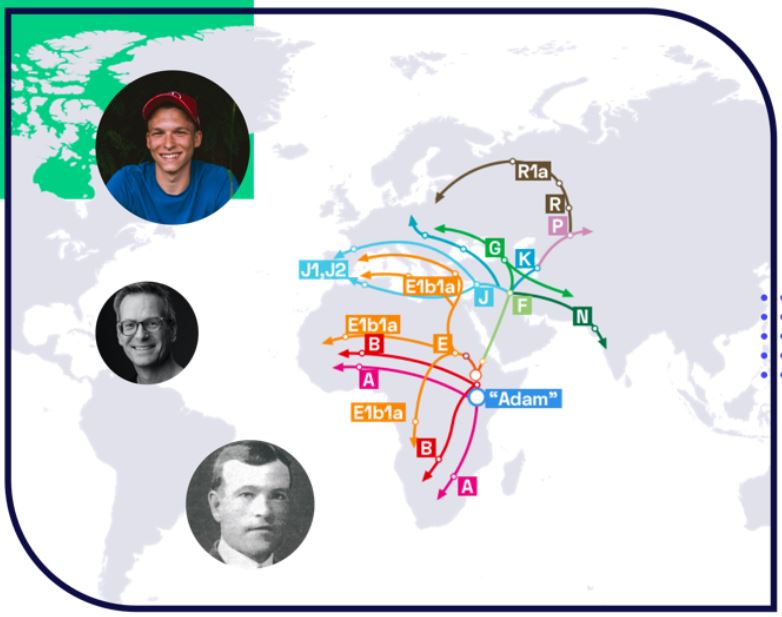 The Deep Genetic Ancestry portion of your results (not yet available at the time of writing this) analyzes all of your genetic markers to provide you with a thorough ancestry breakdown.
Not only will Nebula Genomic's ancestry results analyze your autosomal DNA, but it'll also take a look at your maternal and paternal lines through your y-chromosome and mitochondrial DNA.
This tool will allow you to track your family's migration patterns as they moved across the globe, find distant relatives, and build a family tree.
The company is partnering with FamilyTreeDNA for the genealogical portion of the results, giving it access to the world's largest mtDNA and y-chromosome DNA database.
How accurate is Nebula Genomics DNA testing kit?
Nebula Genomics offers one of the most thorough and accurate DNA test kits on the market.
According to the company, its tests provide 10,000 times more data than competing genetic tests, such as those offered by AncestryDNA and 23andMe.
While Ancestry and 23andMe read your DNA at 600,000 positions, Nebula Genomics reads each letter of your DNA 30x (or 100x) at 6 million positions. This provides incredibly reliable results.
Additionally, you're given full access to your data, allowing you to freely explore your entire genome as you please. The company utilizes next-generation sequencing technology when running your gene analysis revealing all of your genetic variants.
This test will give you more data that's also far more accurate than other big DNA testing companies, making the results some of the most reliable out there.
How does Nebula differ from other DNA sequencing providers?
Nebula is one of the trusted companies that offer DNA sequencing services. When compared to others like 23andMe and AncestryDNA, they offer something different.
Compared to 23andMe and ancestry, Nebula Genomics reads and sequences your DNA more accurately. 23andMe and AncestryDNA read your DNA at 600,000 positions. This means that your genomes are separated into millions of molecules but are read at 600,000 positions.
However, Nebula Genomics offers a different service. Nebula Genomics reads your DNA in 6,000,000,000 positions; that's 10,000 times more than AncestryDNA and 23andMe.
They also read each letter of your DNA over 30X or 100X. Reading your DNA over 30X is okay for most cases, but reading it over 100X can be beneficial in uncovering rare genetic diseases conditions, like rare forms of breast cancer.
As mentioned earlier, Nebula Genomics offers Whole Genome Sequencing.
This concept involves sequencing 100% of your DNA. Nebula genomics sequence all your genes (coding regions), regulatory genomic regions, the male Y chromosomes, and mitochondrial DNA.
Other DNA testing companies like 23andMe and AncestryDNA examine less than 0.02% of your entire genome.
Whole Genome Sequencing is great for knowing your ancestry, genetic health risks, and use for other genomic research.
Also, Nebula Genomics can boast of a next-generation sequencing (NGS) which helps to sequence many short DNA molecules faster and on a larger scale. This method is more recent and advanced when compared to the techniques used by 23andMe and AncestryDNA.
Nebula Genomics also promises that its Whole Genome Sequencing doesn't only read your autosomal DNA, they can also fully decide your sex chromosomes and mitochondrial DNA.
Analyzing all your genetic markers help to fully reveal your whole DNA makeup, hence giving you your complete family history. This is different when compared to other DNA sequencing services that offer only autosomal DNA tests.
What to do next
As stated earlier, the gene analysis from Nebula genomics can be difficult to interpret if you're not an expert in genetics. However, the company provided a tool to help you analyze and interpret your raw DNA data.
When you upload your raw DNA data, Nebula Genomics immediately sends a report about the details of your DNA information to your email. They also show you new traits every week.
Also, you get to experience the free DNA data expansion. This tool expands your DNA results from other DNA testing companies and provides up to 50 million more information; from over 35 million genetic variants expanded from your DNA data file.
They are the only DNA sequencing company that offers DNA data expansion. This enables them to provide the most detailed and comprehensive DNA test analysis around.
Nebula Genomics - The Complete Genome Test
Final Words
Pros
Incredibly accurate results
Amazing privacy policy
Constantly updated library 
Tools that allow you to freely explore your genes and chromosomes
Trait report that covers everything from appearance to health
Free return postage
Cons
More expensive than much of the competition
Hidden subscription cost necessary to receive all of the benefits of the kit
There are lots of genetic sequencing companies around. Nebula Genomics is just one of these companies. They offer a stress-free DNA testing process while respecting your privacy.
Its Whole Genomics Sequencing technology offers better DNA testing results than most companies.
You can choose any DNA testing company of your choice.
Companies like 23andMe and AncestryDNA offer more budget-friendly services than Nebula Genomics. However, you can prioritize your budget, quality results, or both. Whichever you choose, the end goal is make the most of what you spend and get better results.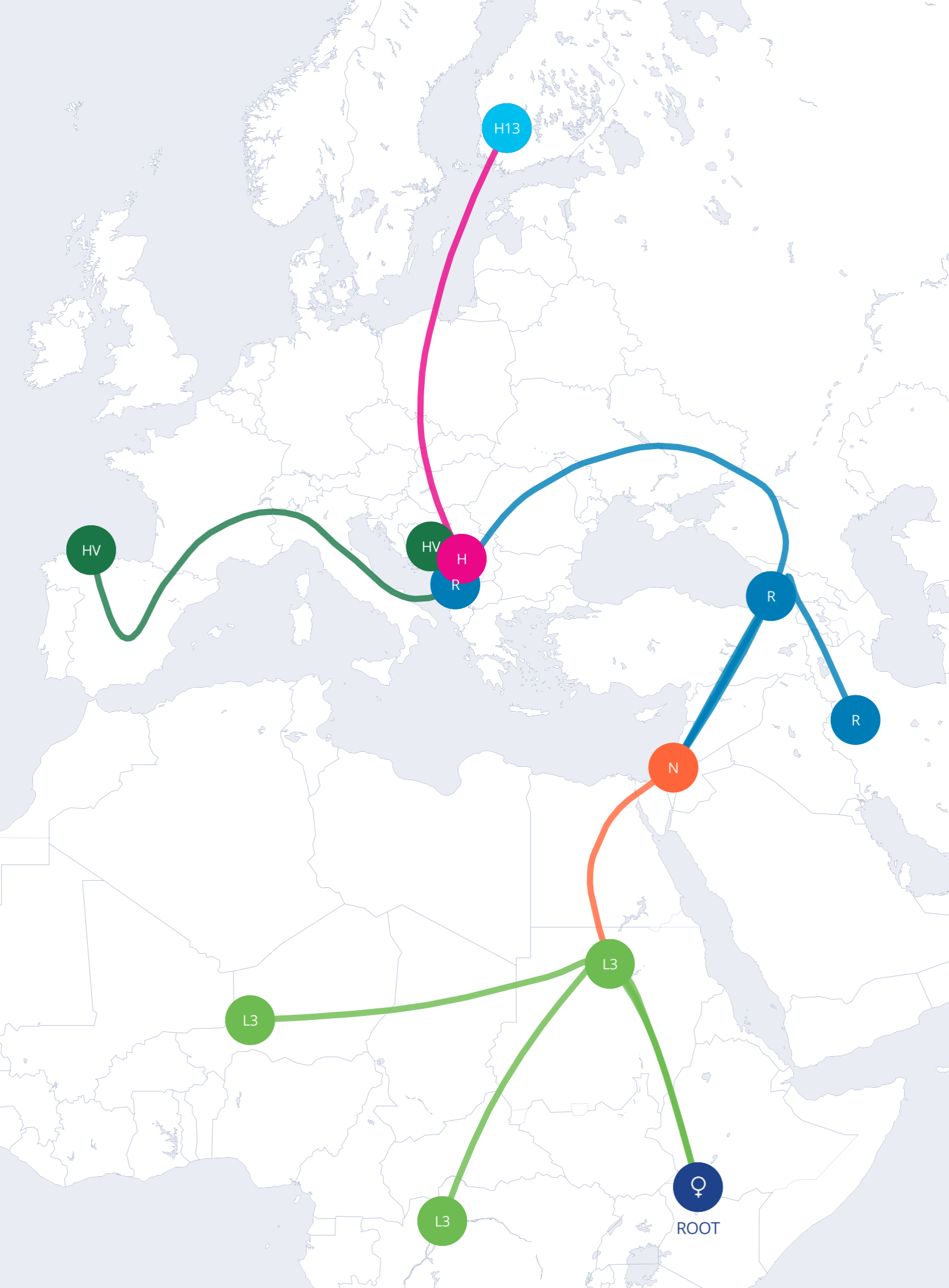 The Best DNA Test
Looking for a DNA test that's accurate and can tell you about your health and heritage?