DNA self-test kits can tell you many things about your ancestry, ethnicity, and inherited health risks. When it comes to ancestry tests, MyHeritage DNA is one of the most popular options.
My Heritage started as a free genealogy tool (Family Tree Builder) in 2003. By 2016, it began offering MyHeritage DNA testing kits.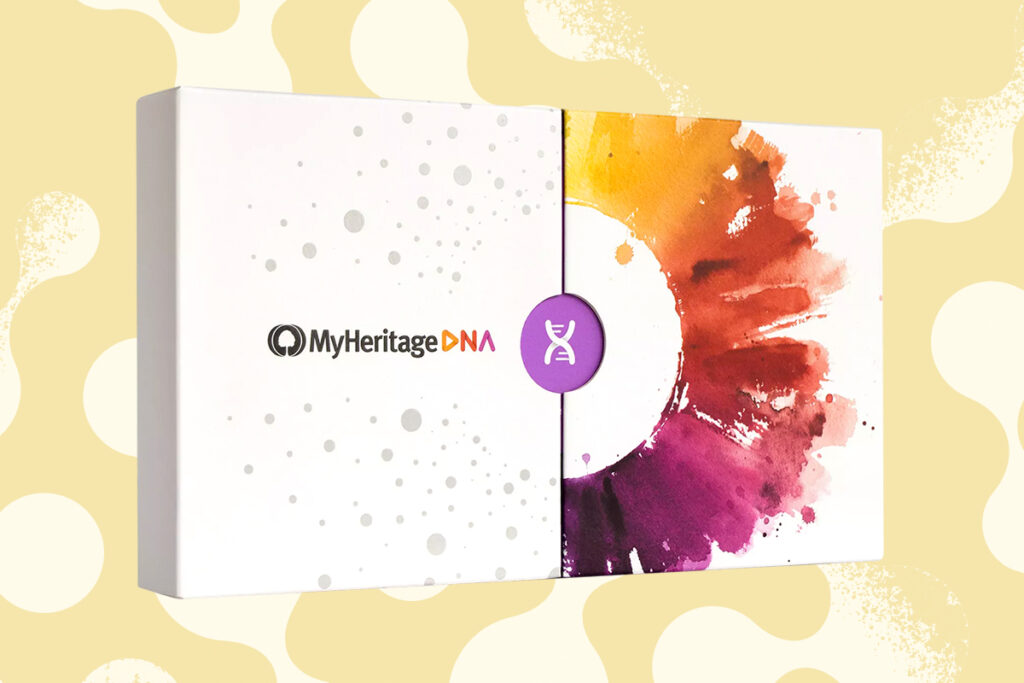 My Heritage DNA is a good choice if you're looking for relatives worldwide. Currently, it's the leading DNA testing service in Europe. This makes it a better option for people of European descent.
In this My Heritage review, we'll take a closer look at its products, features, pros, and cons — plus how it compares to AncestryDNA, 23andMe, and Family Tree DNA.
I also talked to Dr. Rizza Mira, our resident medical reviewer, to see what she has to say about this at-home DNA testing kit.
Winter Sale: $49, down from $89
Quick Facts on MyHeritage DNA
It has 106 million users and 88 million family trees worldwide
Offers DNA matches and ethnicity estimates for 42 ethnic groups
Traces your ancestral origins to 2,114 regions 
Compares your DNA to 6 million users on their DNA database
Upload your family tree and search 18.6 billion historical records
Build your family tree and connect with possible relatives
It supports 42 languages and has a strong privacy protection
Autosomal DNA test results that you can download as a raw data file
Collect DNA samples with a swab test instead of a saliva test
Analyzes DNA samples at CLIA-certified and CAP-accredited laboratories
What is My Heritage?
My Heritage is an online genealogy platform with freemium family tree services. They offer a free Basic Plan. It lets you build a small family tree of up to 250 family members.1
But if you want more detailed reports and access to more services, you can look into their subscription plans and the DNA testing kit.
My Heritage DNA Kit
Cost: $89, excludes shipping.
This at-home DNA test can provide information about your ancestry, possible family connections, and ethnicity. The DNA test kit contains: 
Two cheek swabs
Vials for storing the swabs
Plastic bag
Return envelope
MyHeritage is one of the most affordable DNA tests. Sometimes, you can get it on sale for $49. Free shipping is available for orders of two or more testing kits.
You'll get ethnicity estimates, genetic groups, and DNA matches with your kit. My Heritage no longer offers health testing upgrades for $120. You also have to get a paid subscription if you want access to the company's family trees and records.
My Heritage Premium Plan
Cost: $49 for the first year, then $79 per year.
It lets you build an enhanced family tree with 2,500 people. 
The subscription includes Smart Matching for all subscribers and DNA matches for people who take the MyHeritage DNA test.
My Heritage Premium Plus
Cost: $89 for the first year, then $129 per year.
You can build a bigger family tree with an unlimited number of people. In addition to Smart Matches and advanced DNA features, the subscription includes:
Instant Discoveries — Lets you add family branches with one click
Tree Consistency Checker — Identifies potential errors on your family tree and suggests corrections
My Heritage Data
Cost: $89 for the first year, then $129 per year.
It offers the same features as the Basic Plan. But it also uses your family tree to find automatic matches with 18.6 billion records and 55 million family tree profiles.
You can directly save records on profiles found in your family tree.
My Heritage Complete
Cost: $119 for the first year, then $189 per year.
It's the ultimate subscription package. With it, you can build a family tree with unlimited members, access all historical records, and enjoy advanced DNA matching features.
The plan also includes the features of My Heritage Data and Premium Plus.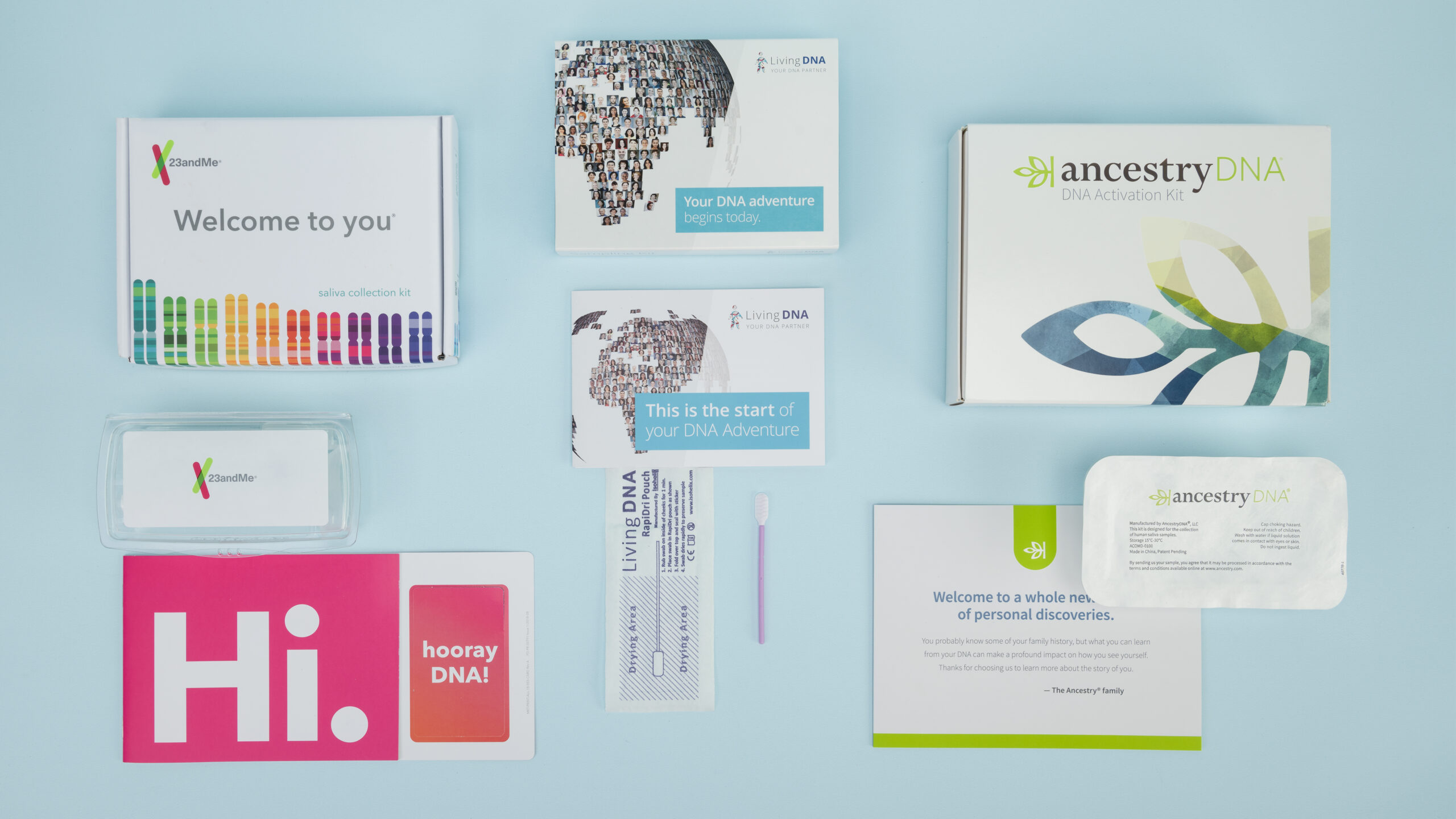 Best DNA Kit
Don't miss out on the opportunity to learn more about yourself. Read our best DNA test page to find the best one for you.
How Does MyHeritage DNA Work?
First, you need to set up your MyHeritage DNA account. Sign-up is free. Once you're logged in, you can order the test kit online.
When your package arrives, follow these steps to submit a DNA sample:
Open the test kit.
Remove one swab. Swab the inside of your cheek for 30 to 60 seconds. 
Insert the swab into a vial. Close the vial.
Swab your other cheek. Insert it into the second vial.
Place both vials onto the cotton pad that's in the plastic bag. 
Close the bag. Place the bag in the envelope.
Mail the envelope to the DNA lab.
Wait up to 3 to 4 weeks for your result. You can access it through MyHeritage's website or mobile app.
Technicians will extract DNA from your swab sample. The DNA sample is then converted into raw DNA data. This helps them find DNA matches and genetic groups, and calculate ethnicity estimates.
MyHeritage performs autosomal DNA testing. It looks at the genetic sequences in your autosomes, which make up 22 of 23 pairs of human chromosomes. 
However, it doesn't test your mtDNA (mitochondrial DNA) or YDNA (Y chromosome DNA). Dr. Mira explains how MyHeritage works:
"As a type of autosomal DNA testing, it breaks down a person's chromosomes and determines an approximate percentage of ethnicity in each of them."
It can search family connections up to the fifth degree and five generations. But it can't trace maternal or paternal lines through your mtDNA or YDNA. 
MyHeritage's DNA lab is CLIA-certified. Clinical Laboratory Improvement Amendments (CLIA) is a standard for testing facilities in the health field.3
MyHeritage DNA Results
Your MyHeritage DNA reports will include the following:
Genealogy: Covers ancestry information, DNA matches for possible family connections, and historical records.
Ethnicity: A detailed breakdown of your ancestors' ethnic and geographic origins across 2,114 global regions and 42 ethnic groups.
Winter Sale: $49, down from $89
1. Family Tree & Smart Matches
My Heritage Family Tree Builder lets you create your family tree. More expensive plans allow you to build larger family trees.
You can download the family tree software or use the built-in builder on the website. Look for the "Family Tree" tab and add your parents, siblings, and cousins. 
Remember to provide as much detail as you can. Invite your relatives to help expand your family tree and upload family photos.
Under Discoveries, you can tell MyHeritage what you know about your parents and grandparents. The company will use this information to perform Smart Matches.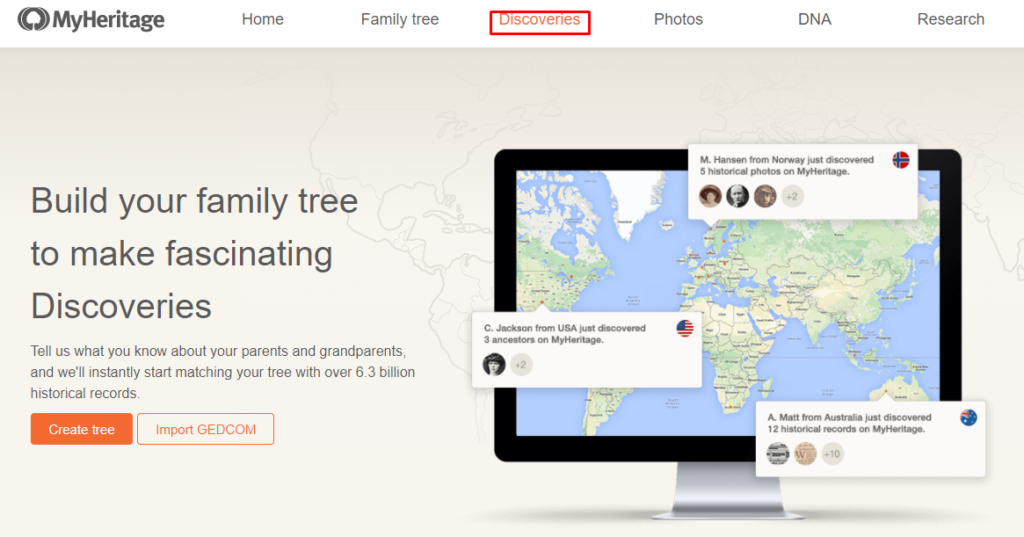 Smart Matching compares your family tree with the millions of family trees on My Heritage. It helps you find potential relatives, which include people with similar names, facts, and connections as your relatives.
My Heritage will notify you and other family tree owners with matching information. Both families can get in touch and investigate if the match is legitimate.
With Research, you can manually look for people, especially those who share your surname. Use it to search for relatives from up to 5 generations ago.
The database contains news articles, photos, birth and death certificates, and other public records to help you expand and learn more about your family.
But if you want to check for ancestors in the historical records, you need a subscription to My Heritage Data or My Heritage Complete.
2. My Heritage DNA Matches
On top of traditional genealogical research, MyHeritage also offers genetic testing to expand your family tree and discover your ethnic origins.
You can find possible relatives among its users. This includes people who took the MyHeritage DNA test or had their DNA file uploaded on the platform. 
Raw DNA data can also prove or disprove documented family tree connections. For example, when a person from another family tree shares your surname, your data can show if you're genetically related or not.
Note that you may end up with too many matches. So you need to check which matches are legitimate.
I didn't have any close family matches with My Heritage. I had a few extended matches with distant relatives. But I removed them, as they weren't that interesting.
Maybe it's because My Heritage only has 6 million users. It's nowhere near the size of AncestryDNA (20 million) and 23andMe (12 million). Still, it's impressive.
Moreover, My Heritage has more global data than other sites that offer genetic genealogy testing. It's better suited for users outside the U.S. and people with mixed ethnic backgrounds.
3. My Heritage Ethnicity Reports
Your genetic data can provide information about your ancestors' ethnic and geographic origins. My Heritage will give you two reports:2
Ethnicity estimates: The amount of DNA you share with 42 ethnic groups.
Genetic groups: Compares your DNA with the DNA of people from 2,114 regions to provide a deeper analysis of where your ancestors came from.
My Heritage Ethnicity Estimates and Genetic Groups are different. Ethnicities are shown in percentages. You can share DNA with several ethnic groups.
Genetic groups are large clusters made up of one or more ethnicities with the same geographic origins. You either belong to a genetic group, or you don't.
One thing that makes My Heritage unique is that it provides a fun and interactive report personalized to your results.
For instance, if most of your DNA shows that you have Eastern European ancestry, you may hear Baltic sounds playing in the background as you open your report.
A map revealing your genetic makeup will appear on the screen. When the music stops, your ethnic "hotspots" and ethnicity percentages will appear on the left side.
You can zoom in on the map to learn more about the geographic origins common to your ancestry.
4. Other Features of My Heritage
Here's what else it has to offer:
Chromosome Browser
With this tool, you can graph your chromosomes. You can check what DNA segments you share with your matches. However, this tool usually interests only advanced users.
AutoClusters
This feature lets you organize your DNA matches into color-coded clusters. It helps you check common ancestors between you and your matches.
Ethnicities Map
This visual tool shows the common ethnicities in each country and the top countries for each ethnicity.
Upload DNA to My Heritage
You can download your raw DNA data from another company and upload it to MyHeritage to get free DNA matches. 
If you need more help, here's a guide on what to do with your raw DNA data.
Download Your Raw DNA Data
MyHeritage is one of the few DNA services that lets you download your raw DNA data.
"Downloadable raw DNA data is an advantage to those who want to determine if they have other health and lifestyle risks. You can upload them to third-party sites that offer information on other aspects of your DNA," says Dr. Mira.
If you're worried about your privacy or the safety of your genetic information, you can ask My Heritage to delete your file. Here's a guide on how to delete your raw DNA.
Restore Old Photos
You can colorize black-and-white photos or restore the colors of faded photos. My Heritage offers this service for free with your first ten photos.
If you need more, you'll need a paid subscription. 
How Does MyHeritage Protect My Privacy?
MyHeritage says your data is encrypted and stored in secure servers. Its lab also holds CLIA certification and CAP accreditation to ensure the safety of your data and DNA samples.
Here are other ways that My Heritage protects your data:
It never sells your DNA samples, test results, or other personal information to third parties like insurance companies without your consent.
Doesn't hand over DNA results to law enforcement without a court order.
Allows you to opt out of research programs and delete your raw DNA data.
You can control whether or not your matches can find you and what type of information they can access.
Has a transparent and updated privacy policy in place.4
It isn't the most private DNA test. MyHeritage was recently hacked in 2018, which compromised the usernames and passwords of its users.5
That said, no raw DNA data or historical records were taken during the data breach. There are also other things you can do to protect your DNA data.
Is My Heritage Accurate?
Yes. My Heritage tests are accurate and reliable if you want to know more about your genetic genealogy.
Most ancestry DNA tests are accurate. Sometimes, the results from different DNA testing companies are not the same due to human error. But you're still likely to have accurate results for your ancestry and common ancestors.
MyHeritage autosomal DNA testing can trace your blood relationship down to your fifth cousin. After this range, genome availability becomes very low and untraceable. Finding two unrelated people sharing the same ancestral characteristics is difficult.
"Testing your siblings or cousins may also increase the amount of information on your ancestors," adds Dr. Mira.
As a CLIA-certified lab, MyHeritage makes sure your results are accurate. CLIA standards govern how to perform tests, lab workers' qualifications, and quality control.
Winter Sale: $49, down from $89
My Heritage Review — Pros & Cons
Here is a closer look at the pros and cons of My Heritage and how it compares to the competition.
My Heritage Pros
Well-designed website
Slightly cheaper than the competition 
Ability to upload raw DNA data from another provider at no cost
Fastest and cheapest test
Accurate results from a CLIA-certified and CAP-accredited lab
Great customer support
DNA matching for locating new relatives
Free family tree software
It can reveal potential health conditions.
Chromosome browser tool
My Heritage Cons
Have to pay for shipping if you order one test
Smaller DNA database than competitors (6 million)
Some features are hidden behind a paywall
No mtDNA or Y-DNA tests (only autosomal DNA)
MyHeritage vs. Ancestry DNA
Both test the autosomal DNA and provide access to many genealogical records online. MyHeritage has a smaller DNA database (6 million) users than Ancestry (20 million).
That said, MyHeritage has many users in Europe. Most genetic groups are also located in this region. This makes it more accurate for people with European ancestry.
Compared to Ancestry, MyHeritage has more regions around the world. It can help narrow down your search for ancestors and their origins.
You can read our Ancestry review here.
My Heritage vs. 23andMe
23andMe offers all three types of DNA tests — autosomal, mtDNA, and YDNA testing. MyHeritage only tests your autosomal chromosomes.
It has a more extensive DNA database (12 million) than My Heritage (6 million). 23andMe also provides genetic health analysis, which My Heritage no longer has. 
While My Heritage has billions of historical records, 23andMe almost has no genealogical records. Here is our 23andMe review.
My Heritage DNA vs. Family Tree DNA
Family Tree DNA offers comprehensive DNA tests on genealogy. It's better for tracing early human migration and paternal and maternal lineages. 
However, you may want to avoid Family Tree DNA if you're wary about security and privacy. It's known for voluntarily providing data access to law enforcement.
Here is our Family Tree DNA review.
Should You Try My Heritage?
MyHeritage DNA offers a complete genealogical package that includes a family tree builder, DNA testing and matching, and ethnicity estimates.
The DNA testing kit is easy to use. The website is well-designed and lays out the information you would look for with a free or paid subscription.
Overall, we recommend My Heritage if:
You want to save a little money
You don't mind the smaller database
You're willing to pay shipping fees
My Heritage is a good option if you want to upload your raw DNA data from other companies. But if you're unsure, you can look at the best DNA tests to choose from.
Winter Sale: $49, down from $89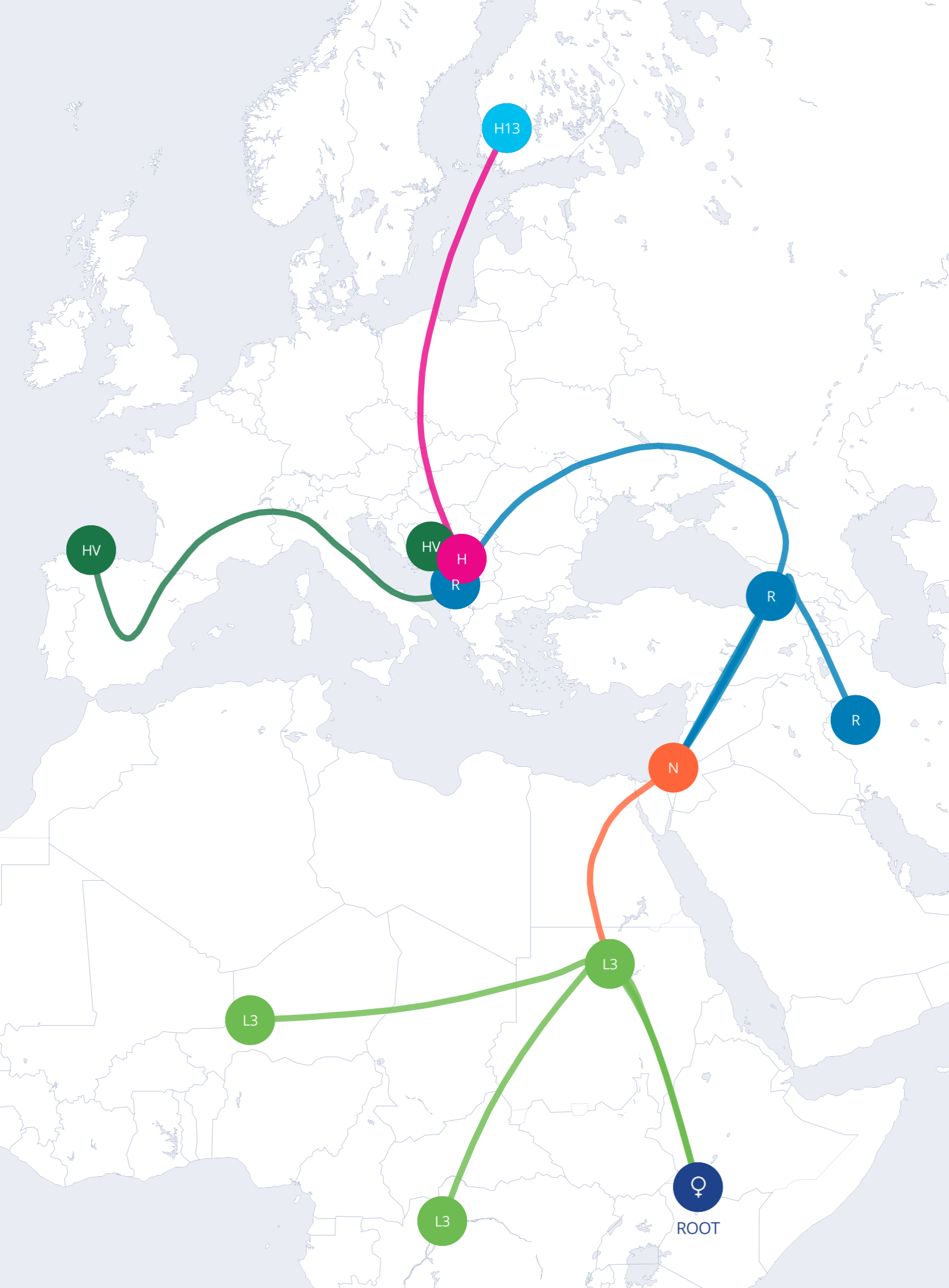 The Best DNA Test
Looking for a DNA test that's accurate and can tell you about your health and heritage?