Most DNA testing companies focus only on ancestry testing, and only a few include health reports. But Living DNA offers both ancestry and health reports with their DNA test.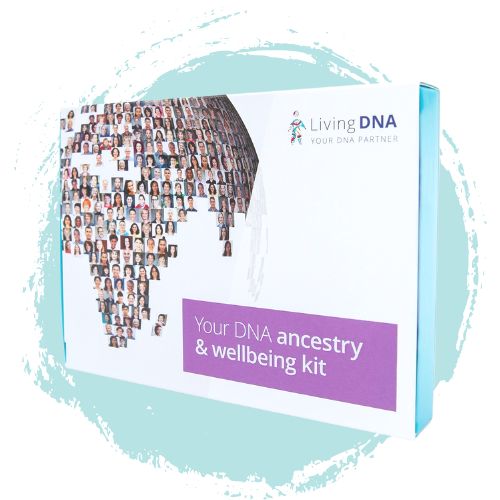 Living DNA was launched in 2016 under DNA Worldwide, which is a U.K.-based company established in 2004. 
In 2018, Living DNA partnered with FindMyPast to incorporate the British Isles and Irish family history records into their services.
Other ancestry tests only look at autosomal DNA—DNA from the chromosomes you inherited equally from both of your parents.  
Living DNA looks for mitochondrial DNA (mtDNA) and Y-chromosome DNA (Y-DNA) aside from your autosomal DNA. 
MtDNA is passed on unchanged from a mother to her children, regardless of their gender. Y-DNA, on the other hand, is only passed down from fathers to their sons.1,2 
This enables Living DNA to trace and provide information about your maternal and paternal lineages.  
In this Living DNA review, we'll discuss products, features, the various ancestry and wellness reports, privacy policy, and how Living DNA fares against other DNA tests.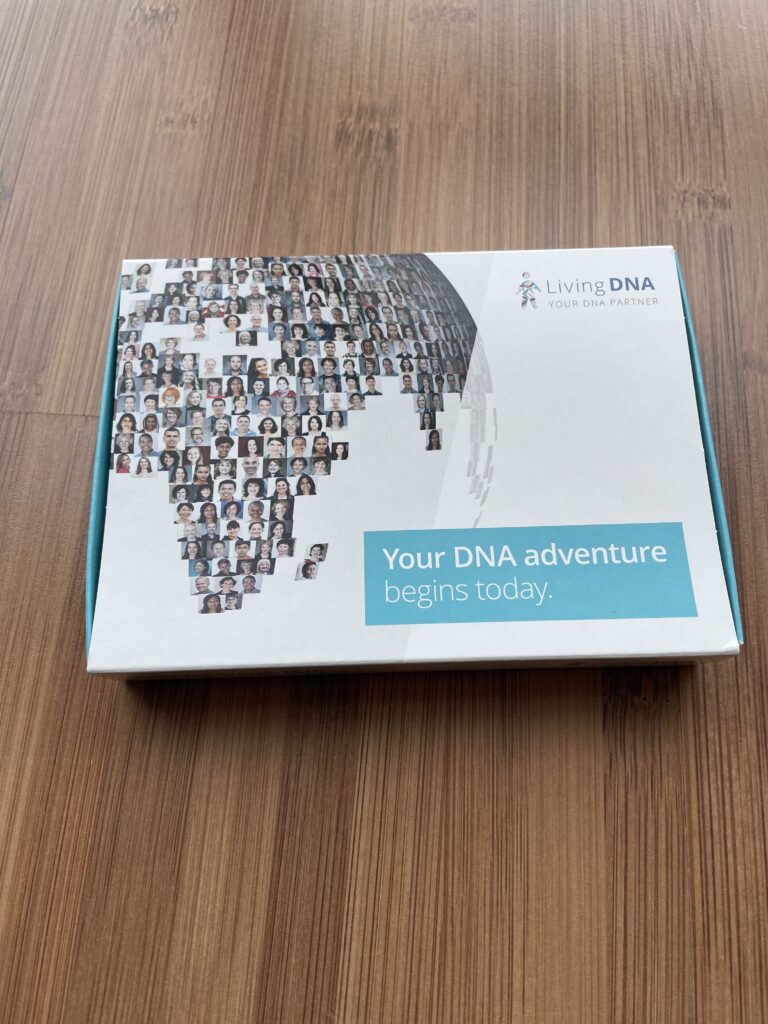 Quick Facts
DNA test kits for ancestry, wellbeing, or both  
Performs autosomal, mtDNA, and Y-DNA testing Uses a swab sample instead of saliva
Great visualization tools
Free lifetime updates to ancestry results
Optional order of the customized supplement
Optional ancestry book
Winter Sale: Up to 25% off. 
Products and Pricing
Living DNA offers three DNA test kits:3 
Ancestry
Wellbeing
Ancestry & Wellbeing
Each kit contains: 
Cheek swab
Return envelope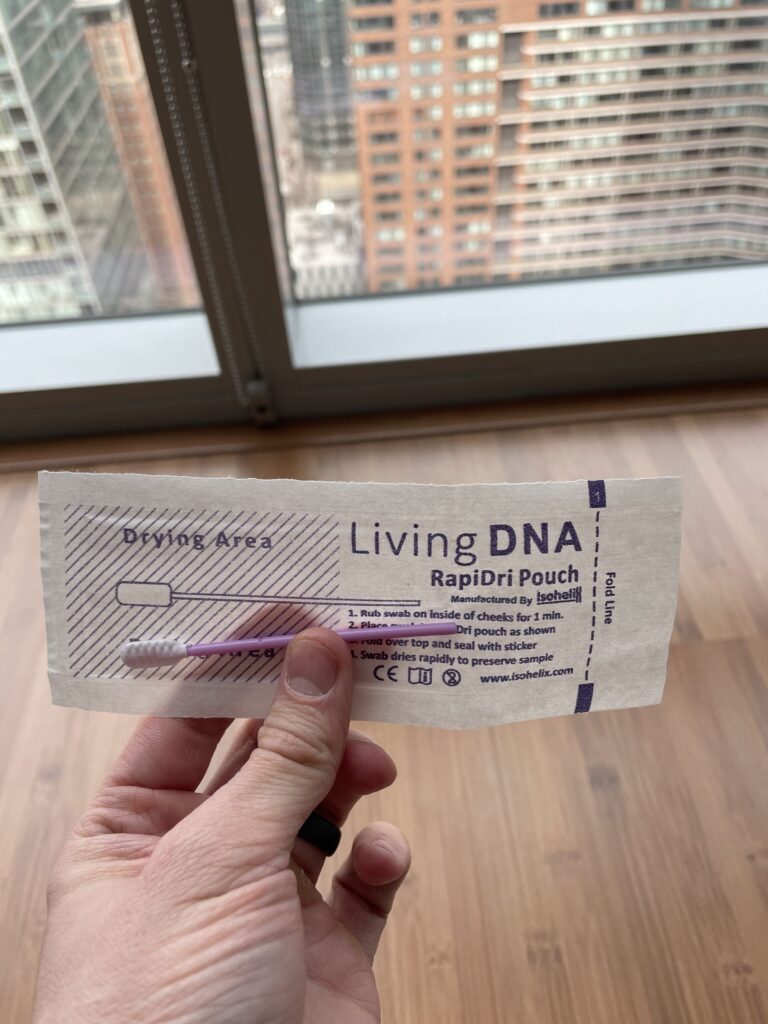 Living DNA also offers two optional products: 
Custom supplement 
Ancestry book
1. Ancestry Kit
Ancestry kit costs $79 plus shipping. It incorporates three types of DNA tests for ancestry analysis in one kit:
Autosomal: Looks at your autosomal DNA to establish family ancestry patterns. It shows the regions your ancestors were from as far as 1,000 years ago.
mtDNA: Examines your mitochondrial DNA to trace your maternal lineage. 
Y-DNA: It looks at Y-DNA to trace paternal lineage. This test only applies to men.
2. Wellbeing Kit
Wellbeing kit costs $89 plus a shipping fee. It analyzes 11 to 14 traits related to nutrition and exercise. 
The wellbeing kit comes with an assessment of how your body's genetics affect your vitamin response and food metabolism. It also gives you various nutrition and fitness reports, plus personalized vitamin recommendations.
3. Ancestry & Wellbeing Kit
Ancestry & wellbeing kit costs $109 plus shipping. It combines all the features and reports of both the ancestry and wellbeing kits.
4. Personalized Vitamins
Living DNA partnered with VitaminLab, one of the leading companies in personalized supplementation. 
If you choose either the wellbeing kit or the ancestry & wellbeing kit, Living DNA will recommend a supplement tailored to your wellbeing reports. 
You can order the customized supplement for $66 per month.
5. Personalized Ancestry Book
You can order an ancestry book that details your genetic ancestry in coffee-table format. It contains the same ancestry information that you have on Living DNA's website. 
The ancestry book costs $40.
How Does Living DNA Work
To initiate a DNA test: 
Order a test kit from Living DNA's website. 
Once received, activate the kit online.
Swab the inside of your cheek to get a DNA sample. 
Put the cheek swab into the tube.
Return your DNA swab sample to Living DNA.
Wait for test results after six to eight weeks. (Mine took 25 days.)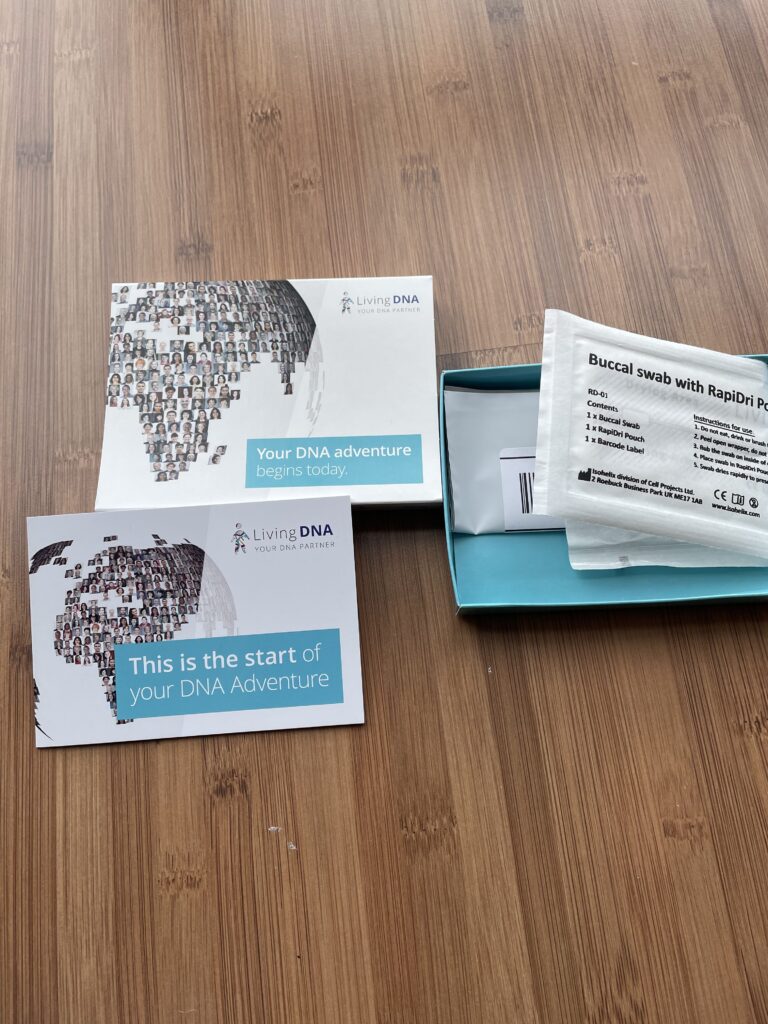 My Living DNA Results
You can access results directly through Living DNA's website. The results are divided into three types: 
Ancestry
Relatives 
Wellbeing
Ancestry
The Ancestry section is divided into three sections. Each section is based on the type of DNA test used.
Recent Ancestry is based on autosomal DNA. You'll learn about your ethnicity estimates and how your ancestors migrated worldwide.
Maternal Ancestry is based on mtDNA. You'll get detailed information about your maternal lineage.
Paternal Ancestry is based on Y-DNA. You'll get detailed information about your paternal lineage.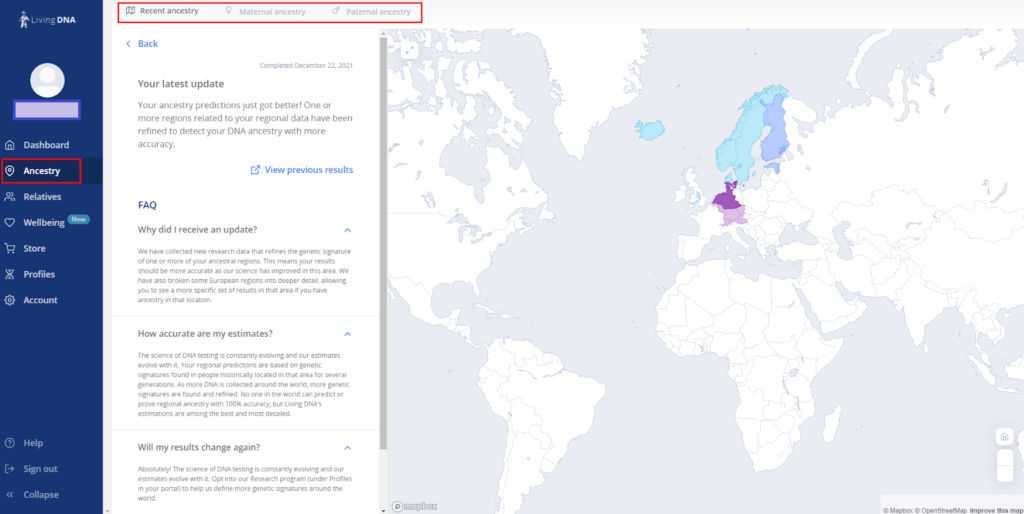 Recent Ancestry
The Recent Ancestry page focuses on your family ancestry that's determined by portions of DNA called "autosomes." 
Autosomes comprise 22 out of 23 pairs of human chromosomes. You received half of your autosomes from your mother and half from your father. 
Autosomes are inherited from generation to generation. This makes autosomal DNA testing sufficient in establishing ancestry patterns. 
When one population group lives in one area over time, the collective DNA of the group will become distinct from other ethnic groups' DNA. This is the basis for estimating ethnicity. 
On the recent ancestry page, you can find the places where your ancestors originated. It shows a regional breakdown of your recent ancestors within ten generations or roughly 300 years. 
One good thing about Living DNA is that it keeps updating. It continues collecting new data to refine the genetic signature of ancestral regions. 
So, expect your ethnicity estimates to change whenever there's an update. The updates are free. You can also refer to your previous results.
In my case, when I first viewed my profile in March 2019, I got this result:
When I updated in March 2022, my results shifted a bit and became more detailed: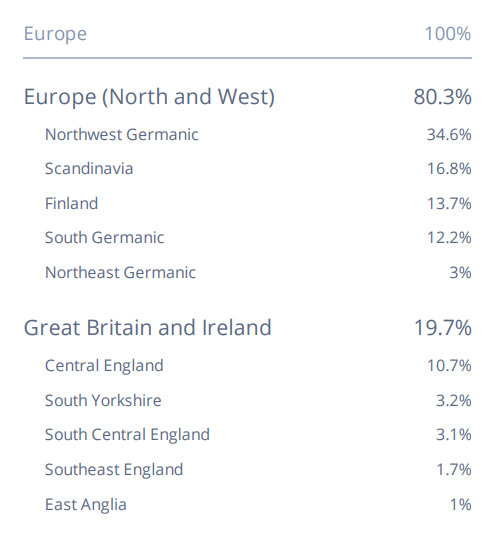 My results changed again in December 2022: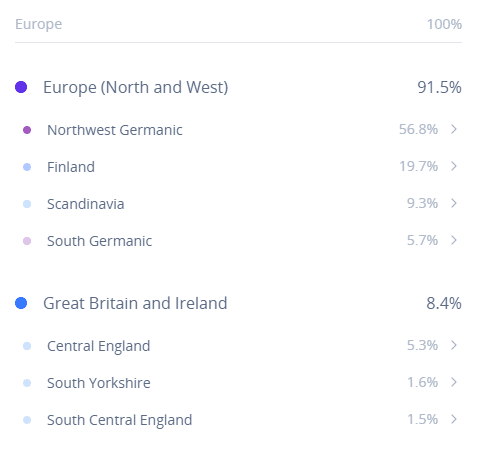 While my top ancestral region remains North and West Europe, the percentage changed from 77.8% to the most recent 91.5%.
Haplogroup
Before we go into the Maternal and Paternal Ancestry pages, let's first define haplogroups. 
A haplogroup is a genetic population of people with a common ancestor on either their paternal or maternal line.4
A woman passes the same mtDNA to all her children. A man passes the same Y-DNA to his sons. 
People will share similar mtDNA or Y-DNA over multiple generations, which becomes the basis of haplogroups. 
Living DNA's maternal ancestry focuses on mtDNA haplogroups, or people descended from the same female ancestor. 
On the other hand, Living DNA's paternal ancestry focuses on Y-DNA haplogroups or people descended from the same male ancestor.
Winter Sale: Up to 25% off. 
Maternal Ancestry
The maternal ancestry page explains details of your maternal haplogroup. It includes a migration map and a coverage map.
The migration map is one of the more exciting features I've seen in all of the DNA testing kits I've taken. 
It illustrates how the ancestors from my mother's haplogroups moved through the world to where I am today. This is also called migration pattern.
My motherline signature belongs to the H13 group. This group likely came from the southern regions of Europe or the Caucasus.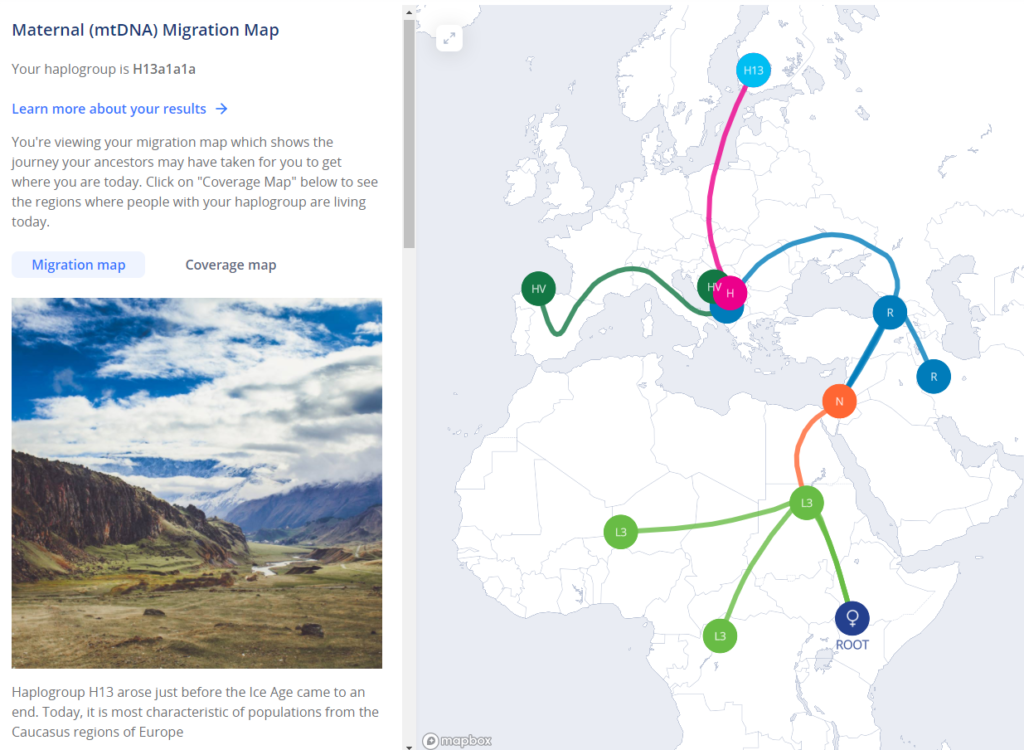 Coverage map shows where people from my maternal haplogroup live today. For instance, If I visit the Daghestan or Georgia regions, I might bump into someone with whom I share a common female ancestor.
Paternal Ancestry
Paternal Ancestry is an additional feature for males. It explains the details of their paternal haplogroup.
It tracks the ancestry patterns of the Y-DNA or Y chromosome. Females won't have this page since they don't have Y-chromosomes.
Like maternal ancestry, the paternal ancestry page also includes migration map and coverage map. 
Migration map shows the journey taken by ancestors from my paternal haplogroup to get to where I am today. 
In my case, my fatherline's signature belongs to the R-M269 group. This group is most common in Europe, especially on the western side.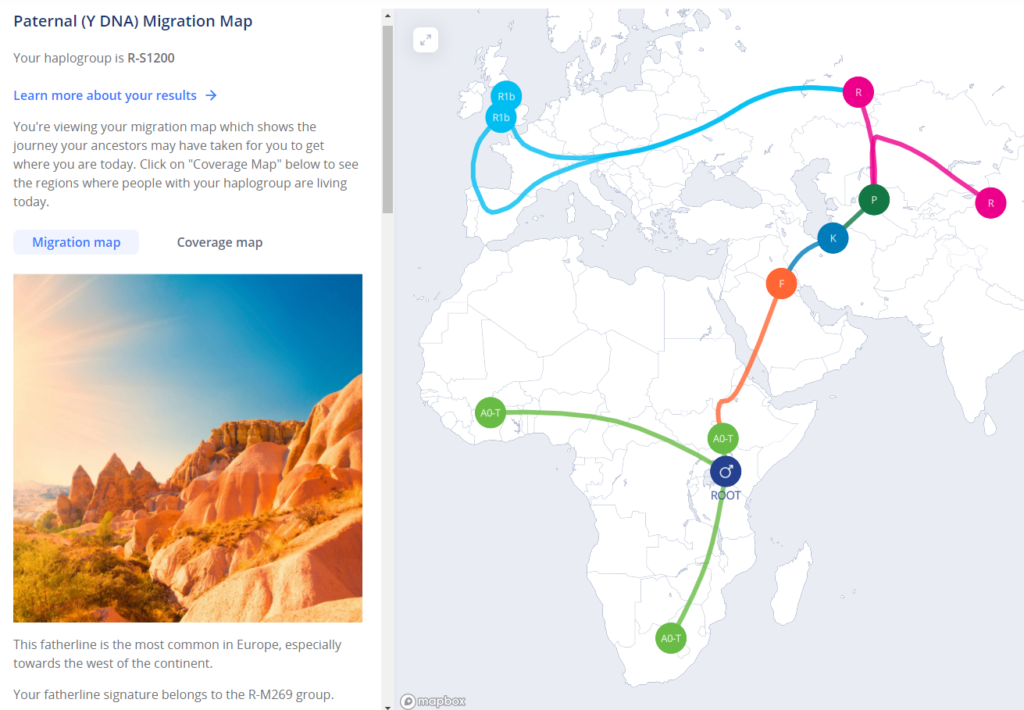 Coverage Map shows where people who share my paternal haplogroup live today. This means that if I visit such regions, I may meet someone with whom I share a common male ancestor. In my case, they are probably in Wales.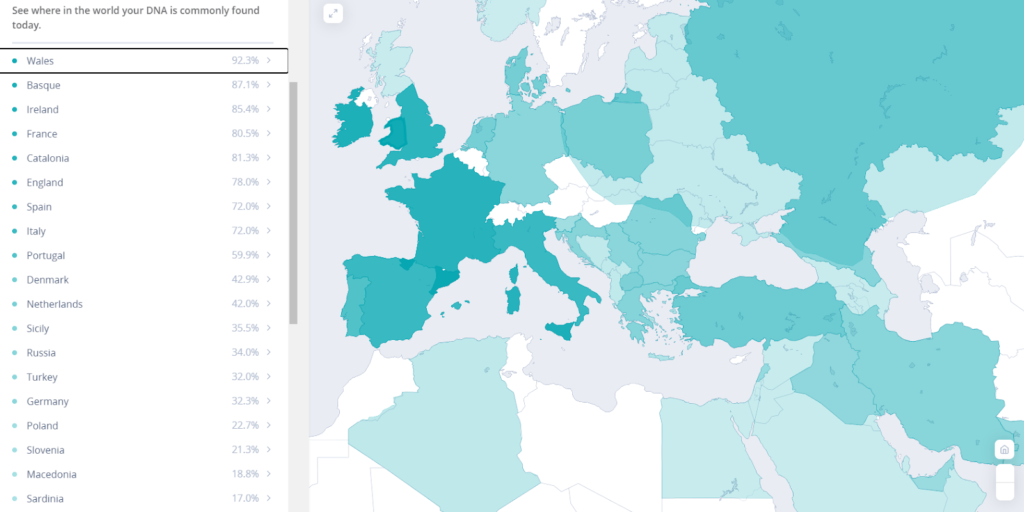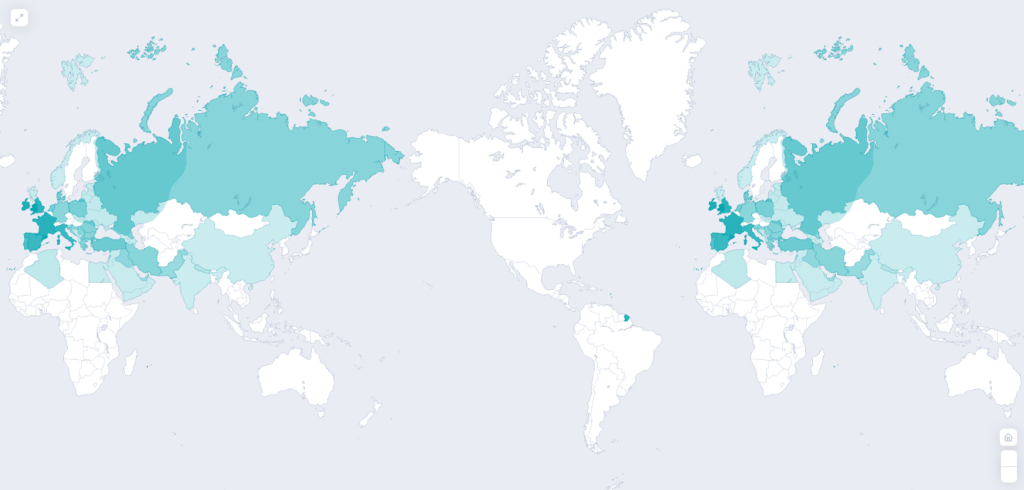 Relatives
This page is about family matching. Here, you can find and connect with possible relatives who have uploaded their DNA results to Living DNA's database.
Living DNA's database appears to be limited compared to bigger ones like 23andMe or Ancestry DNA, so expect fewer DNA matches. 
But with a lifetime of free updates, the company has great potential to grow. It can have the capacity to help its users find relatives in the same way companies with bigger databases, like Ancestry and 23andMe do.
Wellbeing
This page is for those who purchased the Wellbeing Kit or the Ancestry & Wellbeing Kit. It covers 14 wellness traits:
Vitamin A
Vitamin B12
Vitamin C
Vitamin D
Omega-3
Carbohydrates and Sugars
Lactose Tolerance
Celiac Disease Risk
Maximum Strength
Recovery Speed 
Endurance - Oxygen Flow
Endurance Trainability 
Endurance - Blood Vessel Response 
Tendon Durability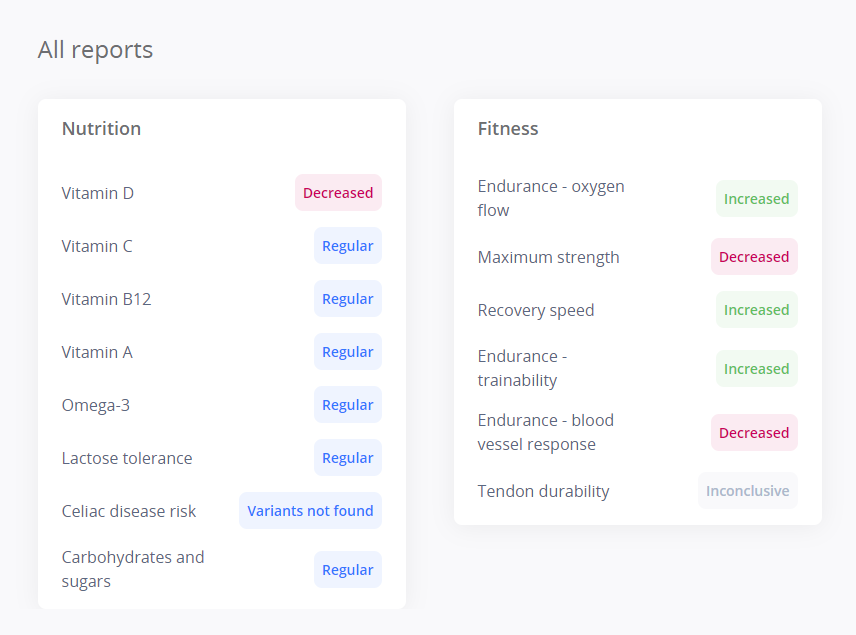 The reports offer nutrition advice and specific exercises that may help you meet your wellness goals depending on your traits. 
As a demonstration, I dug into the stamina report: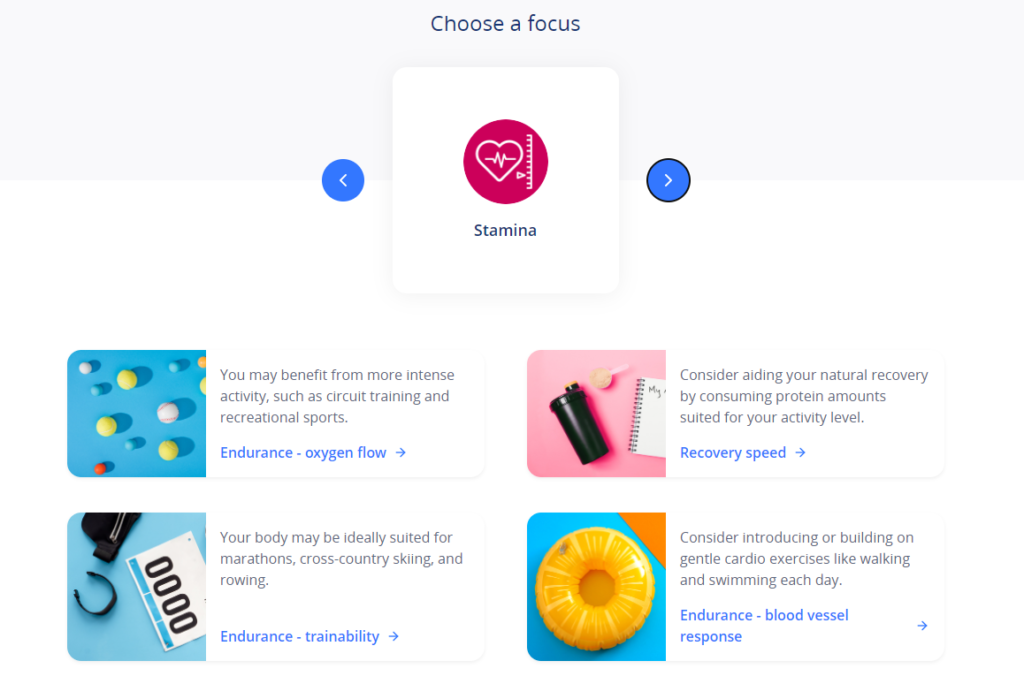 The Stamina page includes four traits. I clicked on Recovery Speed, and it led me to this page: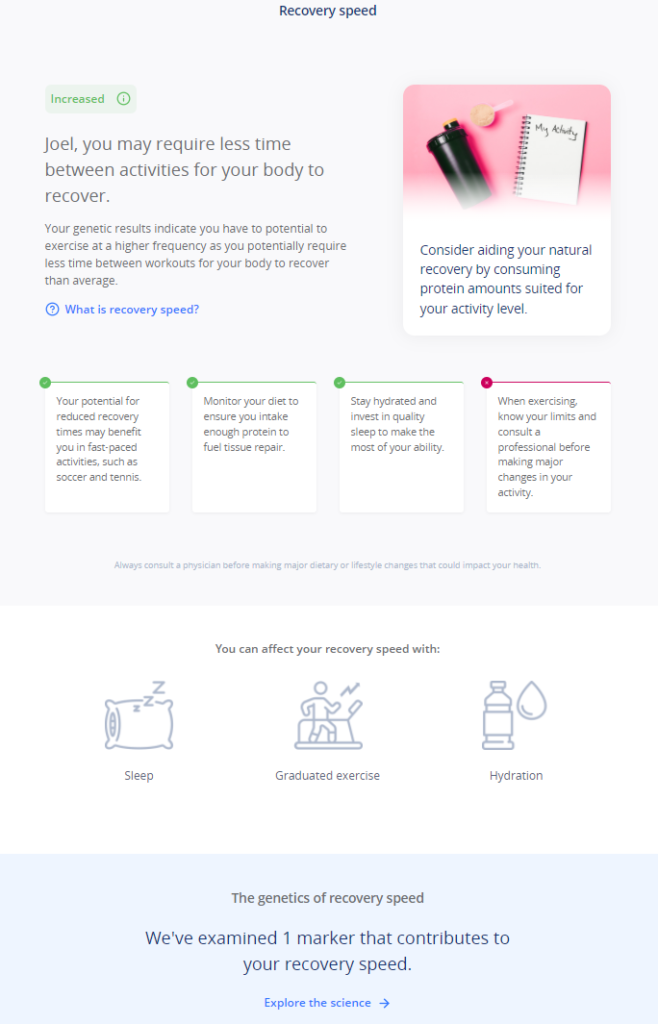 The recovery speed page gives suggestions. Roughly 10 to 25% of the report is interesting, while the rest is standard health advice. 
Living DNA will also generate a supplement report based on your DNA data. It will recommend a custom supplement mix, which you can order online.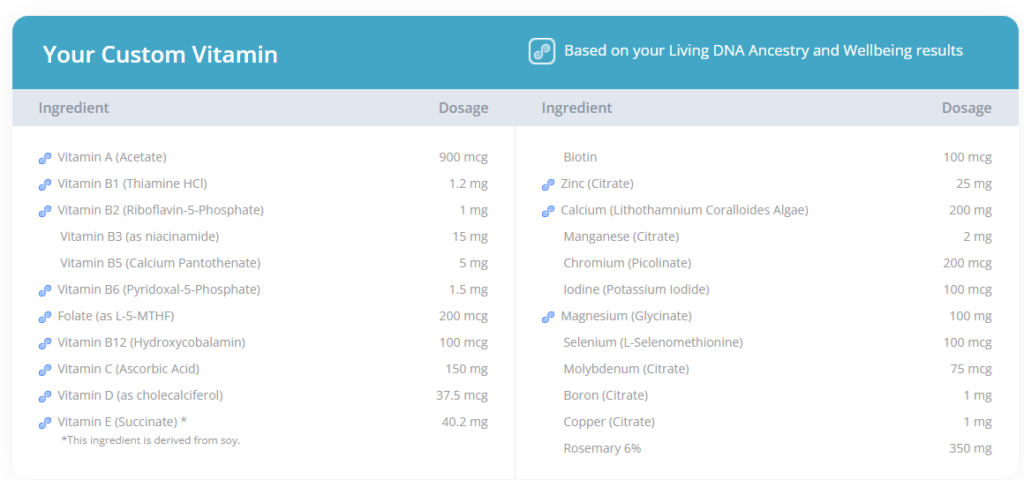 The supplement costs $55 per month, which is pretty expensive. I'm unsure if this supplement is worth buying, but this is an interesting place to monitor.
Living DNA's wellbeing reports have various information about your health. But they are not designed to diagnose you.
They don't offer genetic health risks or carrier status information, which you can find in 23andme and other providers. 
Extra Features
Here are additional features of Living DNA:
Upload DNA: Living DNA allows you to upload DNA results from other DNA testing companies. 
Download DNA: Living DNA lets you download your raw DNA data. You can then upload this data into other DNA upload sites to learn more about your ancestry or genetic health risks. 
Support Center: Includes a searchable FAQ and article database.
Living DNA Privacy
According to Living DNA's privacy center:5  
You're in charge of how the company will use your DNA data. You have the option to delete your account. 
The company has safeguards to ensure confidentiality. For example, it uses ISO:27001, an international standard for data management and information security. 
Living DNA complies with GDPR (E.U. General Data Protection Regulations). They can't share data with third parties without your consent. 
Living DNA promises not to aggregate and sell your genetic DNA analysis data. However, the company uses your data for internal research for their One Family One World Project and other genetic research.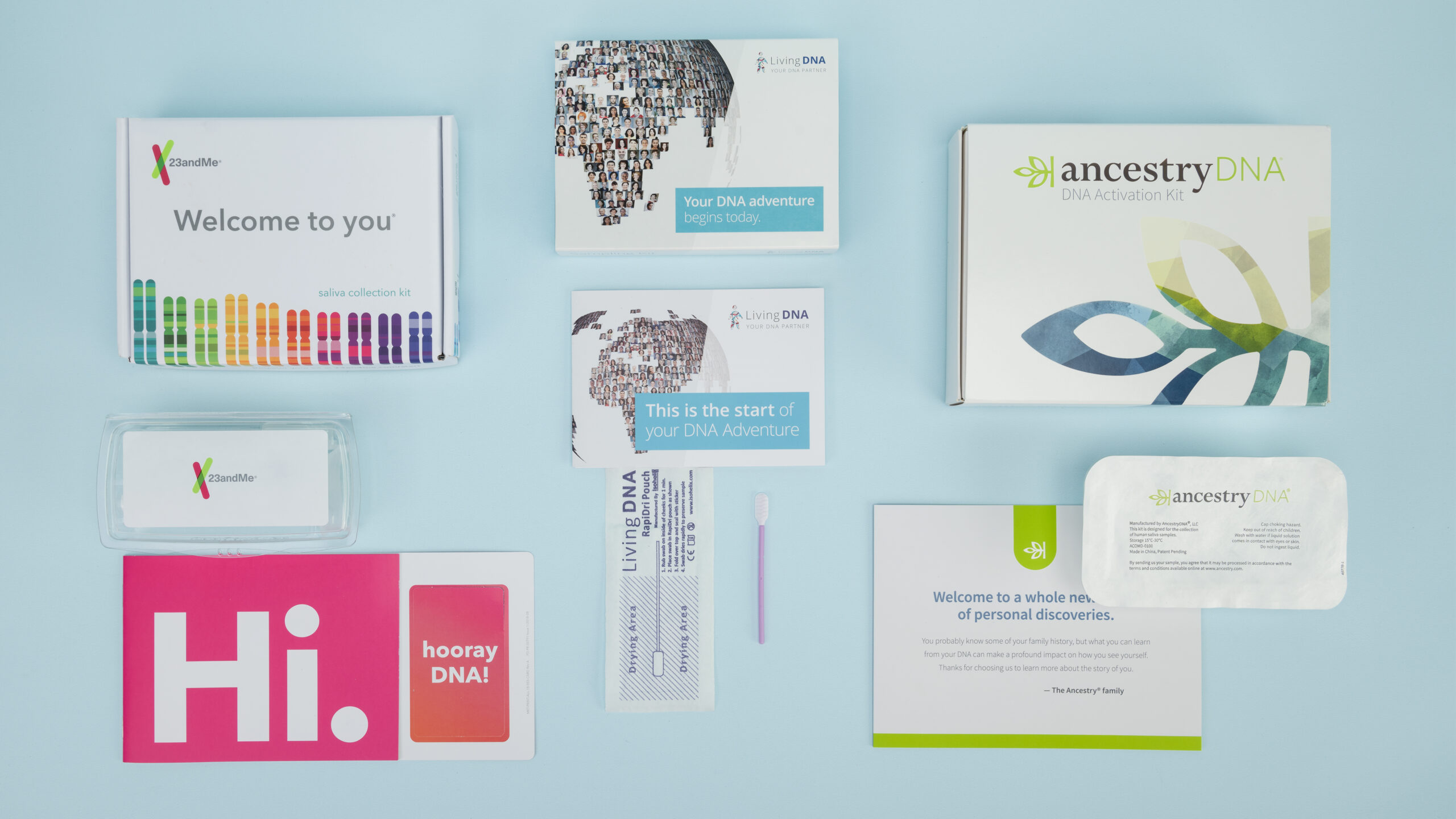 Best DNA Kit
Don't miss out on the opportunity to learn more about yourself. Read our best DNA test page to find the best one for you.
Is Living DNA Accurate?
No genetic testing can guarantee 100% accuracy on information about where our ancestors lived. We will still look for large regions most of the time. 
Fortunately, Living DNA has a sub-regional breakdown besides the larger regional analysis.
Living DNA has a majority of users from the UK. This makes their results accurate for people with European, British, and Irish ancestry. 
However, ancestry reports for users with ancestors from France, Germany, Italy, or other European countries may need to be more accurate. But Living DNA's increasing updates with their reference populations should resolve this issue over time.
Living DNA also recently expanded into Africa. With 72 new regions, it now has one of the most extensive reference panels for African ancestry testing.6
Living DNA's wellbeing kit is priced similarly to genetic health kits offered by other companies. However, it doesn't report your carrier status or genetic health risks. 
You can download your data from Living DNA and upload it to other services. You can get more information about your health by using the data that you already have. 
‍How Does Living DNA Differ From Other DNA Tests?
Living DNA vs. 23andMe
Both Living DNA and 23andMe combine autosomal, mtDNA, and Y-DNA into their ancestry test kits. However, 23andMe does more in terms of health screening.
Living DNA vs. Ancestry DNA
Living DNA's ancestry kit has autosomal, mtDNA, and Y-DNA tests. Ancestry DNA only tests for autosomal DNA.
Living DNA breaks your ethnicity results down into more regions. But Ancestry DNA offers a more comprehensive family matching service. 
Living DNA vs. Family Tree DNA
Family Tree DNA offers autosomal, y-DNA, and mtDNA tests. However, you need to buy all kits if you need all three tests. Living DNA bundles all three tests in its ancestry kit.  
Living DNA's autosomal DNA test provides ethnic profiles that are more detailed than Family Tree DNA. 
Family Tree DNA offers a better family matching service. Its Y-DNA and mtDNA tests are more extensive. 
Living DNA vs. MyHeritage DNA
Living DNA offers all three types of DNA tests. MyHeritage only offers autosomal tests.
Regarding health screening tests, MyHeritage provides carrier status and genetic health risks. This is something not offered by Living DNA.
MyHeritage has historical records and a family tree builder, while Living DNA has none.
Pros
Performs all three DNA tests (autosomal, mtDNA, Y-DNA)
Can trace your father's and mother's lineages
Nothing is hidden behind a paywall
Strong privacy protection
Ability to download and upload raw DNA data 
Free lifetime upgrades
Cons
Database size isn't as big as 23andMe or Ancestry DNA
Cost is on par with competitors but doesn't feel you're getting much for the price
Wellbeing reports don't provide carrier status or genetic health risks
Results may be inaccurate due to the concentration of users in the U.K.
Winter Sale: Up to 25% off.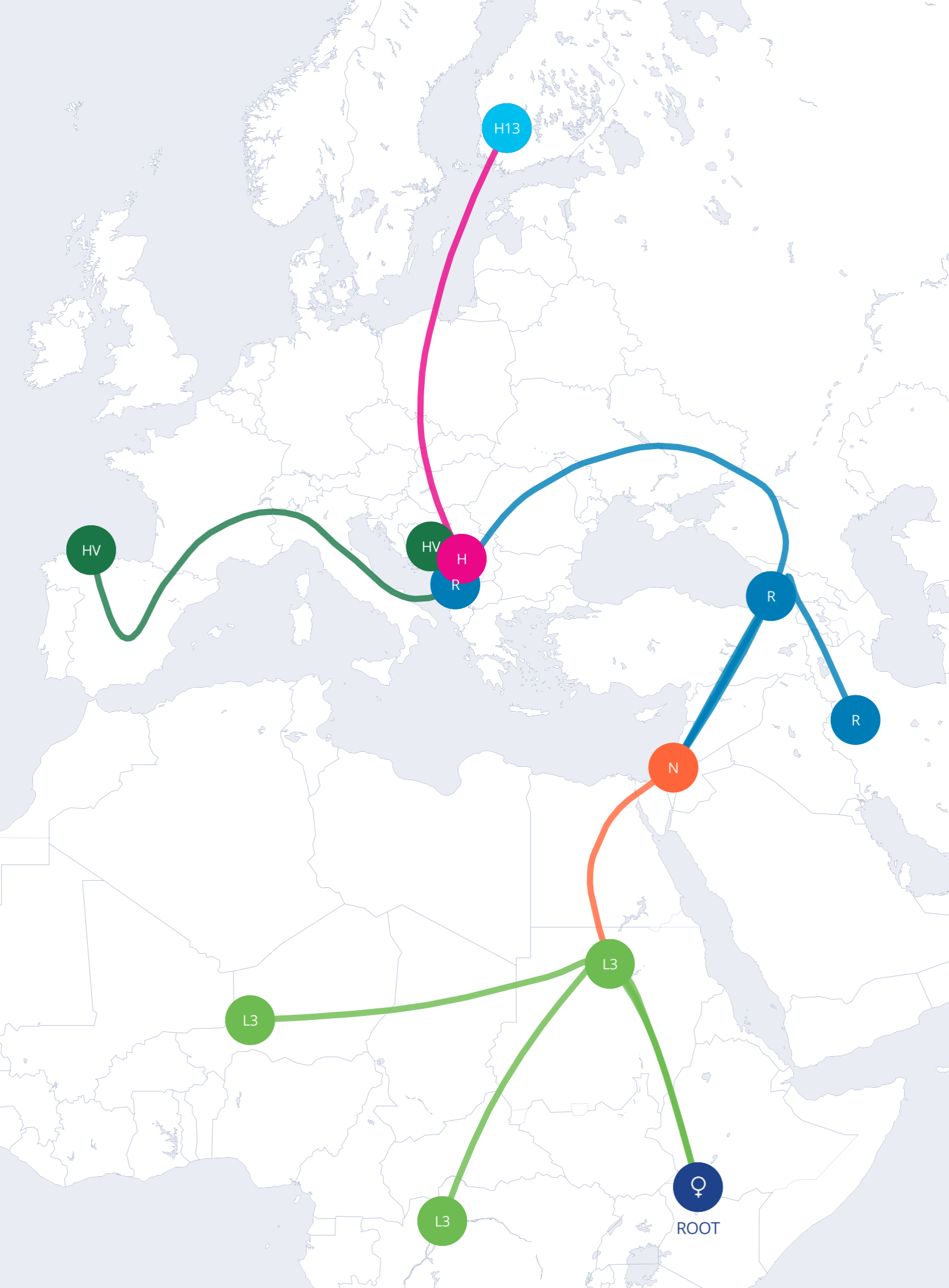 The Best DNA Test
Looking for a DNA test that's accurate and can tell you about your health and heritage?