Only founded in 2016, Living DNA is considered a recent entry to the field. However, it's an off-shoot of DNA Worldwide, a leader in forensic testing, founded in 2004.
The company provided DNA testing kits for court before entering the at-home DNA testing kit market. LivingDNA ensured a high level of accuracy demanded by the justice system.
Read on to see our Living DNA review to see what we think of it.
Unlike AncestryDNA, Living DNA scans both the Y-chromosome and mitochondrial DNA (mtDNA), to better elucidate your family history.
In all, Living DNA investigates 46 specific locations to shed a light on your ancestry results. This is compared to the 16 locations scanned by other popular kits.
This allows for the reliable discovery of relatives as far away as a 5th cousin.
Living DNA:
Founded in 2016 (one of the newer consumer DNA testing services)
Offers information with maternal line and paternal line ancestry results
Has some of the best DNA visualizations out there
Allows you to see motherline and fatherline
Gives you three types of DNA testing: autosomal DNA, mitochondrial DNA, and Y-chromosome
Free, lifetime updates to your ancestry results
Quick facts:
| | |
| --- | --- |
| Sample Collection | Cheek Swab |
| DNA Testing Type | Autosomal, mtDNA, YDNA (all 3) |
| Speed | 6-8 weeks (mine took 25 days) |
| Privacy Protection | Strong |
How much does LivingDNA cost?
The price varies for LivingDNA, typically the ancestry starter kit runs $79-$99.
The Ancestry & Wellbeing Kit runs $149-$179.
What is in the box?
Cheek swab for taking your DNA sample
Return envelope to return your DNA sample via mail
Send in steps
How to send in LivingDNA test Kit
Activate kit online

Follow online instructions to take your DNA sample

Swab inside of the cheek

Put cheek swab inside the tube

Return DNA sample to LivingDNA for sequencing

Wait for test results
Living DNA gives you video instructions on how to send in your DNA sample in case there are any questions.
Privacy policy of Living DNA
Living DNA's privacy policy states:
ISO:27001 is an international standard for data management and information security. It ensures that any certified business has taken proactive and on-going measures to maximize the safety of your data.
Along with compliance to GDPR, Living DNA is one of the safest organizations to trust with your precious genetic details.
LivingDNA has a robust privacy policy, but of course, taking Living DNA's tests are not without their dangers.
Cyber Monday Deals
ENDS SOON - Biggest Discounts of the Year
Now is the best time to get a DNA kit. Companies are running specials of up to 50%.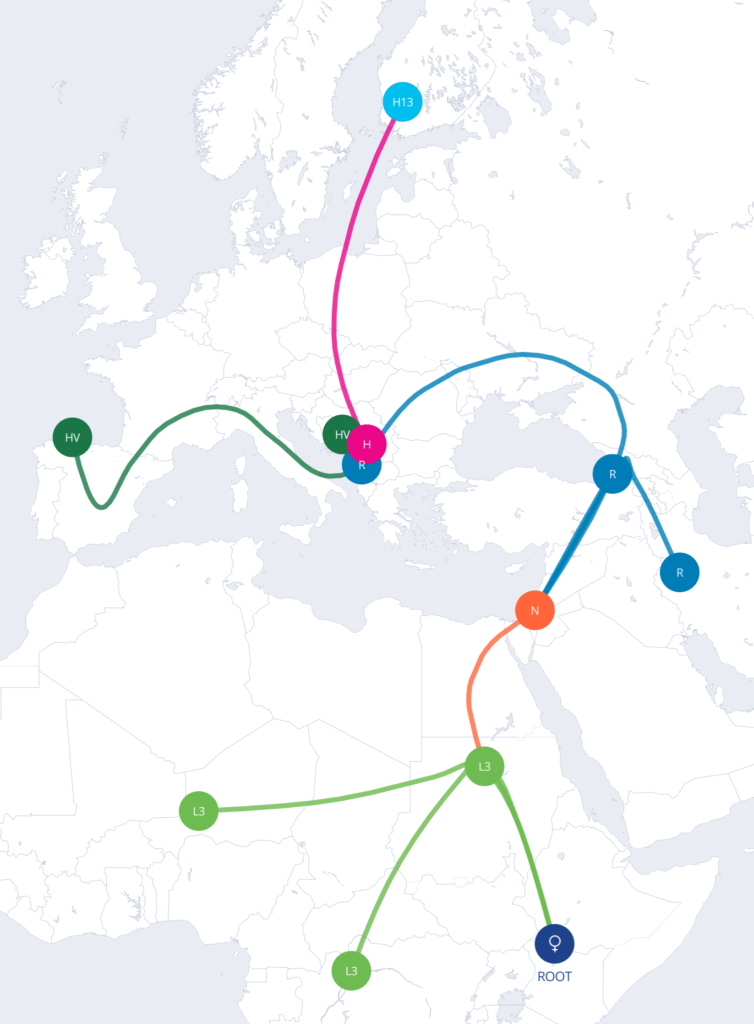 The DNA results
Living DNA shines when it comes to the test results.
With an easy-to-use interface, you can explore your Family Ancestry, Motherline, and Fatherline. These test results are powered by the three different types of DNA tests that Living DNA employs: autosomal DNA, mitochondrial DNA, and y-chromosome, respectively.
Considering that the y-chromosome is what genetically defines a biological male, this form of testing is not available to genetic females.
Family Ancestry
Clicking your Family Ancestry displays the complex yet approachable personal information that your genes reveal about your ancestry.
It starts by showing you the regional breakdown of your more recent ancestors, within 10 generations, or roughly 300 years. Also, you can toggle the level of confidence you'd like to see in their estimates. The estimates span from a wide-ranging overview to a strict 'Cautious' filter.
Living DNA also has a migration map that illustrates how your ancient ancestors moved through the world to where you are today.
This is a particularly exciting way to see how and where your family history evolved throughout the ages and for specific points in time.
Through History
How accurate is this?
Anything based on past human behavior is not exactly a precise science; at worst, it isn't much more than speculation. But, for most of our history, humans have moved slowly.
They frequently lived their entire lives within a few kilometers from where they were born. This has helped to pinpoint specific regions as generational homelands through historical and genetic records.
However, occasionally, a quick migration will happen.
These vast shifts can leave gaps in the historical record that may result in lower scores of confidence for your genetic ancestry. They may also work in your favor, like in the example of North American colonization by Europeans.
These huge transfers of genetic material can create 'founder effects' that limit specific DNA markers to certain locations.
Above all, no genetic testing can give you a 100% guarantee of where your ancestors lived. Even though it could, you're still looking for large regions the majority of the time; think countries rather than counties. Luckily, Living DNA also includes a sub-regional breakdown in addition to their larger regional breakdown.
While your DNA results are based primarily on comparisons to millions of other tests, including those with well-established family trees, they're still quotes. Thankfully, Living DNA's tests allow those who haven't purchased their DNA testing kits to upload their raw data. As a result, this expands their network and increases their accuracy while providing details to Uploaders that competitors can't offer.
The more folks that take genealogical DNA tests, the more accurate they become.
Living DNA exemplifies this by providing their insight on DNA raw data. On top of it all, they provide a lifetime of updates as their DNA databases grow.
Motherline
Each cell in your body contains at least two types of DNA: autosomal DNA and mitochondrial DNA. Consequently, the 'autosome' is a mix of DNA that you received from your paternal line and maternal line. 
The mitochondria are the energy generators of the cell, brought along with a mother's egg at the time of conception. These peculiar cellular components have their own set of DNA, always transferred from mother to child. 
This mitochondrial DNA comprises genetic material that was passed through the female line, for as long as humans were humans. As a result, mutations in this stowaway genome assist in defining the aspects of your Motherline.
Through this information, you can identify your maternal Haplogroups and Subclades.
The ability to see your mother's migration map is one of the more exciting things I've seen in all of the DNA testing kits I've taken.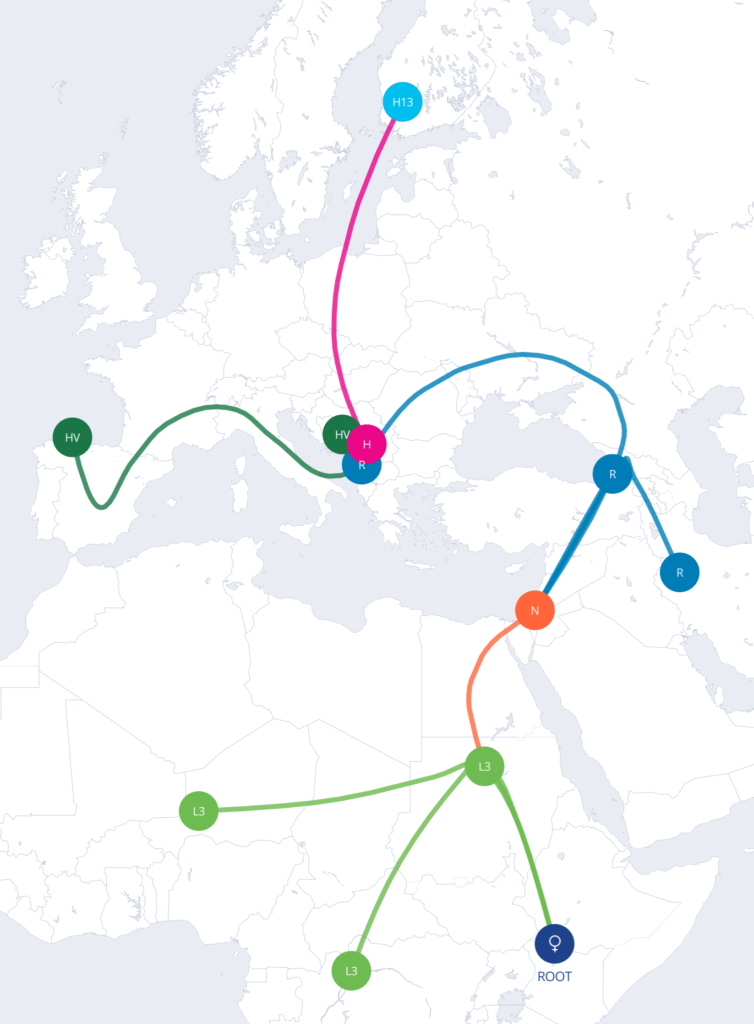 Fatherline
For males, an additional feature exists, called the Fatherline.
This, like the Motherline, tracks the migration patterns of a particular type of DNA. The y-chromosome is passed from the paternal line to a son, with mutations in this genome identifying historical components of your father's lineage.
This will show you if your fatherline came from Europe, Africa, etc.
Browsing the Phylogenetic Tree shows you your family tree DNA through either your maternal line or paternal line, depending on the section.
Family Networks
Living DNA can do what other DNA testing companies do as well (23andMe and Ancestry): connecting you to other relatives that have uploaded their DNA results to the service.
Unfortunately, Living DNA didn't find any matches for me, whereas every other testing service did. This may be due to the infant nature of the DNA testing company compared to the behemoths in the industry.
The primary advantage of Living DNA is the ability of non-customers to upload their raw data. Their databases may seem limited when compared to 23andMe or AncestryDNA. However, they have the greatest capacity to grow, with a lifetime of free updates.
This system fuels the 'One Family, One World' project, an initiative undertaken by Living DNA.
They aim to connect the most people, through contributions of customers and uploaders, alike.
Raw Data
It's a feature offered by many other DNA testing companies as well. But, Living DNA provides the option to download your raw DNA data, for analysis by various other testing services.
Considering their focus on ancestry rather than health, the raw DNA data will feel insignificant compared to the profile provided by 23andMe. Nonetheless, raw data is always worth downloading.
Upload DNA File
Living DNA also allows you to upload DNA results from another testing service (23andme, AncestryDNA, or any major DNA testing company).
This includes you in the 'One Family, One World' project, which aims to create connections between as many individuals as possible. Because of this, there is also an option to allow your DNA data to be used for research purposes.
Your DNA contributes to the pool of knowledge surrounding genetic variation.
An upload also grants you access to the family matching service provided to Living DNA customers.
This can assist in building Family Networks and potentially finding connections that a competitor might have missed.
Wellbeing
I tested the Wellbeing function to see if the info was applicable and interesting.
After purchasing the Wellbeing function, you are either able to look at all of your traits, which can be overwhelming, or look at the different focuses.
These focuses are:
Stamina
Weight Management
Energy
Healthy Eating
Longevity
Digestion
Strength
Flexibility
Digging into one of these, Stamina, gives you this:
Clicking on one of these shows you:
Reading most of the suggestions seems to give me fairly standard health advice. I would say 10-25% of the reports were interesting, the rest are standard health advice, such as:
Not really novel information, but still very interesting.
Overall, I think the Wellbeing module is worth it.
Extras
If you just buy the Ancestry Kit, you are able to upgrade to the Wellbeing kit for around $40:
You can also order a personalized Ancestry Book:
Living DNA has also recently started selling personalized vitamins (this goes hand in hand with their Wellbeing module).
Here's what LivingDNA suggests for me:
This goes for around $55/month, which is pretty expensive for Vitamins. I don't know the science suggests it's worth buying this right now, but this is an interesting place to keep an eye on.
Overall
Living DNA is newer to the DNA testing service scene; it does not feel as elegant as 23andMe despite costing the same. Nonetheless, it is a well-put-together genetic testing kit and offers great support. Providing that you are looking to discover the sub-regional breakdown of nations where your newer ancestors lived.
The Living DNA testing kit doesn't supply you with any medical info based on your DNA results. The only DNA testing company that does provide both genealogical and medical tests is 23andMe.
Living DNA Vs 23andMe
23andMe used to differentiate itself from LivingDNA using health tests. Now, with LivingDNA adding Wellbeing:
there isn't as much difference between the 2. 23andMe still is a much more mature service, so you would expect their health results to be slightly better (but there aren't really any studies comparing the 2).
Living DNA runs $149 for a Health + Ancestry, whereas 23andMe runs $199. Both will give the layperson perfectly usable information, so it comes down to what you want to pay.
LivingDNA vs MyHeritage
LivingDNA is a much more polished product. I would say that LivingDNA competes well with AncestryDNA and 23andMe, whereas MyHeritage competes with services like GPS Origins, Family Tree, and others.
Pros
Beautiful visualizations
Allows you to get all three tests done (Autosomal DNA, mtDNA, y-chromosome)
Strong privacy protection
Ability to download raw data 
Can look through fatherline + motherline
Nothing is hidden behind a paywall 
Allows upload of DNA data for free (for now)
Cons
Database size isn't as big as 23andMe or Ancestry
The same cost as competition, but doesn't feel like you're getting as much for the price
No DNA relative matches (small database size)
Cyber Monday Week
Best Prices of the Year
We monitor prices year round - now is the best time to buy a DNA kit for the lowest price.