Short Answer: Yes. A liquid diet consisting of liquid foods such as smoothies, shakes, and bone broths can help you lose weight.
Studies show that consuming low-calorie liquids can reduce your calorie intake and promote weight loss.1,2 This is true even if you eat them with low-calorie foods or not.
However, doctors don't usually recommend a total liquid diet for losing weight, especially when it comes to long-term weight management.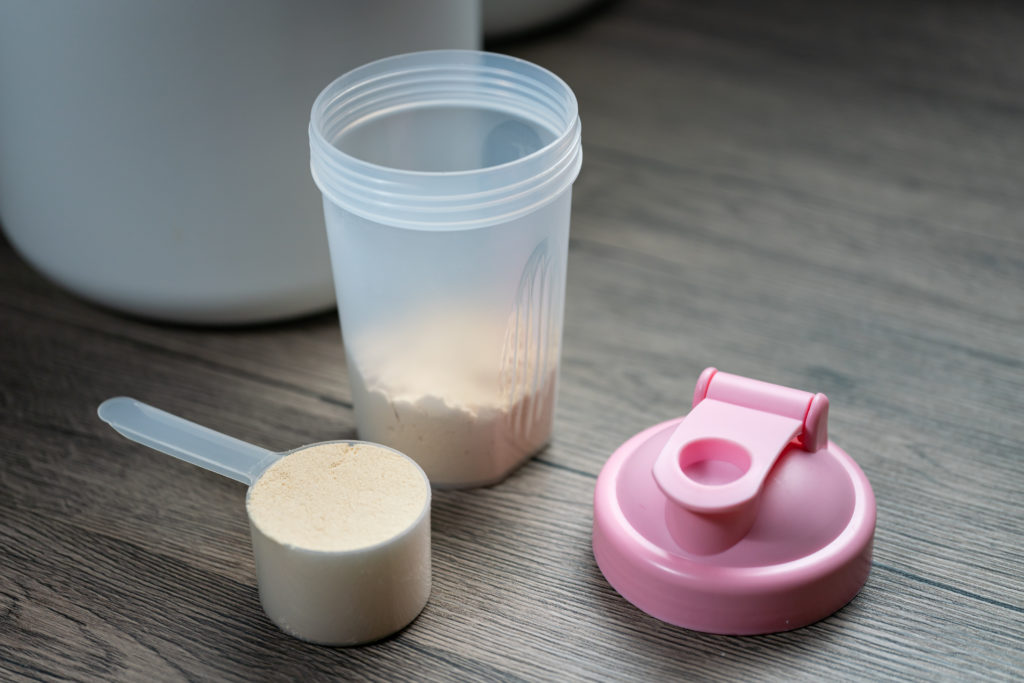 Some doctors may initially prescribe it for weight loss. But it's likely they will switch you to healthier weight loss diets after a few weeks.
A liquid diet may also not work for you. Each person has unique nutritional requirements depending on factors like their health and metabolism.
If you want to lose weight through a diet, ask a dietitian or a nutritionist. They can determine if low-calorie liquid diets are a good option for you.
What Is A Liquid Diet?
A liquid diet usually consists of liquid drinks. But it may also contain solid foods that melt or turn into liquid at room or body temperature.
Soft foods and solid foods that can be liquefied using blenders, food processors, and other methods may also be consumed with some liquid diets.
Why Do Doctors Prescribe Liquid Diets?
Doctors may prescribe liquid diets if you have difficulty eating or if they don't want your body to exert a lot of effort into digesting food. They may ask you to stick to a liquid diet after an injury or illness that makes it hard to chew or swallow.
Unlike solid food, liquids don't require chewing or swallowing. They're also easily digested by your digestive tract, which allows the quick absorption of nutrients.
Your doctor may recommend a clear or full liquid diet based on your health.
The Difference Between Clear Liquid vs. Full Liquid Diet
There are two types of liquid diets: clear liquid and full liquid diet. The foods you can eat depend on the diet you're on and your doctor's orders.
What Is A Clear Liquid Diet?
A clear liquid diet is often given to restore your body's hydration, electrolytes, and energy levels. It tends to be bland and isn't nutritious or satisfying to eat.
The diet consists only of clear liquids with little to no residues. This includes drinks you can see through and a few solid foods that melt into clear liquids.
What Can You Eat On A Clear Liquid Diet?
Clear liquids usually have a thin and smooth consistency. They're either transparent (all light passes through) or translucent (some light passes through).
Some foods that you can eat with clear liquid diets:
Water and ice cubes
Coffee and tea without milk or creamers
Sodas and other carbonated beverages
Nutrition and sports drinks
Clear or strained fruit or vegetable juices
Clear and non-fat soups and broths
Sugar, honey, and syrups
Pulp-free popsicles and sorbets
Flavored or plain gelatin
Hard candies
What Is A Full Liquid Diet?
A full liquid diet program is often recommended following a liquid diet. It's more flavorful, nutritious, and filling than clear liquids.
The diet may contain any drink or solid that melts into a liquid. This includes solid foods that can be liquefied and blended with other liquids.
What Can You Eat On A Full Liquid Diet?
Full liquids usually have a thick and heavy consistency. They also tend to be opaque (no light passes through).
Some foods you can eat with a full liquid diet are:
Milk, milk teas, and other milk drinks
Ice creams, yogurts, and sherbets
Butter, margarine, and oil
Creams, custards, and pudding
Creamy soups and fatty broths
Full liquid diets may also be supplemented with soft foods like pureed fruits and vegetables, strained meats, and cooked refined cereals such as cream of rice.
How Long Can You Do A Liquid Diet?
Most doctors will get you started on a clear liquid diet for 24 hours to a few days, depending on your condition and how quickly you recover.
If they place you on a clear liquid diet for more than five days, they may ask you to take low-residue supplements like high-protein gelatins for better nutrition.
Doctors will eventually shift you to a full liquid diet or a soft diet. Based on your progress, this can last anywhere from five days to several weeks.
When they feel that you're recovered enough, they will reintroduce you to eating regular meals consisting of solid foods.
What Are The Benefits of A Liquid Diet?
A liquid diet offers numerous benefits for your gastrointestinal (GI) tract and overall health. For example, it can:3,4
Prepare your digestive system for medical procedures like surgery and colonoscopy while reducing your risk for nausea and other side effects
Reduce your exposure to foods that trigger digestive symptoms like diarrhea and vomiting, giving you time to recover
Relax your GI tract and speed up its recovery from gut infections and inflammatory conditions like pancreatitis and gastritis
Provide you with a convenient source of nutrition after surgery and other procedures when you're not allowed to eat solid foods right away
Ensure that you continue to receive nutrition even if you suffer from conditions that make it difficult to eat or swallow food, like dysphagia
Potential Benefits of Liquid Diets for Weight Loss
Research shows that liquid diets are possibly beneficial for overweight and obese people who want to lose weight.1,2
In one study, over 300 overweight and obese people with type 2 diabetes followed a strict liquid diet with 825 to 853 daily calories.
After twelve to eighteen weeks, some of the liquid foods were replaced with regular food. Despite this, they continued to eat fewer calories with the mixed diet.
By the end of twelve months, nearly a quarter of the men and women who started on a strict liquid diet lost 33 pounds or more of their body weight.1
In another study, thirty obese people who needed to lose 8 percent of their body weight for bariatric surgery were each given 1,000-calorie liquid diets.
By the seventh week, most of them (77 percent) had already reached their goal and lost an average of 9.3 percent of their total body weight.2
How Does A Liquid Diet Work for Weight Loss?
A liquid diet replaces some, most, or even all of your meals with liquids. Instead of eating regular food, you consume liquids like fruit juices and chicken broth.
With the right food choices, a liquid diet can help you consume fewer calories than you normally would. This reduces your overall caloric intake.
For example, if you normally eat 4,000 calories, a low-calorie liquid diet can decrease your intake to 1,500 calories per day or less.
Reducing your calories encourages your body to get its energy from food and stored excess fats and prevents it from converting the food you eat into body fat.
The combined effects of calorie reduction are how liquid diets aid weight loss and prevent further weight gain.
How Much Weight Can You Lose On A Liquid Diet?
You can lose anywhere from two to four pounds per week (or possibly more) on very low-calorie diets consisting only of liquids.
However, it may be healthier to aim for one to two pounds of weight loss per week instead of rapid weight loss.
People who lose weight gradually are more likely to keep it off than those who lose weight quickly.5
Pros and Cons of A Liquid Diet for Weight Loss
Using a liquid diet to lose weight has its pros and cons:
Why A Liquid Diet Is Good For Weight Loss
1. Many liquid diets to choose from
Medically-prescribed liquid diets like clear and full liquid diets are not your only options for weight loss. There are other liquid diets for losing weight, such as:
Detox liquid diet – Consists of fruit and/or vegetable juices, which can boost your gut microbiome and help you get used to eating healthy again
Liquid meal replacement diets – Replaces your meals with food products that are designed to reduce your calories without depriving you of nutrition
Here are some of the best meal replacement shakes we recommend for weight loss.
2. Gives you the flexibility to pick foods
Liquids aren't the only foods you can consume with a liquid diet. You can replace some or most meals with liquids and continue to eat solid foods.
It's also up to you if you want to consume just clear liquids, full liquids, or a combination of both. The key is to maintain a low-calorie diet.
3. Little to no preparation needed
The foods involved in a liquid diet require simple preparation and very few ingredients. This can save you time on both cooking and meal planning.
Unlike regular meals, which take at least thirty minutes, liquid meals like smoothies and meal replacements can be prepared in as little as ten minutes.
If you prepare them in batches, you can store them in the fridge and grab and go whenever you're feeling hungry—saving you even more time.
Some liquid foods like packaged and bottled drinks don't even take time to prepare. Just make sure you're fully stocked.
Why You Should Consider Other Weight Loss Diets
1. May leave you hungry
You may find it difficult to maintain a liquid diet because it isn't satisfying.
This is especially true if you follow a very low-calorie diet consisting only of clear liquids, which are mostly carbohydrates and sugars.
It can leave you hungry and cause you to eat more food and calories throughout the day, which is the opposite of what you want.
2. Risk for malnutrition
Although proven to be effective, a liquid diet usually doesn't contain enough calories, macronutrients, and micronutrients to meet your nutritional needs.
This may cause you to develop nutrient deficiencies.
Even if you take supplements to fill in some of these gaps, you won't get the same nutrition as eating a balanced diet of whole foods.
3. Not ideal for long-term weight loss
An all-liquid diet isn't sustainable for managing your weight. You might get bored from its lack of variety, causing you to quit the diet before you even see results.
It's also very restrictive. Many people tend to overeat when they complete strict diets, causing them to gain back some or all of the lost weight.
Finally, a liquid diet plan can be unhealthy if you follow it for too long. There are other diets that can help with healthy weight loss.
How To Get Started On A Liquid Diet Plan
Starting a liquid diet may require the professional guidance of a dietitian. They can create a meal plan and include foods that are safe, nutritious, and within the scope of your diet.
You must follow the recommended diet plan to ensure proper nutrition and avoid potential risks. Here's a sample of what it may look like:
Breakfast
1 glass pulp-free fruit juice
1 bowl jello
1 cup of coffee or tea, without dairy products
Sugar or honey, if desired
Morning Snack
1 glass fruit juice (pulp-free)
1 bowl jello
Lunch
1 glass pulp-free fruit juice
1 glass water
1 cup broth
1 bowl jello
Afternoon Snack
1 pulp-free ice pop
1 cup coffee or tea, without dairy products, or a soft drink
Sugar or honey if desired
Dinner
1 cup pulp-free juice or water
1 cup broth
1 bowl jello
1 cup coffee or tea, without dairy products
Sugar or honey, if desired
Take note that the above diet plan is just an example. Your doctor or dietitian will likely recommend a liquid diet that is suited to your needs.
Before starting, make sure to ask your doctor any questions you may have, such as which foods are not allowed and what to expect while on the diet.
Is A Liquid Diet Good for Weight Loss?
A liquid diet may be a great way to lose weight at the beginning of your weight loss journey. But it's not something we recommend if you want to stay healthy.
In spite of its health benefits, there are healthier ways to lose weight, like:
It's best that you talk to a dietitian or nutritionist if you want to lose weight. They can assess your health and determine which weight loss diets are best for you.
Using Liquid Meal Replacements to Lose Weight
Replacing some of your meals with meal replacement shakes may be a healthier weight loss approach for people who want to try a liquid diet.
Studies show they can help you lose weight.6 Here are some of our recommendations to get you started: