The popularity of direct-to-consumer DNA testing kits has skyrocketed in the past few years.
For less than $100, people can know more about their ancestry. Additionally, they get information about their genetic risk for various health conditions.
Gone are the days when DNA testing or DNA sequencing cost $1 billion. As of 2020, almost 30 million people have taken a DNA test. The global market is expected to reach more than $600 million by 2026.
Despite the controversies that hound genetic testing, it holds mass appeal. But before buying a DNA testing kit, an informed decision is a must. You must be able to dig into your options thoroughly.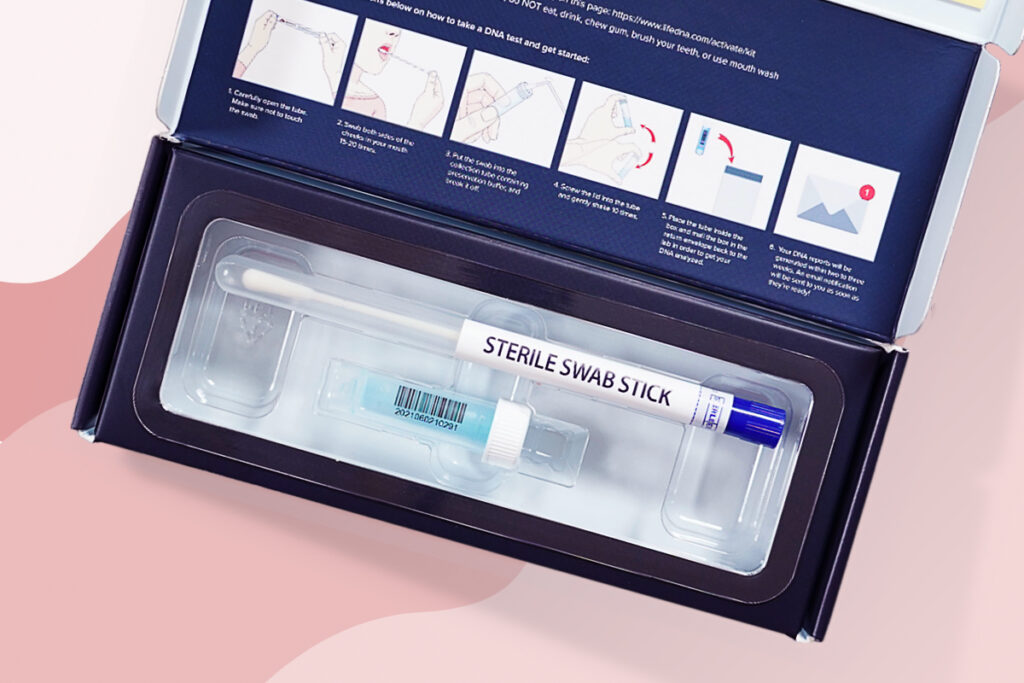 Nearly 30 million people have taken a DNA test.
Medical DNA Test vs Consumer DNA Test
A medical DNA test is more regulated than a number of home DNA tests.
It specifically tests for a wide range of genetic mutations. These genetic mutations are often associated with particular diseases and types of cancers.
A DNA test should allow you to discuss the results with a qualified professional. It should come with the test.
A medical DNA test involves formal genetic counseling and risk assessment before and after the test. Getting tested further won't be necessary to confirm the results.
Your insurance most likely covers the testing costs, too, so you don't have to spend anything out of pocket.
But not all DNA testing kits are created equal. A home DNA test or a direct-to-consumer test may require further testing. This is to confirm a mutation noted in the test.
A home DNA test tests for select mutations in a limited number of genes related to certain diseases. It is not like a medical DNA test.
It isn't covered by insurance. A genetic counselor isn't typically involved, either. What you get is often limited to online education.
Reading your results online can be challenging as well. You can easily misunderstand parts of the health reports.
For doctors and scientists to closely examine DNA, both tests will require the following:
Blood test
Hair sample
Mouth swab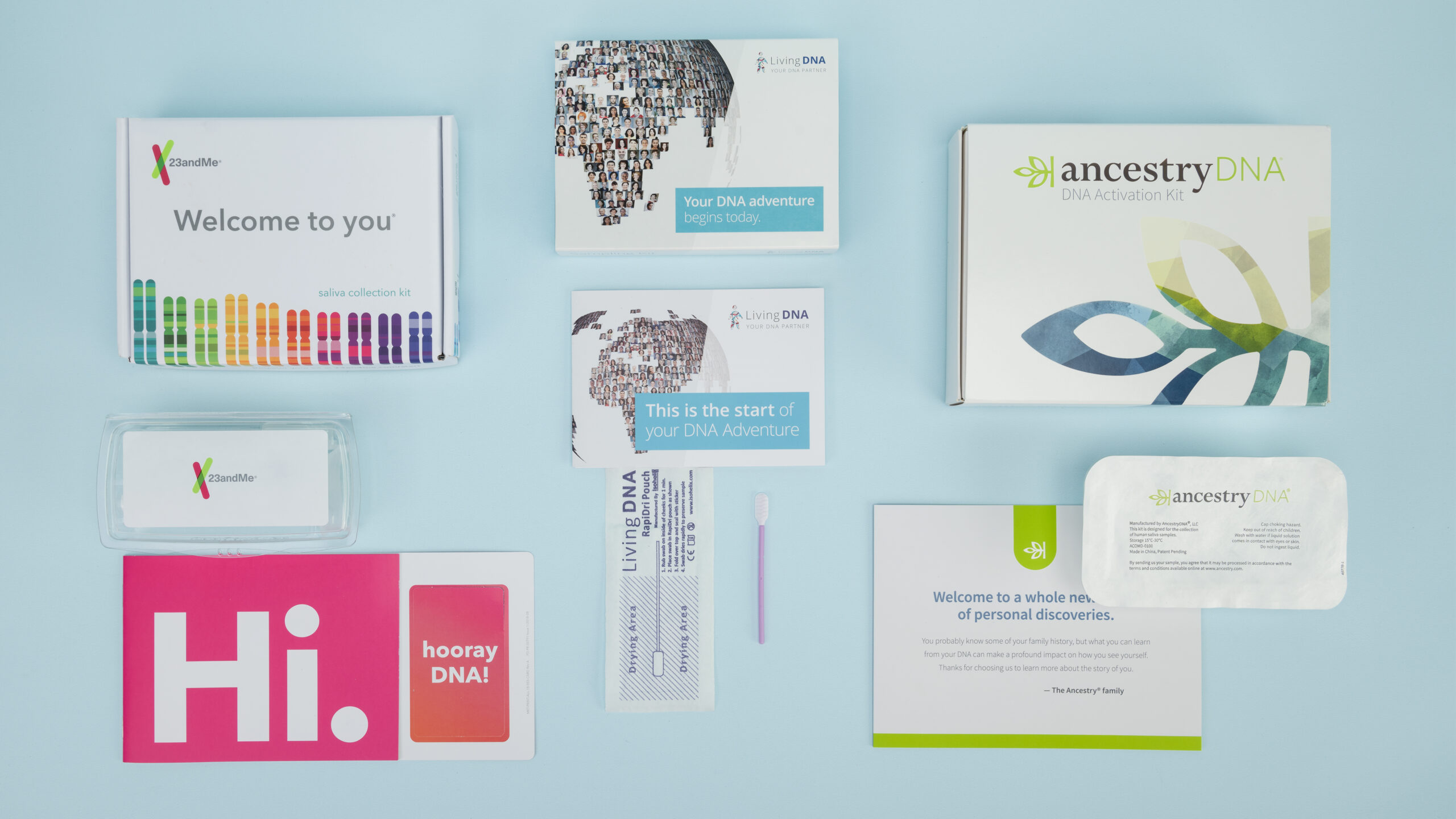 Best DNA Kit
Don't miss out on the opportunity to learn more about yourself. Read our best DNA test page to find the best one for you.
Health and Wellness Benefits of Home DNA Testing
The evolution in DNA testing technology has promoted awareness of genetic diseases. Nearly a third of a poll's respondents said that they or their family members have considered getting tested. This is because testing has become easier and cheaper.
A DTC or home DNA test kit can be effortlessly obtained and used. It doesn't require approval from your health insurance company or healthcare provider.
How does home DNA testing benefit you?
While it isn't a diagnostic test, people find out right away if the risk of having cancer is high. A home DNA test can also reveal if a person is at risk for Alzheimer's and other illnesses.
DNA testing can be instrumental in helping people take the necessary steps to protect themselves and keep healthy.
A DNA test may be used in educating family members of potential health and genetic risks. This can help them make lifestyle changes if needed.
In-depth knowledge of your risk for diseases can be beneficial in a significant way. Knowing your risk is low equally provides a sense of relief from uncertainty.
It is important to note, however, that testing won't eliminate your risks at all. But the information you get from a DNA test is essential. It will empower you to make informed lifestyle and medical changes. Seek help from a qualified health professional.
What is LifeDNA?
LifeDNA is a personal genomics company based in Hawaii, USA. It was founded in 2017 by Cyril Moukarzel, Jared Kushi, and Steve Markowitz.
LifeDNA uses a robust algorithm anchored on 600+ peer-reviewed scientific studies. It generates the following DNA reports:
Intelligence
Personality
Nutrition
Supplementation
Fitness
Skincare
LifeDNA, unlike other testing companies, goes beyond ancestry and disease risk. It ultimately recommends skincare products and nutritional supplements based on your DNA.
How does DNA testing at LifeDNA work?
LifeDNA sends its DNA test — or analyzes your DNA from other DNA testing companies. These companies include 23andMe, Ancestry, MyHeritage, Living DNA, and Family Tree DNA.
Researchers compare the single nucleotide polymorphism (SNP) in your DNA with LifeDNA's database.
Based on your DNA data, you receive a personalized, unbiased report to help improve your skin, body, mind, and health. 
What is a genomic analysis?
Unlocking your DNA requires genomic analysis.
An organism's genome holds the blueprint for building and maintaining that organism. In humans, every single cell in the body contains a copy of the entire genome. 3.2 billion DNA base pairs are residing in the chromosomes within the nucleus.
Genomic analysis refers to the process of identifying, measuring, and comparing features such as DNA sequence and gene expression at a genomic scale.
It involves three main steps:
Given a DNA sequence, identifying which portions of the genome are involved in coding proteins and which aren't.
Identifying the genome's main elements.
Splitting a newly sequenced genome into coding and non-coding regions.
Different methods and machines exist for sequencing genomes. The average sequencing project takes 3-7 days to complete, depending on the sample count.
What are LifeDNA's products?
LifeDNA Reports - $99
The results are generated instantly. Just upload your DNA from 23andMe, Ancestry, MyHeritage, Living DNA, and Family Tree DNA.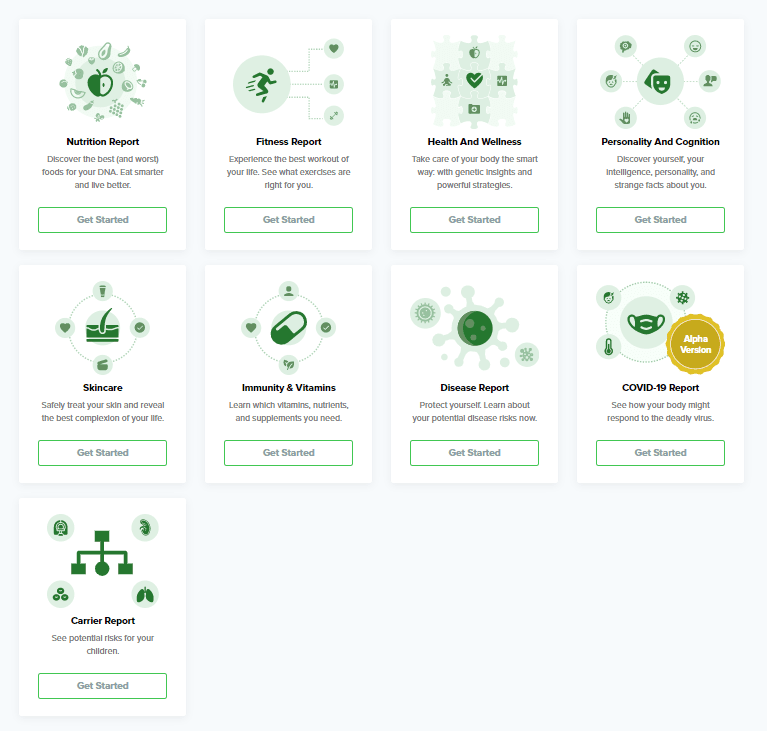 What's included?
Personality, intelligence, nutrition, supplementation, fitness, and skincare DNA reports.
Report on 130+ genetic traits, including an actionable recommendation for each trait report.
Unlimited access to updates
After submitting your raw DNA data, you get reports that include these traits:
1. Health and wellness- 22 traits
Smoking Behavior & Nicotine Dependence
Alcohol Consumption
Insomnia
Appendicitis
Resting heart rate
Attractiveness to Mosquitoes
Inguinal Hernia
Motion Sickness
Inflammatory response,
Cannabis Dependence
Mental Health
Job-related exhaustion
DNA Damage and Detoxification Ability
Menstrual cycle length
Excessive Sweating
Kidney Stone Predisposition
Male Pattern Baldness
Longevity
Alcohol response
Alcohol addiction
Sleep Duration
Sleep Depth
Nearsightedness
2. Personality & Cognition- 36 traits
Agreeableness
Conscientiousness
Openness
Extraversion
Neuroticism
Loneliness
Resilience
Instant Gratification
Risk-taking
Morningness
Social rejection
Impulsivity
Fear of Pain
Positive Affectivity
Reward Dependence
Harm Avoidance
Hearing Function
Sensitivity to Stimuli
Educational Attainment
Hypnotizability
Perceptual
Speed
Creativity
Cognitive Control
Optimism
Aggressive Behavior
Emotional Support Seeking
Depression
Maternal Sensitivity
Hearing function
Gambling
Mathematical Ability
Intelligence
Verbal memory
Musical Ability
Multitasking
Intergenerational transmission of qualities
3. Nutrition- 27 traits
Carbohydrate metabolism
Protein Intake
Saturated fat metabolism
Sodium sensitivity
Peach Allergy
Peanut Allergy
Shrimp Allergy
Gluten sensitivity
Lactose Intolerance
Response to Ketogenic Diet
Caffeine sensitivity
Phytoestrogen need
Sugar preference
Hunger
Satiety
Vegetable consumption
Fiber need
Sensitivity to bitter foods
Snacking behavior
Appetite
Preference for fatty foods
Antioxidant status
Tendency to binge eat
Weight change
Spice sensitivity
Unhealthy food intake
Soda consumption
4. Fitness - 24 traits
Lactate Clearance
Power vs. Endurance
Metabolic Rate and Metabolic Syndrome
Aerobic Capacity
Muscle Strength
Weight Loss and Exercise
Blood Pressure and Exercise
HDL Cholesterol and Exercise
Insulin Sensitivity and Exercise
Motivation to Exercise
Exercise Heart Rate Profile
Injury Predisposition
Hand Grip Strength
Bone Density and Fracture Risk
Leisure-Time Physical Activity
Testosterone
Habitual Physical Activity
Post-Exercise Recovery Rate
Exercise-Induced Ischemia
Inflammation and Pain Tolerance
Energy Balance and Production
Circadian Rhythm
Triglyceride and Exercise
Flexibility
5. Skincare - 14 traits
Skin Sensitivity
Skin Dryness
Oiliness (sebum production)
Acne
Skin Pigmentation
Skin Elasticity
Sun Sensitivity
Rosacea
Stretch Marks (Striae distansae)
Skin Aging
Freckles
Psoriasis
Eczema
Facial Wrinkles
6. Immunity & Vitamins (Supplements)- 34 traits
Vitamin C levels
Vitamin E levels
Zinc levels
Iron levels
Cholesterol levels
Copper levels
DHA levels
Liver enzyme levels
Vitamin B6 levels
Vitamin B12 levels
Vitamin B9 (folate levels)
CoQ10 levels
Probiotic need
Magnesium levels
Iodine levels
Thyroid function
Melatonin levels
Male Fertility (male reproductive health)
Erectile dysfunction (male reproductive health)
Folate need (female natal health)
Iron levels (female natal health)
Choline need (female natal health)
Calcium levels
Vitamin D levels
Phosphorus levels
Vitamin K levels
Glomerular filtration rate
Proteinuria
Visual acuity
Vitamin A levels
Biotin levels
Vitamin B5 levels
Rheumatoid arthritis
Osteoarthritis
Other reports are also available:
7. Disease Predisposition-10 traits
Age-related macular degeneration
Celiac Disease
Familial Hypercholesterolemia
Iron Overload Disorder
G6PD Deficiency
Hereditary Amyloidosis (TTR-Related)
Hereditary Thrombophilia
MUTYH-Associated Polyposis
Late-Onset Alzheimer's Disease
Parkinson's Disease
Covid-19- 6 traits
In response to the pandemic, LifeDNA announced the availability of the Covid-19 Susceptibility Report.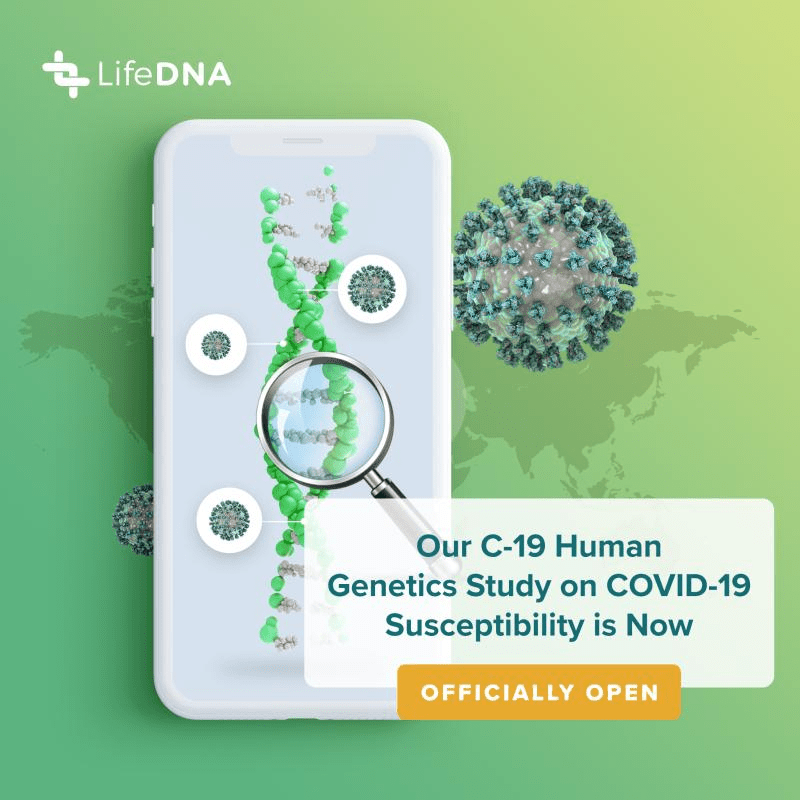 Predisposition to coronavirus infection
Infection Severity
Reaction to Oseltamivir
Reaction to Chloroquine
Response to Hydroxychloroquinef
Response to Lopinavir
9. Carrier Status - 11 traits
The Carrier Status report became available to LifeDNA customers in late 2020.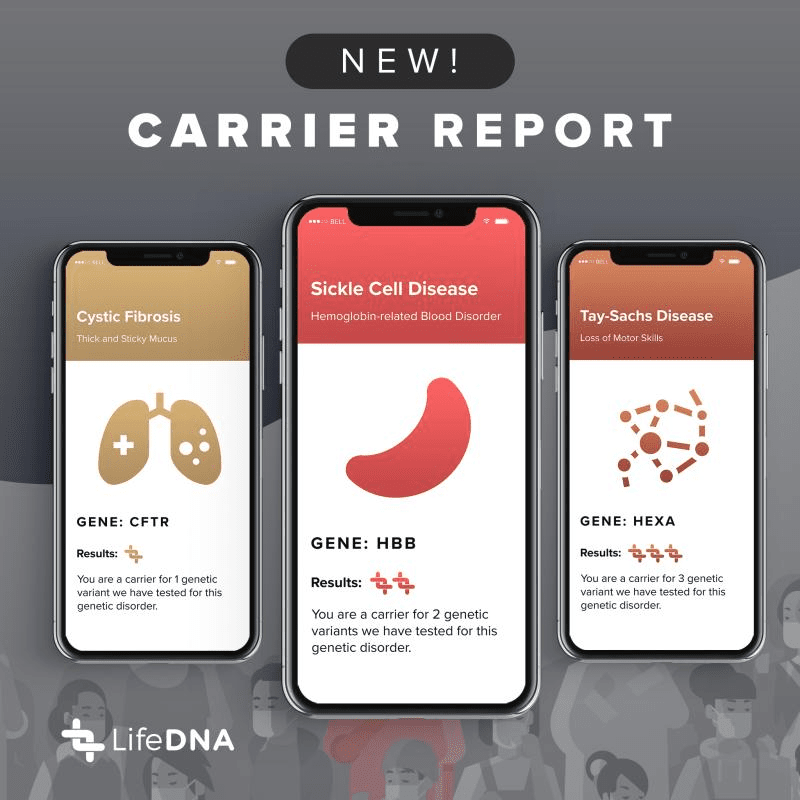 Sickle Cell Disease and Other Hemoglobanopathies
Cystic Fibrosis
Tay-Sachs Disease
Canavan Disease
Familial Hyperinsulinism
Hereditary Sensory Neuropathy
Phenylketonuria
Hereditary Fructosuria
Autosomal Recessive Polycystic Kidney Disease
Familial Mediterranean fever
10. Fertility (exclusive to women) - 9 traits
Polycystic Ovarian Syndrome (PCOS)
Early Menopause
Premature Ovarian Insufficiency
Ovarian Reserve
Recurrent Pregnancy Loss
Recurrent Implantation Failure (IVF)
Endometriosis Placental Abruption
Preeclampsia
It's worth noting that the Fertility report, designed for women, only became available in May 2021.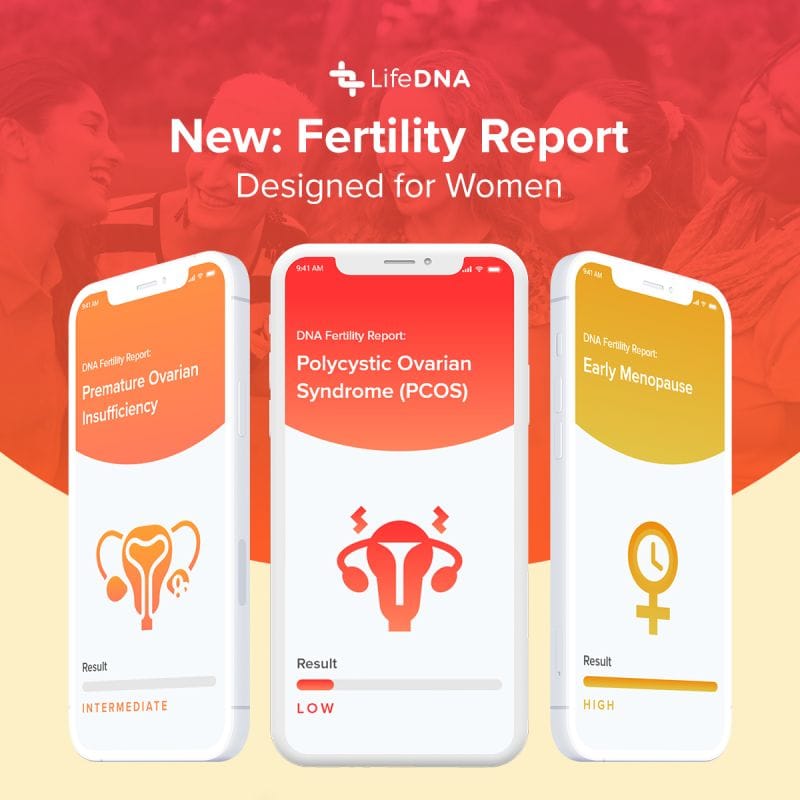 LifeDNA Reports & DNA Test Kit - $199
Aside from the health report and other reports mentioned above, this plan includes a DNA Testing Kit from LifeDNA, which will cost $149.
How does it work?
Wait for the DNA Test Kit from LifeDNA.
Swab your cheek.
Send the testing kit back for genetic testing.
It takes around two weeks to process your LifeDNA test results.
Platinum LifeDNA Membership - $60/year or $25/quarter
Platinum members of LifeDNA enjoy the following perks:
1:1 consultation with a genetic expert
Unlimited updates and additional traits
Disease, Carrier Trait, Fertility, Gut Health, and Covid-19 Reports
Access to LifeDNA smart nutrition app (launching soon)
Complimentary membership to LifeDNA's exclusive community on Facebook
Free Genomics Newsletter subscription
VIP customer service
Personalized Supplements & Skincare Products
LifeDNA recommends natural, US-made skincare products and supplements based on your DNA reports. The prices vary from $39/mo for personalized supplements to $289 every three months for a Deluxe Beauty Box.
Is it worth the money?
The decision to test your DNA comes with a cost and ideally involves endorsement and guidance from a professional.
This keeps anyone from making health-related choices based on inaccurate, incomplete, and misunderstood test results.
But if you're worried about a particular ailment, get tested. This can eliminate uncertainty and identify family members who are also at risk. It may not predict the age of onset, but it can guide diagnostic tests and medical care.
Thus, paying $99 to get insight into your genetic risk for diseases can be a worthy investment. The cost is fair and competitive. You get in-depth reports and personalized beauty and nutrition recommendations. 
Are there any alternatives to LifeDNA?
While LifeDNA reviews are mostly positive, some DNA testing companies provide DNA analysis for free or at a lower price. However, they don't come with personalized supplements or beauty products. Furthermore, their reports may not include the genetic traits that LifeDNA offers.
But if you're looking for any alternatives to LifeDNA, these testing companies are worth checking out:
Genetic Genie (an anonymous, free tool for genome analysis).
MyTrueAncestry. (provides free DNA analysis with a 48-hour validity; paid options range from $37- $596).
GEDmatch Genesis (finds DNA matches for free but offers limited analysis beyond relative finding. You need to upgrade for $10 a month).
New research in genetics constantly evolves. The kind of DNA tests available today didn't exist ten years ago. Even then, the advances in genetic testing played a role in diagnosing and treating certain diseases.
But other factors impact gene expression. This includes age, exposure to substances, and environmental influences. (LifeDNA points out that your results won't be 100% accurate because of this.).
So as much as genetic testing can help in planning, it's a bit premature to build solid plans around your DNA results.
Genetics is a vital piece of the jigsaw puzzle that makes up life, but it's just one part of who you are.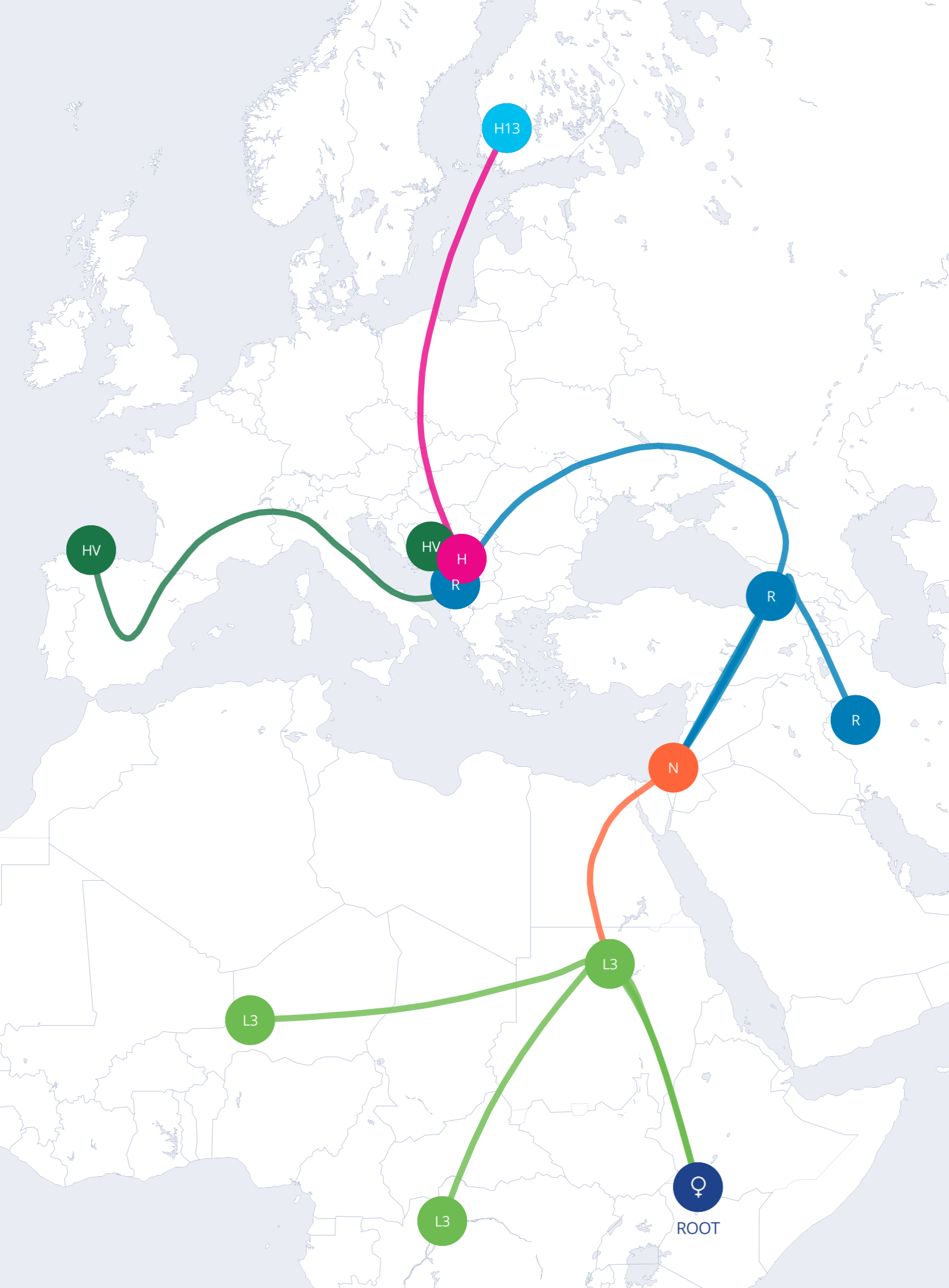 The Best DNA Test
Looking for a DNA test that's accurate and can tell you about your health and heritage?