Our Verdict: Keto Chow is not just delicious, it's also the only meal replacement I've tried that gave me full control over my diet and nutritional intake.
Keto Chow lets you add your own fat sources. Since it has few carbs, calories, and fats, there was plenty of room to adjust.
I got to decide which ingredients to add to my meal shakes—and how much I'd be adding. This allowed me to tweak the macronutrients to my liking.
Other meal replacements simply ask you to add water to their powdered meals—Keto Chow allows you to personalize the experience a little more.
While you might like the convenience of readily available macronutrients in other meal shakes, Keto Chow's customizability is the perfect excuse to get your macros from healthier food sources.
In this review, I'll be talking about Keto Chow's ingredients, what it tastes like, and my other experiences after trying it for a whole month.
I'll also give some examples of how you can use it with a keto and non-keto diet, plus tips on improving Keto Chow's taste.
About Keto Chow
Keto Chow offers keto-friendly meal replacements for weight loss.
Keto Chow is packed with protein, vitamins, minerals, and electrolytes, so you can avoid keto flu symptoms while on a ketogenic diet.
It has a low-sugar, soy-free, and gluten-free formula–and doesn't contain any sugar alcohols, added sugars, or trans fats, among other things.
Keto Chow Review Summary
Our Keto Chow Rating: 4.2 out of 5
| | | | | | | |
| --- | --- | --- | --- | --- | --- | --- |
| | Company Reputation | Variety of Products | Nutrition | Safety & Quality | Taste and Texture | Cost |
| Keto Chow | ⭐⭐⭐⭐ | ⭐⭐⭐⭐ | ⭐⭐⭐⭐ | ⭐⭐⭐⭐ | ⭐⭐⭐⭐⭐ | ⭐⭐⭐⭐ |
Pros
You can choose from over 40+ sweet and savory flavors
Customizable meal replacement that lets you add ingredients
Provides balanced nutrition that can help you fight off keto flu
Cons
It's not as convenient since you have to add your own fats
Will cost you more once you add fats or other ingredients
Doesn't offer meal bars and ready-to-drink bottles
Why Trust My Review?
Since Soylent entered the market in 2014, I've tried dozens of meal replacements—from powder mixes to meal bars, and even ready-to-go meal shakes.
I've compared their ingredients, nutritional quality, taste, and texture–and picked out products that I believe meet the best standards. The first time I saw a true meal replacement product was when I read about it in the first VICE soylent article back in 2013.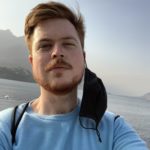 I want to help you reach your nutrition goals just like I have. So you can count on me to give you solid advice about what meal replacements work best.
Our in-house nutrition experts help ensure the accuracy of my information by reviewing them before publication.
Keto Chow Meal Replacements
Keto Chow has a variety of meal replacements, including shakes, savory soups, and a base powder which you can customize by adding your own protein blend.
1. Keto Chow Shakes
| | |
| --- | --- |
| Nutritional Information | Keto Chow Shake Mixes |
| Calories per serving | 120 to 133 calories |
| Protein | 25 to 35 grams |
| Carbohydrates | 7 to 9 grams |
| Fats | Less than 1 gram |
| Fiber | 6 to 8 grams |
| Sugar | 1 gram or less |

This meal replacement is in the form of a powdered drink mix. Just add water, and you'll have yourself a full meal and over 30+ vitamins and minerals.
With about 40+ sweet flavors to choose from–including limited, seasonal, and year-round flavors–it never feels like you're out of options.
Its macronutrient distribution varies slightly depending on the flavor you choose. But the calories are usually divided as follows:
20 to 21% proteins
5 to 7% carbohydrates
Less than 1% fat
Overall, the Keto Chow powder is a low-carb and high-protein meal shake.
2. Keto Chow Savory Soups
| | |
| --- | --- |
| Nutritional Information | Keto Chow Soup Mixes |
| Calories per serving | 115 to 148 calories |
| Protein | 24 to 26 grams |
| Carbohydrates | 6 to 13 grams |
| Fats | About 1 gram |
| Fiber | 6 to 10 grams |
| Sugar | Less than 1 gram |
Keto Chow's savory soups are meal replacement powders that are intended to be mixed with water and eaten like soups.
They contain vitamins, minerals, and electrolytes and can replace a full meal.
You can choose from four flavors: beef, creamy tomato basil, savory chicken, and spicy taco. Its macronutrient distribution usually falls within this range:
17 to 21% proteins
5 to 9% carbohydrates
Less than 1% fats
If you don't like sweet shakes or want to break things up now and then, this is a great palate refresher.
3. Keto Chow Core
| | |
| --- | --- |
| Nutritional Information | Dairy-Free Keto Chow Core |
| Calories per serving | 131 calories |
| Protein | 28 grams |
| Carbohydrates | 4 grams |
| Fats | 1 gram |
| Fiber | 3.5 grams |
| Sugar | Less than 1 gram |

This is the dairy-free alternative to Keto Chow powders, making it perfect for people with lactose intolerance or have allergies or sensitivity to cow's milk.
You can choose from two variants:
Unsweetened Keto Chow Core
Stevia-Sweetened Keto Chow Core
It has almost the same nutritional profile as the keto shake but with fewer carbs. Unfortunately, it also has less fiber and is only available in chocolate.
4. Keto Chow Base Powder
| | |
| --- | --- |
| Nutritional Information | Keto Chow Base Powder |
| Calories per serving | 10 calories |
| Protein | 0 grams |
| Carbohydrates | 5.37 grams |
| Fats | 0 grams |
| Fiber | 5.37 grams |
| Sugar | 0 grams |

The base powder has everything but the protein. It has the same vitamins and minerals as the fully-mixed powders. But you'll need to add protein and flavors.
Keto Chow's base powder is a good option if you want better control over your daily keto macro limit. For example, you can decide how much protein you'll add.
What's Inside Keto Chow? (Ingredients)
While most meal replacement shakes use plant-based proteins like pea and soy protein, Keto Chow uses animal-based proteins like milk and beef.
Keto Chow's products also contain a blend of vitamins, minerals, and various other ingredients that support weight loss. Below is a closer look at its ingredients:
Milk Protein Isolate & Beef Protein Powder
Proven benefits: Milk protein isolate and beef protein are both "complete proteins" with all nine amino acids. This includes:
Histidine
Leucine
Isoleucine
Lysine
Methionine
Phenylalanine
Threonine
Tryptophan
Valine
Most plant-based keto shakes lack amino acids. Keto Chow's meal shakes have all nine.1 This means you won't have to supplement your diet to complete them all.
Besides nutritional completeness, the amino acids in milk and beef proteins are more easily digested and absorbed by the body than plant proteins.2,3
Increasing your protein intake through meal replacement may also be beneficial for weight loss. Research suggests it can:4
Encourage you to eat less on your next meal
Prevent you from craving unhealthy foods high in sugar and fats
Make you feel full and less hungry throughout the day
Decrease your food and calorie intake by up to 600 kcal/day
In general, a high-protein low-sugar meal replacement—together with a healthy lifestyle—decreases your intake of fats and carbs, and leads to weight loss.5
Natural Food Additives
Keto Chow contains natural food additives like acacia gum and xanthan gum.
Proven benefits: Acacia gum (also known as gum arabic) is often added to food as an emulsifier, a thickener, a stabilizer, or a way to improve its taste.
However, it's also an excellent source of fiber. It acts as a prebiotic that provides food for your gut microbiome and promotes gut balance by:6
Encouraging the proliferation of Bifidobacteria, a type of good bacteria
Inhibiting the growth of Clostridium histolyticum, a type of bad bacteria
Xanthan gum isn't as widely studied, but it is used to extend the shelf-life and improve the texture and consistency of foods.
Early research suggests it produces short-chain fatty acids (SCFAs) when consumed by gut bacteria. SCFAs help maintain gut balance.
Improvements in gut balance have been linked to reductions in weight loss, body fat, and body mass index (BMI).7
Choline L-Bitartrate
Proven benefits: Choline is an essential nutrient that plays many important roles. For instance, it helps muscles contract and assists in the metabolism of fat.
According to some studies, a choline-deficient diet contributes to weight gain.8
Research shows that pairing exercise with choline supplements may help promote body fat loss and overall weight.9,10
Electrolytes
Proven benefits: Electrolytes such as magnesium, potassium, sodium, and chloride are essential to any healthy diet.
They regulate many chemical reactions in your body and maintain your fluid balance, just to name a few.
The addition of electrolytes in Keto Chow—along with other nutrients—may help prevent imbalances that cause "keto flu."
The "keto flu" is a set of symptoms that people experience after a few days of switching to keto diets like Atkins. The most common symptoms are:11
Flu-like symptoms
Headache
Nausea
Dizziness
Brain fog
Digestive discomfort
Decreased energy
It's normal to experience undesirable symptoms in the first few days of changing your diet. However, it doesn't mean you should stop eating keto meals.12
Health experts recommend staying hydrated and eating healthy meals with nutritionally-dense foods. Electrolytes can help you maintain your balance.
Vitamin Blend
Proven benefits: Some weight loss diets put you at risk for malnutrition because they deprive you of certain foods, vitamins, and minerals.
Supplementation is often recommended if you have an unbalanced or restrictive diet. It helps ensure that you meet your daily nutrients.13
Keto Chow products contain a wide range of essential vitamins and minerals. That way, you can avoid deficiencies when using them to replace your meals.
These nutrients may also help ensure that you undergo nutritional ketosis.
Among the nutrients you'll find in Keto Chow are:
Keto Chow Vitamins
Keto Chow Minerals
Vitamin A (Palmitate)
Vitamin B1 (Thiamine)
Vitamin B2 (Riboflavin)
Vitamin B3 (Niacinamide)
Vitamin B5 (D-Calcium Pantothenate)
Vitamin B6 (Pyridoxal-5 Phosphate)
Vitamin B9 (Folate)
Vitamin B12 (Methylcobalamin)
Vitamin C (Ascorbic Acid)
Vitamin D3 (Cholecalciferol)
Vitamin E (Acetate)
Vitamin K2 (Menaquinonem)
Calcium
Chromium Picolinate
Copper Gluconate
D-Biotin
Ferrous Gluconate (Iron)
Lutein
Lycopene
Manganese Amino Acid Chelate
Molybdenum Amino Acid Chelate
Potassium Iodide
Vanadium Amino Acid Chelate
Selenium Amino Acid Chelate
Zinc Gluconate

Other Natural & Artificial Ingredients
Keto Chow only uses natural ingredients like turmeric powder or beet juice extract to give color to its shakes and soups.
However, depending on the product, you might also find natural (like cocoa powder) or artificial flavors.
Keto Chow also has sucralose in nearly all of its powder mixes—except for Natural Strawberry Keto Chow which uses monk fruit instead.
Sucralose is an artificial sweetener that's 600 times sweeter than sugar.
What Does Keto Chow Taste Like?
Keto Chow has three flavor profiles: fruity, dessert, and savory. I haven't tasted all 40+ flavors available, but I've tried a few.
Dessert flavors like salted caramel and fruit-flavored shakes like banana have this sickeningly sweet and artificial caramel scent.
Just by the smell, I was expecting to hate Keto Chow. But I was pleasantly surprised with how light and natural they actually tasted.
While they contained sucralose, the meal shakes I tried were mild and not overpowering. They also tasted better after being stored in the fridge overnight.
I wasn't a huge fan of the soups when mixed with water alone. I tried all four soup flavors, and they were all too bland.
You may need to add butter or oil to improve their taste. I had to add red pepper to my "spicy" taco Keto Chow so it would make a delicious keto meal.
Keto Chow Texture & Mouthfeel
The powder mixes really well. I never found the need to use a blender (which I normally do with other meal replacements).
When it comes to texture, the keto shakes are thick but smooth, like melted ice cream. However, the savory soups have a chalky mouthfeel which I didn't like.
What Are The Best Keto Chow Flavors?
It all boils down to personal preference. But if you want my recommendations on my favorite flavors, here are my top picks:
Snickerdoodle
Apple Pie
Cookies and Cream
Vanilla
Banana
Chocolate
My Keto Chow Experience
Keto Chow is hands-down one of the best meal replacement shakes that I've tried. Below are three things that I liked the most about it:
1. Fully Customizable
Keto Chow lets you customize its meal replacements for your keto needs.
For example, you can follow Keto Chow's recommendations and mix the powdered meals with the specified amount of heavy cream, butter, or oils.
Alternatively, you can mix Keto Chow with water and consume it as is. In this case, you'll have to get your fats from keto-friendly foods like cheese or fatty fish.
Keep in mind that adding ingredients will change its macro distribution. Different ingredients will change the distribution, even in similar quantities.
Luckily, the Keto Chow Nutrition Facts is a great guide for how much you're adding.
2. Works with Other Diets
Despite its name, you don't have to be on a ketogenic diet to use Keto Chow. You can use its meal replacements with other weight loss diets, such as:
3. Extremely Satisfying
Some keto shake meal replacements only make you feel full for a few minutes. Once that time has passed, they will leave you hungry and wanting to eat more.
Keto Chow is, by far, the best meal replacement I've had for staying full. It keeps me satiated until the next meal, which helps reduce the amount of food I eat.
Is Keto Chow Safe?
Yes. Keto Chow is safe to consume. It doesn't contain heavy metals and some controversial ingredients like aspartame and acesulfame potassium (AceK).
There are also no sugar alcohols, added sugars, or trans fats in Keto Chow, making it a healthier option than most.
All Keto Chow meals are gluten-free and soy-free. They're safe for people with food intolerances or allergies to gluten and soy.
You do have to be careful if you're vegan, vegetarian, or have peanut allergies.
Keto Chow isn't vegan because its products contain animal proteins.
Not all Keto Chow meal replacements are vegetarian. Some contain beef.
Some of its flavors—like chocolate peanut butter—contain peanuts.
The milk protein isolates found in most Keto Chow products contain very little lactose (about one to two percent). While they aren't likely to trigger lactose intolerance, some people may still experience symptoms.
You should talk to your doctor before you start taking Keto Chow, especially if you are pregnant, nursing, or thinking about giving Keto Chow to your children.
How To Use Keto Chow
Summary
You can add any ingredient you like to Keto Chow. Just make sure that you calculate the macronutrient distribution so you can watch your calorie intake.
If you're on keto, you can add healthy fats to your soup or meal shake. The company recommends mixing Keto Chow powder with the following:
18 to 24 ounces of water, depending on your preferred thickness
Half a cup of heavy cream or half a stick of melted butter
You can use salted, unsalted, or clarified butter depending on your preference. Other sources of fat include coconut oil, coconut cream, or avocado oil.
If you're on another diet, you can add other ingredients to increase your carbohydrate, protein, or fat intake.
Some examples include whole crushed pistachios, oatmeal, MCT oil, and milk alternatives such as unsweetened almond milk and soy milk.
When adding medium-chain triglycerides (MCT), you should combine them with another fat source like heavy whipping cream or keto ice cream.
Use a shaker bottle to mix them all up and refrigerate if you want it cold. Make sure to calculate the macro distribution based on the ingredients you add.
How Often Can I Use Keto Chow?
Since Keto Chow meal replacement is nutritionally complete, you can use it to replace anywhere from one to three meals per day.
But just because you can doesn't mean you should.
Many people simply use Keto Chow to supplement their keto diet needs. They consume it once or twice a day and get the rest of their calories from keto foods.
How To Improve Keto Chow's Taste
Keto Chow usually tastes great on its own. But if you want to improve its taste, here are some tips to get you started:
Add more water to prevent the fiber and particulates from forming into clumps, especially if you're going to let it sit in the fridge.
Only use butter and oils on savory soups. Using them on fruity or dessert-type meal shakes is usually a bad idea.
Creams work best with the meal replacement shakes.
Where Can I Buy Keto Chow Powder?
You can buy meal powders from Keto Chow's website although some flavors are also available through Amazon and Walmart.
If you live near Draper, UT you can drop by the company's warehouse to buy them in person.
How Much Does Keto Chow Cost?
| | |
| --- | --- |
| Keto Chow Packaging | Keto Chow Prices |
| Single Meal | $5.50 |
| Go Pack | $109.75 (save $5.75) |
| Bulk Bag | $90 (save $25.50) |
Keto Chow lets you buy meal replacements in three ways:
Single meal packets
Go Pack (includes 21 single meal packets)
Bulk Bag (a large package that serves 21 meals)
Single meal packets are only great if you're trying out different flavors. I usually order them with bulk bags of my favorite Keto Chow flavors to save money.
The packets are made of paper and are easy to tear. I had a few problems with spillage and powder clinging to the inside, but nothing serious.
Keto Chow vs. Other Meal Replacements
Keto Chow vs. 310 Nutrition
Like Keto Chow, 310 Nutrition offers low-carb and gluten-free keto meal replacements. But there are some key differences between the two.
310 Nutrition gets its proteins and fats from plants like peas and chia seeds. It's vegan, dairy-free, and doesn't contain artificial flavors and sweeteners.
That said, Keto Chow has more flavors and provides more proteins and nutrients. So unless you're vegan, we'd still recommend it over 310 meal replacements.
Here is our review of 310 Nutrition shakes.
Keto Chow vs. Soylent Shakes
Most Soylent shakes are not compatible with a keto diet. That's because they contain enough carbs to knock you out of ketosis.
The only keto-friendly option we found is Soylent's High Protein Nutrition Shake. It only has 10 grams of carbs per serving.
Soylent doesn't leave much room for customization since it has more fat and calories than Keto Chow.
But its ready-to-drink (RTD) format makes it a decent alternative if you're on the go and don't have time for keto meal prep.
Still, you shouldn't make a habit out of it since it has 250 calories per serving. You can read our full review of Soylent meal shakes here.
Keto Chow vs. Huel Meal Replacement
Many Huel shakes contain carbs that make up 35 to 37 percent of the total calories. So they probably won't help you achieve ketosis.
However, you might be able to fit Huel Black into a keto diet. It has 70 percent fat, 18 percent proteins, and 12 percent carbohydrates.
Huel Black Edition costs less than Keto Chow and you won't need to add fat. Here is our full review of Huel shakes.
How We Evaluated Keto Chow
Our team evaluates meal replacements like Keto Chow based on six standards:
Reputation & trustworthiness
Variety of products
Nutritional value
Ingredient quality and safety
Taste and texture
Cost per meal
1. Brand Reputation & Trustworthiness
Our Keto Chow Rating: ⭐⭐⭐⭐
Trusted companies have an established reputation and reliable customer support. It manufactures products in certified facilities and is transparent about its ingredients.
To determine the trustworthiness of a brand, we also looked at customer reviews to see what people are saying about it.
Keto Chow began in 2015 and has since become one of the leading providers of meal replacement powders.
The company acquired Good Manufacturing Practice (GMP) certification and is transparent about the ingredients it uses. Products are packed in a facility that is regularly inspected by local and state health departments, and the U.S. Food and Drug Administration (FDA).
Keto Chow reviews are mostly positive. But it has received a few complaints from people who got their orders later than expected.
While it offers customer support for people who have problems with their orders, there is no information on its availability and how soon they'll respond.
2. Variety of Products
Our Keto Chow Rating: ⭐⭐⭐⭐
People use meal replacements for different reasons. Some consume them occasionally to replace meals when they don't have time to prepare food.
Others eat them consistently for weeks or months with a specific goal in mind—like weight loss and weight management.
Having a variety of products to choose from will keep you from getting bored and help you find an option that works best for your needs.
Keto Chow offers powdered meal shakes and soups. There's also a base powder for people who want to create their own meal replacements.
Unfortunately, it doesn't offer any vegan alternatives. Keto Chow is also missing ready-to-drink shakes and meal replacement bars.
3. Nutritional Quality
Our Keto Chow Rating: ⭐⭐⭐⭐
A meal replacement should provide you with enough carbohydrates, proteins, and fats that you would typically get from a well-balanced diet. It must also contain adequate amounts of essential nutrients so you can avoid malnutrition as you replace your meals.
Keto Chow provides 30+ vitamins, minerals, and electrolytes—including amino acids. It also contains few calories and carbs to support a keto diet.
While it has very little fat, you can adjust it to your liking. You can add your own ingredients to increase the amount of calories, carbs, proteins, and fats.
Keto Chow should work with any weight loss diet that reduces your calorie intake through caloric restriction or macronutrient distribution.
4. Safety and Quality of Ingredients
Our Keto Chow Rating: ⭐⭐⭐⭐
The U.S. Food and Drug Administration (FDA) currently doesn't regulate meal replacements. So our team took the time to investigate the ingredients used in a product and ensure their quality and safety for consumption.
Keto Chow uses ingredients that are scientifically proven to curb your appetite, reduce your food intake, and help you lose weight.
While the company has taken several measures to ensure the safety of its products, they still contain artificial ingredients and sweeteners.
Some of the ingredients in Keto Chow may also trigger food allergies and food intolerances, or may not be compatible with certain dietary restrictions.
5. Taste and Texture
Our Keto Chow Rating: ⭐⭐⭐⭐⭐
The taste of a meal replacement will have an impact on your diet. Ideally, it should come in a flavor that you like or you won't be able to use it for more than a few days.
Thickness and smoothness are also important factors to consider. They can affect your satiety and how much you'll be able to enjoy the drink.
Keto Chow has around 40 flavors to choose from, including seasonal and limited flavors. The variety of flavors makes it sustainable for long-term use.
It's thick and can make you feel full for longer periods. But it's also smooth enough to make an enjoyable meal.
6. Cost Per Meal
Our Keto Chow Rating: ⭐⭐⭐
Meal replacements cost about $2 to $3 per meal. Calculating the cost per meal replacement puts things into perspective.
It can help you decide whether or not it provides value for your money.
Keto Chow isn't the most affordable meal replacement on the market. It may cost you anywhere from $4.28 to $5.50 per meal.
This doesn't include the cost of additional ingredients, such as heavy cream ($1.25 to $3.50 per half cup) or butter ($0.46 to $0.58 per half stick).
It's a price you have to be willing to pay for its customizability.