Keto Chow Overview
What is Keto Chow?
The story of Keto Chow began when Chris Bair of Utah decided to start making his own keto-friendly meal replacement shake mix. He found it difficult to get the right nutrients on the keto diet and wanted a way to make it easy.
Keto Chow is still a very small, mostly family run business. His wife, family, and neighbors help fulfill orders. Their goal is to make the keto diet easy for others after seeing how much it helped Chris' weight loss and their son's seizures.
Keto Chow is a protein rich powder, filled with all the nutrients and micronutrients someone on a ketogenic diet needs to help prevent the "keto flu" (keto flu is usually characterized by a rapid loss of electrolytes through water loss in the initial stage of the diet.) 
All you need to do is mix the Keto Chow powder with a mixture of water and heavy cream or butter and you have an easy, portable keto meal to take wherever and help simplify the process for keto diet beginners. 
Why Trust My Review?
My name is Adam Andrewjeski. I was what someone in the tech world would call an "early adopter." I've been using soylent since its very early stages. The first time I saw a true meal replacement product was when I read about it in the first VICE soylent article back in 2013.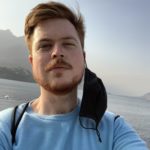 I've tried just about every brand of meal shake that you could think of. I've also done a lot of research to figure out which ones have the highest quality ingredients.
You can count on me for solid advice on which meal replacements work best. I want to help you reach your nutrition goals just like I have.
Keto Chow Meal Replacement Products
Keto Chow Shakes
Keto Chow Shakes are the standard keto meal replacement product that Keto Chow offers. They divide their offering into a few different categories: dessert, fruit, and savory (aka Keto Chow Soup.) 
Keto Chow is the ketogenic meal replacement alternative to many other major meal shake companies that utilize a lot more carbs in their formula. There aren't a lot of full keto options out there and Keto Chow is one of the most popular right now.
Keto Chow Savory Soup
Keto Chow Soup is the savory meal replacement powder Keto Chow offers to those looking for a hearty flavor and a break from the sweet, dessert flavoring of their own and many other brand's typical offerings.
If you're someone who doesn't like the flavor of sweet shakes or wants to break things up every now and then, this is a great option. All you have to do is add butter, heavy cream, or water and you have a nutritionally complete meal.
Keto Chow Experience
Keto Chow Packaging
There are a few options for ordering Keto Chow meals.
Single flavor packs, one at a time, mix and match. This is what I chose for the shakes.
Sample packs, combined savory or sweet flavor profiles. I ordered a Savory Soup pack.
Bulk Powder bags - usually you save many by ordering 21 meals in one bag, but right now there is a sale going on and they are the same price.
The packets are made of paper and are easy to tear. I had a few problems with spillage and powder clinging to the inside, but nothing serious.
Keto Chow Taste and Texture
When I opened the first package, the artificial, sickeningly sweet caramel smell hit my nose like a ton of bricks. I was worried that it would taste like a protein shake. But wow, I was so surprised!
The most recent flavor, Keto Chow Snickerdoodle, tastes to me like cookie batter. As far as texture goes, it is really thick, but smooth. I added the recommended 14 oz of water and ½ cup of heavy cream. I shook my bottle and left it overnight. It mixes really well and I've found I don't even need to use a blender (like I would normally prefer).
If you're looking to make the Keto Chow Shakes go a bit farther, you could definitely add more water if you are letting them sit overnight. The fiber and particulates bind together over 8 hours and form a really satisfying meal replacement shake! This is by far the best shake I've had for keeping me full. And the flavor is really nice, if not a bit strong.
I haven't had a single "bad" flavor of Keto Chow yet.
Best Keto Chow Flavors
One of the huge advantages of Keto Chow is the abundance of flavors. There's no way I would have time to try them all, unfortunately, so I ordered Keto Chow once in the past and again to write this review (to see how things have changed).
Keto Snickerdoodle remains my favorite flavor - which is weird, just by the smell I was expecting to hate it. But it is good after a night in the fridge. Let's go through a list of my favorites out of the ones I tried.
Best Keto Chow Flavor (sweet):
Snickerdoodle
Apple Pie
Cookies and Cream
Vanilla
Banana
Chocolate
Best Keto Chow Flavor (savory):
Creamy Tomato Basil
Savory Chicken Soup Keto Chow
Spicy Taco Soup Keto Chow
Beef Soup Base
I wasn't a huge fan of the soups for an everyday meal, but I could see myself bringing them camping or something. The taste of heavy cream/butter and beef or chicken powder was sort of overwhelming and chalky. I had to add my own spices because it was pretty bland. Spicy Taco Keto Chow was definitely not even on my spicy radar - so I added a ton of red pepper.
Check out the full list of keto chow flavors:
Apple Pie
Banana
Caramel Macchiato
Chocolate
Chocolate Mint
Chocolate Peanut Butter
Chocolate Toffee
Cookies and Cream
Eggnog
Key Lime
Lemon Meringue
Mocha
Natural Strawberry
Orange Cream
Peaches and Cream
Pistachio
Pumpkin Spice Caramel
Raspberry Cheesecake
Root Beer Float
S'mores
Salted Caramel
Snickerdoodle
Strawberry
Vanilla
Is Keto Chow Healthy? Let's look at Keto Chow Nutrition
Keto Chow Meal Replacement Powder contains:
26g protein
0.6g net carbs
1.5g Potassium
852 mg Sodium
221 mg Magnesium
5.6g fiber
With Heavy Cream, expect:
28g protein
4g net carbs
51g fat
It does not contain:
Added Sugar
Maltitol
Trans Fat
Gluten (wheat or otherwise)
Acesulfame Potassium (AceK)
Aspartame
Soy Protein
Peanuts (except the Peanut Butter flavor)
Keto Chow contains everything the human body needs to survive and thrive. Besides those macronutrients and electrolytes I mentioned, it also contains all essential vitamins and amino acids. It is also keto-friendly. 
I would absolutely say that it is healthy!
But the ketogenic diet still faces a lot of scrutiny in the mainstream.
While more studies are being concluded on the long-term effectiveness of the keto diet, anecdotal and scientific evidence seems to indicate it improves health markers in BMI, reduced risk of neurodegenerative diseases, and insulin and diabetes.
Keto Chow vs 310 and other keto meal replacements
Keto Chow vs 310:
The main difference is that the 310 shake is vegan.
The 310 Organic Meal Replacements are also keto, but contain less protein. 310 shakes are also slightly cheaper than Keto Chow when you buy the bulk shakes
Keto Chow vs Soylent:
Soylent is not a ketogenic shake.
One Soylent shake contains enough carbs to knock you out of ketosis, and should be avoided if you are on a ketogenic diet. Soylent currently has no plans to make a keto-friendly meal replacement shake.
Keto Chow vs Huel Black:
Huel Black contains a lot more protein, but also more carbs.
Huel Black is not a keto-designed meal replacement powder, but you could probably fit one or two Huel Black shakes into your daily carbohydrate intake without too much trouble if you are an athlete. Besides that, Huel Black is quite a bit cheaper and doesn't require the addition of butter or heavy cream. 
Keto Chow and Weight Loss
Keto Chow shakes have a good amount of protein, fat, and fiber. Keto Chow is definitely suitable for a keto diet! According to the research, a lower-carb diet can keep you healthier. Keto Chow has a great ratio of protein-carbs-fat, containing almost no carbs (4g when you add ½ cup of heavy cream)
57.5% fat (heavy cream)
37.2% protein (Sourced from whey and pea protein)
5.3% carbs (5.6 grams of fiber and 4 grams of net carbs)
For the average non-athlete, it's perfect, but I would need to supplement more protein for myself. It is one of the higher protein meal replacements compared to other brands, regardless of the keto factor. It contains a great profile of electrolytes - salt, potassium, magnesium, calcium - for increased keto needs.
The average American diet is lacking critical nutrients that assist you with weight loss. In fact, 3 of the most important ones for feeling full: Fiber, Sodium, and Potassium. Without these, especially fiber, the stomach is triggered to be hungrier sooner. 
I can speak from my own personal experience and having lost over 130 lbs with the assistance of meal shakes. You CAN use meal replacement shakes to help you too. Furthermore, a keto diet is a great way to lose even more weight and avoid the hunger typically felt on a calorie-restriction diet with carbohydrates.
I spent about 6 months on a strict ketogenic diet and it was the best I've ever felt in my life. I stopped needing to take naps, lost a ton of weight, felt fuller for longer, and ended my sugar cravings.
My blood tests, EKG, physical, etc showed that I was in the best shape of my life. Even though I've reached most of my weight loss milestones with keto, I plan on eating low-carb for the rest of my life.
We will talk about my experience in future articles. Start slow, replace one meal you normally have trouble with, like lunch, and go from there. The Keto Chow website recommends 1-2 Keto Chow shakes a day with a larger whole food meal in the evening.
Pros
Huge flavor selection
Ketogenic diet-friendly
Large shake size
Savory options
Cons
Small company, slow shipping
Must add fat macronutrient to shake
Keto Chow FAQ
Is Keto Chow Keto?
Yes.
One serving of Keto Chow with heavy cream contains only 4g carbs. You can also use butter or water to avoid a few grams of sugar. It also contains enough electrolytes to maintain increased needs and energy on Keto.
Is Keto Chow worth it?
It depends on what you are looking for.
For me, the cost, at around $4 per meal with the heavy cream, is pretty high. Unfortunately, many keto meal replacements are marketed at a "premium." 
You can mix your own Keto Meal Replacement Shake with protein powder and heavy cream. For less money, but it's not terribly expensive. If you're looking for convenience, Keto Chow comes in single-use packets you can bring on the go.
Is Keto Chow sold in stores?
No.
At the moment Keto Chow has no plans to conduct retail sales, but it is something we may see in the future.
Is Keto Chow Gluten-Free?
Yes! Keto Chow is gluten-free.
The powder contains no wheat, corn, rice, or any other carbohydrate from grains. It is also produced in a facility that does not process any gluten.