The Story of Jimmy Joy
Jimmy Joy was started in 2014 as a European alternative to Soylent. Like for the founders of Huel, the founder could not order Soylent and decided to create his own.
His name is Joey van Koningsbruggen and hails from the Netherlands. If you have been following meal replacements for a while, you'll recognize the name they originally had: Joylent (which was changed in 2017)
Like the founders of Soylent and Huel, Joey was searching for a better solution to the problem of time efficiency and healthy food. He was looking to stop the habit of eating out and consuming fast food.
After hearing about Soylent, he developed the recipe that would form the base for the Jimmy Joy Powder Meal Replacement shakes original formula.
Today Jimmy Joy has gone through its name change and many iterations of the powder.
Along with new powders and flavors, Jimmy Joy has released:
Active Shakes
Jimmy Joy Ready-to-Drink Plenny Drinks
the Plenny Pot
the Plenny Bar
Why Trust My Review?
Since Soylent entered the market in 2014, I've tried dozens of meal replacements—from powder mixes to meal bars, and even ready-to-go meal shakes.
I've compared their ingredients, nutritional quality, taste, and texture–and picked out products that I believe meet the best standards. The first time I saw a true meal replacement product was when I read about it in the first VICE soylent article back in 2013.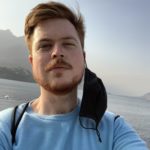 I want to help you reach your nutrition goals just like I have. So you can count on me to give you solid advice about what meal replacements work best.
Our in-house nutrition experts help ensure the accuracy of my information by reviewing them before publication.
Jimmy Joy: The Dutch Meal Replacement Phenomenon
Jimmy Joy Packaging
Jimmy Joy makes a strong effort to provide resealable bags and eco-friendly packaging. I tried Jimmy Joy before they came out with the new packaging. But from what I have seen it is convenient.
The nice thing about Jimmy Joy, with respect to other "bigger bag" vendors like Huel, is that they sell flavors in 10 meal-sized packaging. Besides that, they allow you to make an order for just 1 at a time. This all allows you to try Jimmy Joy without a huge risk of initial investment or not liking a flavor.
For my first order, I picked up 1 bag of strawberry (which I chose because of a positive Reddit review) and Vanilla, which is almost always decent no matter where you order it.
Jimmy Joy Plenny Shake v3.0 (Jimmy Joy Powder)
Jimmy Joy Powder is the original offering, originated from Joey's custom-made powder seeking to recreate Soylent. Today's version of Jimmy Joy's Plenny Shake is version 3.0.
Like Huel and Soylent, it comes with plant-based protein. I tried the strawberry flavor first and found it to taste a bit like soupy berry-flavored oatmeal. I wish I could describe it better, but it really does taste good.
If I could go back and try another flavor, I would seek out Banana. As some of you who read my reviews know, I'm not a big fan of chocolate so I can't comment on how good it is. But vanilla was fine, nothing to write home about.
Jimmy Joy Plenny Drink 2.0
If you are someone who doesn't like the hassle of using a blender to make your own meal replacement shakes, I recommend getting the ready-to-drink version of Jimmy Joy.
Jimmy Joy Plenny Drink is the ready-made version with roughly the same ingredients as the Plenny Shake v3.0. Unfortunately, at the moment, the only flavors available are Chocolate and Vanilla.
Jimmy Joy Plenny Shake Active v3.0
The Plenny Shake Active is the "high protein" offering from Jimmy Joy. And just like the normal Plenny Shake, they taste pretty good. I liked the same flavors for Jimmy Joy's Plenny Shake Active that I do for the regular meal shakes. So what's the difference?
There's slightly more protein and less carbs. If you are like me, and want to stay fuller longer and with less sugars, I think this would be the healthiest option for you. The problem is - it's just not quite enough protein for my tastes. Compare it to Huel Black and it has 50% less protein.
For the cost though, it's pretty hard to beat. This would be my everyday use shake if I used Jimmy Joy more.
Jimmy Joy Plenny Pot
Jimmy Joy Plenny Pots are individual servings of savory and solid food, similar to the Huel Hot and Savoury option. This type of Jimmy Joy is for those who want the healthy nutrition of meal replacement shakes but with something a little more substantial to keep the stomach full.
A Plenny Pot comes in at 400 calories and works pretty well to replace a normal meal like breakfast. I really liked the Tikka Masala option, but I love spicy food and think it needs a bit more "flavor".
Jimmy Joy Plenny Bar v2.0
The Plenny Bar is one of the few forms of Jimmy Joy that I haven't tried yet. I did a lot of research into the Plenny Bar and other forms of Jimmy Joy and decided that the cost-nutrition value proposition just wasn't there for me.
But if you're looking for a snack, and some solid food that is easily portable, this is probably your best option. Jimmy Joy even offers a Plenny Bar Pizza flavor! From a review I read on Reddit it seems to taste like Pizza.
At 400 calories, it is slightly more substantial than bars from other companies and would compare better to your average breakfast or small lunch you might want to replace.
Jimmy Joy Samples and Starter Box
The nice thing about Jimmy Joy is that they make a few different sizes of "combination packs" so that you don't have to leave things to chance when you make your first order.
If you live in the United States, there is only one larger combination box you can buy here. If you live in Europe, this is a smaller intro "Jimmy Joy Sample" box for sale here.
Jimmy Joy: The Experience
Jimmy Joy Taste
In general, the flavors are probably a bit more subtle than you are expecting. They are sweet but not milkshake-sweet. So if you're expecting something really chocolatey, you'll be disappointed. Banana, to me, seems to have both the artificial and natural banana taste.
Oatmeal milk is the next most apparent flavor. This makes a lot of sense. After all, a large part of the calories in Jimmy Joy come from oatmeal.
Jimmy Joy Texture
The texture is pretty similar to other European oat-based shakes.
I can easily say that Jimmy Joy is more smooth than Huel but decidedly less so than soylent. I heard a tip from Reddit and that is to leave your Jimmy Joy shakes in the fridge for a while after making them.
The ready-to-drink shakes are only a tiny bit gritty, and I don't mind it at all.
Best Jimmy Joy Flavors
When it comes to the original powders: I tried strawberry; I preferred it over vanilla. I've also heard from a couple of Reddit threads that strawberry is a solid flavor for the powder and ready-to-drink Plenny Shake.
I've tried two savory flavors: Tikka Masala and Cajun and I like them about equally. It's just that I'm not crazy about savory meal replacements and for me to like them I need to add a lot more spices. It's a bit bland.
I haven't tried many of the Sport flavors, but my favorite, Strawberry is out of stock right now. If you can't get strawberry, get banana or vanilla. Or maybe you're a chocolatey person - only you will know. They are pretty much the same taste as the Plenny Shake regular flavors (at least I can barely tell the difference myself.)
If I had to choose a Plenny Bar flavor, I think I would go with vanilla. As I mentioned in this review and others - I'm just not crazy about caramel or chocolate flavors.
Because of Jimmy Joy's smaller bags and sample packs, you really can't go too wrong though. Or order one of each and see what you think. The regular packs are small enough that you can order 3-5 at the same cost as a large pack of Huel.
The Nutrition in Jimmy Joy
Is Jimmy Joy's nutrition good?
Jimmy Joy contains all the nutrition one needs to live a healthy lifestyle as far as recent research suggests. Jimmy Joy Powder (also known as Jimmy Joy Plenny Shake) is based primarily on: oat flour, soy flour, soy protein isolate, inulin, ground flax seeds, vitamins/minerals, and other added extras.
The centerpiece has always been oat and soy flour, which gives it a lot of its texture and flavor. I personally really enjoy oat-based meal replacement shakes and think the flavor is better. The downside is that there is usually less protein.
The Jimmy Joy website explains that the powder is "a nutritionally complete meal that is high in plant-protein, omega 3, fiber, and is low in sugar and salt". If you are looking to get the best nutrition Jimmy Joy offers, I recommend choosing the Plenny Active shakes.
When it comes to choosing a meal replacement shake based on nutrition, you should look at a few factors to decide which best suits your lifestyle, preferences, and budget.
Here is my rubric:
How much protein is there?
Are the ingredients high quality?
Does it taste good?
How much does it cost?
It is filling?
1. Like I mentioned before, Jimmy Joy is average or below for protein. Most of the other active shakes that other companies make contain a bit more protein. I would like them to include more protein.
2. The ingredients are pretty good for the price. Jimmy Joy has modified their original formula to contain more Omega 3, 6, and 9 along with other important additives like probiotics.
3. Jimmy Joy, to me, tastes better than the average. I like the taste a lot and if you are picky and like fruitier shakes like Strawberry or Banana, I think it will suit you well.
4. Jimmy Joy is one of the most affordable meal replacement shakes. It really is impossible to beat. Depending on your location, it may be the best value that you can find.
5. Jimmy Joy, compared to a shake like Huel, contains slightly less fluid. Jimmy Joy keeps me about as full as other shakes. Jimmy Joy makes ready-to-drink Plenny Drink that is pretty convenient to drink.
The macronutrient spread is given by the Carbohydrate-Protein-Fat content of a food. In the Jimmy Joy regular shake powder this is 45% Carbs, 20% Protein, and 35% Fat.
For myself, I look to find less carbs and more protein and so the active shake does a better job of satisfying my exercise needs and providing satiety for a slightly longer period during the day. But it is pretty similar to Soylent. I often call it "The European Soylent" since you can't buy any soylent products in Europe.
Here's a list of Jimmy Joy ingredients so you can take a look. If you want to do some research, I recommend the Jimmy Joy nutrition table of contents.
Jimmy Joy and the Body
Jimmy Joy has some cool new additions to improve the formula and make it a bit healthier.
Jimmy Joy has added:
probiotics
ahiflower
choline
I don't have IBS problems currently and I've never had any issues with Jimmy Joy. But you should be careful when starting with more than one shake a day, just like anything else. I had some problems with Huel when I started, but Jimmy Joy agrees with me.
There is also a bit of caffeine in many of the Jimmy Joy products, which personally for me - I don't care for. I like to modulate my own caffeine doses. If you don't react well to caffeine, this is something you might want to consider.
Pros
One of the cheapest options
Oats and rice instead of soy
Availability in US and Europe
Large product line
Cons
Problems with consistency
Wait time for support
Jimmy Joy FAQ
Where can you buy Jimmy Joy?
Jimmy Joy is sold on the Jimmy Joy website and can be purchased both in the United States and Europe. In the United States, it is shipped by FedEx.
How Does Jimmy Joy compare to other meal replacements?
If I were to choose one Jimmy Joy product to use it would be the Jimmy Joy Plenny Shake Active. For me, one of the most important reasons I would replace a meal with a meal replacement shake would be to increase my protein intake.
Still, though, Jimmy Joy contains less protein than other "active" meal shake formulas like Huel Black. But there are many other benefits.
Jimmy Joy is one of the most cost-effective meal replacements on the market. In my opinion, it also tastes pretty decent. It just depends what your priority is.
Is Jimmy Joy suitable for weight loss?
Jimmy Joy is the perfect replacement for breakfast or lunch that might normally be fast food or filled with sugar. According to the research, a lower carb diet can keep you healthier. 
The average American diet is lacking critical nutrients that assist you with weight loss. In fact, 3 of the most important ones for feeling full: Fiber, Magnesium, and Potassium. Without these, especially fiber, the stomach is triggered to be hungrier sooner.
I can speak from my own personal experience and having lost over 130 lbs with the assistance of meal shakes. You CAN use meal replacement shakes to help you too.We will talk about my experience in future articles. Start slow and replace one meal you normally have trouble with, like lunch, and go from there.
Is Jimmy Joy Vegan/Vegetarian?
Jimmy Joy is 100% vegan. The protein used in all of the Jimmy Joy products is completely plant-based. Besides that, Jimmy Joy offsets carbon emissions.