Type 2 diabetes affects millions of people. You can do several things to restore and maintain good health when you have diabetes, including improving your diet. 
One of the most common dietary changes people make when trying to manage diabetes is eating a keto diet.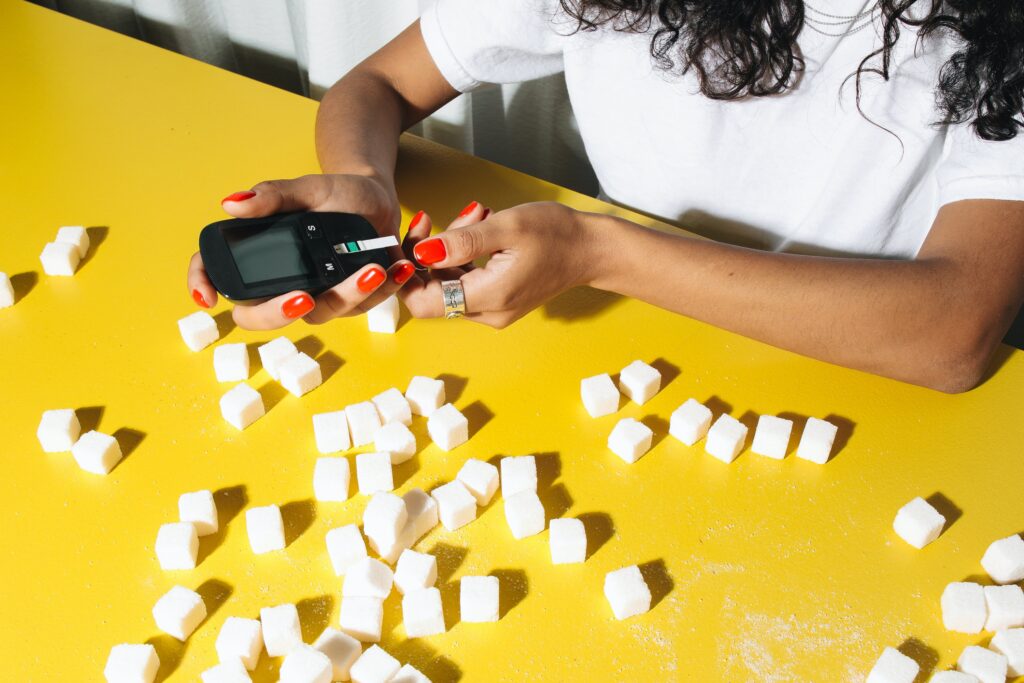 What is the Keto Diet?
The keto diet forces your body to use ketone bodies for fuel. Instead of burning glucose from carbohydrates for energy, when someone eliminates most sources of glucose in their diet, their bodies must turn to its fat stores for energy. 
This results in weight loss for many people and prevents many of the negative symptoms of diabetes.
How do you trigger the body to use ketones from its fat stores for energy?
This process is one of the trickiest elements of the keto diet.
To be successful, you must force your body to transition from using carbohydrates for energy to using its stored fat. This requires depriving yourself of carbohydrates by eating between 20 and 50 grams per day. 
To make up for the deficit, you increase your fat intake and adjust your protein intake to promote ketosis.
For most people, achieving ketosis takes a few days.
A sample macronutrient breakdown might look like this for someone eating a 2000 calorie a day diet:
165 grams fat
40 grams carbs
75 grams protein
Fat sources should include healthy unsaturated fats such as olive oil, avocados, nuts, and seeds, as well as saturated fats, such as butter, lard, coconut oil, and cocoa butter. Keto dieters must include fat at every meal.
They also need to consume some protein, but it's important to carefully monitor protein intake because it can interfere with ketosis. Most turn to high-fat protein sources, such as beef and bacon.
Although fruits and vegetables are healthy, keto dieters are encouraged to limit their intake of these items. Low-carb fruits such as berries are allowed in small portions. Low-carb veggies like leafy greens, broccoli, celery, cucumbers, onions, peppers are encouraged in small to medium amounts.
How Does the Keto Diet Affect Type 2 Diabetes?
People with type 2 diabetes often find the keto diet helpful because it can help them reduce their blood sugar levels. 
How someone's body responds to a change in macronutrients varies, but many people have found the keto diet to be one of the most powerful tools they have in managing their disease.
However, switching to keto when you're a type 2 diabetic has risks. 
The diet can trigger dangerously low blood sugar levels so it's important to test your blood sugar and ketone levels throughout the day. This way you can make adjustments to your diet as your blood sugar levels ebb and flow.
What about Cholesterol?
One of the biggest concerns related to the keto diet is cholesterol. High cholesterol causes severe health problems, including hardening the arteries and restricted blood flow, increasing someone's risk of stroke and heart attack.
Because the diet includes high consumption of fat, including saturated fats, there are some people who worry about a rise in bad cholesterol. And because diabetes tends to increase a person's cholesterol, the high fat intake is especially concerning.
It's important to note that there are two types of cholesterol – HDL and LDL. The keto diet can increase both types of cholesterol.
Anyone who chooses to manage diabetes with a keto diet must be aware of their cholesterol levels and regularly monitor these levels to avoid secondary health problems.
Is the Keto Diet Different from a Diabetes Diet?
Yes, these two dietary approaches to treating diabetes are different.
Although the diet recommended to people with diabetes reduces carbs, it includes many healthy carbohydrates. It focuses on eating plenty of vegetables and proteins and also includes a moderate amount of fruit.
Like the keto diet, diabetic dieters are encouraged to limit carbohydrate intake from processed grains, junk food, and other sugary foods, but still include whole grains in their diet. And unlike the keto diet, they're encouraged to avoid overeating fats and oils.
Are Keto Supplements Safe? If you'd like to achieve the beneficial effects of ketosis but struggle to follow a keto diet, you can do a few things. For example:
Magnesium supplements keep potassium and sodium levels balanced. This is especially important when you first begin the keto diet. There's a slight risk to the kidneys when taking magnesium supplements, so it's important to discuss your kidney health with your doctor beforehand.
MCT supplements (short for medium-chain triglycerides) are a fat source that may help in ketone development. MCTs might help keto dieters to eat more carbs than they would otherwise, but there is only anecdotal evidence of this.
Cinnamon in powder or pill form may help boost insulin response and increase how quickly your body metabolizes glucose.
Risks of the Keto Diet
Like all elimination diets, the keto diet has risks.
They range from unpleasant to dangerous. The most serious risk of switching to a keto lifestyle is the increase in saturated fat consumption. Doctors recommend limiting your saturated fat intake when keto dieting to no more than 7 percent of your daily caloric intake.
Other potential keto diet risks include:
Nutrient deficiencies
Without a wide variety of fruits, vegetables, and grains, your body might end up short in needed micronutrients. There's especially a concern for selenium, phosphorus, magnesium, and vitamins B and C.
Liver problems
The high fat intake of keto dieters puts a lot of pressure on the liver because it has to metabolize so much fat. If you already have liver health issues, the keto diet can make them worse.
Kidney problems
Consuming too much protein when keto dieting forces the kidneys to work overtime. Keto dieters should aim for 46 to 56 grams of protein per day.
Constipation
The lack of high-fiber foods puts keto dieters at a high risk of constipation.
Fuzzy thinking and mood swings
The brain relies on sugar from healthy carbs to function. Without them, you're likely to experience confusion, mood swings, fuzzy thinking, and irritability.