The History of Huel
Huel was an early entrant into the Meal Replacement market, coming in over a year after the original Soylent founding in 2014. Huel is the original "European Soylent."
It started selling its products only in the United Kingdom but has expanded to the European subcontinent and has even made an impressive entrance into the US market. 
The original recipe came from a registered nutritionist, taking a professional approach contrary to Soylent's original "hacker" methodology. By 2015, Huel was selling its original powder formula. Huel has held strong to its own vision of environmental sustainability and deriving nutrition from plant-based, whole food sources.
Huel - Healthiest Meal Replacement
Since the 2015 release of Huel, there have been many iterations of the original powder. Huel is now on its 3.0+ version of oat-focused powder and has introduced ready-to-drink shakes, savory meal replacement, the high-protein Huel Black and Huel bars that are a strong alternative to traditional protein bars. 
I did a lot of research and was impressed by the reviews I read on reddit. Because of its strong commitment to quality nutrition, I made my first Huel order this last year.
Why Trust My Review?
My name is Adam Andrewjeski. I was what someone in the tech world would call an "early adopter." I've been using soylent since its very early stages. The first time I saw a true meal replacement product was when I read about it in the first VICE soylent article back in 2013.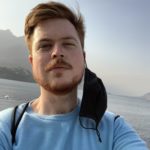 My first thoughts were...that's a crazy idea. Why would someone want to replace their food with a drink? But I let the idea simmer in my head. Eating and finding optimal nutrition was a daily source of anxiety for me. I spent too much time going out to find fast food and it was pretty clear it had to change.
Since my first soylent order in 2014, I've tried just about every brand of meal shake that you could think of. Everyone has their own personal tastes, preferences, and nutritional needs. 
I've done a lot of research to figure out what works best and what is high quality in this market. On average, over the last ten years, I've had about 1 shake a day.
At the beginning of this year, my weight loss started to slow. I had lost over 100 pounds using the shakes occasionally but I still had more to lose. I hit the dreaded weight loss plateau.
So I did something crazy. I decided that for 1 month I would only drink meal replacements. I tried all the brands I could get my hands on, consuming 1500-1600 calories a day. 
In the end, I lost another 20 pounds and lived off the shakes for almost 2 months. I felt great, if not a little bored, so I returned to mixing my diet with solid food.
You can count on me to give you solid advice about what meal replacements work best. I'm experimenting every day and am always trying new brands. I try to make my biases clear, and I want to help you reach your nutrition goals just like I have.
What is Huel? The Huel Meal Replacement Line
Huel Packaging
Huel comes in a 1.7kg bag which roughly works out to 17 meals of 440 calories. These Huel bags are easy-open and have a Velcro-style seal that makes them easy to open and close. 
One downside is that when you open a new bag of Huel you usually spill a bit of powder. 
Lastly, Huel currently does not offer a sample size. On the website, you have to select 2 bags of powder (the minimum order) but you CAN select 2 different flavors.
The problem is that this doesn't allow much of an option for experimentation with your first order. I myself found that one of the first flavors I ordered didn't suit me very well and now I'm stuck with it.
Hopefully, they change this in the future so that you can buy the flavors in some sort of sample pack, or they will sell smaller bags like Queal and other brands. 
Huel Powder 3.0
Huel Powder is the quintessential meal replacement powder option. This is the third version of the powder that Huel has released. 
Huel Powder has a foundation of oats with added Pea and Brown Rice Protein. There are lots of neat little bonuses like kombucha, acerola cherries, and probiotics to aid the digestive system. 
Huel Black Edition
Huel Black is the high protein, lower carb version of the Huel Powder - and my personal choice for the best nutritional offering from a mainstream meal replacement shake company.
Huel Black contains 44 grams of protein for an average serving, is lower carbohydrate, and comes in lots of different flavors. I've tried most of them, and like many of you know, I'm a banana guy. 
Huel Ready-to-Drink
Huel Ready-to-Drink is the other flagship product of the Huel line. It's more expensive than buying and mixing your own powder but it's obviously quite a bit less messy and more convenient.
It's based on the same oats-centered formula as the Huel 3.0 Powder but is a lot more consistent, smooth, and in my opinion, tasty. Unfortunately, it has a similar problem as the powder, where you need to order $100 worth of product at a time.
Huel Bar 3.1
Huel bars are a solid meal replacement option...no really, they are the only pre-prepared, ready-t0-go solid food option from Huel. At 200 calories, they are marketed as a snack and come in quite a few flavors.
Just like the powders and drinks, the ingredients and nutrition come from real food and are a nice alternative to the shakes, if that's what you like. They have a flavor similar to protein bars (but I would argue are better).
Huel Hot & Savory
Huel's Hot and Savory are a curious option for those of us from the meal replacement world who are used to vanilla flavored beige powders and fluid. There was a need for a meal replacement product that was easy to make and substantial.
Huel Hot & Savory filled that niche and honestly I was surprised by the flavor. My favorite is the curry flavor because I'm a big fan of curry as a spice and a dish. In my opinion it is more filling than the shakes which is nice!
Huel Flavor Boosts
The line of Huel flavor boosts was a solution to an early problem with Huel: Critics reviewed the product with a disdain for the bland, soulless flavor of the original powders.
So Huel released a line of flavor boosts that allowed the meal shake enthusiast to customize their shakes based on their own personal tastes. For me personally, it does reduce the cost efficiency of Huel but is a good option for the pickier connoisseurs out there. 
Huel Taste
Huel is overall one of the more flavorful types of meal replacement shakes. There are some more heavily flavored shakes, like Queal, and others that are a lot lighter and more neutral (Soylent, Feed, Saturo, Jimmy Joy, etc).
BUT Huel does come in an "unflavored" version. I have not tried it myself, but I have heard it is a little bit...stark. Most reviews I have seen thought it was a bit too rough on its own. For this reason, Huel recommends a flavored meal shake.
If you are looking for a more neutral taste because you are looking to do a 100% Huel diet, I would recommend you to mix 1 bag of Huel Unflavored and 1 bag of Vanilla Huel. 
Huel - Healthiest Meal Replacement
Huel Texture
Huel is one of the more grainy-textured meal replacement shakes because of the addition of flaxseed. For me, this isn't really a big problem, and Huel's whole food nutrition matters most.
The only annoying thing is that the flaxseed hulls make it a bit more difficult to get a thorough and quick clean of bottles and blenders. The little bits of the flaxseed get stuck in my teeth too. Just something to consider.
Best Huel Flavor?
This is always going to be a subjective thing. I think that there are two or three groups of people. Those who enjoy fruity flavors, those who prefer chocolate/dessert flavors and those that would rather have something salty and savory.
For me, when it comes to meal replacements, protein shakes, and even protein bars, I've always preferred the fruity flavors. I've tried almost all of the Huel standard flavors and I prefer Huel's Banana.
Vanilla is pretty solid too, and a good option if you are going to drink a lot of the shakes, combined with unflavored ones like I mentioned before.
An honorable mention for me goes to Peanut Butter, which is a flavor that is only available in the US. For now, Huel Peanut Butter is sold exclusively there because of EU regulations.
A lot of the savory flavors come down to personal preference too, but I love Curry so I'd put that at the top. I think Korma is my least favorite because it is a little bit too bland for my taste. I always add some spice to any Savory meal.
Huel Nutrition: A Closer Look
Are Huel's ingredients good for you?
As I mentioned in the introduction earlier, I really do believe that Huel (mostly Huel Black) is one of the best alternatives to Soylent and traditional lents on the market. As far as I have seen, it contains the highest protein I've seen on the market AND is vegan if that's what you're looking for.
While Soylent contains Soy Protein, the vast majority of Huel is Pea Protein (with a little bit of rice protein) and a great option for vegan nutrition. Pea Protein is easier on the digestive system than Whey Protein for me.
Huel has a macronutrient distribution designed by nutritionists for the modern interpretation of recommended diets. This is a long, complicated subject but the tables have turned in favor of healthy fats/high protein instead of simple carbohydrates. You can read more here, but this isn't the place for a long debate over the merits of high fat/high protein diets.
At the same time, Huel Black's low-carb profile is not quite low enough to qualify for a ketogenic diet. I suppose if you are an athlete and burn a lot of calories, you might be able to make a "Huel Ketogenic Diet" work for a few meals out of the day.
Here is the Huel Website's list of ingredients for the base powder of Huel 3.0:
Huel Weight Loss
Huel can be a great tool to help you lose weight.
I started using Huel about halfway through my own weight-loss journey. I drink at least one shake a day to help me get enough protein, and Huel Black contains a ton of it.
Huel and Your Body
Huel contains a ton of fiber, prebiotics, and probiotics that are great for the digestive system and was designed by a dietitian. Just like soylent, Huel contains everything that the body needs.
The negative of the kind of fiber in Huel is that it is sort of difficult to adjust to for the average person. For some reason, for me, it is just Huel. I've tried jumping to 2+ shakes a day and haven't experienced problems. With Huel, it's safe to start with 0.5-1 shakes a day.
Is Huel the Best Meal Replacement Shake?
Huel Black is my every meal replacement shake and has been since the start. Nutritionally speaking, with over 40 grams of protein, lower carbs, and quality fats like MCT, Huel Black is the best for my goals.
It is also pretty affordable, coming in at under $2 a meal even for the smallest quantity you can order (which to be fair, is still larger than I would like).
What Makes Huel Different from Soylent?
Huel's ingredients and formula, explained here, are of a higher quality on many objective levels. Soylent seems to be approaching their formula from a cost-saving, mass-appeal strategy. 
Is Huel better than Soylent?
It depends on the metric you use. If you go by cost, depending on the product, Soylent might be cheaper. Soylent also has a more consistent mouth-feel and is pretty smooth.
And that's where I would say the benefits of Soylent over Huel end.
Here are the metrics which put Huel over Soylent:
Ingredient Quality/Source
Variety of Flavors
Protein Content/Macronutrient Distribution
Shipping Speed
Availability outside of the United States
Final Thoughts and Huel Tips and Tricks
Overall, Huel is probably my favorite type of meal replacement and brand. When it comes to Huel Black, it's really hard to beat the nutrition for the price. 
It is pretty affordable (especially when you consider buying a lot up front). And it is difficult to find the same deal considering it contains DOUBLE the protein of other shakes.
If you are only replacing one meal a day with a ready-to-drink or powder meal replacement option I would highly recommend going with Huel Black to get your protein up and avoid adding a lot of carbs.
Huel, like many meal shakes, are much better when prepared using a blender and left in the fridge for a while. I've tested fridge times and I think the optimum wait time is 4-6 hours. Any longer and it's not as fresh.
Lastly, if you try a 100% Huel diet like I did for a while, you should acclimate to it. The fiber in Huel is rough on some people's stomachs. Start with one shake a day or you may face some poopy consequences.
Where to Buy Huel
FAQ
Can you lose weight on Huel?
Some people, including myself, have used Huel and other meal replacements as a way to make the calorie counting process during weight loss easier. 
Keeping a drink like Huel in the house instead of snacks is an excellent way to avoid cheating on a diet.
During the first few months of this year, I used Huel to push through a plateau in my weight loss. I drank only Huel shakes for over a month straight. While it requires a lot of willpower, Huel contains all you need to live.
Huel - Healthiest Meal Replacement
Does Huel fill you up?
Huel does a good job of keeping you full. Its high protein content and high fiber will keep you full for at least 4 hours. I found that if you eat breakfast and use Huel for lunch replacement, it will keep you full until dinner.
Is Huel vegan?
Huel is 100% Vegan and contains no soy.
Is Huel low FODMAP?
Huel 3.0 and Huel Black are low FODMAP. FODMAP stands for fermentable oligosaccharides, disaccharides, monosaccharides, and polyols. FODMAPs are carbs that your body can't digest.
Dieticians recommend low FODMAP foods to people with problems like IBS (Irritable Bowel Syndrome). Other Huel products like Hot & Savory, Ready-to-drink, and Bars are not low FODMAP. Read more about it here.
Do People Have Stomach Problems with Huel?
Huel is a high fiber meal replacement option, and I myself have experienced some issues acclimating to the particular type of fiber (flaxseed) used in the powder. 
If you will be consuming more than 1 shake a day, I recommend starting with only 1 a day for the first week. As mentioned before, Huel has a relatively low impact on the gut, but any person adjusting to a high fiber diet needs to take it slow.