GPS Origins, by HomeDNA, is one of the more popular ancestry DNA tests on the market, and for good reason. Their tests have been around much longer than competing companies, with over 2 decades of selling Ancestry information to their customers. 
While other DNA tests often focus on your ethnic and racial background, GPS Origins offers a little more.
Their tests give additional information, such as your ancestors' migration patterns, and they can even go so far as to tell you what village your great, great, great, grandparents may have lived in. 
But with all these impressive claims, is GPS Origins Ancestry DNA Test worth the relatively high price tag?
In this GPS Origins DNA test Kit review, we'll look at what the company offers, what the results look like, and explore whether or not this is the best test kit for your money, or if others offer a better value.
GPS Origins:
Shows ancestry path hundreds of generations back
Has been in the market since 1995
Claims to be able to show the exact village your ancestors live
It offers the most precise test kit.
Quick facts:
| | |
| --- | --- |
| Sample Collection | Cheek Swab (4) |
| DNA Testing Type | Autosomal |
| Speed | 6-8 weeks (mine took 17 days) |
| Privacy Protection | Unique to Reseller |
What We Look for in a DNA Test
When reviewing a DNA test kit, these are the 7 things that we look for:
Thorough and easy to read results
Accurate testing methods
Includes lots of interesting data about your genetic makeup
The kit includes everything you'll need to take the test from the comfort of your own home
Quick turnaround time
Reasonably priced
Available to order online
How much does GPS Origins DNA kit cost?
$199 - you have the option of buying it from HomeDNA.com
The price for the GPS Origin test kit may vary depending on where you buy it from. Also, HomeDNA.com offers several more specific DNA tests - African Ancestry Test, Asian Ancestry Test, Maternal and Paternal Lineage etc.
Why Choose GPS Origins DNA Test
GPS Origin's Ancestry test may not be the cheapest on the market, but it does include some great features that help it stand out from the competition.
Cyber Monday Deals
ENDS SOON - Biggest Discounts of the Year
Now is the best time to get a DNA kit. Companies are running specials of up to 50%.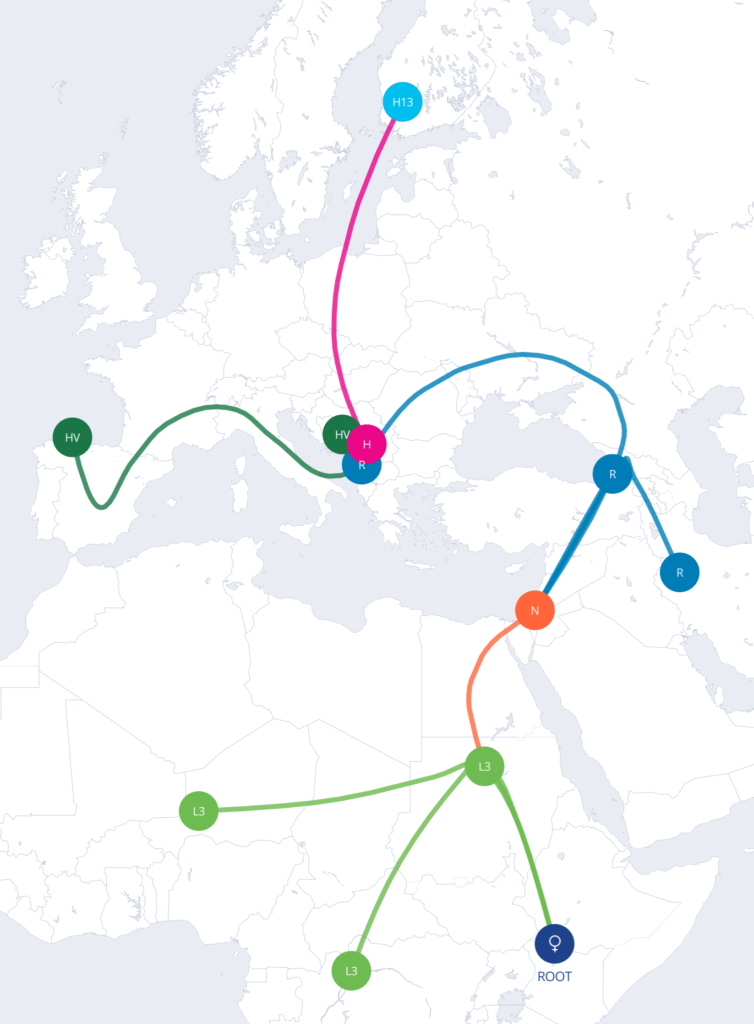 Some of the awesome features you can expect when you take this DNA test include:
A map that includes your top 3 gene pools, all located on a beautiful color-coded design
Easy to read report that anyone can understand regardless of education
Trace your ancestry across hundreds of generations
In-depth chart that reveals all of your ethnic groupings
Detailed explanation of your historical background, including regions and time periods
Unique algorithm that plots your ancestor's migration paths across the globe
Focuses more of where your ancestors gathered to create your unique genes, rather than focusing on ethnic or racial groups like most other tests
A full breakdown of your gene pool
Results available in as little as 4 to 6 weeks
What is in the box
The GPS Origins kit contains the following:
4 DNA collection swabs
Envelope to put samples in
Return envelope
Send in steps
How to send in GPS Origins DNA Test
Buy your DNA testing kit

Register your Ancestry test on HomeDNA's website

Swab your cheek 4 different times in order to collect a DNA sample. Wait for your samples to dry

Put cheek swabs in return envelope and send them to the DNA diagnostic center, you'll receive an email once HomeDNA receives your sample

Wait up to 6 weeks to receive your personalized DNA test results
One complaint I had was that out of all of the DNA tests I've taken, this was one of the least secure in terms of protecting your privacy.
For example, you put your name, phone, and email on the envelope so they know who it's coming from. While I understand the reasoning behind this, it could potentially compromise your privacy.
Also, it has 4 cheek swabs, with 30 seconds of swabbing and another 60 seconds of drying for each one. This means that you'll have to spend some time to complete the test.
HomeDNA will email you when they receive your sample:
GPS Origins DNA Testing Technique
When you submit your DNA sample to GPS Origin's lab, they test your family, also known as autosomal, DNA. This means the company examines hundreds of thousands of autosomal mutations, or markers, in your chromosomes to arrive at your results.
These markers are then compared with reference populations that GPS Origins has accumulated in their database.
They do this to analyze where exactly your DNA las mutated during your genetic history.
This info is used to give you an in-depth look at your gene pool populations, as well as create a map tracking your ancestors' migration patterns.
How is my privacy protected on HomeDNA?
HomeDNA has a great blog post sharing their privacy protections. Specifically, they:
"
Except for legal paternity tests, all test samples (cheek swabs) are destroyed shortly after testing is complete
We only analyze and store data for the specific test that was ordered by the customer (we do not perform any other types of analysis on existing data)
We do not maintain publicly-accessible databases of ancestry-related or other data
We are committed to protecting the security of your information. We use a variety of industry-standard security technologies and procedures to help protect your information from unauthorized access, use, or disclosure
We do not share or sell any customer's data with companies or entities that are not connected to HomeDNA's parent company, DDC. Because of this policy, no "opt-out" is ever necessary for our customers
"[source]
You put your name right on the test kit when you return it. Most other DNA testing kits have your test kit #, meaning that there isn't any personally identifiable information on your test kit.
However, this probably doesn't matter unless you're a celebrity (chances are the person testing your package has no idea who you are), but still seems like an easy thing to fix.
The results
GPS Origins tests your autosomal DNA that comes from your parents from chromosomes 1-22. They split your gene pool to it's two primary, unique components to trace your maternal and paternal lines.
GPS Origins sends you a video to show how they come up with your test results. This gives you an excellent overview of how to look around their service.
Compared to other services (Ancestry.com, 23andMe), it's straightforward to navigate, but this is mostly because there's only one page of your results. GPS Origins chronologically does this:
First - you can read about how we came out of the sea 360 million years ago, and then how our primate line split from other mammals 65-80 million years ago, all the way to Africa (where all of us have shared ancestors).
It's a good primer and quick brush up on history before diving into more specifics and migration maps.
Gene Pool Percentages
The first section is your top 3 gene pool percentages. Hovering on these will show you the unique maps for your gene pools.
You can read about each of the regions in detail right below it:
Much like The Human Origins section, this is a well-written section that allows you to learn all about the top areas you are from. They are short, about 8 paragraphs, but give you a detailed and interesting view of the different stories.
DNA Migration Routes
This is the portion that GPS Origins markets heavily, claiming to be able to show you migration routes down to your ancestor's villages.
You can look at the geographical origins of your ancestors and the migration paths they took. However, you would have had to take another test to know which is your mother's route and which is your father's (LivingDNA does this).
Clicking these will show the various stories:
Understanding Your Results
More reading! You can read additional information on:
How genetic testing works, specifically with GPS Origins
How to understand your origins (gene pool)
Specific migration patterns
Download raw Data
Like most other tests on the market, GPS Origins allows you to download your raw DNA data:
Overall Review - Is GPS Origins Worth it?
Pros
Nothing is hidden behind a paywall
Tons of information to read and digest
Ability to upload/download raw DNA data
Precise results
Cons
Privacy (writing your name on test kit)
Not nearly as much info as competition 
Exact migration patterns aren't certain
Overpriced
Limited functionality for results
The results, while impressive, are sparse and don't contain that much information when compared to some other DNA testing kits.
When put up against 23andMe, Living DNA, and Ancestry, GPS Origin's results are pretty limited.
For example, GPS Origins gives you one page of information, whereas the competition provides you health traits, possible relatives, and much more in-depth ancestry information.
In addition, GPS' Origins claim that you can view your ancestors down to the village is dubious at best and doesn't seem to be worth it. That being said, they do go into more depth in terms of things like migration patterns
Finally, though you can get it cheaper on Amazon, the fact that they charge $199 is kinda expensive, and what they give you doesn't really justify the high price tag.
Cyber Monday Week
Best Prices of the Year
We monitor prices year round - now is the best time to buy a DNA kit for the lowest price.