At a glance, GPS Origins may be just another DNA test. 
However, it provides details about ancestral origins from a different angle. Instead of the usual ethnicity percentages, GPS Origins talks about "gene pools." 
This DNA test can also describe your ancestors' migration paths and pinpoint the exact village where they stayed. It does this by tracking unique DNA markers and looking at specific locations where your DNA was formed. 
These are impressive claims. But do they justify GPS Origins' price? 
In this GPS Origins review, let's look at the test's features, the results, and whether this test kit offers a good value for your money.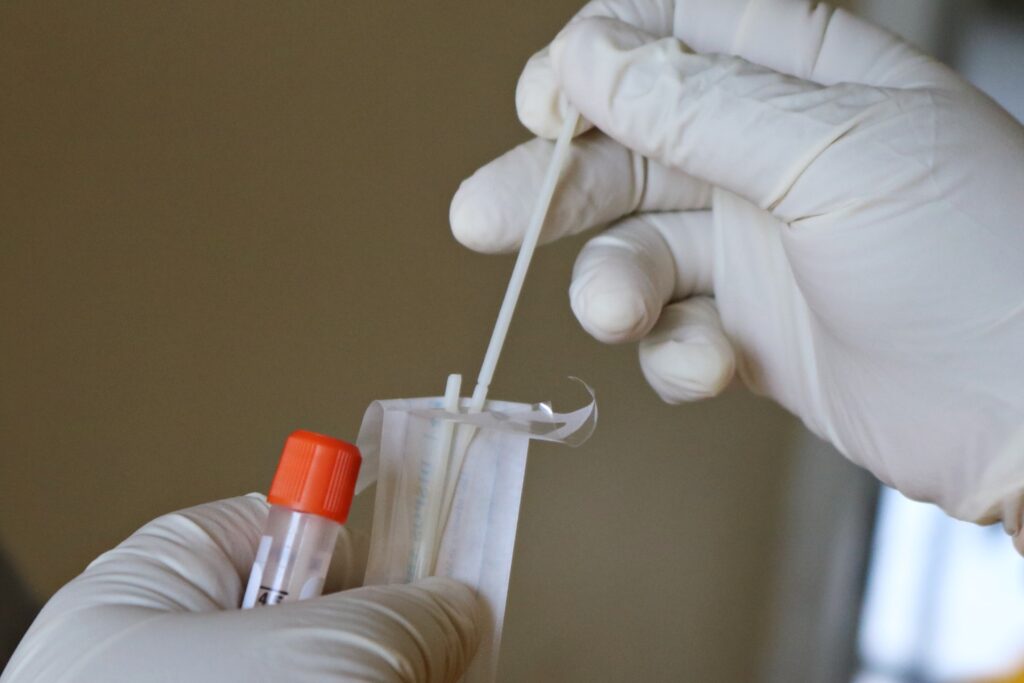 GPS Origins Quick Facts
Autosomal DNA testing
Color-coded details about your "gene pools" and the DNA percentage you got from each pool
A map of the migration journeys of your ancestors 
The ability to identify your ancestors' village
An explanation of your historical background, including regions and events like wars, migrations, and famines
The ability to upload your raw DNA data from other DNA testing services
Package and Pricing
GPS Origins is a HomeDNA product. GPS stands for "Geographic Population Structure."
HomeDNA is a brand of genetic testing products. It was launched in 2016 by DNA Diagnostics Center, one of the oldest DNA testing companies.
GPS Origins' kit costs $199 on HomeDNA's website. However, this DNA test kit is resold by other retailers, so you'll encounter prices ranging from $99 to $199. 
The kit contains the following items:
Four cheek swabs for collecting the DNA sample
An envelope for storing your DNA sample
A return envelope (postage-paid for U.S. customers)
Instructions
For the $199 price, this DNA test kit is pretty basic. The cheek swabs are wrapped in a brochure. 
There are also no storage vials for the swabbed samples. You just put the swabs into the envelope for shipping. 
How the GPS Origins DNA Test Works
To collect a DNA sample: 
Buy the DNA test kit.
Register the kit on HomeDNA's website.
Unwrap the four swabs. Swab your check four different times. Wait for your samples to dry.
Put the swabs into the envelope. Send them to DNA Diagnostic Center. You'll get an email once they have received your DNA samples.  
Wait up to 6 weeks to receive your personalized DNA test results. (I got mine in 17 days.)
GPS Origins is an autosomal DNA test. It only looks at the 22 out of 23 pairs of your human chromosomes. It doesn't test for mtDNA (mitochondrial chromosome) and YDNA (Y chromosome).
GPS Origins does not provide the usual ethnicity percentages you get from other autosomal DNA tests. 
This DNA test looks at the origins of your ancestors and how they migrated. It also claims to have the ability to pinpoint the exact village where your ancestors stayed. 
According to HomeDNA, the DNA test does such things by looking at over 80,000 unique genetic markers. Your data is cross-checked across "dozens of gene pools and more than 1,000 reference populations."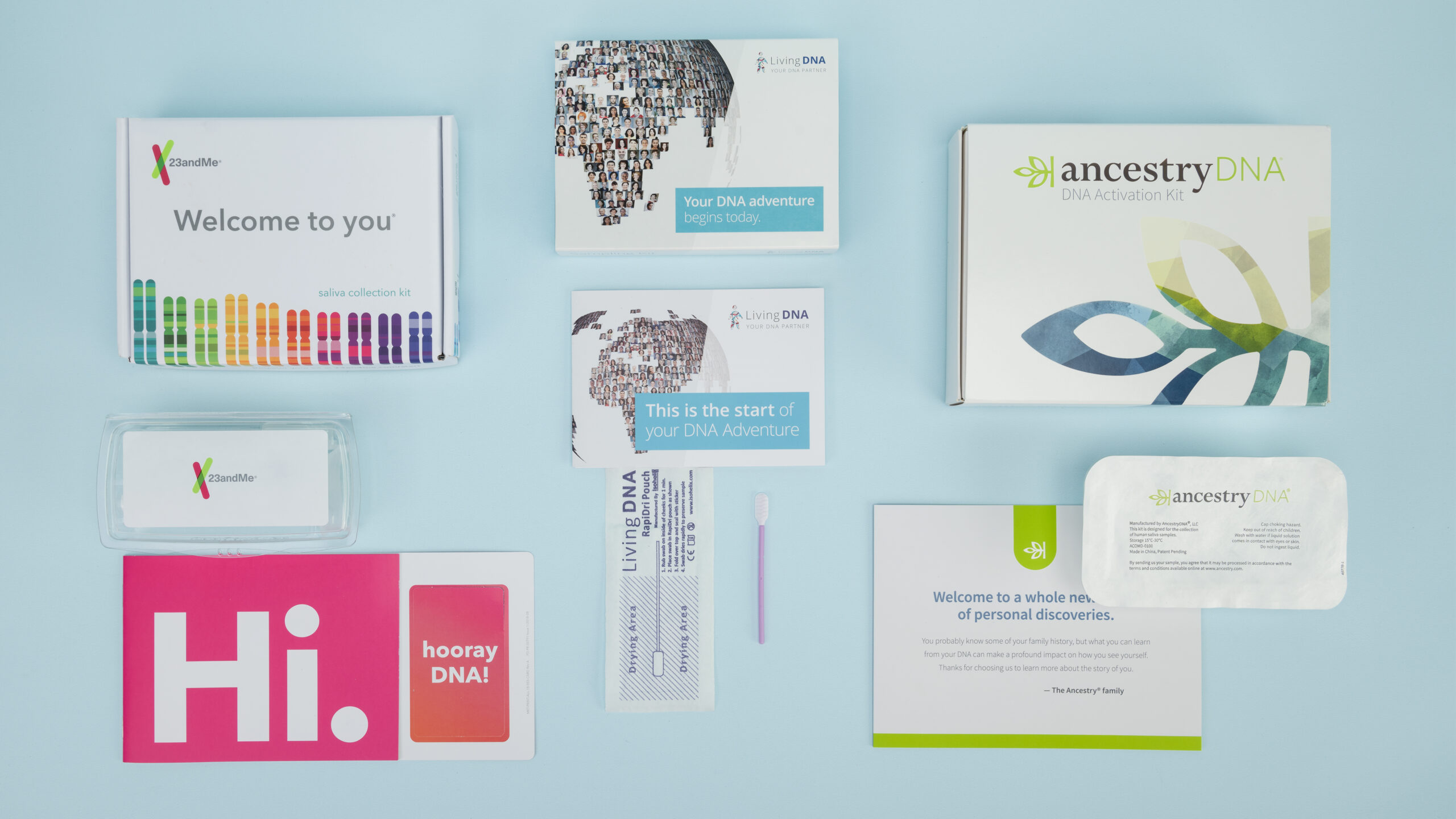 Best DNA Kit
Don't miss out on the opportunity to learn more about yourself. Read our best DNA test page to find the best one for you.
My GPS Origins Results
Compared to other services, GPS Origins' reports are straightforward to navigate. This is because there's only one page. 
You can read about Human Origins. Like how humans came out of the sea 360 million years ago. Or the different stages of human evolution, from primates to modern humans. 

Human Origins is just a primer before you dive into the two core reports of GPS Origins: 
Gene Pool Percentages
DNA Migration Routes
These two reports are unique to GPS Origins. No other DNA tests provide such types of information. 
1. Gene Pool Percentages
Unlike other DNA tests, GPS Origins doesn't focus on ethnic groups. Instead, it looks at where your ancestors gathered, which created your unique DNA signature. This gave birth to the concept of "gene pools."
Gene pools are ancestral communities where you inherit significant percentages of your genetic makeup. 
GPS Origins identifies gene pools by tracking unique DNA markers. Then it looks at specific geographical locations where your DNA was formed. 
Here's my example: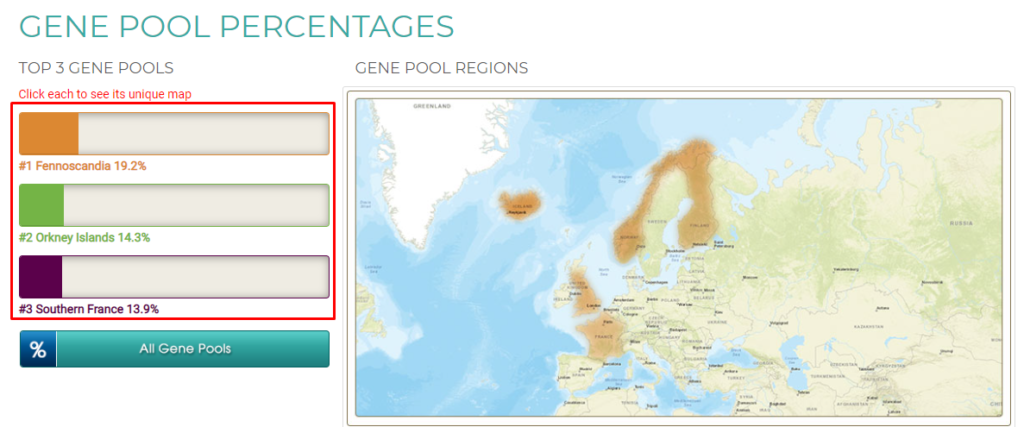 On the right, you'll see the top 3 gene pools. If you click on one pool, the page will show the unique maps associated with that pool.
You can see the full gene pool results by clicking the "All Gene Pools" button. In my case, I got 13 gene pools.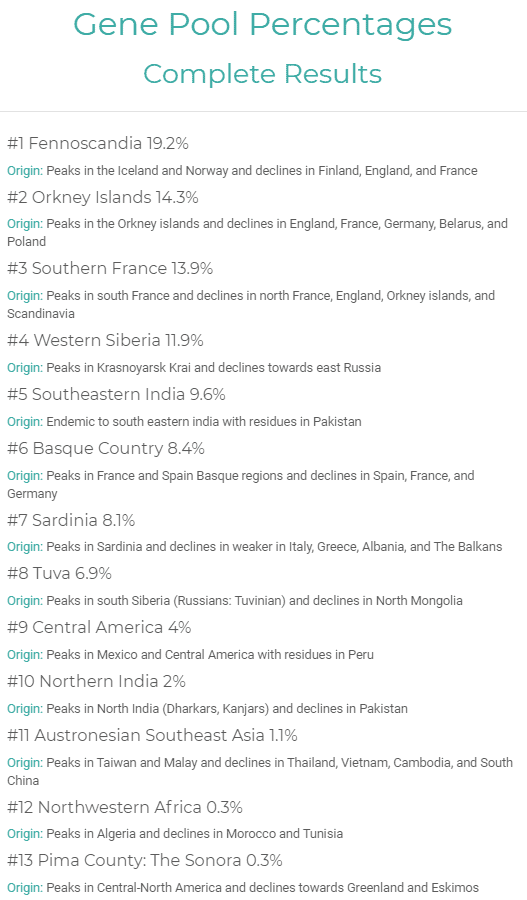 You can also read further details about the top 3 gene pools.

Much like Human Origins, this section is well written. You'll learn about the stories of the top 3 areas where your DNA came from. From the history of agriculture and language to the migration patterns there. 
2. DNA Migration Routes
The next thing you'll see is a DNA migration map. It shows how your ancestors migrated and the 6 locations where your DNA went through significant changes.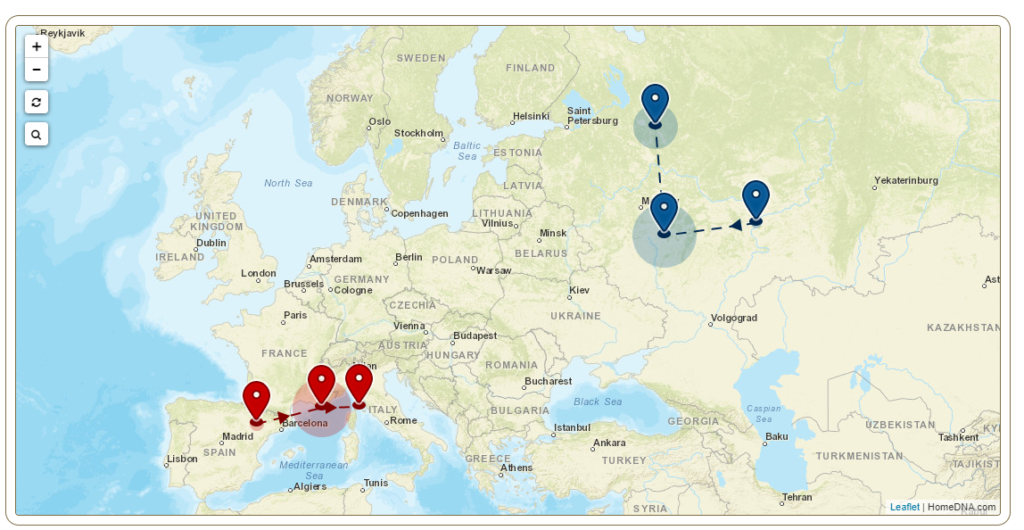 Unfortunately, this map cannot tell which path is aligned with your father's or mother's side. 
That's because GPS Origins only tests autosomal DNA, not YDNA or mtDNA. You would have had to take different DNA tests to know your paternal or maternal lineage.
3. Extras
Like other tests, GPS Origins allows you to download your raw DNA data then upload it to the system of other DNA testing companies.
You can also upload your data from other DNA testing companies (like 23andMe, AncestryDNA, or Family Tree DNA) into GPS Origins's algorithm. 
However, GPS Origins still recommends that you take its DNA test. That's supposedly because it has unique DNA markers not found in other tests. 
GPS Origins' algorithm also cannot YDNA and mtDNA data. Moreover, processed results may vary because of differences in DNA testing procedures.
Privacy Protection
One complaint I had was that, out of all the DNA tests I've taken, this was one of the least secure in protecting privacy.
For example, you put your name right on the test kit when you return it. Other DNA testing kits have kit numbers. This means there isn't any personally identifiable information on your test kit.
HomeDNA has a great blog post about its privacy protections. Specifically, the company:
Destroys all test samples after testing is complete (except for legal paternity tests)
Only analyzes and stores data for the specific test ordered by the customer. This means the lab won't perform other types of analysis on existing data.
Does not maintain publicly accessible databases of ancestry-related or other data.
Is committed to protecting the security of customers' information. The company uses industry-standard security technologies and procedures to help protect customer information from unauthorized access, use, or disclosure.
Does not share or sell any customer data with companies or entities not connected to DNA Diagnostics Center. Because of this policy, "opt-out" is not considered necessary.
How Accurate is the GPS Origins Test?
One key difference between GPS Origins and other companies is that GPS Origins can trace your DNA to the exact location where it came from. Other companies only provide a general region; GPS Origins' results are more specific.
For example:  
If your parents came from the same place and share similar gene pools, GPS Origins can trace their DNA signatures to the country of their origin 81% of the time. 
GPS Origins claims to predict the correct country of origin of at least one parent 96% of the time. 
Whether these claims are accurate is a different issue. Some genetics experts have significant concerns about GPS Origins' accuracy.
GPS Origins' reports differ from that of other companies, so it's hard to compare them. 
For instance, you can't simply compare GPS Origins' gene pool percentages with ethnicity estimates you get from other providers.
Conclusion: Is GPS Or igins Test Worth It?
GPS Origins' process is straightforward. 
While the results are impressive, they are sparse and don't contain that much information compared to other DNA testing kits. 
GPS Origins is pretty limited when put up against the likes of 23andMe or AncestryDNA. 
For example, GPS Origins gives you one page of information. The competition provides health traits, possible relatives, and more in-depth ancestry information.
In addition, GPS Origins makes the extraordinary claim of finding specific regions where your ancestors lived and migrated. This sounds dubious and doesn't seem to be worth it. That being said, the test goes deep in terms of things like migration patterns.
Moreover, the test kit costs $199, which is somewhat expensive. The information it provides doesn't justify the high price tag. Tests like 23andMe and AncestryDNA can offer more for the same price.
Still, GPS Origins can help check a person's ancestry, though not as deep as other tests. As long as you understand this limitation, it can help you start looking into your family's history. 
Pros
Straightforward testing
Nothing is hidden behind a paywall
Tons of information to read and digest
Ability to upload and download raw DNA data
Geographic locations supposedly associated with your DNA
Cons
Privacy (writing your name on the test kit)
Not nearly as much info as other DNA testing companies  
Exact migration patterns aren't certain
Fairly basic package and limited features for the high price
Expensive, confusing pricing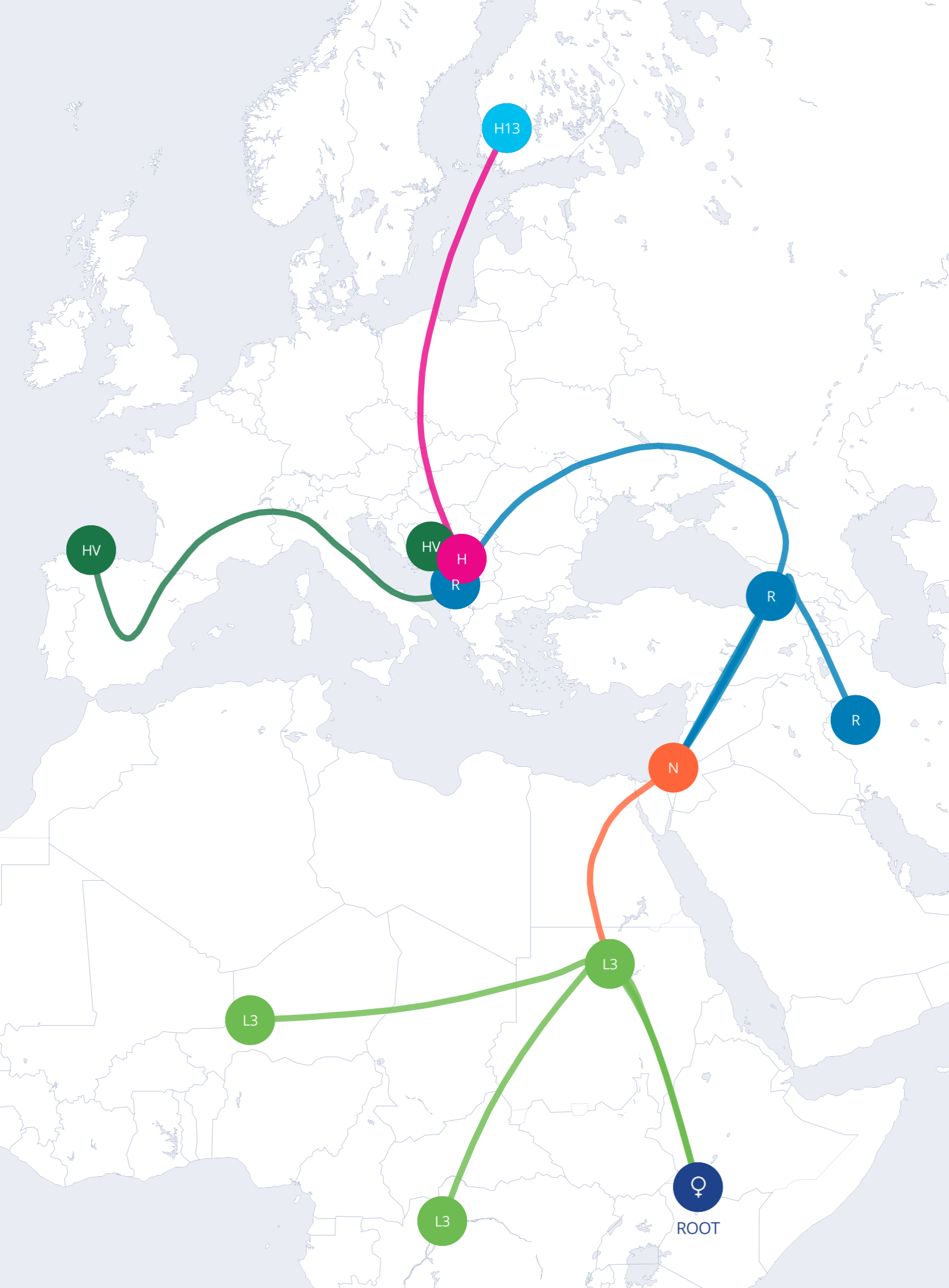 The Best DNA Test
Looking for a DNA test that's accurate and can tell you about your health and heritage?