Our Verdict: My reports from GPS Origins aren't nearly as comprehensive as the ones I got from Ancestry or 23andMe. But it does have some cool features I liked.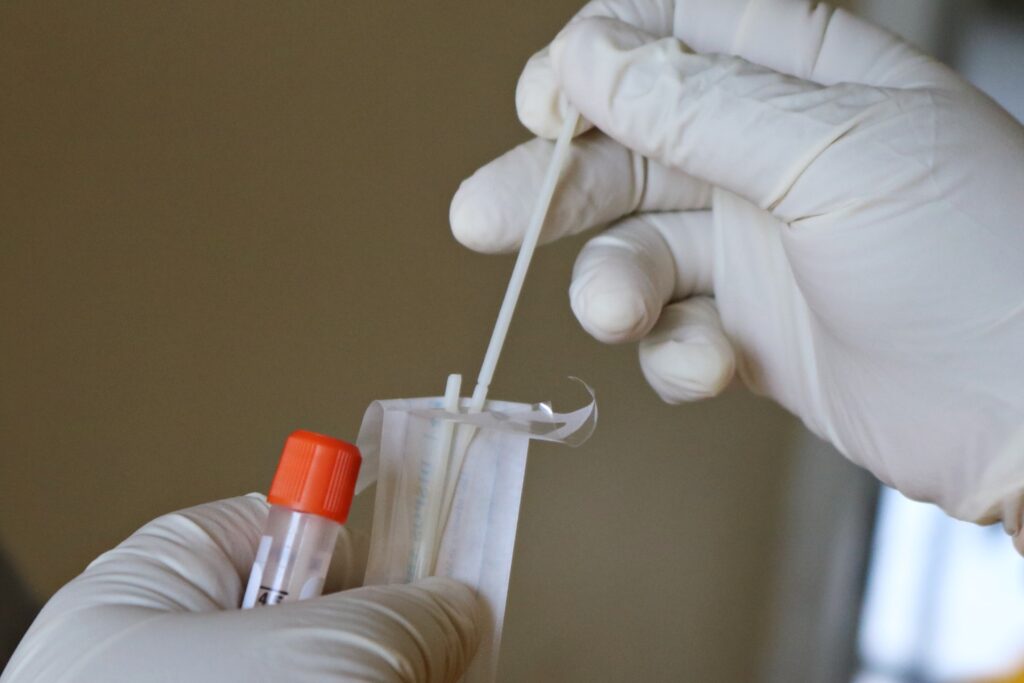 GPS Origins was the only test that told me the exact town/village where my ancestors likely lived. Other tests I've tried simply estimated their regional origins, so that was pretty cool.
I also loved that I could upload my raw DNA on their website and still get insights. It's a great way to learn more about your ancestry without taking another test.
Don't get me wrong, AncestryDNA and 23andMe are still the best DNA tests for ancestry and health, respectively. If you haven't taken these tests, you should get them instead.
But if you're looking to get more information on your DNA, GPS Origins is a nice option—especially if you have Asian and/or African ancestry.
Let's take a closer look at its features and test results and see how it compares with the leading providers of at-home genetic testing: 23andMe and Ancestry.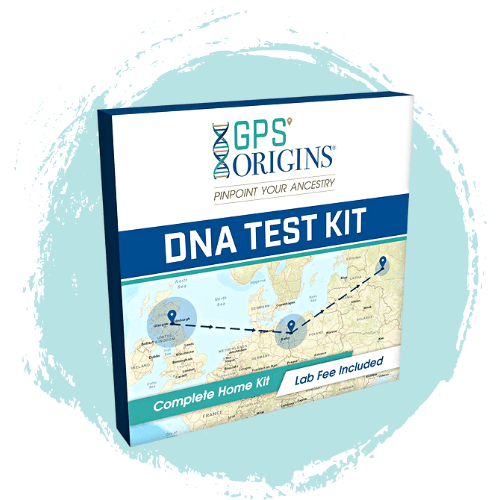 Pros
A simple non-invasive test that requires a saliva sample
You'll learn the exact locations where your ancestors lived
You can get even more detailed reports if you're of Asian or African descent
Cons
Tests for Asian and African ancestry are sold separately
You don't get much for the price you pay
Only accepts older DNA data for uploading
My GPS Origins Report
I took the GPS Origins DNA Test Kit since I have mostly European ancestry. My DNA results were divided into two:
Gene Pool Percentages
DNA Migration Routes
Before diving into these results, there's some information on Human Origins. It walks you through human evolution since it began 360 million years ago.

Compared to Ancestry or 23andMe, GPS Origins' reports are easier to navigate. But it's only because it fit on one page, which leaves much to be desired.
Below is a breakdown of what you'll get:
1. Gene Pool Percentages
GPS Origins doesn't focus on your ethnic groups like other DNA tests I've tried. Instead, it determines your genetic ancestry through gene pools.
Gene pools are the sum of a population's genetic makeup at a given time. This information helps GPS Origins uncover two things about your DNA:
Which communities contributed to your unique DNA signature
Specific places your ancestors lived
While other tests tell you which regions your ancestors came from, GPS Origins shows you the exact locations–including historic towns or villages–where they lived.
Here's what my gene pool percentage looks like: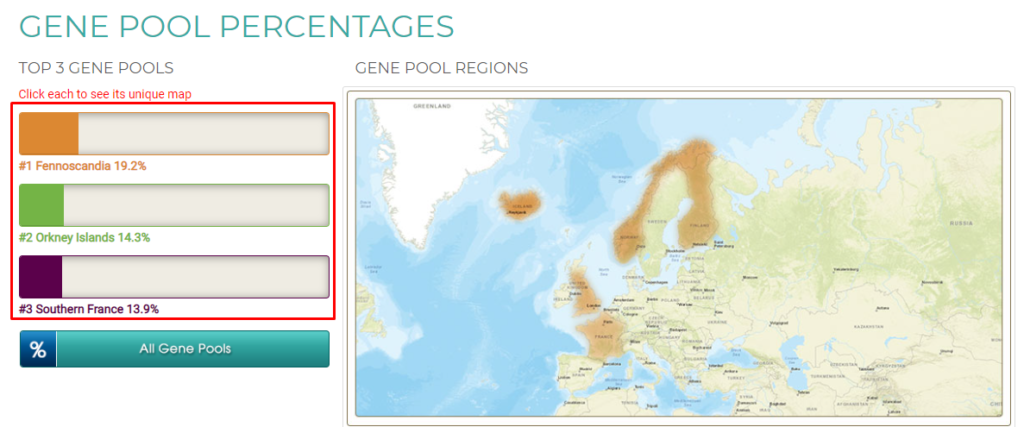 The report will include your top three gene pools by default. Clicking on a pool reveals the maps associated with them or the places where your ancestors lived.
If you want to see your full report, click on the "All Gene Pools" button. In my case, I got 13 gene pools.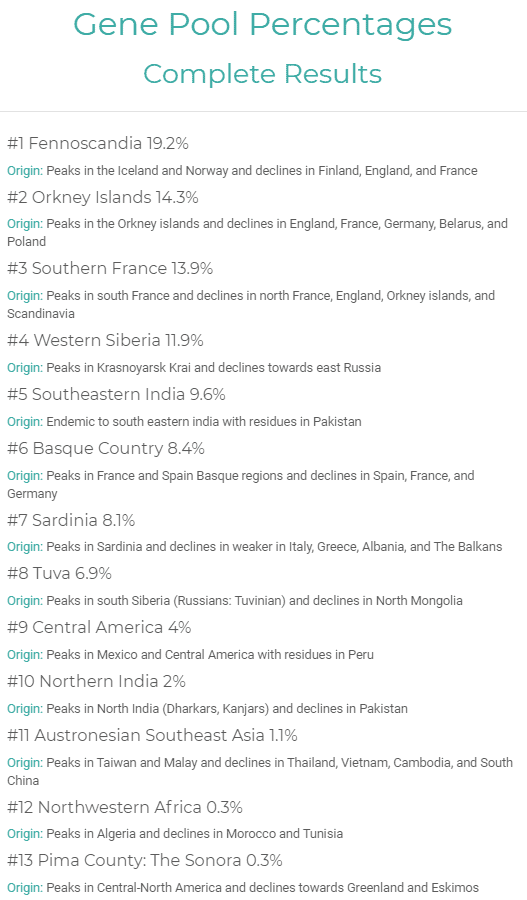 My gene pool results say that I share:
19.2 percent of my DNA with communities from Fennoscandia (now modern-day Norway, Sweden, and Finland)
14.3 percent of my DNA with communities from Orkney Islands (located north of Scotland)
13.9 percent of my DNA with communities from Southern France
Some of these match up with my results from 23andMe and Ancestry. However, there are a few differences.
For example, my AncestryDNA report says that I share most of my DNA with people from Norway, which is close to what GPS Origins found.
But my 23andMe results say most of my DNA is shared with French and German populations. (Norway only comes second).There's really no way of telling which DNA test is the most accurate. But it was interesting to see some similarities in my reports.

You can learn more about your top three gene pools by clicking "Read Full Story." This will open you up to your ancestral communities' history, language, and migration patterns.
Much like Human Origins, these sections are really well-written.
2. DNA Migration Routes
Your report will also include your migration map.
Migration maps show the top six locations where your DNA underwent the most changes. They also tell a visual story of your ancestors' migration journeys.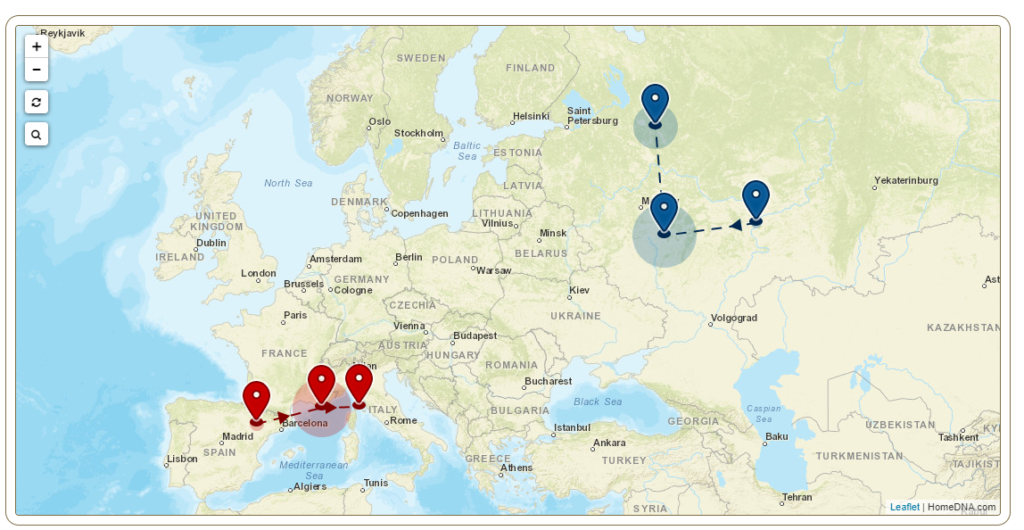 Unfortunately, GPS Origins can't tell you which migration routes are from your mother's side (maternal) or father's side (paternal) of the family.
That's because it only tests your autosomal DNA, not YDNA or mtDNA.
You would have had to take different DNA tests to know your paternal or maternal lineage–like the 23andMe Ancestry Kit.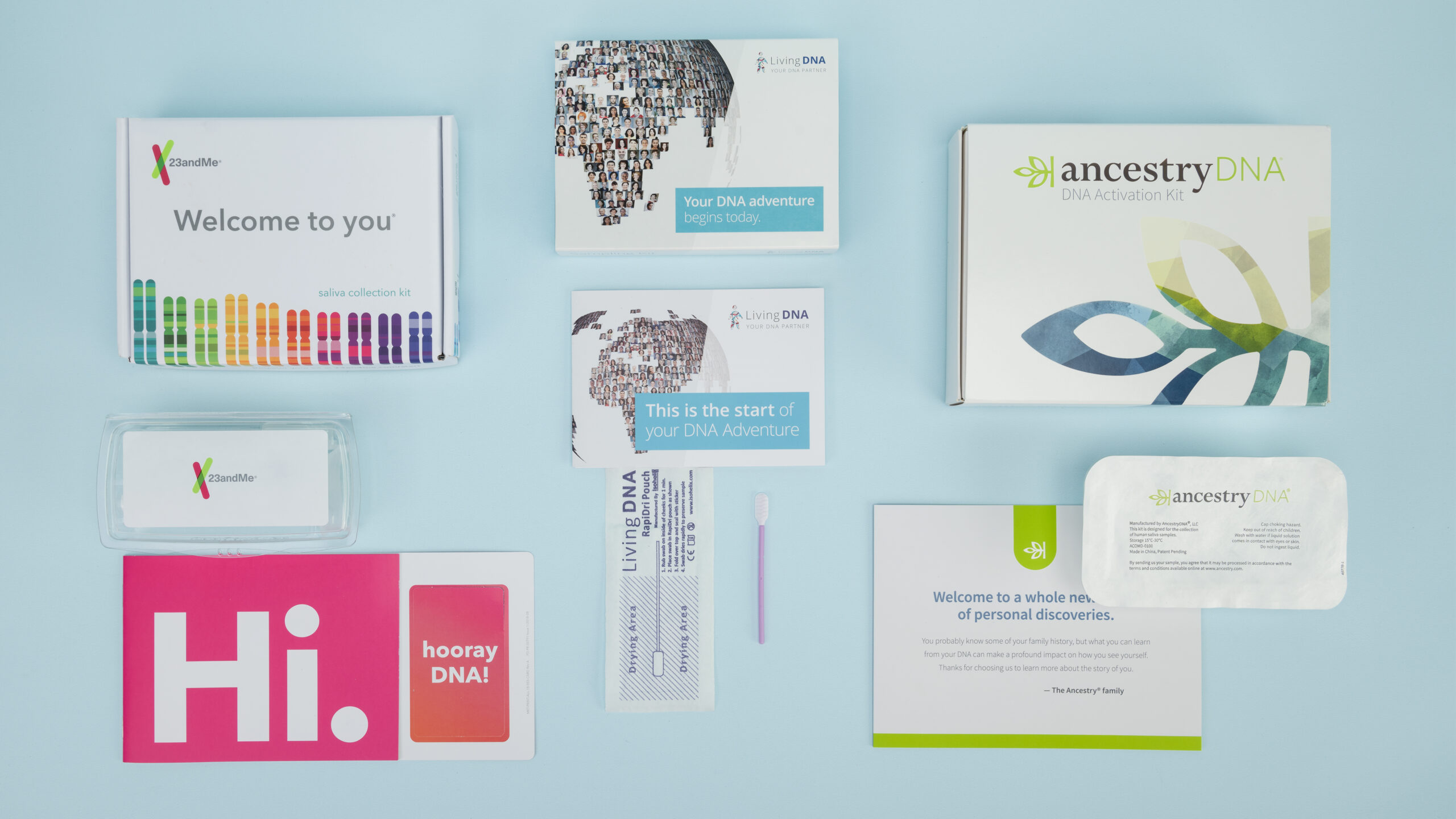 Best DNA Kit
Don't miss out on the opportunity to learn more about yourself. Read our best DNA test page to find the best one for you.
Other GPS Origins Features
Like most DNA kits, GPS Origins allows you to download your raw DNA data. You can upload it to other DNA testing companies to learn more about your genes.
GPS Origins also lets you upload genetic data from three competitors, namely:
Ancestry
23andMe
Family Tree DNA
Not many companies offer DNA uploading services. But remember that GPS Origins only reads autosomal data, not YDNA or mtDNA data.
GPS Origins also doesn't accept 23andMe Version 5 Data or Family Tree DNA data downloaded after November 2018.
Is GPS Origins Test Accurate?
One key difference between GPS Origins and other companies is that it can trace your DNA to the exact location where it came from.
This makes GPS Origins more specific than other companies, which only provide a general region. For example:
If your parents came from the same place and share similar gene pools, GPS Origins can trace their DNA signatures to the country of their origin 81% of the time.
GPS Origins claims to predict the correct country of origin of at least one parent 96% of the time.
Whether these claims are accurate is a different issue. Some genetics experts have valid concerns about GPS Origins' accuracy.
GPS Origins' reports differ from other companies because they use gene pools and not ethnicity estimates, so it's hard to compare their accuracy.
GPS Origins Tests
GPS Origins has three DNA testing services. Here is an overview of each test:
1. GPS Origins® Ancestry Test
The DNA kit helps determine your ancestry. You'll get reports on:
Your maternal and paternal ancestors' migration route
Places where your ancestors lived and mixed with locals
Find out which populations contributed to your genetic profile
Who's it for? This kit is ideal if you don't know your family history or if you have mixed ancestry. It's because the test can trace your ancestral origins to different places.
2. GPS Origins® African Edition
The test confirms your African ancestry. It provides:
A detailed report on the migration path of your African ancestors
Full ethnicity estimate that shows how much DNA you share with other people
We recommend this test for people with known ancestors from Africa or who have good reason to believe they have African heritage.
3. GPS Origins® Asian Edition
The kit determines your Asian ancestry. It gives you:
Detailed results on your Asian ancestral composition
A complete ethnicity profile that identifies people with common ancestors
It works best for people with Asian ancestors or if think you are of Asian descent.
How GPS Origins Protects Your Privacy
Out of all the at-home DNA tests I've taken, GPS Origins was the least secure because it requires that you place your name on the test kit when you return it.
Other companies assign kit numbers to your tests. This removes any personally identifiable information that will reveal your identity.
Despite these privacy issues, HomeDNA takes other measures to secure your privacy. For example, the company:1
Destroys all test samples after testing is complete (except for legal paternity tests)
Only analyzes and stores data for the specific test ordered by the customer. This means the lab won't perform other types of analysis on existing data.
Does not maintain publicly accessible databases of ancestry-related or other data.
Is committed to protecting the security of customers' information. The company uses industry-standard security technologies and procedures to help protect customer information from unauthorized access, use, or disclosure.
Does not share or sell customer data with companies or entities not connected to DNA Diagnostics Center. Because of this policy, "opt-out" is not considered necessary.
How Much Does GPS Origins Cost?
GPS Origins' tests cost $199 on HomeDNA's website. However, this DNA test kit is resold by other retailers, so you'll encounter prices ranging from $99 to $199.
If you want to upload your raw DNA data, it will cost you $39.
What's Inside The DNA Test Kit?
You'll get the same testing kit regardless of which test you buy. Inside are:
Four cheek swabs for collecting the DNA sample
An envelope for storing your DNA sample
A return envelope (postage-paid for U.S. customers)
Instructions
For its price, this DNA test kit is pretty basic.
The cheek swabs are wrapped in a brochure. There are also no storage vials for the swabbed samples. You just put the swabs into the envelope for shipping.
How Does GPS Origins Kit Work?
You can buy the test at HomeDNA's website or other online retailers. When it arrives, the first thing you need to do is register the kit.
Afterward, you can collect test samples and send them back for analysis. To collect your DNA sample:
Swab your check four different times
Wait for your samples to dry
Put the swabs in the envelope and send them back
You'll get an email once they have received your DNA samples.
How Long Does GPS Origins Take?
Your personalized DNA test results should arrive within six weeks. I got mine in 17 days—one of the fastest I've received.
GPS Origins vs. 23andMe and Ancestry
GPS Origins is an autosomal DNA test like Ancestry and 23andMe. This means it looks at 22 out of the 23 pairs of your human chromosomes.
But unlike 23andMe, which also checks for mtDNA (mitochondrial chromosome) and YDNA (Y chromosome), GPS Origins doesn't perform these tests.
GPS Origins also does not provide the usual ethnicity percentages you get from other autosomal DNA tests.
Instead, it looks at the origins of your ancestors, pinpoints the exact village or town where your ancestors stayed, and traces their migration routes.
Is GPS Origins Test Worth It?
While the results are unique, they are sparse and don't contain that much information compared to other DNA testing kits.
GPS Origins is pretty limited when put up against the likes of 23andMe or AncestryDNA.
For example, GPS Origins gives you one page of information. The competition provides health traits, possible relatives, and more in-depth ancestry information.
In addition, GPS Origins makes the extraordinary claim of finding specific regions where your ancestors lived and migrated.
This sounds dubious and doesn't seem to be worth it. That being said, the test goes deep when it comes to things like migration patterns.
Moreover, the test kit costs $199, which is somewhat expensive. The information it provides doesn't justify the high price tag.
Tests like 23andMe and AncestryDNA can offer more for the same price. Still, GPS Origins can help check your ancestry, though not as comprehensively as other tests.
As long as you understand this limitation, it can help you start looking into your family's history.
How We Evaluated GPS Origins
We evaluate at-home DNA tests like GPS Origins based on seven criteria:
Reputation and trustworthiness
Available tests and reports
Additional resources
Accuracy of the DNA test
How it protects your privacy
Convenience of testing
Cost and additional fees
1. Reputation & Trustworthiness
Our GPS Origins Rating: ⭐⭐⭐
A reputable DNA testing company is transparent about the services it offers. Some important details that should be publicly available are:
The size of a company's user database
The types of samples it collects
The types of tests it performs
The kinds of results you're getting
A reliable company also lives up to its claims. For example, if they say that your results will arrive in five weeks, it shouldn't take longer.
We looked up DNA testing companies and what customers are saying about them to get a better feel of whether or not people trusted them.
DNA Diagnostics Center (DDC) has mostly 5-star reviews on Trust Pilot.
While I personally had no problem with the company's services, many have reported poor service, delays in test results, and paying more than what was advertised for the test.
2. Tests & Usefulness of Results
Our GPS Origins Rating: ⭐⭐⭐
Most DNA companies have a range of genetic tests. The type and depth of information they provide depend on the test and the provider.
Finding a helpful test is subjective and entirely up to you. In general, you should buy a kit that gives you the results you're looking for.
The test results provided by GPS Origins may help if you're trying to investigate your family history. However, it can't help trace maternal and paternal lines.
3. Support
Our GPS Origins Rating: ⭐⭐⭐
Apart from your test results, companies may provide access to features that will help you learn more about your ancestry, expand your family tree, and so on.
GPS Origins is one of the few DNA tests that lets you upload your raw genetic data. This can be useful if you're trying to learn more about your DNA.
Unfortunately, this service only works for older versions of DNA data from 23andMe and Family Tree DNA. The company also doesn't help you find potential relatives or access historical records.
4. DNA Test Accuracy
Our GPS Origins Rating: ⭐⭐⭐⭐
Several factors affect the accuracy of DNA tests. Some of them include the:
Testing method used
Laboratory where samples are analyzed
Size of a company's database
Variety of reference panels
Number of regions tested
We found that the most accurate DNA tests have large databases, a greater variety of reference populations, and more regions to compare your results with.
While it isn't clear how the company ensures the accuracy of its tests, my results speak for themselves. My GPS Origins report was actually very close to my results from 23andMe and Ancestry.
The only difference was how they estimated percentages of my DNA.
5. Privacy of Your Data
Our GPS Origins Rating: ⭐⭐⭐
Most private DNA tests comply with the latest data privacy standards. If there are changes in their privacy policies, they will let you know.
They'll also give you full control over your data and always ask for your consent when handling your DNA.
GPS Origins does take significant steps to ensure your privacy. Unfortunately, the company doesn't ask you to remove personally identifiable information from your kit when sending it back.
6. Convenience of the Testing Process
Our GPS Origins Rating: ⭐⭐⭐⭐
At-home tests are meant to be convenient. From the moment you buy a kit up until the moment you send your samples, the process should be easy.
It's easy to take the GPS Origins test and send back your results. The only thing that puts me off is that you have to wait for the saliva samples to dry on the swabs.
7. Cost & Additional Fees
Our GPS Origins Rating: ⭐⭐⭐⭐
The best DNA tests give you your money's worth. They should be priced reasonably, depending on the reports they offer.
While features are sometimes hidden behind a paywall, they should still be affordable.
You might also want to consider buying a test covered by your Health Savings Account (HSA) or Flexible Spendings Account (FSA).
GPS Origins lets you upload your DNA data at an affordable cost. However, the tests are quite expensive at $199 and don't provide much value for your money.
Why Trust Us
I've been testing DNA kits for the last seven years and have taken every DNA test on the market. I've compared results and have been committed to testing and tracking any changes over time.
As an organization, we at KnowYourDNA are committed to helping you get the most accurate information about your ancestry, health risks, and other genetic traits.
We only choose at-home DNA tests that meet the standards of the DNA testing industry and provide reliable testing methods.
Our in-house medical experts help ensure the accuracy of our articles by reviewing them before publication.
About GPS Origins
GPS Origins® is a range of ancestry tests offered by DNA Diagnostic Center (DDC), an Ohio-based company specializing in at-home DNA testing.
You can buy these tests online and conveniently take them at home. Results should arrive in six weeks.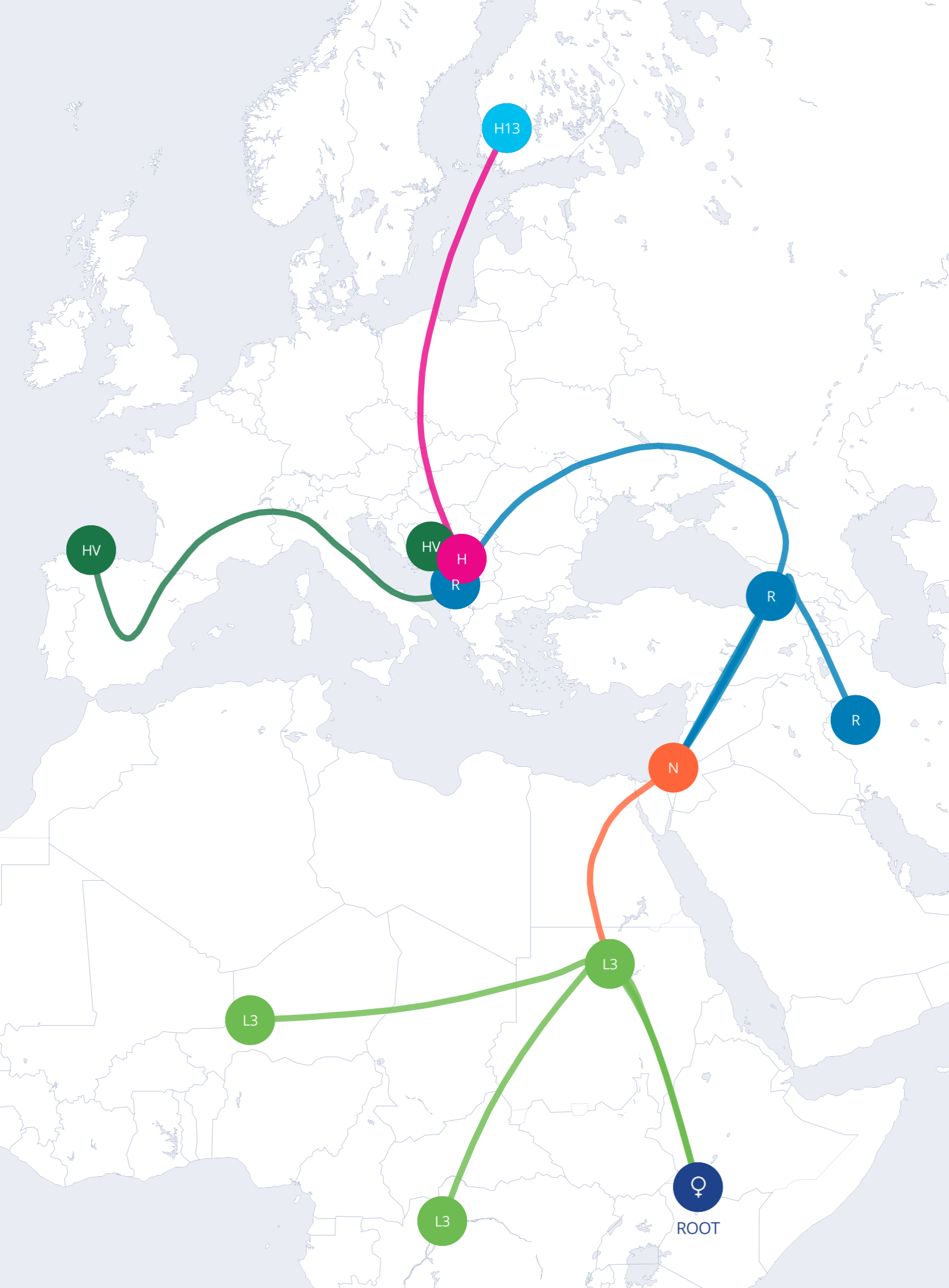 The Best DNA Test
Looking for a DNA test that's accurate and can tell you about your health and heritage?