Your health should be a top priority.
But when it comes to healthy eating, everyone's body is different. Something that's ideal for someone else may negatively impact you.
A major factor that affects your ability to handle certain carbs, fruits, vegetables, vitamins, and minerals is your genetic makeup. GenoPalate provides an in-depth nutritional analysis. It can help you become more familiar with your unique genotype, with a focus on nutrition-all based on your raw DNA data.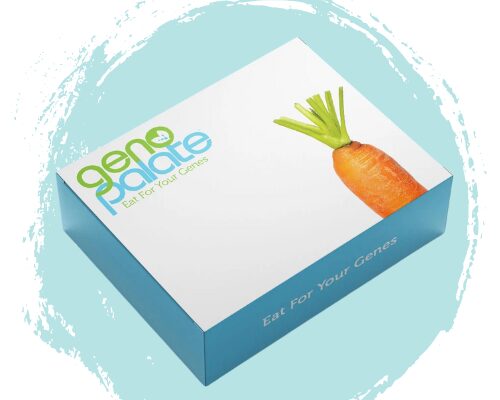 If you want to start eating for your genes, nutritional genomics is a great place to start. But how accurate is GenoPalate? Can you trust them with your DNA data? And is their nutritional analysis even useful?
Quick facts:
| | |
| --- | --- |
| Sample Collection | Saliva swab |
| DNA Testing Type | Genetic variants analysis |
| Speed | 4-6 weeks |
| Privacy Protection | Poor |
Product Review Summary
Pros
Learn your genetic needs for 23 different nutrients
Recommendations of over 100 foods across 16 different categories
Upload raw data from 23andMe or AncestryDNA
Improve wellness with customized recipes and meal plans
Food sensitivities to lactose, gluten, alcohol, and caffeine
Check your results anywhere using the app
Nutritional analysis is handled by a CLIA-certified lab
Cons
No replacement for advice from a doctor
Doesn't include any ancestry information
Slightly expensive
GenoPalate can be a fun way to learn a little more about your health and help motivate you into healthy eating habits.
However, it's no replacement for a doctor or certified nutritionist. Regardless, the informative test results are a good starting point for seeing how your genome relates to different health and wellness outcomes.
While the price tag is a little high, if you already have existing raw data from AncestryDNA or 23andMe, you can get a substantial discount.
We recommend GenoPalate for anyone interested in personalized nutritional analysis, weight loss, and custom meal plans based on their genetic makeup.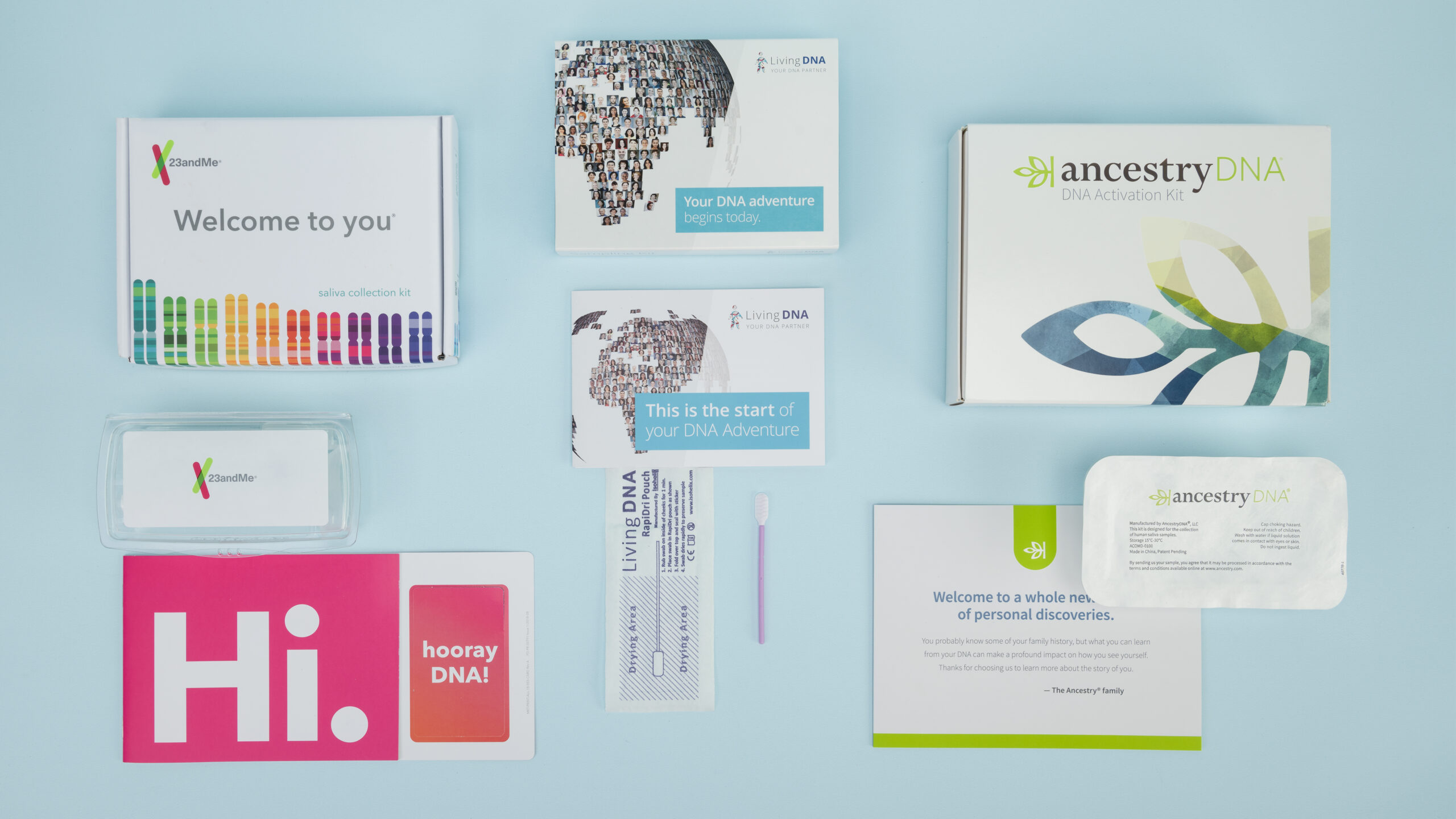 Best DNA Kit
Don't miss out on the opportunity to learn more about yourself. Read our best DNA test page to find the best one for you.
What Tests Does GenoPalate Offer?
GenoPalate offers the following:
GenoBase - Great for learning about how your genetics affects your nutrition.
GenoJump - Comes with help from a certified nutritionist and dietician to help you interpret your data for better health.
GenoGo - A multi-session partnership with a licensed dietician to develop sustainable diet and nutrition plans.
Prices also vary depending on if you've already taken a DNA test in the past and are just uploading the raw data or not.
What's Inside the Kit?
When you order a GenoPalate DNA test kit, the box should contain the following (if you ordered one of the Existing DNA kits, you will not receive sample collection tools):
Barcode for registering your kit
Cheek Swab for collecting your DNA sample
Vial with sample collection liquid for storing your sample
Cap for sealing vial
Biohazard bag for storing the vial
Prepaid shipping envelope
Send-in steps
GenoPalate test kits are pain-free and it only takes a few minutes to properly collect your DNA sample and prepare it for shipping.
When using a GenoPalate DNA test kit, follow these 5 easy steps:
How to send in Genopalate kit
Create your online account

Go to GenoPalate.com and choose the Account option along the top of the homepage. Here, you'll need to input your first and last name, email address, and the product code of your kit (check the barcode that came with the kit)

Collect sample

Do not eat, drink, or smoke for at least 30 minutes prior to collecting your DNA sample. Begin by removing the saliva swab from its packaging. Place the swab against the inside of your cheek and firmly rotate around 15 to 20 times.

Store sample

Find the vial that came with your kit and open it. Place the sample collecting end of your swab into the vial and rotate it in a corkscrew motion. Push the swab into the collection liquid and rapidly move it up and down (without removing it from the liquid) about 10 to 15 times.

Dispose of swab

Pull the swab out of the vial by moving it in a corkscrew motion. Toss the used swab into the garbage.

Prepare for shipment

Twist the cap back onto the vial, and place it into the biohazard bag and securely seal it. Place the bag containing the sample vial into the prepaid shipping envelope that came with the testing kit. Place package into outgoing mail.

Wait for results

Your DNA report should be available both on GenoPalate.com and through the company's app within 4-6 weeks.
What You Get With Your Report
The results
GenoPalate's test results are broken up into a few specific categories. We'll cover each of these below:
Optimal nutritional intake
Your test results will cover the 23 different vitamins and minerals that you could use more or less of in your diet.
The nutrients that GenoPalate's test kit covers include:
Fiber
Fat
Sugar
Carbohydrates
Omega-3 fatty acids
Saturated fat
Omega-6 fatty acids
Protein
Sodium
Iron
Calcium
Magnesium
Zinc
Vitamin B6
Vitamin A
Vitamin D
Vitamin B12
Folate
Vitamin E
Monounsaturated fats
Selenium
Vitamin C
Potassium
Diet advice
If eating for your genes is a top priority, GenoPalate's test results have you covered. Through genetic testing, you'll learn the top 100+ fruits, vegetables, and other foods that are necessary for your specific genetic profile.
This nutritional analysis covers a variety of foods across 16 different categories. They even include some customized meal plans and recipes.
The food categories that GenoPalate covers include:
Fats and oils
Breads
Cheese
Herbs and spices
Fruits
Leafy vegetables
Meats
Legumes
Nuts and seeds
Milk
Pastas
Other proteins
Yogurts
Seafoods
Vegetables
Grains
Food sensitivities
Lastly, your GenoPalate test results check your sensitivities to certain common food items.
The four types of food sensitivities covered are gluten, lactose, alcohol, and caffeine.
They provide a scale of how likely you are to be reactive to these foods based upon your genome. The scale will let you know if you're not likely, likely, or very likely to have problems when consuming these items.
Using raw DNA data
If you've already taken a DNA test through either AncestryDNA or 23andMe, you can download your raw data and run GenoPalate's nutritional analysis for cheaper.
Taking the Existing DNA or the Existing DNA + 5 Recipes tests will save more than 50% off of the normal retail price.
All you need to do is upload your raw data to GenoPalate's website and you can get the same in-depth DNA analysis at a huge discount. Unfortunately, due to the genetic markers that GenoPalate needs to analyze, they will only accept raw data from either 23andMe or AncestryDNA at this time.
Is The Test Accurate?
While genetic testing offers insight into your nutritional profile, it won't give you the full picture. Your genetics are just one factor that affects what constitutes "healthy eating."
Your test results, while informative, shouldn't be relied upon as solid medical advice. Use your test results as a fun way to learn a bit more about your genotype. However, they're simply no replacement for advice from a licensed doctor or nutritionist.
Where Can I Buy The Product?
You can purchase GenoPalate directly from their website here.
How much does GenoPalate's DNA kit cost?
When ordering a testing kit through GenoPalate, you are given four different options, all with varying prices.
If you've already taken a DNA test through a service that lets you download raw DNA data, such as AncestryDNA or 23andMe, you can save big by uploading it. If not, you'll have to choose one of the two more pricey GenoPalate tests.
The price of each GenoPalate DNA testing kit is as follows:
Existing DNA — $39.95

Only upload raw data from 23andMe or AncestryDNA (must have taken a prior DNA test through one of these two companies)
100+ recommended foods for your genetic profile
Nutrition profile — your genetic need for 23 nutrients
Metabolism rate for alcohol and caffeine
Filtered by allergies and preferences
Check results from anywhere with the app
Existing DNA + 5 Recipes — $69.95

Comes with everything that's included with the Existing DNA GenoPalate test
Mix and match recipes based upon your genetic profile
DNA Kit — $149.95

Includes a DNA analysis in CLIA-certified lab, no need to upload raw DNA data
100+ best foods for your genetic profile
Nutrition profile — your genetic need for 23 nutrients
Metabolism rate for alcohol and caffeine
Filtered by allergies and preferences
Check results from anywhere with the app
DNA Kit + 5 Recipes — $179.95

Comes with everything that's included with the DNA Kit GenoPalate test
Mix and match recipes based upon your genetic profile
How is my privacy protected with GenoPalate?
When it comes to keeping your data secure, GenoPalate has plenty of room for improvement. According to the privacy policy, the company collects several types of data. Some of this data is volunteered, such as your name, address, credit card information, and email.
GenoPalate obviously has access to your genetic information as well.
The company also collects data when you download their app or log in to their website, such as your IP address and cookies. When you install the app, GenoPalate collects your service usage information, your geolocation, the websites you visit, and your app store info.
Clearly, GenoPalate collects a lot of your information, but what exactly do they do with it? Is this something you need to be worried about?
Luckily, their privacy policy tells you exactly who the company will share your information with.
Your GenoPalate data could be shared with:
Third-party service providers and suppliers
Third-party laboratories for DNA testing services
Third-party partners
Professional advisors
Subsequent owners, assignees, and successors
Government/law enforcement
The above list may seem alarming. But while the company could potentially share your data with anyone we mentioned, GenoPalate claims they will only do so under certain circumstances.
Below, you'll find a list of the different scenarios that would need to be present for your data to be shared:
For the purpose collected
All of GenoPalate's DNA testing is handled by independent labs that the company contracts with. Therefore, a certain amount of your information (including your DNA test results) will be seen by a third-party laboratory.
Process payment
Your payment info will be shared with the company's third-party service providers who handle running your credit card.
Product development
GenoPalate may use your private information in order to help improve their products and services. If your data is used for this purpose, it will be de-identified and aggregated so that the info can't be used to personally identify you.
Advertising
When you use GenoPalate's app, online account, or mailing list, you're likely to receive personally targeted ads.
The company uses your personal information to figure out which ads you're most likely to respond to so they can sell to you better. They also use your data to let you know about any new products and features on their mobile app or website.
Evaluate and improve services
They may use or disclose your personal information to help analyze or improve just about any aspect of their business.
Things they may use your personal data for include troubleshooting problems, improving content, tailoring features, and informing marketing and communication plans and strategies. This is done by using non-identifiable aggregate data.
Government requests it
If GenoPalate receives a court order, law enforcement request, subpoena, or any other legal request, they will share your data with the requesting organization.
Non-criminals probably don't need to worry about this but it's still good to be aware of.
Because of the amount of information that the company collects, as well as the number of situations in which they will share it, we decided to give GenoPalate a low rating for privacy.
While their privacy policy is unlikely to cause you any issues, their willingness to give your information to third parties in order to advertise to you better is unsettling, especially for a fairly costly service.
The competition
While plenty of DNA testing companies include a health portion in their test results, there aren't nearly as many DNA test kits with a sole focus on bettering your health outcomes through nutritional genomics.
Some of the more popular GenoPalate test alternatives include:
Vitagene Health + Ancestry DNA Test ($89-$269) — These tests offer personalized nutritional data with actionable diet, supplement, and exercise recommendations. Additionally, they'll tell you about your skin's genetic profile and your ancestry. These nutrition recommendations aren't as in-depth as GenoPalate's, but they do a decent job.
Gene Food Custom Nutrition Plan ($139.99) — If you're simply looking for a diet plan that's customized to your genetic profile, Gene Food's DNA test kit is a good option. This test doesn't offer as much actionable advice as GenoPalate, but their custom diet plans are quite excellent.
Orig3n Nutrition DNA Test ($149) — The popular DNA testing company, Orig3n, offers several different tests. However, the Nutrition DNA Test offers pretty similar test results to GenoPalate. With it, you'll receive personalized nutrition recommendations, a list of your ideal food choices, and why you like or dislike certain foods.
Common Questions About Genopalate
Is GenoPalate worth it?
GenoPalate is great for learning more about your nutritional profile or receiving custom food recommendations.
So if this is important to you, it's worth it. Especially if you already have raw data from either AncestryDNA or 23andMe, as you'll receive substantial savings.
Does GenoPalate really work?
GenoPalate analyzes your DNA to determine foods you're likely to be sensitive to and foods that may benefit you.
While their suggestions aren't meant to be solid medical advice, the company's CLIA-certified labs do an excellent job performing accurate genetic testing.
Is GenoPalate accurate?
GenoPalate's genetic testing is fairly accurate and does provide a pretty reliable nutritional analysis.
While it's not meant to replace the advice of a licensed nutritionist or doctor, its test results are a great starting point for improving your health. 
How does GenoPalate work?
By providing a small DNA sample in the form of saliva, GenoPalate can analyze a variety of genetic variants linked to nutrition.
They use this data to provide personalized nutritional recommendations and meal plans.
Why Trust Us
KnowYourDNA is committed to making healthcare more accessible to the public, which is why we feature products that meet industry standards.
We only choose at-home kits that provide reliable testing methods and science-backed reports to improve your health.
Our in-house medical experts help ensure the accuracy of the information we give to our readers by reviewing them before publication.
About GenoPalate
GenoPalate was founded in 2016
Formed by two doctors and a nutritionist — Dr. Sherry Zhang, Dr. Paul Auer, and Matt Edwards
Their mission is to help people understand nutritional science based on their own genetic profile via a DNA testing kit
DNA testing lab is certified by the Clinical Laboratory Improvement Amendments (CLIA)
Located in Milwaukee, Wisconsin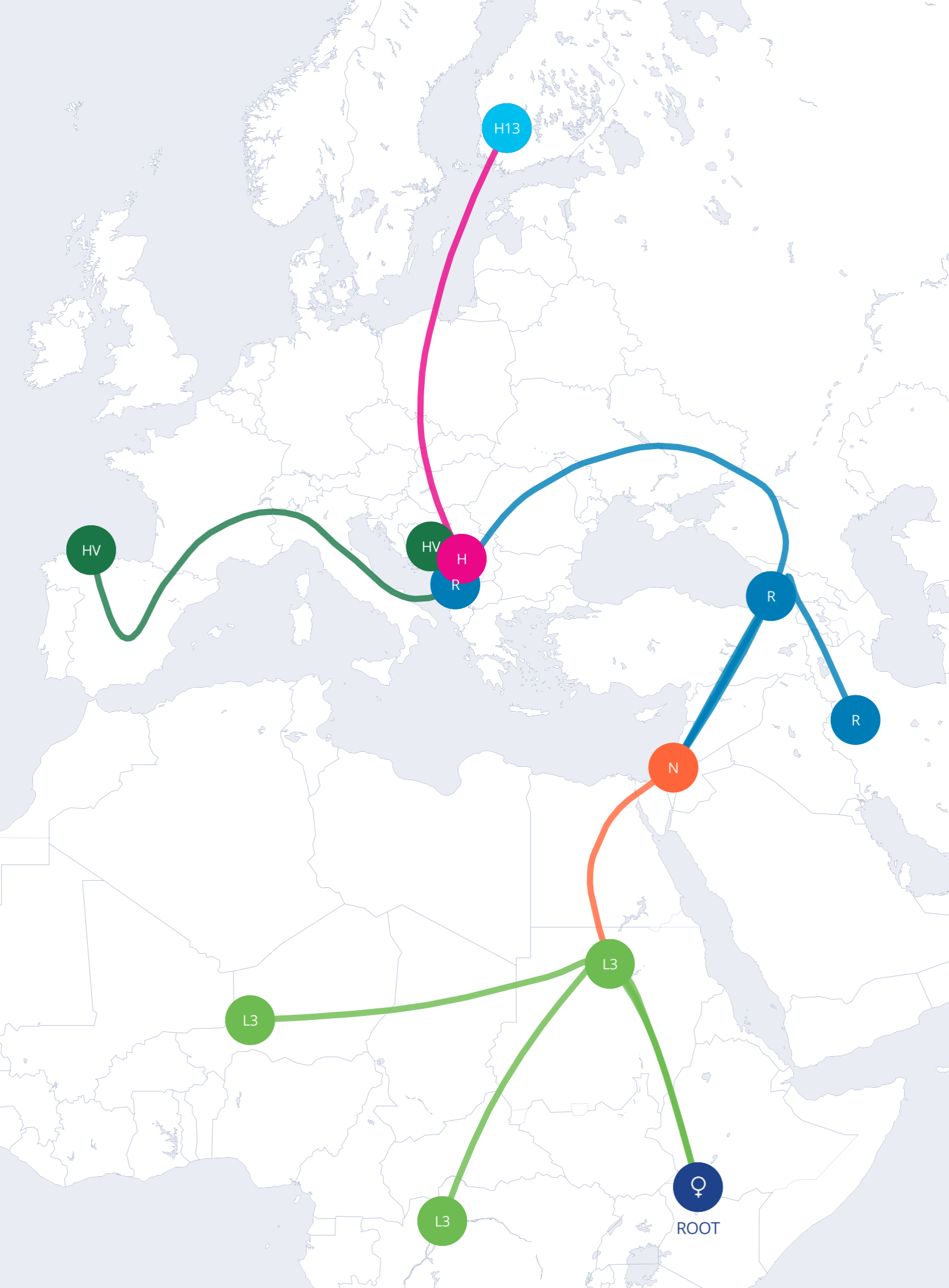 The Best DNA Test
Looking for a DNA test that's accurate and can tell you about your health and heritage?