Some heavy metals are a natural and essential part of one's diet. These include zinc, selenium, and copper.
But if you consume too much of these minerals, or if you are exposed to the wrong types of metals, this can lead to severe health problems.
Some examples of toxic metals are:
Lead
Methylmercury
Cadmium
Thallium
Mercury
Toxic elements have been linked to Alzheimer's and Parkinson's disease, muscle dystrophy, and certain cancers.
Unfortunately, high levels of heavy metals are commonly used in many industries. These environmental toxins also occur in nature.
You can consume these heavy metals through food and drinking water without even knowing. Catching this early is vital for minimizing the negative health effects of these potentially toxic elements.
If you're afraid that you may be exposed to unhealthy levels of heavy metals, it's important that you test for heavy metal toxicity. This will allow you to make the lifestyle adjustments necessary to help eliminate toxins from your body.
We gathered the top 6 heavy metals tests that you can take at home. This will guide you in your quest for better health and a cleaner body.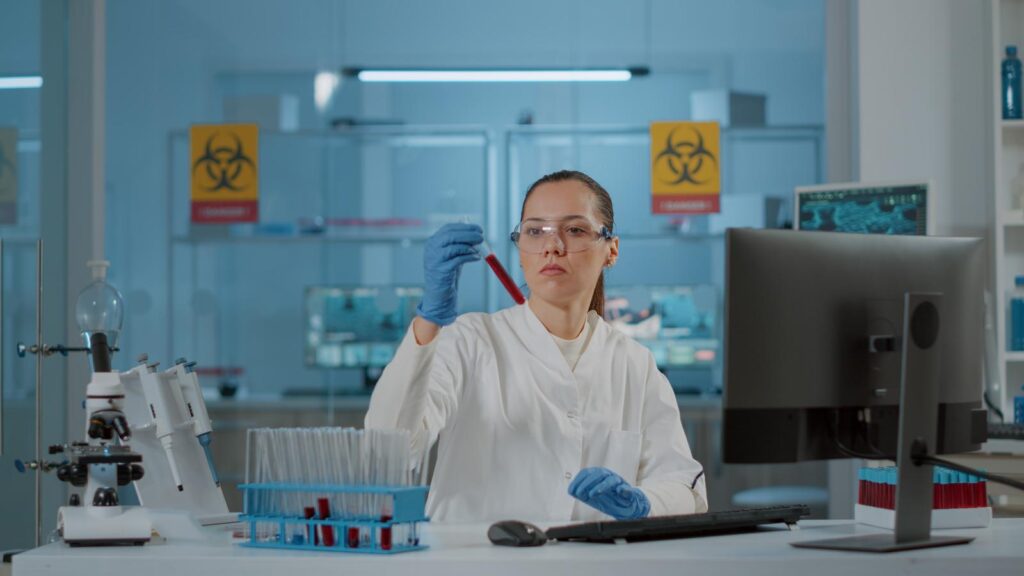 Why Take an At-Home Heavy Metals Test?
Here are reasons why you should consider taking a heavy metals test:
1. You want to start a family
Heavy metals such as mercury and methylmercury can be devastating for a fetus. Before you decide to start your family, it's a good idea to make sure you don't have elevated levels of this toxic metal.
2. You have signs and symptoms of heavy metals poisoning
Elevated levels of certain heavy metals can cause a range of uncomfortable symptoms. This includes:
Diarrhea
Tingling in your hands and feet
Weakness
Chills
Nausea
Abdominal pain
Get tested and visit your healthcare provider if you're showing signs of having been exposed to lead, cadmium, mercury, thallium, and arsenic.
3. You eat lots of seafood
Certain types of seafood can contain high levels of mercury and methylmercury. If you're a fan of fish you may want to get tested.
4. You have a low sodium diet
Iodine is an important part of your diet, and most dietary iodine is found in table salt. To make sure you're not deficient in this important thyroid regulating mineral, you can take one of these tests.
5. You have been exposed to heavy metals
Exposure happens when you come into contact with heavy metals regularly, such as:
Working in an environment that involves heavy metal processing
Living in an area surrounded by heavy metals
Living in an old home
Periodic testing helps you evaluate your health risks. A test tells you if you have a problem. It helps you monitor future levels of heavy metal buildup in your system.
6. You are at risk for health complications
Heavy metal tests are good for people with higher risk of developing health problems. These include people who:
Smoke or are around smokers
Have thyroid health issues
Are in generally poor health
Some heavy metals affect thyroid health. Others trigger autoimmune issues, including Graves' Disease or Hashimoto's Thyroiditis. Additionally, heavy metals are found in tobacco smoke.
What Are Some of the Most Common Heavy Metals?
The most common heavy metals include:
Aluminum
Antimony
Arsenic
Barium
Bismuth
Cadmium
Lead
Mercury
Nickel
Tin
Uranium
Heavy Metal Toxicity: Effects on Health
Chronic exposure to heavy metals causes toxicity and has an effect on your health. Health risks vary based on the metal in question. The most common effects of heavy metals on health include:
Abdominal pain
Chills
Diarrhea
Nausea
Shortness of breath
Tingling in your feet and hands
Vomiting
Weakness
In children, heavy metal poisoning manifests in ways that affect the bones, including malformation and weakness. Heavy metal exposure also increases the risk of miscarriage and premature birth.
Some symptoms are associated with exposure to specific heavy metals:
Mercury: lack of coordination, muscle weakness, hearing and speech problems, hand and facial nerve damage, vision changes, walking issues
Lead: aggressive behavior, constipation, high blood pressure, irritability, sleep problems, anemia, loss of appetite, fatigue, headaches, memory loss, loss of developmental skills for children
Arsenic: red or swollen skin, nausea, vomiting, diarrhea, unusual heart rhythm, spots on your skin, muscle cramps
Cadmium: fever, muscle pain, breathing problems
Aluminum: fatigue, hypophosphatemia or phosphate deficiency, increased risk for bleeding, porphyria 
Barium: muscular and myocardial stimulation, tingling in the extremities, loss of tendon reflex 
Bismuth: constipation, foul breath, gum health changes, skin pigmentation changes, cough, fatigue
Uranium: fatigue and renal damage
The Best At-Home Heavy Metals Test
1
LetsGetChecked Micronutrient Test - Our Top Pick
KnowYourDNA Recommends
Use code "YOURDNA" to get 25% off
Using a blood sample that you collect at home, this kit from LetsGetChecked measures essential nutrients. Test results reveal imbalances of the most important vitamins and heavy metals needed by your body.
You can use these results to make the necessary changes in your diet and lifestyle, so you can correct any deficiencies and prevent excess intake.
Key Features:
Finger-prick test provides accurate results
Tests for 3 essential vitamins: vitamin B12, D, and E
Tests for 4 heavy metals: magnesium, copper, zinc, and selenium
Results are available online within 2 to 5 days
A dedicated team of nurses can explain your results
2
5Strands Metals & Minerals Test
Rather than using your blood, 5Strands Metals & Mineral test can check your reactivity to up to 60 different heavy metals and minerals simply by analyzing a few strands of hair. Your test results will show you which metals/minerals are potentially responsible for imbalances within your body.
Unlike the heavy metal blood tests, 5Strands hair test doesn't tell you how much of these toxic metals are in your body. It shows how your body reacts to these substances. So if you suspect that you're sensitive to a mineral or heavy metal that's in your diet, this test will tell you what the potential culprits may be.
Key Features:
Pain-free test using strands of hair
Detects your reaction to up to 60 different heavy metals and minerals
Test results includes the heavy metals and minerals that your body struggles to eliminate 
Bio-resonance technology used to analyze your sample
Test for everything from aluminum to zinc
Expand to see our pictures + send in steps
I got one of 5Strands Delux Packages - which includes the Environmental Intolerance Test
Send in steps are very simple:
cut 10-15 strands of hair
place in parchment paper
place parchment paper in anti static bag
place in envelope and attach return label that's provided
Overall, this is a very non-intrusive test and is easy to take. Once you've taken the test, you are emailed results (no dashboard). A sample pages of results looks like this:
5Strands suggests trying to eliminate Level 3 Intolerance first, and then moving to Level 2 if you are still experiencing issues.
3
EverlyWell - Heavy Metals Test
The popular at-home health testing company, EverlyWell, has one of the more reliable heavy metals tests on the market.
Using a urine sample, EverlyWell can alert you to the presence of six commonly found environmental metals within your body. 
These heavy metals could be found in many of the places you regularly visit, such as your job, home, or the places you shop.
The Heavy Metals Test will screen for four hazardous metals: arsenic, mercury, cadmium, and bromine. It also tests your levels of two essential trace minerals, selenium and iodine.
Additionally, your urinary creatinine levels will be checked.
Key Features:
Checks for the presence of hazardous chemicals mercury, arsenic, cadmium, and bromine
Tests for ideal levels of the essential trace minerals, selenium and iodine
All results are approved and reviewed by a physician from your state
Analyzed by a CLIA-certified lab
Includes actionable report that you can discuss with your primary care provider
4
ZRT Laboratory - Heavy Metals & Essential Elements
ZRT Laboratory offers a heavy metals blood test that's ideal if you're experiencing any heavy metal toxicity symptoms from a recent exposure.
Their test results include a heavy metals panel that tells you how high your selenium, copper, cadmium, lead, zinc, magnesium, and mercury levels are. 
While you're supposed to have some zinc, copper, and selenium in your system, having too high of a concentration of these metals is potentially toxic. And any level of cadmium, arsenic, lead, and mercury exposure is toxic.
Chronic exposure to these metals can lead to dangerous conditions such as lead poisoning and arsenic poisoning.
Key Features:
Heavy metals panel includes levels of various metals
Finger lancet for submitting a blood sample
No shipping or lab fees
Test results in five to seven business days
5
MyLAB - At Home Test Heavy Metals Screening Kit
Simply by using a blood sample, MyLab is able to test for some of the most commonly occurring heavy metals found in the environment.
Their Heavy Metals Screening kit will check your blood sample for a variety of toxic metals. These include Arsenic, Bromine, Cadmium, Creatinine, Iodine, Lithium, Magnesium, Mercury, Selenium, and Zinc.
The heavy metal blood test panel you'll receive lays out the concentration of these potentially toxic elements in your blood.
Once identified, you can narrow down if these chemicals are entering your system through your food, drinking water, or from environmental toxins, and take steps to lessen your exposure to them.
This at-home heavy metal blood test costs less than most of the competition's laboratory tests as well.
Key Features:
Tests for several different heavy metals
Laboratory test results in as little as two to five days
Free return shipping
Take in five minutes or less
6
Doctor's Data - Heavy Metals Toxicity Test
Doctor Data's Heavy Metals Toxicity test will check your body for chronic exposure to things like arsenic, lead, mercury, and other toxins by using a strand of your hair.
The test can tell if you've been exposed to 31 different toxins, from recent exposures to up to six months before. 
The kit comes with everything you need to collect and return your sample, including a prepaid return envelope.
Your test results will let you know how much of these toxins are present in your sample, presenting their quantity in the gram and microgram levels.
Key Features:
Test for 31 different heavy metals/toxins
CLIA Accredited Lab test
Pain-free test using strands of hair
Results available in seven to ten business days
What if my levels are too high?
There are several things you can do if your heavy metal levels are too high. In some cases, eliminating your exposure is enough to restore your health.
For some people, this means dietary changes, smoking cessation, or a change of living conditions.
In more severe cases, chelation therapy might be necessary. Chelation therapy involves using injections or pills that include a binding agent that combines with the heavy metal and flushes it out of your body through the digestive system.
If your concern is mercury poisoning, a mercury detox might be effective. The steps of a mercury detox include:
Increasing fiber in your diet
Drinking more water
Reducing or eliminating exposure 
What are the best ways to get rid of heavy metals?
There are a few things you can do to get rid of heavy metals in your environment. For example:
Make sure your workplace follows guidelines put in place by OSHA. This might not eliminate exposure, especially if you work in an environment where exposure is necessary, but it does keep exposure as safe as possible.
Limit your consumption of fish with high levels of mercury. Larger fish such as swordfish or tuna have higher levels because they live longer and have more time to soak it up. Smaller fish like shrimp and salmon tend to have lower levels.
Have your home tested for lead, especially if it was built before 1978.
Purchase supplements only from trusted, transparent sources.
Choosing the Best Heavy Metal Test for You
While all of the tests listed above will give you accurate and easy-to-follow results, depending on what you're looking for, some of these tests may be better suited to your needs than others. Even though all these tests check for heavy metals, they're not all looking for the same data.
For example, ZRT Laboratory's and MyLAB's tests check for how much of each heavy metal is inside you, making it ideal if you're concerned about chronic or recent exposure to these toxins.
The 5Strands test is more focused on your reaction to these substances, so you'll know which heavy metals you're more likely sensitive to.
HealthConfirm's test is focused on one particular chemical (gadolinium) making it ideal if you've recently taken an MRI scan.
And if you want a simple test that can check for heavy metals which your body actually needs, the Micronutrient Test from LetsGetChecked is a great option.
FAQs: Frequently Asked Questions About At-Home Heavy Metal Testing
Below, we'll answer some of the more common questions we get regarding at-home heavy metal tests:
Does insurance cover heavy metal testing?
No, most insurance plans will not cover at-home heavy metal tests.
How to test for heavy metal toxicity?
All of the above tests involve the same basic steps: first, you order your test, then collect a sample. Next, return your sample to the company, and finally, wait for your results. The main difference is the type of sample the tests will require  — either blood, hair, or urine.
Does medicare cover heavy metal testing? 
Medicare will not cover most at-home heavy metal tests.
How much does heavy metal testing cost?
Most heavy metal test kits are priced between $50 to $100, with the exception of ZRT Laboratory's slightly more expensive test ($159.99).