Time is among the biggest, most common obstacles to losing weight. It can feel like an insurmountable challenge to work out, prepare healthy, low-calorie meals, and plan your snacks in between.
Losing weight, after all, demands hard work, commitment, and even financial flexibility. Those who successfully achieve their ideal weight and maintain it have learned to overcome the barriers that arise.
Many weight loss products can speed up weight loss. The market size of weight loss and management is estimated to reach almost $300 billion by 2027.
With the pandemic luring many people into a sedentary lifestyle and urging many to seek comfort in food, the weight loss industry will undoubtedly come for our post-lockdown figures.
But there's never been a shortage of weight loss products for decades: from diet pills and supplements to sports equipment and anti-cellulite patches.
That's where meal replacement shakes enter the picture. Like the vast range of weight-loss products in the market, it offers speedy results without requiring you to put in much effort.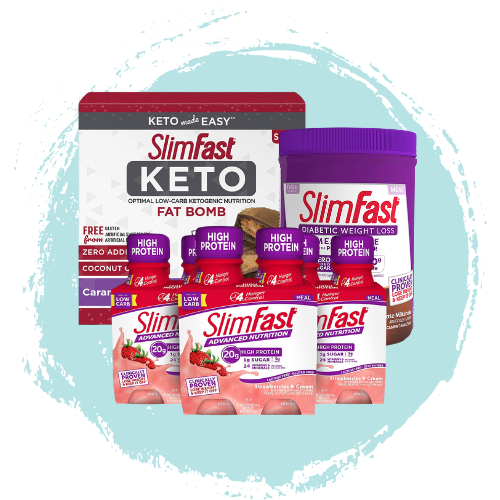 Meal Replacement Shakes
A weight-loss strategy that is widely used, for a good reason, is meal replacement. As the name suggests, meal replacements intend to substitute for a meal usually composed of solid food.
Meal replacements contain quantities of nutrients and calories that are controlled. They can come in the form of health shakes, juice, snack bars, soup, and more.
When it comes to treating obesity in adults, there are studies showing how meal replacements are effective and as good as any weight loss diet that is structured.
Without the luxury of time for preparing or cooking an entire meal, you'll find meal replacements convenient.
Aside from being a healthier choice than a typical fast-food meal, meal replacements are also fortified with nutrients and minerals your body needs for optimal function.
What is SlimFast?
SlimFast was first introduced in 1977 as a diet shake product line by the Thompson Medical Company. Now, SlimFast is owned by Glanbia Plc and headquartered in Palm Beach Gardens, Florida.
It started out by promoting chocolate, strawberry, and vanilla shakes that are meant to replace two meals per day. In the mid-1990s, SlimFast added meal replacement bars and snacks to complement the shakes.
The company is currently offering meal replacement shakes, snacks, bars, and packaged meals designed to help you lose weight and see results in just seven days.
SlimFast products come up when people are talking about meal replacement shakes that are balanced and good value-for-money.
They are being sold in the U.S., Canada, Latin America, Germany, France, Ireland, Iceland, and the U.K.
How does the Slimfast Diet work?
The SlimFast plan, or the SlimFast diet, recommends eating six times a day for optimal weight loss.
Indulge in a 'sensible,' portion-controlled meal, then replace the two other meals with a SlimFast shake. To satisfy hunger between meals, consume three 100-calorie snacks.
SlimFast's official website sums it all up neatly:
SlimFast doesn't ban any food group, but you're still encouraged to limit the calories in your non-SlimFast meal to 500 (for women) and 800 (for men). Alcohol and coffee are also allowed in the SlimFast plan but in limited amounts.
You aren't completely spared from having to work in the kitchen. But if you stick to it, the only cooking you'll ever have to do while on the SlimFast plan is a single 500-calorie or 800-calorie meal, depending on your gender.
If ever you're going out for a meal, SlimFast also provides tips and tricks so you don't end up sabotaging your diet.
The website has a dedicated space for tasty, healthy, and easy-to-prepare recipes that support your weight loss journey. There's also a private support community on Facebook.
What are the weight loss products of SlimFast?
SlimFasts plans stood on the eponymous meal replacement shakes the company developed:
1. Original, the original weight-loss shake
The Original shake comes in Chocolate, French Vanilla, Strawberries and Cream, and Creamy Milk Chocolate flavors. This formula is loaded with 24 essential vitamins and minerals, from Vitamin A to Zinc.
2. Advanced Nutrition shake, which contains only 1g of sugar
The Advance Nutrition shake is available in Creamy Chocolate and Vanilla Cream, and is great for baking. It's said to be the ideal base for smoothies, too. Like the Original formula, the Advance Nutrition shake is fortified with 24 vitamins and minerals.
3. Keto shake, which is formulated for optimal low carb, ketogenic nutrition
The Keto shake is available in three flavors: Fudge Brownie Batter, Vanilla Cake Batter, and Creamy Coffee Cappuccino. The formula only has 4g of net carbs, which is perfect for dieters on a keto plan. It also contains whey collagen protein and 15 grams of fat. It doesn't contain added sugars nor gluten.
4. Diabetic Weight Loss shake, a safe approach for those with Type 2 diabetes.
Available in Vanilla and Chocolate flavors, the Diabetic weight loss shake is formulated to help manage blood glucose. It contains no sugar, but it's high in fiber.
There's a wide range of SlimFast products to choose from, depending on your budget, preference, and level of commitment:
Favorite Foods 14-Day Starter Kit- $69.99
Low Carb 14-Day Starter Kit- $69.99
Key Features:
Keto 14-Day Starter Kit- $89.99
Ready to drink shakes - $8.99/box; each box contains 4 shakes
Shake mixes - prices start at $9.99/ 14 servings
Meal replacement bars - $12.99/ box; each box contains 5 bars
Sweet snack bars- $12.99/box; each box contains 12-14 bars
Crunchy snack bars- $12.99/ box or bag
Accessories (shaker bottle, measuring tape, tote, lunch box) - starts at $3.99
SlimFast Accessories
Items Included:
measuring tape
shaker bottle
lunch box
Buying in bulk or signing up for Auto Delivery can save you money.
Does Slim Fast work?
You may be wondering, is SlimFast worth the money?
There's a lot to consider when deciding if SlimFast meal replacement shakes are right for you.
But it's worth noting that the SlimFast diet puts emphasis on calorie restriction. The SlimFast plans arguably work, since burning more calories than you consume inevitably leads to weight loss.
If you purchase a 14-Day SlimFast starter kit, losing weight on the plan will cost around $5 per day. It's worth the money if you're looking for a short-term weight-loss solution that doesn't demand hours of meal preparation.
Research suggests that replacing 1-2 meals per day with healthy meal replacement shakes like Slimfast may even accelerate weight loss.
It can also help avoid indulging in unhealthy processed foods. With the meals strictly controlled portion-wise, SlimFast is a convenient way to get a nutritious, low-calorie meal on the go.
SlimFast shakes also provide some of the vitamins and minerals that you should be getting in a meal. Even when you're cutting back on calories, your body still gets the nourishment it needs while on the plan.
What You Need to Know Before Buying
SlimFast plans are compatible with a broad range of diets, such as vegetarian, low carb, keto, and diabetes-friendly.
However, they don't offer many options if you're vegan, since most SlimFast products contain dairy or eggs.
In the long run, sustaining a SlimFast diet can still be challenging, unless you're also keen on developing healthy habits, such as exercising regularly and eating in moderation.
Going back to regular eating habits will only drive weight regain. Once you stop drinking the shakes and start consuming meals that contain significantly higher calories, the weight comes back.
This is why SlimFast recommends sticking with low-calorie snacks after reaching your weight loss goals.
You're also encouraged to keep replacing a meal per day with a shake. Some people don't find this cost-effective at all. In the end, you'll need a strategy to reintroduce whole foods to your diet.
If you have an existing kidney condition, check with your doctor first before getting on any SlimFast plans. The products contain whey protein, which can overwork your kidneys and cause strain and damage.
SlimFast reviews are mixed. Thousands of customers have found SlimFast highly effective. Some claim they achieved their weight loss goals incredibly faster while on the SlimFast diet.
There are those who experienced not only weight loss, but also glowing hair, skin, and nails. According to other dieters, they love the taste of SlimFast shakes.
But not everyone would agree. Some customers couldn't stand the taste of SlimFast products. Some allegedly experienced dizziness and nausea shortly after consuming their SlimFast meal. Others reported being bloated and gassy throughout the day.
No meal replacement shakes can perpetually replace an actual meal. Health professionals don't encourage or recommend replacing meals with shakes over a long-term period.
SlimFast plans can be effective, but consuming thoughtfully prepared, nutrient-dense food is arguably a better way to live. Your doctor will agree that forming healthy habits is the key to sustainable, long-term weight loss.