Our verdict: ClarityX DNA understands that choosing the proper medication is a unique process for each person. They believe what works for one person may not be suitable for another, and I couldn't agree more.
In my experience, I know how challenging it can be to find the right medications. It can often feel like an endless cycle of trial and error.
However, I discovered a game-changing approach to this process with ClarityX. Using genetics as a guide, the company offers a personalized solution that truly considers a person's needs.
Our bodies process drugs differently, which leads to varying side effects for each person. ClarityX DNA pharmacogenetic testing explores the role of genetics in influencing how you respond to specific medications.1
ClarityX DNA's test will help you find the most appropriate medication tailored to your unique genetic makeup. It analyzes crucial genetic variations related to medication response.
About The Company
ClarityX offers at-home DNA test kits designed to personalize prescription medications by analyzing your unique genetic makeup.
Their at-home genetic tests provide valuable insights for you and your doctor, helping you determine the most genetically optimal medication for you.
We recommend ClarityX DNA genetic testing because they use state-of-the-art CLIA-certified and COLA-accredited laboratories, ensuring high-quality and industry-standard testing.
Their products are designed for anyone looking to take the guesswork out of medication selection, leading to better health outcomes.
Product Review Summary
We scanned through hundreds of customer reviews for both their products and them as a company; here are some things we kept seeing in reviews.
Pros
Some users mentioned that personalized drug choices based on their genes are helpful for doctors in deciding which medications to prescribe
People who bought the test think the results are easy to use and comprehensible.
Users find the company reliable since it works with CLIA-certified and COLA-accredited laboratories and follows clinical guidance from FDA
Consumers like that the company offers to help them understand their results through one-on-one sessions with a clinical pharmacist certified in Pharmacogenomics
Cons
A few consumers are concerned that the limited coverage of medications tested may cause incomplete results
Some people don't feel like they get a full picture of their health because there aren't enough details beyond liver enzyme processing
A couple of people who already bought the test kit don't want to spend another $79 to consult a professional about their test results
Tests are not available to order in NY, NJ, RI, or by their residents
Why Trust Us
KnowYourDNA is committed to making healthcare more accessible to the public, so we feature products that meet industry standards.
We only choose at-home kits that provide reliable testing methods and science-backed reports to improve your health.
Our in-house medical experts help ensure the accuracy of the information we give our readers by reviewing them before publication.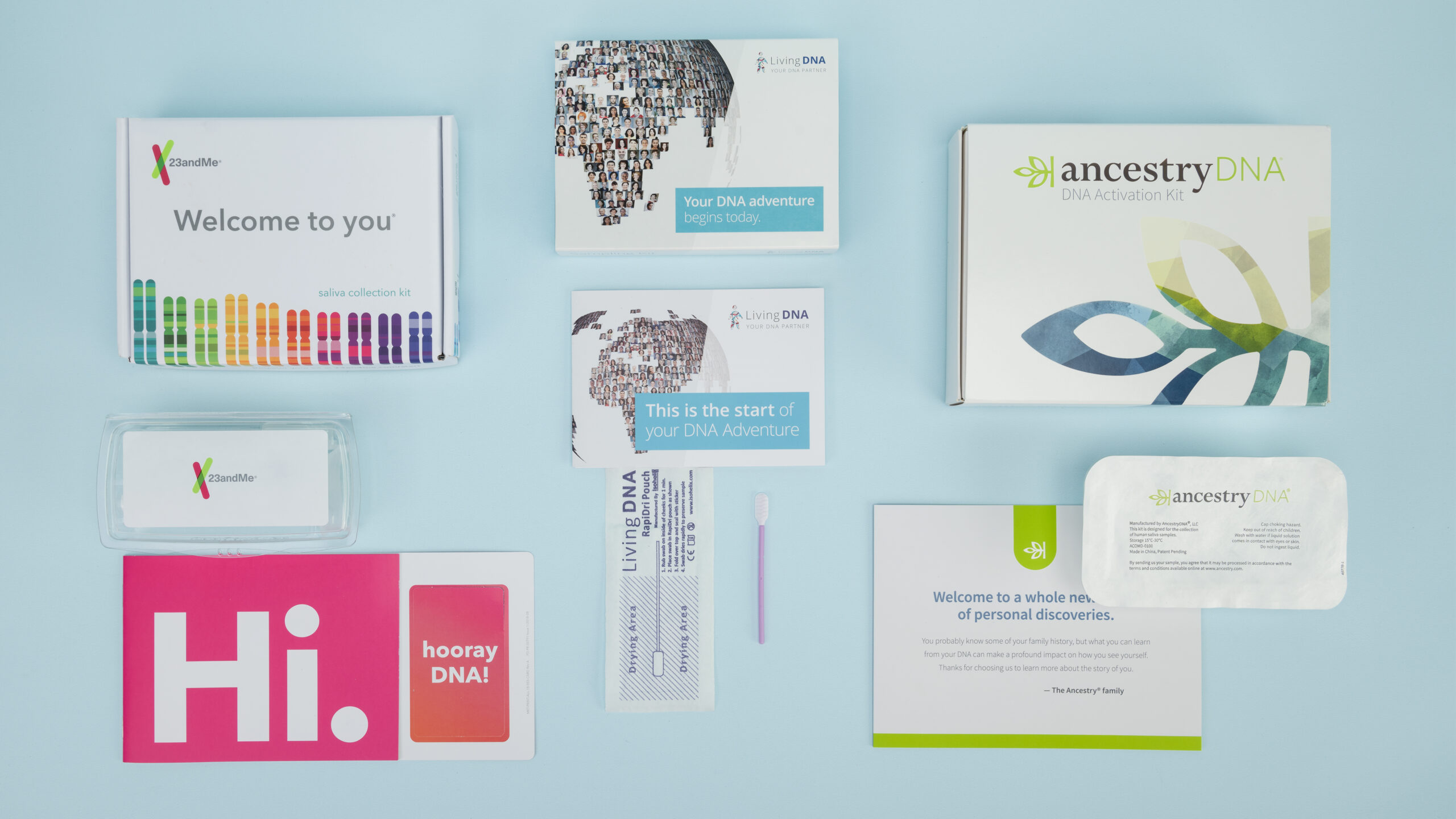 Best DNA Kit
Don't miss out on the opportunity to learn more about yourself. Read our best DNA test page to find the best one for you.
What Tests Do They Offer?
ClarityX has two test kits: Mindwell and Max Rx test.
Max Rx DNA test kit extends to other therapeutic areas, such as heart diseases and diabetes, besides mental well-being.
It offers insights into which medications work best for you, identifying those needing a dosage adjustment.
Based on your unique genetic profile, it can also determine which drugs can cause unwanted side effects. The 16 areas it covers include:
Cardiovascular
Immunology
Gynecology
Infections
Gastrointestinal
Rheumatology
Urological
Sjogren's Syndrome
Gaucher
Chronic Liver Disease
Nausea & Loss of Appetite
Overactive Bladder
Huntington's Disease & Tardive Dyskinesia
Alzheimer's & Dementia
Transplantation
Anticancer
Mindwell DNA test kit focuses on how your DNA influences your response to medications for mental well-being.
Considering your unique genetic profile, it offers insights into the most appropriate medications for your condition. The conditions it covers include:
Clinical Depression
Anxiety Disorder
Bipolar Disorder
ADHD / ADD
OCD
PTSD
Schizophrenia
Opioid Withdrawal
Pain Management
The ClarityX Mindwell test aims to provide clear, personalized, actionable reports of psychological health medications most suitable to your unique genetic profile.
ClarityX designed the Mindwell test for people seeking thorough insights into their response to a range of psychological health medications, including:
Antidepressants
Antipsychotics
ADHD medications
SSRIs (Selective serotonin reuptake inhibitor)
Quick Facts on ClarityX Mindwell Test
| | |
| --- | --- |
| Price | $399 |
| Collection Type | Cheek swab |
| DNA Testing Method | Pharmacogenetic testing |
What's Inside The Kit?
The ordering process is straightforward. First, visit their website, select the test kit, and place your order.
Here's everything included with your Mindwell test kit:
DNA sample collection tool
Pre-paid shipping label to their lab
Once you've shipped back the test kit to their lab, you can log in to their portal and track your sample's status.
What You Get With Your Report
Your results are a comprehensive guide to your medications. It's a roadmap with four sections:
Evaluation of drugs you're currently taking
Your body's response to 130+ FDA-approved mental health medications
Tailored risk management profile, including MTHFR variant
Personalized guidelines for medication dosing
Current Patient Medications
The first part of your result shows an analysis of your current medications. The report sorts them into color-coded categories: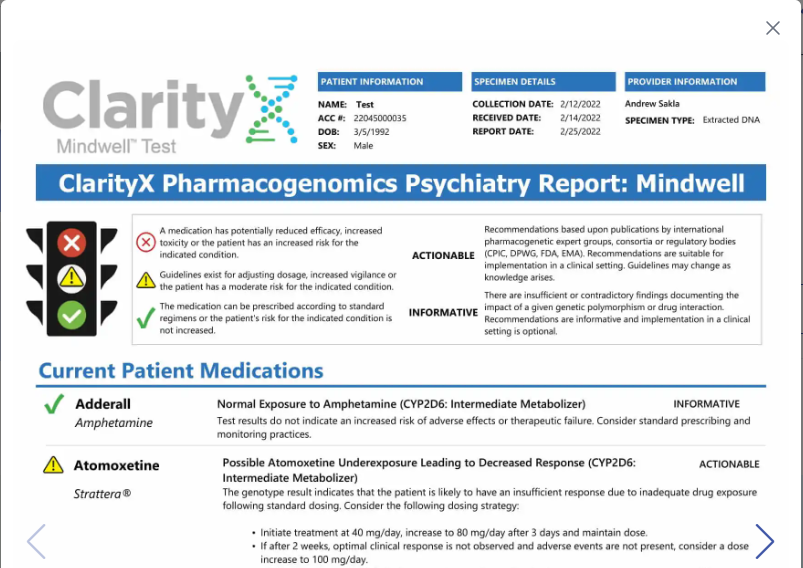 Green— indicates that the medication can be prescribed following standard guidelines. It does not increase your risk of developing an associated condition.
Yellow— signifies that specific guidelines are available for adjusting the medication dosage. You need to undergo increased monitoring or caution when taking this medication. It can also mean a moderate risk for the associated condition.
Red— indicates that the medication may not be as effective as intended. It can also increase side effects, toxicity, or the risk of developing a particular condition.
Response To FDA-approved Mental Health Medications
The next section of the report presents the assessment of your body's genetic response to FDA-approved mental health medications.
It helps you and your doctor cut the guesswork out of trying out different medications.

The report lists the drug class, then categorizes the medications for it into three groups:
Standard precautions
Use with caution
Consider alternatives
Risk Management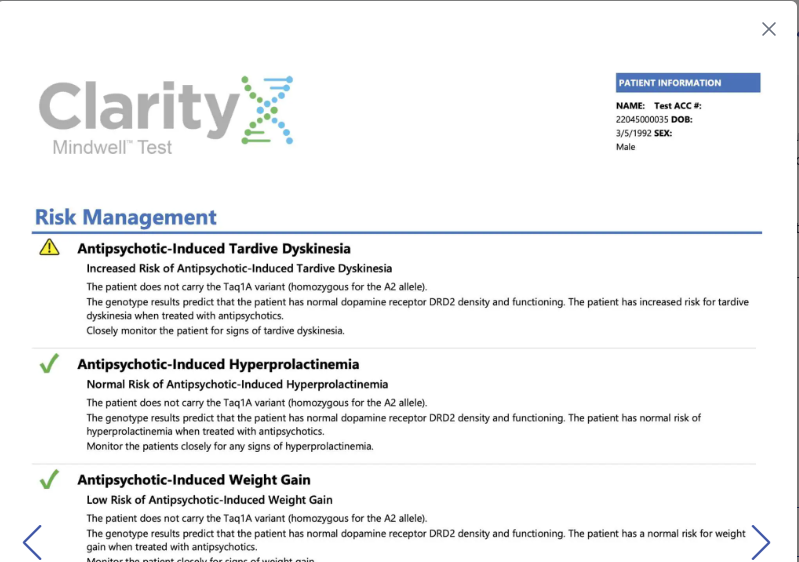 This section examines your specific gene mutations and their associated risks with prescription medications.
Doing so helps determine which medications may put you at risk for gene-related adverse reactions. It'll also help identify potential preventative measures.
Dosing Guidance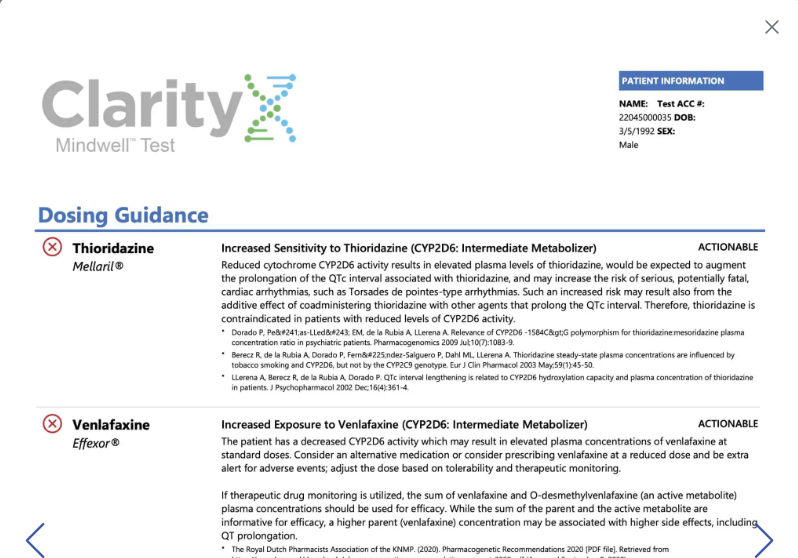 The final part of the report gives personalized dosage suggestions for medications.
Your doctor can use the information provided as a guide to determine the right medication for your mental health based on your body's genetic response.
Is The Test Accurate?
Yes, ClarityX DNA tests are accurate.
The company uses pharmacogenetics (PGx) testing, an assessment tool that can help overcome trial-and-error challenges with drug prescriptions.
It provides personalized information about your genetic makeup and its influence on your medication response. It's part of an approach known as precision medicine.
Pharmacogenetic (PGx) testing lets doctors determine how effectively a person's body processes medications, allowing them to personalize drug selection.
While the DNA sequence of a person's genes generally remains the same throughout their lifetime, gene changes can still occur due to mutations or changes in gene activity.
However, it is essential to note that the genes tested for in pharmacogenetic tests like Mindwell typically remain stable, making the test results relevant for an extended period.
ClarityX implements several measures to guarantee the accuracy of their tests, such as:
Working with state-of-the-art CLIA-certified COLA-accredited laboratories. Their lab facilities and processes adhere to strict quality control protocols to maintain the accuracy of the test results.
Incorporating the most up-to-date clinical guidance from key scientific and governing organizations to ensure the tests are based on the latest research. It involves the Clinical Pharmacogenetics Implementation Consortium (CPIC) and the Federal Drug Administration (FDA).
Using superior at-home DNA collection methods to ensure that the DNA samples are high-quality and suitable for accurate testing.
How The Test Works
Doing the Mindwell DNA test only takes these simple steps:
Request a ClarityX test online by clicking the "Get Started" button.
Activate the kit on the website once you have received it. You'll also be prompted to create an account in the process.
Perform a simple cheek swab using the collection tool.
Return the sample using the provided pre-paid envelope.
Receive your personalized report online in your ClarityX patient portal within seven to 10 business days. You can share this result with your doctors.
Where Can I Buy The Product?
ClarityX Mindwell DNA Test is available on their website.
How Much Does The Product Cost?
The cost of ClarityX DNA test kits are:
Mindwell: $399
Max Rx: $499
The company offers free shipping via UPS. FSA/HSA is accepted.
If you choose Shop Pay at checkout, you can pay your purchase in four equal installments with no hidden fees or interest.
However, this will be subject to eligibility check and approval.
ClarityX vs. Competitors
| | | | |
| --- | --- | --- | --- |
| | ClarityX Mindwell | Genomind PGx Test​ | GeneSight Psychotropic |
| Cost | $399 | Between $0 and $399 | $330 or less |
| Sample collection | Cheek swab | Cheek swab | Cheek swab |
| How many medications for mental illnesses tested | 130+ most commonly prescribed FDA-approved medications | 130 medications | Over 60 medications |
| Genes & gene variants analyzed | Not indicated | Up to 35 genes | 14 genes |
| Offers counseling? | Yes | Yes | Yes |
| Needs a doctor's order to purchase the test? | No | Yes | Yes |
| Results turn around time | Seven to 10 business days | Three to five business days | Within two business days |
ClarityX Mindwell vs. Genomind
Although both tests can be done in the comforts of your home, Genomind is physician-ordered. Your provider needs to arrange for it to be sent to your home.
On the other hand, ClarityX Mindwell offers direct-to-consumer genetic testing.
Both ClarityX and Genomind use pharmacogenetics to analyze how your genetics may influence your response to specific medications.
But ClarityX doesn't indicate how many gene variants related to medication response they're analyzing.
Both companies offer comprehensive reports, but ClarityX's might be more accessible for people without a solid medical background.
ClarityX Mindwell vs. Genesight
Both services use genetic information to optimize medication selection, but ClarityX offers a broader range of therapeutic areas and personalized reports for you and your doctors.
GeneSight is more of a diagnostic tool for doctors, so you may find it challenging to understand your reports.
Is The Test Worth It?
Yes, ClarityX Mindwell is worth a try.
You must consider this test to optimize your medication choices based on your DNA, especially for your mental well-being.
ClarityX offers personalized insights into your response to specific medications. It can lessen the trial and error in selecting the best choices.
It can also help you avoid medications with potentially unpleasant side effects.
However, talking to your doctor first about getting tested is crucial. They can help determine if ClarityX testing is a suitable option for you.
Besides using ClarityX testing to guide medication choices, you should work closely with your healthcare providers.
They'll need to monitor and adjust your treatment plans accordingly.
How We Evaluated The Test
Our team, with the help of our in-house health expert Dr. Rizza Mira, has developed a set of criteria to assess the ClarityX genetic testing service.
Below is an overview of our evaluation.
Test Quality and Accuracy
ClarityX works with CLIA-certified and COLA-accredited laboratories, ensuring high-quality and accurate testing. The company follows the most up-to-date clinical guidance from the FDA.
Report and Results
The report about the test results is comprehensive, easy to understand, and actionable.
It gives valuable insights into your current medications, response to FDA-approved mental health drugs, risk management, and dosing guidance.
Convenience
You can easily purchase the ClarityX DNA test kit online. You can perform their test at home through a simple cheek swab collection method.
The results are available online within 7-10 business days.
Privacy and Data Security
ClarityX takes privacy and data security seriously. Unlike a genetic DNA test, the company only analyzes specific genes linked to drug metabolism.
The company doesn't keep, store, or use your genetic data in any way. It uses reasonable measures to safeguard personal information in compliance with applicable laws such as HIPAA and GINA.
Cost
ClarityX offers free shipping and accepts FSA/HSA. They also offer payment plans through Shop Pay (subject to eligibility and approval).
Customer service and user experience
ClarityX provides a one-on-one personalized session with a clinical pharmacist certified in pharmacogenomics. But it comes at an additional cost of $79.
Despite that, the company still receives plenty of testimonials and reviews from satisfied users.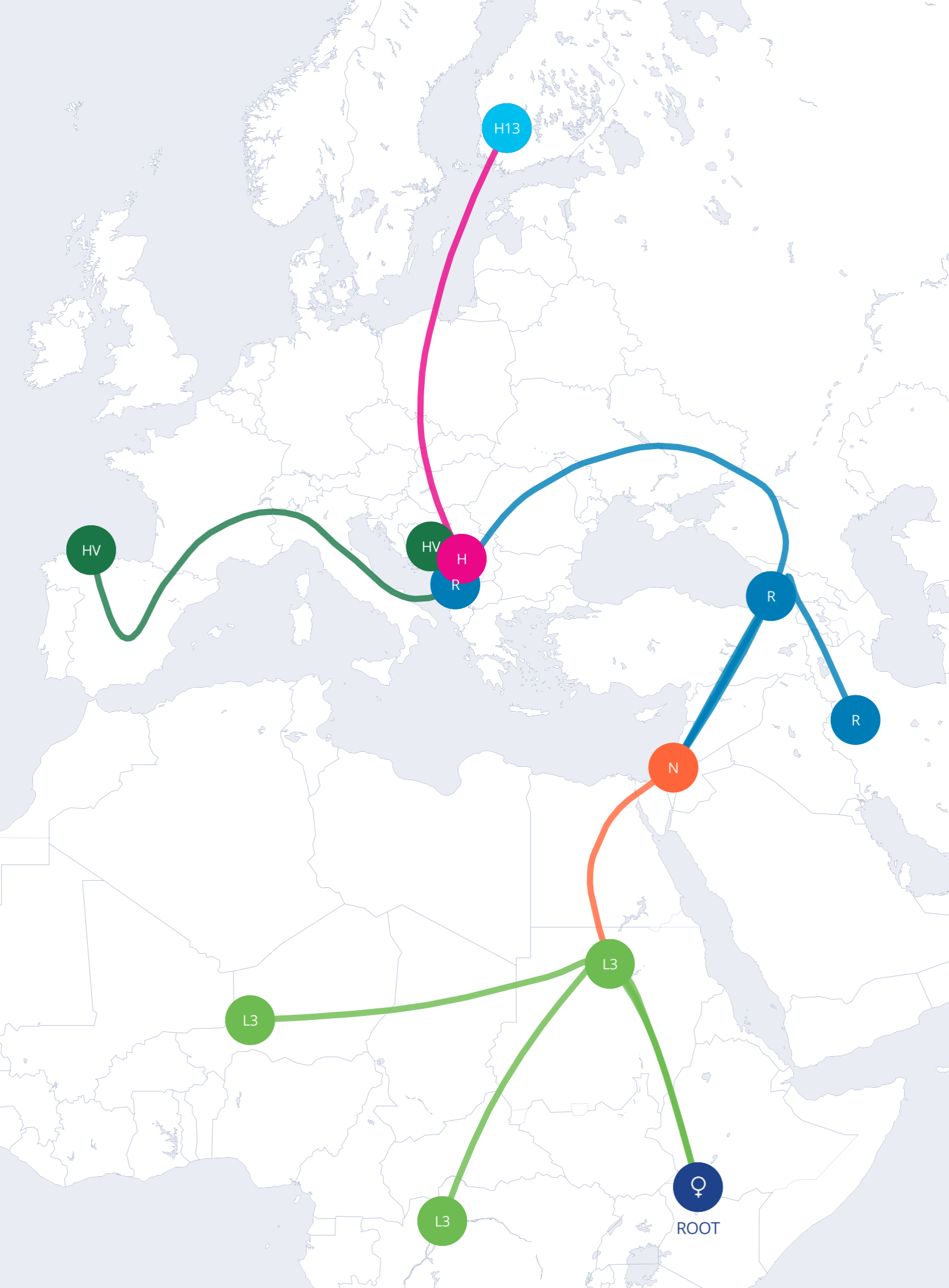 The Best DNA Test
Looking for a DNA test that's accurate and can tell you about your health and heritage?