However, the information you can get from these cheap tests is fairly limited. They are usually designed for a single purpose, like determining who's the biological father or identifying your dog's breed.  
These cheap tests also don't have the resources and trustworthiness of 23andMe, Ancestry, and other bigger companies. These more established brands are pricier, but the information you can get from them are worth the price.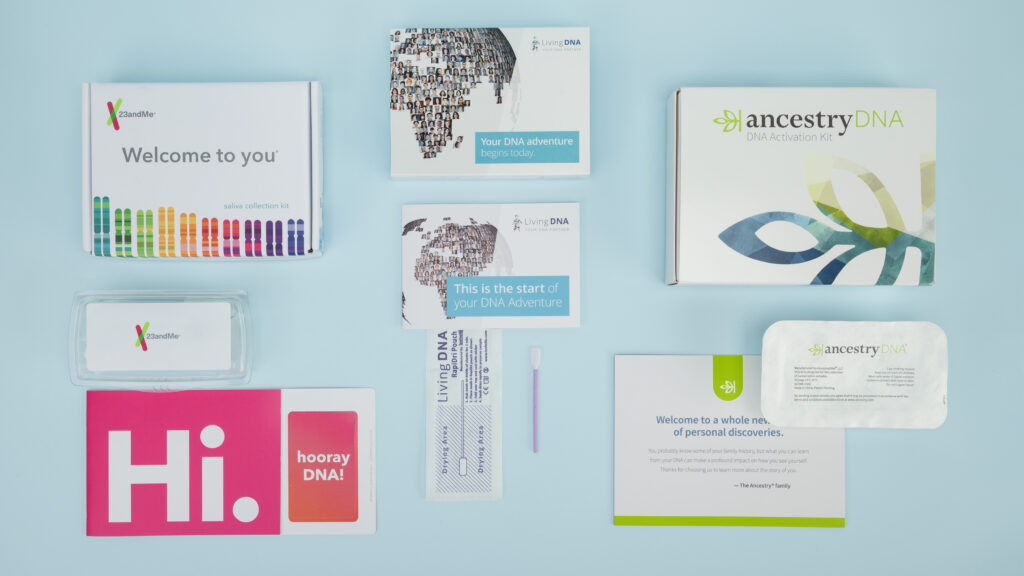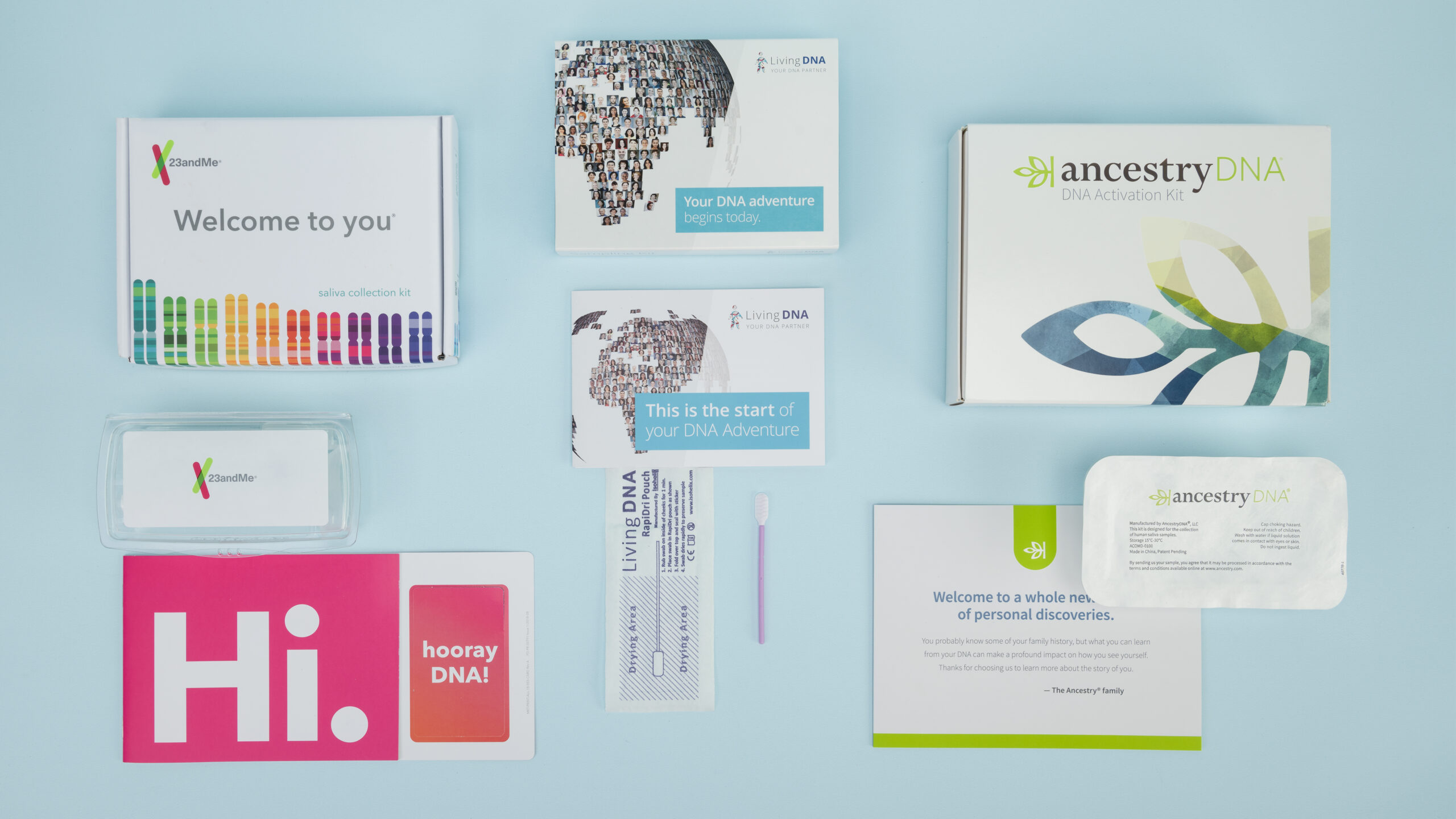 Here are the three DNA testing services that provide the best value for your money. All of them look at ancestry and various aspects of health, personal traits, or well-being. 
Best DNA Test Kits with Balanced Cost & Quality
23andme
23andme is one of the leaders in the industry, and for good reason. It is the best in terms of health screening among human DNA tests.
Using a simple spit tube, you can quickly get insights into your health and ancestry. 23andme is the only FDA-approved DNA testing company. 
23andme offers two DNA kits: 
Ancestry+Traits ($99): Contains over 80 reports which can provide information about your ancestry and unique traits (like hair color or food preferences).
Health+Ancestry ($199): Contains over 150 reports. In addition to the features of Ancestry+Traits, this kit can tell whether you have the potential to develop medical conditions.
At KnowYourDNA, we love 23andMe due to its ease and relevant information. Read our review of 23andMe, learn what to do with your health results, or check it out on 23andMe.
Holiday Offer: $70  off
Ancestry
Ancestry offers one of the other top tests available on the market. 
Ancestry has the largest database of users (at 20 million) and one of the most extensive historical collections (at 30 million). Such features give you higher chances for DNA match and ethnicity estimates. 
Here are Ancestry's two DNA testing kits:  
AncestryDNA ($99): Helps you find DNA matches and learn about your ethnicity and other genetic information. 
AncestryDNA Traits ($119): Contains AncestryDNA's features. In addition, this test helps you look for personal traits that are influenced by your genetic information. 
Read our review of Ancestry DNA or check it on Ancestry.
Holiday Sale: Save up to $50 on DNA kit. 
Living DNA
Living DNA is a bit cheaper than 23andme and Ancestry. It's one of the newer entrants to consumer DNA testing. 
It includes some great features that can help you visualize your maternal and paternal lines. It can scan 46 locations in your Y-DNA and mtDNA to give you more information on your ancestry.
Living DNA offers three DNA testing kits:
Ancestry Kit ($89): Looks for the general location of ancestors possibly as far as 1,500 years ago.
Wellbeing Kit ($99): Analyzes 14 traits related to nutrition and exercise.
Ancestry & Wellbeing Kit ($119): Combines the features of Ancestry and Wellbeing Kits.
Read our review of Living DNA or check the prices here.
Cyber Monday Extended: Up to 50% off. 
Now that we listed the best DNA tests, let's looks at some of the cheaper DNA tests categorized based on their purposes.
Cheap DNA Tests for Health
1. 5Strands
Many DNA testing companies look into people's traits, genetic health risks, or carrier statuses. 5Strands differs by specializing in detecting nutritional deficiencies and food intolerance. People can use the information to adjust their diet and lifestyle. 
5Strands offers a range of DNA tests for people and pets. The DNA test kits require hair instead of a cheek or saliva sample.
Here are some of the 5Strands' tests for people's health.
Nutritional Test ($66)
This at-home vitamin and mineral test can detect deficient nutrients. It can tell which nutrients you need to take more to prevent conditions like hair loss, inflammation, or dry skin. 
This DNA test kit covers over 80 vitamins, minerals, fatty acids, and amino acids. You can use the information to adjust your diet or supplement.
Metals and Minerals ($66)
This DNA test kit looks at 60 metals and minerals that cause imbalances in your body. 
An imbalance can be physically manifested in various forms. It can be weight gain or loss, upset stomach, skin irritation, a neurological issue, or a behavioral disorder.
Food Intolerance Test ($88)
The price is higher than that of the previous 5Strands test kits. This one looks at food components that may cause gut discomfort. 
It covers over 640 items found in grains, fruits, vegetables, seafood, additives, and other food items. 
You use the test results as a guide to eliminating the things in which you are intolerant. Unlike allergies, intolerances do not involve the immune system.
2. Orig3N
Orig3n offers a range of DNA "mini-tests" for health, wellness, diet, and fitness. They focus on a specific subset of genes rather than entirely scanning your genome. A simple cheek swab powers these DNA test kits. 
While the range of prices is easy on the wallet, it may take some time to receive your reports. Some reviews mention waiting six to eight weeks.
Here are some of the cheapest DNA test kits from Orig3N.
Vitamins ($49) 
This test kit is designed to look at how your genes affect the absorption and processing of vitamins A, B6, B12, C, D, and E in your body.
It can also guide you on what foods you should add to your diet. Or if you will benefit from taking a personalized vitamin. 
This test costs $49 on Orig3N's site. It's also available on Amazon for just $6! 
You can also order a custom-blended vitamin from Orig3N's site for $59.
Recovery and Renewal ($12)
This test focuses on recovery and renewal. It looks at three genes that influence cell repair, cellular health, and exercise recovery.
Beauty ($80)
You probably don't need a DNA test to figure out whether or not you're beautiful. But this test can tell you whether or not your looks will last. 
By looking at 18 genes that influence skin factors like elasticity, UV sensitivity, and hydration, you can determine if your looks will hold up in the coming years!
Nutrition ($18)
This DNA test looks at 24 genes that govern how your body responds to various nutritional factors like: 
alcohol tolerance
caffeine
lactose intolerance
weight regain
vitamin A
vitamin B12
vitamin D
folate levels
3. HomeDNA
HomeDNA made DNA testing more accessible by selling its DNA testing kits in stores like Walgreens and Walmart. The tests span a range of categories, including ancestry, health and beauty, and pets. 
Here are some of the affordable HomeDNA tests for health: 
Skin Care ($8)
While HomeDNA is probably known for DNA tests on ancestry and family connections, its Skin Care Test has one particular goal—to help you improve your skin.
Using a cheek swab, HomeDNA can give you personalized recommendations for vitamins, supplements, and skin-care products that will keep you looking good. 
Through genetic testing, you'll receive a personalized analysis of the seven categories associated with skin aging. These categories include: 
sun protection
collagen quality
fine lines and wrinkles
skin elasticity
skin sensitivity
pigmentation
skin antioxidants
Additionally, HomeDNA uses genetic markers to build you a customized skin-care regimen and suggest skin-care treatments, all based on your DNA.
The $8 price indicated above is from Amazon. The price of this DNA test kit is way higher on HomeDNA's site—at $139.
Healthy Weight ($3)
HomeDNA examines DNA from your cheek sample and checks for genetic markers linked to your weight, metabolism, and body type. Your personalized report will include specific recommendations.
The $3 price indicated above is from Amazon. The price is way higher on HomeDNA's site—at $159.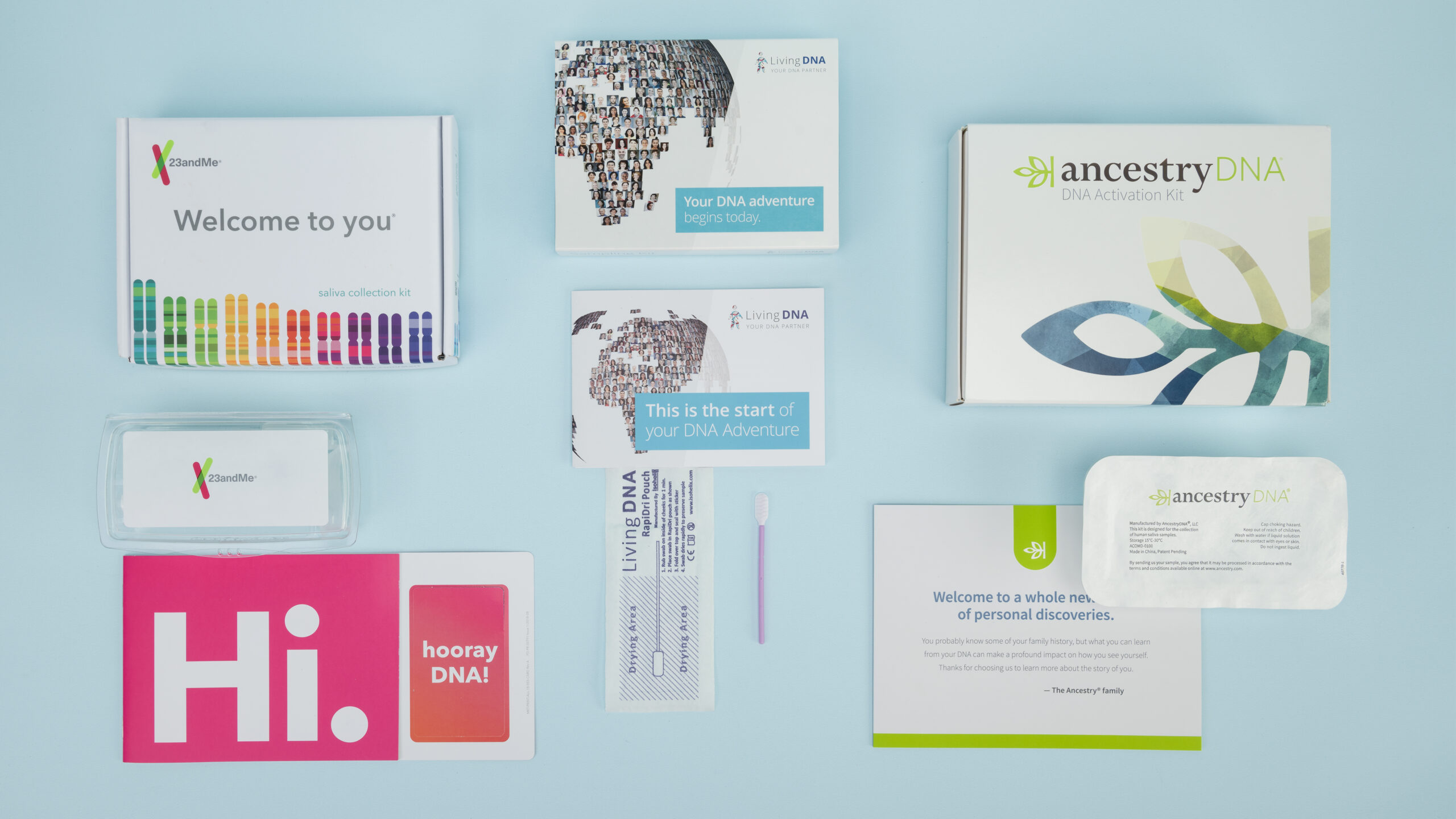 Give the Gift of Knowledge
Read our guide all about DNA kits you can gift to your friends and family.
Cheap DNA Tests for Ancestry
1. HomeDNA Starter Ancestry Test ($69)
Aside from health-focused DNA tests, HomeDNA also offers cheap ancestry tests. 
HomeDNA shares a testing facility with GPS Origins and DNA Origins. These other DNA testing services offer their own set of ancestry tests. 
HomeDNA's Starter Ancestry Test uses cheek swabs for DNA collection. It looks at 100 DNA markers to determine the origins of your ancestors. This can give you a picture of where you came from. 
2. MyHeritage DNA Kit ($79)
MyHeritage offers one of the cheapest DNA self-test kits for determining your ancestry, possible family connections, and ethnicity. It uses cheek swabs for DNA collection.
The company, though, has a smaller DNA database (5.5 million) than more established companies like Ancestry (20 million) and 23andMe (12 million). 
It does have an impressive collection of 15.7 billion historical records, which you can use to build your family tree.
MyHeritage DNA  is only an autosomal DNA test. It doesn't test for mitochondrial DNA (mtDNA) and Y chromosomes (Y-DNA.) This means it cannot provide information about your maternal and paternal lines. 
You read our comprehensive MyHeritage DNA review here. 
3. Family Tree DNA ($79)
If you're looking for long-lost relatives, then you need to check out Family Tree DNA. Its DNA testing kit uses a cheek swab to trace your lineage and find any relatives that may be hiding out there. 
This ancestry test can also give you a glimpse into your past. With your DNA sample, Family Tree DNA will tell you if you're carrying the DNA of certain ancient European groups, including neolithic hunters/gatherers, bronze-age metal invaders, and early farmers.
Read more about Family Tree DNA here.
Cheap DNA Tests for Paternity
1. Paternity Depot ($59) - Our Top Pick
If you're looking to determine your paternity or of someone you know, Paternity Depot's Paternity Test Kit is all you need. It's sold directly from a certified laboratory, making this an incredibly reliable paternity testing kit. 
Their results are guaranteed and will be delivered to you in a week or less. This is a great way to figure out the biological father accurately.
2. DNA Direct ($79)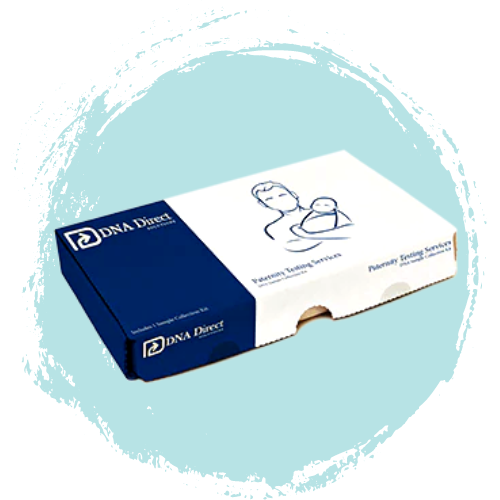 This paternity test is touted for its accuracy. While competitors test for 16 genetic markers, DNA Direct looks for 22 markers. 
DNA Direct's lab is AABB- and ISO 17025-accredited. Competitor labs are only AABB-certified. This may not be a big issue since AAAB is the only certification required in the U.S. 
3. Genovate DNA ($89)
This DNA Paternity Test will determine whether one man is the true biological father. Each test is automatically run twice through a 24 genetic marker system. 
Genovate DNA's lab is one of the oldest and largest in North America. It has provided DNA testing for private and legal cases for over 20 years.
Genovate DNA's paternity test is pricier, though, than the two previous paternity tests. 
Cheap DNA Tests for Pets
1. DNA My Dog ($69) - Our Top Pick
If you're a dog owner and would like to learn more about your furry friend, this is a great choice. 
DNA My Dog Breed Identification Test will tell you about your dog's breed composition, predisposition for certain diseases, and personality traits from a simple cheek swab. 
We also review other dog tests more in-depth here.
2. Orivet Dog DNA Test ($69)
Another breed Identification DNA test for dogs. It screens for over 350 breeds, types, and varieties of canines. The report will include the percentage of each breed that makes up your dog.
Just use the swabs to collect cheek cells, and send the sample to Orivet. Expect the test results within two to three weeks.
3. 5Strands
Aside from health tests for humans, 5Strands also offers a variety of health tests for pets. 
5Strands utilizes bioresonance technology to identify imbalances and intolerances that may be causing an upset stomach, constant scratching, hair loss, and other symptoms in pets.  
5Strand's cheapest tests for pets include:
Pet Treat Intolerance Test ($55): This test covers 104 common ingredients used in dog and cat treats. Unlike allergies, intolerances do not involve the immune system.
Pet Intolerance Test ($88): This test covers over 275 commercial pet food ingredients. You'll learn what items may be causing discomfort in your pet. Then you can adjust your pet's diet.
Pet Nutrition Test ($66): It can show which of the 40 tested items are deficient or not adequately absorbed by your pet. Items can be vitamin, mineral, or fatty acids.
Cheap DNA Tests: Are They Worth It?
While a cheap DNA test is a great way to get started in the world of DNA testing, the information you can get is relatively limited. 
Expect cheap DNA tests to analyze not so many gene markers. They're usually more suited for a specific purpose. 
Using a cheap DNA test can still be fun, though. It can help you learn a bit about yourself. But for the average person, a cheap DNA test falls short.
If your needs are specific (like you want to learn about your metabolism or your dog's genetic data), one of the cheaper DNA tests above should be enough. 
If you want a thorough DNA test that will give you loads of novel information, the more established DNA testing services are simply the better options. 
By far, both 23andMe and Ancestry are the superior choices if you want a thorough picture of your genome. Other decent options for DNA analysis are MyHeritage and Living DNA. 
These DNA tests cover ancestry, health, exercise suggestions, and predisposition to diseases, to name a few things. While you need to invest a bit more, their higher price tags are worth it!
Not only do these DNA tests provide more meaningful information. You'll also have peace of mind knowing that these companies properly handle your sensitive data.
Testing your DNA is one of the easiest and most exciting things you can do to take control of your health. But that comes with a price tag.
The pricier options like Ancestry and 23andme are just better. They allow you to learn more about yourself than cheaper DNA tests. This fact alone easily justifies their higher price tags.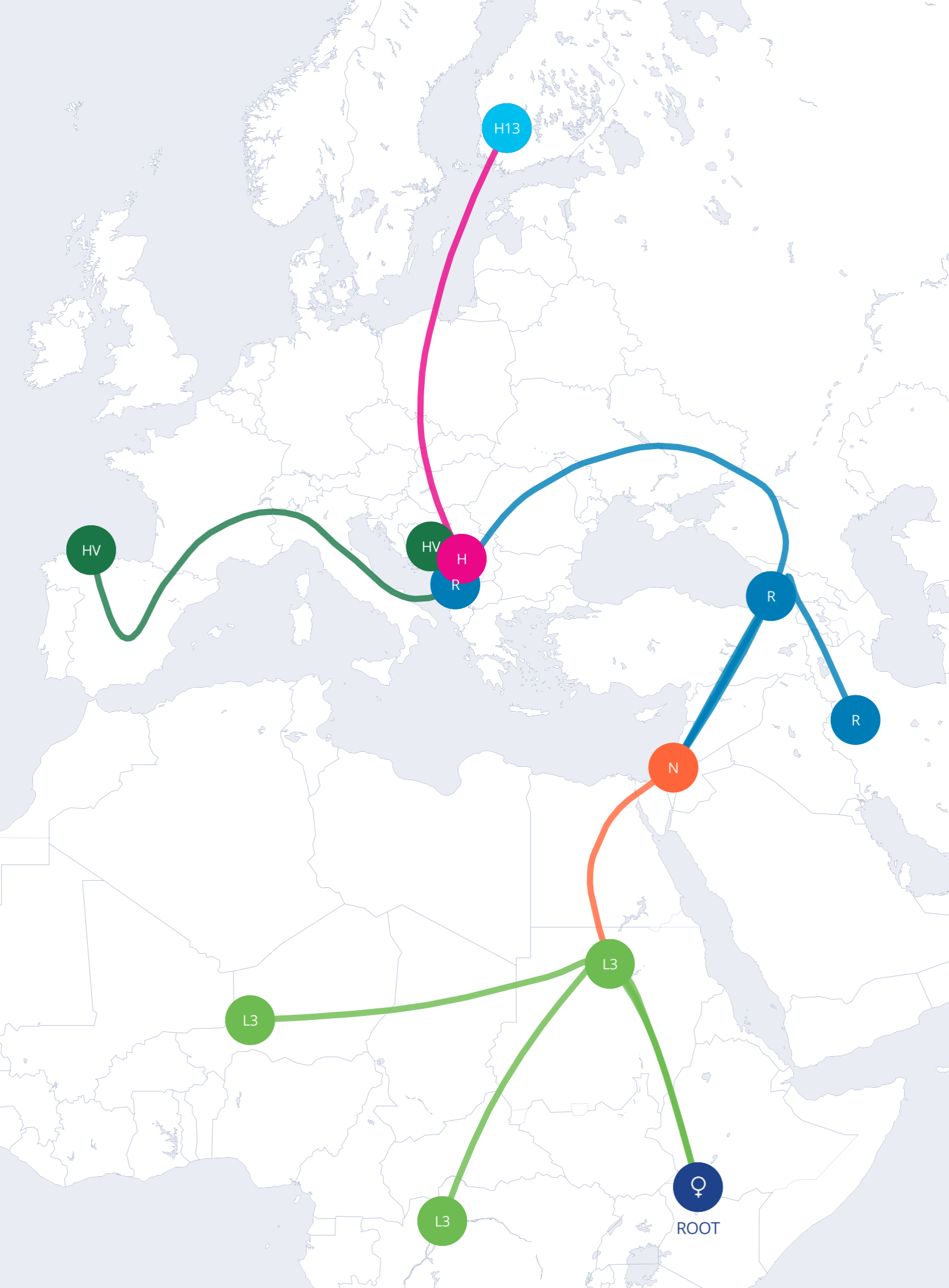 The Best DNA Test
Looking for a DNA test that's accurate and can tell you about your health and heritage?