Candid Aligner Treatment — Is it the Best?
Candid is one of many brands that offer clear aligners. A clear aligner (also known as an invisible aligner) is an at-home teeth straightener. It is a safe, convenient, and affordable alternative to orthodontic treatment that doesn't require visits to your dentist.
Here's what makes Candid special:
1. Candid only works with orthodontists
It is the only teeth aligner company that works exclusively with orthodontists. The reason is simple: Orthodontists are experts in teeth straightening and receive more training than dentists.
Other aligner companies work with dentists and orthodontists. While they both go to dental school, dentists cannot provide the same level of care that an orthodontist does.
A dentist's main concern is oral health. In comparison, the orthodontist specializes in the diagnosis, correction, and prevention of teeth alignment problems. By working exclusively with orthodontists, Candid ensures that you get proper care for your needs.
2. Provides complete teledentistry with CandidMonitoring™
It's also the only company that provides comprehensive remote monitoring and treatment with the CandidMonitoring™ system. Thanks to CandidApp™ you can stay connected to your orthodontist. The same orthodontist who prescribes your Candid teeth aligners will see to it that your aligner treatment goes well.
To keep them updated with your progress, you can use CandidScan™ with your smartphone. This device makes it easier to take photos of your teeth and is included with your Candid treatment plan.
3. Candid goes beyond aesthetics
Most at-home aligners only correct the front teeth, known as the social 6 or social 12. It can address cosmetic problems but it can also ruin your bite.1
Candid aligners straighten all of your teeth. Also known as full arch treatment, this method improves both the looks and function of teeth.
Dr. Lynn Hurst, Chief Orthodontist at Candid, says that correcting the whole bite instead of just the front teeth brings lasting results.
Candid produces comparable results to Invisalign treatment but for less than half its price. Now that its cost is reduced to $1,895 (as of October 2021) you have more reasons to get started with Candid's treatment plans.
But first, you need to find out if you can use a Candid teeth aligner.
Are You a Candidate for Teeth Straightening?
Candid aligners can straighten teeth with mild to moderate malocclusion. We talked with Candid's team, and they say they can correct most cases of severe dental malocclusion.
A malocclusion is a medical term for misaligned teeth. Its symptoms include:
Overcrowding (e.g., overlapping teeth)
Spacing issues (e.g., gapped teeth)
Candid can also improve your bite, though it cannot fully correct overbite, underbite, crossbite, and open bite.2
If there is severe jaw misalignment and significant bite problems, Candid recommends opting for in-office and in-person orthodontic treatment for close monitoring. Examples include traditional braces and Invisalign.
People with upcoming dental work or a permanent retainer also cannot undergo aligner treatment. You need to have good oral health to qualify for aligners.2
Adults and teenagers aged 13 to 17 may use Candid's invisible aligners but only if they qualify. To qualify, a teen must no longer have baby teeth. They are also required to get teeth scans at a nearby studio.3
The best way to find out if you're a candidate is to visit a Candid Studio near you. You can also order an impression kit online.
What You Need for a Candid Studio Consultation
Before your scheduled visit, you should have seen a dentist recently or anytime within the past 12 months. If you have cavities, tooth decay, and unhealthy gums, these dental problems have to be first taken care of by your dentist.2
Teenagers also need to book an appointment online. Bring a photo ID, your smartphone, and a parent or guardian to accompany you to the studio.3
What are Candid's Treatment Plans?
Candid currently offers two treatment plans: Candid Consumer and CandidPro™.
| Features | Candid™ Consumer | CandidPro™ |
| --- | --- | --- |
| Diagnostic records | ✓ Taken at home with an impression kit, or at the studio by a dental technician | ✓ Taken by your doctor |
| Treatment plan | ✓ Designed by an orthodontist from Candid's network | ✓ Designed by your doctor with the help of Candid's orthodontists |
| Remote monitoring | ✓ Your orthodontist will check in on you every 14 days | ✓ Your doctor will check in on you every 14 days |
| Support | ✓ You get support from Candid's customer service representatives | ✓ You get support from both your doctor and Candid's support team |
CandidPro™ offers a more personalized approach. But it is only available with licensed doctors, dentists, and orthodontists who are enrolled in the treatment program.
Ask your doctor if they provide Candid treatments.
Is Candid Safe?
Candid teeth aligners are safe to wear. They are made of Zendura FLX — a BPA-free, non-phthalate, and medical-grade plastic used in invisible aligners.
For your safety, Candid does not offer night aligners like other brands. Dr. Lynn Hurst, Candid's Co-Founder and Chief Orthodontist, explains they place your teeth under inconsistent force load..
Unlike daytime aligners which you wear for at least 22 hours a day, nighttime aligners are only worn for a few hours. Dr. Hurst says this is both unsafe and ineffective, leading to poor outcomes.
"When you're not wearing them [night aligners] the contact between your top and bottom arches can cause your teeth to shift back into their original position. Every additional hour that you are not wearing aligners increases the likelihood that your teeth may shift in an undesired position… In summary, this circular event of moving teeth for 10 hours, followed by subsequent exposure to counter-forces, has not been proven to be either effective or healthy."

- Dr. Lynn Hurst, Chief Orthodontist and Co-Founder of Candid4
Candid also set up a comprehensive assessment that ensures you can safely wear aligners. This includes meeting specific requirements and getting approved for aligner treatment.
If you visit a nearby Candid Studio, a trained specialist will collect your diagnostic records. The orthodontist will use this information to determine your eligibility and create a customized treatment plan.
The same orthodontist will continue to monitor your progress via the Candid app, making sure that your treatment is going well.
Candid works exclusively with orthodontists who have at least 20 years of experience in the field. Orthodontists specialize in identifying and treating jaw and teeth alignment problems, making Candid safer than most aligner companies.
Of course, remote monitoring can never fully replace in-office visits. Complications may occur and go unnoticed. However, most people who use invisible aligners usually complete treatment without any adverse effects.5
How Candid Aligners Work
Candid's aligners will move your molars to the back and widen your dental arch during the first few weeks. These initial adjustments make room for possible movements at the front. Once there is enough space, the aligners will correct the social 6 or 12.
This unique approach towards teeth straightening allows for safe tooth movement and your whole bite to line up. The goal is not just to give you a great smile, but also to have a healthy and functional bite at the end of your treatment.
Candid's treatments usually last 6 months, which is the shortest time you can safely straighten teeth.6 However, you may need a longer treatment period depending on your condition.
Additional reading: So you can better understand how Candid works, here is a case study on a 26-year old woman with a misaligned bite and overcrowded teeth. The patient was successfully treated after 8 months of using Candid aligners.
Candid Review: Does it Really Work?
Clear aligners straighten teeth by shifting them into the desired position. About 87.5% of people who use them are satisfied with their results.5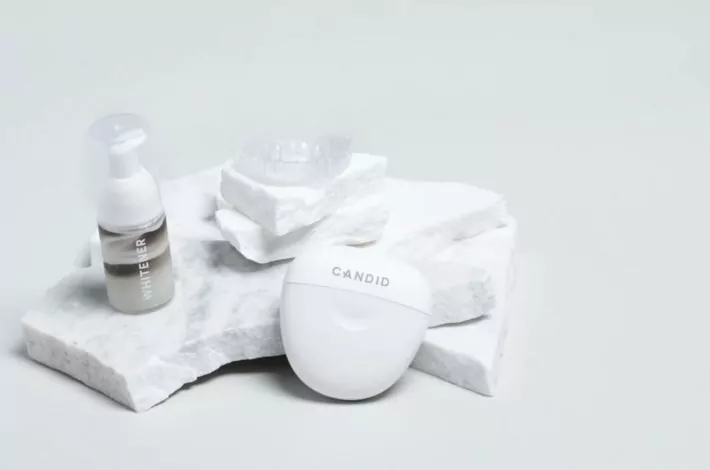 Unfortunately most options in the market only correct the social 6 or social 12 — which comprise of the six upper front teeth, the six bottom front teeth, or both. These aligners work by causing your front teeth to flare out.
They do not move molars from behind or expand your dental arch. While this usually fixes cosmetic problems, it can lead to bad results and potential complications.
For instance, you may end up with a worse bite than when you started treatment. It's also possible for your front teeth to slide back to their previous state.
According to Dr. Lynn Hurst, the best way to achieve proper and lasting teeth alignment is to address the whole bite. Candid stands out against competition because it causes full arch tooth movement. Meaning, it moves all of your teeth and not just the front.
Currently, there are no scientific studies proving that Candid aligners are effective. But there is a lot of evidence that shows it works. These include case studies, before-and-after photos from Candid customers, and positive reviews which you can view on the Candid website.7
How Much Does Candid Cost?
As of October 2021, Candid aligners cost $1,895. The new price is $505 less than the previously advertised $2,400. It covers your entire Candid treatment, including:
All the aligners needed for your treatment plan
CandidScan™ box used to monitor you remotely
There's also a teeth whitening foam that comes with your package. It can whiten your teeth, disinfect aligners, and keep your breath fresh at the same time.
You can pay $1,895 upfront, or you can opt for a monthly payment plan which costs $2,539 in total. The latter requires a $199 down payment and monthly payments of $65 for 36 months. But there's also an option for 0% down payment and 0% APR.
Add-Ons and Other Treatment Costs
Candid offers other products on their website. You can purchase them separately or as add-ons to your aligner treatment. Here are their prices:
Starter Kit — at-home impression kit; costs $95
Candid Retainers — 6 months supply; costs $99 per set
You can also purchase the Philips Zoom Take-Home Teeth Whitener for $599. It includes the Zoom DayWhite whitening gel which you can place in wearable trays.
Watch out for discounts. If you're lucky, you can purchase the Starter Kit for less than 50% its original price. You can also buy the Zoom Teeth Whitening Kit for $349 and get the impression kit for free.
How to Get Started with Candid Treatment
Below, we'll walk you through the Candid aligner treatment. Take note that the following steps only apply to Candid customers who opt for Candid Consumer.
If you wish to take CandidPro, talk to your doctor or find one who offers it in your area.
Step 1: Take the online survey
Before you can begin treatment, Candid helps you find out if you're qualified. The first thing you can do is take the 30-second survey on their website.
It's a simple questionnaire that lets you pick answers with the click of a button. At the end of the survey, Candid will let you know if you're pre-qualified for clear aligner treatment.
Step 2: Complete your assessment
When you pass the first step, Candid will collect your diagnostic records in one of two ways:
Option 1: Visit a Candid Studio near you
If you take the online survey, you'll receive a recommendation for the nearest Candid Studio location. You can book an appointment for clear aligners, including the exact date and time.
Candid Studios also accept walk-ins. But they might not be able to see you right away. We suggest scheduling your appointment ahead of time.
Each appointment lasts 30 minutes. During which time, a Candid Studio Specialist will make sure you're qualified for at-home teeth alignment.
They will also get everything they need for your custom treatment plan, including:
Your medical and dental history
Photos of your face and mouth
3D scan of your teeth
These appointments are free. But if you booked an appointment and failed to show up, Candid may charge your credit card up to $20 unless you cancel in advance.
You can also make an advanced payment for your Candid treatment at the end of the consultation. However, this is entirely optional.
Option 2: Buy the Candid Starter Kit
If there is no Candid Studio near you, the next best option is to order the Candid Starter Kit online. The kit includes tools that you'll need to take photos and impressions of your teeth.
How to Use Candid's Impression Kit
Open your starter kit
Read the instruction card (numbered '1')
Watch the recommended video tutorials
Log in on the CandidCo.com
Wear the Smile Stretcher included in your starter kit
Take photos of your teeth and submit them to Candid
Take five (5) impressions of your teeth
Send the impression kit back to Candid using the prepaid envelope
Pro tip: Send your photos and teeth impressions within 3 days of receiving the starter kit.
Which is better — Candid Studio or Impression Kit?
Getting an at-home impression kit is more convenient. But it also has a high risk for error since you'll be taking photos and impressions on your own without any professional assistance.
If the photos are low-quality (e.g., blurry, too dark) or if they don't fully show your teeth and gums, Candid may ask you to retake them. If possible, visit the nearest studio for your initial consultation.
Currently, there are 40 Candid Studios in 13 U.S. States, including:
Arizona
California
Colorado
Florida
Georgia
Illinois
Maryland
Massachusetts
New Jersey
New York
Pennsylvania
Texas
Virginia
Candid Studios have the equipment needed to take clear and high-quality photos of your teeth. A trained specialist will assist you throughout the process, reducing the risk for errors.
But if there are no studios near you, just buy the Candid Starter Kit online and carefully follow the instructions.
Step 3: Get your customized treatment plan
Candid will send your starter kit photos, impressions, and teeth scans to a licensed orthodontist in your area. Afterward, your assigned orthodontist determines your treatment design and will send it to you via email in 2-3 weeks.
You can decide whether or not to push through with the Candid aligner treatment. You can also request for changes. If you do, then you have to pay for it upfront or with a monthly payment plan.
If you're not satisfied with your treatment plan, you can also cancel it. You can get a full refund if you paid for it in advance — as long as you didn't approve it.
Step 4: Begin treatment with Candid aligners
Once you've approved the treatment and made your payment, Candid will create your customized clear aligners and send them to you when they're ready. Your package will include enough aligners to cover your entire treatment plan.
Candid will assign your aligners into sequential steps, such as Steps 1-24. Each tray produces specific tooth movements every 2 weeks or more. Your orthodontist will determine how long you can use each Candid teeth aligner.
Step 5: Get remote monitoring with CandidApp™
Candid monitors your progress remotely with the CandidApp. You can download it for free on the Apple App Store and Google Play.
[Download for iOS] [Download for Android]
CandidApp is a top-rated teleorthodontic platform. It allows you to connect to a licensed orthodontist who will monitor your clear aligner treatment. The app also provides 24/7 access to Candid's support team.
How CandidApp™ Works — A Step-by-Step Guide
The app helps your orthodontist keep track of your aligner treatment with these steps:
Place your smartphone in the CandidScan™ box that came with your clear aligners.
Take photos of your teeth. Be sure to follow the instructions in your aligner kit.
Upload the photos to the app so your assigned orthodontist can review them.
Within 24 hours, you will get a notification from a Candid orthodontist via the app.
Candid requires you to scan your teeth every 2 weeks. You can adjust the app so it can remind you when it's time for a scan. Based on your teeth scans, your orthodontist will advise if it's safe to proceed with the next clear aligner.
If there is something wrong, they can help you get back on track. But you can also use the app to contact Candid for additional support from customer service representatives.
Pros and Cons of Candid At-Home Aligner
Pros
Cons
✓ More affordable price point (Candid reduced their treatment costs to $1,895)
✗ At-home impression kit increases the risk for errors
✓ Offers flexible payment options: You can either pay upfront or monthly
✗ Does not offer in-office visits as an option, even with Candid Pro
✓ Accepts payment via health savings account (HSA) and flexible spending account (FSA)
✗ Limited Candid Studio locations
✓ Accepts dental insurance (you can save up to $1,000)
✗ Only treats minor to moderate cases of misaligned teeth
✓ Provides comprehensive in-person scans at Candid Studios, minimizing the risk for inaccurate dental records
✗ Treatment does not include your first set of retainers, which you have to purchase separately
✓ Works exclusively with orthodontists
✓ CandidPro gives you the option to undergo aligner treatment with the supervision of your doctor
✓ CandidApp offers true remote monitoring, remote treatment, and 7-day access to customer support
✓ Candid teeth aligners move all teeth (full arch tooth movement)
✓ Gets your teeth straightened in a fast and safe way, with treatment lasting an average of 6 months
✓ Can straighten and whiten teeth with add-ons such as the teeth whitening foam and Philips Zoom
✓ CandidMonitoring safely reduces treatment time by several weeks
Candid vs. Other Aligner Companies
We reviewed different aligner brands and picked Candid as the best overall clear aligner. They're the only company that works exclusively with orthodontists to create treatment plans and monitor patients remotely.
Most aligners only address cosmetic issues by correcting the front teeth. Candid aligners work on all teeth to improve both their bite and alignment.
Candid is also more competitively priced now that they adjusted the cost of treatment to $1,895. Here is a closer look at how it compares with other teeth aligners.
Candid is more affordable than SmileDirectClub aligners. It also provides better remote monitoring and teeth straightening. While Smile Direct Club only gets your teeth straight at the front, Candid aligns your entire arch.
Candid also provides better customer support. But SDC has more accessible in-person scans with over 300 Smile Shops in the United States compared to just 40 Candid Studios.
Candid vs. ALIGNERCO
ALIGNERCO aligners cost less than Candid. The treatment period of their daytime aligners (12 to 18 months) is also closer to orthodontic treatment, which lasts 18 to 24 months.
Both have studios that you can visit for in-person scans. But Candid has more studios located in different cities and states, while ALIGNERCO is only in New York.
Candid offers a faster and more effective aligner treatment. The company also doesn't provide nighttime aligners, unlike ALIGNERCO, so it's a safer choice.
Candid vs. Byte
Candid and Byte offer their clear aligners for the same affordable price. But you get one (1) free retainer with your Byte treatment. Both companies also have great customer service. However, Candid offers smoother onboarding and in-person scans.
One major difference between the two is how they straighten teeth:
Byte offers a HyperByte device that uses high-frequency vibrations (HFV) to cut treatment time by half.
Candid fast-tracks treatment with CandidMonitoring.9 For CandidMonitoring to work, you have to keep your orthodontist updated. They will adjust your treatment based on your progress.
Unfortunately, the technology behind HyperByte produces contradicting results. Some studies show that HFV accelerates tooth movement. But according to most studies, HFV has no such benefits.10
"While others advertise speed, we're careful to only move your teeth at velocities compatible with your bone biology. Going faster than that could mean your body never has a chance to heal. We're all about expanding access to care, but that doesn't mean we cut corners."

- Candid1
Faster treatments are not necessarily better or more effective, especially since Byte only treats the social 6 or social 12. Candid treatment may be shorter than orthodontic methods, but it combines full arch tooth movement with the expert advice of orthodontists.
Candid vs. New Smile
New Smile has the second most affordable clear aligners next to ALIGNERCO. But Candid has several advantages despite its higher price point.
For instance, New Smile is dentist-directed, while Candid works with orthodontists. Candid also provides in-person scans. New Smile only offers online assessments and at-home impressions. Although convenient, it can lead to inaccurate results.
While they both allow you to straighten teeth in a short time, Candid does it safer by correcting your whole bite.
Invisalign is removable just like any at-home aligner. But unlike Candid which provides remote treatment and monitoring, Invisalign is an in-office solution that requires frequent visits to your dentist or orthodontist.
Studies show that Invisalign treatment works.11 However, treatments last longer (12 to 18 months) than most invisible aligners, which average at 6 months. Invisalign is also more expensive, with treatments averaging for $3,000 to $5,000.
If you want the same orthodontic benefits as Invisalign for less, Candid is your best option.