The gut microbiome is made up of good and bad bacteria, along with other microorganisms. People may experience digestive issues if they get imbalanced.1
One way to restore healthy gut balance is to take live, good microbes called probiotics. Typical sources include fermented food (like yogurt, kimchi, and kefir) and probiotic supplements.2
Some companies focus on helping people maintain a healthy gut. You'll see them offer products (like personalized probiotic blends) and services (like testing and food recommendations).
The goal of these companies is to help you check and optimize your overall gut health.
BIOHM is one of the few companies that makes it possible
Quick Facts on BIOHM Gut Test
Uses DNA technology to analyze stool samples
Detects bacteria and fungi in the digestive tract
Provides easy-to-understand Gut Report and Gut Recommendations
Used as a basis for recommending BIOHM supplements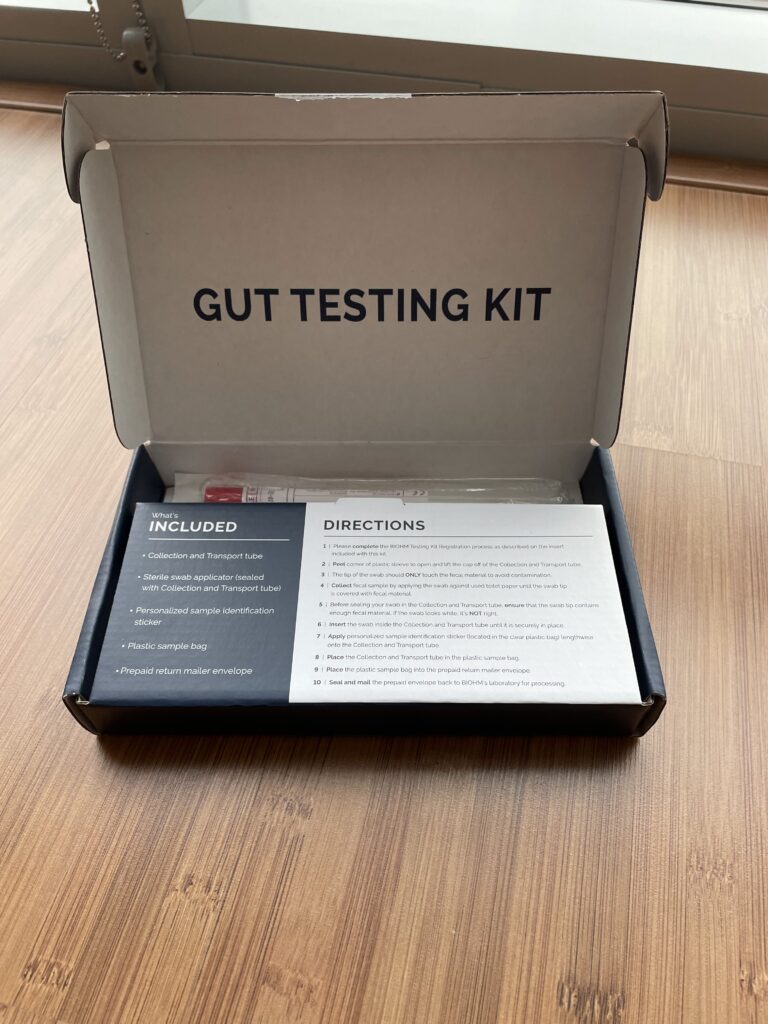 BIOHM Gut Health Testing & Supplements
BIOHM is relatively new, being founded in 2017. It offers gut microbiome testing and various products for improving digestive health.
Here's a summary of what BIOHM offers:3
BIOHM Gut Test — an at-home health test that identifies your gut bacteria and fungi. You'll receive recommendations based on your results. This will also help you make informed choices on choosing the right BIOHM supplements.
BIOHM Gut Supplements — includes a range of probiotics, prebiotics, fish oil, vitamins, minerals, herbal extracts, or combinations of these ingredients.
BIOHM Wellness Consultation —a 30-minute phone consultation where a BIOHM nutritionist will review and discuss your Gut Report.
BIOHM Wellness Program — a three-month, hands-on program where you work one-on-one with a BIOHM nutritionist for your gut health journey.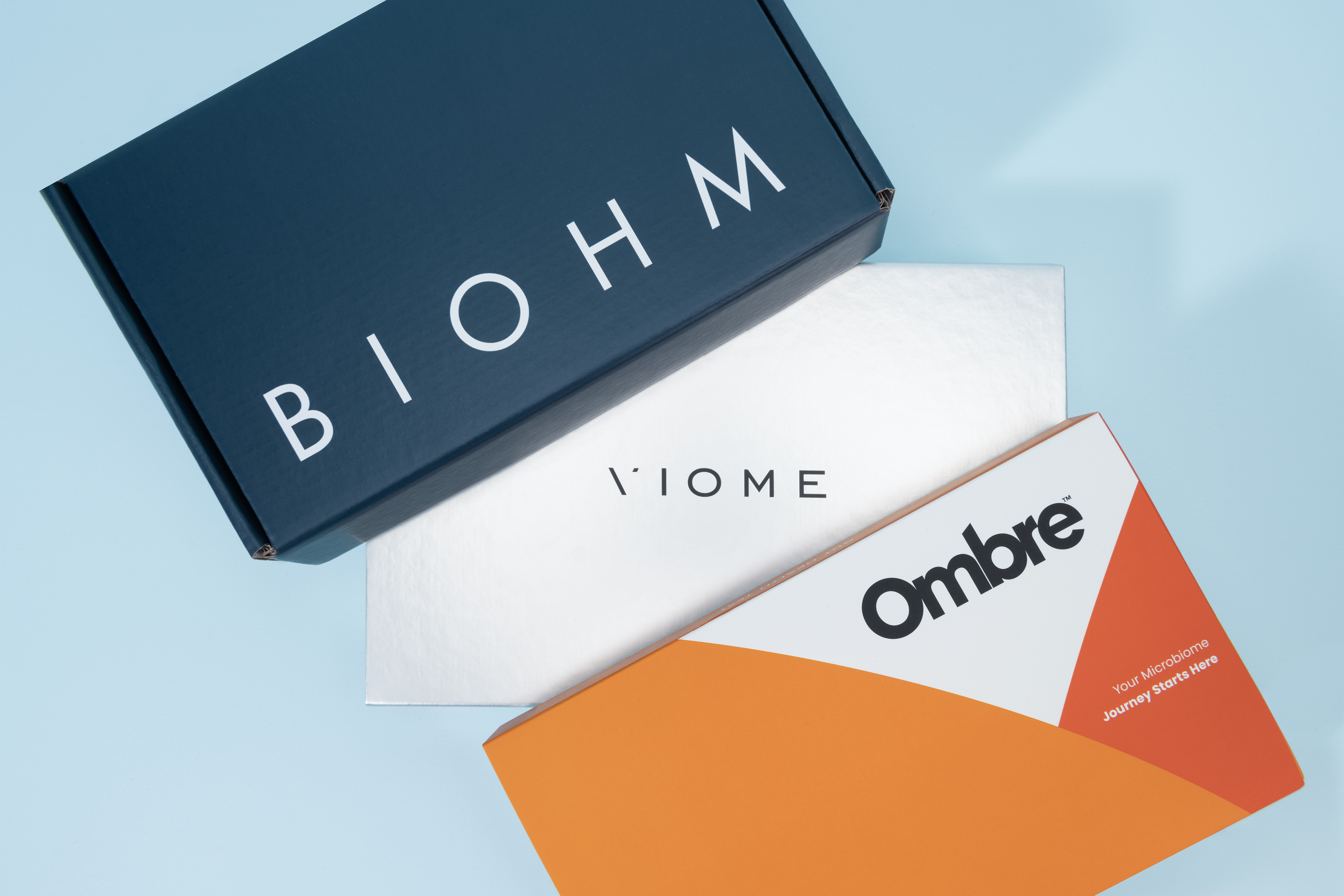 Best Gut Health Test
Our review of the best at-home Microbiome Tests.
How BIOHM Works
Follow these steps to get started on learning about your digestive health.4
1. Order Your Test Kit
Buy the BIOHM test kit from the website. It will arrive in the mail after a few days.
2. Collect a Stool Sample at Home
Follow the provided instructions. Your sample should be large enough to cover the white part of the swab. Register your test kit after you collect your sample. Mail it back to BIOHM for testing.
3. Test Gut Microbes
Back at BIOHM's laboratory, they will extract bacterial and fungal DNA from your sample and compare it with their library. This allows them to identify specific strains in your gut.
Your results will also be compared to the average range. It tells you if you have a normal gut flora or if it needs be rebalanced.
Finally, a BIOHM nutritionist will review your report and prepare your recommendations.
4. Receive Your Report and Recommendations
Results will be available in 4 to 6 weeks. You'll receive an email as a notification and access them through BIOHM's site.
5. Order Supplements
BIOHM will include supplements as part of your recommendations. If you choose to follow through, you can:
Alternatively, you can buy their products without the at-home gut test. Simply take their free online quiz and answer questions about your diet and current health.
BIOHM will predict your gut health and recommend supplements based on your answers.
Does this mean you shouldn't buy Biohm's test? Not at all. We still recommend that you buy the kit. It accurately tests your gut flora and determines which probiotics are best for you.
But if you want to naturally improve your gut health without spending too much, you might want to consider it. You can always take their gut test later.
What You Get With Your BIOHM Test
BIOHM provides two types of reports:
Gut Report
Gut Recommendations
BIOHM Gut Report
The Gut Report provides an overview of your current gut health. It will contain these three pieces of information:
Overall gut score
Comparison of your gut flora to the average normal range
A detailed breakdown of species comprising your gut microbiome
The first section shows your overall gut score. "1" means poor; "10" means good. I got a "5," which means I have 'okay' results.
The second section compares your gut microbial proportions to the average.
The pie chart list six major bacterial groups:5
Bacteroidetes — large subgroups of bacteria found in our environment, skin, and digestive tract. They perform a few metabolic activities for us, like digesting protein and complex sugars.6
Firmicutes — has over 200 subgroups (including the good bacteria Lactobacillus and bad bacteria Clostridium). Bacteroidetes and Firmicutes dominate roughly 90% of the gut microbiome.5
Proteobacteria — many common pathogens are in this group. They include meningococcal disease's Neisseria and food poisoning's Escherichia and Salmonella.7
Actinobacteria — these microbes are less abundant. They are mostly comprised by Bifidobacterium (good bacteria against constipation and other digestive issues).8
Fusobacteria — they rarely cause severe diseases in humans. They commonly live in the mouth, occasionally causing periodontal and gingival infections.9
Verrucomicrobia — mostly free-living bacteria found in freshwater, marine, soil, and human and animal guts.10
The pie charts also list the three major fungal groups:11
Ascomycota — composed of blue-green, red, and brown molds (which cause food spoilage) and yeasts (used in the making of beer, wine, and bread).
Basidiomycota — includes familiar fungi like mushrooms, toadstools, and shelf fungi.
Zygomycota — most frequently encountered as common bread molds. In humans and domestic animals, these fungi can cause serious infections.
The last section provides a detailed breakdown of species from each group.
You'll see which bacteria and fungi are good (beneficial), bad (pathogenic), or neutral. You'll also know whether you have low, normal, or high levels of certain strains.
For example, in my report:
My Bacteroidetes are low, while my Firmicutes are high. These two bacterial groups dominate 90% of the guts of normal people.5
I have low levels of Bifidobacterium (a subgroup of good bacteria).
I have a high Proteobacteria level, with slightly elevated levels of Escherichia coli.
My Ascomycota level is within range, although my good fungi (Pichia and Saccharomyces) are low.
BIOHM Gut Recommendations
A separate report called Gut Recommendations contains suggestions on optimizing total gut balance. It's based on the Gut Report and your answers to BIOHM's lifestyle questionnaire.
My report has three types of actionable recommendations:
Dietary — includes the food I should eat more (like whole grains, fibers, and other gut-healthy foods).
Lifestyle — suggests lifestyle adjustments (like exercising more).
Supplements — talks about supplements I should continue taking and those that I should add to my regimen.
Unsurprisingly, BIOHM recommended some of its supplements based on my results. I was advised to take BIOHM Probiotic and BIOHM Prebiotic, among others.
Your report might suggest other supplements. It really depends on your gut flora.
BIOHM Supplements That Balance Your Gut
BIOHM Probiotic Supplement was the company's first product launched in 2017. Over the years, the line of products expanded. BIOHM currently has nine supplements and ten bundles.
Here is BIOHM's complete list of supplements:3
Total Probiotic Supplement — has good bacteria and fungi with enzymes to break down digestive plaque.
Prebiotic Supplement — serve as food for probiotics. BIOHM's version contains inulin and apple pectin to support anti-inflammatory gut bacteria like Bifidobacteria and Lactobacillus.
Immunity Probiotic Supplement — contains probiotics, vitamins C and D3, and zinc for boosting your immune system.
Super Greens with Probiotics — a unique blend that promotes healthy digestion and gut flora. It also boosts your immunity, aids in detoxification, and provides antioxidants.
Super Reds with Probiotics — improves digestion and energy levels while giving you healthy skin and eyes.
Super Kids — a blend of probiotics, prebiotics, digestive enzymes, and 14 superfoods specially formulated for children's digestive health.
Microbiome Multi — with 26 essential vitamins, minerals, polyphenols, and probiotics.
Colon Cleanser — a mix of probiotics and herbs for cleansing the colon.
Omega 3 Fish Oil — fish oil capsules rich in DHA and EPA.
BIOHM also sells some of its supplements in bundles. The prices are lower than buying individual bottles.
Here are BIOHM's bundles and regimens:3
Nourish Regimen: Total Probiotic + Prebiotic
Reset Regimen: Total Probiotic + Prebiotic + Colon Cleanser
Super Foods Bundle: Super Greens + Super Reds
Family Bundle: Total Probiotic + Super Kids
Super Family Bundle: Super Greens + Super Kids.
Super Antioxidant Family Bundle: Super Reds + Super Kids
Gut Centric Bundle: Total Probiotic + Microbiome Multi
Gut Phytonutrient Bundle: Super Greens + Microbiome Multi
Gut Antioxidant Bundle: Super Reds + Microbiome Multi
Super Boost Bundle: Immunity Probiotic + Super Greens + Super Reds
How Much is BIOHM?
Here are the prices of BIOHM's products and services:3
BIOHM Gut Test — $129.99
BIOHM Gut Supplements — Ranges from $15 to $45 per bottle
BIOHM Wellness Consultation — $59.99 for a 30-minute call with a nutritionist
BIOHM Wellness Program — $997 for 3 months of wellness coaching
You can purchase BIOHM supplements with one-time payment or a monthly subscription for a 20% discount. Bundles will save you more money and start at $64.99.
BIOHM also offers its wellness programs on a monthly payment plan. Instead of paying for the entire cost upfront, you can pay $91 per month.
BIOHM Reviews — How It Compares to Other Gut Tests & Supplements
Here are a few things about BIOHM's pros and cons. We will also see how it fares against its competitors.
What I Like About BIOHM
Straightforward testing and easy-to-understand reports
Nutritionists review reports and provide recommendations
Vegetarian-friendly, gluten-free, non-GMO, dairy-free, soy-free supplements
60-day moneyback guarantee for supplements and unused test kits
What I Don't Like About BIOHM
Sometimes the test may fail due to inadequate sample quantity
Microorganisms being tested are limited to bacteria and fungi
The science of gut microbiome and probiotics is still in the early stages
BIOHM vs. Ombre
Ombre has an edge in providing personalized supplements. Unlike BIOHM, their supplements address health concerns such as:
Increasing energy levels
Boosting heart health
Restoring gut flora
Enhancing metabolism
Improving digestion
Optimizing focus
Preventing infections
BIOHM also suggests supplements based on your results. While they can help with several things about your health, they are less targeted to one's needs.
Read our review on Ombre's Gut Health Test.
BIOHM vs. Viome
Both BIOHM and Viome provide personalized recommendations, but not without a few differences.
For instance, Viome uses artificial intelligence (AI) while BIOHM has actual experts (nutritionists and dietitians). Viome's reports are also excessively detailed with little explanation. In contrast, BIOHM's reports are simpler and easier to understand.
BIOHM only analyzes for bacteria and fungi. Viome looks at a broader range of organisms, including viruses, archaea, and eukaryotes.
There's also the difference in sequencing technologies. BIOHM uses DNA while Viome uses RNA. DNA testing doesn't differentiate between living and dead organisms, which might affect BIOHM's accuracy.
BIOHM does offer more supplements for digestion and overall health. Viome is more focused on nutrition — combining probiotics, prebiotics, and multivitamins in a single capsule.
Read our review on Viome Health.
BIOHM vs. ONNIT Total Gut Health
ONNIT is a "self-development" company that provides solutions for optimum health. One of which is the Total Gut Health Supplement.
They don't offer gut testing and personalized supplements like BIOHM. But it's still a good choice if you want an all-in-one gut supplement that:
Corrects gut imbalance
Improves digestion
Enhances nutrient absorption
But if you have gastrointestinal (GI) issues, Biohm's probiotic is a better choice.
Read our review of ONNIT Total Gut Health.
Should You Try BIOHM Health for Your Gut?
BIOHM seems more like a probiotics company than a testing service. It has nine supplements (from probiotics to fish oil) that overshadow the one test it offers.
Don't let that stop you from getting BIOHM's gut test. It's simple and basic. But you'll find the information interesting and potentially helpful.
There's also a personal touch. A nutritionist (not an AI machine) will oversee your results and provide recommendations. You may also choose to talk or collaborate with them for an extra fee.
Not to mention, BIOHM offers some of the best probiotics we recommend. They may not be as targeted as Ombre's Probiotics, but they're still hand-picked to treat your gut imbalance.
Overall, BIOHM's gut microbiome test is a good way to learn about your digestive health and improve it. There are no frills here, just straightforward answers and suggestions.
That said, if you want more detailed insights, there are other at-home gut tests you can try.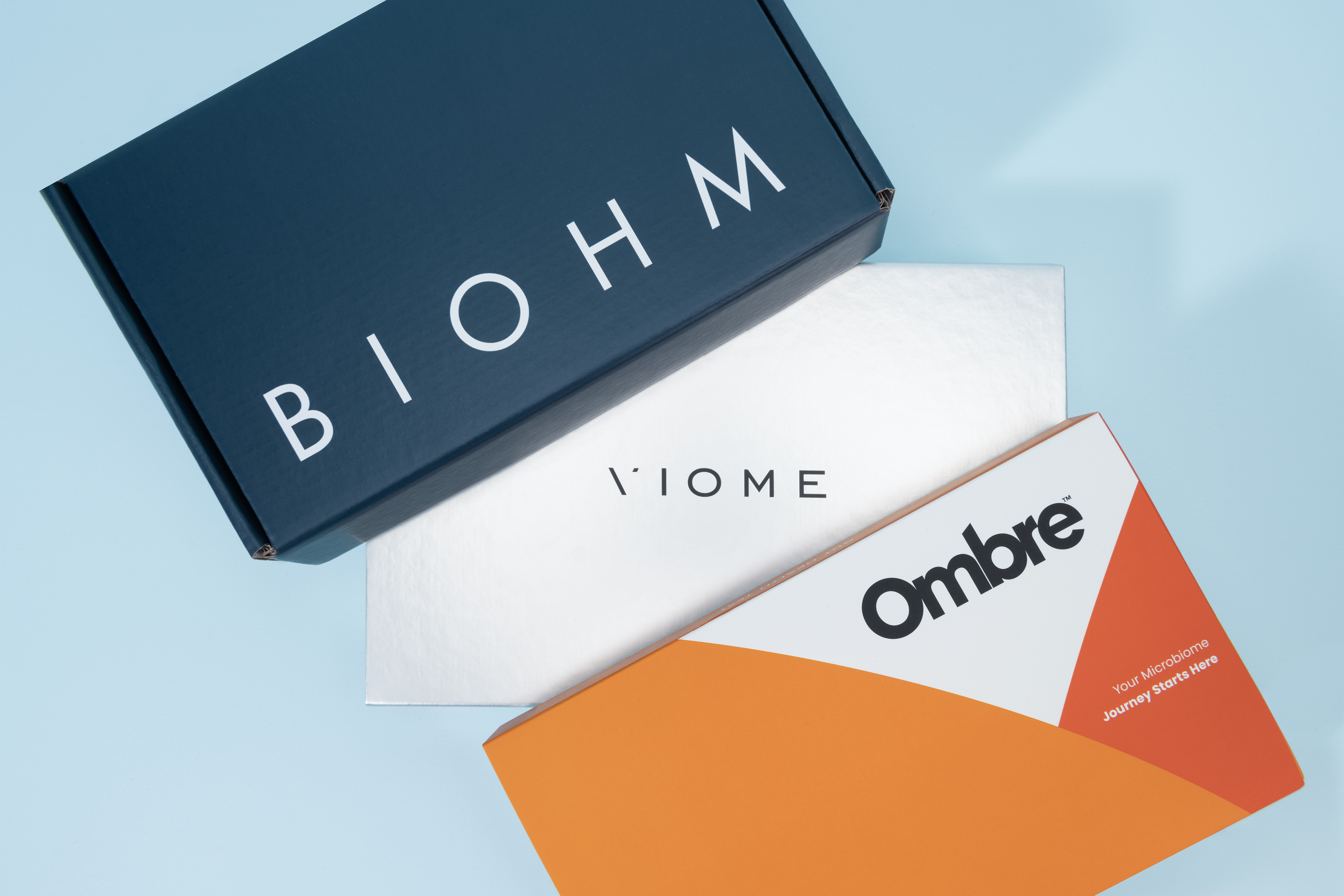 Best Microbiome Test
Looking for the best microbiome kit on the market? Look no further! Our review round-up page has all the information you need to make an informed decision.