Hitting the gym to lose weight is a thing of the past. So is crash dieting and other fad diets that restrict you from eating your favorite foods.
Nowadays, all you have to do is download the best weight loss apps — and you'll be on your way to reaching your goal weight.
Weight loss apps are not strictly about shedding pounds. Many of them help with overall fitness.
It's just a matter of choosing the best weight loss app that aligns with your goals.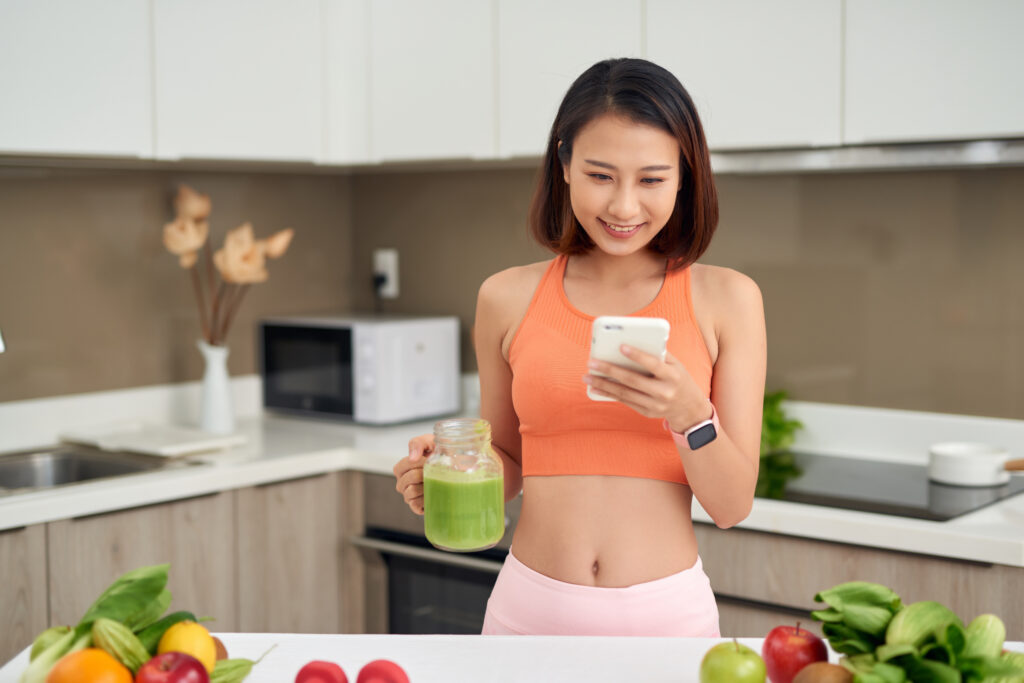 How A Weight Loss App Can Help
Whether you're trying to lose weight or have this uncomfortable feeling of being unhealthy, you are not alone. Many Americans share the same struggles.
Statista surveyed Americans and asked them what their 2022 New Year's resolutions were. Here's what they found:1
Nearly half (48%) want to lose weight
39 percent want to improve their diets
Half want to exercise more or improve their fitness
Unfortunately, about 62 percent of U.S. adults think their busy lifestyles make it more challenging to lose weight. Most believe they need a new weight loss approach — something that suits their modern lifestyle.2 If you think the same way, a weight loss app might be just the tool for you.
A weight-loss app can help you lose weight or achieve fitness goals. While features vary with each app, they tend to offer the following:
Calorie counter
Weight tracking
Food logging
If you're ready to start your journey, we've got recommendations for the best weight loss apps.
Best Overall Weight Loss App — Noom
Best Free App for Beginners — MyNetDiary
Best Calorie Tracker — Lose It!
Best for Healthy Eating — Fooducate
Best Fitness App for Losing Weight — MyFitnessPal
Best for Intermittent Fasting — Zero
Best Workout App for Targeted Weight Loss — JEFIT
Free with in-app purchases
Price: Starts at $66.35 per month
Noom is your all-in-one solution to losing weight. It sets your daily calorie budget and tracks your meals, physical activity, and weight.
The app also provides healthy recipes and educational articles to assist your weight loss goals. But that's not all.
Noom offers a comprehensive weight loss program designed by nutritionists and behavioral experts. It uses psychology to help you create healthy eating habits and make healthier choices.
While it can help you lose weight, Noom's goal is to establish eating patterns and behaviors that will keep you fit and healthy in the long run.
Here's our full review of Noom weight loss.
[Download for iOS] [Download for Android]
Pros
Noom has a unique way of looking at weight loss and food intake. There are no "good foods" or "bad foods." Instead, it categorizes food into three color groups based on their nutrient and calorie density — green, yellow, and red.
You can practically eat anything you want. But in order to lose weight, Noom recommends sticking to your calorie budget and eating 30% green foods, 45% yellow foods, and 25% red foods.
The app makes it easy to follow the Noom diet plan. Each time you log food, it updates your calorie budget with consumed calories, remaining calories, and excess calories for that day. It also shows your calorie limit and actual calorie consumption for each food group.
When searching for foods and recipes, the diet app lets you know which food group it belongs to. That way, you can make quick decisions on which foods to eat and avoid.
Feeling lost yet? Don't worry.
Users get access to short courses on nutrition, exercise, weight loss, and behavior. We're talking about audio clips and articles that you can read or listen to in less than 5 minutes. Here, you can learn more about Noom's food groups, their nutrition philosophy, and the program.
Noom recommends spending at least 10 minutes a day on these courses. Though you can always do things at your own pace.
To keep you motivated, you can participate in interactive challenges. Noom will also provide a guide that sends constant reminders and links to helpful resources.
Premium members get additional support from a certified health coach. The diet coach sets small weekly goals so you can reach your target weight in time. 
You can also purchase a customized weight loss plan. Noom offers a custom exercise and custom diet plan which you can buy separately or as a bundle.
This personalized approach to losing weight sets it apart from other weight loss apps. But the reason why we love Noom so much is that it improves your overall health. 
The Noom program teaches you to be more mindful of your eating habits. That way, you can sustain long-term weight loss and maintain a healthy lifestyle.
Cons
Nutrition-wise, Noom doesn't provide much information. It focuses more on calorie counting and will show you how many calories a food has.
However, the color-coded food system does give insight into how much nutrition you're getting. Here is a quick overview of the Noom food guide:
Green foods have the lowest calorie density but have the highest concentration of healthy nutrients.
Yellow foods provide more calories but fewer nutrients than green foods.
Red foods have the most calorie density but offer the least amount of nutrients.
This simplified way of tracking calories can be great for beginners. But if you have specific nutritional needs, the lack of detail can be frustrating.
Noom Weight Loss
What makes the Noom app truly special is that it doesn't stop once you lost weight. By offering health coaching, peer support, and education, it establishes healthy habits which can last a lifetime.
Free with in-app purchases
Price: Starts at $8.99 per month
MyNetDiary is a meal planner and calorie counting app. It monitors your calorie intake, exercise, and weight. To help you reach your weight loss goal, the food diary provides recipes, diet plans, and personalized diet advice.
[Download for iOS] [Download for Android]
Pros
MyNetDiary is a lot more beginner-friendly than other weight loss apps. For starters, it has a no-nonsense interface that shows everything you need at a glance. These include:
Daily calorie budget
Calorie intake per meal
Total calories consumed
Calories burned with exercise
Remaining calories for the day
Food insights are heavily focused on the three main macronutrients — carbs, proteins, and fats. This makes it easy for beginners to adjust their food choices. 
The health app breaks down the exact amount and percentage of carbs, proteins, and fats you consume. It also warns you how much of each you can still eat before exceeding your daily calorie budget.
Of course, you can always opt for a premium subscription and choose a diet plan that suits your weight loss journey.
Like many calorie counters, MyNetDiary will recommend the calorie distribution for your meal plan. But you can adjust anytime.
The meal plans they offer include:
Calorie counting
Low-carb diet
Keto diet
High protein diet
Low fat diet
Mediterranean diet
Vegetarian diet
Vegan diet
Cons
One thing that got us confused is the way it tracks exercise. Most weight loss apps subtract the calories you burn from the calories you consume in a day. What it does is extend your calorie budget.
This can be a good thing for beginners who want a less restrictive weight loss plan. It allows you to eat more during days when you have physical activity and not worry about weight gain.
However, people who are serious about losing weight may want to turn off this feature.
3
Lose It! — Best Weight Loss App for Calorie Counting
Free with in-app purchases, includes a free 7-day trial
Price: Starts at $19.99 per month or $189.99 for lifetime membership
Lose It! is an all-around calorie counter. The app lets you log food intake and physical activity. It also tracks the calories you consume and burn based on the information you provide.
[Download for iOS] [Download for Android]
Pros
Lose It! has an extensive list of foods and exercises to choose from. You can also manually update your food log with foods that are not on their food database.
Each food comes with a basic nutritional profile so you can check if it's healthy or not.
It gives a weekly overview of your daily calorie consumption and highlights excess calories you consume in a day. To assist with weight loss, you can:
Record your weight
Monitor your weight loss progress
See how long it takes to reach your goal
The weight loss app also gives users access to an online community. But our favorite feature is that it takes into account the amount of calories you burn with exercise.
Cons
The information that comes with each food is helpful, but only if you know what they mean and what you should be avoiding. This works if you know your health status or receive dietary advice from a nutritionist or medical professional.
It's not very beginner-friendly either. There are just too many graphs that take a lot of getting used to.
4
Fooducate — Best Weight Loss App for Healthy Eating
Free with in-app purchases
Price: Starts at $3.99 per month or $89.99 for lifetime subscription
Fooducate is a nutrition-focused app. Like many weight loss apps, it allows you to keep records of your food and exercise. But its main goal is to help you eat better.
We recommend Fooducate for people with common food intolerances against gluten and GMO.
[Download for iOS] [Download for Android]
Pros
This nutrition app is pretty straightforward and puts everything you need at the forefront. The main screen shows how many calories you have left for the day. It also gives one-click access to important features like:
Daily food tracker
Community support
Additional diet tips
The food database lets you choose from specific brands and products. To log your food intake, you can search them manually or take a picture of their barcode. 
It pulls up basic food information such as calories per serving and nutrients. The app also gives useful insights into each food.
Fooducate grades food based on its calorie quality. It uses this grading system to suggest healthier alternatives to what you're already eating.
Opting for a paid subscription will allow you to filter foods that lower blood pressure and help with other health conditions. It also filters food based on your dietary preferences, such as:
Keto diet
Low-carb diet
Paleo diet
Gluten-free diet
Non-GMO diet
If you follow weight loss diets, the app can help you pick foods.
One cool feature of Fooducate is that it lets you log house chores like "doing laundry" and "dog walking" as calorie-burning exercises.
Cons
While it lets you record physical activities and exercises, the list is limited. You may also encounter food products that are not on their database, requiring manual food logging.
Another drawback of Fooducate is that it isn't available to users outside the United States.
5
MyFitnessPal — Best Fitness App for Weight Loss
Free with in-app purchases, includes free 30-day trial
Price: Starts at $9.99 per month
MyFitnessPal combines a fitness app and calorie counter in one. Unlike most weight loss apps on our list, it offers a well-rounded approach.
The app encourages users to exercise and practice healthy eating habits. In addition to food tracking, it syncs with other fitness apps and devices to track your physical activity.
[Download for iOS] [Download for Android]
Pros
MyFitnessPlan lets you choose a meal plan or a workout plan. Each plan has actionable steps that you can follow to lose weight.
To help you decide, you can check a weight loss program to see:
How long it will take to complete
Its difficulty level
What you'll be doing
There are other options if you're not ready for this kind of commitment. MyFitnessPlan wants you to lose weight with the method that works for you.
You can stick to your food choices and plug them into the diet app to see how good (or bad) they are for your health. MyFitnessPlan provides nutritional information on the food you eat, including its calories.
Alternatively, you can start with the recommended healthy recipes without committing to a weight loss plan. This is great if you have free time and know how to cook.
If you are physically active, you can continue with your usual exercises or you can start a new one without a workout plan.
Just make sure that you record your workout sessions or sync your data from a compatible device or fitness app.
Cons
Unfortunately, the fitness app tries to be everything all at once and it ends up being flat-out confusing. Its poor user interface is largely to blame for this.
For example, here's what a search on spaghetti looks like. At first glance, it looks like the same food has multiple entries on their database. The pre-set serving size listed under each food further just adds to the confusion.
Logging exercise isn't any easier. There are too many details included in each entry. To make things worse, you have to know if you're doing a cardio workout, a strength-based exercise, or a standard workout. Otherwise, the activity you're searching for won't come up.
Finally, there are the intrusive ads. The only way to get rid of them is with a paid subscription.
6
Zero — Best Weight Loss App for Intermittent Fasting
Free with in-app purchases, includes a free 7-day trial
Price: Starts at $9.99 per month
Zero is a simple weight loss app for intermittent fasting. It doesn't have any food log or calorie counting feature like other apps on our list. Instead, it helps you plan and schedule fasts so you can lose weight.
We recommend Zero to people who follow an intermittent fasting diet.
[Download for iOS] [Download for Android]
Pros
Zero is the perfect companion for dieters who use intermittent fasting. You can create your own fast or choose from pre-planned fasts such as:
36 Hour Fasting Diet
Time Restricted Feeding (TRF) — 16:8, 18:6, and 20:4
Circadian Rhythm Fasting Diet
The diet app tracks the time if you start a fast and reminds you when it's over so you can eat. If you can't complete a fast, you can end it and start again.
You can also use Zero to record your mood during a fast. Later on, this can help you assess if a fasting method is working or if it needs adjustments.
Moreover, it also allows you to schedule fasts throughout the week. Should you need some motivation, you can join their challenges and receive badges upon completion.
Cons
Zero may not be a good option if you have no idea what intermittent fasting is. It does offer some educational articles for fasting. But it helps to have some idea on how it can make you lose weight.
Still, it's one of the best weight loss apps for intermediate and advanced dieters who are familiar with fasting diets.
7
JEFIT — Best Workout App for Targeted Weight Loss
Free with in-app purchases
Price: Starts at $6.99 per month
JEFIT is a workout app that takes your weight loss journey to the next level. It has exercises which you can do at home or at the gym. 
[Download for iOS] [Download for Android]
Pros
You can choose from hundreds of exercises with different intensities and difficulty levels. Each routine includes pre-set workouts with details such as:
Number of sets and reps
Rest period
Estimated time of completion
You can add or remove exercises as you please before starting your workout. JEFIT provides written instruction and a video tutorial for each exercise.
You can also search for exercises that target specific areas of the body. These are excellent for targeted weight loss and other fitness goals.
Cons
Most workout routines on JEFIT are exclusive to premium members. That being said, the available options are good enough for beginners who have only recently started exercising.
While the app can guide you through a workout, transitions between exercises aren't smooth. You have to click a button to stop and proceed with the next exercise.
Still, if you want to include exercise habits in your daily routine, it's one of the best weight loss apps we can recommend.
Noom Weight Loss
What makes the Noom app truly special is that it doesn't stop once you lost weight. By offering health coaching, peer support, and education, it establishes healthy habits which can last a lifetime.