Soylent and Huel remain our top picks for vegans who want to replace nutritionally complete meals but don't want to miss out on amino acids.
You can choose from Soylent's meal powders, ready-to-drink shakes, and different flavors at an affordable price.
Meal powders like KaChava, 310 Shakes, and Garden of Life are more expensive per meal but have more to offer.
Many vegan meal powders contain digestive enzymes, prebiotics or probiotics, and plant-based ingredients with antioxidant and adaptogenic properties.
These ingredients can support digestion, improve nutrient absorption, promote gut balance, help you manage everyday stress, and lower your risk for certain diseases—among other health benefits.
But if you want to cut back on calories and lose weight, Supergut's meal replacement and Organifi are new entries you should try.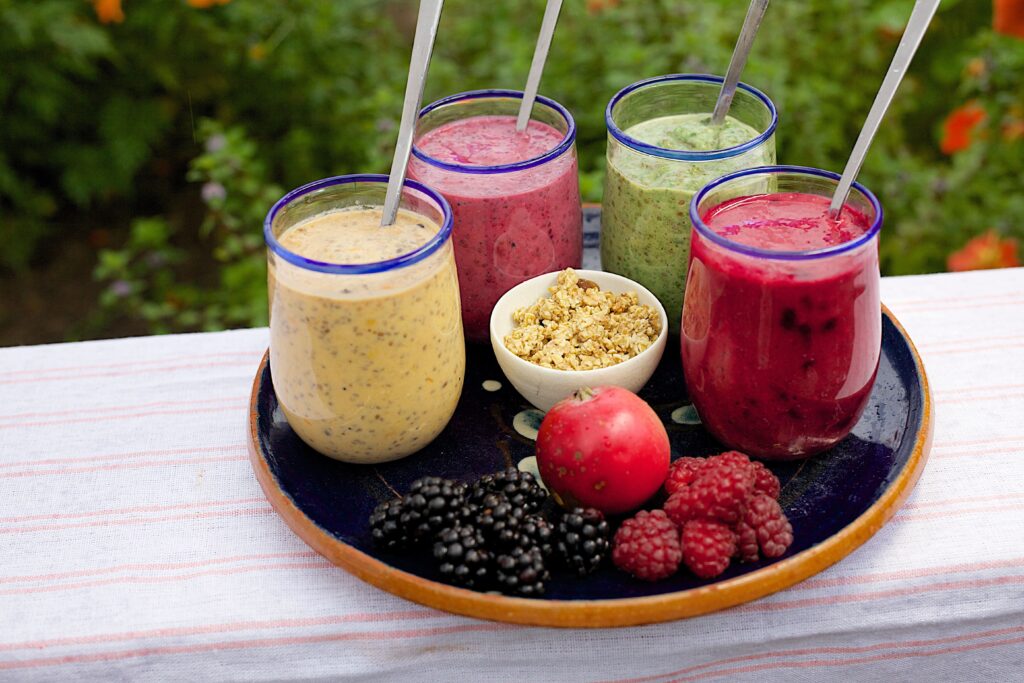 What are Vegan Meal Replacement Shakes?
Vegan meal replacement shakes are some convenient forms of vegan diets. They are made to either supplement or replace a fully vegan diet.
They come in ready-to-eat shakes, making them super easy and convenient for the user to prepare.
Vegan replacement shakes contain adequate amounts of proteins, vitamins, minerals, antioxidants, and other necessary phytonutrients not seen on most food labels.
A typical, high-quality vegan meal replacement shake should contain all the essential nutrients present in a normal balanced meal. It should also provide the required energy and calories obtained in a regular, healthy, and balanced vegan meal.
Any vegan meal replacement diet should aim to replace regular meals and provide the required calories as much as they can. If the meal replacement diet does not contain enough calories, the user can supplement with more calories by adding dairy-free milk, like almond milk.
All vegan meal replacement shakes should be easy to prepare. They should also contain enough nutrients and calories to get you going throughout your day.
Why Trust Us
KnowYourDNA is dedicated to providing readers with reliable information on products that help them achieve their health goals.
We pick products based on:
Brand reputation
Product quality
Safety for consumption
Customer reviews
Our in-house medical experts ensure the accuracy of our information.
7 Best Vegan Meal Shakes Compared
| | | | | | | | |
| --- | --- | --- | --- | --- | --- | --- | --- |
| | Soylent | Supergut | Huel | KaChava | 310 Shakes | Garden of Life | Organifi Complete Protein |
| Powder mix | Yes | Yes | Yes | Yes | Yes | Yes | Yes |
| Ready-to-drink | Yes | No | Yes | No | No | No | No |
| Calories per serving | 400 | 180 | 400 | 240 | 110 | 150 | 170 |
| Sugar content (g) | 15 to 16 grams | 0 | 1 to 4 grams | 6 | 0 | 0 | 3 |
| Amino Acids | Yes | Yes | Yes | Yes | No | No | No |
| Lactose-free | Yes | Yes | Yes | Yes | Yes | Yes | Yes |
| Gluten-free | Yes | No | No (except Huel Powder) | Yes | Yes | Yes | Yes |
| Nut-free | Yes | Yes | Yes (except for some flavors) | No | No | Yes | No |
| Soy-free | No | Yes | Yes | Yes | Yes | Yes | Yes |
| Non-GMO | No | Yes | Yes | Yes | Yes | Yes | Yes |
| Artificial sweeteners | Yes | No | Yes | No | No | No | No |
| Flavors | 2 to 9 | Only 2 are vegan | 2 to 10 | 5 | 9 | 4 | 2 |
| Nutrients | 26 | 26 | 27 | 26 | 26 | 18 to 21 | 13 |
| Cost per meal | $1.99 to $2.67 | $4.50 | $1.65 to $4.91 | $3.99 | $4.28 | $2.64 | $2.99 |
| | | |
| --- | --- | --- |
| Nutritional Information | Soylent Powder | Soylent Drink |
| Calories per serving | 400 | 400 |
| Protein | 20 grams | 20 grams |
| Carbohydrates | 41 to 42 grams | 36 to 38 grams |
| Fats | 19 to 20 grams | 24 grams |
| Fiber | 3 grams | 3 grams |
| Sugar | 15 to 16 grams | 1 gram |

Why We Recommend It
If you want an affordable meal replacement that gives you complete nutrition and plenty of options, you can't go wrong with Soylent.
Unlike most meal replacements with less than 200 calories per serving, it has the right balance of calories, proteins, carbohydrates, fats, and nutrients to replace a complete 400-calorie meal.
You can choose from Soylent powders and ready-to-drink meals. Soylent also offers "flavor boost" packets to add flavor to the original formula.
Here's our full review of Soylent if you want to know more.
Soylent Pros
Soylent Cons
Soylent powder has eight times more sugar than most meal shakes
It uses artificial sweeteners such as maltodextrin and allulose
Contains soy, which some people are allergic to
Supergut Fiber Shake - Best Vegan Meal Replacement for Weight Loss
| | |
| --- | --- |
| Nutritional Information | Supergut Shakes |
| Calories per serving | 180 calories |
| Protein | 15 grams |
| Carbohydrates | 40 grams |
| Fats | 6 grams |
| Fiber | 20 grams |
| Sugar | 0 grams |
Why We Recommend It
Supergut is a meal replacement and fiber supplement in one. It's a great option if you don't get enough fiber from your diet, have diabetes, or want to lose weight.
Studies show that eating 30 grams of fiber daily promotes weight loss. Supergut contains 20 grams of resistant starches per serving.
Resistant starch is a type of prebiotic fiber and a complex carbohydrate that can reduce and keep your blood sugars stable.
Prebiotic fibers feed "good gut bacteria" and promote gut balance. Gut flora is believed to play a role in maintaining a healthy weight.
A clinical trial shows that people who drank Supergut meal shakes every day for three months experienced a significant reduction in blood glucose.1
Regulating your blood sugar can help reduce your cravings and limit the amount of food and calories you eat daily.
Don't be confused if some flavors contain milk protein concentrate. Supergut has non-vegan and vegan meal shakes, so you can choose what's best for you.
Here's our Supergut review if you want to learn more.
Supergut Pros
Low-carb, zero-sugar, and keto-friendly meal replacement
Provides 35 to 100 percent of your daily needs for 26 nutrients
Clinically proven to reduce blood sugar levels
Doesn't have artificial flavors, colors, or sweeteners
Supergut Cons
May not be a good choice for people who are sensitive to fiber
Risk for vitamin overdose if you use it to replace more than one meal
Made in a facility that processes wheat and may not be gluten-free
Higher cost per meal
| Nutrition | Huel Powder | Huel Black Edition | Huel Essential | Huel Ready-To-Drink |
| --- | --- | --- | --- | --- |
| Calories per serving | 400 calories | 400 calories | 400 calories | 400 calories |
| Protein | 30 grams | 40 grams | 20 grams | 22 grams |
| Carbohydrates | 46 grams | 23 grams | 64 grams | 41 grams |
| Fats | 13 grams | 18 grams | 9 grams | 18 grams |
| Fiber | 7 grams | 7 grams | 8 grams | 6 grams |
| Sugar | 1 gram | 4 grams | 1 gram | 4 grams |

Why We Recommend It
Huel is designed to meet different macronutrient needs. This makes it perfect for anyone who follows a macronutrient diet in order to:
Lose weight
Build lean muscle
Enhance physical performance
Improve overall health
Whether you want to load up on carbs or proteins, or prefer more balanced nutrition, there's bound to be a Huel meal shake that fits your lifestyle.
Huel is also nutritionally complete. Apart from the 27 essential nutrients, it has 20 amino acids—twice more than what other vegan meal shakes provide.
You can read our full review of Huel here.
Huel Pros
Affordable meal replacement powders
Huel Powder comes in gluten-free variants
Up to ten flavors to choose from
Works best for people who watch their macro intake
Huel Cons
Uses artificial sweeteners like sucralose
Some flavors contain nuts, a common food allergen
Huel ready-to-drink is a bit expensive
KaChava Shakes - Best Organic Vegan Meal Replacement
| | |
| --- | --- |
| Nutritional Information | Kachava Powder |
| Calories per serving | 240 calories |
| Protein | 25 grams |
| Carbohydrates | 20 grams |
| Fats | 7 grams |
| Fiber | 6 grams |
| Sugar | 6 grams |

Why We Recommend It
Not only is it packed with 26 essential nutrients. KaChava also contains organic plant-based ingredients (superfoods) with supported health benefits.
These are fruits, vegetables, fibers, plant proteins, and other ingredients rich in omega fatty acids, antioxidants, adaptogens, and a complete amino acid profile.
Each serving of KaChava powder is also infused with prebiotics, probiotics, and digestive enzymes to aid digestion and balance your gut bacteria.
Check out our full review of KaChava here.
KaChava Pros
Supports physical, mental, and emotional well-being
Provides well-balanced nutrition
Doesn't contain preservatives or any artificial ingredients
KaChava Cons
Some flavors contain nuts and can trigger allergies
Costs per meal is higher than competition
No ready-to-drink format
| | |
| --- | --- |
| Nutritional Information | 310 Nutrition Shakes |
| Calories per serving | 110 |
| Protein | 15 grams |
| Carbohydrates | 6 grams |
| Fats | 2.5 grams |
| Fiber | 5 grams |
| Sugar | 0 grams |
Why We Recommend It
310's meal shakes are filled with healthy ingredients and digestive enzymes. Its low-calorie and sugar-free formula makes it a good option for keto dieters.
These organic meal replacements provide 25 superfoods (including antioxidants and phytonutrients), 26 vitamins and minerals, and adaptogenic mushrooms.
These ingredients promote gut balance, optimum nutrition, and better overall health. Here's our full review of 310 meal shakes.
310 Shake Pros
Only uses natural and plant-based ingredients
Designed to support your physical and mental wellness
Restricts calories without depriving your body of nutrition
Available in nine flavors
310 Shake Cons
Lacks essential amino acids
Made in a facility that processes milk, soy, protein, nuts, wheat, eggs, fish, and shellfish—so its products may contain these allergens
Expensive cost per meal if you don't buy in bulk
| | |
| --- | --- |
| Nutritional Information | Garden of Life Shakes |
| Calories per serving | 150 calories |
| Protein | 20 grams |
| Carbohydrates | 13 grams |
| Fats | 2 grams |
| Fiber | 6 to 7 grams |
| Sugar | 0 grams |
Why We Recommend It
Garden of Life's Raw Organic meal replacements can help you cut back on calories without nutritionally depriving yourself or emptying your wallet.
You get 44 superfoods—the most we've ever seen in a meal shake. It's also infused with probiotics and digestive enzymes for a healthier gut and digestion.
All of its ingredients are certified organic and non-GMO. Even the vitamins and minerals in Garden of Life are derived from whole foods.
Garden of Life Pros
100% organic ingredients that support overall health
Budget-friendly price that starts at $1.97 per meal
Garden of Life Cons
Doesn't contain any amino acids
Only comes in four flavors
Has an earthy flavor that you might not like
Best Tasting Vegan Meal Replacement
| | |
| --- | --- |
| Nutritional Information | Garden of Life Shakes |
| Calories per serving | 170 calories |
| Protein | 20 grams |
| Carbohydrates | 10 grams |
| Fats | 6 grams |
| Fiber | 1 gram |
| Sugar | 3 grams |
Why We Recommend It
Organifi Complete Protein is a protein shake and meal replacement in one. Plus, it's keto-friendly and has 100% organic ingredients—which is why it's on our list.
Its nutrients are derived from whole foods. It also has an organic protein blend of fruits and vegetables (superfoods) to boost your nutrition.
The prebiotic fibers and digestive enzymes are there to aid in your digestion and promote gut health. Both help ensure you get adequate nutrition.
Organifi's protein shake isn't as nutritionally-complete as its competitors, but it's one of the best-tasting meal replacements we've ever tried.
Most people who have tried it (including myself) find its smooth texture, mildly sweet flavor, and lack of aftertaste enjoyable.
Organifi Pros
Good balance of calories and macros for losing weight
Has a great taste that makes it ideal for long-term use
Accepts monthly installment-free payments via Shop Pay
Organifi Cons
Lacks an amino acid profile
Limited flavors (chocolate and vanilla)
Not as filling as thick-textured meal replacements
Are Vegan Meal Replacements Healthy?
It depends. A vegan meal replacement can be good for you.
But it doesn't mean that all vegan meal shakes are healthy or that they are healthier than animal-based meal replacements.
Vegan meal replacements can be a healthy way to replace meals if you:
Don't have time to prepare your own food
Want to lose or maintain a healthy weight
Are trying to build lean muscle or reduce body fat
However, factors such as the ingredients used and macro distribution can impact the health benefits of a vegan meal shake.
How We Picked The Best Vegan Meal Replacements
Our team compared vegan meal shakes based on the following standards:
Protein Source
Safety and Quality of Ingredients
Calorie Content
Macronutrient Distribution
Fiber Content
Other Nutrients
This helped us pick out the best meal replacements for vegans.
Protein Sources
Vegan meal replacements use plant proteins as their main source of protein. Some examples of plant-based protein sources are:
Pea protein powder
Brown rice protein
Oats and flaxseed
Soy protein
The type of plant protein used can affect the nutritional quality of a meal shake.
Meal replacements that use complete protein sources—such as soy and peas—are ideal because they have all 20 amino acids.
Those that use brown rice, oats, and flaxseed have incomplete proteins because they either lack essential amino acids or don't provide enough of them.
Ingredient Quality & Safety
We also looked into the quality of the other ingredients in a vegan meal replacement. We preferred products that contained:
Organic ingredients
Natural flavors and sweeteners
Whole food ingredients
Non-GMO ingredients
Clinically-supported ingredients
Plant-based ingredients
Our team also checked to see if they were free from common causes of food intolerances and allergies such as lactose, dairy, gluten, soy, and nuts.
This helped us narrow down vegan meal replacements that you may want based on your health, medical history, and personal preferences.
Calorie Content
According to the European Commission Regulation (EU) 2016/1413, a meal replacement that's intended for weight reduction must meet these qualifications:2
Has at least 200 calories per serving
Shouldn't exceed 250 calories per serving
This calorie limit ensures you meet your body's nutritional needs while reducing the number of calories you consume per day (also known calorie restriction).
Calorie restriction is important because it helps you lose weight by ensuring you consume fewer calories than you would normally eat without depriving yourself.3
"Too much deprivation of calories can lead to malnutrition, including essential vitamins and mineral deficiency. This can lower immune system response and make one prone to infections," says Dr. Mira.
But if you simply want to replace a complete meal and are not after reaching a calorie deficit, you may want to opt for meal shakes with at least 400 calories.
Macronutrient Distribution
Each person has unique macronutrient needs. Factors such as your current health, fitness goals, and diet can affect your macro requirements.
In general, a meal replacement that's intended for weight reduction and weight management should have its calories divided as follows:2
Proteins should make up 25 to 50 percent of its total calories
Fats should not exceed more than 30 percent of its total calories
But if you follow a ketogenic diet like Atkins, a meal replacement should have no more than 5 to 10 percent carbs.
The amount of proteins and fats doesn't matter as much with a keto diet. It's because you should get them from your diet.
Fiber Content
Fiber is an essential component of a healthy diet. Men and women typically require 25 to 38 grams of fiber each day.4
With only seven percent of American adults meeting their daily fiber needs, something packed with fiber, like a meal replacement shake, is a great option.4
A good vegan meal replacement contains at least 3 grams of fiber.
While it's best that you eat fiber-rich foods, supplements (like meal replacements) can make up for any deficit in your daily fiber intake.5
Vitamins and Minerals
A meal replacement replaces a complete meal. So it should reduce your overall calorie intake without depriving you of essential nutrients.
According to the Commission Regulation (EU) 2016/1413, a meal replacement should contain these 22 nutrients:2
| | |
| --- | --- |
| Vitamins | Minerals |
| Vitamin A | |
| Vitamin C | Calcium |
| Vitamin D | Copper |
| Vitamin E | Iodine |
| Vitamin B1 (Thiamine) | Iron |
| Vitamin B2 (Riboflavin) | Magnesium |
| Vitamin B3 (Niacin) | Manganese |
| Vitamin B5 (Pantothenic acid) | Phosphorus |
| Vitamin B6 (Pyridoxine) | Selenium |
| Vitamin B7 (Biotin) | Sodium |
| Vitamin B9 (Folate) | Zinc |
| Vitamin B12 (Cobalamin) | |
A meal replacement doesn't need to have all the nutrients mentioned above. But meal replacements that provide more vitamins and minerals are better.