Your gut is home to trillions of harmful and good bacteria that make up your gut microbiome. These microbes help your gut with gastrointestinal functions, from digesting foods to absorbing nutrients.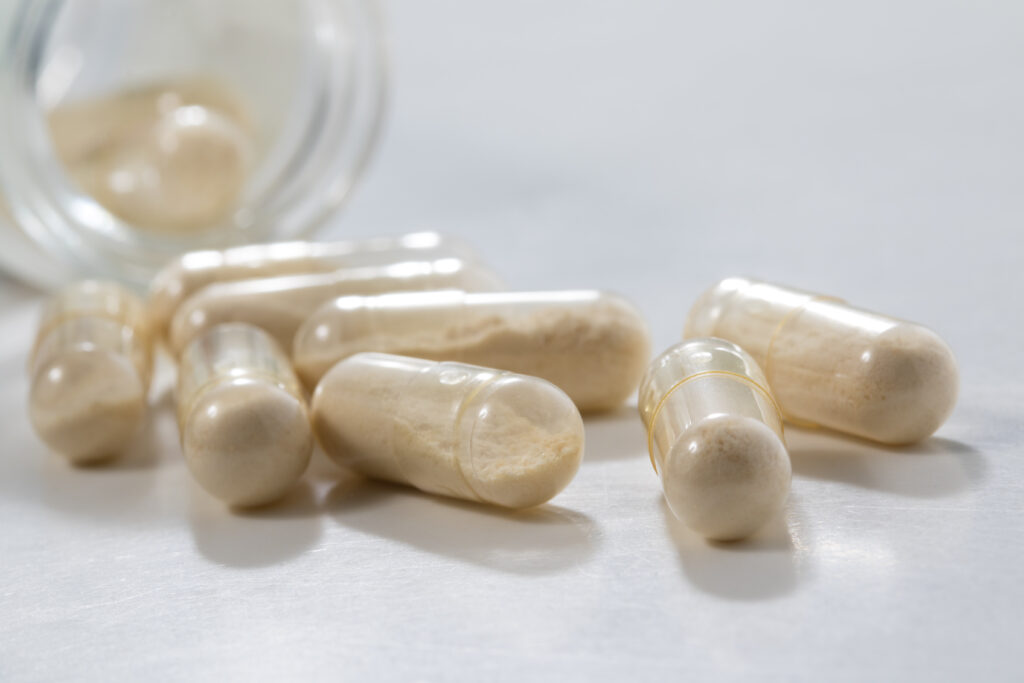 However, an uneven population of beneficial and harmful gut bacteria can disrupt the balance of the gut microbiome.
Gut microbiome imbalance can lead to a variety of symptoms. Gastrointestinal symptoms, mood swings, chronic fatigue, and recurring skin problems are some signs of an unhealthy gut.
One way you can potentially restore this balance is through probiotics.
Meet the Expert
Elise Harlow is a registered dietitian with a Master of Science in Nutritional Sciences. She is the founder of an online nutrition consulting and coaching business.
Elise helps people use the power of food to lead healthier lives. She works with various clients, including those who want to achieve a healthier weight, improve their gut health, lower cholesterol, manage their blood sugar, or balance their hormones.
Restoring Gut Flora with Probiotics
Probiotics are live microorganisms with beneficial effects on your gut and overall health. They consist of yeasts and bacterial strains such as Lactobacillus and Saccharomyces boulardii.
When consumed, they can help restore and maintain a balanced gut. Besides aiding digestion, they provide many health benefits. They can produce essential vitamins and protect against illness.1
Many gut-healthy foods are naturally rich in probiotics. For instance, yogurt can hold up to 500 billion colony-forming units (CFUs) per serving.
A colony-forming unit is an estimate of how many microbes are in a serving that can multiply and form colonies. Many active colonies in probiotics can encourage lots of good bacteria. However, it doesn't necessarily mean that more CFUs are always better. It's about balance.
Probiotic supplements are also a great source of healthy bacteria. One serving can have 50 billion CFU or more.2,3
The best probiotics are carefully formulated. Some probiotic supplements contain a blend of strains, while others have only one strain. Single-strain probiotics are used to treat specific imbalances and relieve certain symptoms.
Some examples of this are:
Lacticaseibacillus rhamnosus – Often used to treat diarrhea
Bifidobacterium longum – Often used to treat bowel problems, vaginal yeast infections, and eczema
Bifidobacteria animalis – Often used to aid digestion
According to Elise Harlow, a registered dietitian, knowing why you're taking the probiotic will help determine which probiotic is right for you.
"If you need help figuring out which is best for you, I recommend discussing with your doctor or a registered dietitian," says Dr. Harlow.
Here are some of our top picks for the best probiotics for gut health.
Why Trust Us
KnowYourDNA is dedicated to providing readers with reliable information on products that help them achieve their health goals.
We pick products based on the following:
Brand reputation
Product quality
Safety for use
Customer reviews
Our in-house medical experts ensure the accuracy of our information.
Our Top 5 Picks for the Best Probiotic Supplements for Healthy Gut Bacteria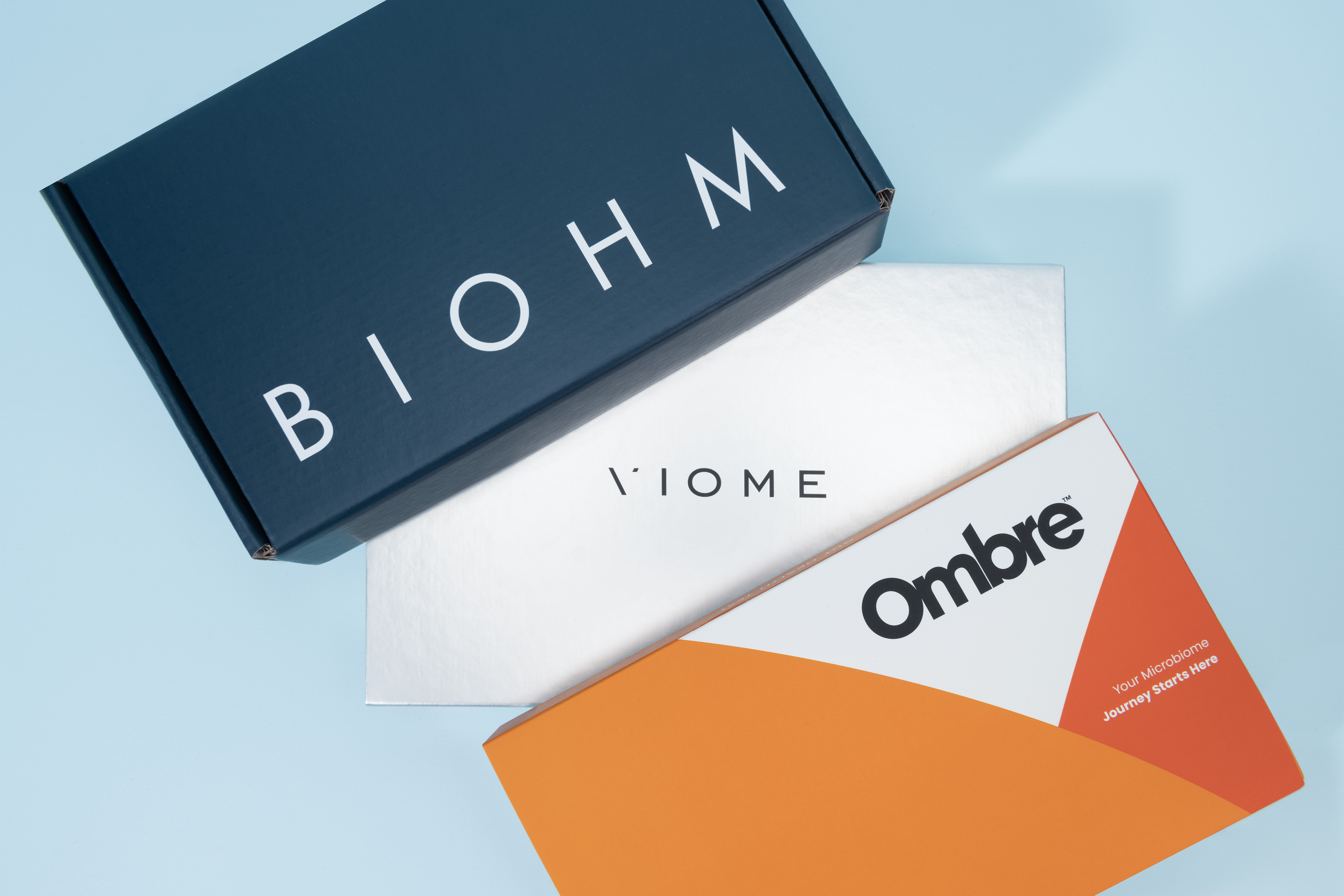 Best Gut Health Test
Our review of the best at-home Microbiome Tests.
5 Best Probiotic Products (2023)
| | | | | | |
| --- | --- | --- | --- | --- | --- |
| Best Probiotics for Gut Health | Price | Serving Size | CFU Count | Number of Variant Options | Includes Diet Recommendations |
| Ombre Probiotics | Starts at $39.99 | 1 to 2 capsules | 5-10 billion CFUs | 9 | Yes |
| Viome Precision Supplement | Starts at $139 | 4 capsules | 0.5+ billion CFUs | 2 | Yes |
| Biohm Probiotics | Starts at $44.99 | 1 scoop formula or 1-2 capsules | 30 billion CFUs | 10 | Yes |
| Renew Life | Starts at $28.99 | 1 capsule | 10 to 100 billion | 12 | No |
| Now Probiotic-10 | Starts at $19.99 | 1 to 6 capsules | 1 to 100 Billion | 17 | No |
1. Ombre Probiotics — Best Probiotic Supplement Overall
We scanned through hundreds of customer reviews for Ombre Probiotics; here are some comments that came up the most:
Pros
Many users shared that their gut health test results provide valuable and actionable insights
Customers who bought the test kit found them easy to use
Users who have tried the probiotics report feeling better and seeing great results
Consumers shared that the customer service is excellent and attentive to their concerns
Cons
Some users thought the dietary recommendation needed to be more varied and tailored to their needs
Some customers thought that the product was a bit expensive
Why We Recommend It
Ombre Lab has nine probiotic supplements to choose from. They formulated each blend to help with different goals:
Daily Care Probiotic — Fast melt probiotics that support your digestion and immunity
Healthy Gut — Promotes easy digestion
Metabolic Booster — Balances your metabolism
Endless Energy — Boosts your focus
Mood Enhancer — Helps you think clearly and improves mood
Heart Health — Optimizes cardiovascular health
Harmony — Promotes a healthy environment for your microbiome
Restore — Helps fight infections
Ultimate Immunity — Enhances your immune system
You can buy them alone. However, it's better to take their gut test so they can get a more holistic picture of what you and your gut need.
Besides personalized probiotics, Ombre Lab is one of the few companies to offer at-home gut testing.
Their kits can tell you if your gut lacks specific strains or if you have too much of them—both of which can cause imbalances.
Your report will also include your gut score, diversity score, and bacteria levels.
Gut wellness score – A score between one and 100 that indicates how well your gut is doing. The higher the score, the better your gut.
Gut diversity score –This scores how diverse your gut is in terms of bacterial strains. The more diverse your gut, the healthier it can be.
Bacteria levels – Reflects the ratio of bad bacteria to beneficial bacteria, how much you might want to increase or decrease them, etc.
Ombre will provide you with precisely what you need to work on. These scores should give you a jumpstart on diversifying and improving your gut.
Ombre's test results are accurate, too. Your gut report helps Ombre determine which blends are ideal for your health.
Ombre extends beyond testing, though. They'll give you a free personalized food plan with your report.
This plan lists the foods that will help you with your imbalances.
Read our full review of the Ombre Gut Test.
We combed through hundreds of customer reviews to determine what users say about Viome. Here are some of the most common things we saw:
Pros
Some users liked that the app provided helpful suggestions for foods to eat and avoid
Many users found the information from the gut microbiome report interesting and insightful
Most reviews mentioned how highly responsive the customer service is
Cons
Some customers had issues with how frequently the subscription orders came and how to manage them. The website didn't make it easy to pause, skip, or cancel orders.
A few users commented that the dietary recommendations aren't always practical for them.
that the dietary recommendations aren't always practical for them.
Why We Recommend It
Viome is a gut health company that primarily tests your gut flora and digestion. Like Ombre, Viome offers personalized food and supplement recommendations.
However, Viome only has two probiotics, and both include prebiotics. It's easier to choose from their products:
Additionally, Viome uses DNA testing to assess how your gut affects the rest of your body, including your
Immune system
Stress response
Energy levels
Cellular repair
Metabolism
Cardiovascular health
Brain health
Biological age
Viome provides deeper insight into your gut microbiome. You'll learn some information about your gut microbiota, such as:
How well it digests foods
How much gas it produces
Any inflammation you need to be worried about
They also offer more personalized food recommendations than Ombre (over 400 items).
If you want to improve your gut health naturally and with good variety, Viome may be a better choice.
Read our full review of the Viome Gut Test.
Sale: $20 off
We looked at feedback from hundreds of customers to find recurring trends. Here are some of the most notable ones:
Pros
Many users mentioned that Biohm has helped them with digestive problems like bloating, gas, and poor digestion.
Some customers found Biohm a trustworthy and reliable probiotic supplement.
Several users liked that they could reorder Biohm every 30 days on auto-ship from Amazon. They said it saved them time and effort.
Cons
Some people reported having detox symptoms, such as discomfort. This was concerning for people who weren't ready to detox.
A few users mentioned that the product's price could put off buyers looking to save money on cheaper options.
Why We Recommend It
Biohm (like Ombre) is a gut health company that offers at-home test kits. Their test provides insights into your gut and scores its health on a scale of 1 to 10.
Your report will include your top bacteria and fungal levels and how they compare to the normal range. You also get actionable steps to improve your gut balance, namely:
Food suggestions
Lifestyle changes
Biohm supplements
You don't need to buy their gut test to get personalized recommendations. You can take the free online quiz with questions about your diet and current health.
Biohm will use your answers to predict your gut flora. It will then suggest supplements to correct your imbalance. Biohm has ten probiotic supplements:
Total Probiotic — Relieves digestive symptoms like bloating and constipation.
Super Greens with Probiotics — Promotes healthy digestion and gut flora. It also boosts your immunity, aids in detoxification, and provides antioxidants.
Super Greens Clean Energy — Supports a healthy gut while boosting your alertness and enhancing performance.
Super Reds with Probiotics — Improves digestion and energy levels while improving skin and eye health.
Colon Cleanser — Supports healthy bowel movement by helping relieve occasional constipation.
Women's Balanced Probiotic Supplement — Improves vaginal health and helps prevent urinary tract infections.
Microbiome Multi — Provides vitamins, minerals, and probiotic bacteria that enhance nutrient absorption.
Immunity Probiotic — Contains probiotics and nutrients to strengthen immunity.
Kid's Probiotics — Enhances your children's digestive health by promoting regular bowel movement.
Super Kids — Supports children's growth, development, and immune system.
Biohm's blends combine probiotic strains with other ingredients. Depending on the formula, they may contain prebiotics, vitamins, minerals, and natural extracts.
However, the Biohm Gut Test doesn't offer much for its price. It has generic food and lifestyle recommendations, like "eat more fermented foods" and "eat regularly."
Compare that to Ombre, which tells you exactly which foods to eat and what types of bacteria they target.
I appreciate their range of probiotic products. But Biohm supplements do not help with specific health concerns like Ombre.
Their only advantage is you can get personalized recommendations with a free quiz.
Read our full review of the Biohm Gut Test.
We reviewed what hundreds of customers had to say about Renew probiotics. Here are some of the things we read the most:
Pros
Many users reported seeing positive effects on their gut issues, like abdominal pain relief
Users with skin conditions, such as eczema, noticed that Renew probiotics helped clear their skin
Customers noticed a boost in energy levels and general well-being after using the supplement
Cons
Several users experienced side effects, such as headaches, dizziness, and sore throat.
Some customers thought the product was a bit expensive.
Some consumers are worried that the product's packaging may affect its effectiveness. The supplement is not shipped in a refrigerated condition.
Why We Recommend It
Renew Life is a gut wellness company founded 25 years ago. Since then, they have curated a range of products for digestive support.
They offer 12 probiotic variants that restore beneficial bacteria or repair your gut lining.
Among their products is the Renew Life® BoulardiiMAX. It's a probiotic supplement that helps lower the risk of diarrhea after taking antibiotics.
Antibiotics can turn an otherwise healthy microbiome into a not-so-healthy one. This is because, while antibiotics can clear the body of bad bacteria, they often wipe the body of beneficial bacteria as well, making you more susceptible to digestive issues like diarrhea. It's a common side effect of antibiotics.
Studies show certain antibiotics increase your risk for diarrhea and Clostridium difficile infections.4
Renew Life® BoulardiiMAX contains Saccharomyces boulardii. It's a probiotic yeast that can prevent antibiotic-associated diarrhea (AAD) in children and adults.5
It contains 10 billion CFUs of Saccharomyces boulardii. Besides protecting you from AAD, S. boulardii can also prevent:4
Diarrhea caused by C. difficile and rotavirus
Helicobacter pylori infections
Digestive side effects of H. pylori treatment
S. boulardii usually requires refrigeration, but Renew Life® BoulardiiMAX is shelf-stable. It also contains vegetarian ingredients and is safe for people with common food intolerances, like:
Renew Life® BoulardiiMAX also claims to help reduce the risk of traveler's diarrhea. Traveler's diarrhea usually happens within ten days of visiting an area with less-than-sanitary hygiene conditions and is often the result of E. coli overgrowth.
Other causes occur when germs, viruses, or parasites enter your drinking water or food.
However, Renew Life Ultimate Flora can be a one-trick pony. It contains a single strain (S. boulardii) and only works for people struggling with diarrhea.
Still, we recommend keeping a bottle or two in case you need it.
5. Now Probiotics 10 — Best Probiotic for Leaky Gut and Skin Acne
We analyzed hundreds of customers' feedback to identify recurring themes. Here are some of the most notable ones:
Pros
Customers liked that the price was reasonable considering how many capsules they got and the number of strains and organisms included
Many users observed good results from using the product, such as decreased digestive issues
People who have used the product reported that they saw positive changes in their skin conditions
Cons
Some users reported getting confused with how the company labels its products
Customers who bought the product thought that it was a little pricey
Why We Recommend It
Now Foods is a family-owned company that sells all-natural health products. From essential oils and sports nutrition to organic foods, you'll never run out of ways to optimize your health.
Among these products is a range of high-quality supplements that promote gut health. They include fiber supplements, probiotics, prebiotics, and digestive enzymes.
One of our favorites is their Now Probiotic-10™ Veg Capsules. It contains probiotic strains that help improve the symptoms of leaky gut syndrome.
Leaky gut syndrome is when the gut becomes damaged, leading to inflammation or irritation. It's also known as increased intestinal permeability.
This damage can cause the gut to become permeable. It means undigested food particles, toxins, and bacteria can "leak" through the gut and into the bloodstream.
A leaky gut is associated with several digestive disorders, such as Crohn's disease, celiac disease, and irritable bowel syndrome (IBS).6
The same health problems have been linked to various skin issues, including:7
Acne
Eczema
Psoriasis
Rosacea
Dermatitis herpetiformis (DH)
Now Foods Probiotic-10 contains ten probiotic strains, including ones that can help with these conditions. It has:
Lactobacillus casei and Lactobacillus plantarum – Strengthen the gut lining and reduce leaky gut symptoms.
Bifidobacterium lactis and Lactobacillus acidophilus – Reduce gut inflammation. They help with inflammatory bowel diseases like Crohn's.
You can buy it in different strengths: 25 billion CFUs, 50 billion CFUs, and 100 billion CFUs.
The dietary supplement is manufactured in allergen-free environments. It's also gluten-free, soy-free, and dairy-free. It's safe for people with food allergies and intolerances.
How We Picked The Best
Our staff and our medical expert, Dr. Rizza Mira, collaborated to develop a set of standards for choosing the best probiotic supplements. We picked the top products based on the following:
Personalization
Not all probiotic supplements are created equal. Some are far more helpful than others for addressing particular conditions and symptoms.
That's why we consider brands that offer personalized probiotic blends with particular strains based on your needs.
Companies offering personalized probiotic blends typically ask you to complete a health questionnaire. It's how they assess which blend best suits you.
Tailor-fit probiotic supplements can address specific health concerns more effectively.
Brand reputation
A company's manufacturing process and formulation type can vitally impact the quality of a probiotic supplement.
We choose reputable companies that exercise transparency with their process, scientific studies, research, and the type of ingredients they use.
Well-established brands also tend to strictly adhere to regulations enforced for Good Manufacturing Practices (GMPs). GMPs ensure that products are manufactured in a safe environment to achieve quality standards.
CFU Count
Research suggests that a probiotic supplement must have at least a million CFUs to have a positive impact on the body.7
Besides the variety of strains in a probiotic supplement, CFU count also affects the product quality.
While picking out the best probiotic supplements, we looked for brands that meet the ideal CFU count.
Value for money
Finding a probiotic that fits your budget is important. But it's also essential to consider a brand that delivers results.
We carefully selected the brands that offer high-quality probiotics at a reasonable price.
Our team spent hours researching probiotic supplements that have been proven to be effective in improving digestion and relieving digestive symptoms.
Are Probiotics Effective For Restoring Gut Imbalance?
Yes, research shows that probiotics may help restore gut imbalance.
Many factors can cause a gut imbalance or dysbiosis. One of them is the disproportion in the bacterial colonies in your gut.
Probiotics are one of the best ways to promote the growth of beneficial gut bacteria. They can also help prevent harmful microbes from taking over.
However, other factors, such as genetics, diet, and age, can also affect your gut microbiota.8
These factors may also affect the healing process of an imbalanced gut.
How Often Should You Take Probiotic Supplements?
A probiotic supplement's recommended dosage can depend on factors like:
The condition you're treating
The specific probiotic strain you're taking
Your personal needs
It's important to talk to your doctor before starting probiotic supplements. You should also follow the instructions on the product label carefully.
Generally, probiotic supplements can be taken once or twice daily. But you may need to take them more frequently based on your health issues.
For example, some doctors prescribe probiotics three to four times a day to manage diarrhea.
On the other hand, some supplements with a very high CFU count may best be consumed once daily.
You may need to stop taking probiotics and consult your doctor if they cause problems like bloating, gas, or diarrhea.
But overall, the use of probiotic supplements to improve digestive health is generally safe.
What Are The Common Types of Probiotics?
Aside from bacteria, probiotics can also consist of yeasts. The most common genus or family of living microorganisms used in probiotic products include
Lactobacillus
Bifidobacterium strains
Saccharomyces
Streptococcus
Enterococcus
Escherichia
Bacillus
What are the Other Sources of Probiotics?
Besides probiotic supplements, you can get probiotics from many other sources, including the following.
Fermented foods
These are foods that undergo a preservation technique called fermentation.
Fermentation allows helpful bacteria and yeast to grow naturally. From there, they can transform starch or sugar into alcohol or acids.
Alcohol or acid byproducts act as natural preservatives. The most widely known fermented foods are:
Yogurt
Miso
Kefir
Sauerkraut
Kimchi
Tempeh
Probiotic-rich drinks
These are beverages that have added probiotics, either by fermentation or some other process. A number of probiotic-rich drinks are available in the market, including
Apple cider vinegar drinks
Kombucha
Buttermilk
Coconut
Yogurt drinks
Can Probiotics Help Balance Stomach Acidity Levels?
Studies show that certain types of probiotic strains can help occasional bouts of acid reflux. They can even relieve long-standing gastroesophageal reflux disease (GERD).9
They decrease stomach acid production and fortify the ring of muscle that separates the esophagus from the stomach. This helps lessen the occurrence of acid reflux. They also help absorb difficult-to-digest nutrients.
The stomach is part of the GI tract responsible for digesting foods so the body can absorb them in the small intestine. It produces stomach acids that help break down food proteins and eliminate harmful bacteria.
The results of the studies on probiotics are encouraging. However, according to researchers, larger, placebo-controlled studies are necessary to confirm them further.
Why is a Healthy Gut Important for Robust Immune Health?
The gut microbiome trains the immune system to recognize harmful substances and ignore harmless ones. If your body lacks friendly gut bacteria, it affects your immune response to invading viruses. Poor gut health often translates to poor immunity.
A diverse microbiome helps immune cells better distinguish between harmful and harmless bacteria.
The immune system is a coordinated system of cells, tissues, and organs that protect the body from infections, foreign bodies, and diseases. Research shows that a big percentage of immune cells, about 70 to 80, is present in the gut.10
Beneficial gut microbes trigger the immune cells to produce potent antiviral proteins and chemicals. They fight off viruses, bacteria, and harmful microorganisms.
The Potential of Probiotics to Improve Mental Well-being
Emerging research suggests that probiotics may help improve your mental well-being by helping boost your mood and lessen stress or anxiety.11
Researchers coined a relatively new term, "psychobiotics." It refers to probiotic supplements or foods consumed to address mental health concerns.12
Probiotics have been linked to improved mental health. Studies show that your gut microbiota can influence cognitive functions through the gut-brain axis.13
What is the Gut-Brain Axis?
The gut-brain axis refers to the pathways between the digestive tract and the brain.
The brain is part of the Central Nervous System (CNS), the central command that controls the entire body, including the gut.
Your gut has nerves just as your brain does. The enteric nervous system (ENS) is another essential command hub located within the gut's lining. It's often referred to as the second brain.
The gut microbiota facilitates the interaction between your brain and ENS. According to a study, gut flora regulates brain chemistry. It appears to affect anxiety and stress response.
A recent study shows that consuming a high-dose probiotic containing 14 distinct bacteria strains helps reduce the symptoms of depression and anxiety.14
However, researchers mentioned that psychobiotics like those used in the study should be considered alongside therapy rather than replacing it.
Key Takeaways
Ombre Lab is a great option if you're looking for a brand that offers personalized probiotics and gut testing kits.
Their test results are precise, and their customized probiotics are designed to aid in various health goals.
Viome is another great probiotic supplement brand. Their dietary supplements contain both probiotics and prebiotics, which work together to improve your gut health.
There is no harm in trying probiotic supplements to optimize your health. But besides taking supplements, you can take the following steps to enhance your gut health:
Take an at-home gut testing kit to identify any gut imbalance. It will give you a better picture of your gut health.
Make dietary changes by including more probiotic-rich foods. There are a number of foods that contain probiotics.
See a doctor about your gut health and issues. Your doctor should be able to help you to optimize your digestive health.
Keep in mind that everyone has unique gut needs. It's possible that what worked for others may not work for you, and vice versa.
Remember that probiotics shouldn't replace medications or a doctor's visit. It's still best to consult a medical professional if you have any concerns about your gut health.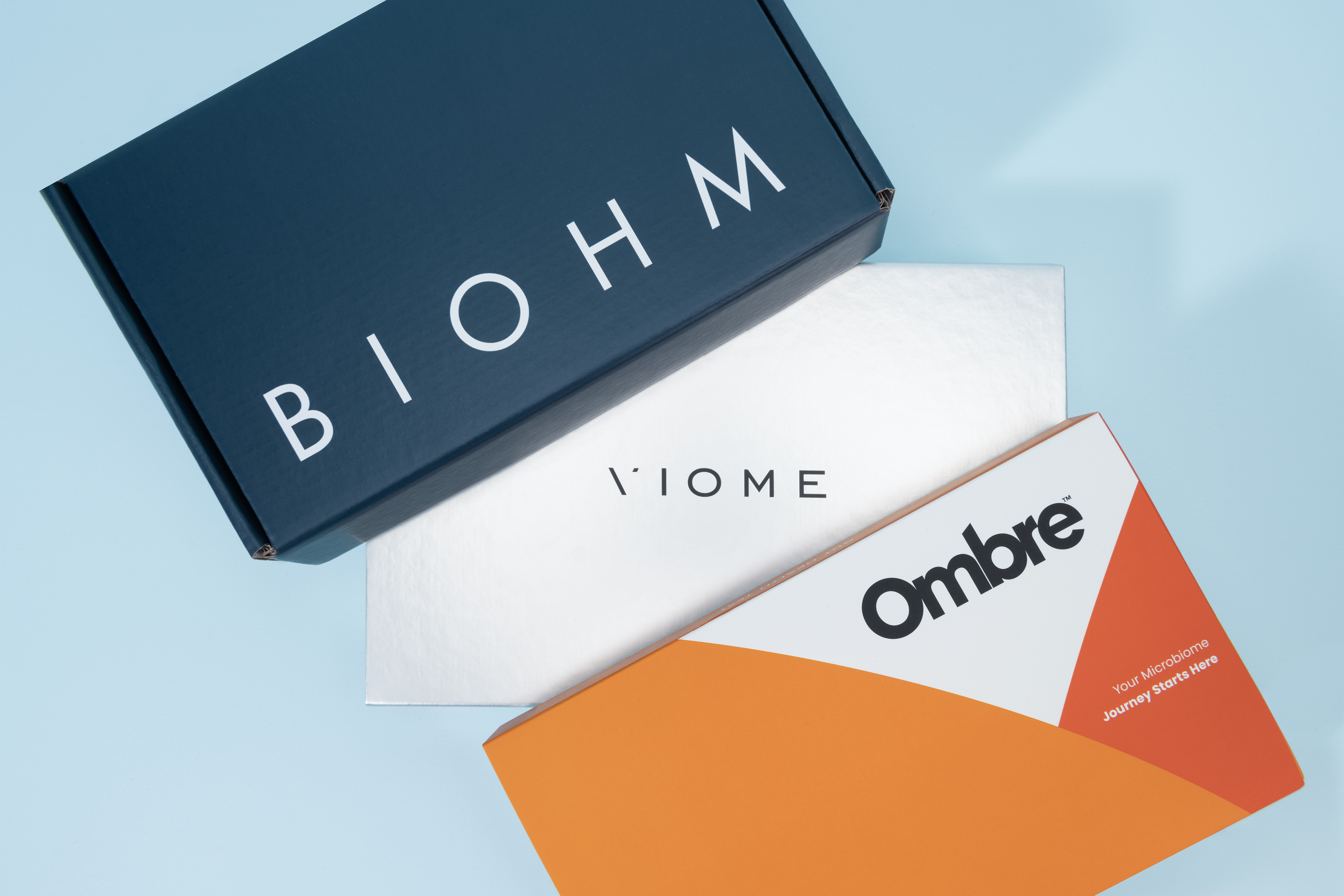 Best Microbiome Test
Looking for the best microbiome kit on the market? Look no further! Our review round-up page has all the information you need to make an informed decision.