At-home health tests offer a convenient way to be tested at home. You do not have to go to a laboratory to collect samples or wait for your results.
This makes it more practical than lab testing, which often requires visits to the doctor's office. At-home test kits can assess different aspects of your health. These include:
Wellness and nutrition (e.g., Vitamin B12 status and gut health)
Sexual and hormonal health (e.g., fertility and ovarian reserve)
Disease and genetic health risks (e.g., COVID-19 and breast cancer)
Other health concerns (e.g., food intolerance and metals and minerals test)
The process is private and simple. You can order a test kit online and have it delivered to your doorstep. Tests usually come in discreet packaging. Samples are taken at home and sent back.
When your sample arrives, the testing company will analyze it at a laboratory.
Test results are usually available in a few weeks. Once they are ready, you can access them remotely through a website or smartphone app.
Keep in mind: At-home tests should not substitute the advice of a medical professional. It's best that you talk to a doctor about your test results. They might recommend additional tests to confirm a diagnosis.
To help you get big savings, we rounded up the best home health test deals for this year's Black Friday and Cyber Monday. Check out the discounts and coupons below.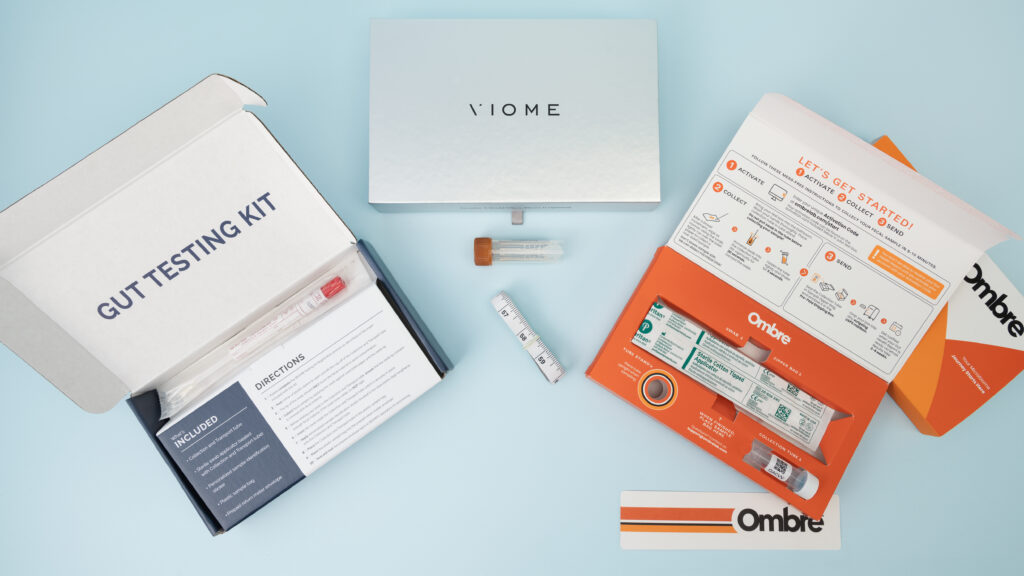 Everything We Recommend
Everlywell — Best Overall At-Home Health Tests
Everlywell is a Texas-based health testing company. It is best known for its wide range of at-home test kits, which include:
What we like
Everlywell works with board-certified physicians.
Physician-approved process ensures that only qualified people can take their tests.
Choose from 33 unique test kits.
Offers FDA-approved COVID tests, including an RNA test and a rapid antigen test.1,2
Samples are analyzed in laboratories with Clinical Laboratory Improvement Amendments (CLIA) approval. This ensures they meet the standards for lab testing.3 
Test results are informative and easy to understand.
Provides actionable steps to improve your health.
Some diagnostics include free physician consultation and prescriptions (e.g., STD tests).
What we don't like
Only COVID-19 tests are available for New York residents.
Tests go out of stock sometimes.
Everlywell Deals for Black Friday & Cyber Monday 2022
up to 40% off sitewide with code HOLIDAY
Ombre — Best At-Home Test for Gut Health
Ombre Lab (formerly Thryve Inside) is a gut wellness company. They recently rebranded but continue to offer the same products and services.
The company specializes in at-home microbiome testing. They provide test kits that can identify the different types of bacteria in your gut. Tests also measure how much there is of each strain, giving you a complete picture of your gut health.
To help bring your gut back in balance, Ombre Lab provides actionable steps with your report.
What we like
Tests can identify more than 10,000 species of gut bacteria.
Proprietary sampling method is 28% more accurate than competitors.4
Uses 16S RNA sequencing to test your gut flora. It is the same as regular testing done in laboratories. This method is proven to be more accurate than DNA testing.5
Gut report tells you which specific strains need work and why you need to improve them. 
You get free food suggestions and recommendations with your report.
Offers probiotic supplements. There blends support weight loss and improve your mood, energy levels, immunity, and mental health.
You can access your results on OmbreLab.com (formerly ThryveInside.com).
What we don't like
Ombre products are currently not FDA-approved.
Their test kits cannot check for viruses and parasites that may be living in your gut.
Custom probiotic blends are a bit pricey.
Ombre (Thryve Inside) Deals for Black Friday & Cyber Monday 2022
LetsGetChecked — Best At-Home Test Kits for STD
Use code "YOURDNA" for 25% off
The health testing company was initially founded in Ireland back in 2014. In 2017, they started offering at-home testing kits in the United States. These include:

Sexual health tests (e.g., HIV test)
Women's health tests (e.g., female hormone test)
Men's health tests (e.g., prostate cancer test)
Wellness tests (e.g., diabetes test)
Coronavirus tests for individuals, travel, and organizations
LetsGetChecked has the best tests for sexually transmitted diseases or STD's. They can check for common infections such as human immunodeficiency virus (HIV).
It is an excellent alternativ to Everlywell if you want testing companies with plenty of at-home test kits.
What we like
Works with health professionals and accredited laboratories.
LetsGetChecked has over 50 different health tests.
Offers STD panels which can test for multiple infections at a time.
Affordable virtual consultation ($39) with medical staff.
Discuss your treatment options for common STDs and sexual infections.
For an extra fee, they can provide medications for chlamydia, ureaplasma, gardnerella, trichomoniasis, and mycoplasma.
Medications are sent to your home or a local pharmacy upon request.
What we don't like
At-home tests are not available in Alaska, New Jersey, and Rhode Island.
Does not send treatments to some states.
LetsGetChecked Deals for Black Friday & Cyber Monday 2022 
25% off tests - code WECARE
5Strands — Best At-Home Test for Intolerances
5Strands is unique from other health testing companies. Most tests check for the presence of disease. 5Strands can test you for different types of intolerances, such as:
Food intolerance (e.g., gluten sensitivity)
Metals and minerals (e.g., mercury)
Environmental intolerance (e.g., allergens)
In addition to these unique tests, 5Strands can assess your nutritional state. They have an at-home test kit that can check for different vitamins and minerals.
These tests enable you to make the necessary changes in your lifestyle. You can reduce your exposure to certain foods, environmental factors, and toxic metals based on your results.
What we like
Pain-free test that only uses your hair sample.
Identifies potential health risks. It can test for 600 food items, 60 metals and minerals, 200 environmental factors, and 80 vitamins and minerals.
You can buy each test individually or together in bundles.
What we don't like
Uses bio-resonance testing. This method is not yet scientifically proven.
Cannot test for food allergies. It can only check your digestive reaction to food and environmental triggers.6
5Strands Black Friday Coupons & Cyber Monday Deals 2022 
20% off of whole site using code EARLYBIRD20
Dynamic DNA — Best At-Home Tests for Healthier Lifestyle
Buy one get one free with code Holiday
Nothing quite compares to Dynamic DNA Laboratories. The company offers several tests that empower you to make healthier choices regarding your diet, exercise, skincare routine, and prescription drugs.
Dynamic DNA's Testing Kits check your body's response to:
Pain medications
Cannabis
Mental health medications
Cardiovascular health medications
Fitness and physical exercise
Nutrition and eating habits
What we like
Strong focus on pharmacogenomics. Pharmacogenomics identifies genes that affect how you respond to medications.
You can get tests that are specific to your needs. For example, you can just buy the cardiovascular test if you have a heart condition.
Has a comprehensive test that checks your response to different medications.
You can choose to get vitamins with your Nutrition test.
Also offers COVID-19 testing.
What we don't like
Costs can add up if you want to take several tests. Most tests cost $129, so they can be expensive if you buy more than one.
Not transparent with pricing. Pharmacogenomic tests do not have prices stated on their website. You have to contact Dynamic DNA for a quote.
Pharmacogenomics is still a new field in genetic testing with limited studies.7
Dynamic DNA Test Black Friday Coupons & Cyber Monday Deals 2022 
Buy one get one free with code Holiday