Heavy metal tests you can take at home are perfect if you're concerned about exposure to harmful metals. Exposure to heavy metals can lead to serious health problems. These metals can damage your brain and organs and even harm your overall well-being.
Heavy metal poisoning can also make you sick or cause long-lasting health issues. So, it's important to avoid exposure to high levels of heavy metals and get help if you suspect you've been exposed.
To help address your concerns, we gathered the top five heavy metals test kits you can take in the comfort of your home.
How We Picked The Best At-Home Heavy Metal Tests
We value finding the best options for our readers, so we looked into the following criteria to determine the best at-home heavy metal tests:
Ease of use
Clarity around instructions
Price
Accessibility
Metals it tests for
Medical report or follow-up (if any)
Keep in mind that there's no one-size-fits-all heavy metals test. You need to evaluate them based on your needs and symptoms (if any).
Many of the tests we explored overlap, so it's up to you to determine the best fit.
Why Trust Us
KnowYourDNA is dedicated to providing readers with reliable information on products that help them achieve their health goals.
We pick products based on the following:
Brand reputation
Product quality
Safety for consumption
Customer reviews
Our in-house medical experts ensure the accuracy of our information.
What Is At-Home Heavy Metal Testing?
Heavy metal testing at home uses kits you can order to check for harmful metals like lead, mercury, or arsenic. Testing can be done on your hair, blood, water, soil, or food.
It's a convenient testing option since the tests can be done without leaving your house.
At-home heavy metals tests are important because heavy metals in high amounts can harm your health. They can lead to problems in your growth, damage your organs, and cause other health problems.
Taking heavy metal tests involves:
Following the instructions provided in the kit
Collecting a sample (like a piece of hair or a drop of blood)
Sending it to a lab for analysis
Testing costs can vary depending on what you're testing and how many metals you want to check for.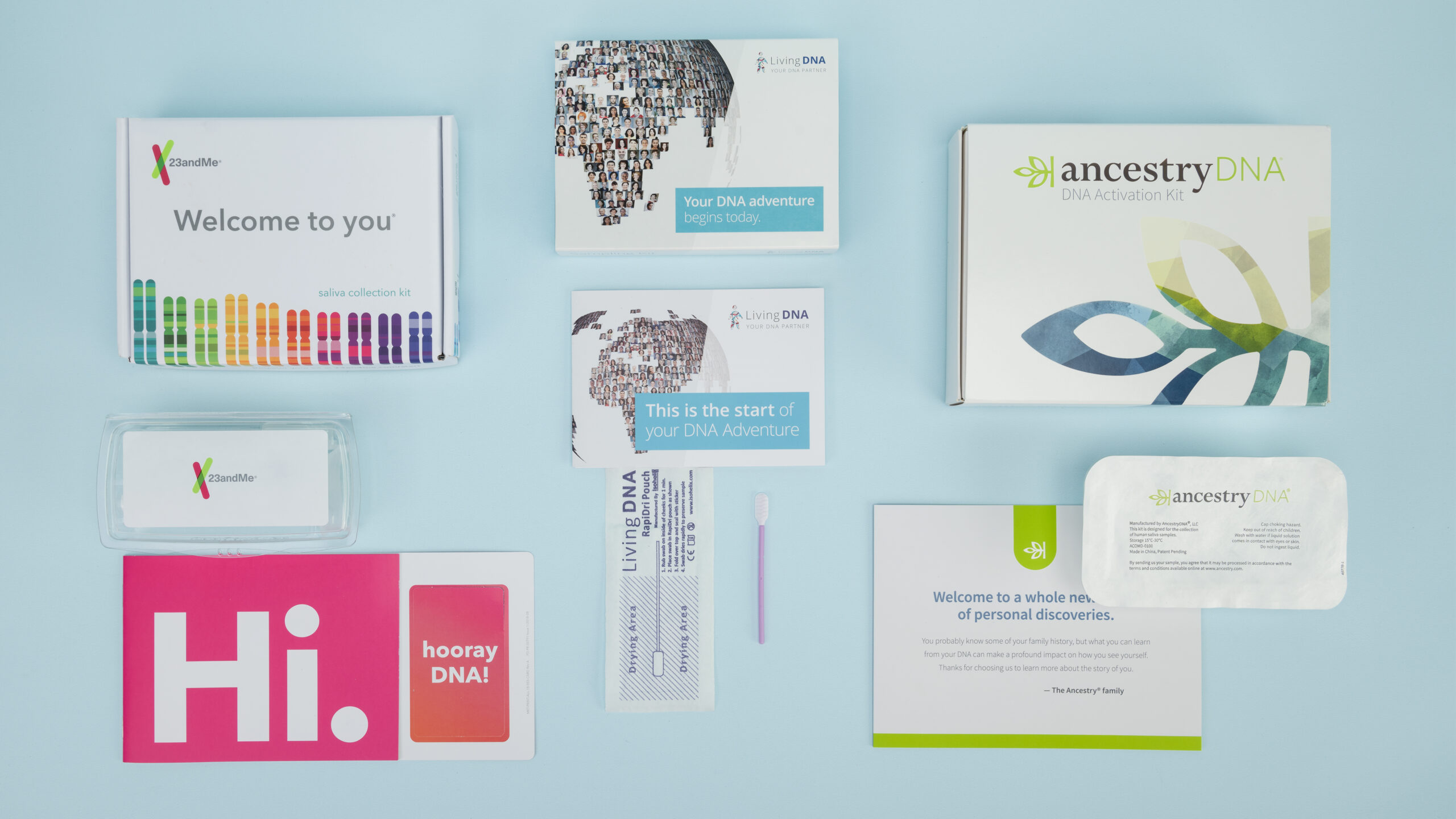 Best DNA Kit
Don't miss out on the opportunity to learn more about yourself. Read our best DNA test page to find the best one for you.
The Best At-Home Heavy Metals Test
Using a blood sample you collect at home, the LetsGetChecked heavy metal testing kit measures essential nutrients. Test results reveal imbalances of the most important vitamins and heavy metals your body needs.
You can use these results to make the necessary changes in your diet and lifestyle. The results can also act as a guide for you to correct any deficiencies and prevent excess intake.
Key Features:
The finger-prick test provides accurate results
Tests for 3 essential vitamins: vitamin B12, D, and E
Tests for 4 heavy metals: magnesium, copper, zinc, and selenium
Results are available online within 2 to 5 days
A dedicated team of nurses can explain your results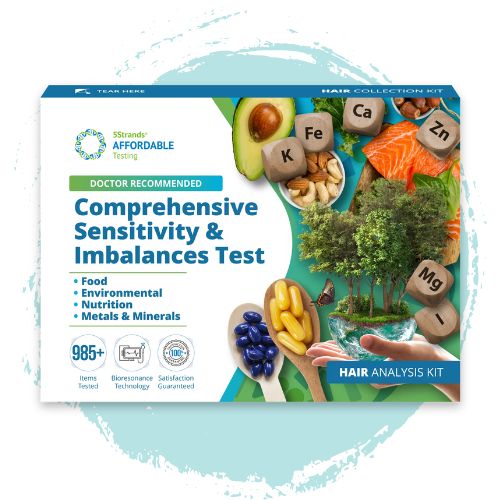 Instead of using your blood sample, 5Strands Metals & Mineral test analyzes a few hair strands to check your reactivity to up to 60 different heavy metals and minerals.
Your test results can show you which metals or minerals are potentially responsible for imbalances within your body.
Unlike the heavy metal blood tests, 5Strands hair test doesn't indicate how much of these toxic metals are in your body. It will only show how your body reacts to these substances.
This test kit can determine the culprit if you suspect you're sensitive to a mineral or heavy metal in your diet.
Key Features:
Pain-free test using strands of hair
Detects your reaction to up to 60 different heavy metals and minerals
Test results include the heavy metals and minerals that your body struggles to eliminate
Uses bio-resonance technology to analyze your sample
Tests for everything from aluminum to zinc
Expand to see our pictures + send in steps
I got one of 5Strands Delux Packages - which includes the Environmental Intolerance Test
Send-in steps are very simple:
Cut 10-15 strands of hair
Place on parchment paper
Place parchment paper in an anti-static bag
Place in an envelope and attach the return label that's provided
Overall, this is a very non-intrusive test and is easy to take. Once you've taken the test, you are emailed results (no dashboard). A sample pages of results looks like this:
5Strands suggests trying to eliminate metals categorized as Level 3 and then moving to Level 2 if you are still experiencing issues.
The popular at-home health testing company, EverlyWell, has one of the more reliable heavy metals tests on the market.
EverlyWell can alert you to six commonly found environmental metals within your body using a urine sample.
These heavy metals can be found in many places you regularly visit, such as your job, home, or shop.
The Heavy Metals Test will screen for four hazardous metals: arsenic, mercury, cadmium, and bromine. It also tests your levels of two essential trace minerals, selenium and iodine.
Additionally, your urinary creatinine levels will be checked.
Key Features:
Checks for the presence of hazardous chemicals mercury, arsenic, cadmium, and bromine
Tests for ideal levels of the essential trace minerals, selenium, and iodine
All results are approved and reviewed by a physician from your state
Analyzed by a CLIA-certified lab
Includes actionable report that you can discuss with your primary care provider
ZRT Laboratory offers a heavy metals blood test that is ideal if you're experiencing any heavy metal toxicity symptoms from recent exposure.
Their test results include a heavy metal panel that tells you how high your levels of selenium, copper, cadmium, lead, zinc, magnesium, and mercury are.
While you're supposed to have some zinc, copper, and selenium in your system, having high concentrations of these metals is potentially toxic. Meanwhile, any exposure to cadmium, arsenic, lead, and mercury is toxic.
Exposure can lead to cancer, heart disease, and diabetes. In children, behavioral and developmental problems may ensue.
Chronic exposure to these metals can lead to dangerous conditions, such as lead poisoning and arsenic poisoning.
Key Features:
Heavy metal panel includes levels of various metals present in the body
Finger lancet for submitting a blood sample
No shipping or lab fees
Test results come out in five to seven business days
Doctor Data's heavy metals toxicity test will check your body for chronic exposure to toxic elements like arsenic, lead, mercury, and other toxins by using a strand of your hair.
The test can detect exposure to 31 toxins from recent exposures up to six months before.
The kit includes everything you need to collect and return your sample, including a prepaid return envelope.
Your test results will show you how much of these toxins and minerals are present in your sample on a gram or microgram level.
Key Features:
Test for 17 different heavy metals and toxins
Checks for 22 essential minerals
CLIA Accredited Lab test
Pain-free test using strands of hair
Results will be available in seven to ten business days
What if my levels are too high?
You can take several measures if your heavy metal levels are too high. In some cases, eliminating your exposure is enough to restore your health.
For some people, this can mean changing their diet, quitting smoking, or changing their living conditions.
In more severe cases, chelation therapy might be necessary. Chelation therapy involves injections or pills with a binding agent that combines with the heavy metal and flushes it out of your body through the digestive system.
Different heavy metals respond differently to chelation. For some, an antidote is necessary. Hydration therapy may also be an important treatment for those with severe symptoms.
If you're concerned about mercury poisoning, try a mercury detox. It entails:
Increasing fiber in your diet
Drinking more water
Reducing or eliminating exposure 
Choosing the Best Heavy Metal Test for You
While all of the tests above will give you easy-to-follow instructions and promise accurate results, some of these tests may be better suited to your needs than others. Even though all these tests check for heavy metals, they're not all looking at the same data.
For example, ZRT Laboratory's test checks how much of each heavy metal is inside your system. It uses different mediums to detect acute or chronic exposure, making it ideal to determine if your symptoms are due to recent exposure.
The 5Strands test focuses more on your reaction to these substances, so you'll know which heavy metals you're more likely sensitive to.
HealthConfirm's test is focused on one particular chemical—gadolinium—which is used to enhance the quality of results of imaging procedures. It's the ideal test if you recently underwent an MRI scan.
Lastly, if you want a simple test to check for heavy metals your body needs, the Micronutrient Test from LetsGetChecked is a great option.
What Are the Different Heavy Metals Tests?
Some of the common heavy metals tests you can do at home are:
Blood tests – At-home blood kits allow you to check your blood for heavy metals like lead and mercury. These kits often require a finger prick to collect a small blood sample.
Urine tests – Use at-home urine test kits to screen for heavy metals such as arsenic, cadmium, or mercury. These tests typically detect recent exposure.
Hair analysis – Collect a small sample of hair and send it to a laboratory. Hair can accumulate heavy metals over time, so this test can provide insights into long-term exposure.
Food tests – At-home test kits can analyze food or supplements for heavy metals. This is helpful if you're concerned about metals in your diet.
Soil tests – Assess heavy metal levels in your garden or yard. This is useful for people concerned about metal contamination.
At-Home Heavy Metals Testing Vs. Lab Testing
Let's compare at home heavy metal tests and laboratory tests.
At-Home Heavy Metals Testing
Heavy metals testing at home is a do-it-yourself health check you can do without going to a doctor or lab. These tests are convenient because you can do them whenever necessary and without leaving home.
You can test for harmful metals like lead or mercury using a kit you bought online or at a store. It's simple, and you usually get results fairly quickly.
However, these tests may not be as accurate as tests done in a lab by professionals. There is the possibility of errors during sample collection or factors like temperature and timing can affect the results.
Moreover, understanding the results can be tricky if you don't have a medical background and can't get expert advice right away.
Lab Testing
On the other hand, lab testing is the standard for checking heavy metal levels in your body. These tests are done by trained experts in a medical setting, usually a clinic or hospital.
They're more accurate because pros handle everything from collecting the sample to analyzing it in a controlled environment. There's a wide range of heavy metals tests you can get done in a lab.
A significant advantage is you can get expert advice. A doctor can help you understand what the test results mean. If there's a problem or need further treatment, they can guide you on what to do next.
There are also some downsides. You have to book an appointment, go to a hospital, and wait for your results, which can take longer than at-home tests. Lab tests can also be more expensive. The lab setting is less private than doing a home test.
How Much Is an At-Home Heavy Metals Test?
Basic at-home heavy metal tests for just one type of metal start at around $50 to $100.
They're affordable, which is excellent if you want to check for metals now and then or if you're worried about a specific metal.
However, keep in mind that if you need more extensive tests or want to check for several different metals, the cost can go up.
Why Take an At-Home Heavy Metals Test?
Here are reasons why you should consider taking a heavy metals test:
1. You want to start a family
Heavy metals such as mercury and methylmercury can put fetuses at a higher risk of developmental problems. Heavy metals can also cause permanent brain damage.
The baby can be exposed in the womb when the mother consumes heavy metals from fish and shellfish.3
Before you decide to conceive, taking a heavy metals test is an excellent idea to ensure you don't have high levels of toxic heavy metals.
2. You have signs of heavy metal poisoning
The signs of heavy metal poisoning may imitate other conditions. Elevated levels of certain heavy metals can cause a range of uncomfortable symptoms, including:
Diarrhea
Tingling in your hands and feet
Weakness
Chills
Nausea
Abdominal pain
Get tested and visit your doctor if you're showing signs of exposure.
3. You eat lots of seafood
Some seafood like shark, orange roughy, and swordfish contain high levels of mercury and methylmercury. If your diet consists mainly of fish and shellfish, have your heavy metals level tested.4
4. You have issues with thyroid function
Iodine is a mineral our body needs to support thyroid functions properly, like thyroid hormone secretion. You commonly get it from table salt and other foods like fish, dairy, and eggs.
Some heavy metals cause issues with the amount of iodine in the body, affecting thyroid function.
The most common metals that affect your thyroid glands are arsenic, mercury, and cadmium. To determine if your thyroid problems are connected to heavy metals, take a heavy metal test.5
5. You have been exposed to heavy metals
Overexposure happens when you come into contact with heavy metals regularly, such as when you're:
Working in an environment that involves heavy metal processing
Living in an area surrounded by heavy metals
Living in an old home
Periodic testing helps you evaluate and monitor your health risks. A test tells you if you have a problem caused by heavy metal buildup in your system.
The danger of exposure will depend on the route, the time the heavy metal remains in the system, and the duration of exposure.
What Are Some of the Most Common Heavy Metals?
These are some of the most common heavy metals:
Aluminum
Antimony
Arsenic
Barium
Bismuth
Cadmium
Lead
Mercury
Nickel
Tin
Uranium
How Do Heavy Metals Affect Health?
Long-term exposure to heavy metals causes toxicity and negatively affects your health. Health risks vary based on the metal.
Here are some of the most common effects of heavy metal exposure:
Abdominal pain
Chills
Diarrhea
Nausea
Shortness of breath
Tingling in your feet and hands
Vomiting
Weakness
Common Questions About At-Home Heavy Metal Testing
Here are the answers to some of the most common questions about at-home heavy metal tests:
Does insurance cover heavy metal testing?
No, most insurance plans won't cover at-home heavy metal tests.
How do we test for heavy metal toxicity?
All of the tests in our list involve the same basic steps. First, you order your test, then collect a sample. Next, return your sample to the company, and finally, wait for your results. The main difference is the type of sample the tests require— blood, hair, or urine.
Does Medicare cover heavy metal testing? 
Medicare will not cover most at-home heavy metal tests.
How much does heavy metal testing cost?
Most heavy metal test kits, except for ZRT Laboratory's, are priced between $50 to $100. ZRT's test kit is slightly more expensive at $159.99.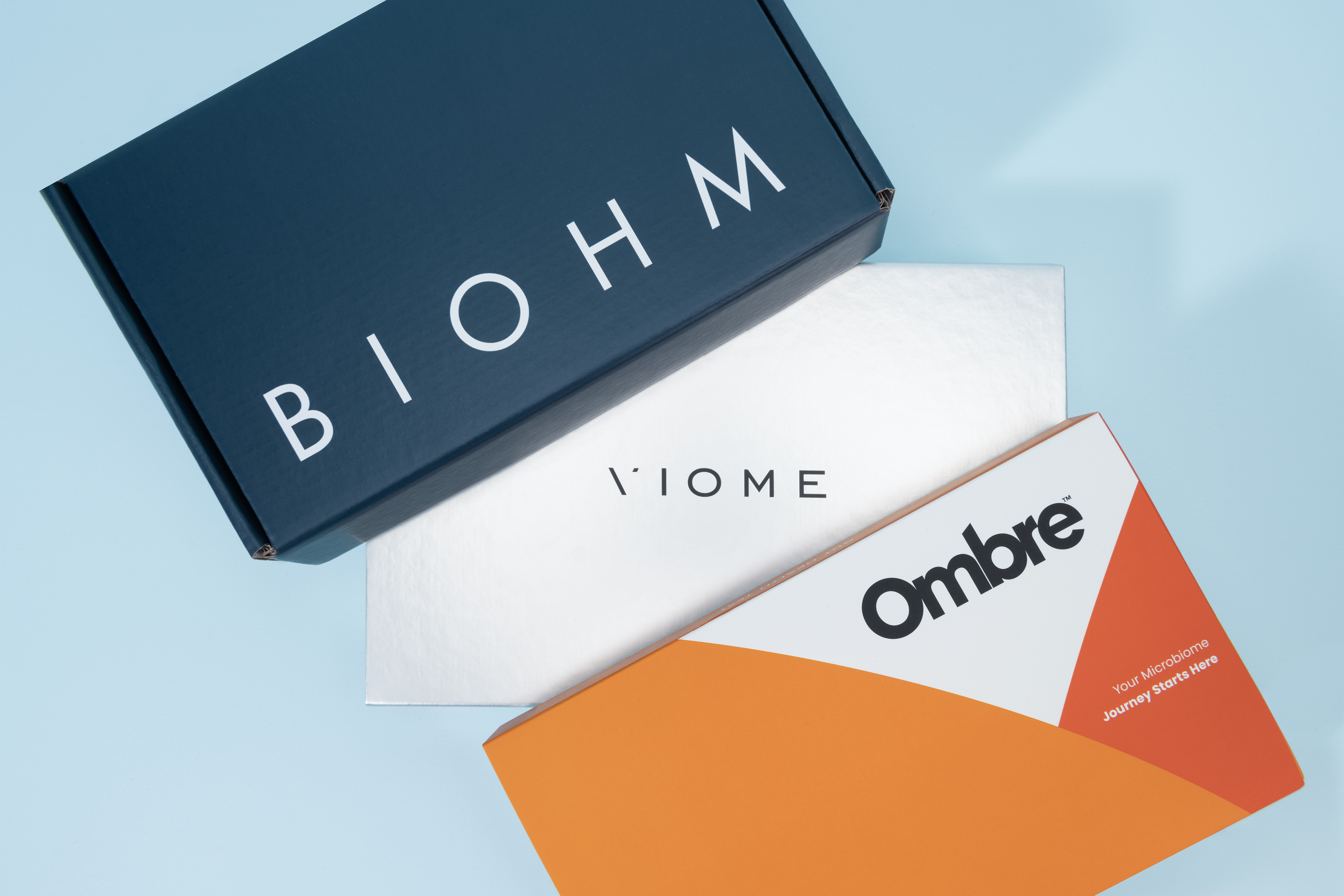 Best Microbiome Test
Looking for the best microbiome kit on the market? Look no further! Our review round-up page has all the information you need to make an informed decision.