Clear aligners are a great way to straighten your teeth. They are discreet and barely visible when worn, which is why they're often referred to as invisible braces.
Currently, companies like ALIGNERCO offer them. It's only a matter of finding the best invisible braces brands that match your budget and goals.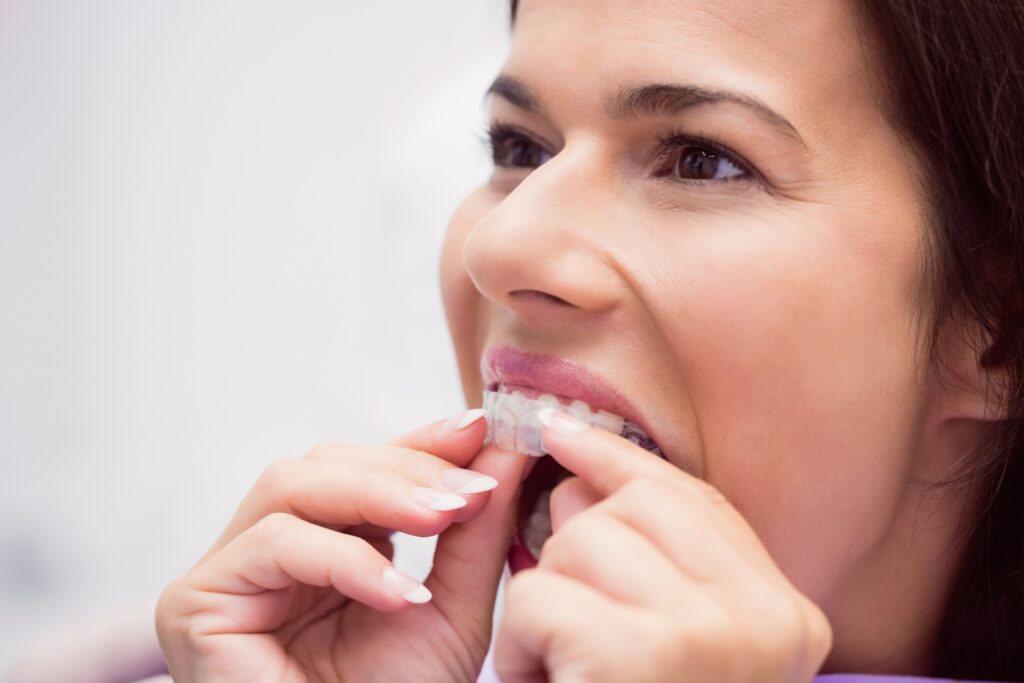 What Are Invisible Braces?
Invisible braces go by many names. They are also called clear aligners, teeth aligners, invisible aligners, and clear braces — just to name a few.
Despite their name, invisible braces are not like traditional metal braces. They do not have wires, metal brackets, or elastic bands that get in the way when you're eating or talking.
Instead, they are made of clear and removable plastic trays that fit snugly into your mouth. In turn, they are more convenient and comfortable for daily wear.
They straighten teeth by moving them in a specific direction.
You can choose from in-office and at-home aligners. While both are essentially the same, their treatment process is slightly different.
In-office aligners
Some dentists and orthodontists offer in-office clear aligners at dental clinics. You have to set up an appointment before you can begin this treatment.
We recommend seeing an orthodontist for your in-office treatment. They specialize in diagnosing and treating misaligned teeth.
While dentists can provide the same treatment, they don't have the expertise and additional training that orthodontists have.
Your doctor will conduct an interview and perform a complete dental assessment to see if you're eligible for treatment. This includes taking x-rays, photos, and impressions of your teeth.
The best in-office clear aligners we recommend are:
Invisalign
ClearCorrect
The dental professional will then design your customized treatment plan. As soon as you approve it, they will have your invisible braces made by your preferred brand.
Custom aligners are sent to your doctor when they're ready. Dentist or orthodontist visits are needed to complete treatment.
This allows them to keep track of your tooth movement and the fit of your aligners. Your doctor decides when it's time to switch to a new aligner.
At-home aligners
At-home aligners are available online and delivered to your door. Unlike in-office aligners, this process requires minimal supervision from a dental professional.
The best at-home clear aligners we recommend are:
Most at-home aligner brands check your eligibility through online surveys and at-home impressions. You can order an at-home kit and take impressions at home.
Other companies have studios that you can visit for in-person consultations. At the studio, a specialist will take your dental and medical history, along with photos of your teeth.
The aligner company — through its network of doctors, dentists, and orthodontists — will review your dental records to see if you qualify for treatment.
If you do, they will create a personalized treatment plan that is unique to your condition.
After approving your treatment, they will make your custom aligners and send them all at once to your home. You can choose from two types of aligners:
Daytime aligners — worn throughout most of the day
Night aligners — worn in the evening during sleep
You can change aligners on your own every 1-2 weeks or as directed by your treatment plan.
Some aligner brands like SmileDirectClub and NewSmile have downloadable apps. You can use them to track your progress, contact customer service, and get reminders to switch aligners.
How Do Invisible Braces Work?
The teeth straightening process involves several clear aligners. Each tray is designed to shift teeth gradually into place. You have to wear invisible braces and change aligners every few weeks to straighten your teeth.
Treatment time can take 3 to 18 months if you use in-office aligners and 3 to 12 months with at-home clear aligners. It depends on the brand of your teeth aligners, the severity of your dental condition, and the type of treatment.
Invisible braces can move your front teeth or your full arch.
Social 6 Treatment
The Social 6 are the six most visible teeth on your upper or lower arch. Sometimes, it can mean both and total to 12 teeth — known as the Social 12.
Social 6 braces move your "social" teeth. They're a quick and effective way to fix cosmetic issues such as crooked teeth.
However, social 6 treatment can ruin your bite. The bite is how your top and bottom teeth come together when the jaw is closed. The front teeth may also slide back into their previous position.
Full Arch Treatment
The full arch refers to teeth on your upper and lower jaw. It includes your front teeth, side teeth (cuspids and premolars), and molars.
A full arch treatment can perform complex tooth movements and adjust all of your teeth. It works in the same way as traditional braces.
This orthodontic treatment not only gives you straight teeth. It also corrects bite issues like an overbite, underbite, crossbite, and open bite.
What Can Invisible Aligners Treat?
Invisible braces treat a wide range of dental malocclusions. Malocclusion is a medical term for misaligned or crooked teeth. Signs of malocclusion include crowded teeth (overlapping) and gapped teeth (spacing).
There are three types of malocclusions:
Class 1 malocclusion — normal bite or upper teeth that slightly overlap the bottom teeth
Class 2 malocclusion — overbite or upper teeth that severely overlap the bottom teeth
Class 3 malocclusion — underbite and crossbite or lower teeth that severely overlap the upper teeth
At-home teeth aligners can fix class 1 malocclusion or mild to moderate overlaps and gaps between teeth. However, they may not treat problems with bite.
In-office clear aligners like Invisalign treat severe cases of teeth misalignment, such as class 2 and class 3 malocclusions.
It's best that you see a dentist or orthodontist before you buy invisible aligners online.
Best Invisible Braces for At-Home Teeth Straightening
At-home teeth aligners are more convenient and affordable. Below are the five best invisible braces companies that offer them:
ALIGNERCO — Best Affordable Clear Aligner
Cost: $920 for a one-time purchase of All Day aligners, $1,120 for a one-time purchase of NightOnly aligners; $77-$135 for monthly installments for All Day aligners, $94-$150 for monthly installments of NightOnly
Monthly payment plan: Starts at $85 per month for 12 months with zero down payment
Average treatment time: 8 to 12 months
Why choose ALIGNERCO invisible braces
ALIGNERCO has the cheapest at-home clear aligners. They also have the most flexible payment plans.
They give you the option to pay monthly for up to 12 months. And you can decide whether or not you will make a down payment.
They have a longer treatment time than most of their competitors, which lessens the risk that you will encounter problems when wearing clear aligners.
ALIGNERCO's shortest average treatment time is 8 months. According to studies, the fastest you can safely straighten teeth is 6 months.1 
Moving teeth too fast with invisible braces poses risks to your dental health. It can damage your teeth, gums, and surrounding bone tissue.
Fast tooth movement can also cause bite problems.2
ALIGNERCO Pros
Kit includes free teeth whitening, chewies, and post-treatment retainers
Accepts health insurance coverage
Provides refunds for impression kit if you do not qualify for treatment
ALIGNERCO Cons
Can only treat mild to moderately crooked teeth
Nighttime clear aligners are not proven safe and effective
Only has one (1) physical location in New York
Does not have a smartphone app
No in-depth remote monitoring
Customer service can be difficult to reach
NewSmile — Best Clear Aligner for Cheap Monthly Payments
Cost: $1,595
Monthly payment plan: Starts at $58 per month for 36 months
Average treatment time: 4 to 6 months
Why choose NewSmile invisible braces
NewSmile's teeth aligners cost a bit more than ALIGNERCO. But if you want cheaper monthly payments with no down payment, they are your best choice.
Their invisible braces cost $58 per month for daytime treatment. The nighttime invisible aligners cost $61 per month. Compared to other brands, it's one of the most budget-friendly options.
Other companies merely provide printed instructions with their impression kit. Meanwhile, NewSmile is also the only company that can guide you through the impression process..
When you buy their at-home impression kit, you get a free one-on-one video call with an Impression Specialist. They'll teach you how to use your impression kit so you can take accurate molds of your teeth.
NewSmile has the most comfortable invisible braces with a "scalloped" design. This shape allows them to sit comfortably along your gum line.
They also have an app that lets you track your progress and monitor your treatment. You can also get in touch with their customer support with this platform.
NewSmile Pros
Kit includes free teeth whitening, chewies, and after-treatment retainers
BPA-free and latex-free teeth aligners
Gives refunds for impression kit if you are not a good candidate
NewSmile Cons
Only treats mild to moderate teeth misalignment
Does not straighten the full arch
No physical locations for in-person consultations
Has nighttime aligners, which are not proven safe and effective
The smartphone app does not provide in-depth remote monitoring
New company with limited reviews
Byte — Fastest At-Home Teeth Straightening
Cost: $1,999 to $2,399
Monthly payment plan: Starts at $70 per month for 36 months with up to $249 down payment
Average treatment time: 3 to 6 months
Why choose Byte invisible braces
If you have mildly crooked teeth, Byte's clear aligners can do quick cosmetic fixes.
The company is best known for its fast treatment time. Byte's teeth straightening kit includes the HyperByte® device, which sends high-frequency vibrations (HFV) to promote movement.
Byte claims that when used for 5 to 10 minutes while wearing clear aligners, it can reduce your discomfort and cut treatment time by half.3
Does HyperByte really work? No one knows for sure. While there's some evidence that high-frequency acceleration (HFA) works, most studies show they have no effect on the length of treatment or the discomfort felt by patients.4,5
Also, keep in mind that fast treatments are not necessarily safer or more effective. This is especially true for Byte aligners which move your "social teeth" in as little as 4 months.
Moving teeth too fast and aligning the front teeth without moving the full arch both increase the risk for ineffective treatment. They can ruin your bite and lead to short-term results.
Our final verdict on Byte: We think it's a good option if you need a quick solution for mild misalignment on your social 6 or social 12 teeth. Otherwise, there are safer invisible braces on our list with longer treatment times.
Byte Pros
Offers flexible payment methods with 100% approval
Kit includes free teeth whitening and after-treatment retainers
Excellent customer service
Byte Cons
Payment plans require a down payment
Only treats mild to moderately crooked teeth
No studios for in-person scans
Treatment results may not last
Does not straighten the full arch
No refunds for invisible aligners
Byte treatment might move your teeth too fast and pose risks
HFV technology which isn't scientifically proven to work
Does not have a smartphone app
SmileDirectClub — Most Accessible for In-Person Scans
Cost: $2,050
Monthly payment plan: Starts at $89 per month for 26 months with up to $250 down payment
Average treatment time: 4 to 6 months
Why choose SmileDirectClub invisible braces
SmileDirectClub is the only brand that gives you time to adjust to your teeth aligners. Their proprietary Comfort Sense™ technology starts you off with soft plastic aligners and gradually shifts you to firm aligners.6
They are more accessible than other companies since they have the most physical locations in the United States You can visit one of their 50 Smile Shops for an in-person scan, to check if you're eligible for at-home teeth straightening.
You can book your appointment online. And if you show up for your scheduled visit, you get a free Bright On™ light and teeth whitening pen.
SmileDirectClub Pros
Allows flexible payments with 100% approval
Smile Shops provide free teeth whitening
Excellent customer service
The mobile app tracks your progress and reminds you to change aligners
SmileDirectClub Guarantee has a 30-day refund policy if you're not satisfied
SmileDirectClub Cons
Most expensive at-home invisible braces
Payment plans require a down payment
Only fixes mild to moderate cases of teeth misalignment
Customer service is not that responsive
Teeth whitening and post-treatment retainers are not included in the kit
Does not issue refunds for clear teeth aligners
Best In-Office Clear Aligners for Straighter Teeth
In-office treatments are more reliable options for teeth straightening. Unlike at-home teeth straightening, a dentist or orthodontist supervises your treatment process.
Below are the best teeth aligners offered in some dental offices:
Invisalign — Most Trusted Invisible Braces
Cost: $3,400 to $87,100
Monthly payment plan: Starts at $50 per month for 36 months with $250 down payment
Average treatment time: 12 to 18 months
Why choose Invisalign treatment
Invisalign® is the most well-known brand of teeth aligners. They use a proprietary material called SmartTrack® which ensures better-fitting clear aligners and more accurate tooth movement.7
The company provides different treatments based on how mild or severe your condition is. The length of treatment and number of invisible braces varies per individual:
Invisalign Express — includes up to 10 aligners for minor spacing and crowded teeth
Invisalign Lite — includes up to 14 teeth aligners that treat mild malocclusion
Invisalign Full — provides unlimited clear aligners for mild to severe malocclusion
Does Invisalign work? It does. But is it worth the money? It depends on your condition.
Studies show that Invisalign corrects mild to moderate dental occlusions in non-extraction patients. These are cases of misalignment where patients are not required to remove certain teeth for treatment.8
Invisalign has also been shown to move, align, and derotate teeth effectively.8 Derotation is the process of placing an abnormally rotated tooth into normal alignment.
That being said, its results are not as predictable for cuspids and premolars, which are the teeth located between your front teeth and molars.
Researchers also found that Invisalign has limits in expanding the arch and correcting bite problems and severe malocclusions.8
A systematic review of Invisalign further reveals that although accurate and effective, it still cannot produce the same results as fixed appliances like traditional dental braces.9 
However, a study published in 2020 suggests that the accuracy of Invisalign has improved.10 Invisalign also continues to enhance its system.
The aligner company now offers SmartForce® attachments, which make orthodontic tooth movements possible even without metal braces.11
We still think it's the best invisible braces for in-office teeth straightening. But before you consider Invisalign, a dental professional should assess your teeth and make sure you're qualified for treatment.
Invisalign Pros
Accepts dental insurance
Can treat some cases of severe misalignment
In-office visits better ensure a safe and effective treatment process
More convenient and more comfortable than traditional metal braces
Invisalign Cons
Most expensive aligner treatment
Payment plans require a down payment
Invisalign attachments are not discreet
Long treatment time that takes up to 18 months
Not as effective as traditional braces
ClearCorrect — Most Affordable In-Office Clear Braces
Cost: $2,500 to $5,500
Monthly payment plan: None
Average treatment time: 8 to 14 months
Why choose ClearCorrect invisible braces
ClearCorrect is a more affordable alternative to Invisalign. But you may have to see a dentist or orthodontist for an estimate of your treatment cost.
The total cost of treatment can vary depending on your treatment plan:
ClearCorrect Flex — you receive one aligner at a time
ClearCorrect Limited 6 — includes 6 invisible braces for minor teeth misalignment
ClearCorrect Limited 12 — includes 12 aligners for mild to moderate misalignment
ClearCorrect Unlimited — provides unlimited aligners until the issue is fully corrected
If we compare Invisalign vs. ClearCorrect, the latter has more comfortable and more discreet invisible aligners due to their thinner thermoplastic material.
Unfortunately, this may mean that ClearCorrect is less effective. The material used by Invisalign is meant to improve results.
ClearCorrect Pros
Treats mild to severe cases of teeth misalignment
In-office visits better ensure a safe and effective treatment process
More convenient than traditional metal braces
Aligners are more comfortable and more discreet than Invisalign
ClearCorrect Cons
Limited plans; pay per aligner or a flat rate per set of aligners
There are no clinical studies that prove it is safe and effective
How to Choose the Best Teeth Aligners
You have to consider these factors when choosing a clear aligner:
Budget — if you can pay one-time or monthly or per aligner or per set of aligners
Lifestyle — how you spend time and if you can see dental professionals or not
Preferences — whether you value convenience or dental supervision more
However, your biggest consideration should be based on your dental condition. Remember to see a dentist who can assess your oral health.
They can check for problems that may prevent you from safely using aligners. If you have dental caries or gum disease, a dentist can take care of them before you undergo treatment.
You also have to consult a licensed orthodontist. They can check your teeth for malocclusions and bite issues and determine how mild or severe they are.
Based on this assessment, your orthodontist will help you decide on your treatment options.