Calories. Nearly everything we eat and drink has them. Despite common belief, they're not necessarily bad. In fact, our bodies need them for energy.
However, consistently consuming more calories than our body needs can lead to weight gain.
While several factors affect your ability to lose weight, reaching a calorie deficit is one of the most important aspects.
Here, we talk about the best apps for calorie counting.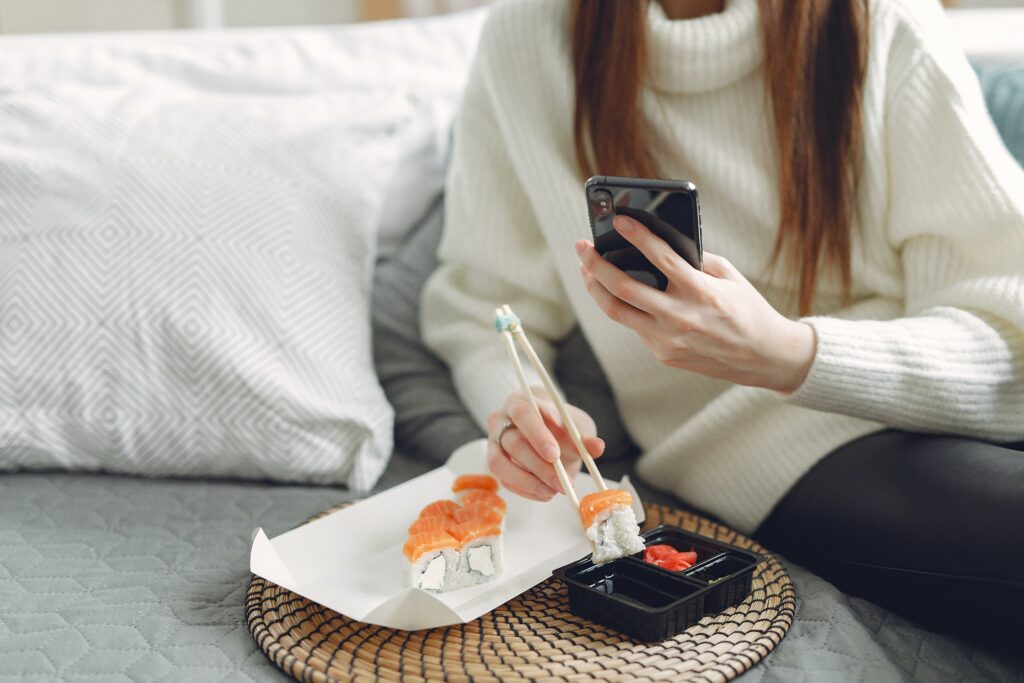 Counting Calories to Lose Weight
Foods and beverages have a certain amount of calories per serving.
For example, a can of soda contains an average of 150 calories. Meanwhile, a cup of chopped cabbage only has 22 calories.
You can achieve weight loss by being mindful of your calorie intake. Ideally, you should consume fewer calories than you burn to lose weight.
In theory, a calorie deficiency encourages your body to use stored fats for energy. One way to know if you're in a calorie deficiency is to count the calories you consume each day.
Meet the Expert
Elise Harlow is a registered dietitian with a Master of Science in Nutritional Sciences. She is the founder of an online nutrition consulting and coaching business.
Elise helps people use the power of food to lead healthier lives. She works with various clients, including those who want to achieve a healthier weight, improve their gut health, lower cholesterol, manage their blood sugar, or balance their hormones.
5 Best Calorie Counting Apps for Weight Loss
When you count calories, you consider the total amount you consume daily. A simple food diary can help you track calories from your food intake.
However, you will need to manually search each item to see how many calories they contain.
Online tools like FoodData Central make things easier. But the process of having to find foods and record their calories is still time-consuming.
A calorie counter is a more practical solution because it:
It gives you access to a food database
Assigns your daily calorie budget
It has a food-tracking feature
Monitors the calories you consume
Calculates your total caloric intake
According to Elise Harlow, a registered dietitian, many calorie tracking apps will give you a recommended amount of calories to consume each day.
This isn't always the best or safest suggestion.
"I have seen these apps underestimate calories on several occasions. Instead, I recommend working with a dietitian to help determine your daily calorie needs," says Harlow.
Of course, there are other ways to lose weight without counting calories. But in this review, I'll talk about the best calorie-counting apps if you want to take that route.
These are apps I personally tried out and tested.
Lose It! — Best Calorie Counting App for Weight Loss
Free with in-app purchases, includes a free 7-day trial
Cost: $39.99 per year or $189.99 for a lifetime subscription
Recommended for: Beginners who want to lose weight
Lose It! has everything you need in a calorie counter app. You can log foods and different types of physical activity. It also tracks the calories you eat and burn daily.
In addition to these features, Calorie Counter by Lose It! allows you to set other goals, like recording and tracking health markers such as:
Nutrition
Sleep
Body measurements
Blood glucose
Blood pressure
You can connect it to other health apps like Apple Health and Google Fit or devices like Fitbit trackers.
Plus, if you've taken a DNA test kit, you can upload your raw DNA on the app for more insights into your health. (Here's a list of the best DNA tests we recommend.)
[Download for iOS] [Download for Android]
What I Like About Lose It!
Beginner-friendly calorie counting app with simple goals.
Determines your calorie limit based on your body measurements.
Provides a customized diet plan. You can distribute your calories equally throughout the week or eat more during weekends.
Set your goal date for reaching your ideal weight. The app lets you know if your weight loss goal is easily achievable or not.
You can log food and exercise from their database or manually record them. Each food is accompanied by nutritional information.
Syncs with fitness devices and apps like Fitbit, Garmin, and Google Fit for automatic exercise logging.
Gives a quick preview of your daily calorie spending, including the calories burned through exercise.
Helps you monitor other health indicators (e.g., cholesterol intake).
Provides additional insights on your eating and exercise habits.
Upload your raw DNA data for DNA-powered food suggestions and goals. You can also gain insights on weight loss, food sensitivities, and tastes.
Instant access to an online community. You can join groups, add friends, and interact with other users directly on the app.
What I Don't Like About Lose It!
The nutrition information for each food is only helpful if you know how they affect your health.
It doesn't have recipes for healthy eating. You have to make your own.
It has too many reports that can overwhelm beginners at first.
MyNetDiary — Best Free Calorie Counter App
Free with in-app purchases, includes a free 7-day trial
Cost: $8.99 per month or $59.99 per year
Recommended for: Beginners and experienced dieters who want to lose weight
MyNetDiary gives you better control of your diet than most calorie-counting apps. It offers pre-planned weight loss diets which you can choose from, such as:
Calorie counting diet
High-protein diet
Keto diet
Low-carb diet
Low-fat diet
Macronutrient diet
Mediterranean diet
Vegetarian diet
Vegan diet
Not only does it count the calories in food. It also measures the calories you spend on major macronutrients, such as carbohydrates, proteins, and fats.
Premium members can also follow a calorie-restricted diet plan. Calorie restriction limits your daily caloric intake to a set number of calories (e.g., a 1,200-calorie diet)
The free version has a weight chart that shows your weight loss progress. You can see how your body weight has responded to past diets and exercise.
Meanwhile, the premium membership gives you access to 9 more chart types, including nutrients, calories, and body measurement charts.
[Download for iOS] [Download for Android]
What I Like About MyNetDiary
Calculates your daily caloric budget and weight loss plan using your measurements and ideal weight.
You can search their database for foods and exercise or record them manually. You can also use their barcode scanner to find and log any packaged foods.
Easily track the calories you consume and have left for the day.
Walking and exercise extend your calorie limit so that you can eat more.
Provides a daily, weekly, and nutritional analysis of your food and meals.
A simple and beginner-friendly layout shows your calorie intake for each meal and all macronutrients.
Customize your weekly calorie limit so you can eat more or less on certain days.
Create your own macronutrient diet or select a pre-designed plan. For example, you can portion your calories to 50% carbs, 15% proteins, and 35% fats.
If you have special dietary needs, you can set personal limits on how many saturated fats, trans fats, sodium, fiber, and calcium you can eat every day.
Plan your meals with its massive database of recipe ideas.
Syncs with fitness apps and devices like Fitbit, Garmin, Google Fit, Samsung Health, and Withings.
Tracks blood glucose, medications, and other health conditions.
Premium members get access to comprehensive reports, recipes, and calorie-restricted diets by registered dietitians.
What I Don't Like About MyNetDiary
An annual subscription is a bit pricey compared to other calorie counter apps.
It doesn't create your calorie limit and weight plan from the get-go. You have to do this yourself after logging your first meal.
Health articles are not accessible on the app. You have to visit their blog.
Doesn't offer community-based support.
Nutritionix Track — Best Simple Calorie Counting App
Free with in-app purchases
Cost: $5.99 per month or $29 per year
Recommended for: Beginners and experienced dieters who want to lose weight
Nutritionix is a no-nonsense food diary and calorie counter. Simply log your food and exercise, and it breaks down your calories for additional insights.
Their food database covers 95% of grocery items in the US and Canada and more than 760 US restaurant chain menus.
[Download for iOS] [Download for Android]
What I Like About Nutritionix
See your total calories. This includes the calories you eat and burn and your remaining calories for that day.
Get an overview of the calories you consume with each meal.
Breaks down your daily calorie intake for proteins, carbohydrates, and fats.
Extensive food database with the option to manually add foods.
Provides tips on different diets, including Atkins and Keto.
What I Don't Like About Nutritionix
Doesn't calculate your daily caloric budget and weight loss goals. You have to figure these out yourself, which isn't exactly beginner-friendly.
There's no exercise database. When you log physical activity, the app automatically calculates the calories you burn based on the time spent.
Cronometer — Best Calorie Counter for Healthy Weight
Free with ads and in-app purchases
Cost: $8.99 per month or $49.99 per year
Recommended for: Beginners and experienced dieters with different weight goals
Cronometer can help you with different weight goals. Whether you're trying to lose, maintain, or gain weight — it adjusts your calorie limit accordingly.
Many health professionals choose Cronometer to manage their patients' weight.
Since its launch, it's been featured on Women's Health, Good Housekeeping, Life Hacker, CNET, Men's Health, Men's Journal, and many more.
The calorie-counting app helps you develop healthy habits. It encourages you to pay attention to your diet as a whole rather than just counting calories.
Cronometer is unique because it provides calorie adjustments for pregnant women and nursing moms. However, you should still see a doctor before starting the diet.
[Download for iOS] [Download for Android]
What I Like About Cronometer
It lets you decide if you want to lose, maintain, or gain body weight. You can also set your weekly weight goal (e.g., lose 1 pound every week).
Calculates your daily caloric budget and macronutrient targets based on your measurements and goals.
Shows the total calories you consume and how much of it goes to each macronutrient (e.g., protein, carbohydrates, and fat).
See how many calories you burn through exercise and physical activity.
Set daily targets. For instance, you can limit your intake of alcohol and caffeine.
Your daily report reveals deeper insights into your nutrition. These include the list of vitamins and minerals you get out of food.
The Oracle suggests healthy food choices for specific nutrients.
Reveals your dietary trends. It helps you identify unhealthy eating patterns.
Premium features are available for dietitians, nutritionists, and health coaches.
Tip: You should take a micronutrient test to find out if you have nutrient deficiencies.
What I Don't Like About Cronometer
The free version includes ads.
No healthy recipes. You have to add your own or import recipes from websites.
Doesn't provide health tips or community support.
MyFitnessPal — Best Calorie Tracker App to Stay Fit
Free with in-app purchases, includes a free 30-day trial
Cost: $9.99 per month or $49.99 per year
Recommended for: Beginners and experienced dieters who want to be healthy
MyFitnessPal is one of the best calorie tracker apps for overall health. Unlike others on our list, it helps you make healthier lifestyle changes to reach your goals. It also has a stronger focus on fitness.
[Download for iOS] [Download for Android]
What I Like About MyFitnessPal
Ideal for beginners and experienced dieters.
You can use it to lose, gain, or maintain a healthy weight.
Besides your target weight goals, you can choose three more health goals — changing your diet, managing stress, or increasing steps.
The app sets your daily caloric limit and weekly weight goals based on your measurements. But you can also customize them to your liking.
Easily view how many calories you consume and burn each day.
If you're serious about your calorie restriction, you can set a calorie budget for every meal to stay on track.
Choose from pre-designed meal plans, workout plans, and nutrition plans to quickly achieve your health goals.
Build your meal plans and exercise routines for cardio and strength.
Syncs with fitness devices and apps like Runtastic and Samsung Health for instant activity logs.
Get health tips and healthy recipes.
What I Don't Like About MyFitnessPal
If you want to change your eating habits, you need to have a clear idea of your goals (e.g., track macronutrients, eat less sugar, or switch to a vegan diet).
Logging food and exercise often get confusing. Too many entries can appear if you search for an item.
It's difficult to connect with people. You can create posts and polls. But you can't add users as friends or send messages to them from the Community feed.
Lose Weight Without Counting Calories
Exercise and a healthy diet can decrease your calories without counting. You can also try weight loss programs that help with both.
One such program is Noom, which helps you make healthier food choices. It encourages you to eat more "green" foods. Green foods are typically foods with a low-calorie density as they contain few calories.
Many of these foods (especially fruits and vegetables) can make you feel full and keep you satiated for periods. You can eat them in large quantities without worrying about your calorie intake.
Since they're also rich in nutrients, they can boost your health while helping you lose weight. You can read our full review of Noom here.