Do you often feel tired? Are you always hungry or craving for certain foods? Maybe you've been gaining weight or you feel more stressed than usual.
If you want to know what's going on with your body, your gut is a great place to start.
Why? Because poor gut health doesn't just cause digestive issues, like diarrhea, bloating, or gas. It also triggers a range of physical and mental symptoms.
Research shows that when your gut is imbalanced, it can lead to:
Poor quality sleep1
Anxiety and depression2
Increased stress levels3
Mental and physical fatigue4
Weight gain and obesity5
Clostridium difficile infection5
Increased appetite6
Unhealthy food cravings6
Type 2 diabetes7
Asthma and allergies8
Autoimmune diseases8
Malnutrition9
A gut test can look into your unique microbiome and check for imbalanced gut bacteria. It can tell you which specific imbalances are affecting your health.
You get to understand what's causing your symptoms and what you can do about them. To help you get started, we picked out the best gut microbiome tests you can choose from.
What Can A Gut Health Test Tell You?
Too much bad bacteria and too little good bacteria may be harmful to your body.
Microbiome testing can help you find out if you have an imbalanced gut flora. It can tell you which microbes you lack and which ones you need to keep under control.
You will learn more about your:
Microbiome composition or the species of bacteria in your gut
Bacteria levels or the amount of bacteria in your digestive tract
Microbiome diversity or how much there is of different species
Testing companies will score your gut health based on your results. A high score means you have a healthy gut microbiome. Lower scores suggest you have an unhealthy gut.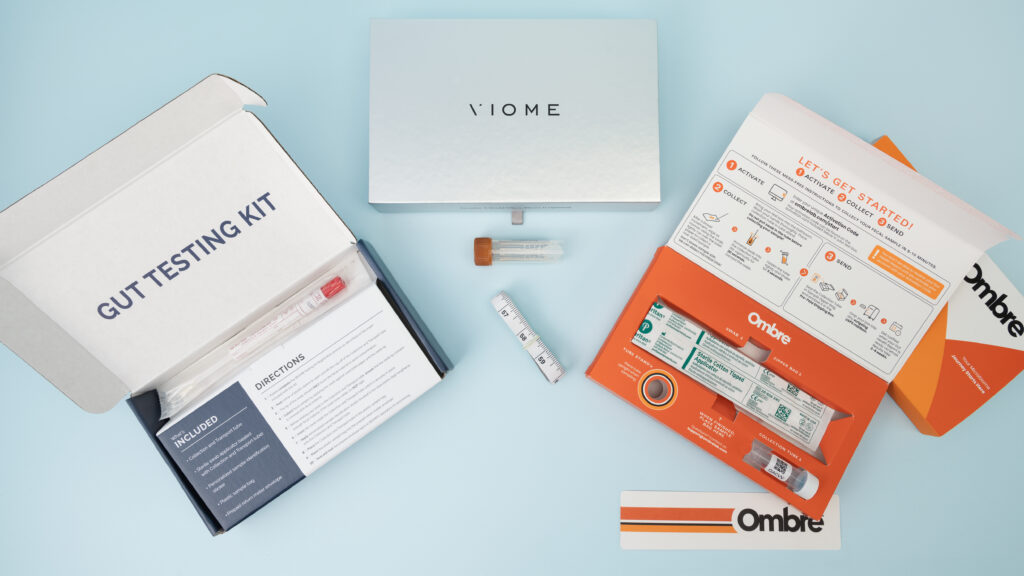 Most testing kits measure your gut bacteria. But there are also tests that check for pathogens that may infect your gut, like fungi, yeasts, parasites, and viruses.
Some gut tests go beyond microbiome testing and assess for:
Common digestive problems such as food intolerances
Chronic gut diseases like colorectal cancer
Ultimately, what you get with your report depends on the test you're taking.
Why Gut Microbiome Testing Is Good For You
A gut health test can provide practical information on your gut bacteria. You can learn more about their potential benefits and negative side effects on your health.
Your gut report may also include actionable insights, such as:
Healthy recipes
Food recommendations
Lifestyle changes
Personalized probiotics
Gut health supplements
You can follow these suggestions to improve your gut health. They promote gut diversity by increasing the beneficial bacteria and decreasing bad ones.
These steps may also reduce signs of poor gut health. If you stick to these healthy habits, eventually you'll start to feel better and healthier overall.
Meet the Expert
Dr. Harshi Dhingra has an M.D. in Pathology.
She is a registered pathologist with over a decade of experience in diagnostic, clinical, research, and teaching work. She manages all aspects of pathology laboratory, including histopathology, cytology, hematology, and clinical pathology.
Currently, Dr. Dhingra works as faculty in a medical school and research center.
How to Take A Gut Microbiome Test
You can test your gut microbiome from home with these five easy steps
Order your gut test

Pick a test that gives you what you want and need. You can order the gut tests we mention in this article online. They should arrive at your door in five days.

Collect your sample

Make sure to follow the instructions on your test kit. Most kits will ask you to submit a stool sample. Tests like Ixcela Internal Fitness require a blood sample.

Submit your sample

Your kit includes a prepaid shipping box that will allow you to send your sample back for testing. It can take a few days or weeks before your sample is analyzed.

Wait for your results

The availability of your test results may vary depending on the company and testing methods used. Usually, you have to wait 2 to 4 weeks.

Get your report

You can view your gut report on the company's website or through a dedicated app that you can download on your phone.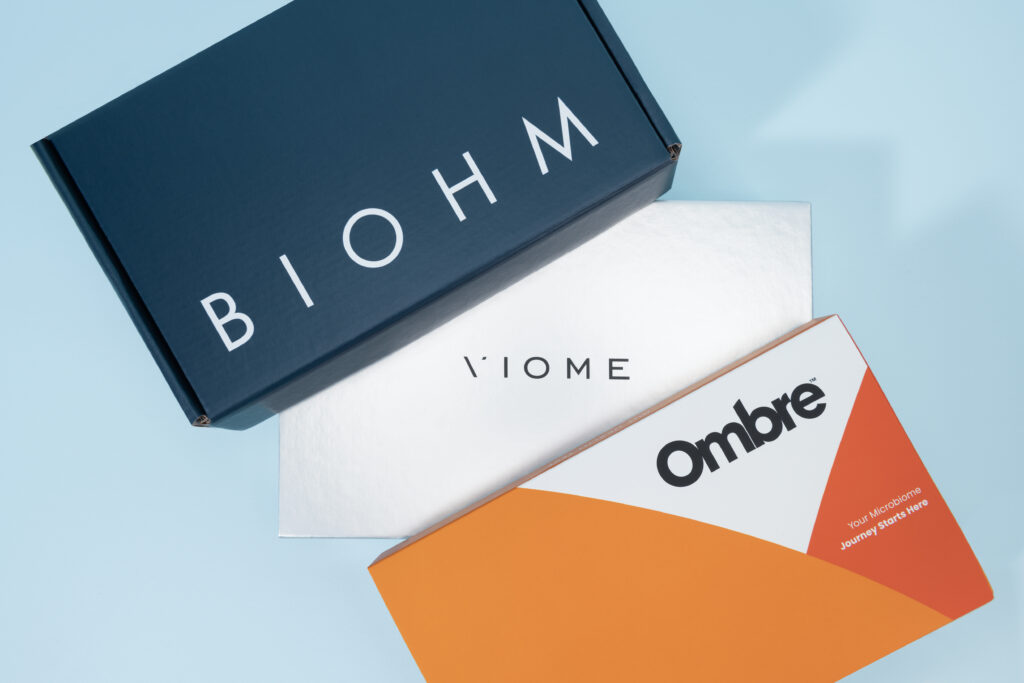 Microbiome testing kits differ from each other in terms of price, use, coverage, and other factors. In this list, we give you the top 7 gut health tests and their key features.
How We Chose The Best
Choosing the best gut health test wasn't easy for us. Our team of testers had to try all of them. From there, we had to decide which ones we liked the most.
We narrowed down our choices using five criteria which we thought mattered most:
Ease of sample collection
Easy to interpret results
Detailed gut report
Actionable insights
Personalized probiotics
With this criteria, we were able to rank our favorite gut testing kits. Here are our top picks:
| | | | | | |
| --- | --- | --- | --- | --- | --- |
| Product | Ease of Sample Collection | Easy to Interpret Results | Detailed Gut Report | Actionable Insight | Personalized Probiotics |
| Viome | ★★★★★ | ★★★★ | ★★★★★ | ★★★★★ | ★★★★★ |
| Ombre | ★★★★★ | ★★★★★ | ★★★★★ | ★★★★ | ★★★★ |
| Biohm | ★★★★★ | ★★★★★ | ★★★ | ★★★ | ★★★★★ |
| Verisana | ★★★ | ★★★ | ★★★★★ | ★ | ★ |
| Wellnicity | ★★★ | ★★★★ | ★★★★ | ★★★ | ★★★★★ |
Top 7 Gut Microbiome Test Kits (Picked By a Doctor)
1
Viome Gut Intelligence Test
know your dna recommends
Viome's Gut Intelligence Test analyzes your gut microbiome to assess your digestive health. Your report will include 7 important details on your digestion, including:
Metabolic fitness
Digestive efficiency
Inflammatory activity
Gas production
Gut lining health
Protein fermentation
Microbial diversity
Viome tells you how your diet and lifestyle affect your digestion. It provides steps to improve your digestion, food absorption, gut diversity, and more.
You'll get a 90-day nutrition plan and personalized supplement recommendations with your report. You can follow these steps for a healthier digestion.
Here's a tip: If you want to understand how your microbiome affects your overall health, you can upgrade to the Viome Health Intelligence Test.
| | |
| --- | --- |
| Viome Gut Intelligence Quick Facts | |
| Price | $249 |
| Collection Type | Fecal scoop |
| DNA Testing Method | 16S RNA Sequencing |
Viome Gut Test Pros
Viome's most basic test with over 20+ health scores
Tests your gut for certain strains of bacteria, viruses, parasites, and yeasts
Explore your gut diversity and how they influence your digestive health
Receive a personalized diet plan based on your results
Suggests preformulated supplements that can correct your imbalance
Gives you the option to order custom-made supplements after you receive your results
Supplements contain probiotics, prebiotics, and multivitamins
Access your test results from anywhere using the Viome app for iOS and Android
Chris (our tester) took the Viome test and compared it with Ombre and Biohm.
He says that out of all three tests, Viome was the only one that could test for a wider range of microbes. Here is his full review on Viome.
Viome Gut Test Cons
Test results use scientific jargon that aren't easy to understand (e.g., mitochondrial)
2
Viome Full Body Intelligence Test
upgrade pick
Holiday Deal: Use code KYDNA for $20 off. 
Viome's Full Body Intelligence analyzes your gut bacteria and digestion, so you can better understand your health. Your report will provide insights on your:
Biological age
Gut health
Immune system health
Brain & cognitive health
Heart & metabolic health
Cellular & energy efficiency
Inflammation response
You'll receive over 400 food recommendations and suggestions on supplements and probiotics based on your microbiome's health.
| | |
| --- | --- |
| Viome Health Intelligence Quick Facts | |
| Price | $299 |
| Collection Type | Fecal scoop + Blood + Saliva |
| DNA Testing Method | 16S RNA Sequencing |
Viome Full Body Test Pros
Viome's most comprehensive test with over 50+ health scores
Tests for bacteria, viruses, parasites, and yeasts inside your gut
Find out how your gut microbial diversity influences your overall health
Receive personalized food recommendations based on your report
Offers preformulated supplements that can correct your gut imbalance
Lets you order customized supplements after receiving your results
Has complete supplements with probiotics, prebiotics, and multivitamins
Viome app allows you to access your report from anywhere
Viome Full Body Test Cons
Test results use scientific jargon that aren't easy to understand (e.g., mitochondrial)
Sample collection method is mildly invasive and requires a blood sample
Holiday Deal: Use code KYDNA for $20 off. 
3
Ombre Gut Health Test (formerly Thryve)
budget option
Extended Cyber Monday: $20 off
The Ombre Gut Test checks your stool sample for gut bacteria that affect your:
Energy levels
Immunity
Mental health
It also scores your gut health so you'll know how it's doing. You'll learn which species of bacteria you need to work on and keep under control.
| | |
| --- | --- |
| Ombre Quick Facts | |
| Price | $84.99 to $119.99 |
| Collection Type | Fecal swab |
| DNA Testing Method | 16S RNA sequencing |
Ombre Gut Health Pros
"Ombre provides food recommendations and probiotic supplements. Both play an important role in your gut microbiome and overall health." Harshi Dhingra, M.D.
Proprietary stool sample collection method that's 28% more accurate than competitors
Uses 16S RNA sequencing (the same test used in laboratories)
Identifies up to 10,000 species of gut bacteria
Learn about your unique microbiome and how they affect your health
Get custom food recommendations and healthy recipes to promote gut health
Offers personalized probiotics based on your test results
Probiotic supplements target specific health concerns (e.g., low energy)
Provides information backed by over 36,000 studies on microbiome research
Currently the most affordable gut test on the market
New: Ombre's Gut Health Program includes gut test and 1 month supply of Rise Prebiotic
Our tester (Joel) took the Ombre test and was told he had great gut health diversity. His report mentions he would benefit from eating artichokes and apricots.
"I received many health recommendations with my results. They're all very helpful and easy to follow," he adds. You can read more about it here.
Ombre Gut Health Cons
Ombre doesn't check for fungi and parasites that inhabit the gut
Lacks a dedicated mobile app for Android and iOS users
Extended Cyber Monday: $20 off
4
Biohm Health Gut Test
The Biohm Gut Test focuses on your gut and digestive health. It tells you which bacteria and fungi thrive in your gut, and finds major imbalances.
Your report will include these actionable steps to help correct your imbalance:
Dietary recommendations
Lifestyle changes
Personalized supplements
If you want an affordable gut test that improves your digestion, Biohm is a good choice.
| | |
| --- | --- |
| Biohm Quick Facts | |
| Price | $129.99 |
| Collection Type | Fecal swab |
| DNA Testing Method | 16S RNA Sequencing |
Biohm Health Pros
Get an overall gut score for your microbiome diversity
Compares your gut microbiome to the average healthy person
Personalized suggestions that cover diet, lifestyle, and supplements
Discover foods that you should eat and avoid for a healthy gut
Learn how your gut health compares to the average person
Has the widest range of gut health supplements, including kid-friendly options
For an added fee, you can get a 30-minute phone consultation for your gut report
Offers a 3-month wellness program with the guidance of a Biohm nutritionist
Less expensive than most competitors
Our tester (Chris) tried Biohm's gut testing. He says it isn't as complete as Ombre or Viome.
But if you wanted a simple test or more gut supplements to choose from, he thinks that Biohm is still worth its price. You can find more information here.
Biohm Health Cons
Unless you're on a wellness program, your gut report may include generic advice
Phone consultations and Biohm Wellness Programs can get pricey
5
Verisana Laboratories Leaky Gut Test
USE CODE "knowyourdna" FOR 5% OFF
The Verisana Leaky Gut Test can help you find out if you have a leaky gut.
If you show signs like headaches, chronic diarrhea, and difficulty concentrating, you may want to take this leaky gut test at home.
Verisana Laboratories also test for candida, mold, and gut microbiome imbalance. While waiting for your test, you can try eating foods that reduce leaky gut symptoms.
| | |
| --- | --- |
| Verisana Lab Quick Facts | |
| Price | $249.95 |
| Collection Type | Fecal scoop |
| DNA Testing Method | Unknown |
Verisana Lab Pros
"Verisana is a good option for people with special gut health needs," says Dr. Dhingra.
Measures Zonulin and IgA antibodies to check your gut lining health
Results show if you have high, low, or healthy levels of gut bacteria, yeasts, pH, and more
Tests for candida (yeast), mold (fungi), and other potentially harmful pathogens
Can help determine if you have have a leaky gut syndrome
You can discuss your results with a gastrointestinal (GI) doctor
Verisana Lab Cons
Does not provide actionable insights that promote gut microbiome health
More expensive than most at-home gut tests
6
Wellnicity Gut Health Test Kit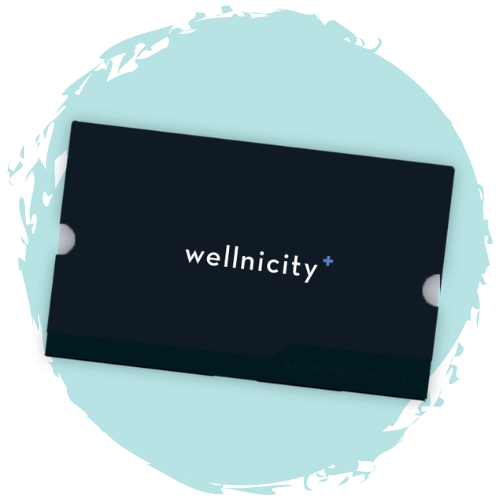 Wellnicity's At-Home Gut Health tests for various gut-related conditions, including:
Amebiasis
Colon cancer
Food poisoning
Gastroenteritis
Giardiasis
Gluten intolerance
Gut inflammation
Irritable bowel syndrome (IBS)
Leaky gut syndrome
Pancreatic insufficiency
Parasitic infection
Polyps
Rectal cancer
Stomach ulcer
If you have digestive issues like diarrhea, flatulence (gas), stomach pain, and leaky gut — Wellnicity can narrow down their possible causes.
It's a bit more expensive than other at-home health tests for the gut. But because it offers unique insights on your microbiome health, it's well worth the price.
| | |
| --- | --- |
| Wellnicity Quick Facts | |
| Price | About $299 to $350 (estimated) |
| Collection Type | Fecal scoop |
| DNA Testing Method | Unknown |
Wellnicity Gut Test Pros
"If you have persistent digestive problems, I'd recommend the Wellnicity Test. You can use it to find out whether or not you need further testing," says Dr. Dhingra.
Uses testing methods that are backed by science
Combines stool sampling and saliva testing for better accuracy
Top-of-the-line equipment that can identify more than 4,000 microorganisms
Tests for harmful microbes, such as bacteria, yeasts, and parasites
Can also check for antibodies, enzymes, and toxins in the digestive tract
Requires two stool samples to find more parasites and ova than other leading tests
Provides free access to a clinical nutritionist
Get nutritional advice that's tailored to your specific needs
Offers personalized vitamins and supplement suggestions
Learn lifestyle changes that can support your gut microbiome health
More than 12 years of proven results
May help your doctor diagnose your condition
Wellnicity Gut Test Cons
Doesn't test for other food sensitivities besides gluten
More expensive than other microbiome tests
Runs out of stock
7
Ixcela Gut Testing Kit
Ixcela Internal Fitness checks for metabolites that affect your:
Gastrointestinal health
Immune fitness
Emotional balance
Cognitive function
Energy efficiency
But instead of testing microbial DNA, the company analyzes blood samples using a proprietary method and a modified CoulArray® equipment.
The at-home wellness test also provides actionable insights that improve your gut bacteria and overall health. Unlike other gut health companies, Ixcela offers a custom workout plan.
| | |
| --- | --- |
| Ixcela Quick Facts | |
| Price | $269 |
| Collection Type | Pinprick |
| DNA Testing Method | None |
Ixcela Wellness Test Pros
No need to submit a stool sample — the test analyzes your blood
Easy-to-read results and health scores
Discuss your test results with a registered dietitian
Offers detailed suggestions on foods, supplements, and other lifestyle changes
Access a 90-day macronutrient diet and workout plan personalized to your health needs
Gives you the option to work directly with a dietitian for 90 days
Receive a free 30-day trial of Ixcela's gut-healthy recipes
Ixcela Wellness Test Cons
Wellness programs can get expensive
Mildly invasive sample collection (pinprick test)
Does not test for DNA
May not be as accurate as other at-home microbiome tests
How to Pick the Best At Home Microbiome Test
If you're struggling to pick the best gut test, pay attention to what your body tells you. Gut health tests reveal different things about your microbiome, digestion, and overall health.
You should choose a microbiome test that fits your needs:
Ombre and Ixcela can reveal connections between your gut and health
Biohm can test for imbalances in your gut microbiome
Verisana Lab can help you find out if you have a leaky gut
Viome and Wellnicity can uncover the reasons behind your digestive symptoms
What to Look For in a Microbiome Testing Kit
Here are other things to consider when choosing the best microbiome test:
The initial cost of the gut test
What you get with your microbiome test results
Additional costs (e.g., custom supplements and diet plans)
Customer reviews and feedback
How it can enhance your gut flora and health
When you think about the cost, you have to factor in your budget and what the test has to offer for its price. Pick one that meets your needs and gives you value for your money.
If you have chronic fatigue, you may find tests like Ombre more reasonably priced since they can help you understand why you feel tired.
But if you have digestive issues and want to know what's causing them, a Viome or Wellnicity test would be more cost-effective despite their higher price.
Are At-Home Gut Tests Accurate?
It depends. Some microbiome testing kits are more accurate than others.
Gut companies with Clinical Laboratory Improvement Amendments (CLIA) approved laboratories provide better accuracy.10 It ensures they follow federal standards for testing.
You may want to look for tests that use 16S RNA sequencing. Research shows this method is "sufficiently accurate" for identifying different strains and species of gut bacteria.11
Tests that support their results with microbiome research are also more reliable.
For better accuracy, some doctors recommend taking several tests. You can compare your results to get a more complete picture of your gut health.
What is the Gut and What Does It Do?
The gut is made up of your entire gastrointestinal tract, which covers your stomach and intestines. It begins at the mouth and ends at your anus or rectum.
Its main role is to process food. This includes breaking down food into simple compounds.
Digestion makes it easy to absorb nutrients from food. The trillions of bacteria in your gut help with the process. Collectively, they are known as your gut flora or gut microbiome.
Your gut and the bacteria that live inside it work together to provide your body with the energy, water, vitamins, and minerals it needs to function.
Anything else that isn't digested is excreted as waste material called stool or feces.
What Makes a Healthy Gut?
Your microbiome includes every living microorganism in your gut's environment. It may include bacteria, yeasts, fungi, viruses, and protozoa (parasites).
A healthy gut flora requires a balance of good and bad bacteria. You also need a diverse microbiome with different species of gut bacteria.
Ideally, you should have more beneficial bacteria and less harmful ones. Too much harmful bacteria or too little good bacteria can lead to dysbiosis or gut imbalance.
Several factors can affect the balance of your gut bacteria, such as:
Nutrition — certain foods influence your gut microflora, for better or for worse
Medications — some drugs and antibiotics can kill healthy gut bacteria
Genetics — studies show that genes can influence your microbiome
Lifestyle — sleep and exercise can increase or decrease gut bacteria
Tobacco and alcohol — consumption has been shown to alter the microbiota
Stress — high stress levels can negatively impact your microbial composition
Age — gut diversity naturally decreases as a person grows older
Exposure to pathogens may also cause gut dysbiosis. This can happen when you eat or drink contaminated food and water.
How Gut Microbiome Affects Your Health
Certain species of gut bacteria are associated with specific health benefits. For example, Lactobacilli acidophilus and L. bulgaricus can help you digest lactose.12
Potentially harmful bacteria may also provide benefits. Bacteroides melaninogenicus and B. fragilis are good examples. They are among the few known strains that produce vitamin K.13
Good and bad gut microbiome both play a role in:
The absorption of nutrients and minerals
Synthesis of enzymes, vitamins, and amino acids
Production of short-chain fatty acids (SCFAs)
Good bacteria also keep bad bacteria in check and prevent them from doing harm to your body. Unfortunately, pathogens may take over and dominate your gut.
When your gut loses balance, its function is affected. This can negatively impact your physical, mental, and emotional health.
How Do You Know There's A Problem With Your Gut?
The easiest way to know is to take a gut test. A microbiome test can show you if there is imbalance. It can tell you which gut bacteria you have too little or too much of.
You can also watch for signs of an unhealthy gut, which may suggest gut imbalance.
Signs & Symptoms of an Unhealthy Gut
Here are signs that you may have a gut problem:
Gas
Bloating
Diarrhea
Constipation
Heartburn
Abdominal pain
Stomach upset
Nausea
Vomiting
Food cravings
Sudden weight changes
Obesity
Difficulty concentrating
Memory problems
Skin issues
Chronic fatigue
Trouble sleeping
Frequent headaches
Mood swings
Food intolerances
Can Poor Gut Health Cause Health Problems?
Many people think that not having digestive symptoms is a sign of good gut health. However, gut bacteria imbalance doesn't always show obvious signs.
Various diseases have been linked to poor gut health, including:
Mental health issues like depression and anxiety2
Autoimmune disorders such as lupus and thyroid disease8
Conditions such type 2 diabetes and heart disease7,14
Keep in mind: There may be other factors causing your symptoms and health problems. Gut testing simply helps you find out if your microbiome has something to do with them.
For instance, people who are obese tend to have higher levels of Firmicutes.15 If your gut test shows an increase in Firmicutes, this might explain your weight gain.
What If I Find A Problem With My Gut's Microbiome?
How you deal with a gut problem should depend on your symptoms. If you have minor digestive issues, dietary and lifestyle changes are usually enough to correct them.
Some people take probiotics and other gut health supplements. Both are considered safe for to consume. However, they might cause side effects on your first few days.
Consider testing your microbiome after making these changes. That way, you can monitor your gut bacteria for changes in diversity and composition.
Sometimes, simple adjustments may not improve your gut microbiome. If you have severe or worsening symptoms, you should see a doctor who can assess your condition.
Taking Care of Your Gut
Your gut environment is dynamic. The amount and types of bacteria that live inside it can change depending on your exposure.
Sometimes, it only takes days for entire populations to shift. At other times, it can take weeks or months before your microbiome changes.
Because of this, keeping your gut healthy requires constant work. Here's what you can do:
How to Balance Your Gut Microbiome
"Your diet is the first step toward achieving optimal gut balance."

Harshi Dhingra, M.D.
Dr. Dhingra recommends eating a healthy and well-balanced diet.
"Stay away from foods that are processed and high in sugar. Instead, you should be eating more whole and unrefined foods rich in fiber, lean protein, and healthy fats," she adds.
She also says you need to maintain a health lifestyle. This includes having enough sleep, getting regular exercise, and reducing your stress.
1. Switch to a high-fiber diet
Foods that contain fibers and indigestible carbohydrates act as natural prebiotics. Prebiotic foods are good for you because they feed the beneficial bacteria in your gut.
As your gut bacteria digests them, they produce short chain fatty acids (SCFA). SCFAs lower your gut's pH and prevent the overgrowth of harmful microbes like C. difficile.16
Some excellent sources of prebiotics are:
Asparagus
Bananas
Dandelion greens
Garlic
Jerusalem artichokes
Leeks
Onions
Seaweed
However, eating more fruits, vegetables, beans, and whole grain foods such as wheats, oats, and barely is generally a good idea.
2. Eat probiotic foods
Probiotic foods contain beneficial microbes. Eating them can be good for your microbiome.
You can get probiotics from fermented foods like:
Kefir
Kimchi
Kombucha
Miso
Pickled vegetables
Sauerkraut
Tempeh
Yogurt
Low-fat fermented dairy products would also make a great addition to your diet. Some examples are buttermilk and yogurt.
According to studies, these foods increase anti-inflammatory bacteria such as Bifidobacterium, Lactobacillus, and Enterococcus.17
They can help prevent and reduce gut inflammation.
3. Stay away from high-sugar foods
Eating too much sugar increases your blood glucose (hyperglycemia) and the intestinal permeability of your gut. Studies show it can lead to dysbiosis.17
This decreases your gut lining immunity and increases your risk for infections.18
Some high-sugar foods you need to keep away from are pastries, desserts, and sweetened beverages (like soda).
4. Limit your intake of artificial sweeteners
Replacing sugars with artificial sweeteners has a few potential benefits.19 Unfortunately, some of them can alter your gut environment and cause harmful bacteria to take over.20
Artificial sweeteners like aspartame, saccharin, and sucralose promote the growth of two pathogens — Enterobacter faecalis and E. coli.21
Instead of relying completely on artificial sweeteners for their health benefits, you can try healthier alternatives to achieve your goals.
For example, if you're trying to control your blood sugar, you can change to a low glycemic index (GI) diet. But if you want to lose weight, you can portion your meals and exercise.
Many foods contain artificial sweeteners, so make sure to read their nutrition labels.
5. Don't eat too much fat
Diets high in saturated fats can reduce your gut diversity. Monounsaturated fats (which are considered healthy) can also decrease your total gut bacteria if you eat too much.22
In general, you want to avoid eating processed and high-fat meats, fried foods, fast food, and foods derived from animals.
You also need to be mindful of your monounsaturated fats, including foods cooked in canola, peanut, or olive oil. Other sources of these fats include:
Avocadoes
Nuts (e.g., almonds and pecans)
Seeds (e.g., pumpkin seeds)
6. Eat oily fish
A diet rich in oily fish has been associated with a higher ratio of Faecalibacterium.
This bacteria produces SCFAs, which help control gut inflammation and maintain the health of your gut lining.17 Some examples of fatty fish are:
Oily fish are high in omega 3 fatty acids, which have anti-inflammatory effects.
7. Add exercise to your routine
Scientists believe that exercise may be a great way to maintain your gut microflora and rebalance an imbalanced gut. Studies show it provides many gut-related benefits.23
For starters, it can improve your Bacteroides to Firmicutes ratio. This can help reduce your weight and risk for gastrointestinal disorders.
It encourages the growth of bacteria that enhance gut immunity and improve gut barrier. This lowers your risk for obesity and metabolic diseases.
Exercise also stimulates bacteria that can protect you against colon cancer and other digestive conditions.
8. Get more sleep
Not getting enough sleep can have a negative impact on your microbiome. The lack of sleep also increases your risk for other health conditions, including:24
Parkinson's disease
Autoimmune diseases
Anxiety
Depression
People who sleep well tend to have healthier gut microbiomes.24
9. Keep your stress under control
High stress levels can directly impact your gut and reduce your microbial diversity.
It also has negative effects on your colon activity and eating habits, which can have consequences on your gut bacteria.25
Stress reduction techniques like meditation and deep breathing exercises may lower your stress and promote a healthy microbiome.
10. Limit alcohol consumption
Excessive alcohol intake can change the composition of your microbiome for the worse. Studies reveal it can lead to gut dysbiosis, gut inflammation, and intestinal permeability.26
You can avoid this by limiting your consumption to 2 drinks per day (if you're a man) and 1 drink per day (if you're a woman).
More Ways to Improve Gut Health Naturally
"Probiotics contain live bacteria that boost the "good" kind of bacteria in your gut. You can take them as supplements along with a healthy diet."

Harshi Dhingra, M.D.
In addition to eating prebiotic and probiotic foods, you can support your diet with synbiotics. These are supplements that combine probiotics with prebiotic ingredients.
Some health experts believe they can help with certain situations — such as when you're are trying to reduce your symptoms after being exposed to a pathogen or antibiotics.17
You can start by taking the probiotic supplements suggested in your gut report. Because they're personalized too your needs, they can correct your specific imbalance.
Having variety in your meals may also cause your gut flora to thrive. It promotes gut diversity, increases good bacteria, and decreases some potentially harmful microbes.27
Why Good Gut Health is Important
Viome
The Best Gut Health Test
Viome tells you how your diet and lifestyle affect your digestion. It provides steps to improve your digestion, food absorption, gut diversity, and more.
Keeping your gut bacteria healthy offers many health benefits. You can enjoy:
Better food digestion
Improved mood, focus, and concentration
Stronger immune system and disease prevention
Good quality sleep
Enhanced energy levels
Successful weight control
These are just a few rewards of a healthy gut. If you want to know whether your gut is healthy enough, try taking a microbiome test.
A gut test can detect imbalances in your gut bacteria. It can tell you if you need professional help, lifestyle changes, and other things you can improve on.
Testing your gut bacteria can provide you with practical information on your microbiome. By following these recommendations, you can enjoy the benefits of a healthy gut.