Our Verdict: LetsGetChecked and Everlywell offer at-home hormone tests that give you a convenient and affordable way to assess your hormone levels from the comfort of your home.
Selecting the appropriate test can aid in the following:
Understanding some of the symptoms you've been experiencing
Improving your hormone balance by offering health recommendations
Guiding your next steps so you can get proper medical care
We understand that choosing the right test for your needs can be difficult.
To help make it easier, we picked tests that check for the most common hormonal imbalances and hormone-related health issues affecting men and women.
Meet the Expert
Dr. Rizza Mira is a medical doctor and a general practitioner who specializes in pediatrics, nutrition, dietetics, and public health.
As a pediatrician, she is dedicated to children's and expecting parents' general health and well-being. She believes that good nutrition, a healthy lifestyle, and illness prevention are vital in ensuring the health of children and their families.
When she's not in the hospital, Rizza advocates and mobilizes causes like breastfeeding, vaccination drives, and initiatives to prevent illness in the community.
Why Trust Us
KnowYourDNA is committed to making healthcare more accessible to the public, which is why we feature testing kits that meet industry standards.
We only choose at-home hormone tests with reliable testing methods and science-backed reports that provide valuable insights into your health.
Our in-house medical experts help ensure the accuracy of our information by reviewing them before publication.
The 6 Best At-Home Hormone Tests
We picked tests that check for some of the most important hormones in your body. Namely, these are your thyroid hormones, cortisol, and hormones that affect your sexual health.
Below are the best at-home hormone testing kits, including our recommendations on who can take the test.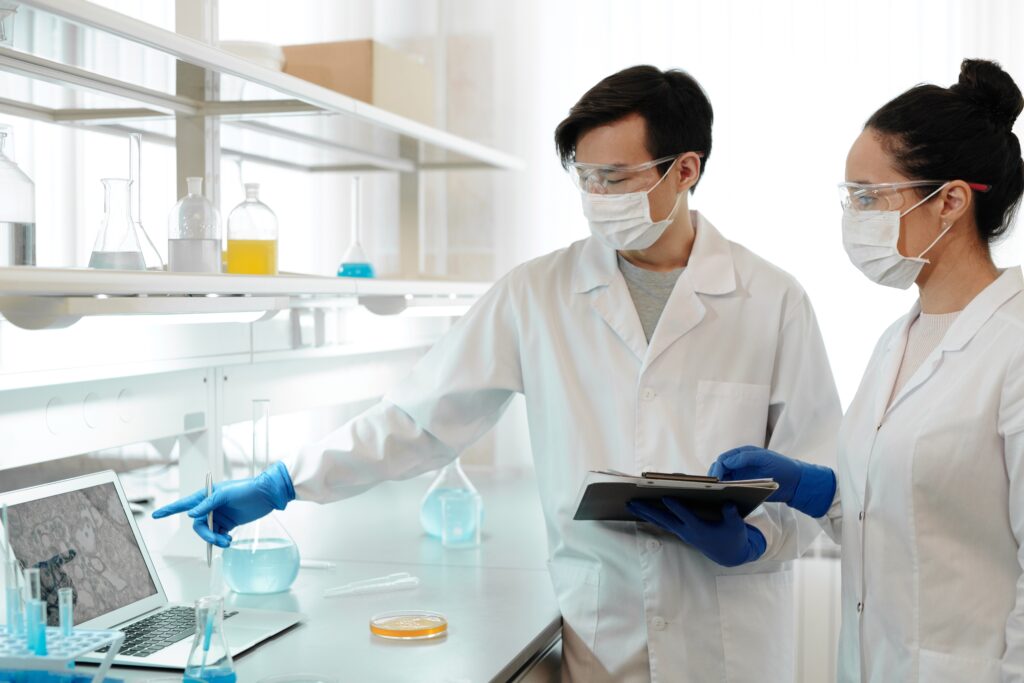 The LetsGetChecked Thyroid Hormone Test checks for possible thyroid imbalances in both men and women.
What it measures: Free triiodothyronine (FT3), free thyroxine (FT4), and thyroid stimulating hormone (TSH)
What it needs: Finger-prick blood sample
Results: Two to five days after receiving your sample
What We Like About It
More affordable and convenient compared to thyroid panels offered in clinics
The test is easy to take and includes user-friendly instructions
A caring medical team may call you to explain your results and guide your next steps
Easy-to-interpret test results that you can print out and show to your doctor
It has a dedicated team of licensed nurses that you can reach out to if you need help
Why You Should Consider Alternatives
Testing kits aren't tracked when you order and may take a while to arrive
Mildly invasive sample collection method that requires blood samples
Some customers have reported difficulty in collecting enough blood
Inconsistent turnaround time for results, which may be delayed for some
Uses your personal information when storing and analyzing samples1
Who Should Take The Test?
We recommend it to people who may be experiencing signs of thyroid imbalance, such as:
Low energy levels
Irregular sleeping patterns
Muscle weakness
Sudden weight changes
Mood swings
Changes in menstrual cycle
"Thyroid hormones play an essential role in a person's health. They affect every cell and organ in your body," says Rizza Mira, M.D.
These hormones help regulate your breathing, heart rate, body temperature, and muscle strength. They can also impact your weight, energy levels, fertility, and mental health.
The LetsGetChecked Thyroid Test can tell you if there may be too much or too little thyroid hormones in your body, suggesting the presence of hyperthyroidism or hypothyroidism.
It may help explain why you're experiencing symptoms and prompt you to seek a doctor.
The Everlywell Women's Health Kit tests for potential hormone imbalances that affect a woman's well-being.
What it measures: Cortisol, estradiol, free testosterone, progesterone, DHEAS, FSH, LH, FT3, FT4, TSH, and TPO/TPEX
What it needs: Finger-prick and saliva sample
Results: Days after receiving your sample
What We Like About It
An all-in-one kit that tests for hormones linked to stress, illness, thyroid health, and female fertility
Detailed reports that clearly explain your hormone levels and what your test results mean
Some women say it helped them understand their hormonal imbalance more thoroughly than their doctors' explanations
Provides practical health recommendations that may improve your imbalanced hormones
You can download, print, and show your results to a doctor who can properly evaluate your health
Why You Should Consider Alternatives
Some customers find the test instructions confusing and unhelpful
Difficult sample collection process can lead to poor-quality samples and inaccurate results
The test takes weeks to complete, and the results don't always arrive on time for everyone
Long testing processes and waiting times don't make it any more convenient than seeing a doctor
Not all women who take the test are confident with the accuracy of its health reports
Who Should Take The Test?
This test is for adult and older women experiencing menopause, perimenopause, and other hormonal changes.
Women who believe they have hormone-related health problems should also consider taking the Everlywell Women's Health Test.
Some signs that you may need to take this test are:
Decreased sexual libido
Fluctuating emotions
Changes in body weight
Irregular periods
Thinning hair
Hot flashes
The hormones the kit tests provide valuable insights into a woman's sexual health and overall wellness. It can help you decide if you need to see a doctor.
LetsGetChecked's Male Hormone Complete identifies hormone imbalances that impact a man's health.
What it measures: Cortisol, estradiol, prolactin, testosterone, FAI, and SHBG
What it needs: Finger-prick and urine sample
Results: Two to five days after receiving your sample
What We Like About It
Gives men a practical and affordable way to assess their hormone health at home
Extensively tests for hormones that may affect a man's physical, mental, and sexual health
Many users feel confident about the privacy of their information and the reliability of their results
Doctors can use your results to determine the next steps, such as if you need more tests
Why You Should Consider Alternatives
Results may not be helpful for men whose health problems are not caused by a hormonal imbalance
It doesn't test for other hormones that are important to male fertility, like FSH and LH2
Some users dislike the fact that it tests your total testosterone but not your free testosterone levels
It doesn't provide health recommendations that will help correct your imbalances if you have any
Who Should Take The Test?
Men with symptoms of male hormone imbalance may benefit from taking LetsGetChecked's Male Hormone Complete test.
Here are some signs that you should take it:
Swollen breasts
Rapid weight gain
Fatigue and weakness
Depressive or anxious moods
Difficulty concentrating
Fertility problems
Reduced sex drive
Severe hair loss or balding
Muscle aches and stiff joints
Increased sensitivity to cold or heat
The test can help you determine if your health problems are caused by an imbalance in your cortisol and/or other male hormones.
Men struggling with decreased libido and erection problems can opt for the more affordable LetsGetChecked Testosterone Kit ($89).
But if you want to test for all male sex hormones except cortisol, you can take the LetsGetChecked Male Hormone Advanced ($179).
LetsGetChecked's Cortisol Test allows you to test your cortisol levels at home and see if there are any imbalances.
What it measures: Morning cortisol
What it needs: Finger-prick blood sampleResults: Two to five days after receiving your sample
What We Like About It
It offers a convenient way to assess the health of your adrenal glands without leaving home
You only have to take the test once in the morning, which many users find convenient
Elevated cortisol levels have prompted some customers to seek a doctor for medical advice
Why You Should Consider Alternatives
Some users complained about the amount of blood needed for the analysis
The sample has to be sent back on the same day you take the test
Unless you live near a UPS location, you have to arrange a pickup before taking the test
Who Should Take The Test?
Cortisol is your body's stress hormone. When your cortisol levels remain high for too long, it may be a sign of chronic stress.
Excessive cortisol levels can impair your focus, disrupt your sleep cycle, and negatively affect your mood. Elevated cortisol levels may also lead to weight gain and fatigue.
Dr. Mira explains the dangers of chronic stress:
"Chronically high levels of cortisol cause generalized inflammation in the whole body. Research shows that long-term inflammation may lead to chronic health problems such as heart, kidney, liver disease—or even cancer," Dr. Mira says.
LetsGetChecked's Female Hormone Test examines essential hormones that impact a woman's fertility.
What it measures: Estradiol, prolactin, luteinizing hormone (LH), and follicle-stimulating hormone (FSH)
What it needs: Finger-prick blood sample
Results: Two to five days after receiving your sample
What We Like About It
It's a private and convenient way for women to assess their fertility at home
Test results may help doctors narrow down the hormone imbalances causing a woman's infertility
Your report can guide healthcare professionals in choosing the best course of action
Why You Should Consider Alternatives
Unable to check for all female hormones that cause fertility issues in women
You may need more tests to get a comprehensive assessment of your fertility status
Taking the test at the wrong time can lead to inaccurate test results
Who Should Take The Test?
Women planning to get pregnant or have had difficulty conceiving a child may want to take LetsGetChecked's Female Hormone Test.
It checks for the most important fertility hormones and tells you if they're within normal ranges or imbalanced, which can interfere with your ability to have a child.
Your test results will allow you to determine if it's the right time to try for pregnancy or if you need to consult a fertility specialist.
However, Dr. Mira reminds readers that hormonal imbalances aren't the only cause of female infertility:
"A woman's ability to conceive doesn't solely rely on hormones. Additional tests like an abdominal ultrasound and ovulation testing are needed," she says.
The Everlywell Testosterone Kit offers a simple way to assess a man's fertility and sexual health.
What it measures: Total testosterone levels
What it needs: Finger-prick blood sample
Results: Days after receiving your sample
What We Like About It
Allows men to test their testosterone levels from the privacy of their homes
It may help you determine if a testosterone imbalance causes your sexual problems
Most men who have taken the test say it provides the same level of accuracy as a lab test
You can discuss your results with a doctor to find out if testosterone therapy is an option
Everlywell is HIPAA-compliant which helps keep your personal health information safe3,4
Why You Should Consider Alternatives
Laboratories offer more comprehensive testosterone tests for a lower cost
Some customers complained of getting their results weeks later instead of a few days
Additional tests are needed for a more complete assessment of male fertility
Who Should Take The Test?
We recommend this at-home testing kit to men showing signs of testosterone deficiency or an excess of this hormone.
Older men should also consider taking this test since they have a higher risk for age-related infertility due to decreased testosterone.
Having too much or too little testosterone may contribute to male infertility. It can also cause problems in a man's reproductive health.
Here are some signs that indicate the need for testing:
Erectile dysfunction (ED)
Infertility
Changes in muscle mass
Weaker bones
Trouble sleeping
Mood swings
Aggressive behavior
Hair loss or excessive body hair
More Hormone Tests to Consider
Most of the kits we've featured test for hormones that affect many aspects of your health, from your weight and metabolism to your reproductive health.
But if you want to check for specific hormonal problems, here are five more tests you can consider:
How We Picked The Best Hormone Imbalance Tests
We explored hormone testing kits that are currently available on the market. We then compared these tests based on the following criteria:
Brand reputation
Test results
Actionable steps
Testing process
Value for money
Keep in mind that there's no one-size-fits-all hormone imbalance test. You need to evaluate them based on your needs and symptoms, if there are any.
Many of the tests we compared do overlap. It's up to you to determine which one is the best fit.
1. Brand reputation
Hormone testing companies should be transparent about the products they offer. They must provide reliable services, delivery times, and customer support.
We also looked at hundreds of online reviews to see what others say about the tests. Doing this helped us check for consistency and if people trusted them.
2. Test results:
The results of your at-home hormone test must be easy to understand. They should provide practical information, such as:
If you have an excess or deficiency of the hormones tested
What your hormone imbalances mean about your health
Hormone testing may help you understand why you're experiencing symptoms of hormone imbalance and other related conditions.
You should be able to print your test results and take them to a healthcare professional who can give you sound medical advice.
3. Actionable steps
The best hormone tests provide actionable steps to reduce your symptoms and correct your hormone imbalance.
Depending on the test and its recommendations, you can:
Increase your chances of having a baby
Boost your sexual performance
Improve your mood and mental health
Reduce your discomfort and stress
Sleep and feel better overall
Hormone testing companies often recommend dietary and lifestyle changes to help balance your hormones.
Some go the extra mile and will provide medical support who can explain your test results and guide your next steps.
4. Testing process
We picked hormone tests with a convenient private testing process. Sample collection should be simple and include clear instructions.
The testing kits and return boxes should come in unidentifiable packaging. These measures help protect your privacy throughout the process.
The methods they use to analyze samples must also be reliable. Ideally, they should be partnered with accredited laboratories to ensure the accuracy of your test results.
5. Value for Money
The cost of a testing kit doesn't always reflect what you pay for.
Some kits can provide useful reports for a lower cost. But there are also higher-priced tests that don't have much to offer.
When you think about the cost, you have to factor in your budget and what the test offers for its price. We selected tests that give you valuable results so you get the most bang for your buck.
Choosing the Best Hormone Test for You
When deciding which test to go for, there are two things to consider:
The type of hormone test
Which hormones it measures
You can always ask your doctor if you're unsure about your choice. They can tell you which test to take and which specific hormones to test for.
Here are some of the most common types of hormone tests and a list of the hormones they usually test for.
At-Home Fertility & Reproductive Health Tests
Basic fertility tests help you assess your fertility or ability to conceive a child.
Reproductive health tests are more comprehensive. They measure hormones that can affect your sexual health, like libido and performance.
Hormones Tested in Women
Dehydroepiandrosterone sulfate (DHEAS)
Estradiol
Free testosterone
Follicle-stimulating hormone (FSH)
Luteinizing hormone (LH)
Progesterone
Prolactin
Hormones Tested in Men
Estradiol
Free androgen index (FAI)
Free and total testosterone
Prolactin
Sex hormone-binding globulin (SHBG)
Thyroid Hormone Tests
An at-home thyroid test assesses your thyroid health and overall wellness. It can tell if you have the following:
Overactive thyroid gland (hyperthyroidism)
Underactive thyroid (hypothyroidism)
Normal thyroid function (euthyroidism)
Hormones Tested
Free triiodothyronine (FT3)
Free thyroxine (FT4)
Thyroid-stimulating hormone (TSH)
Thyroid peroxidase (TPO/TPEX)
Stress Hormone Tests
A stress hormone test measures your cortisol levels. Your body produces it to help you overcome illness and stressful situations.
These tests can measure your cortisol in the morning or several times throughout the day to determine if you have a cortisol imbalance.
Are At-Home Hormone Tests Accurate?
At-home hormone testing is an accurate way to check your hormones.
Many people who have tried LetsGetChecked and Everlywell's hormone kits say their test results matched up with tests they've taken in laboratories.
However, the accuracy of these tests depends on several factors, such as:
The quality and quantity of the samples you provided
Any medications you're taking (e.g., hormone therapy)
The standards followed by the laboratory analyzing samples
You can improve the accuracy of your results by making sure that you carefully follow the sample collection instructions that came with your kit.
Companies that analyze samples in labs certified by the Clinical Laboratory Improvement Amendments (CLIA) and/or accredited by the College of American Pathologists (CAP) are also great options for reliable hormone testing.
How Does Hormone Testing Work?
The process is slightly different for every test. But it usually involves these steps:
Order your hormone test. You can order the hormone tests we mentioned in this article online. They should arrive at your door within a week.
Collect your sample. Carefully follow the instructions on your test kit. Most kits will ask you to submit blood and saliva samples, which you must take at certain times of the day or month.
Submit your sample. Place the required sample inside the shipping box and return it for testing. It can take days before your sample is analyzed.
Wait for your results. Usually, it takes a week for your report to arrive.
Get your test results. You can view your report on the company's website or download a dedicated app.
Is Hormone Testing Right For Me?
There are over fifty hormones in the body. Each one of them plays a unique role. Hormones also work together to regulate many of our body's functions.
Among the things that hormones help with are:
Weight and metabolism
Fertility and reproductive health
Mood and emotions
Sleep and stress response
Blood sugar and electrolytes
Muscle and bone growth
Brain development
Sometimes, these hormones can get imbalanced and cause changes in your mood, sleep, weight, energy levels, libido, and sexual performance, among others.
If you've been experiencing symptoms of hormone imbalance, you should consider taking an at-home hormone test. Just remember to choose the test that is best suited to your needs.
How Much Do Hormone Tests Cost?
The at-home hormone tests on our list cost anywhere from $70 to $250, depending on the type of test and the hormones tested.
Are Hormone Tests Covered By Insurance?
Health insurance companies don't usually cover at-home health tests.
However, LetsGetChecked and Everlywell accept Health Savings Account (HSA) and Flexible Spending Account (FSA) for their hormone tests.
An HSA/FSA can reduce the cost of hormone testing.