Blue eyes are genetically recessive. When it comes to eye color, having blue eyes entails inheriting both copies of the gene from two blue-eyed parents.
Meanwhile, brown eyes are genetically dominant. A person only needs to inherit one brown-eye gene to have brown eyes.
If a person has one copy of the blue-eye gene and one copy of the brown-eye gene, their eyes will usually appear brown because brown is dominant.
However, the genetics of eye color can be more complex due to interactions between multiple genes. Therefore, two blue-eyed parents will not necessarily have blue-eyed offspring. Sometimes, two blue-eyed parents can have a kid with a different eye color.
How is Eye Color Determined Genetically?
In a region in chromosome 15, there are two genes located very close together. These are Oculocutaneous Albinism type 2 (OCA2) and HECT And RLD Domain Containing E3 Ubiquitin Protein Ligase 2 (HERC2) genes.1
These genes control the production and distribution of a pigment called melanin in the iris, which affects eye color variation.
This concentration is determined heavily by your genetics and the colors of your parents' eyes.
Eye color is determined genetically by a mix of genes that control how much melanin gets into the front part of the eye, the iris.3 More melanin produces darker eye colors, and less melanin produces lighter colors.
Simply put, brown eyes contain more melanin than blue. There are also various shades in between.
Even if you and a family member have similar eye colors, the concentration and distribution of melanin in your iris are unique for each person. So, having two blue-eyed parents doesn't mean you will also inherit blue eyes.
What Role Do Alleles Play in Determining Eye Color?
An allele is a version of a gene located at a specific position on a chromosome. Genes are made up of Deoxyribonucleic acid, or DNA. Each gene can have multiple alleles. Alleles control the different versions of traits passed on that we observe among different people.
The gene for eye color might have alleles for blue and brown eyes. A person inherits two alleles for each gene, one from each parent. The combination of alleles determines what eye color a person will have.
The most prevalent interaction between alleles is the dominant-recessive relationship. An allele is considered dominant if it takes precedence over another allele, which is recessive.2
Eye color is one of the common traits that illustrates the dominant-recessive dynamic.
How Do Different Eye Colors Develop?
Different eye colors develop depending on the various combinations of the concentration and distribution of melanin in the iris.
Eye color variations happen because of different combinations of genes inherited from parents. Genes interact in different ways. They can affect the production, distribution, and amount of melanin in the iris, resulting in different eye colors.
People with brown eyes have more melanin in their irises, which makes their eyes appear darker. On the other hand, people with blue eyes have less melanin. It allows light to scatter and make their eyes appear blue.
People with green eyes fall somewhere in between. Their irises contain a mix of melanin concentration, which creates unique shades.
Which Parent Determines Eye Color?
Both parents contribute to determining someone's eye color. A child inherits their eye color from their parents. It's a combination of the parents' eye colors and whether the genes are recessive or dominant.
At least two genes can affect the inheritance of eye color, which makes this trait polygenic. Eye color can be determined by:
Parents' eye color
If the genes are homozygous or heterozygous dominant for a specific color
If the genes are dominant or recessive
The specific genetic makeup of the parents and the interactions between their genes decide whether a child will have brown, blue, green, or hazel eyes.
Which Genes are Stronger: Mother's or Father's?
Genes from the mother and father can contribute equally to the child's eye color. There's no proof that one of the parent's genes is stronger than the other regarding eye color.
Each parent contributes an allele for the eye color. The combination of these alleles from the mother and father determines the result.
Additionally, the interaction between these alleles and other genetic factors that control the production and distribution of melanin in the iris leads to a person's distinct eye color.
How Can I Predict My Baby's Eye Color?
Predicting your baby's eye color is not an exact science, but you can make an educated guess based on your family's eye color history.
Eye color genetics can be tricky. Just looking at the parents' eye colors won't always accurately determine the child's eye color. Even if the mother and father have similar eye colors, their child could have a different eye color.
The eyes of newborns usually look blue due to the lack of melanin in their irises. Over a few months, melanin accumulates in the irises, which can potentially alter the eye color. Blue eyes can become less blue or turn to dark brown eyes completely.4
While eye color generally becomes stable after the first year, some children might experience color changes for several more years.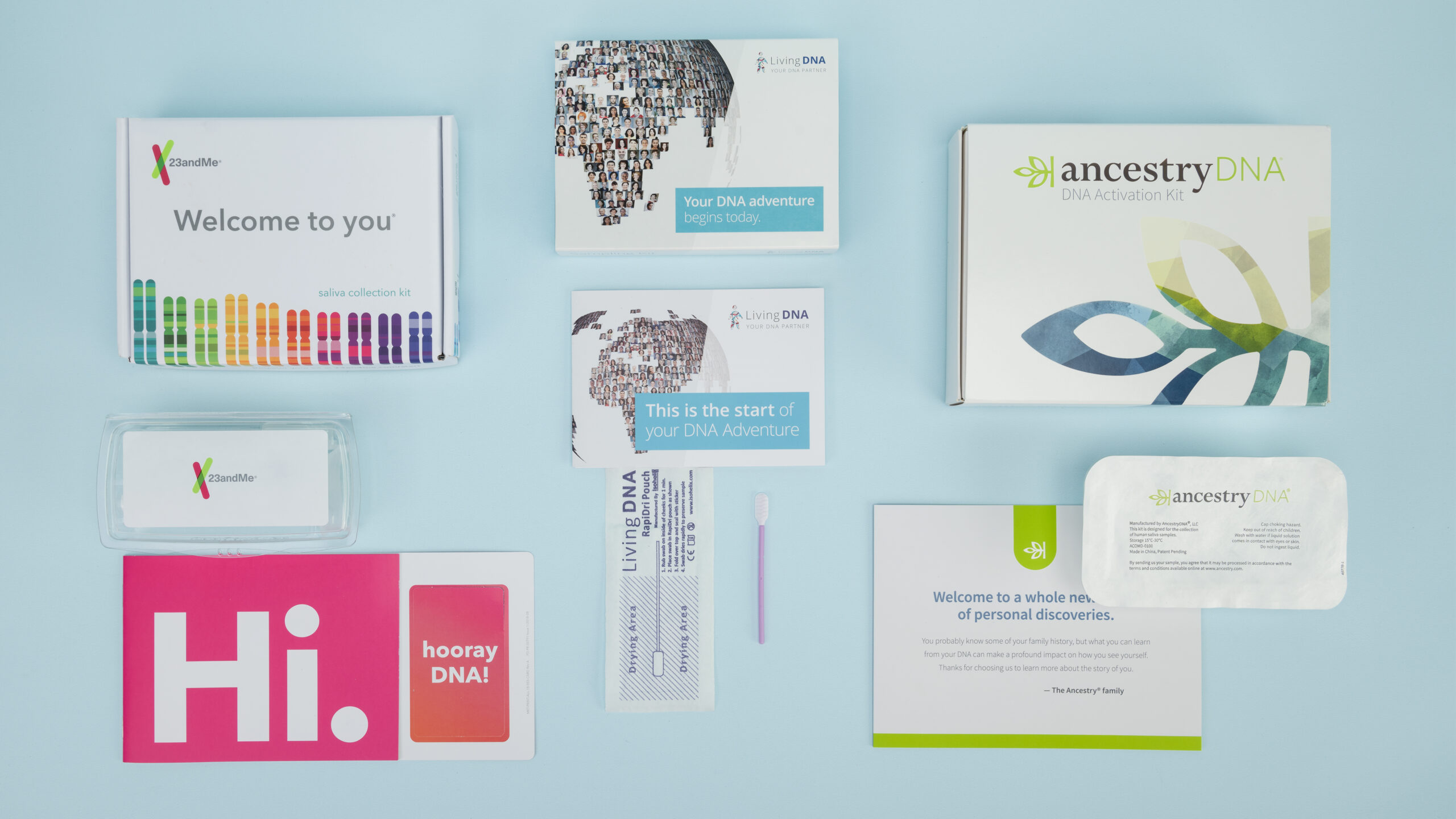 Best DNA Kit
Don't miss out on the opportunity to learn more about yourself. Read our best DNA test page to find the best one for you.
Rare and Changing Eye Colors
While most people have blue or brown eyes, some possess unusual shades and have green eyes.
Newborn babies' eyes change because the melanin is still gathering in the iris. But there are some cases of eyes changing color even in adulthood.
What's the Rarest Eye Color?
Green is the rarest eye color. Only 2% of the population have it.
The uniqueness of green eyes isn't just due to the amount of melanin in the eye. It also has something to do with the way light interacts with them. The relationship between melanin and light produces a scattering effect, producing a distinctive green color.
How Can Eye Color Change Over Time or with Disease?
Eye color change is generally not harmful. However, it can also be a sign of a medical condition that can be either harmless or require treatment.5
Eye-color change can be due to:
Iris freckles
Iris nevi
Lisch nodules
Fuchs heterochromic iridocyclitis
Iridocorneal endothelial (ICE) syndrome
Pigment dispersion syndrome
Uveitis
Horner's syndrome
Eye injury or trauma
Dilated pupil
Arcus senilis
Keyser Fleischer ring
Hyphema
Glaucoma medications
Most people have the same eye color as they grow up. Newborn eyes may start looking bluish-grey and become darker as they age. Usually, by around nine months old, a baby's eye color stabilizes and stays that way for life.
If you ever see a change in the color of your eyes, it's recommended to see an ophthalmologist.
Genetic Possibilities and Selection
When it comes to eye color, genetic possibilities and selection can influence the outcome. Genes inherited from parents contain several eye color options.
The interaction between genes and environmental factors decides a person's eye color. Genetics and nature work together to create the diverse range of eye colors that people have.
Can Two Brown-Eyed Parents Have a Blue-Eyed Child?
Yes, two brown-eyed parents can have a blue-eyed child. They can also have a brown-eyed child.
While brown is dominant and blue is recessive, eye color genetics is complex. So, the result is not always a brown-eyed child.
Both parents can carry hidden recessive blue-eyed genes that they pass to the next generation, coming up with the possibility of a blue-eyed offspring.
Is There a Way to Choose My Baby's Eye Color?
At present, there's no reliable or ethical way to choose your baby's eye color. Genetics largely influences this trait. The complex interactions of multiple genes make eye color challenging to predict or manipulate.
While genetic engineering procedures claim to be able to alter eye color, they can be risky. Consult a medical professional if they recommend such practices.
It's important to approach such claims with caution and prioritize your child's well-being.
Which Eye Color is Most Recessive?
Blue is considered the most recessive among common eye colors. For someone to have blue eyes, they must inherit two blue-eyed alleles, one from each parent.
However, eye color inheritance is more complex than a simple dominant-recessive pattern. Since this trait is polygenic, the interaction of multiple genes involved can affect the outcome of a person's eye color.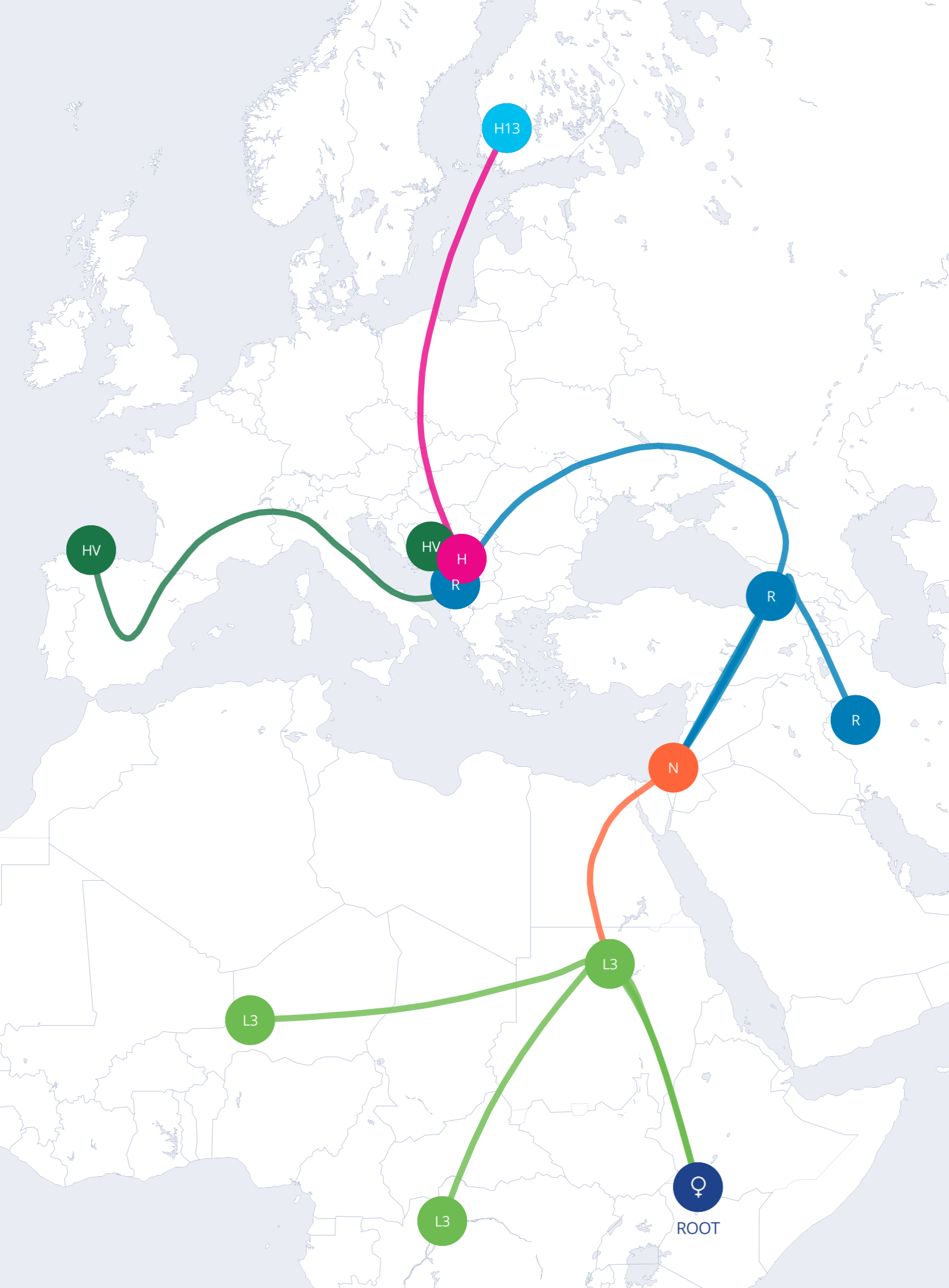 The Best DNA Test
Looking for a DNA test that's accurate and can tell you about your health and heritage?