Our verdict: AncestryDNA lived up to its promise to deliver as much helpful information as it could about my DNA sample at an affordable cost.
I learned much about my heritage through the comprehensive reports I received, along with my results.
Their extensive database and intuitive integration with family trees provide reliable results and potential DNA matches you can find easily.
However, they did require a subscription to access public records, like historical and family resources databases.
It would have been nice to have free access to these. It'd be a big help to those who are curious about their family history—like me.
Still, I enjoyed what AncestryDNA did offer for free, like DNA matches, ethnicity estimates, and DNA communities.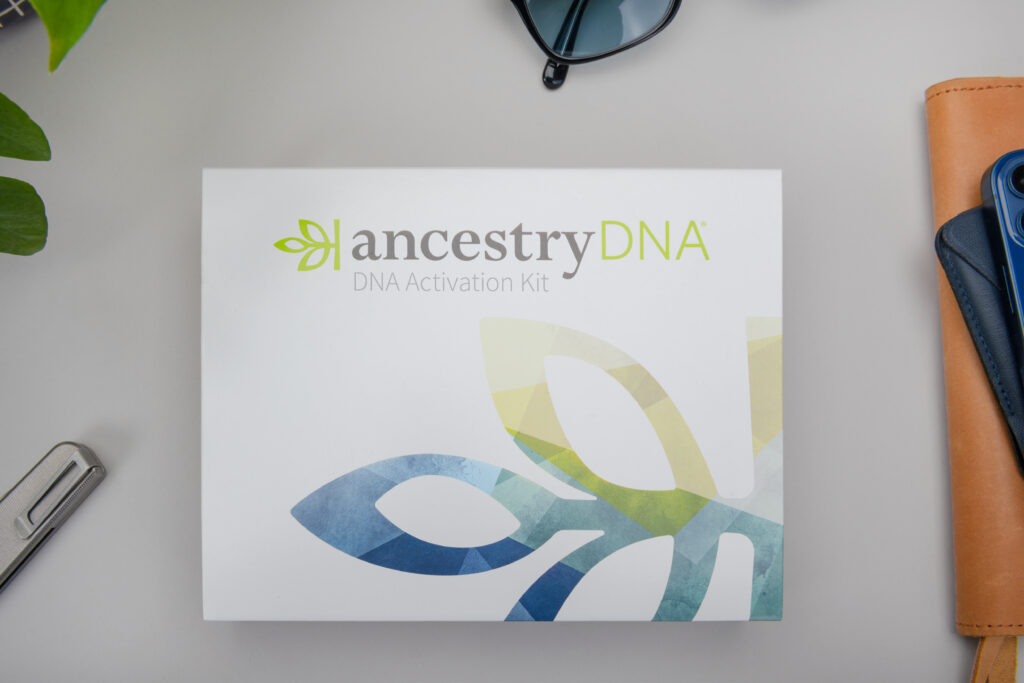 AncestryDNA Review Ratings
Company Reputation: 4 stars
Privacy and Security: 5 stars
Customer Support: 4 stars
Convenience: 4 stars
Value for money: 5 stars
Accuracy: 5 stars
Cost: 4 stars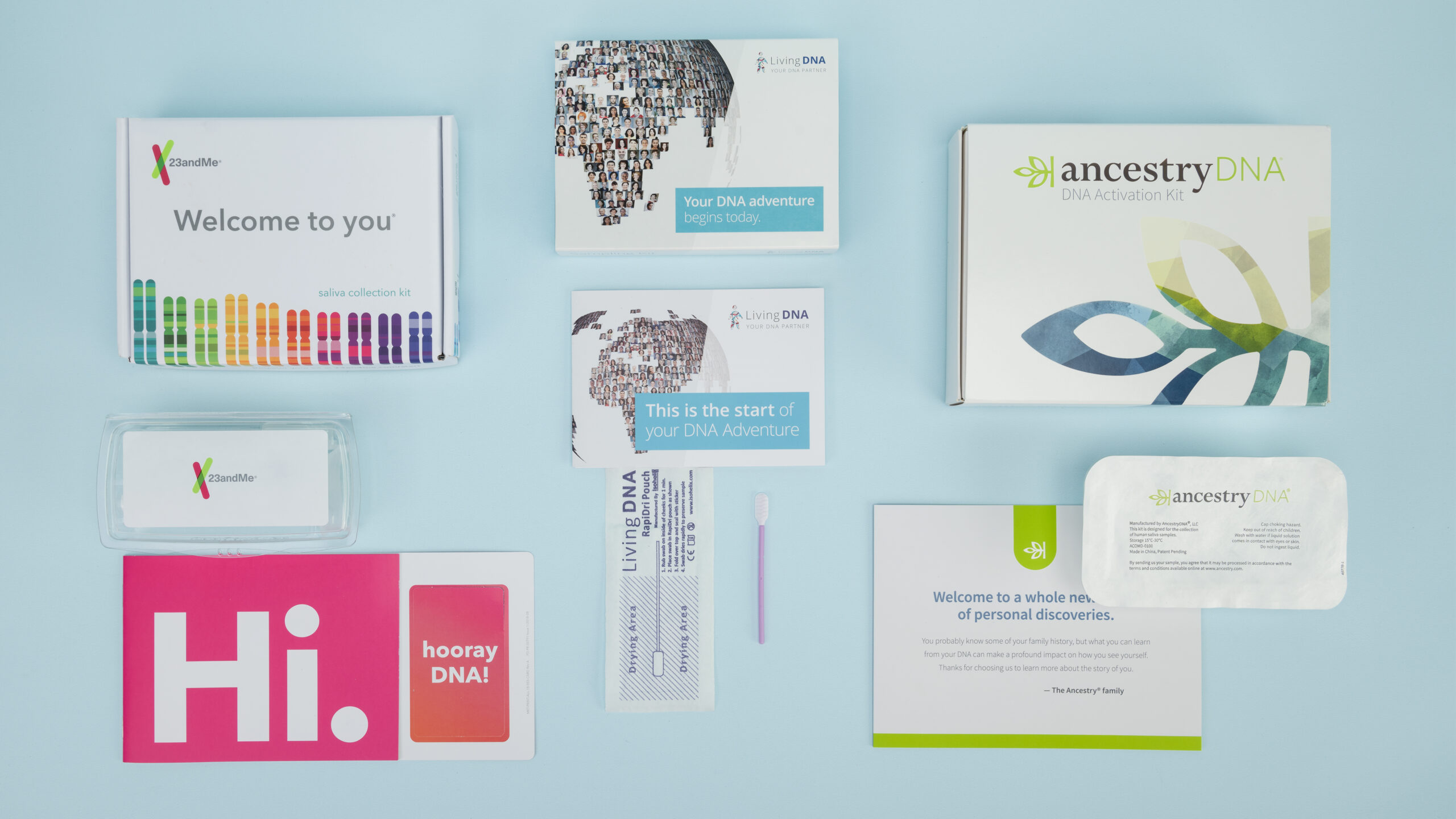 Best DNA Kit
Don't miss out on the opportunity to learn more about yourself. Read our best DNA test page to find the best one for you.
Product Review Summary
Pros
Easy-to-understand, continually updated results
Has the largest DNA database, which makes finding DNA matches more of a possibility
Over 1,800 global ethnic regions for estimating ethnicity
Lets you download your raw DNA data
Cons
Need a paid subscription service to access public records
Subscription packages may be costly
Can't distinguish between paternal and maternal lines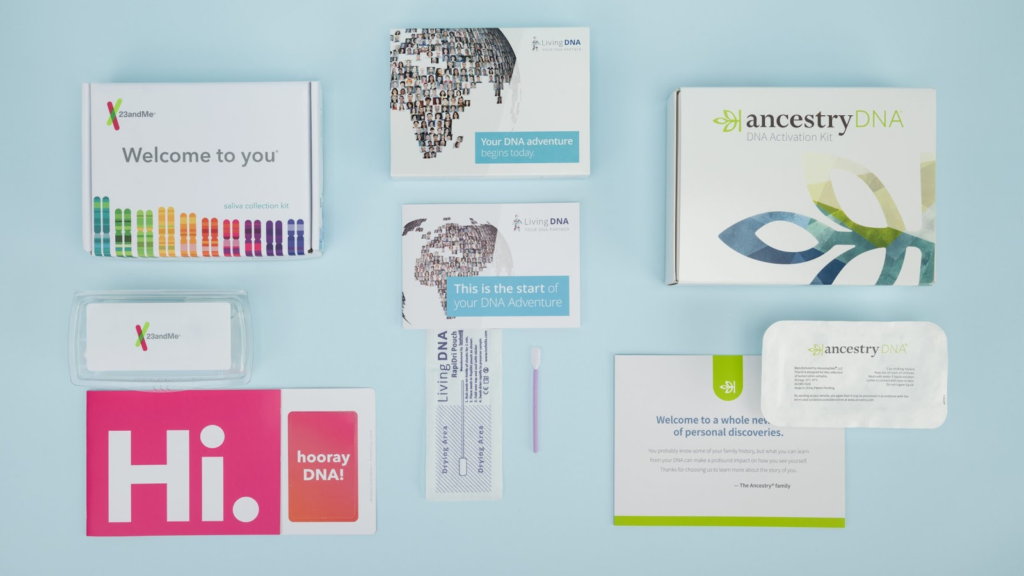 What Tests Do They Offer?
Ancestry offers 4 test kits on genetic ancestry and other services:
1. AncestryDNA
The AncestryDNA test kit runs your genetic markers across the database to help track your ethnicity and where your family is from.
2. AncestryDNA + Family Tree Package
This test kit adds a World Explorer membership to the AncestryDNA test kit. The membership gives you three-month access to Ancestry's U.S. and international records.
Ancestry currently has the most extensive database and the most number of users among major DNA testing companies.
3. AncestryDNA Traits + All Access Package
In addition to tracing your origins and ethnicity, this test identifies genetic traits that influence your health and appearance.
You also get three-month access to Ancestry's U.S. and international records, a Newspapers.com subscription, and Fold3's military records.
4. AncestryDNA Membership & Services
If you want access to Ancestry's massive collection of historical and family resources, you can take advantage of the three-month subscription included with your kit.
If you're not a member, you can subscribe any time before or after you take their test.
When your membership expires, AncestryDNA will automatically renew you for a six-month subscription which you can pay for monthly or upfront to save money.
These monthly services let you expand your family tree and connect with your DNA matches.
U.S. Discovery — Provides access to Ancestry's U.S. records.
World Explorer — Provides access to Ancestry's U.S. and international records.
All Access — Provides complete access to the records of Ancestry.com, Newspapers.com, and Fold3.com.
Ancestry used to include a test kit providing their customers with health reports, known as AncestryHealth. It helps assess your genetic risk for a number of hereditary conditions.
However, the service was discontinued in 2020. Reports connected to AncestryHealth were deleted from the company's servers to ensure customer privacy.
AncestryDNA
Ancestry has the most extensive database and the most number of users among major DNA testing companies.
As of 2021, it has 30 billion historical records and over 20 million people in its network.
In 2022, AncestryDNA expanded its services to more than 80 countries throughout Asia, Africa, Europe, South America, and North America.1
This makes Ancestry's DNA testing kit perfect for anyone who wants to learn about their family histories or find family connections.
Quick facts on AncestryDNA
| | |
| --- | --- |
| Price | $99 |
| Collection type | Saliva swab |
| DNA Testing Method | Microarray-based autosomal DNA testing |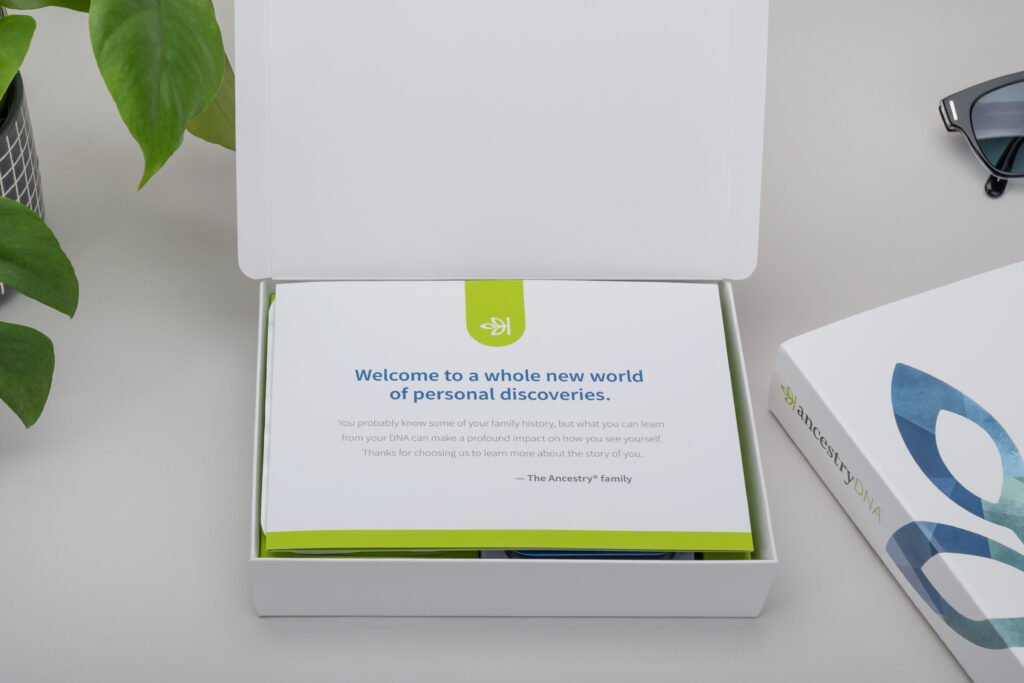 What's Inside The Kit?
The AncestryDNA kit contains the following:
Saliva sample collection tube
Stabilizing fluid
Instruction booklet
Collection bag
Prepaid return package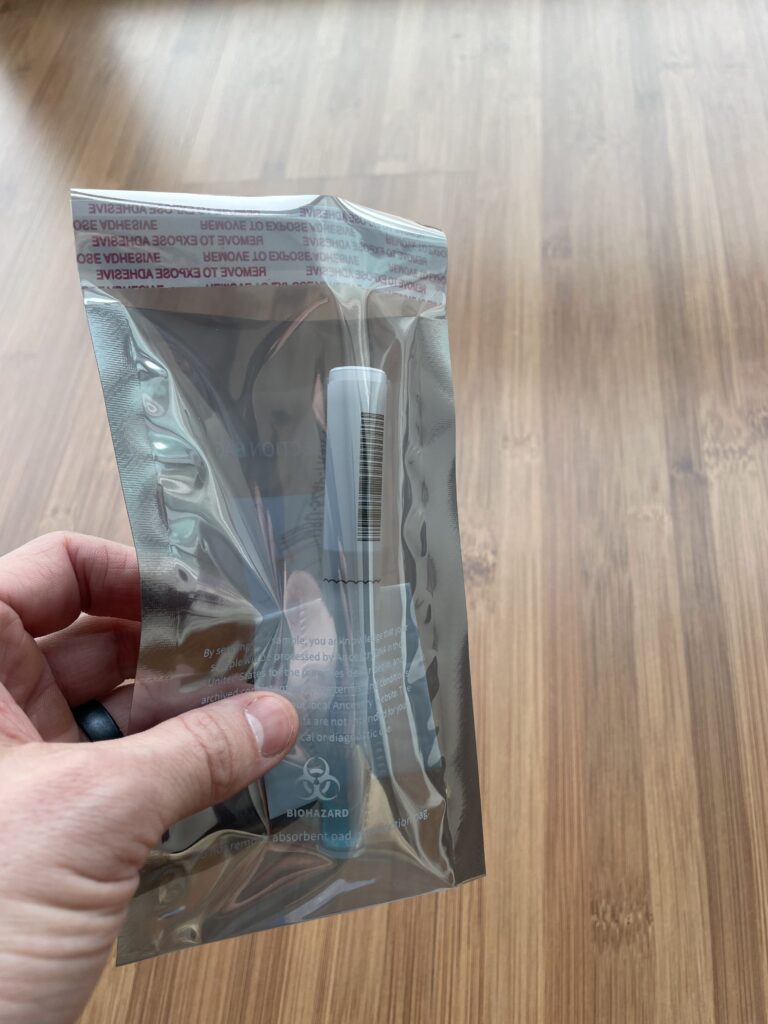 What You Get With Your Report
Here's what you can expect from your Ancestry results.
Ethnicity Estimates
According to Ancestry, Ethnicity Estimates look at around 1,000 sections of the user's DNA.
My ethnic regions are based on comparisons between my DNA with the company's reference populations.
Ancestry assigns each DNA section to an ethnic region with a close resemblance. The estimates are expressed in percentages.
Here are my ethnicity estimates. I can access them on my dashboard by clicking "DNA" and "DNA Story."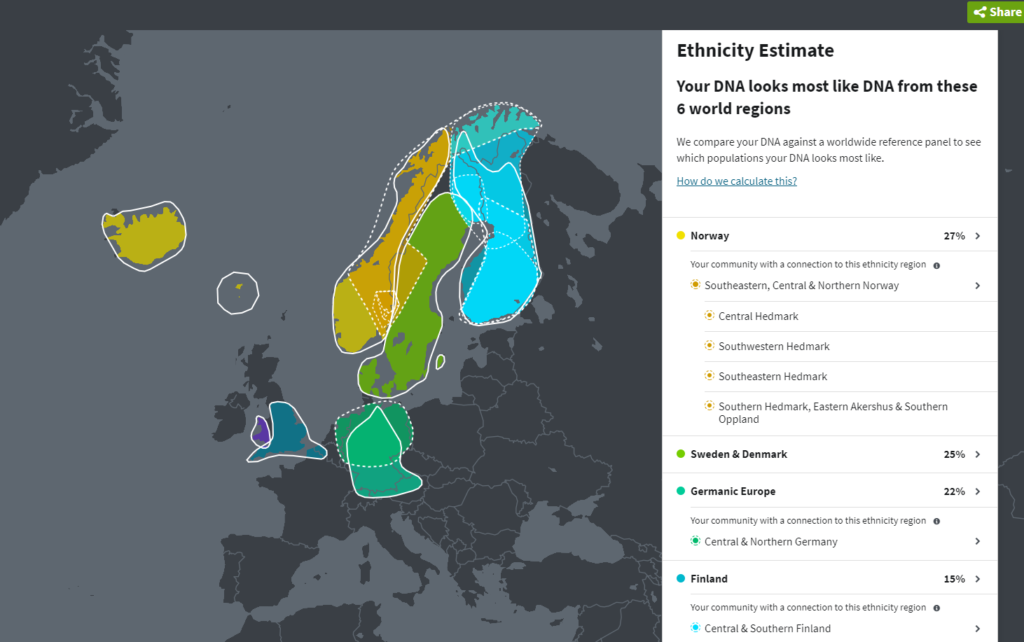 My DNA looks similar to people from these six regions:
Norway (27%)
Sweden and Denmark (25%)
Germanic Europe (22%)
Finland (15%)
England and Northwestern Europe (9%)
Wales (2%)
The list says 27% of my DNA suggests I have ancestors from Norway, not that I am 27% Norwegian. It means I may have inherited 27% of my DNA from ancestors who came from Norway.
DNA Communities
Communities show you places where your most recent ancestors may have originated from.
I got six results from the DNA communities assessment:
Central and Southern Finland
Central and Northern Germany
Early Wisconsin Settlers
Michigan Settlers
Southeastern, Central, and Northern Norway
Upper Midwest Settlers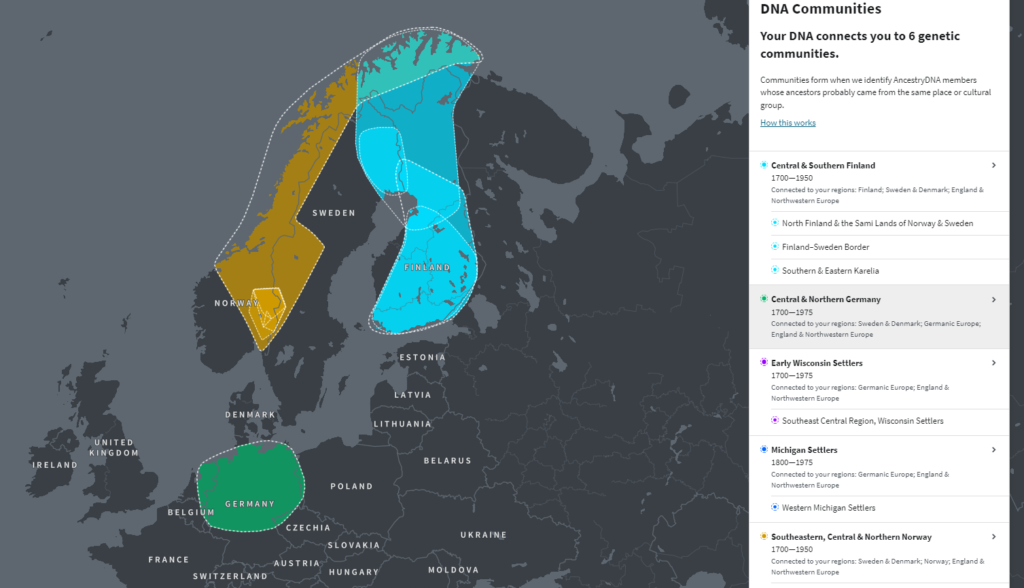 Compared to ethnic regions, communities will connect us to more recent and specific populations and locations.
Like my ethnicity estimates, I can access my communities on my dashboard by clicking "DNA" and "DNA Story."
DNA Matches
Once your DNA data is processed, AncestryDNA will search its database for DNA matches. This happens whether or not you have a linked family tree on Ancestry.
You can control how much personal information you can share with potential matches. Only display names can be shown unless your matches have a public family tree or profile.
Here's what my DNA matches look like. I can access them on my dashboard by clicking "DNA" and "DNA Story."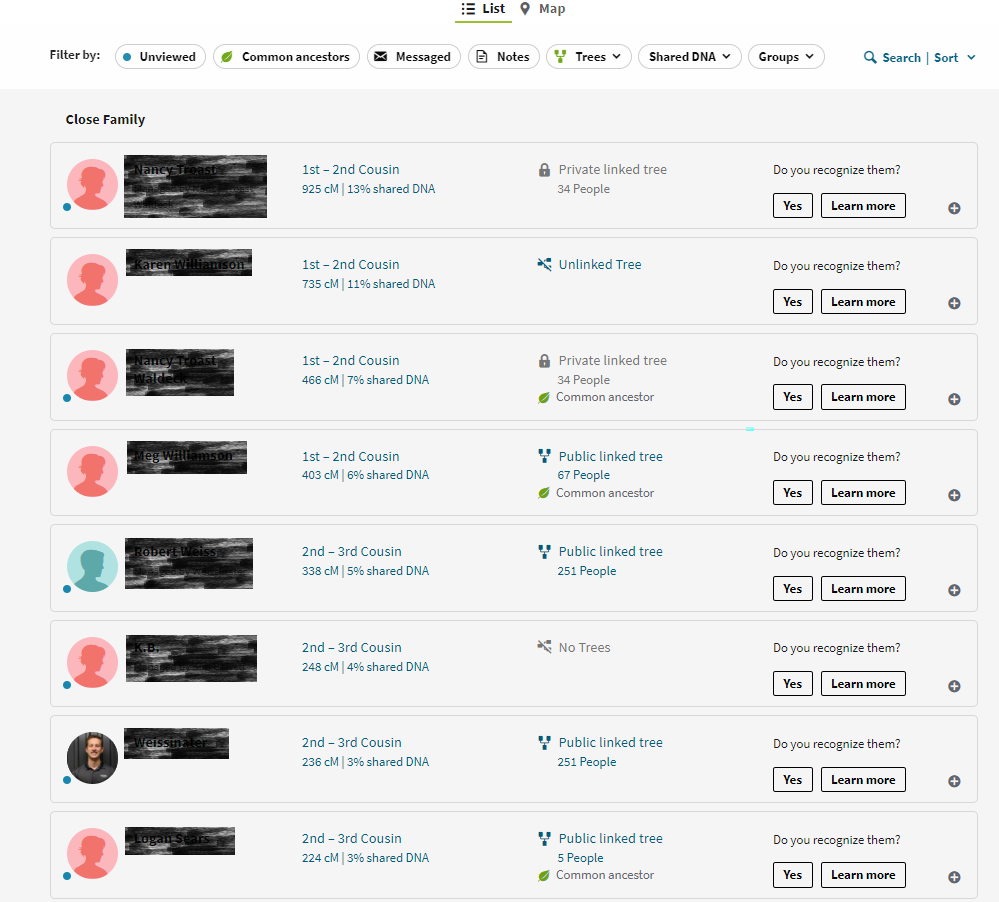 Unfortunately, this feature is hidden behind a paywall. You can't enjoy this feature unless you choose one of Ancestry's subscription services.
Traits
Traits is an add-on feature of AncestryDNA's test kit. It evaluates more than 35 traits, broken down into four main sections:
Nutrients — like beta-carotene, omega-3, vitamins B12, C, D, and E
Fitness — like endurance, heart rate recovery, and muscle fatigue
Sensory — like alcohol flush, caffeine consumption, and lactose intolerance
Appearance — like eye color, freckles, hair loss, color, or type
You can access your traits reports by clicking "DNA" and then "Traits." For each attribute, the person can confirm whether AncestryDNA hits the spot.
Here are some examples of my reports.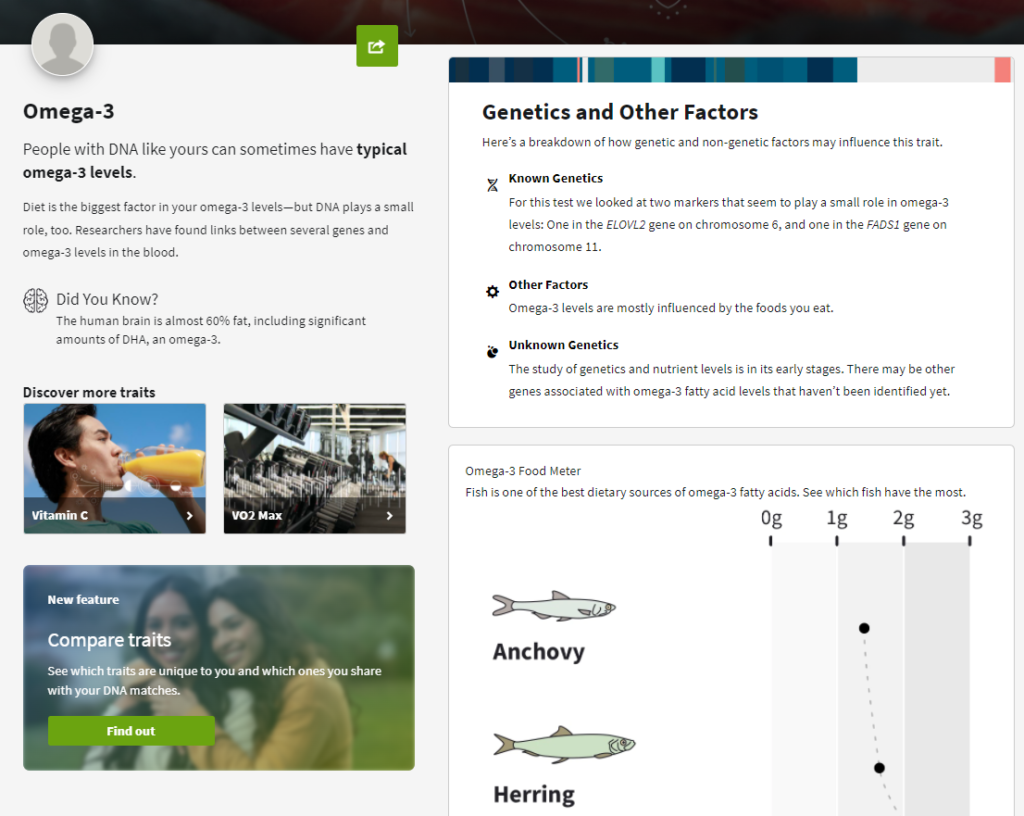 My omega-3 report says I have typical omega-3 levels. It also contains genetic information and where I can get my omega-3 dose.
Here's my alcohol flush. It provides similar information about my omega-3 status. This time, there's a percentage of users who have the same level of alcohol flush.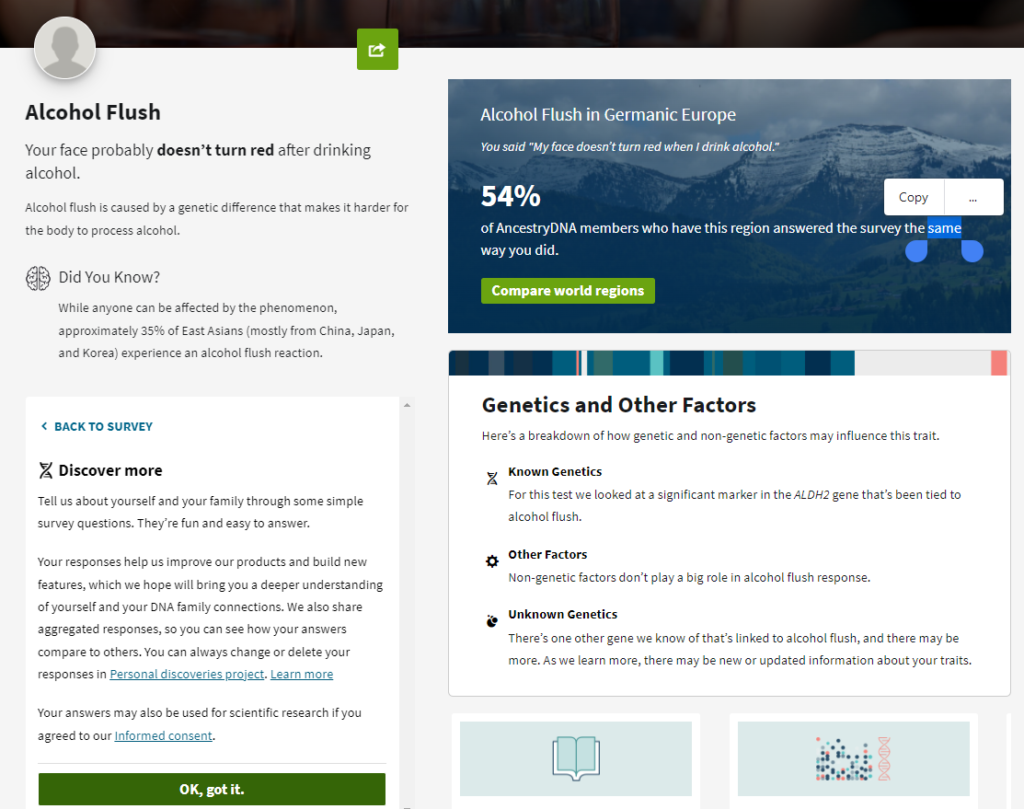 This feature may not be as thorough as the genetic health test from 23andMe or other DNA companies. But at least half of my report is accurate.
Summary
Your AncestryDNA test result will include reports on Ethnicity Estimates, DNA Communities, DNA matches, and Traits. You can access all this information from your AncestryDNA account's dashboard.
Is The Test Accurate?
Yes. Ancestry claims on its website that its ancestry tests are accurate.
Ancestry has the largest DNA database among its competitors. A larger genetic data is more likely to provide an accurate DNA match or ethnicity estimate.
According to Ancestry, each genetic marker it tests has an average accuracy rate of over 99 percent.2
However, DNA matches are limited to Ancestry's user database. It can only compare your DNA to people who have taken their tests.
Ancestry is still expanding to more locations around the world. It means the accuracy of your test result will depend on the regions the company will compare your DNA to.
DNA results may also vary for each individual. Still, it can give you an idea of where your ancestors lived and help you find possible relatives.
How The Test Works
You must create an Ancestry account before you order an AncestryDNA kit. If you already have an account, you can use the same login.
Once you've activated your DNA kit and set up your account, it's time to extract your DNA sample: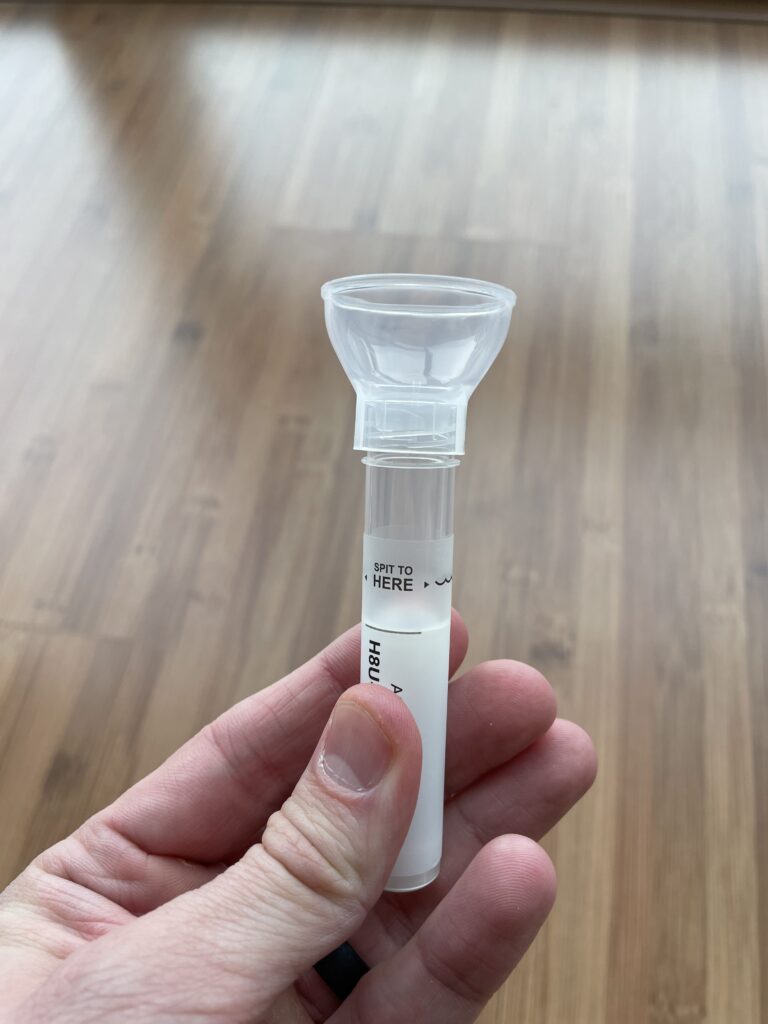 Do not eat, drink, or smoke for 30 minutes before collecting your saliva sample.
Fill the tube up with saliva.
Take off the funnel and replace it with a cap full of stabilizing fluid.
Tighten the cap to release the stabilizing fluid into the spit sample.
Shake the tube for at least 5 seconds. It ensures that the sample mixes with the stabilizing fluid well.
Place the tube in the collection bag and mail the completed DNA test to AncestryDNA. Hold on to the card to retain your activation code.
Wait for 6 to 8 weeks to receive your DNA results. (Mine took 16 days.) Ancestry will email you updates as your sample is processed.
The testing lab will extract and analyze your sample. It will generate raw DNA data and compare it to 30 billion records, reference populations, and other data points.
AncestryDNA uses autosomal DNA testing. It doesn't test for mtDNA (mitochondrial DNA) and Y-DNA (Y chromosome). Thus, it cannot track your maternal and paternal lines separately.
Key Terms in DNA Testing
Haplogroup refers to a genetic population with a common ancestor.
Autosomal DNA is inherited from autosomal chromosomes. Your mother and father each pass down half of your chromosomes.
Mitochondrial DNA is inherited solely from your mother's line. It is passed down through the mitochondria in your mother's egg cell.
Y-chromosome DNA is passed down among the male biological line of your family.
Where Can I Buy The Product?
You can purchase an AncestryDNA test kit on their website. You'd have to pay for the shipping fee separately.
How Much Does The Product Cost?
The cost of the basic AncestryDNA test kit is $99. The company offers two other test kits:
AncestryDNA + Family Tree Package — $100
AncestryDNA Traits + All Access Package — $199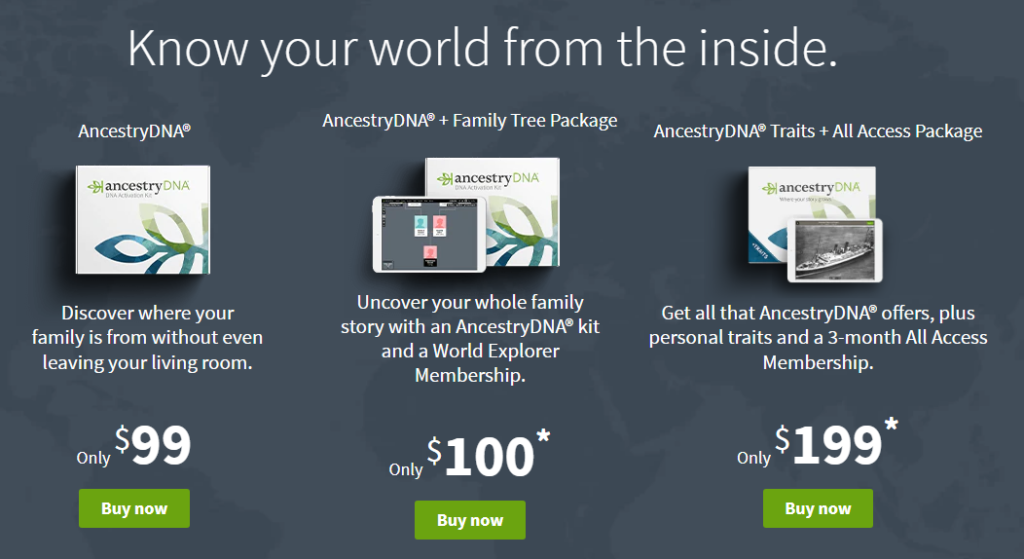 AncestryDNA also has membership and services, offering access to their massive historical and family resources database.
U.S. Discovery — $24.99 per month
World Explorer — $39.99 per month
All Access — $59.99
These monthly services let you expand your family tree and connect with your DNA matches.
They may be costly, but paying upfront for 6-month memberships will save you $18 to $60. There's also a 14-day free trial to see if the subscriptions suit your needs.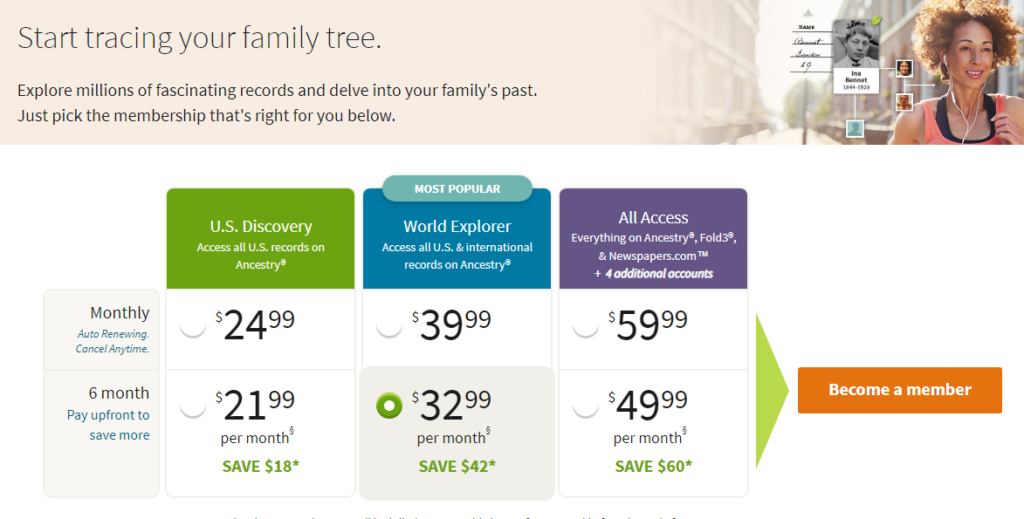 Ancestry DNA vs. Competitor
Here are our AncestryDNA reviews on how it compares to competitors:
| | | | |
| --- | --- | --- | --- |
| Quick Comparison of DNA Test Kits for Ancestry | AncestryDNA | 23andMe Ancestry Service | MyHeritage DNA kit |
| Cost | $99 | $99 | $89 |
| DNA testing method | Autosomal DNA test | Y-DNA, mtDNA, and autosomal DNA test | Autosomal DNA test |
| Number of regions tested | More than 1,800 | 2,000 | 2,100 |
| Offers family matching? | Yes | Yes | Yes |
| Database size | Over 22 million | Over 12 million | 6 million |
| Offers health screening? | No | Yes | Yes |
| When are the results ready | Six to eight weeks | Four to six weeks | Three to four weeks |
| Where can I buy it? | Ancestry website | 23andMe website | MyHeritage website |
AncestryDNA vs. 23andMe
Where 23andMe strongly focuses on health testing, AncestryDNA emphasizes ancestry DNA testing more.
Unlike 23andMe (which runs autosomal, Y-DNA, and mtDNA tests), Ancestry only performs autosomal DNA testing. You can't confirm maternity or paternity with Ancestry.
AncestryDNA vs. MyHeritage
Both use autosomal DNA testing.
MyHeritage has a smaller database than AncestryDNA. But, it has more users in Europe than the latter.
AncestryDNA's records are more concentrated in North American regions. The accuracy of your results may depend based on which region you're from.
Is My DNA Data Safe with AncestryDNA?
Yes. Ancestry says on its privacy page that you own your genetic data and personal information.
How Does AncestryDNA Protect My Data?
To help secure your data and ensure your privacy, AncestryDNA has the following safety and privacy measures:
Stores your DNA test results in a secure database
Doesn't allow the lab processing your DNA results to know who you are
Stores the DNA sample securely
Doesn't share your DNA data unless compelled by law enforcement
Allows you to delete all of your AncestryDNA test data
Still, some minor risks are involved when you submit your DNA samples to genetic testing companies such as Ancestry.
For example, they can provide your information to law enforcement if they are legally required. You can read more about Ancestry's privacy policy here.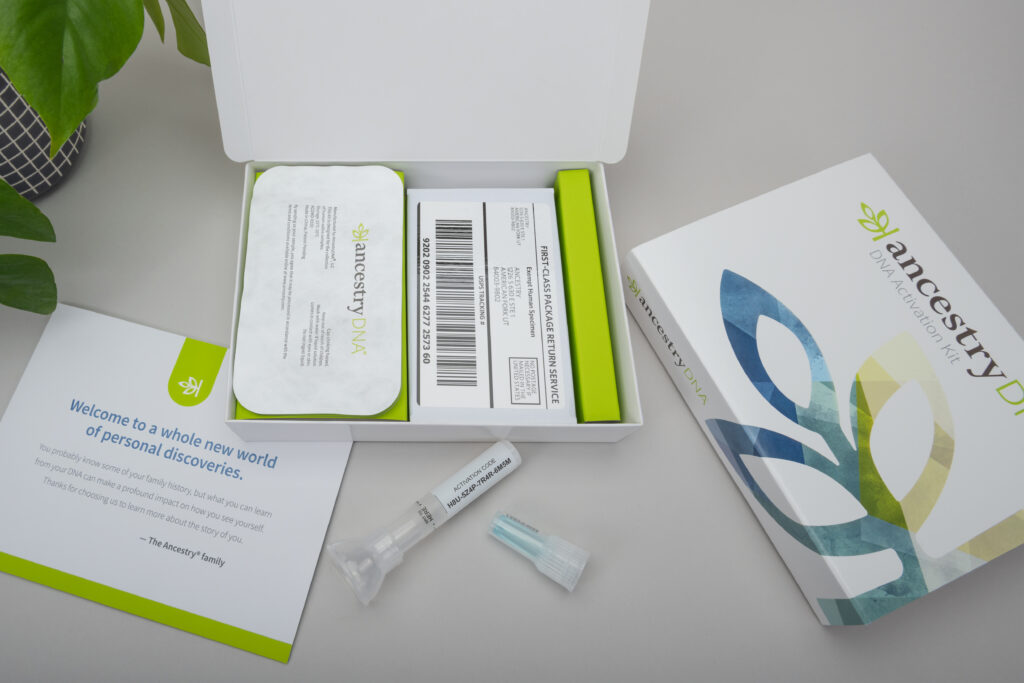 Is AncestryDNA Worth It?
Yes.
The AncestryDNA test kit is a superb way to learn about your ancestry. It provides an excellent opportunity for uncovering details about your heritage.
The business continually adds new features and updates your ethnicity results as they accumulate data.
For people seeking distant cousins or biological parents, the company's DNA database of 20+ million users increases the odds of successful matches.
If you're already an Ancestry member, it's worth adding AncestryDNA. It's an excellent tool for building and expanding your family trees.
About The Company
Ancestry is a DNA testing company that provides the best odds of finding your ancestors or potential relatives. It was one of the pioneers in computerizing family history.
In 2012, Ancestry offered its first DNA testing kit called AncestryDNA. It's directly tied to Ancestry's family tree service.
Since then, it has become a powerful tool for finding long-lost relatives, tracing your genealogy, and uncovering ethnic origins.
How We Evaluated The Test
Our team developed a list of criteria with the help of our in-house health expert Dr. Rizza Mira.
We evaluated the AncestryDNA test kit based on the following:
Company reputation
Ancestry earned its place among the most reputable DNA testing companies with their transparency about their services. Their policies and practices around genetic testing are also available on their website.
The company provides the following information for public knowledge:
The size of their user database
The type of sample they collect and the collection method
The reports you're getting from the test
How many biological markers they look at
How many regions they cover
Their customer reviews and ratings also reflect that they are a trustworthy brand. Many reviews online show they were satisfied with the test and reports from Ancestry.
Ancestry works with field experts and cutting-edge technology in genetic testing. Their competence and continuous innovation with their methods add to their company's reputation.
Privacy and security
Ancestry protects your information through a secure database. They also set up the following measures to protect the privacy of your data:
Concealing your name, address, and other contact information during lab processing
Asking for consent to participate in ongoing research efforts before they can use your information
Option to download and delete your raw DNA data from their system
Ancestry provides frequent reports about their interaction with law enforcement. They require legal processes like a court order or search warrant as the minimum level of due process before granting access to customer information.
Customer Service
Ancestry has a dedicated knowledge base where you can search for inquiries about your account and results. The company has virtual assistants on standby to answer your questions if you have problems navigating the support center page.
Their customer service hotline is available seven days a week from 9 am to 11 pm EST.
Convenience
Doing an at-home DNA test is about convenience. Purchasing the kit, collecting your sample, and sending it back to the testing lab should only take minimal effort.
Purchasing the kit online is straightforward and shouldn't take hours. They accept different payment methods, including Paypal, PayPal Credit, Apple Pay, and credit/debit card.
AncestryDNA has an easy collection method, so obtaining your samples at home should be no sweat.
Sending back your sample is also a breeze. The company has it taken care of with a prepaid return mailer. You just have to secure your sample in the packaging.
Your results will come out in six to eight weeks, and they'll update you through email.
Value for money
For an affordable cost, you get a highly extensive insight into your historical and geographical ancestry.
AncestryDNA will compare the data from 700,000 of your biological markers to population information from more than 1,800 global regions.
It helps them present a percentage breakdown of your ethnicity.
Additional services, such as connecting to potential DNA matches, are also available. The company can also help with building your family tree.
Accuracy
AncestryDNA has a multi-step process helping them achieve an accuracy rate of over 98 percent for each biological marker it tests.
One of their testing methods is autosomal DNA testing. It's the most information-rich test available. It looks at your paternal and maternal lines with a single saliva sample.
It traces your ancestry through the bits of genetic sequences from your past generations.
Besides, Ancestry has the largest user database, contributing to a more accurate result.
Cost and Additional Fees
AncestryDNA test kit falls within how much people are willing to pay for tests that help uncover their ancestry and heritage.
Although some features require additional fees, they should still be budget-friendly.
Why Trust Us
KnowYourDNA is committed to making healthcare more accessible to the public, which is why we feature products that meet industry standards.
We only choose at-home DNA test kits with reliable testing methods and science-backed reports to improve your experience.
Our in-house medical experts help ensure the accuracy of the information we give our readers by reviewing it before publication.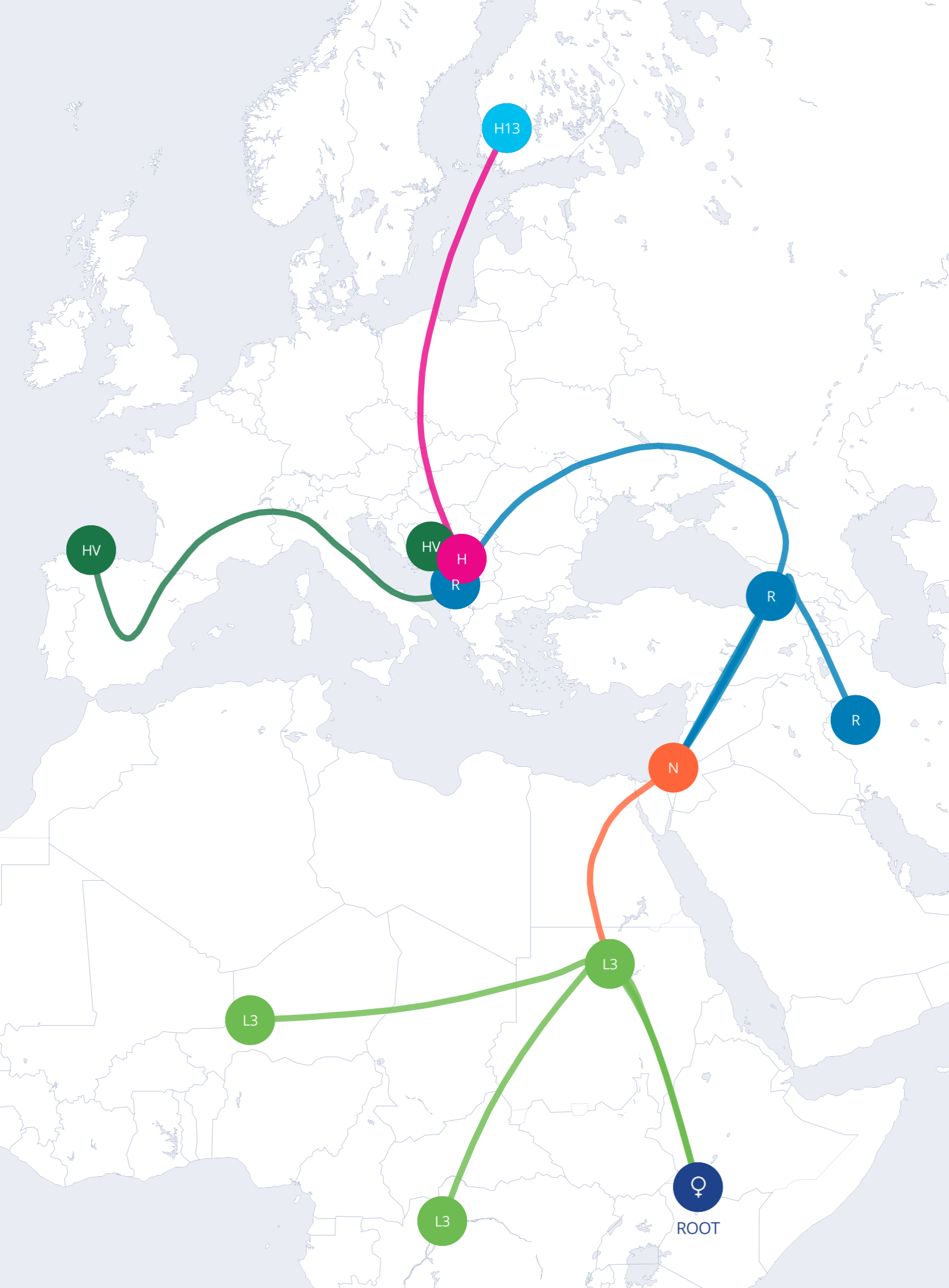 The Best DNA Test
Looking for a DNA test that's accurate and can tell you about your health and heritage?