What is Ample?
Ample is an all-in-one meal replacement shake, like Soylent.
Like many other meal replacement shakes, Ample aims to revolutionize the way we eat by putting "food" into an easy-to-drink formula.

Ample, though, is unique in at least one way. Ample comes in two forms. You can buy bottles with a pre-measured amount of meal replacement powder already in there, or you can buy a tub of the powder.
Ample is one of the most expensive meal replacement shakes on the market.
When I was looking for a tester bottle for myself, I found them selling for $10 a shake. On the flip side, though, Ample contains the highest quality ingredients on the market.
In the next section, I will examine the merits of Ample. There are plenty of reasons why you should consider Ample meals, despite the cost.
Ample and What I Look for in A Meal Replacement Shake
To get into my review of Ample, I'd like to present the rubric I use to analyze the most important factors for me in a meal replacement shake.
Here is my rubric for evaluating meal replacement shakes:
How much protein is there?
Are the ingredients high quality?
Does it taste good?
How much does it cost?
Is it filling?
1. How Much Protein is in Ample?
Ample has a higher than average protein content. I'd say 25g is close to what I want in a daily shake but I would still have to supplement it for my own needs.
However, I will add the concession here that the carb to protein ratio is great. Especially if you opt for the keto meal replacement shake that Ample offers: Ample K (and right now at this moment, Ample K seems to be the only product you can buy on the site.)
2. Are the Ingredients High Quality?
Ample contains some of the most diverse and high-quality ingredients I have seen in this market. A brief glance at the ingredient list offers a few clues about the price and rave reviews from people looking for the best nutrition possible.
Macadamia Nut Oil? How often do you see that? I really like the additions of high MCT oils like Coconut and Macadamia nut oils. Besides that, all the protein comes from great sources like grass-fed whey and pea protein.
The downside is that this is not a vegan option. If you are looking to get all your nutrition from plants, I recommend something like Huel instead (which in my opinion offers some of the best vegan nutrition you can find.)
To sum things up, Ample is a connoisseurs' nutrition product. I don't think you will find it better. It contains a ton of prebiotics, probiotics, and fiber. Ample doesn't compromise on artificial sweeteners and flavors and is the perfect choice for gut health.
3. Does Ample Taste Good?
To me, Ample tastes like a shortbread cookie, but on the light side. It's certainly not my favorite meal shake I've ever tried in terms of flavor, but it more than suffices.
It tastes a lot like nut milk with some spices and the undeniable creaminess coming from the higher fat content. I would say that the whey flavor is there too (which I would say I am neutral about.
It earns a solid 3 stars from me. Perfectly acceptable. And I'm satisfied with the fact that they achieved this without the use of artificial sweeteners and flavors.
4. Is Ample Expensive?
This is where we come to one of the major cons of the Ample shakes.
Unfortunately, for me, it is outside of my daily price range. I try to be as frugal as possible and the truth is that one Ample shake costs about as much money as I want to spend in a day.
For the price of a 100% Ample Meal Replacement Shake Diet in one day, you could get a really nice dinner out. That's a difficult hurdle to overcome. But clearly Ample is targeting a different market than myself.
I might consider Ample because of the high-quality nutrition it provides if I had a higher daily food budget. If cost isn't a factor for you and you're searching for the best meal replacement shake out there in terms of nutrition, it might be worth it for you.
5. Is Ample Filling?
I would say from my own tests that Ample is one of the better shakes for filling you up.
From my week-long test, I determined that Ample shakes keep me fuller for about an hour longer than the average shake (like Soylent, Jimmy Joy, etc) and compare with Huel.
You may want to do your own tests.
Ample offered a sample pack in the past, which they are currently sold out of. The benefits Ample provides to your gut may tip the scale in the long run. It contains lots of hunger-helper additives in the form of high fiber, collagen, helpful bacteria, and other additives.
The History of Ample
The founder of Ample started on a different track than many other meal replacement shake creators. Like myself, Connor Young was a practitioner of CrossFit and owned his own gym. He was already eating healthy, but everything changed when he moved to San Francisco.
Connor started to have difficulty maintaining his healthy lifestyle with his growing business. He realized that for himself, friends, and colleagues - there wasn't enough time to get good nutrition. So he started mixing his own meal replacement powders at home.
After reaching a bit of success with his homebrew soylent, he decided to start marketing his product to the public. Connor started with an Indiegogo campaign to crowdfund a product and bring it to the market.
He recruited a high-powered team and started to grow Ample.
Today Ample is a solid option in the US meal replacement space. They've expanded into Keto meal replacements and continue to release new products.
It's not hard to see how successful they are - it's hard to get ahold of one of their shakes.
Why Trust My Review?
Since Soylent entered the market in 2014, I've tried dozens of meal replacements—from powder mixes to meal bars, and even ready-to-go meal shakes.
I've compared their ingredients, nutritional quality, taste, and texture–and picked out products that I believe meet the best standards. The first time I saw a true meal replacement product was when I read about it in the first VICE soylent article back in 2013.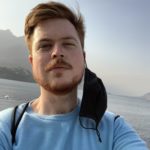 I want to help you reach your nutrition goals just like I have. So you can count on me to give you solid advice about what meal replacements work best.
Our in-house nutrition experts help ensure the accuracy of my information by reviewing them before publication.
The Ample Meal Replacement Line
NOTE: Ample is currently having supply issues. Ample Meal Replacement Shakes are sold out and are only available for pre-order. Reserve yours now [[[here]]] (affiliate link)
Ample Original
Ample Original meal replacement shake powder was the first offering from Ample (although it is now sold out.) You can buy it in bottles or canisters, however, the canister is the more economical option.
Ample powder is designed to be mixed with water as an on-the-go meal replacement option. Ample recommends that you replace 1-2 meals a day with their meal replacement shakes.
Ample Original only contains 4g of sugar and 12 grams of net carbs total. But if you are looking for a more keto-friendly option, check out the next section.
Ample K (Ample High Protein)
Looking at their website, Ample K (what was originally the Ample Keto Shake) is now being sold as the only option: Ample High Protein Meal Shake bottles.
Ample High Protein contains few carbs and is a suitable option for a keto diet. If you are looking to replace one of your daily keto meals with a meal replacement to save time, this is the option for you.
Ample shakes only contain a few grams of carbs and I would recommend them to you even if you are not on a keto diet. I find that the high fat and protein content keeps me fuller and for longer.
You can also buy Ample K // Ample High Protein in a canister or bottle. 
The Ample Experience
Ample Packaging
The bottles are the most common form of Ample that you will see. Ample sells packs of 6 or 12 bottles, or alternatively: a large canister of powder that makes it a bit more affordable.
I'm not a big fan of all the plastic waste that ordering the bottles generates, but it is convenient. If I was a long-term Ample fan, though, I would order the canister to save money. It would knock a few dollars off the total per-meal cost of drinking the Ample shakes.
Currently, Ample only offers one order option: Ample High Protein in bottles or the Ample powder canister. I'm not sure what is going on, but they seem unable to keep up with the demand.
Previously it was possible to order a sample pack, allowing you to try a few different offerings. Until they restock this will be your only option.
Ample's ready-to-shake option is not quite the ready-to-drink option I myself would hope for. It finds itself in this weird sort of in-between area. Many people like savings on weight and the ability to pour water in and go.
How does Ample Taste?
Ample tastes a bit different from your normal Soylent type formulations for a few reasons:
No Artificial Flavorings or Sweeteners
Uses Whey Protein
Contains Higher Fat Content
If you're expecting it to be dessert-sweet like some of the other meal replacements, you might be disappointed. It has a very subtle flavor: a bit of cinnamon and nutmeg, and as I mentioned before is pretty creamy. I found the chocolate and vanilla flavors were pretty subtle but I definitely prefer vanilla.
The smell when you first open a fresh bottle is a bit grassy, like hay. But once you add water, you'll notice it smells a bit like cookies or oats. Overall the flavor is like less-sweet nut milk with a bit more fat content coating the tongue.
It reminds me a bit of the older Soylent flavor, like pre-version 2.0. I wouldn't say this is a bad thing. I think Ample flavor will appeal to the types who are likely to order it: subtle - the focus is on the nutrition here.
Ample Texture
I've found Ample to dissolve pretty well, but it requires a lot of shaking.
I'm not a huge fan of this. I found that after about 30 seconds of shaking, it was still a bit unsuspended. Like always, I prefer to put everything in the blender rather than leave it up to chance.
So what I did with Ample the second time was
"The powder mixed and dissolved quickly when I added water and shook the bottle, again better than I expected. No clumps. The texture was pretty smooth, without any grit catching in the back of the throat, and no chalky sensation, even immediately after mixing. With the amount of water I added, following the instructions to not-quite-fill the bottle before shaking, the consistency was thicker than milk but not too thick - pretty much just right."
Ample Nutrition
Nutrition is one of the main highlights of Ample and the main reason I would consider buying it. One of the surprising things is that Ample does not contain complete vitamins and minerals.
Ample is not the type of shake you use if you were going to go on a 100% meal replacement diet. But that's not a big problem.
Ample doesn't market itself as a 100% meal shake, or as a weight-loss shake. It's for people on the go, people who exercise a lot and want a healthy option instead of cooking or eating out.
The Ample website recommends replacing 1-2 meals a day. And for the price, I don't see how the average person could afford to do more than that anyways.
Let's break down some of the components of Ample nutrition:
Calories: 400
Total Fat: 26g
Cholesterol: 0mg
Sodium 380mg
Potassium: 360mg
Total Carbohydrates: 23g
Dietary Fiber: 11g
Sugar: 4g
Protein: 20g
Net Carbs: 12g
If you are drinking Ample K, or the currently branded Ample High Protein (Ample Keto Shake), expect a bit more protein and fat instead of carbs.
Calories: 400
Total Fat: 28g
Cholesterol: 10mg
Sodium 500mg
Potassium: 430mg
Total Carbohydrates: 11g
Dietary Fiber: 7g
Sugar: 2g
Protein: 25g
Net Carbs: 4g
One of the best things I noticed is that even in the original formulation, Ample contains about half the amount or less of carbs as other meal replacement shakes.
Other shakes have a lot of unnecessary carbs like maltodextrin in Jimmy Joy, or allulose in the case of Soylent.
I think the closer you can get to eliminating these carbs in your diet, the healthier you will be. Still, though, it contains less protein than Huel shakes. I would like to see 0 sugar and 5-10 grams more protein.
But there are a lot of benefits to drinking Ample. Ample has a lot of nifty additives like probiotics. Some of the higher quality sources for nutrition contribute to the cost: things that are nice to see.
Here's a little list of some of the things I like in the Ample powder:
Diverse fats like macadamia nut oil
More electrolytes than average shakes
Natural sweeteners
Added greens
Egg white and whey protein (though not vegan)
Brandon B. iterates some of the benefits of Ample's macronutrient ratio in his review on the Ample product website:
"I've been drinking Ample at least once a day post-workout if not more when my schedule gets hectic for almost a year. I also travel with the Ample, allowing me to supplement an otherwise unpredictable international eating schedule.
Ample has provided me a way to maintain gut health and also the perfect ratio of quality carbohydrates and protein.... without unnatural tasting additives.
I highly recommend Ample to anyone who expects more out of an RTD product."
If you are looking for vegan, plant-based meal replacement nutrition, you will have to look elsewhere.
I don't think Ample has any plans to make a vegan version again. It's unfortunate, but thankfully there are already a ton of good options in that space like Huel.
Ample and the Body
Ample has made gut health and digestion a priority. Previous versions of Ample contained more fiber, but for some reason, they've toned it down. Ample contains great additives for overall health like collagen, too.
If you're looking for a shake that contains a lot of fiber (prebiotics) and added probiotics strains, Ample may be what you're looking for.
If you're new to meal replacement shakes and ingesting enough fiber though, be careful. I find my first few days of using a meal replacement shake can be rocky in the bathroom if I'm not used to them.
I didn't have any problems with Ample and I felt pretty energized and refreshed. However, this is how I feel for the most part with a majority of the meal replacement shake brands. I can't say there's anything too special about Ample at least in the short term.
What Are The Negatives of Ample V?
Ample clearly has a dedicated fanbase, which I discovered when I tried to order my own sample packs and found that they were out of stock.
Ample is popular for a lot of reasons, but there also some negatives I will talk about here:
Supply Chain Problems
Lack of options for flavor
Lack of diverse products
Have to mix your own shakes
The high protein option is still lower than some
Incomplete nutrition (lack of certain vitamins and minerals)
Ample Shakes and Weight Loss
Ample shakes have a good amount of protein and fiber. According to the research, a lower-carb diet can keep you healthier.
Ample has a great ratio of protein-carbs-fat, better than most shakes.
58% premium fats (Coconut, macadamia nut, and sunflower oil)
20% protein (Sourced from whey and pea protein)
23% carbs (11 grams of fiber and 12 grams of net carbs. Sourced from plants, with ingredients like organic guar gum)
For the average non-athlete, it's perfect, but I would need to supplement more protein for myself.
The average American diet is lacking critical nutrients that assist you with weight loss. In fact, 3 of the most important ones for feeling full: Fiber, Sodium, and Potassium. Without these, especially fiber, the stomach is triggered to be hungrier sooner.
I can speak from my own personal experience and having lost over 130 lbs with the assistance of meal shakes. You CAN use meal replacement shakes to help you too.
We will talk about my experience in future articles. Start slow, replace one meal you normally have trouble with, like lunch, and go from there.
The Ample website recommends 1-2 Ample shakes a day with a larger whole food meal in the evening.
Overall Experience with Ample
I really like a few things about Ample.
If you are looking for a ketogenic meal replacement shake, Ample is one of the only mainstream options besides brands like Keto Chow. Unlike many brands (especially European ones), Ample has bucked the trend of including a lot of useless carbs.
Ample caters to athletes like myself and has found a dedicated fanbase. If it wasn't so dang hard to try Ample, I would put it higher on my personal list.
Only having 2 products on the website - high protein chocolate and vanilla makes it a dicey option. You may find shipping delays. You may be waiting a long time to get your Ample pre-order while they refill their stock.
One of the main things Ample could improve is the cost. It's just simply too expensive for me to use as an everyday shake. I can't justify the cost, even though the nutrition is pretty good. I also have to worry about supplementing my vitamins and minerals because Ample doesn't contain 100% nutrition, opting for the natural route.
Overall, I think I will have to wait to see what Ample does in the future.
Their decisions about flavors and new products will make or break the success of this company. So far, I think they've been a bit stubborn with things like getting rid of options rather than adding them, for example in the case of the old vegan version.
Pros
Convenient bottles for powder
Boutique high-quality macronutrient sources
Highest fat shake available and keto option
Cons
Lack of flavors
Lack of products
Supply chain problems
Very expensive
Incomplete nutrition
AMPLE FAQ
Is Ample a Vegan Option?
No!
At one point, Ample made an all-vegan option, but that is no longer the case. All Ample shakes use egg and whey protein. Ample wouldn't even be considered vegetarian but would be ovolactovegetarian.
Is Ample Keto?
Yes! Ample High Protein, formerly named Ample K, is a ketogenic meal replacement shake because of its low carbohydrate content.
This is pretty nice because there aren't many mainstream keto meal replacement shakes. 
Is Ample Sustainable?
What really matters here is the type of product you buy. Ample High Protein bottles are a significant waste of plastic in my opinion, and a bit needless for my lifestyle. If you're like me, you have your own shaker bottles or something similar.
The ingredients seem to be about average. There are many vegan nutrition sources, but there is an ongoing debate as to whether or not bovine-derived nutrition like whey or collagen has a large impact worldwide.
If sustainability is your goal, there are better options out there. Buying the canister of Ample would help in reducing plastic waste.
Why is Ample out of stock?
I've reached out to Ample to look into their supply chain problems. For now, I would assume that there is high demand. I looked into the Ample Amazon store and they are sold out there too.
For now, the only option you have to order Ample is through re-sellers on eBay or Ample High Protein on their website. I'm unsure when the regular, non-keto version of Ample will make a return.
They seem to frequently change products with new versions and flavors. But I do know that there used to be more options for ordering Ample.
Where to buy Ample?
Due to some of the problems I mentioned earlier and to ensure that you get a genuine, fresh product (Ample shelf-life is 11 months), I recommend ordering on their website here.