ALIGNERCO: The Best Affordable At-Home Teeth Aligner
At-home teeth aligners like ALIGNERCO are a safe, practical, and cost-effective way to get straighter teeth. Compared to traditional braces, it allows for do-it-yourself teeth straightening with some dental guidance.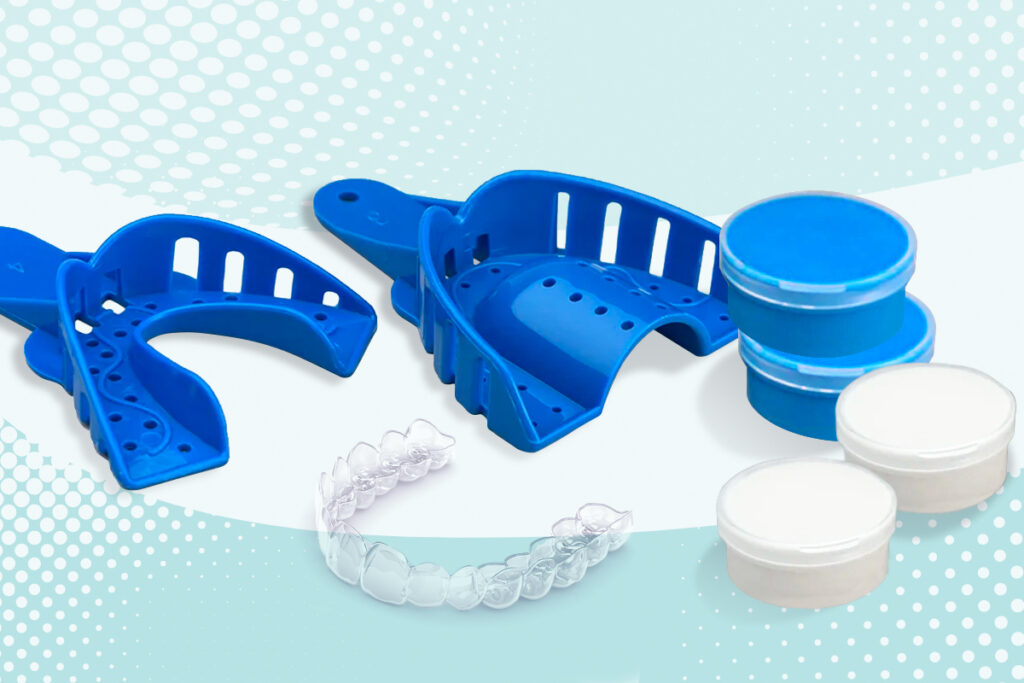 A dental professional will review your teeth impressions to see if you can have them straightened at home.
If you qualify, you will have the choice to approve or deny treatment. If you choose to approve the treatment plan, you'll receive multiple custom aligner trays within the month.
Aligner trays are made of clear plastic, which is why they're often called invisible braces. Unlike metal braces, a clear aligner is something you can wear or remove as you please.
At-home clear aligners are generally cheaper than both metal braces and in-office aligners. However, it still depends on the brand and whether you use a daytime or nighttime aligner.
Metal braces and in-office aligner treatment (like Invisalign) can cost up to $8,000 Meanwhile, at-home teeth aligners cost an average of just $1,691.
Our review shows ALIGNERCO is the best affordable option to straighten your teeth. An entire treatment plan costs only $870 (for the SmileAdvantage Daytime Aligner) and $1,070 (for the NightAdvantage Night Aligner).
Who is ALIGNERCO for?
ALIGNERCO's invisible aligners are for anyone who wants to straighten their teeth at home. These include people with mild to moderate dental occlusions or teeth misalignment.
Clear aligners can be used to correct minor to moderate cases of teeth misalignment:
Spacing issues — gapped teeth or overcrowding
Crossbite — upper teeth that fit behind the lower teeth
Underbite — lower teeth that extend further than the upper teeth
Overbite or buck teeth — upper front teeth that extend beyond the lower front teeth
Keep in mind: Invisalign or braces are typically better than at-home aligners in cases of moderate to severe teeth misalignment.
ALIGNERCO does check for eligibility before providing aligner treatment. You must be at least 14 years old and have not received a tooth implant in the last three months.
How Does ALIGNERCO Treatment Work?
Here is the step-by-step on how ALIGNERCO treatment works:
Step 1: Take the free online assessment
The first thing you need to do is take a 1-minute survey on ALIGNERCO's website to see if you're eligible for treatment. The company will let you know and offer their products if you qualify.
You can prepay your aligner treatment from here. The package may include an impression kit, a Smile Projection report, your custom aligner, retainers, and a teeth whitening kit.
Step 2: Buy the Kit First Plan impression kit
Next, you'll buy the impression kit online for $59.99. The included mold lets you take an impression of your dental features at home. We tried it out ourselves—it's really easy to follow.
Here are the steps:
Empty the contents of your impression kit.
Mix one (1) pack of light putty with one (1) pack of dark putty.
Roll the putty and place it in the impression tray.
Fit your mouth into the tray and bite down on the putty.
Maintain the pressure for the next three and a half minutes.
Repeat steps two to five until you have all impressions of your teeth.
When you finish, send your impressions back to ALIGNERCO for analysis.
Step 3: Get a Smile Projection of your teeth impressions
A licensed dentist or orthodontist will review your teeth impressions to see if you can proceed with the ALIGNERCO treatment process.
If you don't qualify for this step, you will get a full refund for the starter kit. But if you do, a dental professional will create your personalized treatment plan, which can take a few weeks.
The plan includes your Smile Projection. It is a three-dimensional treatment preview that shows you what your teeth may look like before and after treatment.
Step 4: Start your ALIGNERCO treatment plan
When you're ready, you can opt for the treatment of your choice. ALIGNERCO offers two types of at-home aligners which you can purchase on their website:
Daytime Invisible Aligners — worn 20 to 22 hours a day for 12 to 18 months
Nighttime Clear Aligners — worn eight to 10 hours a day for 6 to 8 months
You can buy an aligner with a one-time payment or under a flexible payment plan. The product will then be shipped to your doorstep.
Step 5: Get remote support
ALIGNERCO will continue sending additional aligners every few weeks. This will continue for about eight to 18 months until your treatment is complete.
You will be asked to send photos of your teeth throughout this period. Dental professionals will be keeping track of your progress. If you encounter problems, you can contact them via phone, email, or live chat.
Step 6: Maintain your straighter teeth
Once you've completed treatment, ALIGNERCO will provide you with a custom retainer to keep your teeth straight. You can wear it 20 to 22 hours a day in the first four to six months following aligner treatment. After that, you can just wear them at night.
Keep in mind that the exact duration you have to wear retainers is different for everyone. It will depend on your treatment plan.
Is ALIGNERCO Legit and Safe?
ALIGNERCO offers a legit way to straighten teeth with mild to moderate misalignment. Their invisible aligners are generally safe for use.
The teeth aligner company lets you take a survey. Your answers will help them determine if you're a good candidate for straighter teeth.
They will decide whether or not they can correct your teeth with ALIGNERCO's aligners. If they think you need orthodontic treatment, they will cancel your request for a personalized aligner.
If you happen to live in or near New York, you can head straight to the ALIGNERCO Smile Studio for an in-person assessment. They also accept video consultations per request.
The two-step qualification helps ensure safety while having your teeth straightened with clear aligners. But does ALIGNERCO work?
To give you a quick answer, it does. Though it largely depends on your dental problems.
What are the risks of using ALIGNERCO?
Even though they are generally safe to use, aligners are not risk-free. Your teeth can break down with aligner treatment and get reabsorbed into the body. This is known as root resorption.1
However, this risk isn't exclusive to clear aligner treatment. Root resorption can also happen with metal braces and other orthodontic treatments.
Bottom line: Aligners are generally very low-risk, especially when you use them properly.
Do ALIGNERCO's clear aligners hurt?
Teeth aligners cause tooth movement, so they can cause some discomfort at the beginning. This is normal and a sign that your at-home aligners are working.
How Effective is ALIGNERCO?
One survey shows that 87.5% of respondents were satisfied with the results of invisible aligners. And while many preferred getting traditional metal braces at a dental office, they usually opted for aligners because they were convenient and affordable.2
In a separate study, teeth aligners were associated with a shorter average treatment time than metal braces. People who didn't remove their teeth for alignment (non-extraction patients) enjoyed a 67% faster recovery rate with aligners.1
However, teeth aligners were found to be less effective in the following situations:1
Misaligned upper and bottom teeth
Moving teeth in opposite directions
Correcting crowding in extraction patients
Unlike traditional braces, aligners cannot provide occlusal contact or the proper contact between upper and lower teeth.1
Scientific evidence suggests that an invisible teeth aligner effectively treats mild to moderate alignment issues—like dental crowding. However, it doesn't work as well for complicated dental problems.1
How Much Does ALIGNERCO Cost?
Compared to other companies, ALIGNERCO has the most affordable teeth aligners. You can choose from multiple payment options with free shipping within the United States.
The total cost of ALIGNERCO treatment depends on your dental condition and if you follow instructions. But you can expect to pay upwards of $1,145 to cover your aligners.
Kit First Plan
If you don't want to commit to treatment, you can buy the impression kit online for $59.99. The package includes:
Impression putty and trays
Cheek retractor
Disposable gloves
Smile Projection
Smile Daytime Teeth Aligners
SmileAdvantage by Affirm is the most flexible payment plan. The aligner package doesn't require a down payment. And you can buy it for a monthly payment of $73 for 12 months or a total of $876.
The only downside to SmileAdvantage by Affirm is that you have to pay via Affirm. If you want a flexible option that accepts most payment methods, you can buy SmileFlex Easy instead.
SmileFlex Easy is available for a monthly payment of $100 for 6 months. But you do have to pay a $495 down payment upfront. This brings the total cost of treatment to $1,095.
SmileAdvantage is the most affordable option. It costs $,870 which you pay upfront.
Each package of ALIGNERCO's daytime aligners include:
Impression kit
Smile projection
Teeth aligners
Retainers
You also get a free teeth whitening kit with SmileAdvantage and SmileFlex, but not with SmileFlex Easy.
NightOnly Clear Aligners
NightAdvantage by Affirm is the most affordable nighttime aligner with some flexibility. You can purchase it for a monthly payment of $90 for 12 months or a total of $1,080. There is no down payment, but, like SmileAdvantage by Affirm, you can only pay with Affirm.
NightFlex Easy offers more flexibility and supports most payment methods through Partial.ly. You can get this aligner package for a monthly payment of $100 for 6 months plus a $695 down payment. However, it's also the most expensive nighttime plan and totals $1,295.
If you want an affordable option but don't want to pay in installments, NightAdvantage is a good choice. It costs a one-time payment of $1,070.
Each package of ALIGNERCO's nighttime aligners include:
Impression kit
Smile projection
Teeth aligners
Retainers
NightAdvantage and NightFlex also come with a free teeth whitening kit.
Add-Ons: Additional Retainers
You can buy backup retainers as add-ons to your package. These additional retainers can be purchased alone for $99.
Alternatively, you can opt for a Worryfree Protection Plan, which provides six year's supply of clear retainers. You get a new retainer every six (6) months and can request for a new one if you lose your retainers.
Alone, it costs $549 but when purchased with ALIGNERCO aligners, you can get it for cheaper.
ALIGNERCO's Daytime vs. Nighttime Aligners — Which is Better?
Daytime clear aligners are better than evening aligners, regardless of their brand. It's because they have a similar treatment process with in-office aligners.
Both at-home daytime and in-office aligners require 20 to 22 hours of daily use. Their average treatment duration is anywhere from eight to 12 months.3
Nighttime aligners are only worn for eight to ten hours each day, with treatment lasting for 12 to 18 months.
Daytime aligners may pose the inconvenience of longer treatment periods. But it helps ensure they effectively straighten your teeth. It also produces lasting results so you can maintain a straight smile long after treatment.
ALIGNERCO Reviews — Pros and Cons
Here's a summary of the pros and cons of ALIGNERCO aligners:
Pros
Cons
✓ Two-step qualification process helps ensure your safety and that treatment will work for you
✗ Impression kit doesn't provide detailed instructions
✓ A dentist or orthodontist will provide a personalized treatment plan
✗ Taking your own teeth impressions carries the risk of producing an inaccurate mold
✓ Safe to use on mild to moderately misaligned teeth
✗ Provides nighttime aligners as an option, which aren't proven to be safe or effective
✓ More affordable than most at-home clear aligners
✗ Does not work on severe cases of misaligned teeth
✓ Offers flexible payment plans, including monthly installments with or without a down payment
✗ Remote monitoring is not comprehensive
✓ Accepts payment via health savings account (HSA) and flexible spending account (FSA)
✗ You can't get a refund if you're not satisfied with the treatment
✓ Provides refunds for people who buy starter kits but did not qualify for the treatment
How Does ALIGNERCO Compare to Other Companies?
We compare ALIGNERCO with the leading invisible braces brands. Below are some positive and negative reviews on different at-home aligners.
ALIGNERCO vs. Byte Aligners
Both offer flexible payment. But with Byte aligners starting at $1,999 it is clear that ALIGNERCO has more affordable options.
Byte's fast-track treatment may sound appealing, but quicker treatment does not mean it is a safer or more effective option.
ALIGNERCO vs. Candid
At $79 per month, Candid is almost in the same price range as ALIGNERCO. Both offer in-person assessments, although Candid has more studios in different cities and states.
Candid also has the advantage of providing safe and fast treatment. Their average treatment time is six to 12 months, the shortest period you can safely straighten teeth.4 Unlike ALIGNERCO, they don't offer nighttime aligners, which makes it a safer option.
This is why Candid is our top pick for the best overall teeth aligner.
ALIGNERCO vs. Smile Direct Club
Smile Direct Club (SDC) is an established teeth straightening company. Compared to ALIGNERCO, they have more studios in the U.S. that you can visit for in-person consultations.
However, ALIGNERCO offers more affordable and shorter installment periods.
ALIGNERCO vs. NewSmile
Both offer personalized at-home aligners for daytime and nighttime. Both also have flexible and affordable payment options.
While NewSmile aligners are more comfortable to wear. The shortest treatment period is four months.
Why Choose ALIGNERCO's At-Home Aligners
If you are looking for a practical and affordable way to get straighter teeth, we recommend ALIGNERCO. It offers a middle ground between DIY braces and professional dental services.
The teeth straightening company provides a personalized treatment plan directed by a dentist or orthodontist. You don't have to visit their clinic. Everything will be provided for and delivered to your home—from the impression kit to your teeth aligner.
ALIGNERCO goes the extra mile to ensure your safety and that you are qualified for treatment, providing refunds if you don't meet the requirements. But what we like most is their flexible yet affordable payment options.