Our verdict: Ancestry is the best DNA testing company for ancestry reports, finding relatives, and exploring your family history.
But when it comes to health testing and learning more about your unique genetic makeup, you should go for 23andMe.
Choosing between these two isn't as simple as it sounds, though.
While AncestryDNA is generally better for ancestry, 23andMe offers some interesting insights (like your maternal and paternal ancestry) that make it worth buying.
This is why we're giving you an in-depth review that compares them based on the tests they offer, the results you'll get, their accuracy, and any added costs.
It should help you decide which DNA test is best for you.
Key Differences Between Ancestry vs. 23andMe
We scanned through hundreds of customer reviews. Here's a summary of what people keep saying about these DNA testing kits:
AncestryDNA Review
Pros
Easy to use and understand
Breaks down your ethnic origins for the last five generations
Large database helps you find more relatives and build family trees
Can accurately determine your relationship with DNA matches
Provides valuable tools for discovering your family history
Cons
DNA results take long (6 to 8 weeks)
Ethnicity estimates may not be accurate for everyone who takes it
People you match with may not be interested in connecting with you
Subscription is needed to access features for in-depth research
English test instructions and reports can be a barrier for global users who speak other languages
Read our full review of Ancestry here.
23andMe Review
Pros
Quick and simple testing process
Detailed ethnic background that may align with family records and stories
Accurate for finding close relatives
Transparent about the turnaround time for your DNA test results
Customer support quickly resolves issues and provides refunds
Cons
The kit's delivery may be delayed depending on where you live
DNA samples can get lost in transit
Results may take long to arrive
Ancestry results and traits may not match up with what you know
Some users complain of unresponsive or unhelpful customer service
Read our full review of 23andMe here.
Why Trust Us
I've been testing DNA kits for the last seven years and have taken every DNA test on the market. I've compared results and have been committed to testing and tracking any changes over time.
As an organization, we at KnowYourDNA are committed to helping you get the most accurate information about your ancestry, health risks, and other genetic traits.
We only choose at-home DNA tests that meet the standards of the DNA testing industry and provide reliable testing methods.
Our in-house medical experts help ensure the accuracy of our articles by reviewing them before publication.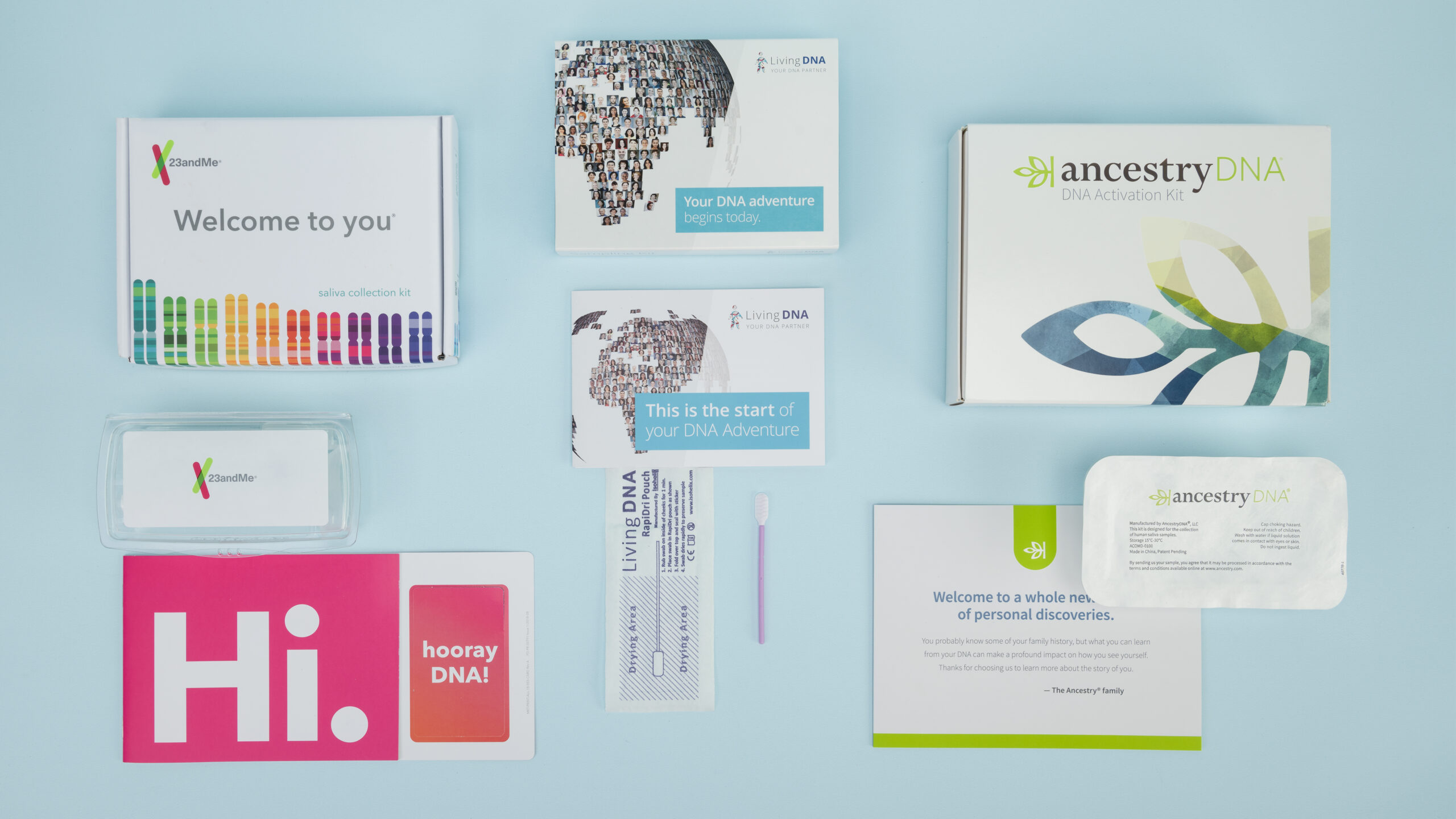 Best DNA Kit
Don't miss out on the opportunity to learn more about yourself. Read our best DNA test page to find the best one for you.
What DNA Tests Do 23andMe and Ancestry Offer?
Like its namesake, AncestryDNA specializes in ancestry kits and historical records to help you learn more about your ethnicity and family history.
23andMe focuses more on DNA health testing. Their tests uncover genetic health risks that may affect you or your child and help you trace your family's health history.
Let's take a closer look at their testing kits and services:
23andMe DNA Test Kits
The California-based company offers two kits and a subscription that includes a more comprehensive ancestry and DNA health test.
If you subscribe to 23andMe or buy any of their test kits, you can use the DNA Relative Finder to discover people you may be related to in the present day.
1. 23andMe Ancestry + Traits
The ancestry test uncovers the migration routes of ancestors from your mother and father's side of the family and traces your origins to over 2,000+ regions.
The kit also includes reports on certain genetic traits that make you uniquely yourself. You'll learn which genes affect your taste, smell, appearance, etc.
2. 23andMe Health + Ancestry
This test offers the same results as 23andMe Ancestry + Traits. However, you'll get additional health and wellness reports, including:
Genetic health risks or health conditions that you may develop
Carrier status for genetic disorders that your children might inherit
Other genetic markers that influence your health and lifestyle
3. 23andMe+ Membership
If you sign up to become a member, you will receive the Health + Ancestry kit plus all of its results. The membership also includes the following:
More health reports on genetic risks and wellness traits
Pharmacogenetics or genes that affect your absorption of some drugs
Access to new features and reports for up to a year
Ancestry DNA Tests
The Utah-based company has two kits and packages them with other services, including DNA Matches, which helps you find possible relatives.
1. Ancestry DNA Test
This ancestry test tracks down your ancestors' migration routes and origins to more than 1,800+ regions—but doesn't give you access to other services.
2. Ancestry DNA + Family Tree
The package includes Ancestry's DNA kit and the usual ethnicity estimate, which breaks down your ancestry from different places.
Additionally, you get three months of access to U.S. and international historical records, which can be useful if you're investigating any known ancestors.
If you opt for this service, Ancestry can also help grow your family tree by matching you with users with the same surnames and similar DNA.
3. Ancestry DNA Traits + All Access
It includes the more advanced Ancestry DNA Traits test, which provides ancestry results and identifies genetic traits that affect your health and appearance.
You'll also get three-month access to U.S. and international records, Fold3's military records, and a Newspaper.com subscription.
This gives you the best chance of learning more about your family history.
Comparing Ancestry and 23andMe Results
Now that we've covered the tests each DNA testing service offers, let's see how their reports stack up against one another.
Ancestry Reports
AncestryDNA provides Ethnicity Estimates, which show where your ancestors might have originated from.
It breaks down your ancestry from each location into percentages based on the amount of DNA you share with a particular group of people.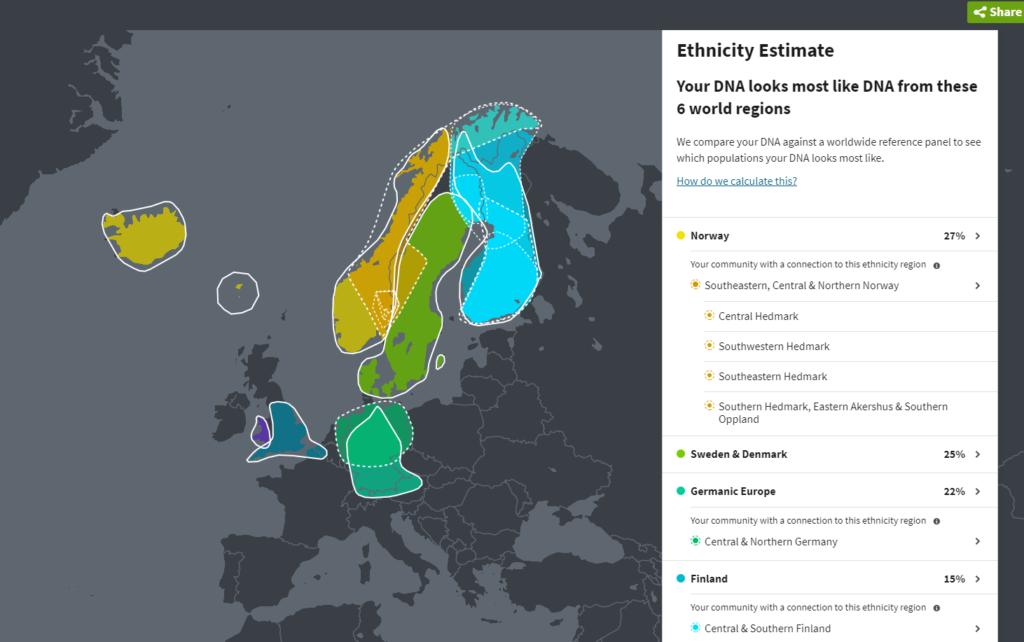 KnowYourDNA / Joel
Ancestry will also show your Genetic Communities or the places where you and other users might share common ancestors from.
You and your community likely descended from the same group of people who migrated to or lived in the same place at about the same time.
23andMe offers an Ancestry Composition Report, which tells you where your ancestors from the last five to ten generations might have lived.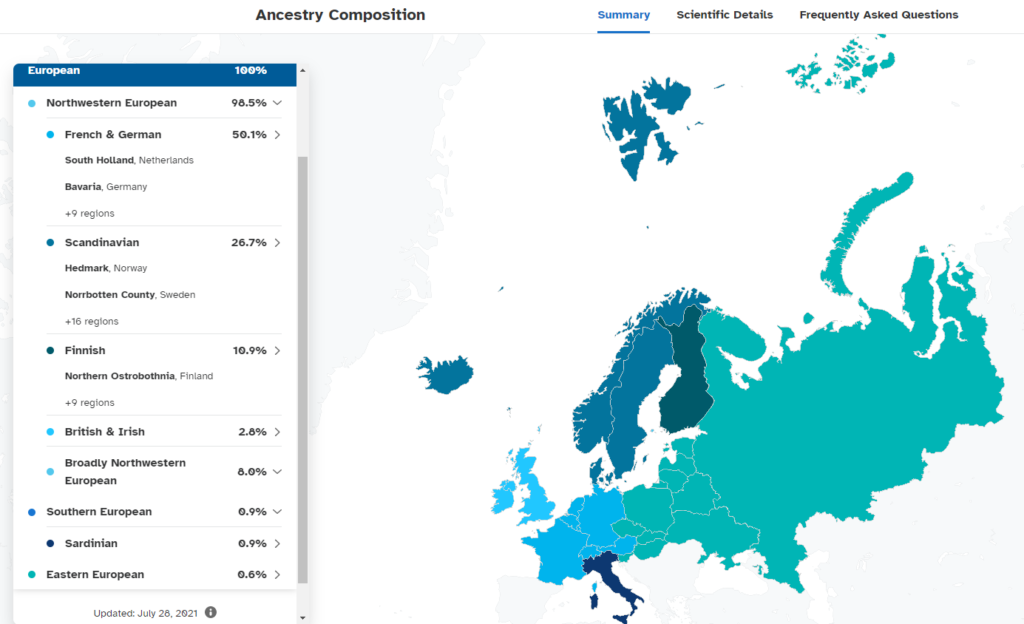 KnowYourDNA / Joel

It's very similar to Ancestry's Ethnicity Estimates and shows the percentage of DNA you share with people from different places.
In addition to your ancestry composition, 23andMe will give you reports on your maternal and paternal haplogroups.
It reveals the migration patterns of ancestors from both sides of the family.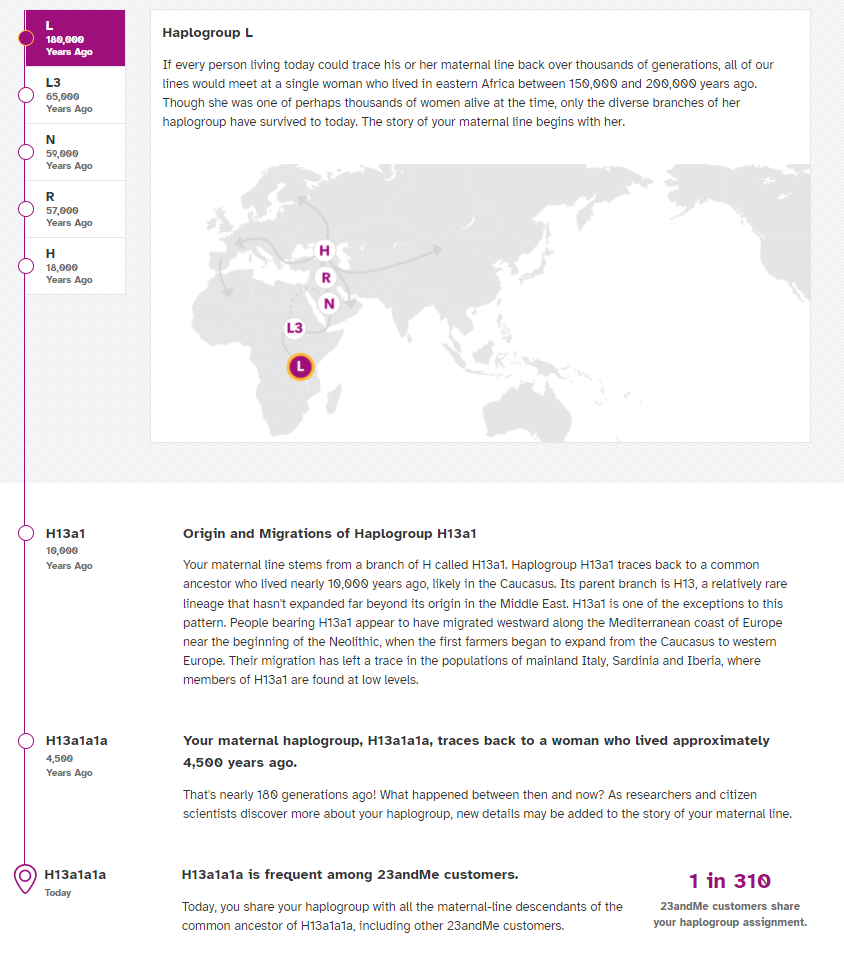 KnowYourDNA / Joel
23andMe offers two unique reports that set it apart from Ancestry. Namely, they are the Neanderthal Ancestry Report and Ancestry Timeline.
Your Neanderthal ancestry is based on how much DNA you have in common with Neanderthals, our closest human ancestors from 500,000 years ago.

Sample Ancestry Timeline / 23andMe
Your Ancestry Timeline estimates the time period that a particular ancestry entered your family tree.
DNA Matching Results
Ancestry and 23andMe offer DNA Matching, which helps you find potential relatives within the companies' respective genetic databases.
Your report will include the degree of relationship you might have with possible DNA matches (e.g., second cousin) and your percentage of shared DNA.
There's also the option to get in touch with your genetic relationships. But as you can see below, Ancestry provides more detailed results in this category.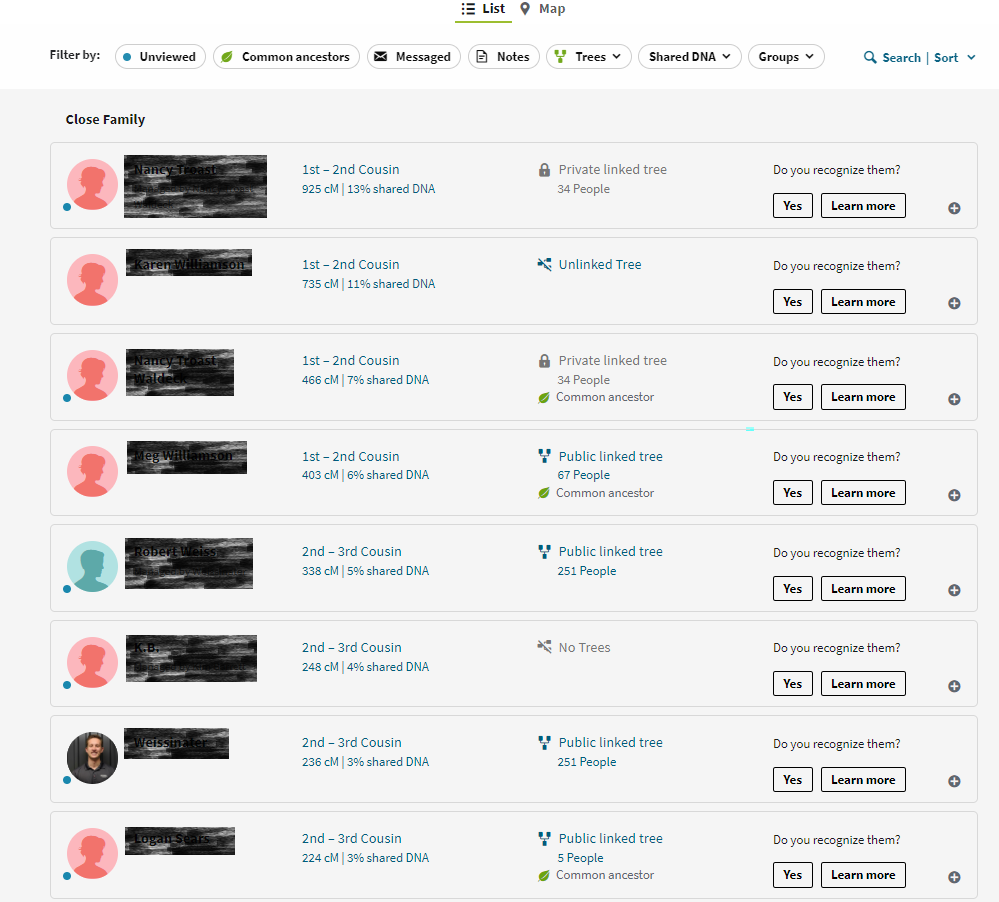 KnowYourDNA / Joel
It tells you whether or not you share ancestors and DNA with a genetic match and if they have a private or public family tree that you can explore.
23andMe's matches are not as comprehensive but may help you find more relatives with a new feature called Relatives in Common.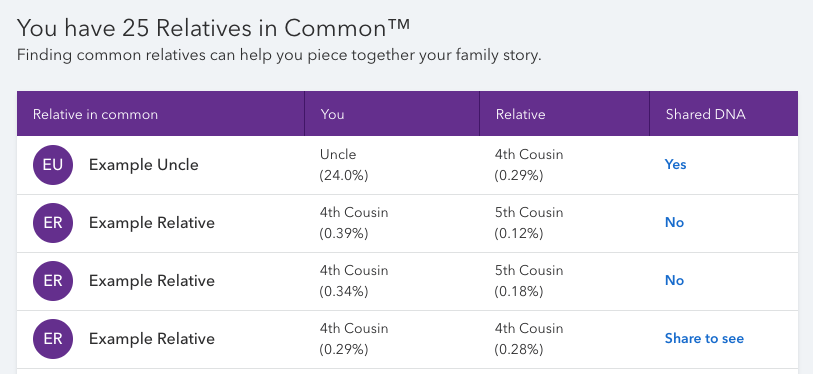 Sample Report for DNA Relatives in Common / 23andMe
DNA Relatives in Common identifies other potential relatives based on your genetic matches.
It predicts the relationship the common relative has with you and your DNA relative and shows you whether or not you have shared DNA.
The report will also tell you if you, your DNA relative, and a relative in common might have descended from the same ancestors.
Family Tree & History
Both DNA testing services allow you to create and edit your own family tree, or offer to build you one using your DNA matches.
However, Ancestry has the special ability to search the family trees of your genetic matches for common surnames.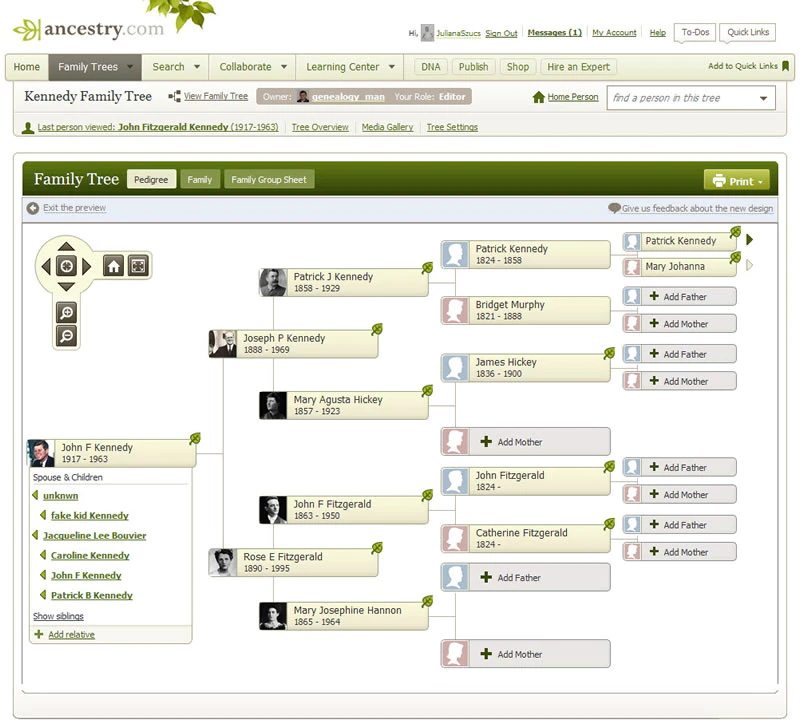 Sample Family Tree / AncestryDNA
Ancestry also provides access to military records, historical documents, and newspapers that may help you learn more about your family history.
You can use them to look up known ancestors or confirm the stories and identities of people your parents or grandparents may have told you about.
23andMe also has some unique features of its own. For instance, you can add your medical history and that of close relatives to your family tree.
Once you've set this up, it will be easier to see which diseases run in the family, including your parents, grandparents, siblings, children, aunts, and uncles.
Health Reports
Ancestry used to perform health screening with the AncestryHealth test, but the company discontinued it in 2021 to focus more on ancestry results.1
It tests for genetic traits that influence your health, such as dairy tolerance, caffeine consumption, and risk for certain nutrient deficiencies.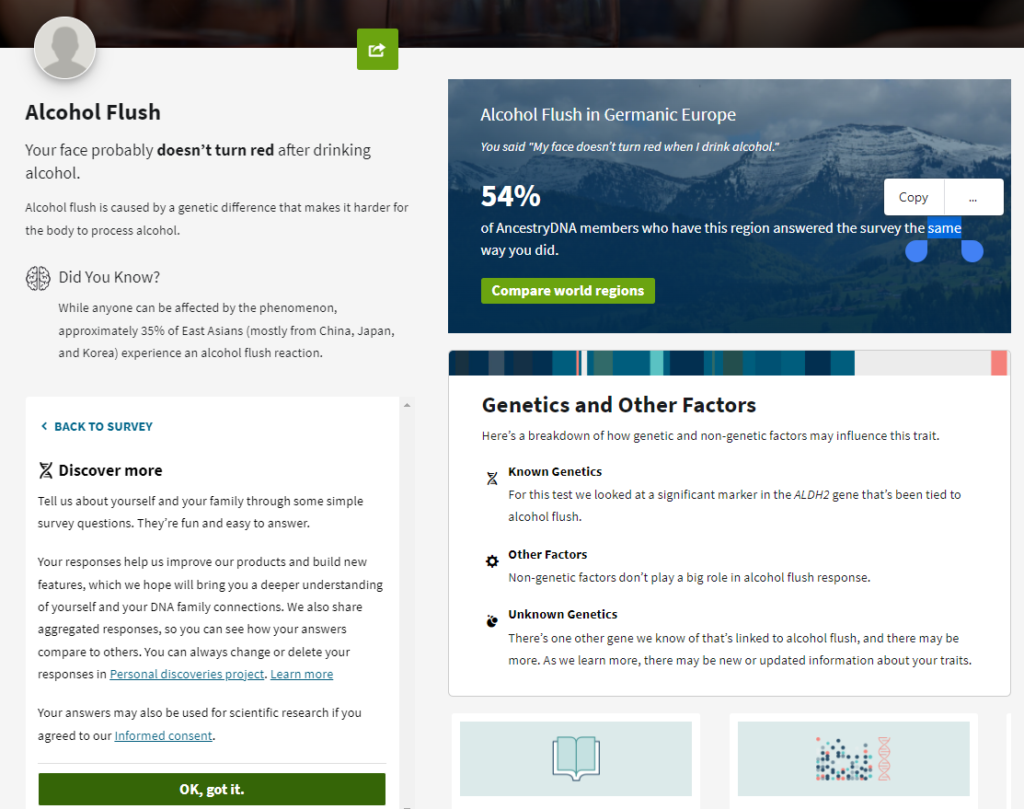 KnowYourDNA / Joel

23andMe is the only at-home genetic testing company that offers comprehensive health screenings with approval from the U.S. Food and Drug Administration (FDA).
You'll get health reports on over 10+ health risks and eight genetic traits that may affect your health, plus over 45+ genetic diseases that may affect your child.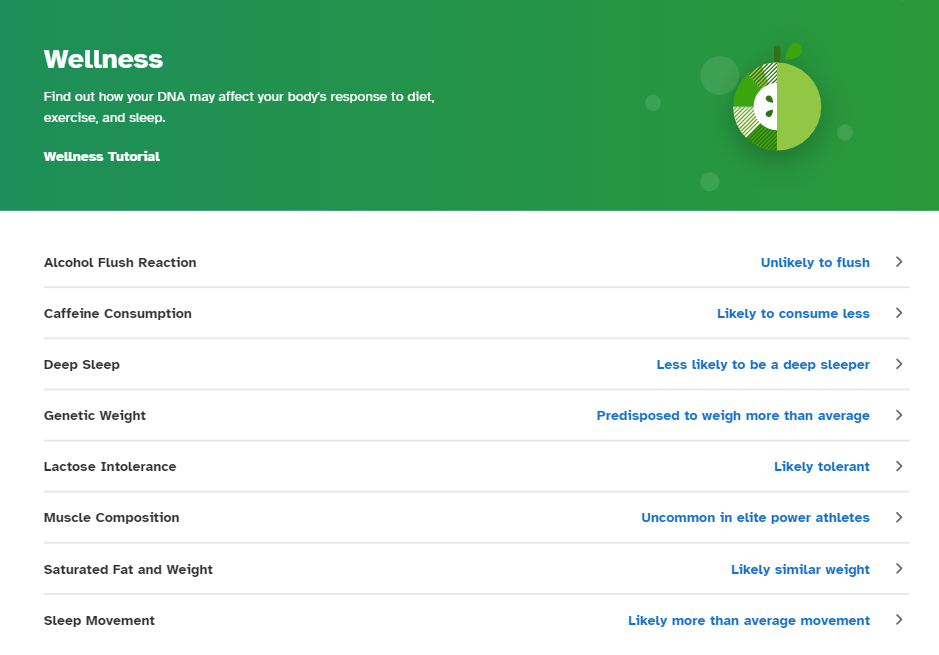 KnowYourDNA / Joel
If you sign up for a 23andMe+ membership, you'll get extra reports on 20+ genetic risks, four wellness traits, and a pharmacogenetics report.
Traits Reports
Both DNA testing companies offer up to 37 reports on various traits that influence your appearance, preferences, and behavior.
Some of the traits they test for—like aversion to cilantro and risk for alcohol flushing—are also the same, so you can expect similar reports.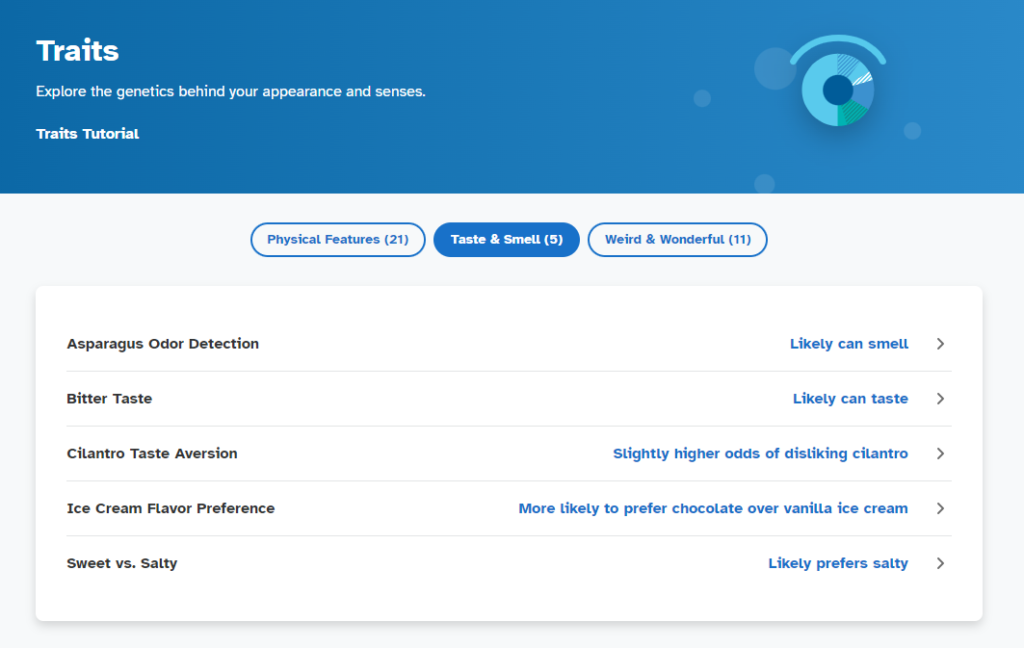 KnowYourDNA / Joel

However, 23andMe offers some fun-to-know facts about yourself that you probably didn't know were genetic, such as:
How often mosquitoes will likely bite you
What time of the day you wake up
Your hatred for the sound of chewing
How Is The Accuracy of Ancestry vs. 23andMe?
23andMe and AncestryDNA are the two most accurate DNA tests.
Ancestry has a 99 percent accuracy for identifying genetic markers2 while 23andMe follows "rigorous standards" to ensure high-quality results.3
However, the accuracy of DNA test results can vary based on factors like:

Testing methods used
Size of a company's DNA database
Number of regions tested (more is better)
Genetic diversity of the reference populations
Number of relatives who have taken the same test
Below is a detailed breakdown of their accuracy for each report:
Accuracy for DNA Ancestry Testing
Both companies perform autosomal testing, which is an accurate way to determine ancestry. But Ancestry has more accurate ancestry reports.
Its references—which come from 1,800+ regions—may not be as genetically diverse as 23andMe, with reference groups from over 2,000+ regions.
But Ancestry's reference panel is about five times bigger than 23andMe, which helps the company accurately predict the ancestry of most people.
If you want to trace your ancestry through maternal and paternal lines, we recommend choosing 23andMe instead.
That's because it performs Y-DNA and mt-DNA tests. It checks for genes that are passed on from father to son (Y-DNA) and from mother to child (mtDNA).
Accuracy for Finding Relatives
Both 23andMe and Ancestry use autosomal DNA tests to help you find people you may be genetically related to, which helps with accuracy.
23andMe's Relative Finder can predict genetic relationships with close family members all the way to third cousins with 90 percent accuracy or more.4
AncestryDNA's DNA Matches can accurately determine your genetic relationship with close relatives up until your fourth cousins.2
But if you want to improve your chances of finding relatives, you should go for Ancestry because its DNA database is almost twice the size of 23andMe.
Accuracy for Health Testing & Traits
AncestryDNA and 23andMe both have a 99 percent accuracy for identifying the specific genetic variants they test for.2,4
This includes genes that influence your physical appearance, health, and other traits that make you who you are.
However, 23andMe is the only company with FDA approval to provide reports on genetic conditions that may affect you or your child.
You can read more about 23andMe's accuracy here.
Cost Comparison of 23andMe vs. Ancestry
Their at-home genetic tests cost about the same, but 23andMe offers more reports and access to most of its features at no additional cost.
Most of Ancestry's services are hidden behind a paywall.
Below, we compare the cost of the two DNA testing companies and what kind of tests and services you'll get for the indicated prices:

Cost of Ancestry DNA
Price: Starts at $99 for the kit; $21.99 per month for a subscription.
| | | | |
| --- | --- | --- | --- |
| | Ancestry DNA Test | AncestryDNA + Family Tree Package | AncestryDNA Traits + All Access Package |
| Cost | $99 | $100 | $199 |
| Ethnicity Reports | ✓ | ✓ | ✓ |
| Ancestral Origins | ✓ | ✓ | ✓ |
| DNA Matching | ✓ | ✓ | ✓ |
| Traits Report | | | ✓ |
| World Explorer Membership | | ✓ | ✓ |
| Fold3 Records | | | ✓ |
| Newspapers.com Publisher Extra | | | ✓ |

Ancestry's packages include a three-month subscription to services that will help with your research, namely:
World Explorer Membership – Ancestry's U.S. and international records
Fold3 – Millions of global military records
Newspaper.com Subscription – Over 8 billion global articles
When your initial membership expires, you can continue with your subscriptions by choosing from one of three packages:
| | | | |
| --- | --- | --- | --- |
| Subscription | U.S. Discovery | World Explorer | All Access |
| Cost Per Month | $21.99 to $24.99 | $32.99 to $39.99 | $49.99 to $59.99 |
| U.S. Records | ✓ | ✓ | ✓ |
| International Records | | ✓ | ✓ |
| Newspapers.com Subscription | | | ✓ |
| Fold3 Records | | | ✓ |
Cost of 23andMe
Price: Starts at $99 for the kit; $29 for a one-year paid membership
| | | | |
| --- | --- | --- | --- |
| | 23andMe Ancestry | 23andMe Health + Ancestry | 23andMe+ Membership |
| Cost | $99 | $199 | $199 |
| Total Reports | 80+ | 150+ | 180+ |
| Ancestry Report | ✓ | ✓ | ✓ |
| Traits Report | ✓ | ✓ | ✓ |
| Health Report | | ✓ | ✓ |
| Carrier Status Report | | ✓ | ✓ |
| Wellness Report | | ✓ | ✓ |
| Family Health History Report | | ✓ | ✓ |
| Pharmacogenetics Report | | | ✓ |

23andMe Plus includes a one-year membership to the DNA service. When your membership expires, you can renew it for $29 per year.
Which DNA Test is The Best?
Each DNA testing kit has its share of good and bad qualities. Ultimately, you should pick the test that gives you the information you're looking for.
23andMe is best for DNA health testing
23andMe provides both ancestry testing and genetic health information.
But as the only FDA-approved company for health risks and carrier status reports, these should be your main reasons for wanting to take this test.
The only time you should consider taking a 23andMe test for ancestry or finding family members is if you've already taken AncestryDNA.
Ancestry is best for family history
AncestryDNA has the world's largest DNA database and gives you access to extensive resources that can help with your research.
We highly recommend this DNA test for people who want to find relatives and historical information about their ancestors.
While the accuracy of its ancestry results varies for each region tested—just like 23andMe—most people will find them accurate.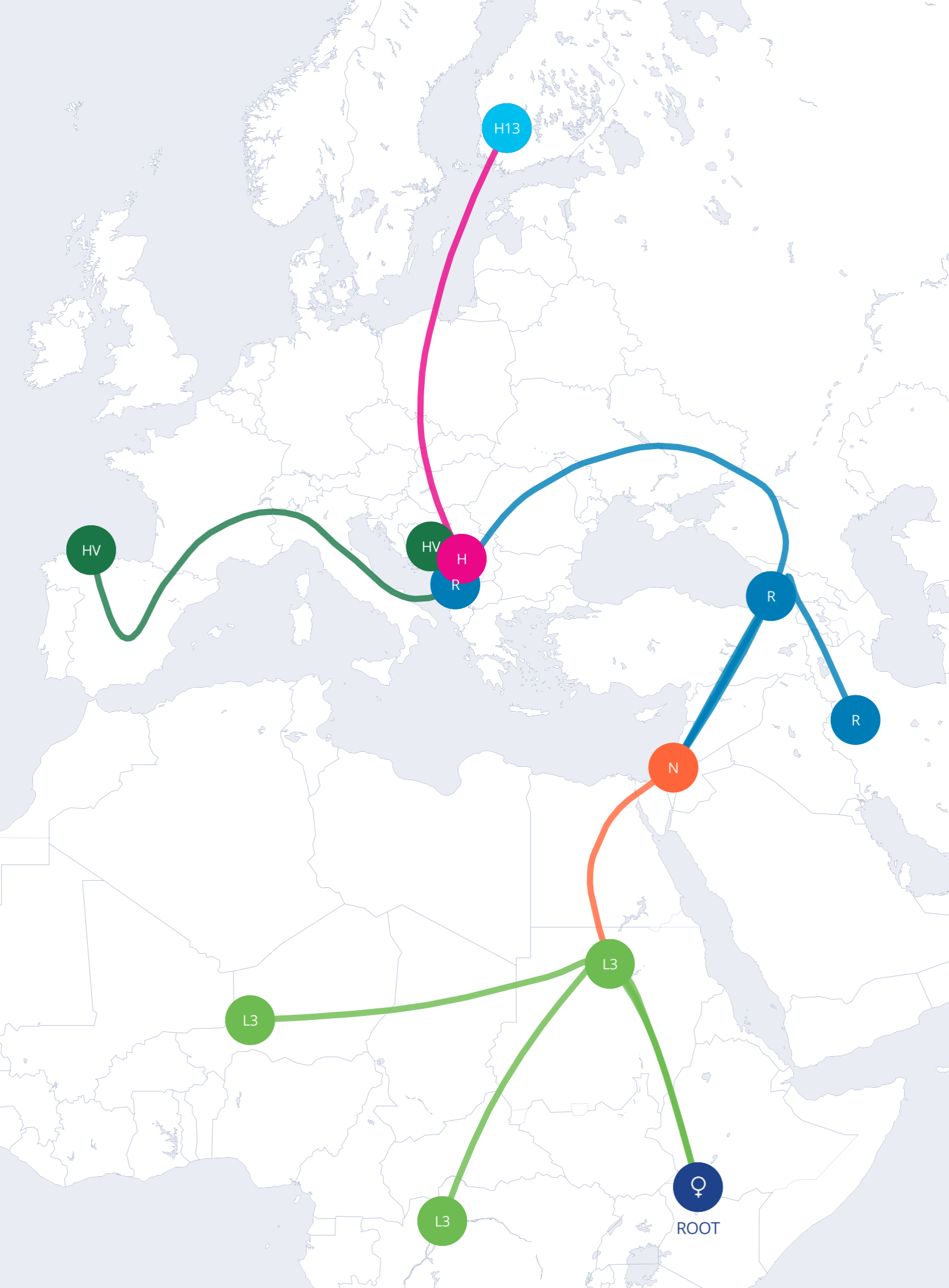 The Best DNA Test
Looking for a DNA test that's accurate and can tell you about your health and heritage?